E-mail mij


Druk op onderstaande knop om mij te e-mailen.


Romenu


Romenu is een blog over gedichten, literatuur en kunst Maar Romenu is ook een professionele freelance vertaler
Du-Ne en Ne-Du http://www.romenu.nl.


Huur eens een (vakantie)huis in een natuurgebied, dichtbij het centrum van Nijmegen


Google


Georg Trakl

Georg Trakl werd op 3 februari 1887 in het conducteurshuis aan de Waagplatz 2 in Salzburg geboren. Zijn vader, Tobias Trakl, was een handelaar in ijzerwaren en zijn moeder, die ook psychische problemen had, was Maria Catharina Trakl, (meisjesnaam Halik). Voorts had hij nog drie broers en drie zussen. Margarethe (doorgaans Grethe genoemd) stond hem het naast, zelfs zodanig dat sommigen een incestueuze verhouding vermoeden. Zijn jeugd bracht hij door in Salzburg. Vervolgens bezocht hij van 1897 tot 1905 het humanistische gymnasium. Om toch een academische opleiding te kunnen volgen, werkte hij tot 1908 in de praktijk bij een apotheker. Sommigen vermoedden dat hij dit vooral deed om zichzelf opiaten te kunnen verschaffen. Bij het uitbreken van WO I werd Trakl als medicus naar het front in Galicië (heden ten dage in Oekraïne en Polen) gestuurd. Zijn gemoedsschommelingen leidden tot geregelde uitbraken van depressie, die verergerd werden door de afschuw die hij voelde voor de verzorging van de ernstig verwonde soldaten. De spanning en druk dreven hem ertoe een suïcidepoging te ondernemen, welke zijn kameraden nochtans verhinderden. Hij werd in een militair ziekenhuis opgenomen in Kraków, alwaar hij onder strikt toezicht geplaatst werd.Trakl verzonk daar in nog zwaardere depressies en schreef Ficker om advies. Ficker overtuigde hem ervan dat hij contact moest opnemen met Wittgenstein, die inderdaad op weg ging na Trakls bericht te hebben ontvangen. Op 4 november 1914, drie dagen voordat Wittgenstein aan zou komen, overleed hij echter aan een overdosis cocaïne


Paul Celan

Paul Celan werd onder de naam Paul Antschel op 23 november 1920 geboren in Czernowitz, toentertijd de hoofdstad van de Roemeense Boekovina, nu behorend bij de Oekraïne. Paul Celans ouders waren Duitssprekende joden die hun zoon joods opvoedden en hem naar Duitse christelijke scholen stuurden. In 1942 werden Celans ouders door de Duitse bezetter naar een werkkamp gedeporteerd en daar vermoord. Hijzelf wist aanvankelijk onder te duiken, maar moest vanaf juli 1942 in een werkkamp dwangarbeid verrichten. Celan overleefde de oorlog. Via Boekarest en Wenen vestigde Celan zich in 1948 in Parijs. Daar was hij werkzaam als dichter, vertaler en doceerde hij aan de prestigieuze Ecole Normale Supérieure. Vermoedelijk op 20 april 1970 beëindigde hij zijn leven zelf door in de Seine te springen.


Gerard Reve

Gerard Reve over: Medearbeiders "God is in de mensen, de dieren, de planten en alle dingen - in de schepping, die verlost moet worden of waaruit God verlost moet worden, door onze arbeid, aangezien wij medearbeiders van God zijn." Openbaring "Tja, waar berust elk godsbegrip op, elke vorm van religie? Op een openbaring, dat wil zeggen op een psychische ervaring van zulk een dwingende en onverbiddelijke kracht, dat de betrokkene het gevoel heeft, niet dat hij een gedachte of een visioen heeft, maar dat een gedachte gedachte of visioen hem bezit en overweldigt."


Simon Vestdijk
Simon Vestdijk (Harlingen, 17 oktober 1898 – Utrecht, 23 maart 1971) was een Nederlands romancier, dichter, essayist en vertaler. Zijn jeugd te Harlingen en Leeuwarden beschreef hij later in de Anton Wachter-cyclus. Van jongs af aan logeerde hij regelmatig bij zijn grootouders in Amsterdam, waar hij zich in 1917 aan de Universiteit van Amsterdam inschrijft als student in de medicijnen. Tijdens zijn studie die van 1917 tot 1927 duurde, leerde hij Jan Slauerhoff kennen.Tot 1932 is hij als arts in praktijken door heel Nederland werkzaam. In 1932 volgt zijn officiële schrijversdebuut met de uitgave van de bundel Verzen in De Vrije Bladen. Doorslaggevend voor Vestdijks uiteindelijke keuze voor de literatuur is zijn ontmoeting in 1932 met Eddy Du Perron en Menno ter Braak. Deze ontmoeting had tot resultaat dat hij redactielid werd van het tijdschrift Forum Kort daarop, in 1933, wordt zijn eerste novelle, De oubliette, uitgegeven. In hetzelfde jaar schrijft hij Kind tussen vier vrouwen, dat, eerst geweigerd door de uitgever, later de basis zal vormen voor de eerste drie delen van de Anton Wachter-romans. In 1951 ontvangt Vestdijk de P.C. Hooftprijs voor zijn in 1947 verschenen roman De vuuraanbidders. In 1957 wordt hij voor het eerst door het PEN-centrum voor Nederland voorgedragen voor de Nobelprijs voor de Literatuur, die hij echter nooit zal krijgen. Op 20 maart 1971 wordt hem de Prijs der Nederlandse Letteren toegekend, maar voor hij deze kan ontvangen overlijdt hij op 23 maart te Utrecht op 72-jarige leeftijd. Vestdijk was auteur van ca. 200 boeken. Vanwege deze enorme productie noemde de dichter Adriaan Roland Holst hem 'de man die sneller schrijft dan God kan lezen'. Andere belangrijke boeken van Simon Vestdijk zijn: "Kind van stad en land" (1936), "Meneer Visser's hellevaart" (1936), "Ierse nachten" (1946), "De toekomst de religie" (1947), "Pastorale 1943" (1948), "De koperen tuin" (1950), "Ivoren wachters" (1951), "Essays in duodecimo" (1952) en "Het genadeschot" (1964).


K.P. Kavafis

K.P. Kavafis werd als kind van Griekse ouders, afkomstig uit Konstantinopel, geboren in 1863 in Alexandrië (tot vandaag een Griekse enclave) waar hij ook het grootste deel van zijn leven woonde en werkte. Twee jaar na de dood van zijn vader verhuist het gezin in 1872 naar Engeland om na een verblijf van vijf jaar naar Alexandrië terug te keren. Vanwege ongeregeldheden in Egypte vlucht het gezin in 1882 naar Konstantinopel, om na drie jaar opnieuw naar Alexandrië terug te gaan. In de jaren die volgen maakt Kavafis reizen naar Parijs, Londen en in 1901 zijn eerste reis naar Griekenland, in latere jaren gevolgd door nog enkele bezoeken. Op de dag van zijn zeventigste verjaardag, in 1933 sterft Kavafis in Alexandrië. De roem kwam voor Kavafis pas na zijn dood, dus postuum. Deels is dat toe te schrijven aan zijn eigen handelswijze. Hij was uiterst terughoudend met de publicatie van zijn gedichten, liet af en toe een enkel gedicht afdrukken in een literair tijdschrift, gaf in eigen beheer enkele bundels met een stuk of twintig gedichten uit en het merendeel van zijn poëzie schonk hij op losse bladen aan zijn beste vrienden.


Thomas Mann


Thomas Mann, de jongere broer van Heinrich Mann, werd geboren op 6 juni 1875 in Lübeck. Hij was de tweede zoon van de graankoopman Thomas Johann Heinrich Mann welke later één van de senatoren van Lübreck werd. Zijn moeder Julia (geboren da Silva-Bruhns) was Duits-Braziliaans van Portugees Kreoolse afkomst. In 1894 debuteerde Thomas Mann met de novelle "Gefallen". Toen Thomas Mann met 21 jaar eindelijk volwassen was en hem dus geld van zijn vaders erfenis toestond - hij kreeg ongeveer 160 tot 180 goldmark per jaar - besloot hij dat hij genoeg had van al die scholen en instituties en werd onafhankelijk schrijver. Kenmerkend voor zijn stijl zijn de ironie, de fenomenale taalbeheersing en de minutieuze detailschildering. Manns reputatie in Duitsland was sterk wisselend. Met zijn eerste roman, Buddenbrooks (1901), had hij een enorm succes, maar door zijn sceptische houding tegenover Duitsland na de Eerste Wereldoorlog veranderde dit volledig. Stelde hij zich tot aan de jaren twintig apolitiek op (Betrachtungen eines Unpolitischen, 1918), meer en meer raakte hij bij het Politiek gebeuren betrokken. Zijn afkeer van het nationaal socialisme groeide, zijn waarschuwingen werden veelvuldiger en heftiger. In 1944 accepteerde hij het Amerikaanse staatsburgerschap. Tussen 1943 en 1947 schreef Mann Doktor Faustus (zie Faust), de roman van de 'Duitse ziel' in de gecamoufleerd geschilderde omstandigheden van de 20ste eeuw. In 1947 bezocht hij voor het eerst sinds de Oorlog Europa, twee jaar later pas Duitsland. In 1952 vertrok hij naar Zwitserland. Op 12 augustus 1955 stierf hij in Zürich. Twintig jaar na zijn dood, in aug. 1975, is zijn literaire nalatenschap geopend: dagboekaantekeningen van 15 maart 1933 tot 29 juli 1955, alsmede notities uit de jaren 1918 tot en met 1921.Belangrijke werken zijn: Der Zauberberg, Der Tod in Venedig, Dokter Faustus , Joseph und seine Brüder en Die Bekenntnisse des Hochstaplers Felix Krull.


Rainer Maria Rilke

Rilke werd op 4 december 1875 geboren in Praag. Hij had al naam gemaakt als dichter met zijn bundels Das Stundenbuch en Das Buch der Bilder, toen hij de literaire wereld versteld deed staan en wereldfaam verwierf met de publicatie van zijn twee delen Neue Gedichte in 1907 en 1908. Hij verzamelde daarin het beste werk uit een van zijn vruchtbaarste periodes, die hij grotendeels doorbracht in Parijs. Rilke was daar diep onder de indruk gekomen van Rodin, bij wie hij een tijdlang in dienst was als particulier secretaris. Rodin, zei hij later, had hem leren kijken. Dit kijken kwam neer op intense concentratie, om het mysterie te kunnen zien 'achter de schijnbare werkelijkheid'. Latere en rijpere werken als Duineser Elegien (1912-1923) en het ronduit schitterende Die Sonette an Orfeus (1924) illustreren Rilkes metafysische visie op het onzegbare, dat haar verwoording vindt in een hermetische muzikale taal. Op 29 december 1926 overlijdt Rilke in het sanatorium in Val-Mont aan de gevolgen van leukemie. Enkele dagen later wordt hij, overeenkomstig zijn wens, begraven op het kerkhof van Raron.


* * * * * * * * * * * * * * * *

| | |
| --- | --- |
| | Over literatuur, gedichten, kunst en cultuur |

21-10-2011

Doeschka Meijsing, Martin Bril, Tariq Ali, Mehdi Charef
De Nederlandse schrijfster Doeschka Meijsing werd geboren in Eindhoven op 21 oktober 1947. Zie ook mijn blog van 21 oktober 2010 en eveneens alle tags voor Doeschka Meijsing op dit blog.
Uit: Der Weg nach Caviano (Vertaald door Rosemarie Still)
"Die sieben Geschworenen sind fort. Vielleicht war die Jury zu klein, um zu einem einstimmigen Urteil zu gelangen, vielleicht ist ein Urteil auch gar nicht nötig. Das Zuschlagen der Autotüren dröhnt noch in meinen Ohren. Ihre Gerüche hängen noch in den Räumen, und Joeps Wassernapf, an den alle ständig gestoßen sind, ist verschwunden. Die alte Frau hatte schulterzuckend genickt, als ich sie fragte, ob ich sofort einziehen könne. Aber selbstverständlich, sie würde weiterhin jede Woche zum Saubermachen kommen. Sie bot mir Pfirsiche an und ließ mich in dem großen, leeren Haus allein. Ich fing an auszurechnen, wieviel ich ihr schuldig war, und hörte gelangweilt wieder damit auf. Schließlich hatte ich hier etwas anderes zu tun.Dieses Land, das ich von 1955 bis 1969 jeden Sommer in allen Einzelheiten erforscht hatte, von den geheimnisvollen Steinen in der Kinderzeit bis zu den erotischen Verwicklungen späterer Jahre - dieses Land empfing mich die letzten beiden Male, mehr als ein Vierteljahrhundert nachdem ich von ihm Abschied genommen hatte, nicht mit offenen Armen. Es zeigte sich auf eine Weise gefährlich und feindlich, gegen die mir die Fallgruben in meiner Kindheit wie flache Gräben vorkamen.Als Kind hatte ich einen wichtigen Entschluß gefaßt: Ich wollte jeden Augenblick festhalten und bewahren, mit der einen Einschränkung: jeden glücklichen Augenblick.Das Glück entdeckte ich im Alter von zehn Jahren. Ich saß auf der Schaukel auf dem Dachboden meines Elternhauses. Knaben schaukeln in dem Alter nur, wenn niemand in der Nähe ist. Vielleicht waren unten unangenehme Dinge vorgefallen, vielleicht waren sich meine Cousins und Cousinen, die bei uns wohnten, in die Haare geraten und auf die Straße geschickt worden, oder meine Mutter lag mit Migräne auf dem Sofa, was von seiten der Familie absolute Ruhe erforderlich machte. Oder vielleicht war die ganze Familie ins Auto gesprungen, um einen lautstarken, pädagogisch wertvollen Ausflug nach Hoorn, Enkhuizen und dem Afsluitdijk zu unternehmen. Jedenfalls war ich allein auf dem Dachboden. Links von mir die fast einen Meter lange knallrote Dampflokomotive auf Rädern, die aufeinandergestapelten Baukästen, der Puppenwagen aus Korbgeflecht von meiner Cousine und so weiter und so weiter. Rechts der große Schrank mit den Kleidersäcken für die Wintermäntel und den Sonntagsanzügen und -kostümen meiner Eltern. Hinter mir der dunkle Raum, in dem das Geheimnis des früheren Lebens meiner Eltern aufbewahrt war. Man riecht das Geheimnis, aber es schlummert noch unter der Oberfläche und lädt noch nicht zu genauerer Erforschung ein."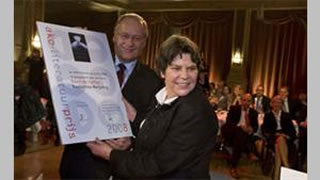 Doeschka Meijsing (Eindhoven, 21 oktober 1947)
Bij de ontvangst van de AKO Literatuurprijs 2009
De Nederlandse dichter, columnist en schrijver Martin Bril werd geboren in Utrecht op 21 oktober 1959. Zie ook mijn blog van 21 oktober 2010 en eveneens alle tags voor Martin Bril op dit blog.
Kanker (2)
De zuster duwt het bed door lange
Stille gangen naar de OK, haar kleppers
Piepen op de vloer, patiënt
Ligt in een blauwe schort

Patiënt ben ik, en aan 't plafond
Zoeven tl-buizen voorbij, de weg

Gaat naar het licht, om niet
Te zeggen dat ik steeds dichter
Bij de waarheid kom,

Grote duisternis
Kunst
Wat we willen
Momenten
Van helderheid

Of beter nog: van grote
Klaarheid

Schaars zijn die momenten
En ook nog goed verborgen

Zoeken heeft dus
Nauwelijks zin, maar
Vinden wel

De kunst is zo te leven
Dat het je overkomt
Die klaarheid, af en toe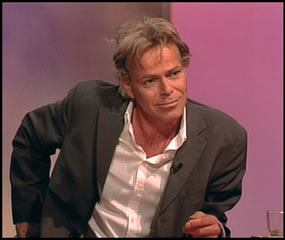 Martin Bril (Utrecht, 21 oktober 1959 - 22 april 2009)
De Pakistaanse auteur, journalist en filmmaker Tariq Ali werd geboren in Lahore op 21 oktober 1943. . Zie ook mijn blog van 21 oktober 2008 en ook mijn blog van 21 oktober 2009 en ook mijn blog van 21 oktober 2010
Uit:
The Duel
"Books have a destiny. This is my third study of Pakistan. The first, Pakistan: Military Rule or People's Power?, was written in 1969 and predicted the breakup of the state. It was banned in Pakistan. Critics of every persuasion, even those who liked the book, thought it was going too far in suggesting that the state could disintegrate, but a few years later that is exactly what happened. Just over a decade later I wrote Can Pakistan Survive? The question mark was not unimportant but nonetheless struck a raw nerve in General Zia's Pakistan, where to even pose the question was unacceptable. The general himself was extremely angry about its publication, as were sections of the bureaucracy, willing instruments of every despotism. Zia attacked both me and the book at a press conference in India, which was helpful and much appreciated by the publisher's sales department. That book too was banned, but to my delight was shamelessly pirated in many editions in Pakistan. They don't ban books anymore, or at least not recently, which is a relief and a small step forward.
When I left in 1963, the country consisted of West and East Pakistan. Eight years later the East defected and became Bangladesh. The population of the Western wing was then 40-45 million. It has grown phenomenally ever since and is now approaching the 200 million mark. The under-thirties constitute a majority.
This book centers on the long duel between a U.S.-backed politico-military elite and the citizens of the country. In earlier years the State Department would provide the seconds for the duel, but with U.S. troops now in neighboring Afghanistan and U.S. bombs falling on homes inside Pakistan, the conflict is assuming a more direct form. Were it to proceed further, as some have been arguing in Washington, there is a distinct possibility that serious cracks would threaten the much-vaunted unity of the Pakistan military high command. The relationship with Washington, always controversial in the country, now threatens the Pakistan army"
.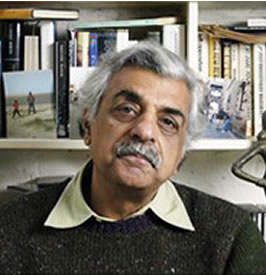 Tariq Ali (Lahore, 21 oktober 1943)
De Frans-Algerijnse schrijver en regisseur Mehdi Charef werd geboren op 21 oktober 1952 in Maghnia in Algerije. Zie ook mijn blog van 21 oktober 2008 en ook mijn blog van 21 oktober 2009 en ook mijn blog van 21 oktober 2010
Uit: A bras le coeur
"Elle lève les yeux, fixe ce malandrin de Mbami, regarde les deux mères et conclut, affolée :
– On dirait que je... que je l'aime !
Elle se frappe le visage ; sa mère l'arrête. Farida se jette sur sa compagne, la serre dans ses bras.
– Ce n'est pas notre faute ! On a été ensorcelées !
Elles s'étreignent. Les mères sanglotent. Le marabout, qui en a vu et entendu d'autres, a l'œil qui brille. L'une des mères, bien que bouleversée par le drame, paraît moins niaise que l'autre. Méfiante, elle demande :
– Si l'on ne vous avait pas surprises toutes les deux nues, le visage enfoui dans les cuisses l'une de l'autre, et possédées par le démon, vous vous seriez dénoncées ?
– Sûr, maman, et comment ! Mais nous n'osions pas, notre malheur était trop grand, nous ne voulions pas vous éclabousser de honte !
– Nous sommes soulagées d'avoir été découvertes reprend Farida, finaude.
Pour ne pas se trahir, elle se garde bien d'ôter ses mains tremblantes de son visage...
Le malandrin souffle sur ses deux kanouns et jure :
– Je m'en vais vous l'évacuer comme il faut, ce djinn d'enfer qui vous ronge l'âme, pervertit votre esprit et enflamme vos corps purs! Parole de Si Mbami Youssef Ould Hadjzahir!
L'épaisse fumée bleue s'élève en volutes. Il flotte une odeur âcre et un goût de cendre imprègne le palais. Le marabout se redresse. Il pose ses mains sur la tête des filles en pleurs, et leur met de la braise sous le nez. Elles grimacent et clignent des yeux. Il les a recouvertes d'un long voile sombre et épais, qui empêche la fumée de s'échapper. Le marabout a l'oeil perçant. Il est sûr de son coup et jubile ; il joint les mains et récite quelques formules dans sa barbe..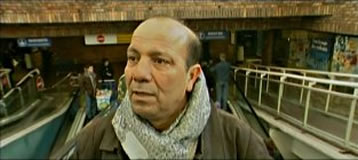 Mehdi Charef (Maghnia, 21 oktober 1952)



Zie voor nog meer schrijvers van de 21e oktober ook
mijn vorige blog van vandaag
en eveneens
mijn eerste blog van vandaag.
21-10-2011 om 17:56 geschreven door Romenu

Tags:Doeschka Meijsing, Martin Bril, Tariq Ali, Mehdi Charef, Romenu



Allen Hoey, Patrick Kavanagh, Nikos Engonopoulos
De Amerikaanse dichter, schrijver en criticus Allen Hoey werd geboren op 21 oktober 1952 in Kingston, New York. Zie ook mijn blog van 21 oktober 2008 en ook mijn blog van 21 oktober 2009 en ook mijn blog van 21 oktober 2010
Uit: Provençal Light, a long poem
After the Orchard: "Souvenir de Mauve" (fragment)
At last! These are the days, filled with such light
a Dutchman could never dream, even steeped in absinthe,
I came seeking. If I thought my palette inadequate to the sky
damped with clouds, the fields and orchards sunk beneath
two feet of snow, how paler it seems with the sun finally streaming,
not mere atmospherics, but light, pure and intense--greens
beyond any in Holland or the chestnuts of a Paris arcade,
and cobalts and ultramarines--abandon your greys! Not pale but
chrome yellows, reds deep as the wine-colored Seine at dusk.
And you, down from Denmark, can your eyes be any less
dazzled than mine, reared under Dutch skies, soot-smudged
the year round, the close--some call them "cozy"--homes,
low-ceilinged and dark all day. No wonder Dutch painting is so murky,
all chiaroscuro and the varnished sheen applied after--nothing else
but the finish could glow. But here--the sun might burn
the eyes right out of the heads of cold-blooded painters like us,
schooled on shadow, our palettes tricked out with greys and bistre.
Earth tones? Here, the earth is tinged violet, the sky
carries the green of blossoming pears to cast heaven
azure, topaz--the chromatic scale at a sitting!
xml:namespace prefix = v ns = "urn:schemas-microsoft-com:vml" />The whole day
spent in the orchard--and see this peach tree, the way the earth
seems by centering strokes to rise into the tree,
the violets and pinks of the soil, the slightest trace of shadow,
mirrored--no, itself come to bloom in the blossoms that grace
each limb, pink runners of flame to the thinnest twig,
and the clouds, released blossoms riding the wind, a meringue
whipped of plain air. The whole canvas wrenched from the mistral,
wind beating the canvas like sails, the easel pegged down, dust
driven into the pigment. See how the brusque strokes convey
color seized from the turmoil of growth, the traces--here and here--
where the canvas shows through. Enough of technique.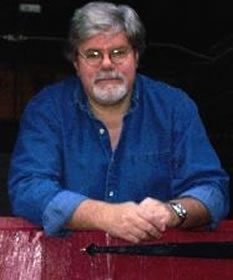 Allen Hoey (21 oktober 1952 – 16 juni 2010)




De Ierse dichter Patrick Kavanagh werd geboren op 21 oktober 1904 in County Monaghan. Zie ook mijn blog van 21 oktober 2010 en eveneens alle tags voor Patrick Kavanagh op dit blog.
On An Apple-Ripe September Morning
On an apple-ripe September morning
Through the mist-chill fields I went
With a pitch-fork on my shoulder
Less for use than for devilment.
The threshing mill was set-up, I knew,
In Cassidy's haggard last night,
And we owed them a day at the threshing
Since last year. O it was delight
To be paying bills of laughter
And chaffy gossip in kind
With work thrown in to ballast
The fantasy-soaring mind.
As I crossed the wooden bridge I wondered
As I looked into the drain
If ever a summer morning should find me
Shovelling up eels again.
And I thought of the wasps' nest in the bank
And how I got chased one day
Leaving the drag and the scraw-knife behind,
How I covered my face with hay.
The wet leaves of the cocksfoot
Polished my boots as I
Went round by the glistening bog-holes
Lost in unthinking joy.
I'll be carrying bags to-day, I mused,
The best job at the mill
With plenty of time to talk of our loves
As we wait for the bags to fill.
Maybe Mary might call round...
And then I came to the haggard gate,
And I knew as I entered that I had come
Through fields that were part of no earthly estate.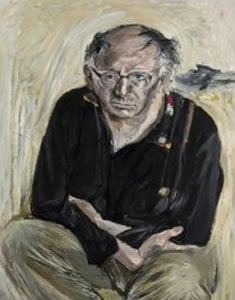 Patrick Kavanagh (21 oktober 1904 – 30 november 1967)
Portret door Patrick Swift, 1960




De Griekse dichter en schilder Nikos Engonopoulos werd geboren op 21 oktober 1907 in Athene. Zie ook mijn blog van 21 oktober 2008 en ook mijn blog van 21 oktober 2009 en ook mijn blog van 21 oktober 2010
BOLIVÁR (Fragment)
A Greek Poem
Bolivár! You were reality, and you are, even now, you are
no dream.
When the wild hunters nail the wild eagles, and the other wild
birds and animals,
Over their wooden doors in the wild forests,
You live again, and shout, and grieve,
And you are yourself the hammer, nail and eagle.


If on the isles of coral, winds blow and the empty fishing boats
overturn,
And the parrots are a riot of voices when the day ends and
the gardens grow quiet drowned in humidity,
And in the tall trees the crows perch,
Consider, beside the waves, the iron tables of the cafeneion,
How the damp eats at them in the gloom, and far off the light
that flashes on, off, on again, turning back and forth.
And day breaks – what frightful anguish – after a night without
sleep,
And the water reveals nothing of its secrets. Such is life.
And the sun comes, and the houses on the wharf, with their
island-style arches,
Painted pink, and green, with white sills (Naxos, Chios),
How they live! How they shine like translucent fairies! Such is
Bolivár!


Bolivár! I cry out your name, reclining on the peak of
Mount Ere,
The highest peak on the isle of Hydra.
From here the view, enchanting, extends as far as the Saronic
isles, Thebes,
Beyond Monemvasia, far below, to august Egypt,
And as far as Panama, Guatemala, Nicaragua, Honduras, Haiti,
San Domingo, Bolivia, Colombia, Peru, Venezuela,
Chile, Argentina, Brazil, Uraguay, Paraguay, Ecuador,
As far even as Mexico.
With hard stone I carve your name in rock, that afterwards men
may come in pilgrimage.
As I carve sparks fly – such, they say, was Bolivár – and I
watch my hand as it writes, gleaming in the sun.
Vertaald door David Connolly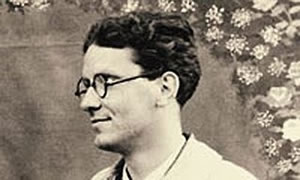 Nikos Engonopoulos (21 oktober 1907 – 31 oktober 1985)
21-10-2011 om 17:49 geschreven door Romenu

Tags:Allen Hoey, Nikos Engonopoulos, Patrick Kavanagh, Romenu



Alphonse de Lamartine, Samuel T. Coleridge, Martin Roda Becher
De Franse dichter en schrijver Alphonse de Lamartine werd geboren op 21 oktober 1790 in Mâcon. Zie ook mijn blog van 21 oktober 2010 en eveneens alle tags voor Alphonse de Lamartine op dit blog.
Souvenir
En vain le jour succède au jour,
Ils glissent sans laisser de trace ;
Dans mon âme rien ne t'efface,
Ô dernier songe de l'amour !

Je vois mes rapides années
S'accumuler derrière moi,
Comme le chêne autour de soi
Voit tomber ses feuilles fanées.

Mon front est blanchi par le temps ;
Mon sang refroidi coule à peine,
Semblable à cette onde qu'enchaîne
Le souffle glacé des autans.

Mais ta jeune et brillante image,
Que le regret vient embellir,
Dans mon sein ne saurait vieillir
Comme l'âme, elle n'a point d'âge.

Non, tu n'as pas quitté mes yeux;
Et quand mon regard solitaire
Cessa de te voir sur la terre,
Soudain je te vis dans les cieux.

Là, tu m'apparais telle encore
Que tu fus à ce dernier jour,
Quand vers ton céleste séjour
Tu t'envolas avec l'aurore.

Ta pure et touchante beauté
Dans les cieux même t'a suivie ;
Tes yeux, où s'éteignait la vie,
Rayonnent d'immortalité !

Du zéphyr l'amoureuse haleine
Soulève encor tes longs cheveux ;
Sur ton sein leurs flots onduleux
Retombent en tresses d'ébène,

L'ombre de ce voile incertain
Adoucit encor ton image,
Comme l'aube qui se dégage
Des derniers voiles du matin.

Du soleil la céleste flamme
Avec les jours revient et fuit ;
Mais mon amour n'a pas de nuit,
Et tu luis toujours sur mon âme.

C'est toi que j'entends, que je vois,
Dans le désert, dans le nuage;
L'onde réfléchit ton image;
Le zéphyr m'apporte ta voix.

Tandis que la terre sommeille,
Si j'entends le vent soupirer,
Je crois t'entendre murmurer
Des mots sacrés à mon oreille.

Si j'admire ces feux épars
Qui des nuits parsèment le voile,
Je crois te voir dans chaque étoile
Qui plaît le plus à mes regards.

Et si le souffle du zéphyr
M'enivre du parfum des fleurs.
Dans ses plus suaves odeurs
C'est ton souffle que je respire.

C'est ta main qui sèche mes pleurs,
Quand je vais, triste et solitaire,
Répandre en secret ma prière
Près des autels consolateurs.

Quand je dors, tu veilles dans l'ombre ;
Tes ailes reposent sur moi ;
Tous mes songes viennent de toi,
Doux comme le regard d'une ombre.

Pendant mon sommeil, si ta main
De mes jours déliait la trame,
Céleste moitié de mon âme,
J'irais m'éveiller dans ton sein !

Comme deux rayons de l'aurore,
Comme deux soupirs confondus,
Nos deux âmes ne forment plus
Qu'une âme, et je soupire encore !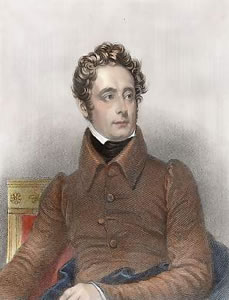 Alphonse de Lamartine (21 oktober 1790 – 28 februari 1869)
Gravure door F. Holl naar P. Gérard. 1845.
De Engels dichter en criticus Samuel Taylor Coleridge werd geboren op 21 oktober 1772 in Ottery St. Mary, Devonshire. Zie ook mijn blog van 21 oktober 2010 en eveneens alle tags voor Samuel T. Coleridge op dit blog.
A Day Dream
My eyes make pictures when they're shut:--
I see a fountain large and fair,
A Willow and a ruined Hut,
And thee, and me, and Mary there.
O Mary! make thy gentle lap our pillow!
Bend o'er us, like a bower, my beautiful green Willow!
A wild-rose roofs the ruined shed,
And that and summer well agree
And lo! where Mary leans her head,
Two dear names carved upon the tree!
And Mary's tears, they are not tears of sorrow:
Our sister and our friend will both be here to-morrow.
'Twas Day! But now few, large, and bright
The stars are round the crescent moon!
And now it is a dark warm Night,
The balmiest of the month of June!
A glow-worm fallen, and on the marge remounting
Shines, and its shadow shines, fit stars for our sweet fountain.
O ever -- ever be thou blest!
For dearly, Asra! love I thee!
This brooding warmth across my breast,
This depth of tranquil bliss -- ah me!
Fount, Tree, and Shed are gone, I know not whither,
But in one quiet room we three are still together.
The shadows dance upon the wall,
By the still dancing fire-flames made;
And now they slumber, moveless all!
And now they melt to one deep shade!
But not from me shall this mild darkness steal thee:
I dream thee with mine eyes, and at my heart I feel thee!
Thine eyelash on my cheek doth play--
'Tis Mary's hand upon my brow!
But let me check this tender lay,
Which none may hear but she and thou!
Like the still hive at quiet midnight humming,
Murmur it to yourselves, ye two beloved women!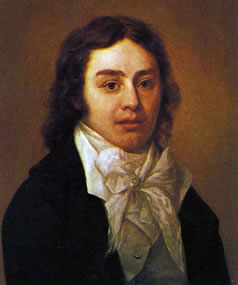 Samuel T. Coleridge (21 oktober 1772 – 25 juli 1834)
Portret door Peter Vandyke, 1795
De Duitse schrijver en criticus Martin Roda Becher werd geboren in New York op 21 oktober 1944. Zie ook mijn blog van 21 oktober 2008 en ook mijn blog van 21 oktober 2010
Uit: An den Grenzen des Staunens
"Go und Mühle sind Einkreisungs-, Einmauerungsspiele, demgegenüber ist Schach eine offene Feldschlacht, obwohl es gerade im Schach zu Anfang versteckte Winkel gibt, in denen Frieden herrscht. Halma spiegelt den Kampf ums Terrain, jeder Platz muß erkämpft sein, was ja auch im Schach für den fortgeschrittenen Spieler entscheidend wird. Go und Mühle sind heimtückische, hinterhältige Spiele, in denen die physische Vernichtung des Gegners als Zielsetzung viel krasser zutage tritt als beim Schach. Man kann über weite Strecken ohne böse Absichten Schach spielen, man möchte sich beispielsweise entwicklen. Der Konflikt ist freilich unvermeidlich, vorprogrammiert, und er löst erst das zerstörerische Kalkül aus; es wird dann unumgänglich, einen Plan zu entwerfen. [..] Schach ist ein Kampfspiel auf Raten, oder man könnte auch mit Deleuze und Guattari sagen, auf dem Schachbrett vollzieht sich die Einverleibung der nomadischen Kriegsmaschine in den Staatsapparat. Gegen Ende des Mittelspiels gibt es kaum mehr einen friedlichen Punkt auf dem Schachbrett, die Schicksale der einzelnen Figuren haben sich dicht vernetzt. Das macht das Endspiel so düster und eintönig, wie Go und Mühle es von Anfang sind. Da können die Figuren nichts anderes mehr als töten oder getötet werden."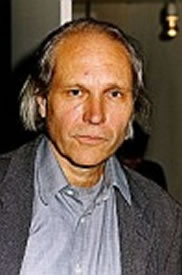 Martin Roda Becher (New York, 21 oktober 1944)

21-10-2011 om 17:45 geschreven door Romenu

Tags:Alphonse de Lamartine, Samuel T. Coleridge, Martin Roda Becher, Romenu



| | |
| --- | --- |
| | |



Inhoud blog


| | |
| --- | --- |
| | De mist (Jan Prins), Dolce far niente |
| | Peter Drehmanns, Inge Boulonois, Antonio Tabucchi, Tom de Cock, Ellen Warmond, Olga Kirsch, Mary Coleridge |
| | Leni Saris, Jaroslav Seifert, Theodor Körner, Euripides, Emma Orczy, Daniel Czepko von Reigersfeld |
| | Dannie Abse, Lodewijk van Deyssel, Nick Cave, Fay Weldon, György Faludy, Hans Leip, Uri Zvi Greenberg, Rosamunde Pilcher, Nathan Hill |
| | Leonard Cohen, Stephen King, Frédéric Beigbeder, Xavier Roelens, Fannie Flag, H.G. Wells, Johann Peter Eckermann, Max Porter, Paul Ewen |
| | Donald Hall, Javier Marías, Cyriel Buysse, Upton Sinclair, Joseph Breitbach, Adolf Endler, Henry Arthur Jones, Stevie Smith, Hanns Cibulka |
| | Hanya Yanagihara |
| | Crauss, Patrick Marber, William Golding, Ingrid Jonker, Orlando Emanuels, Jean-Claude Carrière, Stefanie Zweig, Mika Waltari, Hartley Coleridge |
| | Michaël Zeeman, Armando, Ton Anbeek, Stephan Sarek, Omer Karel De Laey, Michael Deak, Einar Már Gudmundsson, Gerrit Borgers |
| | Nicolien Mizee |
| | H.H. ter Balkt, Piet Gerbrandy, William Carlos Williams, Ken Kesey, Abel Herzberg, Dilip Chitre, Ludwig Roman Fleischer, Albertine Sarrazin, Mary Stewart |
| | Breyten Breytenbach, Alfred Schaffer, Frans Kusters, Michael Nava, Justin Haythe |
| | James Alan McPherson, Hans Arp, Andreas Neumeister, Anna Bosboom - Toussaint, Frans Eemil Sillanpää |
| | Lucebert, Jan Slauerhoff, Sergio Esteban Vélez, Chimamanda Ngozi Adichie, Agatha Christie, Orhan Kemal, Gunnar Ekelöf, James Fenimore Cooper, Claude McKay |
| | Dolce far niente, Eugen Roth, Hans Faverey, Theodor Storm, Leo Ferrier, Corly Verlooghen, Bernard MacLaverty, Ivan Klíma |
| | Tõnu Õnnepalu, Roald Dahl, Janusz Glowacki, Jac. van Looy, Nicolaas Beets, Marie von Ebner-Eschenbach, Otokar Březina, Julian Tuwim, Muus Jacobse |
| | Michael Ondaatje, James Frey, Chris van Geel, Louis MacNeice, Hannes Meinkema, Eduard Elias, Jan Willem Schulte Nordholt, Werner Dürrson, Gust Van Brussel |
| | Constantijn Huygens-prijs 2017 voor Hans Tentije |
| | David van Reybrouck, Murat Isik, D.H. Lawrence, Eddy van Vliet, Andre Dubus III, Tomas Venclova, Merrill Moore, Barbara Bongartz, Adam Asnyk |
| | Edmund de Waal, Andreï Makine, Franz Werfel, Paweł Huelle, Mary Oliver |
| | Eddy Pinas, Jeppe Aakjær, Viktor Paskov, Hilda Doolittle, Reinhard Lettau, George Bataille |
| | C. O. Jellema, Wim Huijser, Cesare Pavese, Leo Tolstoj, Gentil Th. Antheunis, Gaston Durnez, Edward Upward, Hana Androníková, Bas Jongenelen |
| | Siegfried Sassoon, Anthonie Donker, Clemens Brentano, Wilhelm Raabe, Eduard Mörike, Franz Hellens, Frederic Mistral, Grace Metalious |
| | Merijn de Boer, Anton Haakman, Edith Sitwell, Willem Bilderdijk, Michael Guttenbrunner, Jenny Aloni, Margaret Landon, Henry Morton Robinson |
| | Christopher Brookmyre, Jennifer Egan, Aart G. Broek, Amelie Fried, Jessica Durlacher, Alice Sebold, Julien Green, Willem Brandt, Carmen Laforet |
| | 250 jaar August Wilhelm Schlegel, Marcel Möring, Herman Koch, Jos Vandeloo, Margaretha Ferguson, Ward S. Just, Heimito von Doderer, Rachid Boudjedra, Peter Winnen |
| | Helga Ruebsamen, Antonin Artaud, René de Chateaubriand, Constantijn Huygens, Richard Wright, Mary Renault, Marijn Sikken, Femke Brockhus, Dik van der Meulen |
| | In memoriam Theo Sontrop |
| | In Memoriam John Ashbery |
| | Jacq Firmin Vogelaar, Fritz J. Raddatz, Eduardo Galeano, Alison Lurie, Sergej Dovlatov, Kiran Desai, Ernst Meister, Lino Wirag, Doğan Akhanlı |
| | Willem de Mérode, Eric de Kuyper, R.A. Basart, Chris Kuzneski, Johan Daisne, Robert Habeck, Pierre Huyskens |
| | Joseph Roth, Johann Georg Jacobi, Manfred Böckl, Paul Bourget, Paul Déroulède, Giovanni Verga, Richard Voß |
| | W. F. Hermans, Hubert Lampo, Blaise Cendrars, Edgar Rice Burroughs, Sabine Scho, Peter Adolphsen, Lenrie Peters, J. J. Cremer |
| | William Saroyan, Éric Zemmour, Wolfgang Hilbig, Elizabeth von Arnim, Théophile Gautier, Raymond P. Hammond |
| | Dolce far niente, James Whitcomb Riley, Charles Reznikoff, François Cheng, Jiři Orten, Libu¨e Moníková, Mary Wollstonecraft Shelley |
| | Dolce far niente, Jennifer Grotz, Hugo Brandt Corstius, Elma van Haren, John Edward Williams, Maurice Maeterlinck, Thom Gunn |
| | Dolce far niente, Friedrich Hebbel, Johann Wolfgang von Goethe, Maria Barnas, A. Moonen, C. J. Kelk, Frederick Kesner |
| | Rainer Kirsch, Tom Lanoye, Kristien Hemmerechts, Paul Verhuyck, Jeanette Winterson |
| | Lolita Pille, David Rowbotham, Norah Lofts, Cecil Scott Forester, Lernert Engelberts |
| | Christopher Isherwood, Laura van der Haar, C. B. Vaandrager, Paula Hawkins, Joachim Helfer, Guillaume Apollinaire, Rashid Al-Daif |
| | Jules Romains, Julio Cortázar, Walter Helmut Fritz, Joachim Zelter, Jürgen Kross, Ludwig Aurbacher, Boris Pahor |
| | Martin Amis, Kees Stip, Howard Jacobson, Charles Wright, Maxim Biller, Frederick Forsyth, Jògvan Isaksen, Johann Gottfried von Herder, Thea Astley |
| | John Green, Drs. P, Marion Bloem, Pepijn Lanen, Stephen Fry, Jorge Luis Borges, A. S. Byatt, Sascha Anderson, Johan Fabricius |
| | Dolce far niente, Victor Vroomkoning, Charles Busch, Curtis Sittenfeld, Koos Dijksterhuis, Albert Alberts, Ilija Trojanow |
| | Dolce far niente, Jacob Israël de Haan, Griet Op de Beeck, Jeroen Theunissen, Annie Proulx, Krijn Peter Hesselink, Willem Arondeus |
| | Alfred Wellm |
| | Dolce far niente, Martin Bril, Rogi Wieg, X.J. Kennedy, Robert Stone, Aubrey Beardsley, Frédéric Mitterrand |
| | Dolce far niente, Tom van Deel, Anneke Brassinga, Etgar Keret, James Rollins, Clemens Meyer, Arno Surminski |
| | Maren Winter, Charles de Coster, Edgar Guest, Tarjei Vesaas, Salvatore Quasimodo, Colin MacInnes |
| | Sylvie Richterová, Ernst-Jürgen Dreyer, Boleslaw Prus, Menno Lievers, Vasili Aksjonov, Jacqueline Susann |


Gastenboek


Druk op onderstaande knop om een berichtje achter te laten in mijn gastenboek