E-mail mij


Druk op onderstaande knop om mij te e-mailen.


Romenu


Google


Georg Trakl

Georg Trakl werd op 3 februari 1887 in het conducteurshuis aan de Waagplatz 2 in Salzburg geboren. Zijn vader, Tobias Trakl, was een handelaar in ijzerwaren en zijn moeder, die ook psychische problemen had, was Maria Catharina Trakl, (meisjesnaam Halik). Voorts had hij nog drie broers en drie zussen. Margarethe (doorgaans Grethe genoemd) stond hem het naast, zelfs zodanig dat sommigen een incestueuze verhouding vermoeden. Zijn jeugd bracht hij door in Salzburg. Vervolgens bezocht hij van 1897 tot 1905 het humanistische gymnasium. Om toch een academische opleiding te kunnen volgen, werkte hij tot 1908 in de praktijk bij een apotheker. Sommigen vermoedden dat hij dit vooral deed om zichzelf opiaten te kunnen verschaffen. Bij het uitbreken van WO I werd Trakl als medicus naar het front in Galicië (heden ten dage in Oekraïne en Polen) gestuurd. Zijn gemoedsschommelingen leidden tot geregelde uitbraken van depressie, die verergerd werden door de afschuw die hij voelde voor de verzorging van de ernstig verwonde soldaten. De spanning en druk dreven hem ertoe een suïcidepoging te ondernemen, welke zijn kameraden nochtans verhinderden. Hij werd in een militair ziekenhuis opgenomen in Kraków, alwaar hij onder strikt toezicht geplaatst werd.Trakl verzonk daar in nog zwaardere depressies en schreef Ficker om advies. Ficker overtuigde hem ervan dat hij contact moest opnemen met Wittgenstein, die inderdaad op weg ging na Trakls bericht te hebben ontvangen. Op 4 november 1914, drie dagen voordat Wittgenstein aan zou komen, overleed hij echter aan een overdosis cocaïne


Paul Celan

Paul Celan werd onder de naam Paul Antschel op 23 november 1920 geboren in Czernowitz, toentertijd de hoofdstad van de Roemeense Boekovina, nu behorend bij de Oekraïne. Paul Celans ouders waren Duitssprekende joden die hun zoon joods opvoedden en hem naar Duitse christelijke scholen stuurden. In 1942 werden Celans ouders door de Duitse bezetter naar een werkkamp gedeporteerd en daar vermoord. Hijzelf wist aanvankelijk onder te duiken, maar moest vanaf juli 1942 in een werkkamp dwangarbeid verrichten. Celan overleefde de oorlog. Via Boekarest en Wenen vestigde Celan zich in 1948 in Parijs. Daar was hij werkzaam als dichter, vertaler en doceerde hij aan de prestigieuze Ecole Normale Supérieure. Vermoedelijk op 20 april 1970 beëindigde hij zijn leven zelf door in de Seine te springen.


Gerard Reve

Gerard Reve over: Medearbeiders "God is in de mensen, de dieren, de planten en alle dingen - in de schepping, die verlost moet worden of waaruit God verlost moet worden, door onze arbeid, aangezien wij medearbeiders van God zijn." Openbaring "Tja, waar berust elk godsbegrip op, elke vorm van religie? Op een openbaring, dat wil zeggen op een psychische ervaring van zulk een dwingende en onverbiddelijke kracht, dat de betrokkene het gevoel heeft, niet dat hij een gedachte of een visioen heeft, maar dat een gedachte gedachte of visioen hem bezit en overweldigt."


Simon Vestdijk
Simon Vestdijk (Harlingen, 17 oktober 1898 – Utrecht, 23 maart 1971) was een Nederlands romancier, dichter, essayist en vertaler. Zijn jeugd te Harlingen en Leeuwarden beschreef hij later in de Anton Wachter-cyclus. Van jongs af aan logeerde hij regelmatig bij zijn grootouders in Amsterdam, waar hij zich in 1917 aan de Universiteit van Amsterdam inschrijft als student in de medicijnen. Tijdens zijn studie die van 1917 tot 1927 duurde, leerde hij Jan Slauerhoff kennen.Tot 1932 is hij als arts in praktijken door heel Nederland werkzaam. In 1932 volgt zijn officiële schrijversdebuut met de uitgave van de bundel Verzen in De Vrije Bladen. Doorslaggevend voor Vestdijks uiteindelijke keuze voor de literatuur is zijn ontmoeting in 1932 met Eddy Du Perron en Menno ter Braak. Deze ontmoeting had tot resultaat dat hij redactielid werd van het tijdschrift Forum Kort daarop, in 1933, wordt zijn eerste novelle, De oubliette, uitgegeven. In hetzelfde jaar schrijft hij Kind tussen vier vrouwen, dat, eerst geweigerd door de uitgever, later de basis zal vormen voor de eerste drie delen van de Anton Wachter-romans. In 1951 ontvangt Vestdijk de P.C. Hooftprijs voor zijn in 1947 verschenen roman De vuuraanbidders. In 1957 wordt hij voor het eerst door het PEN-centrum voor Nederland voorgedragen voor de Nobelprijs voor de Literatuur, die hij echter nooit zal krijgen. Op 20 maart 1971 wordt hem de Prijs der Nederlandse Letteren toegekend, maar voor hij deze kan ontvangen overlijdt hij op 23 maart te Utrecht op 72-jarige leeftijd. Vestdijk was auteur van ca. 200 boeken. Vanwege deze enorme productie noemde de dichter Adriaan Roland Holst hem 'de man die sneller schrijft dan God kan lezen'. Andere belangrijke boeken van Simon Vestdijk zijn: "Kind van stad en land" (1936), "Meneer Visser's hellevaart" (1936), "Ierse nachten" (1946), "De toekomst de religie" (1947), "Pastorale 1943" (1948), "De koperen tuin" (1950), "Ivoren wachters" (1951), "Essays in duodecimo" (1952) en "Het genadeschot" (1964).


K.P. Kavafis

K.P. Kavafis werd als kind van Griekse ouders, afkomstig uit Konstantinopel, geboren in 1863 in Alexandrië (tot vandaag een Griekse enclave) waar hij ook het grootste deel van zijn leven woonde en werkte. Twee jaar na de dood van zijn vader verhuist het gezin in 1872 naar Engeland om na een verblijf van vijf jaar naar Alexandrië terug te keren. Vanwege ongeregeldheden in Egypte vlucht het gezin in 1882 naar Konstantinopel, om na drie jaar opnieuw naar Alexandrië terug te gaan. In de jaren die volgen maakt Kavafis reizen naar Parijs, Londen en in 1901 zijn eerste reis naar Griekenland, in latere jaren gevolgd door nog enkele bezoeken. Op de dag van zijn zeventigste verjaardag, in 1933 sterft Kavafis in Alexandrië. De roem kwam voor Kavafis pas na zijn dood, dus postuum. Deels is dat toe te schrijven aan zijn eigen handelswijze. Hij was uiterst terughoudend met de publicatie van zijn gedichten, liet af en toe een enkel gedicht afdrukken in een literair tijdschrift, gaf in eigen beheer enkele bundels met een stuk of twintig gedichten uit en het merendeel van zijn poëzie schonk hij op losse bladen aan zijn beste vrienden.


Thomas Mann


Thomas Mann, de jongere broer van Heinrich Mann, werd geboren op 6 juni 1875 in Lübeck. Hij was de tweede zoon van de graankoopman Thomas Johann Heinrich Mann welke later één van de senatoren van Lübreck werd. Zijn moeder Julia (geboren da Silva-Bruhns) was Duits-Braziliaans van Portugees Kreoolse afkomst. In 1894 debuteerde Thomas Mann met de novelle "Gefallen". Toen Thomas Mann met 21 jaar eindelijk volwassen was en hem dus geld van zijn vaders erfenis toestond - hij kreeg ongeveer 160 tot 180 goldmark per jaar - besloot hij dat hij genoeg had van al die scholen en instituties en werd onafhankelijk schrijver. Kenmerkend voor zijn stijl zijn de ironie, de fenomenale taalbeheersing en de minutieuze detailschildering. Manns reputatie in Duitsland was sterk wisselend. Met zijn eerste roman, Buddenbrooks (1901), had hij een enorm succes, maar door zijn sceptische houding tegenover Duitsland na de Eerste Wereldoorlog veranderde dit volledig. Stelde hij zich tot aan de jaren twintig apolitiek op (Betrachtungen eines Unpolitischen, 1918), meer en meer raakte hij bij het Politiek gebeuren betrokken. Zijn afkeer van het nationaal socialisme groeide, zijn waarschuwingen werden veelvuldiger en heftiger. In 1944 accepteerde hij het Amerikaanse staatsburgerschap. Tussen 1943 en 1947 schreef Mann Doktor Faustus (zie Faust), de roman van de 'Duitse ziel' in de gecamoufleerd geschilderde omstandigheden van de 20ste eeuw. In 1947 bezocht hij voor het eerst sinds de Oorlog Europa, twee jaar later pas Duitsland. In 1952 vertrok hij naar Zwitserland. Op 12 augustus 1955 stierf hij in Zürich. Twintig jaar na zijn dood, in aug. 1975, is zijn literaire nalatenschap geopend: dagboekaantekeningen van 15 maart 1933 tot 29 juli 1955, alsmede notities uit de jaren 1918 tot en met 1921.Belangrijke werken zijn: Der Zauberberg, Der Tod in Venedig, Dokter Faustus , Joseph und seine Brüder en Die Bekenntnisse des Hochstaplers Felix Krull.


Rainer Maria Rilke

Rilke werd op 4 december 1875 geboren in Praag. Hij had al naam gemaakt als dichter met zijn bundels Das Stundenbuch en Das Buch der Bilder, toen hij de literaire wereld versteld deed staan en wereldfaam verwierf met de publicatie van zijn twee delen Neue Gedichte in 1907 en 1908. Hij verzamelde daarin het beste werk uit een van zijn vruchtbaarste periodes, die hij grotendeels doorbracht in Parijs. Rilke was daar diep onder de indruk gekomen van Rodin, bij wie hij een tijdlang in dienst was als particulier secretaris. Rodin, zei hij later, had hem leren kijken. Dit kijken kwam neer op intense concentratie, om het mysterie te kunnen zien 'achter de schijnbare werkelijkheid'. Latere en rijpere werken als Duineser Elegien (1912-1923) en het ronduit schitterende Die Sonette an Orfeus (1924) illustreren Rilkes metafysische visie op het onzegbare, dat haar verwoording vindt in een hermetische muzikale taal. Op 29 december 1926 overlijdt Rilke in het sanatorium in Val-Mont aan de gevolgen van leukemie. Enkele dagen later wordt hij, overeenkomstig zijn wens, begraven op het kerkhof van Raron.


* * * * * * * * * * * * * * * *

| | |
| --- | --- |
| | Over literatuur, gedichten, kunst en cultuur |

05-01-2013

Umberto Eco, Friedrich Dürrenmatt, Ngũgĩ wa Thiong'o, Paul Ingendaay, László Krasznahorkai
De Italiaanse schrijver Umberto Eco werd geboren op 5 januari 1932 in Allasandria. Zie ook alle tags voor Umberto Eco op dit blog.
Uit: In de naam van de roos (Vertaald door Jenny Tuin, Pietha de Voogd, Henny Vlot)
"De kerk was niet majestueus zoals andere die ik later in Straatsburg, Chartres, Bamberg en Parijs zag. Ze leek veeleer op die welke ik in Italië al had gezien, weinig geneigd in een duizelingwekkende vlucht naar de hemel op te streven en stevig op de aarde geplant, dikwijls meer breed dan hoog; zij het dat de muren van deze kerk op een eerste niveau, gelijk die van een burcht, van boven waren bezet met een reeks vierkante kantelen, terwijl zich boven deze verdieping een tweede bouwwerk verhief, meer een fikse tweede kerk dan een toren, bedekt met een puntdak en voorzien van strenge ramen. Een robuuste abdijkerk zoals onze oude bouwmeesters in de Provence en de Languedoc bouwden, gespeend van de vermetele vormen en overdreven versiersels eigen aan de moderne stijl, en pas in later tijden, vermoed ik, boven het koor verrijkt met een spitse, driest naar het hemelgewelf priemende toren.
(...)
Twee rechte, gladde zuilen stonden voor de ingang, die op het eerste gezicht een grote boog leek; maar van de zuilen gingen twee steunmuren uit, waarboven zich nog vele andere bogen welfden die de blik, als naar het hart van een afgrond, naar de eigenlijke, in het halfduister juist te onderscheiden ingang trokken, bekroond met een groot timpaan, aan de zijkanten geschraagd door twee muurpijlers en in het midden door een gebeeldhouwde pilaar die de ingang verdeelde in twee openingen, elk afgesloten door een eikenhouten, met metaal verstevigde deur. Op dat uur van de dag scheen de bleke zon bijna lood recht op het dak en liet licht viel schuin op de voorgevel, dus niet rechtstreeks op het timpaan; zo stonden we, na de twee zuilen te zijn gepasseerd, plotseling als het ware in een woud van bogen die, ontsproten aan de reeks kleinere pijlers waarmee de steunmuren op regelmatige afstanden werden verstevigd, boven onze hoofden het gewelf vormden. Toen onze ogen eindelijk aan het halfduister gewend waren, werd ik als door een bliksemflits getroffen door de woordeloze taal van de gebeeldhouwde en beschilderde Steen, waarvan de voorstellingen, direct toegankelijk voor ieders blik en fantasie als ze waren, (want pictura est laicorum literatura) mij in een visioen dompelden waarvan mijn tong ook thans nog slechts met moeite vermag te gewagen."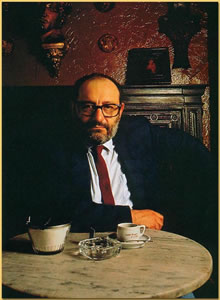 Umberto Eco (Allasandria, 5 januari 1932)
De Zwitserse schrijver Friedrich Dürrenmatt werd geboren op 5 januari 1921 in Konolfingen. Zie ook alle tags voor Friedrich Dürrenmatt op dit blog.
Uit: Hercules and the Augean Stables (Vertaald door Alexander Gross)
"Scene Two: On the glacier of Mount Olympus
(A snow-capped Hercules sits at right next to a snow-capped Wild Sow.)
HERCULES: Cold.
POLYBIUS: Cold
HERCULES: Thin air.
POLYBIUS: Mountain air.
(Polybius blows on his hands, beats his arms against his body, runs in place, trying to warm himself.)
HERCULES: Sit down. Stop dancing around. You're making me nervous.
POLYBIUS: Sorry about that.
(He mounts the platform and sits down to the left of the Wild Sow. They are both almost frozen.)
HERCULES: North wind.
(Polybius moistens his right index finger and holds it up in the air.)
POLYBIUS: Northwest wind.
HERCULES: Luckily I have my lion skin.
POLYBIUS: I unfortunately am dressed for the middle of summer.
HERCULES: The fog's getting thicker.
POLYBIUS: You can't see ten paces ahead.
HERCULES: Now it's started snowing again.
POLYBIUS: Storm blowing up.
HERCULES: There's something helpless about Greeks on a glacier.
(Thundering.)
POLYBIUS: An avalanche.
HERCULES: We're not a mountaineering nation."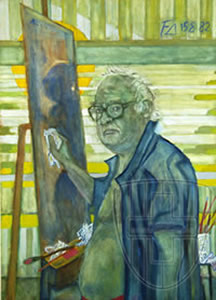 Friedrich Dürrenmatt (5 januari 1921 – 14 december 1990)
Zelfportret, 1982
De Keniase schrijver Ngũgĩ wa Thiong'o werd geboren op 5 januari 1938 in Kamiriithu, Limuru, Kenia. Zie ook alle tags voor Ngũgĩ wa Thiong'o op dit blog.
Uit: Decolonising the Mind
"One of the most humiliating experiences was to be caught speaking [Gikuyu] in the vicinity of the school. The culprit was given corporal punishment — three to five strokes of the cane on bare buttocks — or was made to carry a metal plate around his neck with inscriptions such as I AM STUPID or I AM A DONKEY. Sometimes the culprits were fined money they could hardly afford. And how did the teachers catch the culprits? A button was initially given to one pupil who was supposed to hand it over to whoever was caught speaking his mother tongue. Whoever had the button at the end of the day would sing who had given it to him and the ensuing process would bring out all the culprits of the day. The children were turned into witch-hunters and in the process were being taught the lucrative value of being a traitor to one's immediate community.
(…)
The fact is that all of us who opted for European languages—the conference participants and the generation that followed them—accepted that fatalistic logic [of the unassailable position of English in our literature] to a greater of lesser degree. We were guided by it and the only question which preoccupied us was how best to make the borrowed tongues carry the weight of our African experience by, for instance, making them 'prey' on African proverbs and other peculiarities of African speech and folklore."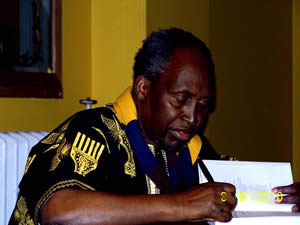 Ngũgĩ wa Thiong'o (Kamiriithu, 5 januari 1938)
De Duitser schrijver, criticus en literatuurwetenschapper Paul Ingendaay werd geboren op 5 januari 1961 in Keulen. Zie ook alle tags voor Paul Ingendaay op dit blog.
Uit: Gebrauchsanweisung für Spanien
"Man berät, bemitleidet die junge Frau, deren Suche bisher vergeblich war, lobt ihr Spanisch, lobt dann noch einmal die Vespa und ruft schließlich Julio. Und Julio erinnert sich an ein Vorderlicht, eines von den alten, gerundeten, das schon seit Ewigkeiten niemand haben will und das noch irgendwo im Lager herumliegen muß. Drei Minuten später hält er es triumphierend in der Hand, alle lachen, teuer ist das Vorderlicht auch nicht, weil es ja schon fast ausgemustert war.

Die erste Geschichte trägt sich wahrscheinlich täglich in dieser oder einer ähnlichen Form in Deutschland zu. Die zweite hat sich ziemlich genau so abgespielt - in Spanien. Man könnte sich nun fragen, was die vier Leute in der Madrider Werkstatt den ganzen Tag machen. Womöglich ist das Erstatzteillager in so fürchterlichem Zustand, daß man mindestens vier Leute braucht, um das Chaos in den Griff zu bekommen. Oder einer hat einen Freund mitgebracht, der gerade nichts Besseres zu tun hat und ebensogut in der Werkstatt herumtrödeln kann wie in seiner Bude. Kurz, der Charme des geschilderten Erlebnisses, der erfolgreichen Suche nach dem Vorderlicht, gründet wahrscheinlich auf einer gewissen Unordnung und Ineffizienz der Lagerhaltung.
Doch wie sehr man an der kleinen Geschichte auch herumdeutet, ihre Ursachen und Vorbedingungen untersucht, das Ergebnis bleibt davon unberührt. Die junge Frau mit der Vespa wird aus der Werkstatt nicht nur ein Vorderlicht (gerundet) mitnehmen, sondern auch einen sehr guten Eindruck, dem keine spätere Erfahrung etwas anhaben kann."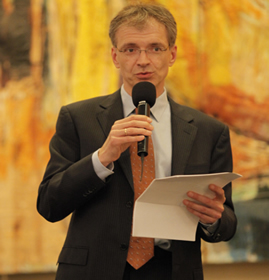 Paul Ingendaay (Keulen, 5 januari 1961)
De Hongaarse schrijver László Krasznahorkai werd geboren op 5 januari 1954 in Gyula. Zie ook alle tags voor László Krasznahorkai op dit blog.
Uit: Satanstango (Vertaald door Hans Skirecki)
"Denn nur das blieb; die Mutter nämlich hatte sie, nachdem sie im gegenseitigen Einverständnis aus der Hilfsschule in der Stadt zurückgeholt worden war, für die Hausarbeit eingespannt, doch in der Furcht vor Schelte zerbrachen die Teller auf dem Fußboden, blätterte das Email von den Töpfen, blieb das Spinngewebe in den Ecken hängen, war die Suppe ohne Geschmack und der Paprikasch versalzen, bis sie schließlich die einfachsten Aufgaben nicht mehr erledigen konnte und aus der Küche verscheucht werden mußte. Fortan verrannen ihr die Tage in verkrampftem Warten, sie verzog sich hinter die Scheune oder unter das Vordach hinterm Haus, wenn es regnete, denn von dort aus hatte sie die Küchentür so im Blick, daß sie von drinnen zwar nicht gesehen werden, aber beim ersten Ruf zur Stelle sein konnte. In der ständigen Wachsamkeit geriet bald die Ordnung ihrer Sinnesorgane aus den Fugen: Ihr Sehvermögen beschränkte sich fast ausnahmslos auf die Küchentür, diese jedoch nahm sie mit ungeheurer Schärfe, mit beinahe schon reißendem Schmerz wahr; an ihr erfaßte sie alle Einzelheiten gleichzeitig, oben die beiden schmutzigen Scheiben und den mit Reißzwecken befestigten Spitzenvorhang dahinter, unten die angetrockneten Schlammspritzer, die waagrechte Linie der Klinke, kurz, das ganze alarmierende Netz der Formen, Farben und Linien; in der in Stücke zerfallenden Zeit nahm sie auch die verschiedenen Zustände der Küchentür wahr, die jeweils von einem anderen Grad der Gefahren und Möglichkeiten kündeten. Wenn die Tür sich jäh bewegte, kam rundherum alles in Schwung: die Mauer des Hauses oder die Krümmung des Regenabflusses lief an ihr vorbei, das Fenster flitzte davon, zur Linken schwammen der kleine Stall und der vernachlässigte Blumengarten vorüber, der Himmel über ihr setzte sich in Bewegung, der Boden unter ihren Füßen rannte weg, und schon stand sie vor der Mutter oder der Schwester, ohne daß sie hatte sehen können, wie die Küchentür sich öffnete, auf einmal stand sie vor ihnen. Die Sekunde, bis sie den Blick senkte, genügte, sie zu erkennen, mehr brauchte sie nicht, und von da an und noch lange danach schien die undeutliche Gestalt der Mutter oder der Schwester wie hineingenagelt in den Raum voller zappelnder Gegenstände, blicklos nahm sie wahr, daß diese dort sind und sie hier ist, ihnen gegenüber, unten, und sie wußte auch, daß die drei sie so sehr überragten, daß das Bild, falls sie jemals zu ihnen aufblickte, vielleicht zerspränge, da ihr offenkundiges Recht, derart aufzuragen, so ins Auge sprang, daß allein schon der Anblick es zerstören mochte."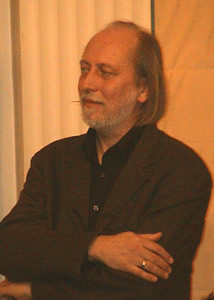 László Krasznahorkai (Gyula, 5 januari 1954)
Zie voor nog meer schrijvers van de 5e januari ook mijn vorige blog van vandaag en eveneens mijn eerste blog van vandaag.

05-01-2013 om 12:15 geschreven door Romenu

Tags:Umberto Eco, Friedrich Dürrenmatt, Ngũ,gĩ, wa Thiong'o, Paul Ingendaay, László Krasznahorkai, Romenu



Forough Farokhzad, Terenci Moix, Yevgeni Popov, Luisa Futoransky
De Iraanse dichteres Forough Farokhzad werd geboren op 5 januari 1935 in Teheran. Zie ook alle tags voor Forough Farokhzad op dit blog.
Conquest of the Garden
The crow that flew over us and sank-
in the confusion of a vagabond cloud;
The crow that swiftly crossed-
the extent of the sphere-
like a short arrow-
will tell about us-
in the town.

Everybody knows.
Everybody knows that you and I,
looked through the oblique crack of the wall-
and saw The Garden.

Everybody knows.
Everybody knows that you and I,
reached for the trembling branch of The Tree-
and picked the apple.

Everybody is scared.
Everybody is scared but you and I,
together joined lights,
mirrors and water-
and feared never.

For you and I,
it is not about a frail union of two names-
in the aged pages of a registrar notebook.
It is about my fortunate locks-
and the burning stroke of your kiss.

For you and I,
it is about the imminence of our skins-
in the sacred wellspring of lightly streams,
swiftly sliding -over the waterfalls and the hills.

And,
it is about the fountain's songs-
its fleeting flight, its short, silvery life.

You and I,
in the core of a darkened night,
in the fluid freshness of forests,
on the peak of shielding mounts,
and in a freezing fearful sea-
asked young, golden eagles-
what we ought to do.

Everybody knows.
Everybody knows that we pierced-
into the silent dream of Phoenix.

Everybody knows.
Everybody knows that you and I,
In the prairies and the plains-
reached to the glittering roots-
of Truth.

Everybody knows.
Now, everybody knows that you and I,
in an endless instant, conquered the entirety of Eternity.

For you and I,
It is not about a shaking whisper in the dark.
It is about Day and its invading spark.
It is about a breeze over the fertile side.
It is about birth, evolution and pride.

It is about burning every futile piece-
in the garnet core of the flames.

And it is about our hands-
that contrived a bridge,
concrete and bright,
over the tear of night.

Come to the turf!
Come to the turf-
and call my name!
Call my name-
with a choral of white lilies-
like a gazelle who calls his mate.

The shades of dusk-
are floating in their veiled sorrow.

And doves,
from the windows of their white tower-
are looking at Earth.

Come to the turf!




Vertaald door Maryam Dilmaghani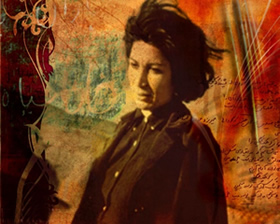 Forough Farokhzad (5 januari 1935 – 13 februari 1967)
De Spaanse schrijver Terenci Moix werd geboren op 5 januari 1942 in Barcelona. Zie ook alle tags voor Terenci Moix op dit blog.
Uit: Der Traum der Kleopatra (Vertaald door Elisabeth Brock)
"Mit dem verschleierten Gesicht, dem verhüllten, gekrümmten Körper, war die arme Frau kaum wiederzuerkennen. Der edle Sosigenes jedoch trat auf wie immer. Er war die gleiche ehrfurchtgebietende Person, die seit den frühen Tagen des Bürgerkriegs, als Kleopatra ihren Gatten und Bruder, den Milchbart Ptolemaios besiegt und sich des ägyptischen Throns bemächtigt hatte, immer an ihrer Seite gestanden hatte. Sosigenes, einst ihr Erzieher und bewährter Berater, diente ihr heute als Stütze und Stab, als Blindenführer, der ihren taumelnden Schritten den Weg wies.
Kleopatra blickte auf ihre Umgebung, ohne etwas wahrzunehmen. Das trauernde Schiff fand seine Entsprechung in den Gruppen der betrübten Menschen, die sich am Ufer versammelten. Doch selbst diese Würdigung ihres Schmerzes berührte Kleopatra nicht."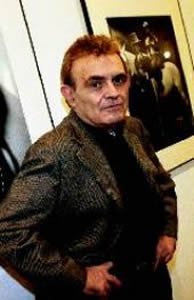 Terenci Moix (5 januari 1942 – 2 april 2003)
De Russische schrijver Yevgeni Anatoljewitsj Popov werd geboren op 5 januari 1946 in Krasnojarsk, Sibirië. Zie ook alle tags voor Yevgeni Popov op dit blog.
Uit: Mein Moskau
Auch ich bin, wie diese Filmheldin, vor 35 Jahren in zerrissenen Schuhen aus Sibirien nach Moskau gekommen, weshalb ich heute bezeugen kann: Früher änderte sich hier jahrelang gar nichts, und wir alle waren der Ansicht: «Das Reich Lenins wird nie ein Ende haben», wie es im letzten Brief eines buckligen Selbstmörders hiess, der sich in einer Erzählung Iwan Bunins, des vor den Bolschewiken geflüchteten künftigen Nobelpreisträgers, aufgehängt hatte. Heute hat sich alles geändert, möchte man sagen, doch will ich mit einer so kategorischen Behauptung eher vorsichtig sein, nicht nur aus Aberglauben, auch aus Liebe und Genauigkeit.
Was war früher? Hysterische Langeweile befiel den einfachen Moskauer, wenn er abends auf die Strasse seiner schlecht beleuchteten Stadt trat, deren Schmuck - die Spruchbänder RUHM DER KPDSU - wie ein Menetekel im Dunkeln schimmerte. In «Der Meister und Margarita», dem Roman des Satirikers Michail Bulgakow, drückt das eine der Figuren so aus: «Wäre nicht das Kartenspiel, wäre das Leben in Moskau völlig unerträglich.» Und wäre nicht der Wodka, füge ich hinzu.
In den letzten Jahren unter kommunistischer Herrschaft war im Vergleich mit den Zeiten Stalins und Bulgakows das Warenangebot in den Geschäften sehr geschrumpft, und in den missmutigen, sich stundenlang hinziehenden Wurstwarteschlangen wurde Jahr um Jahr über das Problem debattiert, wer daran schuld sei, die Provinzler, die in Moskau Lebensmittel einkauften und sie taschenweise in ihre Kleinstädte verschleppten, wo es niemals Wurst zu kaufen gab, oder die «verfressenen Moskauer», die von ganz Russland gemästet wurden, womit Russland zugleich den hergereisten Ausländern etwas vormachte, denen aus irgendwelchen Gründen ständig bewiesen werden musste: SOWJETISCH HEISST VORTREFFLICH und DER KOMMUNISMUS IST DIE LICHTE ZUKUNFT DER GESAMTEN MENSCHHEIT.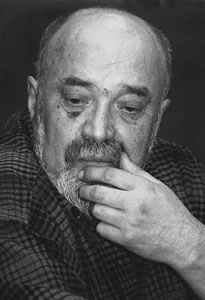 Yevgeni Popov (Krasnojarsk, 5 januari 1946)
De Argentijnse dichteres en schrijfster Luisa Futoransky werd geboren op 5 januari 1939 in Buenos Aires. Zie ook alle tags voor Luisa Futoransky op dit blog.
Uit: The Formosa
"I don't know why, who knows they don't either, but the whole gang of us they gave pet nicknames that to this day we haven't been able to shake off. They must have thought it was affectionate. Chola, Quique, Bochi, Chiqui, Dito, Cacho, Pichi, Michi. With variants, like for example, Pichita and Pichona. Cachito, Mincho, Bicho and Biche.
The mothers in turn were identified by their grandmothers or by the flaws the families suffered. But when the dimensions of the capitals of Eldorado reached beyond main street and the surroundings of the shtetl, they recognized each other by the distant neighborhood they came from, tenaciously preserving however a few threads from the old Jewish districts, indelible before the bloody or bloodless advances of assimilation.
So, Sonia was never Sonia but Sonie from Urquiza, Dora was Dobresh from Nazca; Clara, Jaique the cripple from Parque Chas. Rujl was never called Raquel, but Rujl from the Center to distinguish her, since she was richer, from the Rujl from the outskirts, from Ramos Mejía. Ite was always Ite and bobe. No matter how much I revise, shake, or rake the tree in every direction, I find neither a Reina nor a Fortuna, as occurs in Sephardic families. With a mere princess or Joy, I, we, might have been content; that must be the reason it was for us how it was or continues to be.
We kept separating from one another like tuna or swordfish steaks not too fresh in the fish market. Not so much smell of fish, but you can see that the meat has lost its initial firmness and oozes softish pink blood over the marble counter top that they'll have to wash down with the brush made of the same material as those brooms, the best ones, the kind with five strands that used to be bought in a sort of store-shed rather in shadows, where you'd find piled up bags of potatoes, onions and coal. The bags of thick sackcloth were identical and they came in sizes of ten or twenty-five kilos, but by touch you could guess the contents; sharp edges for the coal, roundnesses for potatoes and onions. To sit there on your bottom procured other sensations".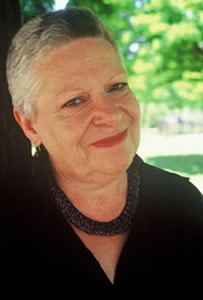 Luisa Futoransky (Buenos Aires, 5 januari 1939)

05-01-2013 om 12:10 geschreven door Romenu

Tags:Forough Farokhzad, Terenci Moix, Yevgeni Popov, Luisa Futoransky, Romenu



William Snodgrass, Pierre Seghers, Fred Wander, Humbert Wolfe, Stella Gibbons
De Amerikaanse dichter William De Witt Snodgrass werd geboren op 5 januari 1926 in Wilkinsburg, Pennsylvania. Zie ook alle tags voor William Snodgrass op dit blog.
Pacemaker
I
'One Snodgrass, two Snodgrass, three Snodgrass, four . . .
I took my own rollcall when I counted seconds;
'One two three, Two two three, Three . . .,' the drum score
Showed only long rests to the tympani's entrance.

'Oh-oh-oh leff; leff; leff-toh-righ-toh-leff,'
The sergeant cadenced us footsore recruits;
The heart, poor drummer, gone lame, deaf,
Then AWOL, gets frogmarched to the noose.

II
Old coots, at the Veterans', might catch breath
If their cheeks got slapped by a nurse's aide,
Then come back to life; just so, at their birth,
Young rumps had been tendered warm accolades.

The kick-ass rude attitude, smart-assed insult,
The acid-fueled book review just might shock
Us back to the brawl like smelling salts,
Might sting the lulled heart up off its blocks.

III
I thought I'd always favor rubato
Or syncopation, scorning fixed rhythms;
Thought my old heartthrobs could stand up to stress;
Believed one's bloodpump should skip a few beats
If it fell into company with sleek young women;
Believed my own bruit could beat with the best.

Wrong again, Snodgrass! This new gold gadget,
Snug as the watch on my wife's warm wrist,
Drives my pulsetempo near twice its old pace—
Go, nonstop startwatch! Go, clockwork rabbit,
Keeping this lame old dog synchronized,
Steady, sparked up, still in the race.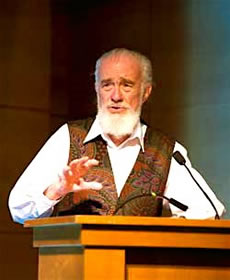 William Snodgrass (5 januari 1926 – 13 januari 2009)
De Franse dichter en uitgever Pierre Seghers werd geboren op 5 januari 1906 in Parijs. Zie ook alle tags voor Pierre Seghers op dit blog.
Uit: Comme une main qui se referme
Comme une main qui se referme
Comme un refus qui se raidit
Comme un défi aux yeux de fer
Mon cœur
Comme un oiseau de paradis
Une tombe en terre lointaine
Ou le dauphin d'une fontaine
Mon cœur
Un prisonnier qui se débat
Sans mouvements et marche droit
Ses poings sont devenus de bois
Mon cœur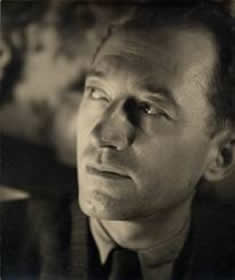 Pierre Seghers (5 januari 1906 – 4 november 1987)
De Oostenrijkse schrijver Fred Wander werd geboren op 5 januari 1917 in Wenen als Fritz Rosenblatt. Zie ook alle tags voor Fred Wander op dit blog.
Uit: Das gute Leben
"Von Lyon nach Paris waren es damals noch fünf langweilige Stunden Fahrt. Ich stieg nach Mitternacht in den Schnellzug, der von Marseille kam und glücklicherweise nicht voll besetzt war. In meinem Abteil saßen ein paar Landarbeiter und Algerier, Leute, die wie ich rote Nasen hatten, von zuviel frischer Luft, und kein Geld fur den Schlafwagen. Einer der Manner packte gerade eine Sandwichstange aus, mit Käse und Wurst, und mehrere Äpfel.
Als er mir ins Gesicht gesehen hatte, teilte er sein Frühstück in zwei Teile und gab mir eine Hälfte. Ohne ein Wort. Nicht einmal ein Lächeln. In mir drehte sich der leere Magen hin und her, und man sah es mir an. Die Leute blicken dir hier ins Gesicht, dachte ich und hatte auf einmal, während ich gierig einen Apfel verschlang, das Gefühl von einem vollig neuen Leben.
Ich war zwanzig Jahre alt, ziemlich weltfremd, und wenn ich heute nach so langer Zeit daran zurückdenke, war es unter den verschiedenen Stationen meines Lebens eine der schönsten. Du kommst in Paris an, hast keine Ahnung von der wirklichen Welt, kein Gepäck, kein Geld, kennst die Sprache nicht, kennst keinen einzigen Menschen.
Aber was macht das aus, wenn schon auf der Fahrt dorthin einer seine Knackwurst mit dir teilt. Ich schlief dann auf der Holzbank ausgestreckt, etwas unbequem, aber selig. Mein Gönner schielte noch ein paarmal herüber, ohne mich mit Fragen zu löchern. Wir waren uns einig."v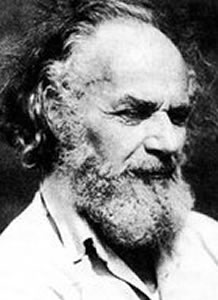 Fred Wander (5 januari 1917 – 10 juli 2006)
De Engelse dichter Humbert Wolfe werd geboren op 5 januari 1885 in Milaan. Zie ook alle tags voor Humbert Wolfe op dit blog.
Green Candles
'There's someone at the door,' said gold candlestick:
'Let her in quick, let her in quick!'
'There is a small hand groping at the handle.
Why don't you turn it?' asked green candle.
'Don't go, don't go,' said the Hepplewhite chair,
'Lest you find a strange lady there.'
'Yes, stay where you are,' whispered the white wall:
'There is nobody there at all.'
'I know her little foot,' grey carpet said:
'Who but I should know her light tread?'
'She shall come in,' answered the open door,
'And not,' said the room, 'go out any more.'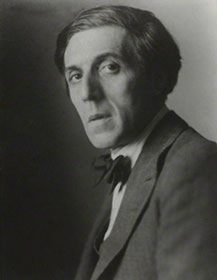 Humbert Wolfe (5 januari 1885 – 5 januari 1940)
De Engelse schrijfster Stella Gibbons werd geboren op 5 januari 1902 in Londen. Zie ook alle tags voor Stella Gibbons op dit blog.
Uit: Cold Comfort Farm
"The death of her parents did not cause Flora much grief, for she had barely known them. They were addicted to travel, and spent only a month or so of each year in England. Flora, from her tenth year, had passed her school holidays at the house of Mrs Smiling's mother; and when Mrs Smiling married, Flora spent them at her friend's house instead. It was therefore with the feelings of one who returns home that she entered the precincts of Lambeth upon a gloomy afternoon in February, a fortnight after her father's funeral.
Mrs Smiling was fortunate in that she had inherited house property in Lambeth before the rents in that district soared to ludicrous heights, following the tide of fashion as it swung away from Mayfair to the other side of the river, and the stone parapets bordering the Thames became, as a consequence, the sauntering ground of Argentinian women and their bull ­terriers. Her husband (she was a widow) had owned three houses in Lambeth which he had bequeathed to her. One, in Mouse Place, was the pleasantest of the three, and faced with its shell fanlight the changing Thames; here Mrs Smiling lived, while of the other two, one had been pulled down and a garage perpetrated upon its site, and the third, which was too small and inconvenient for any other purpose, had been made into the Old Diplomacy Club.
The white porcelain geraniums which hung in baskets from the little iron balconies of 1, Mouse Place, did much to cheer Flora's spirits as her taxi stopped before its door.
Turning from the taxi to the house, she saw that the door had already been opened by Mrs Smiling's butler, Sneller, who was looking down upon her with dim approval. He was, she reflected, almost rudely like a tortoise; and she was glad her friend kept none as pets or they might have suspected mockery."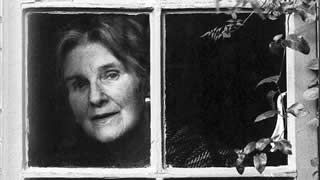 Stella Gibbons (5 januari 1902 – 19 december 1989)

05-01-2013 om 12:05 geschreven door Romenu

Tags:William Snodgrass, Pierre Seghers, Fred Wander, Humbert Wolfe, Stella Gibbons, Romenu



| | |
| --- | --- |
| | |



Inhoud blog


| | |
| --- | --- |
| | Vikram Seth, Paul Muldoon, Kurt Schwitters, Jean-Claude Izzo, Silke Andrea Schuemmer, Carel van Nievelt, Robert Rozhdestvensky, Laure Wyss, Lillian Hellman |
| | Salman Rushdie, Sybren Polet, Josef Nesvadba, Osamu Dazai, José Rizal, Friedrich Huch, Gustav Schwab, Elke Geurts, Claudia Gabler |
| | Richard Powers, Marije Langelaar, Raymond Radiguet, Geoffrey Hill, Bert Schierbeek, Aster Berkhof, Karin Fellner, Mirjam Pressler, Ivan Gontsjarov |
| | Voor vader (Hans Lodeizen) |
| | Das Senfkorn (Meister Eckhart) |
| | Peter Rosei, Kamel Daoud, Gail Jones, Ron Padgett, Ward Ruyslinck, Adriaan van der Hoop jr, Hanna Johansen, Max Dendermonde, Tom Hofland |
| | Hanna Johansen, James Weldon Johnson, Henry Lawson, Ferdinand Freiligrath, Henrik Wergeland, John Hersey, Felix Hartlaub, Ossip Schubin |
| | Birthdays (Robert W. Service) |
| | Joël Dicker, August Willemsen, Theo Thijssen, Ronelda Kamfer, Frans Roumen |
| | Maria Dermoût, Christian Bauman, Silke Scheuermann, Hugo Borst, Ramon Lopez Velarde, Roland Dorgelès, François-Xavier Garneau, Emma Cline, Hannah van Wieringen |
| | Alex Boogers, Lieve Joris, Allard Schröder, John van Ierland, Peter O. Chotjewitz, Harriet Beecher Stowe, Hermann Kant, Jerzy Kosiński, Thomas Graftdijk |
| | Fernando Pessoa, Thomas Heerma van Voss, Willem Brakman, Virginie Despentes, William Butler Yeats, Tristane Banon, Marcel Theroux, Lode Zielens, Dorothy L. Sayers |
| | Christoph Meckel, Wolfgang Herrndorf, Anne Frank, Renan Demirkan, Djuna Barnes, Sandro Penna, Johanna Spyri H. C. Artmann, Günter Nehm |
| | William Styron, Sophie van der Stap, N. P. van Wyk Louw, Renée Vivien, Jean-Pierre Chabrol, Ben Jonson, Yasunari Kawabata, Athol Fugard, Nnimmo Bassey |
| | Magdalene—The Seven Devils (Marie Howe) |
| | Louis Couperus, D. Hooijer, Jacques Perk, James Salter, Mensje van Keulen, Jan Brokken |
| | Saul Bellow, Ion Creanga, Oktay Rifat, Peter Kurzeck, Antun Mihanović, Tijl Nuyts |
| | Maarten Doorman, Paul Beatty, Xander Michiel Beute, Anton Roothaert, Mirko Bonné, Curzio Malaparte, Jian Ghomeshi, Charles Webb, Rudolf Borchardt |
| | Willy Roggeman, Jurij Brězan, José Antonio Ramos Sucre, Akaki Zereteli, John Gillespie Magee jr., Bertha von Suttner |
| | Marguerite Yourcenar, Nino Haratischwili, Lutz Seiler, Ulf Stolterfoht, Péter Gárdos, Gwen Harwood, H. J. Friedericy, Udo Kawasser, Frank Keizer |
| | Marie Howe |
| | Het leven in juni (Marjoleine de Vos) |
| | Orhan Pamuk, Monika Mann, Nikki Giovanni, Harry Crews, Louise Erdrich, Mascha Kaléko, Jan Engelman, Gwendolyn Brooks, Elizabeth Bowen |
| | Thomas Mann, Aleksandr Poesjkin, Sarah Dessen, Jean Cayrol, Pierre Corneille, Hendrik van Teylingen, V. C. Andrews, Frank Gericke |
| | Dolce far niente, Groen-grijs gebied (Jesse Laport) |
| | Federico García Lorca, Adriaan Morriën, Ken Follett, Paul Farley, Geoff Dyer |
| | Ralf Thenior, Marie Ndiaye, Erasmus Schöfer, Buddy Wakefield, Yaak Karsunke, Charles Dickinson, Dana Bönisch, Elizabeth Jolley, Apollon Maykov |
| | Het laatste avondmaal (Nicolaas Beets) |
| | Allen Ginsberg, Philippe Djian, Maarten van Buuren, Solomonica de Winter, Monika Maron, Larry McMurtry, Norbert Gstrein, Wolfgang Cordan, Gerhard Zwerenz |
| | Carlo Michelstaedter, Kathleen E. Woodiwiss, Eugène Van Oye, Pedro Mir, Detlev von Liliencron, Friederike Brun, Otto Erich Hartleben, Philippe Quinault |
| | Jim Knipfel, Marcel Reich-Ranicki, Sibylle Berg, Carol Shields, Jean Nelissen, Thomas Hardy |
| | Markies De Sade, Dorothy West, Max Aub, Karl Gjellerup, Barbara Pym |
| | Patrick Besson, John Masefield, Ferdinand Raimund, Peter de Mendelssohn, Petra Morsbach, Colleen McCullough, Macedonio Fernández, Wilfred Campbell, Vicky Francken |
| | C. Buddingh'-prijs voor Radna Fabias |
| | Love's Choice (Malcolm Guite) |
| | Mariae Heimsuchung (Rainer Maria Rilke) |
| | Walt Whitman, Frank Goosen, Gabriel Barylli, Konstantin Paustovski, Svetlana Alexievich, Ludwig Tieck, Gerd Hergen Lübben, Saint-John Perse, T. T. Cloete |
| | Summer Storm (Bliss Carman) |
| | Elizabeth Alexander, Oscar van den Boogaard, Countee Cullen, Emmanuel Hiel, Martin Jankowski, Alfred Austin, Eddy Bruma, Henri François Rikken, Jan Geerts |
| | Summer in the City, 1949 (Ernest Farrés) |
| | André Brink, Eduard Escoffet, G. K. Chesterton, Bernard Clavel, T. H. White, Hans Weigel, Alfonsina Storni, Max Brand, Joel Benton |
| | Ein Sommergedicht (Thomas Gsella) |
| | Ad Zuiderent, Leo Pleysier, Adriaan Bontebal, Guntram Vesper, Frank Schätzing, Maeve Binchy, Ian Fleming, Sjoerd Leiker, Vladislav Chodasevitsj |
| | Dolores Dorantes |
| | St. Matthew (D. H. Lawrence) |
| | Niels 't Hooft, Jan Blokker, Linda Pastan, Louis-Ferdinand Céline, Georges Eekhoud, Said, John Cheever, John Barth |
| | Max Brod, Kaur Kender, Adriaan Venema, Arnold Bennett, Richard Schaukal, Ferdynand Ossendowski, M. A. von Thümmel, Herman Wouk, Dashiell Hammett |
| | Alan Hollinghurst, Radwa Ashour, Hugo Raes, Vítězslav Nezval, Ivan O. Godfroid, Maxwell Bodenheim, Isabella Nadolny, Edmond De Goncourt |
| | Egyd Gstättner, Madeleine Thien, Claire Castillon, Friedrich Dieckmann, Eve Ensler, Raymond Carver, Jamaica Kincaid, Robert Ludlum, Theodore Roethke |
| | Joseph Brodsky, Michael Chabon, Bob Dylan, Henri Michaux, William Trevor, Tobias Falberg, Arnold Wesker, Rainald Goetz, Louis Fürnberg |


Gastenboek


Druk op onderstaande knop om een berichtje achter te laten in mijn gastenboek