De Noorse schrijver Jostein Gaarder werd geboren op 8 augustus 1952 in Oslo. Zie ook alle tags voor Jostein Gaarder op dit blog.
Uit: The Orange Girl (Vertaald door James Anderson)
"Imagine that you were on the threshold of this fairytale, sometime billions of years ago when everything was created. And you were able to choose whether you wanted to be born to a life on this planet at some point. You wouldn't know when you were going to be born, nor how long you'd live for, but at any event it wouldn't be more than a few years. All you'd know was that, if you chose to come into the world at some point, you'd also have to leave it again one day and go away from everything. This might cause you a good deal of grief, as lots of people think that life in the great fairytale is so wonderful that the mere thought of it ending can bring tears to their eyes. Things can be so nice here that it's terribly painful to think that at some point the days will run out. What would you have chosen, if there had been some higher power that had gave you the choice? Perhaps we can imagine some sort of cosmic fairy in this great, strange fairytale. What you have chosen to live a life on earth at some point, whether short or long, in a hundred thousand or a hundred million years? Or would you have refused to join in the game because you didn't like the rules? (...) I asked myself the same question maybe times during the past few weeks. Would I have elected to live a life on earth in the firm knowledge that I'd suddenly be torn away from it, and perhaps in the middle of intoxicating happiness? (...) Well, I wasn't sure what I would have chosen. (...) If I'd chosen never to the foot inside the great fairytale, I'd never have known what I've lost. Do you see what I'm getting at? Sometimes it's worse for us human beings to lose something dear to us than never to have had it at all."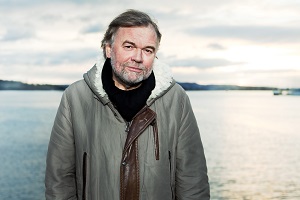 Jostein Gaarder (Oslo, 8 augustus 1952)
De Oostenrijkse schrijver Klaus Ebner werd geboren op 8 augustus 1964 in Wenen. Zie ook alle tags voor Klaus Ebner op dit blog.
Uit: Der Trinker
"Mit den härteren Geschäften, wie er es nannte, hatte er begonnen, als ihm der Konsum dieser doch weichen und sehr saftreichen Lebensmittel allmählich billig erschien und eine Stillung seines immer unersättlicher fordernden Durstes nicht in Sicht war. Es ging das Gerücht, dass eine Buche, an deren Stamm er sich gelehnt hatte, um etwas auszuruhen, den Anfang machte. Eher spielerisch denn überzeugt hatte er den Halm an die Rinde gelegt und daran gezogen, weil ihm eben nichts Besseres in den Sinn kam. Etwas erstaunt über den unerwartet süßen Geschmack hatte er schließlich so lange daran gesaugt, bis von der Buche nichts mehr übrig war und er dem Besitzer jenes Fleckens zwei Tage später verlegen erklären musste, was aus seinem fünfzigjährigen Baum geworden war, der noch dazu, inzwischen in mehr als zwei Metern Höhe, ein Herzchen und die geritzten Namen des Besitzers selbst und dessen erster Liebe getragen hatte.
Danach entstanden jene Geschichten, die sich mit der Zeit zu den Mythen unseres Dorfes entwickelten. Laternen am Beginn der Dämmerung zu trinken zählte noch zu den einfachen Übungen, denn viel lieber machte er sich an den Dachziegeln der Häuser zu schaffen, schlürfte gerade so viel weg, dass er mit einem Auge in die Schlafzimmer lugen und das mitunter bunte Treiben darin beobachten konnte, so lange, bis die Hausbewohner ihm auf die Schliche kamen und ihn unter Androhung schwerer Prügel vertrieben und nur dann, wenn dies nicht gelang, einfach keinen Sex mehr miteinander hatten. Mit besonders dreistem Spaß trank er die Mützen und Hüte seiner Mitmenschen, wenn diese ihm Ärger bereitet hatten oder auch völlig überraschend seinen Weg kreuzten. Als von einem der Höfe nächtens ein Kettenhund verschwand, sprachen viele sich dafür aus, ihn für immer aus unserer Gegend zu vertreiben, doch soweit ich mich erinnere, konnte niemals bewiesen werden, dass tatsächlich der Trinker hinter dem Verschwinden des Tieres stand.
Während seiner allabendlichen Auftritte in der Weinstube gefiel es ihm, vom Genuss zahlreicher exotischer Getränke zu berichten, angefangen vom Rohrspatzenteich im benachbarten und längst leer stehenden Herrenschloss über elektrische Weidenbegrenzungsdrähte und modrige Bootskiele hin zur stolzen Lokomotive des Heimatmuseums, deren tiefatmiges Schnaufen den meisten der Bauern noch aus der Kindheit in guter Erinnerung war."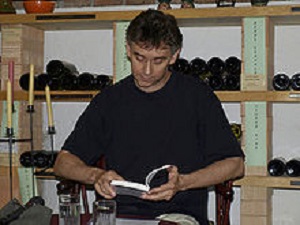 Klaus Ebner (Wenen, 8 augustus 1964)
De Duitse schrijfster Birgit Vanderbeke werd geboren op 8 augustus 1956 in Dahme. Zie ook alle tags voor Birgit Vanderbeke op dit blog.
Uit: Abgehägt
"Ich nahm das Buch über Ingrid Bergman und ging damit in die Küche, um es wegzuwerfen. Ich hatte wegen der Nazis noch nie ein Buch weggeworfen, obwohl ich schon manchmal Lust gehabt hatte, aber ich hatte es nie getan, nicht einmal die Unmengen Bücher, die mir Vira vor Jahren geschenkt hat, als sie beschlossen hatte, nicht mehr Christine zu heißen, sondern Vira, weil eine indische Göttin ihr im Traum erschienen war und ihr diesen neuen Namen gegeben hatte, und Vira gab mir anschließend alle Bücher, die sie auf Geheiß der indischen Göttin anschaffte und verbreitete und in denen stand, wie man an Körper und Seele ganzheitlich heilen und gesund werden kann, wenn man es macht, wie die Göttin es einem erklärt. Nicht einmal die hatte ich weggeworfen, obwohl es nichts gewesen wäre, was die Nazis verbrannt hätten, und jetzt finge ich damit an: Das Buch über Ingrid Bergman würde jetzt gleich in den Abfall wandern, und es wäre nicht das letzte, weil schließlich kein Mißverständnis und kein Irrtum und auch nicht die Nazis uns zwingen könnten, unsere Wohnung in ein Bücherlager voller goldener Kühe und Schweine verwandeln zu lassen.
Das Buch war schon im Müll, da erinnerte ich mich, daß es zwei seltene Fotos enthielt, die ich noch nicht gekannt hatte, eines zeigt Ingrid Bergman bei ihrer Ankunft in Rom '49 und eines sie und die Zwillingsbabies drei Jahre später. An den Fotos hatte mich gerührt, daß sie glücklich aussah, viel glücklicher als je in einem Film und viel glücklicher, als die Autorin des Buches je würde aussehen können, von der auch ein Foto hinten drin war, und ich überlegte, was wohl im Abfall wäre und ob die Chance bestünde, das Buch einigermaßen unbesudelt herauszuholen, um die Fotos retten zu können.
Das Telefon traf mich in den Rücken. Es war der Apparat im Flur, und ich dachte zum hundertsten Mal, man sollte den Flurapparat wenigstens nicht so nah an Simmys Zimmer hängen haben. Wenn überhaupt. Für den Fall, daß Simmy schon schliefe, ging ich ran."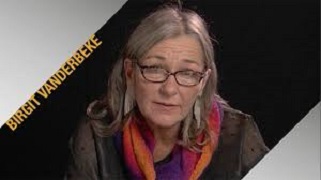 Birgit Vanderbeke (Dahme, 8 augustus 1956)
De Duitse schrijver en journalist Gernot Wolfram werd geboren op 8 augustus 1975 in Zittau. Zie ook alle tags voor Gernot Wolfram op dit blog.
Uit: Der Fremdländer
"L. setzte sich gegen neun Uhr aufs Bett, hörte einige Minuten die Nachrichten im Deutschlandfunk und begann dann zu suchen. In dem Heft, das in der Nachttischschublade lag, hatte er sich wie in einem akustischen Herbarium die Frequenzen der bereits aufgestöberten Sender notiert. Schwedische, finnische, polnische, griechische, rätoromanische Sender waren seine Lieblinge aus der Anfangszeit. Später kamen die Stimmen der baltischen Radiostationen dazu, ein bretonischer Folklorekanal, eine spanische Nachrichtenstation, eine ungarische Ökonomiebasis. Manchmal wechselte er schnell von einem zum anderen Sender, weil ihm die Vorstellung gefiel, dass er in so kurzer Zeit ganze Kulturkreise durchqueren und nur durch die Kraft seines Zuhörens verbinden konnte.
Der Radiohörende, glaubte er, obgleich er zweifellos ein Reisender ist, darf sich nicht bewegen. Er darf, wenn er es mit seiner Beschäftigung ernst meint, nichts anderes tun als still dasitzen, sich konzentrieren und wach sein. Er muss sich gegen alles wenden, was ihn stören könnte. Die Fenster müssen geschlossen sein, kein Wasserhahn darf tropfen, das Telefon muss für einige Stunden ausgesteckt werden. L. war überzeugt, dass eine wirkliche Passion, auch wenn sie alltäglich ist und im Grunde nichts bedeutet, die Notwendigkeiten des religiösen Rituals enthalten müsse.
Besonders aufschlussreich fand er bei seinen Radio-expeditionen das Musikprogramm eines korsischen Senders, das ihm schon nicht mehr zu Europa zu gehören schien."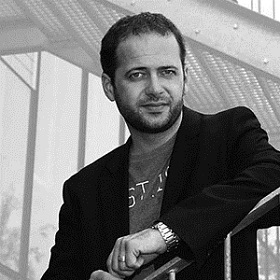 Gernot Wolfram (Zittau, 8 augustus 1975)



De Amerikaanse dichteres Sara Teasdale werd geboren op 8 augustus 1884 in St. Louis. Zie ook alle tags voor Sara Teasdale op dit blog.
Advice To A Girl
No one worth possessing
Can be quite possessed;
Lay that on your heart,
My young angry dear;
This truth, this hard and precious stone,
Lay it on your hot cheek,
Let it hide your tear.
Hold it like a crystal
When you are alone
And gaze in the depths of the icy stone.
Long, look long and you will be blessed:
No one worth possessing
Can be quite possessed.

There Will Come Soft Rain
There will come soft rain and the smell of the ground,
And swallows circling with their shimmering sound;
And frogs in the pools singing at night,
And wild plum trees in tremulous white;
Robins will wear their feathery fire,
Whistling their whims on a low fence-wire;
And not one will know of the war, not one
Will care at last when it is done.
Not one would mind, neither bird nor tree,
If mankind perished utterly;
And Spring herself, when she woke at dawn
Would scarcely know that we were gone.

Barter
Life has loveliness to sell,
All beautiful and splendid things,
Blue waves whitened on a cliff,
Soaring fire that sways and sings,
And children's faces looking up,
Holding wonder like a cup.
Life has loveliness to sell,
Music like the curve of gold,
Scent of pine trees in the rain,
Eyes that love you, arms that hold,
And for your spirit's still delight,
Holy thoughts that star the night.
Spend all you have for loveliness,
Buy it and never count the cost;
For one white singing hour of peace
Count many a year of strife well lost,
And for a breath of ecstasy
Give all you have been, or could be.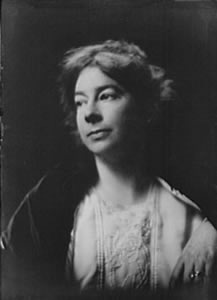 Sara Teasdale (8 augustus 1884 – 29 januari 1933)
De Amerikaanse dichter, essayist en literair criticus Donald Davidson werd geboren 8 augustus 1893 in Campbellsville, Giles County, Tennessee. Zie ook alle tags voor Donald Davidson op dit blog.
Censored
Into a crock of gold he'd set some weeds,
Behold swart devils in the sunniest weather;
He would lump the saint and the courtesan together,
Most miserably jangling all the creeds.
The prurient multitude heard he was mad,
Yet nosed his books for some pornography.
The censors doubted his virginity,
And secretly conned the works that they forbade.
Reporters found this dangerous oddity
In rusty pantaloons, mowing the green,
And wondered how so dull a wretch could have seen
A naked Venus disturbing an alien sea.
He watched their backs receding down the street,
Raked up the grass, and suddenly had a vision
Of how Venus, bathing, saw with amused derision
Behind the bushes peeping satyrs' feet.

Donald Davidson (8 augustus 1893 - 25 april 1968)
De Nederlandse dichter en schrijver Hieronymus van Alphen werd op 8 augustus 1746 geboren te Gouda. Zie ook alle tags voorHieronymus van Alphen op dit blog.
Het hondje
Hoe dankbaar is mijn kleine hond
Voor beentjes en wat brood!
Hij kwispelstaart, hij loopt in 't rond,
En springt op mijnen schoot.

Mij geeft men vleesch, en brood, en wijn,
En dikwijls lekkernij;
Maar, kan een beest zoo dankbaar zijn,
Wat wacht men niet van mij!

De haas

Kijk, pietje! kijk, een haas! o, die zoo gauw kon loopen!
Neen, zei de slimme piet,
Wilt gij een haasje zijn, ik niet:
'k Wil liever langzaam gaan,dan 't met den dood bekoopen.

***

Hij, die altoos weltevreden
Met vermogens die hij heeft,
Vergenoegd en dankbaar leeft,
Kan zijn gaven wel besteden,
Maar dat hij, die altoos kniest
En wat and'ren zijn wil wezen,
Zelfs hetgeen hij heeft, verliest,
Heb ik meer dan eens gelezen.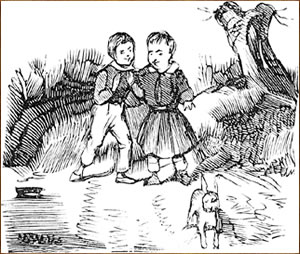 Hieronymus van Alphen (8 augustus 1746 – 2 april 1803)
Illustratie bij De haas
Zie voor meer schrijvers van de 8e augustus ook mijn vorige blog van vandaag.
08-08-2015 om 00:00 geschreven door Romenu

Tags:Jostein Gaarder, Klaus Ebner, Birgit Vanderbeke, Gernot Wolfram, Sara Teasdale, Donald Davidson, Hieronymus van Alphen, Romenu