De Franse schrijver en essayist Jean Carrière werd geboren op 6 augustus 1928 in Nîmes. Zie ook mijn blog van 6 augustus 2009.
Uit: L'épervier de Maheux
« Quand l'homme avait le dos tourné, le monde se remplissait de choses mystérieuses, d'étranges complicités naissaient entre elles, des alliances inconnues se formaient, dont nul n'avait idée, et dont il ne restait aucune trace à son retour. Mais il fallait une prunelle pure et une oreille exercée pour les distinguer, pour en déceler les traces (…) »
« Il ne pleuvait jamais le soir, mais le ciel s'ouvrait au contraire, vaste et multicolore, vers le couchant, l'océan, l'ouest somptueux, les Amériques – l'Amérique du Nord, l'étoilée, à laquelle avaient appartenu ces plateaux à l'ère des trilobites. Le Haut-Pays reprenait la mer, au crépuscule, et remontait le vent dans la direction de l'étoile polaire. »
« Tu vois, lui, ce bâtard de haute époque – et je veux bien que l'histoire des hommes soit souvent l'histoire d'une bataille rangée entre une névrose cosmique et une désespérante lucidité – lui ne l'a pas supporté, d'être réveillé, qu'on le fasse brutalement passer de l'éternité dans le temps – le temps, signe de mort, signe de rien : ses catégories n'étaient pas les nôtres, j'en mettrais ma main au feu. »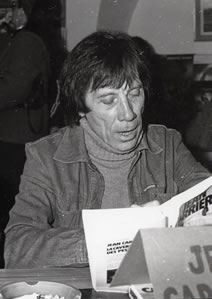 Jean Carrière (6 augustus 1928 – 7 mei 2005)
De Engelse dichter Alfred, Lord Tennyson werd geboren op 6 augustus 1809 in Somersby, Lincolnshire, England. Zie ook mijn blog van 6 augustus 2006 en ook mijn blog van 6 augustus 2007 en ook mijn blog van 6 augustus 2008 en ook mijn blog van 6 augustus 2009.
Come not when I am dead
Come not, when I am dead,
To drop thy foolish tears upon my grave,
To trample round my fallen head,
And vex the unhappy dust thou wouldst not save.
There let the wind sweep and the plover cry;
But thou, go by.
Child, if it were thine error or thy crime
I care no longer, being all unblest:
Wed whom thou wilt, but I am sick of Time,
And I desire to rest.
Pass on, weak heart, and leave to where I lie:
Go by, go by.
Politics
We move, the wheel must always move,
Nor always on the plain,
And if we move to such a goal
As wisdom hopes to gain,
Then you that drive, and know your Craft.
Will firmly hold the rein,
Nor lend an ear to random cried,
Or you may drive in vain,
For some cry 'Quick' and some cry 'Slow'
But, while the hills remain,
Up hill 'Too-slow' will need the whip,
Down hill 'Too-quick' the chain.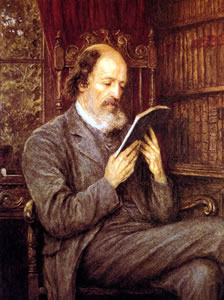 Alfred Tennyson (6 augustus 1809 – 6 oktober 1892)
Portret door Helen Allingham
De Franse dichter, schrijver en diplomaat Paul Claudel werd geboren op 6 augustus 1868 in Villeneuve-sur-Fère. Zie ook mijn blog van 6 augustus 2007 en ook mijn blog van 6 augustus 2008 en ook mijn blog van 6 augustus 2009.
Le Départ
_Ce n'étaient pas là vos grandes et gracieuses manières.
Vous qui n'avez de rien d'autre à vous repentir, n'avez-vous pas, mon amour,
regret de cette après-midi de juillet où vous partites avec une soudaine,
inintelligible phrase et un oeil effrayé, pour ce voyage si long sans aucun
baiser et nul adieu?
Je savais bien cependant que vous alliez partir tout à l'heure, et nous étions assis dans les rayons du soleil déclinant,
vous me murmurant tout
bas, car votre voix était faible, ce merci qui me faisait mal.
Tout de même ç'était bon d'entendre ces choses, et je pouvais dire ce qui
rendait vos yeux pleins d'amour une croissante ombre,
comme quand le vent
du Sud approfondit le noir feuillage.
_Et ç'était bien vos grandes et gracieuses manières
que de tourner le discours ainsi sur les choses de tous les jours, ma chérie, élevant pour l'éclair d'un sourire ces lumineuses, pathétiques paupières.
Tandis que je m'approchais davantage, car vous parliez si bas que je ne pouvais à peine entendre.
Mais tout d'un coup me laisser ainsi à la fin, effaré de surprise plus que
de la perte, avec une phrase pressée, inintelligible, et un oeil effrayé, et
partir ainsi pour votre voyage d'à jamais avec pas un seul baiser et pas
adieu, et le seul regard sans amour celui dans lequel vous passâtes,
_Çe n'était pas du tout vos grandes et gracieuses manières.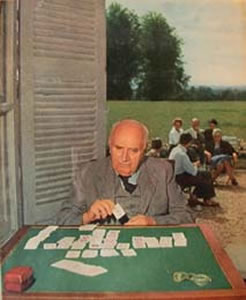 Paul Claudel (6 augustus 1868 – 23 februari 1955)
De Engelse schrijver, criticus, vertaler en dichter John Middleton Murry werd geboren op 6 augustus 1889 in Londen. Zie ook mijn blog van 6 augustus 2009.
Uit: Aspects of Literature
"It is curious and interesting to find our younger men of letters actively concerned with the present condition of literary criticism. This is a novel preoccupation for them and one which is, we believe,
symptomatic of a general hesitancy and expectation. In the world of letters everything is a little up in the air, volatile and uncrystallised. It is a world of rejections and velleities; in spite of outward similarities, a strangely different world from that of half a dozen years ago. Then one had a tolerable certainty that the new star, if the new star was to appear, would burst upon our vision in the shape
of a novel. To-day we feel it might be anything. The cloud no bigger than a man's hand might even be, like Trigorin's in 'The Sea-gull,' like a piano; it has no predetermined form.
This sense of incalculability, which has been aroused by the prodigious literary efflorescence of late 
years, reacts upon its cause; and the reaction tends by many different paths to express itself finally in 
the ventilation of problems that hinge about criticism. There is a general feeling that the growth of the 
young plant has been too luxuriant; a desire to have it vigorously pruned by a capable gardener, in order 
that its strength may be gathered together to produce a more perfect fruit. There is also a sense that if 
the _lusus naturæ_, the writer of genius, were to appear, there ought to be a person or an organisation 
capable of recognising him, however unexpected his scent or the shape of his leaves. Both these tasks 
fall upon criticism. The younger generation looks round a little apprehensively to see if there is a gardener 
whom it can trust, and decides, perhaps a little prematurely, that there is none."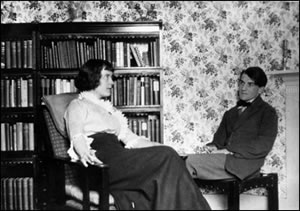 John Middleton Murry (6 augustus 1889 – 12 maart 1957)
Hier met Kathrine Mansfield

06-08-2010 om 20:02 geschreven door Romenu

Tags:Jean Carrière, Alfred Lord Tennyson, Paul Claudel, John Middleton Murry, Romenu