De Oostenrijkse schrijver en essayist Egyd Gstättner werd geboren op 25 mei 1962 in Klagenfurt. Zie ook alle tags voor Egyd Gstättner op dit blog.
Uit:Das Geisterschiff
"Ich möchte nicht in der Zukunft leben miissen. Die Zukunft ist brutal, ordinär und billig. Die Zeit, die ich erleben durfte, war eine bessere. Das sollen gemäß der Überlieferung die letzten Worte des Meisters gewesen sein, gesprochen vier Jahre vor seinem Tod.
Als Josef Maria Auchentaller starb, herrschte in den Redaktionen der meisten Zeitungen in kürzester Zeit helle Aufregung. Denn die Sonntagsausgaben waren fast schon in Druck, als das gerade hereingeschneite Gerücht von seinem Tod bestätigt wurde. Eigentlich sollte die am ersten Jänner in Kraft getretene Kraftfahrzeugs-Benutzungsverordnung als Hauptthema herhalten, die der Wirtschaftsrat erlassen hatte, durch die Ausflugs- und Vergnügungsfahrten verboten waren. Nun aber stoppte man die Produktion im letzten Augenblick, warf den öden Wirtschaftsrat mitsamt seiner Kraftfahrzeugs-Benutzungsverordnung sowie die eine oder andere verzichtbare Glosse aus der Nummer und fiigte an deren Stelle in höchster Eile einen notdürftig zusammengeschusterten Artikel ein, in dem Auchentaller »Gigant« oder »Pionier« genannt und mit seinen zwei endgültigen Jahreszahlen versehen wurde.
Ja, ein Gigant war er, auch wenn das zu seinen Lebzeiten, also die letzten vierundachtzig Jahre bis vor einer knappen halben Stunde, kaum jemand so gesagt hatte. Ein Pionier war Auchentaller weniger. Auchentaller hatte - darin waren sich die Zeitungen einig - in den letzten Jahren »total zurückgezogen in seiner Villa Fortino gelebt«, über den Tod seiner Tochter und vor allem über den Tod seiner geliebten Frau Emma sei er nie hinweggekommen. Das Wort Lebensekel« konnte man allerdings nirgendwo lesen, das passte nicht mehr in die Zeit, und es passt wohl auch nicht in Nachrufe. Einer der Leitartikler meinte, Auchentallers Ära habe lange vor seinem Tod geendet, seine Epoche sei schon lange vor ihm gestorben, früher als er selbst es bemerkt haben mochte."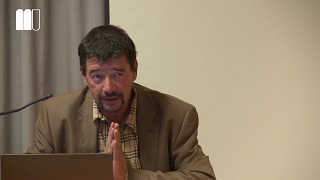 Egyd Gstättner (Klagenfurt, 25 mei 1962)
De Franse schrijfster Claire Castillon werd geboren op 25 mei 1975 in Neuilly-sur-Seine. Zie ook alle tags voor Claire Castillon op dit blog.
Uit: Giftspritzen: Rabenschwarze Erzählungen über Mütter und Töchter (Vertaald door Gaby Wurster)
"Mein Mann hat mir ein schönes Leben versprochen, als ich ihn kennenlernte. Wir reisten sehr gern. Übrigens trafen wir uns im Iran, ich kaufte gerade einen Teppich. Ein harmloser Scherz über einen fliegenden Teppich, und mein Mann konnte sich später vor seinen Freunden damit brüsten, dass er mich mit seinem Humor verführt hätte. Wir heirateten bei meinen Eltern, die in der Touraine ein Anwesen besitzen, dann zogen wir in ein Haus mit Garten, von dem man sagte, es sehe aus wie ein englisches Cottage. Wenn wir abends beim Essen saßen und Wein tranken, erzählte ich meinem Mann von meinen Ängsten: dass ein Maskierter durch die Terrassentür in mein Schlafzimmer eindringt. Mein Mann versprach mir dann beim Zubettgehen immer, Fensterläden anbringen zu lassen, aber am nächsten Morgen war natürlich alles wieder vergessen. Normalerweise bin ich nicht besonders ängstlich. Im Übrigen haben die Männer meine Gelassenheit immer geschätzt. Man kann mich überallhin mitnehmen, ich gewöhne mich an das Klima und an die Leute, ich finde immer den richtigen Ton, den richtigen Takt - ein wahres Chamäleon. Wir haben auch im Ausland gelebt, je nachdem, wohin mein Mann versetzt wurde, und ich habe mir immer mit Vergnügen ein Heim eingerichtet. Eine neue Umgebung, neue Bekanntschaften, neue Aktivitäten raubten mir nie den Mut, im Gegenteil, ich bin ein optimistischer Mensch, ich lasse mich nicht verdrießen|; mein Credo ist, aus meinem Leben etwas zu machen. Auch nach unserer Rückkehr nach Frankreich ziehen wir nun weiter durch die Weltgeschichte, denn mein Mann darf die Gattin bei Geschäftsreisen mitnehmen. Um ganz für ihn da zu sein, gehe ich keiner bezahlten Arbeit nach und habe auch keinen Hund. Außerdem - ich weiß nicht, was Sie von all dem halten, aber ich habe da meine Vorstellungen von den Dingen, die ein alleinreisender Mann so treibt. Vier Tage allein, und schon wird Madame betrogen. Ach, nicht den Kopf hängen lassen! Haben Sie diese Erfahrung etwa schon gemacht?"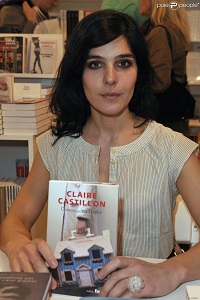 Claire Castillon (Neuilly-sur-Seine, 25 mei 1975)
De Amerikaanse schrijfster en feminste Eve Ensler werd op 25 mei 1953 in New York geboren. Zie ook alle tags voor Eve Ensler op dit blog.
Uit: Insecure at Last
"I never dreamed of growing up and getting married and having children because I never dreamed of growing up, living that long. I could never imagine life past thirty, and I came close to making sure I didn't get there. I never dreamed of having children, as I was so scared of repeating what had been done to me. I was so scared that I had my father in me. And in fact, I did. I held his rage, his impatience, and his judgments for many years.
It is not surprising that I have grown up to become nomadic. I was unable to have a dining room table until my early fifties, as it was the set piece of so much humiliation and violence. Until my late thirties I kept my bedroom out in the open in my living room so no one could get me. My dreams were limited, simple. All I wanted was to grow up and not be hit or molested. I lived as a survivor. Happy every day not to be screamed at, ridiculed, beaten, terrorized, or thrown out. I did not care about a career. I did not think what kind of a person might be right for me. It was all about what was not happening, all about the pain stopping, all about safety, security. I wanted a man or a woman who would not hit me. This, as you can well imagine, is not the greatest prerequisite for a relationship. Not a very high standard. And it's broad. And, to be honest, until you have gone back and retraced and experienced and purged and transformed that initial violation, it is impossible not to keep being attracted to what you are trying to escape
I think you have several options when you experience enormous terror and violence as a child. You can shut down completely, you can pretend it didn't happen, you can become violent yourself, or you can create situations that mirror your initial situation in an attempt to understand and master it. I have, at some point, embraced all of these. My life has been a journey to find a way to make sense of violence and terror and make peace with insecurity."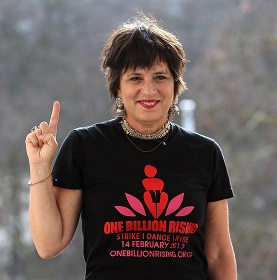 Eve Ensler (New York, 25 mei 1953)
De Duitse schrijver Friedrich Dieckmann werd geboren op 25 mei 1937 in Landsberg an der Warthe. Zie ook alle tags voor Friedrich Dieckmann op dit blog.
Uit: Freiheit ist nur in dem Reich der Träume (Schillers Jahrhundertwende)
"Waren jemals solche Verse auf dieser Bhne gesprochen worden? In seinem »Faust« hatte der andere es vorgemacht, aber den enthielt er dem Theater immer noch vor; noch war kein Stück aus den vielen Szenen geworden, sosehr er drängte, mahnte, auf die Sprünge half. Ein Stck in Knittelversen – er hatte gemeint, die Neuerung begründen zu sollen, man sollte ihm nicht vorwerfen, diesen schrecklichen Krieg, dem der Wallenstein ein Ende machen wollte, ins Harmlos-Heitere hinberzuspielen. Den Krieg selbst konnte man nicht darstellen, allenfalls die, welche ihn austrugen, wie sie im Lager zechten, zankten, prahlten, aufbrausten, sich wieder versöhnten, ein wilder Haufen, den ein einziger zusammenhielt, der Zauderer mit dem Marschallstab.
Man solle – nein, nicht dem Autor, der Muse solle man danken, daß sie mit Reimes Hilfe alles dies in das heitre Reich der Kuns hin überspiele; so ähnlich hatte er es ausgedrückt in dem Prolog.
Aber Goethe hatte das gestrichen und das folgende auch, die Verse, in denen er den Unterschied zwischen dem Theater und der Vorspiel Wirklichkeit auf die Spitze getrieben hatte. Wollte der Intendant sein Publikum schonen? Den letzten Vers hatte er ihm in den Konjunktiv versetzt. »Ernst ist das Leben, heiter ist die Kunst« – daraus war ». . . sei die Kunst« geworden, mit einem Ausrufezeichen hintendran, ein Vorsatz, ein Imperativ statt einer Feststellung. Das war eine Schwchung, aber er hatte es hingenommen, über die Druckfassung verfügte er schließlich allein. Gegenüber Regisseuren und Intendanten war er immer duldsam gewesen."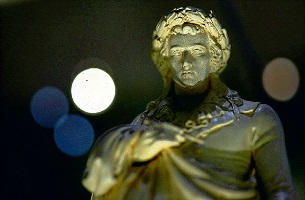 Friedrich Dieckmann (Landsberg an der Warthe, 25 mei 1937)
Friedrich Schiller: standbeeld in het Schiller-Nationalmuseum in Marbach
De Amerikaanse dichter en schrijver Raymond Carver werd geboren op 25 mei 1938 in Port Angeles. Zie ook alle tags voor Raymond Carver op dit blog.
A Tall Order
This old woman who kept house for them.
She'd seen and heard the most amazing things.
Sights like plates and bottles flying.
An ashtray travelling like a missile
that hit the dog in the head.
Once she let herself in and found a huge
salad in the middle of the dining room table.
It was sprinkled with moldy croutons.
The table was set for six, but nobody
had eaten. Dust filmed the cups and silver.
Upstairs a man pleaded
not to have his hair pulled by the roots again.
Please, please, please he cried.
Her job was to set the house in order.
At least make it like she'd left it last time.
That was all. Nobody asked her opinion,
and she didn't give it. She put on her apron.
Turned the hot water on full, drowning out
that other sound. Her arms went into the suds
to her elbows. She leaned on the counter.
And stared into the backyard where they kept
the rusty swing set and Jungle-Gym bars.
If she kept watching, she was sure to see
the elephant step out of the trees and trumpet
as it did every Monday at this house, at this hour.
The River
l waded, deepening, into the dark water.
Evening, and the push
and swirl of the river as it closed
around my legs and held on.
Young grisle broke water.
Parr darted one way, smolt another.
Gravel turned under my boots as I edged out.
Watched by the furious eyes of king salmon.
Their immense heads turned slowly,
eyes burning with fury, as they hung
in the deep current.
They were there. I felt them there,
and my skin prickled. But
there was something else.
I braced with the wind on my neck.
Felt the hair rise
as something touched my boot.
Grew afraid at what I couldn't see.
Then of everything that filled my eyes-
that other shore hung with heavy branches,
the dark mountain range behind.
And this river that had suddenly
grown black and swift.
I drew breath and cast anyway.
Prayed nothing would strike.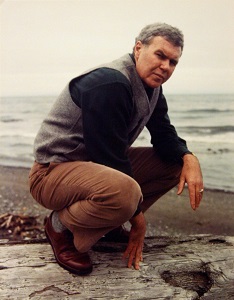 Raymond Carver (25 mei 1938 – 2 augustus 1988)
De Amerikaanse schrijfster Jamaica Kincaid (eig.Elaine Cynthia Potter Richardson) werd geboren in Saint John's, Antigua en Barbuda, op 25 mei 1949. Zie ook alle tags voor Jamaica Kincaid op dit blog.
Uit: Girl
"Wash the white clothes on Monday and put them on the stone heap; wash the color clothes on Tuesday and put them on the clothesline to dry; don't walk bare-head in the hot sun; cook pumpkin fritters in very hot sweet oil; soak your little cloths right after you take them off; when buying cotton to make yourself a nice blouse, be sure that it doesn't have gum in it, because that way it won't hold up well after a wash; soak salt fish overnight before you cook it; is it true that you sing benna in Sunday school?; always eat your food in such a way that it won't turn someone else's stomach; on Sundays try to walk like a lady and not like the slut you are so bent on becoming; don't sing benna in Sunday school; you mustn't speak to wharf-rat boys, not even to give directions; don't eat fruits on the street—flies will follow you; but I don't sing benna on Sundays at all and never in Sunday school; this is how to sew on a button; this is how to make a buttonhole for the button you have just sewed on; this is how to hem a dress when you see the hem coming down and so to prevent yourself from looking like the slut I know you are so bent on becoming; this is how you iron your father's khaki shirt so that it doesn't have a crease; this is how you iron your father's khaki pants so that they don't have a crease; this is how you grow okra—far from the house, because okra tree harbors red ants; when you are growing dasheen, make sure it gets plenty of water or else it makes your throat itch when you are eating it; this is how you sweep a corner; this is how you sweep a whole house; this is how you sweep a yard; this is how you smile to someone you don't like too much; this is how you smile to someone you don't like at all; this is how you smile to someone you like completely; this is how you set a table for tea; this is how you set a table for dinner; this is how you set a table for dinner with an important guest; this is how you set a table for lunch; this is how you set a table for breakfast;…"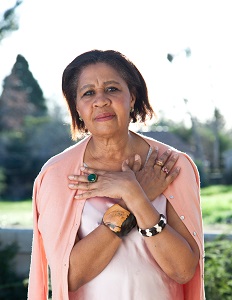 Jamaica Kincaid (Saint John's, 25 mei 1949)
De Amerikaanse schrijver Robert Ludlum werd geboren in New York op 25 mei 1927. Zie ook alle tags voor Robert Ludlum op dit blog.
Uit: The Bourne Sanction
"Perhaps this last was what Bourne liked best about her. In that, though in no other way, she was like Marie. He had never pried into her relationship with Martin, but he assumed it had been romantic, since Martin had given Bourne standing orders to send her a dozen red roses should he ever die. This Bourne had done, with a sadness whose depth surprised even him.
Settled in her chair, one long, shapely leg crossed over her knee, she looked the model of a European businesswoman. She had told him that she was half French, half English, but her genes still carried the imprint of ancient Venetian and Turkish ancestors. She was proud of the fire in her mixed blood, the result of wars, invasions, fierce love.
"Go on." He leaned forward, elbows on his desk. "I want to hear what you have to say."
She nodded. "All right. As I've told you, NextGen Energy Solutions has completed our new liquid natural gas terminal in Long Beach. Our first shipment is due in two weeks. I had this idea, which now seems utterly crazy, but here goes. I'd like you to head up the security procedures. My bosses are worried the terminal would make an awfully tempting target for any terrorist group, and I agree. Frankly, I can't think of anyone who'd make it more secure than you."
"I'm flattered, Moira. But I have obligations here. As you know, Professor Specter has installed me as the head of the Comparative Linguistics Department. I don't want to disappoint him."
"I like Dominic Specter, Jason, really I do. You've made it clear that he's your mentor. Actually, he's David Webb's mentor, right? But it's Jason Bourne I first met, it feels like it's Jason Bourne I've been coming to know these last few months. Who is Jason Bourne's mentor?"
Bourne's face darkened, as it had at the mention of Marie. "Alex Conklin's dead."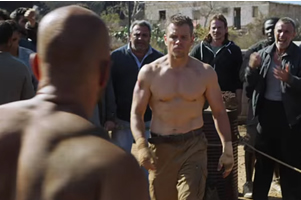 Robert Ludlum (25 mei 1927 – 12 maart 2001)
Matt Damon als Jason Bourne in de film « Jason Bourne », uit 2016
Zie voor nog meer schrijvers van de 25e mei ook mijn blog van 25 mei 2015 deel 2 en eveneens deel 3.
25-05-2016 om 17:53 geschreven door Romenu

Tags:Egyd Gstättner, Claire Castillon, Friedrich Dieckmann, Eve Ensler, Raymond Carver, Jamaica Kincaid, Robert Ludlum, Romenu