De Nederlandse dichter en schrijver Pieter Boskma werd geboren in Leeuwarden op 9 mei 1956. Zie ook alle tags voor Pieter Boskma op dit blog.
Nostalgische priëlen
I
'ga niet ruggelings in nostalgische priëlen.
alles verjongt zich, behalve de ziel,
groter de kloof met wie je al was -
ga niet ruggelings in nostalgische priëlen.

de zon zal een onbetrouwbare gloed in het daglicht leggen
en een voorspelde profetie uit de hanen geselen
de doden zullen er slijpen de zeisen en
wankelen naar het vruchtbare veld, en moeders
zullen hoeren zijn als zij dragen de vrucht van je vlees.

nee, ga niet ruggelings in nostalgische priëlen.
een kim verheft zich uit het gras en noemt zich
levensdoel; daarachter dansen duizend zwarte
kimmen op een rij. er zal geen vrijgesproken oog
opnieuw details vergulden met een milde tong van binnen.

en wat er torent heeft naam en schaduw.
bestrijkt met grote macht de aanzet tot gedachten
die vervagen achter de gestalten van de zo even
nog klinkende dingen, dus nee:
ga niet ruggelings in nostalgische priëlen...'

II
'... of in de violette winter waar de jeugd patent op heeft,
waar portieken fonkelen van blozende omhelzingen,
achter ouderwetse vensters, in de schemerende serres,
beosnavels glanzen als een bloeddoorlopen oog,
waar lantarenlicht zich uitrekt als een majesteit,
stiller dan de jaren vijftig weer de jonge vrouwen lachen
en zich statig weten in hun drachtige heelal,
waar lopers op de sloten passen met een zucht
van heimwee, houtrook uit een woonboot een moment
een meeuw verbijstert en hem verbrande veren geeft
waar de zolders gloeien voor een redeloze toekomst
en gipsen cherubijnen tegen de beroete gevels
geen wolkjes adem zuchten, maar verdomd: van goud.'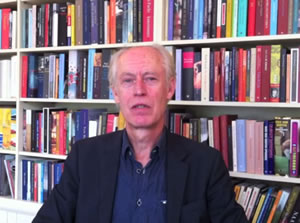 Pieter Boskma (Leeuwarden, 9 mei 1956)
De Amerikaanse dichter Charles Simic werd geboren in Belgrado op 9 mei 1938. Zie ook alle tags voor Charles Simic op dit blog.
Errata
Where it says snow
read teeth-marks of a virgin
Where it says knife read
you passed through my bones
like a police-whistle
Where it says table read horse
Where it says horse read my migrant's bundle
Apples are to remain apples
Each time a hat appears
think of Isaac Newton
reading the Old Testament
Remove all periods
They are scars made by words
I couldn't bring myself to say
Put a finger over each sunrise
it will blind you otherwise
That damn ant is still stirring
Will there be time left to list
all errors to replace
all hands guns owls plates
all cigars ponds woods and reach
that beer-bottle my greatest mistake
the word I allowed to be written
when I should have shouted
her name
Wherein Obscurely
On the road with billowing poplars,
In a country flat and desolate
To the far-off gray horizon, wherein obscurely,
A man and a woman went on foot,
Each carrying a small suitcase.
They were tired and had taken off
Their shoes and were walking on
Their toes, staring straight ahead.
Every time a car passed fast,
As they're wont to on such a stretch of
Road, empty as the crow flies,
How quickly they were gone--
The cars, I mean, and then the drizzle
That brought on the early evening,
Little by little, and hardly a light
Anywhere, and then not even that.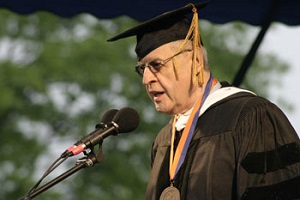 Charles Simic (Belgrado, 9 mei 1938)
De Vlaamse dichter en schrijver Jotie T'Hooft werd geboren in Oudenaarde op 9 mei 1956. Zie ook alle tags voor Jotie T'Hooft op dit blog.
Namen
Ik draag ze als een doem.
Mijn stofnaam mens
Een mager woord, een woeker,
Een overschrijden van de grens.
Mijn eigen naam, die niemand kent
De som van al mijn trilling
Van mijn lot equivalent
Tegelijk mijn warmte en verkilling.
Plaatsnamen, zaaknamen. Liefdesnamen
Die nooit voorbij zouden gaan,
Waarvan sommige al vergeten zijn
Terwijl wij andere beramen.
Dat alles binnen de taal,
Keelklank, eeuwenoude kwaal:
Slechts één naam legt iets bloot
De eeuwenoude roepnaam Dood.
Aan mijn prinses
Liefste, hart en woorden
Houden voor jou stil,
Jij blinde vlek in mijn vermoorden
Van wat ik vergeten wil.
Kleine vink, lieve kleine kinkel
-De liefde speelt mij parten-
Baby-face, bijou, scharminkel
Voor wie ik alles weer wil tarten
Tot ik, als vroeger, blind van pijn
Weer neerlig, eenzaam in het laken
Het gaat niet om het zijn
Maar om wat wij er van maken,
ENVOI:
Prinses, ik beschrijf wat ik bewonder,
Wat ik vrees, bemin of haat
Prinses, nu ik u ken kan ik niet zonder,
Gedoog niet dat ik u verlaat.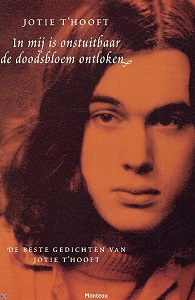 Jotie T'Hooft (9 mei 1956 – 6 oktober 1977)
Cover
De Duitse schrijver Jan Drees werd geboren op 9 mei 1979 in Haan. Zie ook alle tags voor Jan Drees op dit blog.
Uit: Letzte Tage, jetzt
"Weil wir schrecklich jung waren, flüsterten Nebil und ich nachts von Springbrunnenrändern im Park über Zitronenkerzen hinweg Cocktail-Neckisches. Mit Nebil ist es wunderbar, liebtrunken ein Bald, ein Später, ein Irgendwann anzutasten, wankend, kaum Karabiner gesichert, Steilwände hinab.
Wir beobachteten irritiert glücklich sirrende Fledermäuse, die aus Tannenwaldgrotten flappten, unseren Hügel (über der schimmernden Stadt) umrundeten, die kleine Öllaterne, im Sommer: Gänsehautarme, Benjamin-Biolay-Chansons, und während schwüler Augustabende manchmal stilles Gewitterblitzen am fernen Horizont.
Später, um Viertel nach drei, duschten Nebil und ich Nachthitze aus unseren verliebt erwärmten Teeniekörpern, siriusgeleitet, während Sonnenwindfeuer, Elfen, Kobolde vor dem Bleiglas-Badfenster tanzten. Danach lagen wir perlschaumweinsüchtig erschöpft, verschwitzt, im moskitonetzgefälschten Himmelbett. Über uns funkelten angeklebte Plastiksterne mit Phosphorschimmer.
Inzwischen geht alles vorbei, im Junimond. Wenn Mond ist und keine Regenwolken durch die kühlkalten Nächte ziehen und unsere Sternenbilder verhängen, wenn Schauer schon morgens auf das Giebeldach schlagen und Wasser durch die Holzdecke in unsere Zimmer tropft, von Ziegeln gewaschenen Ruß über eilig aufgestellte Suppenterrinen, Putzeimer, Bonbonnieren spült.
Wir verleben (abschließend) Tage, die wie ein Schlüssellochbild an uns vorübernebeln. João Gilberto singt "The Girl from Ipanema".
Während sporadischer Off-Theater-Besuche wird deutlich, daß ein zeitgeistiges Bühnenkreischen eher Edvard-Munch-Pop sein will (im Gegensatz zu klassischen Pornographiefilmschreien). - Wenn wir uns streiten, werde ich Großstadt-Actrice und imitiere moderne René-Pollesch-Szenen."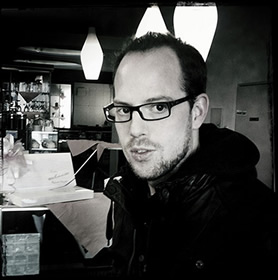 Jan Drees (Haan, 9 mei 1979)
De Oostenrijkse dichter, schrijver en diplomaat Leopold Andrian werd op 9 mei 1875 in Berlijn geboren. Zie ook alle tags voor Leopold Andrian op dit blog.
Uit: Erwin und Elmire. Fragmente
DIE SONNE WAR SCHON LANCE ZEIT HINABGESUNKEN
Und nut ein blasser, gelber Streif verkündet ihre Pracht
Von Blumendüften trunken
Senkt sich langsam die Nacht.
In weichen Gruppen einen sich die Bäume
Von lila Schatten halb und halb vcrhüllt,
Die wie Erinnerung an längst vergessne Träume
Des Abendwindes Hauch erfüllt
Sein Wehen ist so krankhaft weich und lau
Wie wenn die zarte, schmale, blasse Hand von einer kranken Frau
In ihrem Schatz von Spitzen, kosend wühlt
Und eine halbe Stunde lang sich glücklich fühlt.
Blassgrün fast wird das Firmament
Und leuchtend zwischen langen, schmalen, grauen Wolkenreihn
Zerflossen, in blassem und doch durchdringend süßem Schein
Des Mondes volle Scheibe brennt,
Und blickt verzweifelt, schmerzensübermannt
Wie an jenem Abend da allein,
Der Herr der Welt am Kreuz lag ausgespannt
Ich dünke mich so weltentrückt, so weit
Und niederdrückend zieht durch meine Seele
Der große Hymnus der Traurigkeit.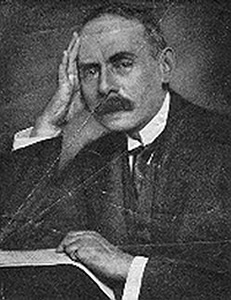 Leopold Andrian (9 mei 1875 – 19 november 1951)
De Britse schrijver en acteur Alan Bennett werd geboren op 9 mei 1934 in Armley in Leeds, Yorkshire. Zie ook alle tags voor Alan Bennett op dit blo
Uit: The Uncommon Reader
'And you are . . . ?'
'Norman, ma'am. Seakins.'
'And where do you work?'
'In the kitchens, ma'am.'
'Oh. Do you have much time for reading?'
'Not really, ma'am.'
'I'm the same. Though now that one is here I suppose one ought to borrow a book.'
Mr Hutchings smiled helpfully.
'Is there anything you would recommend?'
'What does Your Majesty like?'
The Queen hesitated, because to tell the truth she wasn't sure. She'd never taken much interest in reading. She read, of course, as one did, but liking books was something she left to other people. It was a hobby and it was in the nature of her job that she didn't have hobbies. Jogging, growing roses, chess or rock climbing, cake decoration, model aeroplanes. No. Hobbies involved preferences and preferences had to be avoided; preferences excluded people. One had no preferences. Her job was to take an interest, not to be interested herself. And besides, reading wasn't doing. She was a doer. So she gazed round the book-lined van and played for time. 'Is one allowed to borrow a book? One doesn't have a ticket?'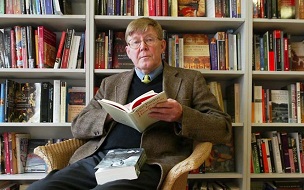 Alan Bennett (Armley, 9 mei 1934)
De Roemeense dichter, schrijver en filosoof Lucian Blaga werd geboren op 9 mei 1895 in Lancrăm, bij Alba Iulia. Zie ook alle tags voor Lucian Blaga op dit blog.
The Oak
Clear, distant, from
the breast of a tower
I can hear a bell's heartbeat,
and in its sweet echoes
it seems that my veins flow
with drops of silence.

Oak tree at the forest's edge
why does this soft winged peace
overcome me, defeat me
when I lie in your shadow
while you caress me
with your playful leaves?

Oh, who can tell
Perhaps the time will soon come
when from your trunk
they will make my coffin
and I am feeling now the peace
I will taste between its boards:

I feel the peace dropping with your leaves
in my soul - and, silenced
with each passing moment
I listen to the sound of my coffin
steadily growing in your trunk,
oak at the forest's edge.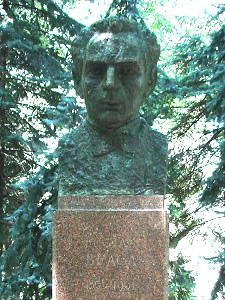 Lucian Blaga (9 mei 1895 – 6 mei 1961)
Borstbeeld in de Laan der Klassieken n Chișinău
Zie voor nog meer schrijvers van de 9e mei ook mijn vorige blog van vandaag.
09-05-2015 om 13:42 geschreven door Romenu

Tags:Pieter Boskma, Charles Simic, Jotie T'Hooft, Jan Drees, Leopold Andrian, Alan Bennett, Lucian Blaga, Romenu