De Duitse dichter Ernst Stadler werd geboren op 11 augustus 1883 in Colmar (Kolmar). Zie ook mijn blog van 11 augustus 2007 en ook mijn blog van 11 augustus 2008 en ook mijn blog van 11 augustus 2009 en ook mijn blog van 11 augustus 2010.

Aus der Dämmerung
In Kapellen mit schrägen Gewölben· zerfallnen Verließen
und Scheiben flammrot wie Mohn und wie Perlen grün
und Marmoraltären über verwitterten Fliesen
sah ich die Nächte wie goldne Gewässer verblühn:
der schlaffe Rauch zerstäubt aus geschwungnen Fialen
hing noch wie Nebel schwankend in starrender Luft·
auf Scharlachgewirken die bernsteinschillernden Schalen
schwammen wie Meergrundwunder im bläulichen Duft.
In dämmrigen Nischen die alten süßen Madonnen
lächelten müd und wonnig aus goldrundem Schein.
Rieselnde Träume hielten mich rankend umsponnen·
säuselnde Lieder sangen mich selig ein.
Des wirbelnden Frühlings leise girrendes Locken·
der Sommernächte Duftrausch weckte mich nicht:
Blaß aus Fernen läuteten weiße Glocken . .
Grün aus Kuppeln sickerte goldiges Licht . .
Die Rosen im Garten
Die Rosen im Garten blühn zum zweiten Mal. Täglich schießen sie in dickenBündeln
In die Sonne. Aber die schwelgerische Zartheit ist dahin,
Mit der ihr erstes Blühen sich im Hof des weiß und roten Sternenfeuers wiegte.
Sie springen gieriger, wie aus aufgerissenen Adern strömend,
Über das heftig aufgeschwellte Fleisch der Blätter.
Ihr wildes Blühen ist wie Todesröcheln,
Das der vergehende Sommer in das ungewisse Licht des Herbstes trägt.
Fluß im Abend
Der Abend läuft den lauen Fluß hinunter,
Gewittersonne übersprengt die Ufersenkung bunter.
Es hat geregnet. Alle Blätter dampfen Feuchte.
Die Weidenwildnis streckt mit hellen Tümpeln sich ins witternde Geleuchte.
Weiße Nebel sich ins Abendglänzen schwingen.
Unterm seichten Fließen dumpf und schrill die mitgezognen Kiesel klingen.
Die Pappeln stehn im Licht, traumgroße Kerzen dick mit gelbem Honigseimbeträuft –
Mir ist, als ob mein tiefstes Glück durch grüne Ufer in den brennenden Gewitterabendläuft.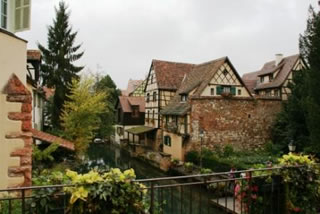 Ernst Stadler (11 augustus 1883 – 30 oktober 1914)
Colmar
De Schotse dichter Hugh MacDiarmid werd geboren op 11 augustus 1892 als Christopher Marray Grieve in Langholm. Zie ook mijn blog van 11 augustus 2007 en ook mijn blog van 11 augustus 2008 en ook mijn blog van 11 augustus 2009 en ook mijn blog van 11 augustus 2010.
The Eemis Stane ('the unsteady stone')
I' the how-dumb-deid o' the cauld hairst nicht
The warl' like an eemis stane
Wags i' the lift;
An' my eerie memories fa'
Like a yowdendrift.
Like a yowdendrift so's I couldna read
The words cut oot i' the stane
Had the fug o' fame
An' history's hazelraw
No' yirdit thaim.
The Little White Rose
(To John Gawsworth)
The rose of all the world is not for me.
I want for my part
Only the little white rose of Scotland
That smells sharp and sweet—and breaks the heart.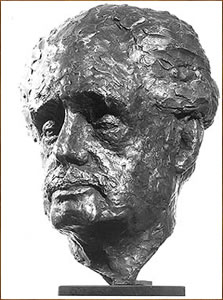 Hugh MacDiarmid (11 augustus 1892 – 9 september 1978)
Sculptuur van Alan Thornhill
De Japanse schrijver Yoshikawa Eiji werd geboren op 11 augustus 1892 in de prefectuur Kanagawa. Zie ook mijn blog van 11 augustus 2007 en ook mijn blog van 11 augustus 2008 en ook mijn blog van 11 augustus 2009 en ook mijn blog van 11 augustus 2010.

Uit: Musashi Vertaald door Werner Peterich)
"Nein, ganz gewiß nicht. Da kennst du mich schlecht!" Nach Atem ringend, sich auf den Ellbogen vorwärts schleppend und die Beine steif hinter sich herschleifend, kroch Matahachi Handbreit um Handbreit auf seinen Freund zu.
"Ich kann es kaum glauben, daß auch du davongekommen bist. Wir müssen die beiden einzigen Überlebenden sein."
"Freu dich nicht zu früh! Ich hab bis jetzt noch nicht versucht aufzustehen." "Ich helfe dir. Laß uns machen, daß wir hier rauskommen!"
Unter großen Mühen halfen die beiden Freunde einander auf. Langsam schafften sie humpelnd und den Arm dem anderen um die Schulter gelegt den Weg übers Schlachtfeld. In der Sicherheit der bewaldeten Hügel brachen sie zusammen, doch nachdem sie sich eine Weile ausgeruht hatten, machten sie sich auf die Suche nach etwas Eßbarem. Zwei Tage lang ernährten sie sich in den verschlammten Senken des Ibuki-Berges von wilden Kastanien und Kräutern.
Der Sturm am fünfzehnten hatte den Schlußpunkt der herbstlichen Wirbelstürme gebildet. Jetzt, nur zwei Nächte später, funkelte ein kalter weißer Mond grimmig vom wolkenlosen Himmel herab.
Die Freunde waren sich darüber im klaren, wie gefährlich es sei, im gleißenden Mondlicht unterwegs zu sein; ihre schattenhaften Umrisse boten jeder Patrouille, die unterwegs war, versprengte Samurai aufzugreifen, eine willkommene Zielscheibe. Den Entschluß, es dennoch zu wagen, hatte Takezo gefaßt. Da Matahachi so übel daran war, daß er erklärte, lieber wolle er in Gefangenschaft geraten als versuchen, sich zu Fuß weiter durchzuschlagen, mußten sie danach trachten, irgendwo eine Bleibe zu finden, um zu ruhen. Langsam glaubten sie auf diese Weise in Richtung auf die kleine Stadt Tarui vorzurücken.
"Schaffst du's?" fragte Takezo immer wieder. Er hatte sich den Arm seines Freundes über die Schulter gelegt, um ihm beim Gehen zu helfen. Matahachis keuchender Atem beunruhigte ihn.
"Alles in Ordnung." Matahachi bemühte sich, sich seine Verzagtheit nicht anmerken zu lassen, doch sein Gesicht war bleicher als der Mond über ihnen. Selbst wenn er seine Lanze als Krückstock benutzte, schaffte er es kaum, einen Fuß vor den anderen zu setzen.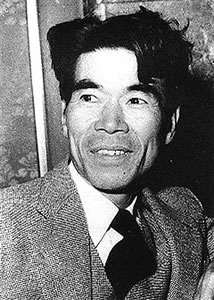 Yoshikawa Eiji (11 augustus 1892 – 7 september 1962)





De Spaanse schrijver, dichter, dramaturg en cineast Fernando Arrabal werd geboren in Melila, Spaans Marokko op 11 augustus 1932. Zie ook mijn blog van 11 augustus 2007 en ook mijn blog van 11 augustus 2008 en ook mijn blog van 11 augustus 2009 en ook mijn blog van 11 augustus 2010.
In memoriam Christian Dupeyron
Salut, éditeur!
Tu polissais l'œuf et la poule.
Tu cherchais exils et retours.
Tu fleurissais l'arbre et la vie.
Tu alliais signes et signaux.
Tu incendiais oublis et naufrages.
Tu protégeais les jupes de ton poulailler.
Tu déchiffrais le fil et le secret.
Tu accordais questions et réponses.
Tu transformais l'éternité et ses instants.
Tu rêvais sans chimère ni utopie.
Tu interrogeais la poule sur ses oeufs.
Tu sortais sur ta terrasse et tes étoiles.
Tu atteignais astres et astérisques.
Tu visitais l'or et le pavillon.
Tu forgeais esprit et fantaisie.
Tu argumentais avec ta poule et ses labyrinthes.
Tu enrichissais lisières et chevelures.
Tu transmettais essence et existence.
Tu multipliais vagues et traces.
Tu glissais harmonieux et différent.
Tu pénétrais mes doutes avec ta poule.
Tu embrassais les espoirs sans épines.
Tu brisais grilles et intransigeances.
Tu piaffais sur le coursier du Big-bang.
Tu cherchais l'ineffable dans l'oeuf.
Tu arrivais à Baratavia et à moi,
livre après livre,
par les babels de Babel.
Salut, éditeur!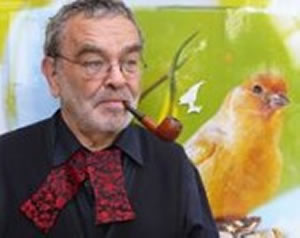 Fernando Arrabal (Melila, 11 augustus 1932)




Zie voor nog meer schrijvers ook mijn vorige blog van vandaag.
11-08-2011 om 16:18 geschreven door Romenu

Tags:Ernst Stadler, Hugh MacDiarmid, Yoshikawa Eiji, Fernando Arrabal, Romenu