E-mail mij


Druk op onderstaande knop om mij te e-mailen.


Romenu


Romenu is een blog over gedichten, literatuur en kunst Maar Romenu is ook een professionele freelance vertaler
Du-Ne en Ne-Du http://www.romenu.nl.


Huur eens een (vakantie)huis in een natuurgebied, dichtbij het centrum van Nijmegen


Google


Georg Trakl

Georg Trakl werd op 3 februari 1887 in het conducteurshuis aan de Waagplatz 2 in Salzburg geboren. Zijn vader, Tobias Trakl, was een handelaar in ijzerwaren en zijn moeder, die ook psychische problemen had, was Maria Catharina Trakl, (meisjesnaam Halik). Voorts had hij nog drie broers en drie zussen. Margarethe (doorgaans Grethe genoemd) stond hem het naast, zelfs zodanig dat sommigen een incestueuze verhouding vermoeden. Zijn jeugd bracht hij door in Salzburg. Vervolgens bezocht hij van 1897 tot 1905 het humanistische gymnasium. Om toch een academische opleiding te kunnen volgen, werkte hij tot 1908 in de praktijk bij een apotheker. Sommigen vermoedden dat hij dit vooral deed om zichzelf opiaten te kunnen verschaffen. Bij het uitbreken van WO I werd Trakl als medicus naar het front in Galicië (heden ten dage in Oekraïne en Polen) gestuurd. Zijn gemoedsschommelingen leidden tot geregelde uitbraken van depressie, die verergerd werden door de afschuw die hij voelde voor de verzorging van de ernstig verwonde soldaten. De spanning en druk dreven hem ertoe een suïcidepoging te ondernemen, welke zijn kameraden nochtans verhinderden. Hij werd in een militair ziekenhuis opgenomen in Kraków, alwaar hij onder strikt toezicht geplaatst werd.Trakl verzonk daar in nog zwaardere depressies en schreef Ficker om advies. Ficker overtuigde hem ervan dat hij contact moest opnemen met Wittgenstein, die inderdaad op weg ging na Trakls bericht te hebben ontvangen. Op 4 november 1914, drie dagen voordat Wittgenstein aan zou komen, overleed hij echter aan een overdosis cocaïne


Paul Celan

Paul Celan werd onder de naam Paul Antschel op 23 november 1920 geboren in Czernowitz, toentertijd de hoofdstad van de Roemeense Boekovina, nu behorend bij de Oekraïne. Paul Celans ouders waren Duitssprekende joden die hun zoon joods opvoedden en hem naar Duitse christelijke scholen stuurden. In 1942 werden Celans ouders door de Duitse bezetter naar een werkkamp gedeporteerd en daar vermoord. Hijzelf wist aanvankelijk onder te duiken, maar moest vanaf juli 1942 in een werkkamp dwangarbeid verrichten. Celan overleefde de oorlog. Via Boekarest en Wenen vestigde Celan zich in 1948 in Parijs. Daar was hij werkzaam als dichter, vertaler en doceerde hij aan de prestigieuze Ecole Normale Supérieure. Vermoedelijk op 20 april 1970 beëindigde hij zijn leven zelf door in de Seine te springen.


Gerard Reve

Gerard Reve over: Medearbeiders "God is in de mensen, de dieren, de planten en alle dingen - in de schepping, die verlost moet worden of waaruit God verlost moet worden, door onze arbeid, aangezien wij medearbeiders van God zijn." Openbaring "Tja, waar berust elk godsbegrip op, elke vorm van religie? Op een openbaring, dat wil zeggen op een psychische ervaring van zulk een dwingende en onverbiddelijke kracht, dat de betrokkene het gevoel heeft, niet dat hij een gedachte of een visioen heeft, maar dat een gedachte gedachte of visioen hem bezit en overweldigt."


Simon Vestdijk
Simon Vestdijk (Harlingen, 17 oktober 1898 – Utrecht, 23 maart 1971) was een Nederlands romancier, dichter, essayist en vertaler. Zijn jeugd te Harlingen en Leeuwarden beschreef hij later in de Anton Wachter-cyclus. Van jongs af aan logeerde hij regelmatig bij zijn grootouders in Amsterdam, waar hij zich in 1917 aan de Universiteit van Amsterdam inschrijft als student in de medicijnen. Tijdens zijn studie die van 1917 tot 1927 duurde, leerde hij Jan Slauerhoff kennen.Tot 1932 is hij als arts in praktijken door heel Nederland werkzaam. In 1932 volgt zijn officiële schrijversdebuut met de uitgave van de bundel Verzen in De Vrije Bladen. Doorslaggevend voor Vestdijks uiteindelijke keuze voor de literatuur is zijn ontmoeting in 1932 met Eddy Du Perron en Menno ter Braak. Deze ontmoeting had tot resultaat dat hij redactielid werd van het tijdschrift Forum Kort daarop, in 1933, wordt zijn eerste novelle, De oubliette, uitgegeven. In hetzelfde jaar schrijft hij Kind tussen vier vrouwen, dat, eerst geweigerd door de uitgever, later de basis zal vormen voor de eerste drie delen van de Anton Wachter-romans. In 1951 ontvangt Vestdijk de P.C. Hooftprijs voor zijn in 1947 verschenen roman De vuuraanbidders. In 1957 wordt hij voor het eerst door het PEN-centrum voor Nederland voorgedragen voor de Nobelprijs voor de Literatuur, die hij echter nooit zal krijgen. Op 20 maart 1971 wordt hem de Prijs der Nederlandse Letteren toegekend, maar voor hij deze kan ontvangen overlijdt hij op 23 maart te Utrecht op 72-jarige leeftijd. Vestdijk was auteur van ca. 200 boeken. Vanwege deze enorme productie noemde de dichter Adriaan Roland Holst hem 'de man die sneller schrijft dan God kan lezen'. Andere belangrijke boeken van Simon Vestdijk zijn: "Kind van stad en land" (1936), "Meneer Visser's hellevaart" (1936), "Ierse nachten" (1946), "De toekomst de religie" (1947), "Pastorale 1943" (1948), "De koperen tuin" (1950), "Ivoren wachters" (1951), "Essays in duodecimo" (1952) en "Het genadeschot" (1964).


K.P. Kavafis

K.P. Kavafis werd als kind van Griekse ouders, afkomstig uit Konstantinopel, geboren in 1863 in Alexandrië (tot vandaag een Griekse enclave) waar hij ook het grootste deel van zijn leven woonde en werkte. Twee jaar na de dood van zijn vader verhuist het gezin in 1872 naar Engeland om na een verblijf van vijf jaar naar Alexandrië terug te keren. Vanwege ongeregeldheden in Egypte vlucht het gezin in 1882 naar Konstantinopel, om na drie jaar opnieuw naar Alexandrië terug te gaan. In de jaren die volgen maakt Kavafis reizen naar Parijs, Londen en in 1901 zijn eerste reis naar Griekenland, in latere jaren gevolgd door nog enkele bezoeken. Op de dag van zijn zeventigste verjaardag, in 1933 sterft Kavafis in Alexandrië. De roem kwam voor Kavafis pas na zijn dood, dus postuum. Deels is dat toe te schrijven aan zijn eigen handelswijze. Hij was uiterst terughoudend met de publicatie van zijn gedichten, liet af en toe een enkel gedicht afdrukken in een literair tijdschrift, gaf in eigen beheer enkele bundels met een stuk of twintig gedichten uit en het merendeel van zijn poëzie schonk hij op losse bladen aan zijn beste vrienden.


Thomas Mann


Thomas Mann, de jongere broer van Heinrich Mann, werd geboren op 6 juni 1875 in Lübeck. Hij was de tweede zoon van de graankoopman Thomas Johann Heinrich Mann welke later één van de senatoren van Lübreck werd. Zijn moeder Julia (geboren da Silva-Bruhns) was Duits-Braziliaans van Portugees Kreoolse afkomst. In 1894 debuteerde Thomas Mann met de novelle "Gefallen". Toen Thomas Mann met 21 jaar eindelijk volwassen was en hem dus geld van zijn vaders erfenis toestond - hij kreeg ongeveer 160 tot 180 goldmark per jaar - besloot hij dat hij genoeg had van al die scholen en instituties en werd onafhankelijk schrijver. Kenmerkend voor zijn stijl zijn de ironie, de fenomenale taalbeheersing en de minutieuze detailschildering. Manns reputatie in Duitsland was sterk wisselend. Met zijn eerste roman, Buddenbrooks (1901), had hij een enorm succes, maar door zijn sceptische houding tegenover Duitsland na de Eerste Wereldoorlog veranderde dit volledig. Stelde hij zich tot aan de jaren twintig apolitiek op (Betrachtungen eines Unpolitischen, 1918), meer en meer raakte hij bij het Politiek gebeuren betrokken. Zijn afkeer van het nationaal socialisme groeide, zijn waarschuwingen werden veelvuldiger en heftiger. In 1944 accepteerde hij het Amerikaanse staatsburgerschap. Tussen 1943 en 1947 schreef Mann Doktor Faustus (zie Faust), de roman van de 'Duitse ziel' in de gecamoufleerd geschilderde omstandigheden van de 20ste eeuw. In 1947 bezocht hij voor het eerst sinds de Oorlog Europa, twee jaar later pas Duitsland. In 1952 vertrok hij naar Zwitserland. Op 12 augustus 1955 stierf hij in Zürich. Twintig jaar na zijn dood, in aug. 1975, is zijn literaire nalatenschap geopend: dagboekaantekeningen van 15 maart 1933 tot 29 juli 1955, alsmede notities uit de jaren 1918 tot en met 1921.Belangrijke werken zijn: Der Zauberberg, Der Tod in Venedig, Dokter Faustus , Joseph und seine Brüder en Die Bekenntnisse des Hochstaplers Felix Krull.


Rainer Maria Rilke

Rilke werd op 4 december 1875 geboren in Praag. Hij had al naam gemaakt als dichter met zijn bundels Das Stundenbuch en Das Buch der Bilder, toen hij de literaire wereld versteld deed staan en wereldfaam verwierf met de publicatie van zijn twee delen Neue Gedichte in 1907 en 1908. Hij verzamelde daarin het beste werk uit een van zijn vruchtbaarste periodes, die hij grotendeels doorbracht in Parijs. Rilke was daar diep onder de indruk gekomen van Rodin, bij wie hij een tijdlang in dienst was als particulier secretaris. Rodin, zei hij later, had hem leren kijken. Dit kijken kwam neer op intense concentratie, om het mysterie te kunnen zien 'achter de schijnbare werkelijkheid'. Latere en rijpere werken als Duineser Elegien (1912-1923) en het ronduit schitterende Die Sonette an Orfeus (1924) illustreren Rilkes metafysische visie op het onzegbare, dat haar verwoording vindt in een hermetische muzikale taal. Op 29 december 1926 overlijdt Rilke in het sanatorium in Val-Mont aan de gevolgen van leukemie. Enkele dagen later wordt hij, overeenkomstig zijn wens, begraven op het kerkhof van Raron.


* * * * * * * * * * * * * * * *

| | |
| --- | --- |
| | Over literatuur, gedichten, kunst en cultuur |

17-02-2011

Shahrnush Parsipur, Sadegh Hedayat, Mo Yan,Yevgeni Grishkovetz, Frederik Hetmann, Emmy Hennings
De Iraanse schrijfster Shahrnush Parsipur werd geboren op 17 februari 1946 in Teheran. Zie ook mijn blog van 17 februari 2008 en ook mijn blog van 17 februari 2009 en ook mijn blog van 17 februari 2010.
Uit: The Story of the Men of Sialk Hills (Vertaald door Steve MacDowell en Afshin Nassiri)
"This was very strange. And they wanted to discuss this strange event with each other, but the people in the line started protesting and asked them to go stand at the end of the line. Hence the tar player and his fiancée started walking toward the end of the line. That is how they followed along the line and passed a few streets and corners. Then they walked along the main highway and reached Baghdad. At that time Baghdad was more or less like the Sialk Hills, hazy and full of dust, but the sound of music could be heard from a small deli around the corner. At this moment the tar player's fiancée became angry and told him she had always felt that his love for her had never been real and that he only wanted to marry her because of his need for a servant. Otherwise, why would he make her borrow her own mother's wedding ring? The tar player swore that it was not like that at all, that he sincerely loved her, and that he wanted to marry her. That is how, as they walked with the line, they kept arguing. It was hot, and a swarm of flies were flying around their heads. The man became increasingly irritated and furious. That was why when they got to Damascus he screamed, "What do you want from my life? Do you realize how long we have been arguing?"
At this moment a little event encouraged them to keep to their decision to see the film. That event was a fork in the line.
The man yelled, "You are shameless!"
The girl yelled, "Am I shameless, or are you?"
Without answering her, the man said, "What a slut!"
Red-faced from anger, the girl screamed, "You call me slut?" and she continued to go with the other branch of the line and went away. It was clear that for a long time after this event she did not look back. And in order to prove that he was his own man, he continued to go with the main branch of the line. After a while he stopped and asked one of the people in the line, "Excuse me, what film are you standing in line for?"
The man in the line said, "I want to see the last film of the great director, Edward Muntz, the director who recently passed away."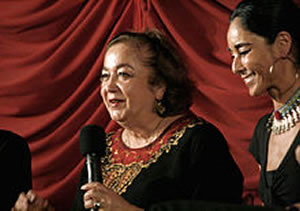 Shahrnush Parsipur (Teheran, 17 februari 1946)
De Iraanse schrijver Sadegh Hedayat werd geboren op 17 februari 1903 in Teheran. Zie ook mijn blog van 17 februari 2010.
Uit: Burried Alive (Vertaald door Carter Bryant)
"My breathing subsisdes. Tears pour from my eyes. My mouth tastes awful. I have fallen onto my bed, my heart convulsed, my body worn out, limp, weak. My upper arms are full of needle punctures from all those injections. The bed reeks of sweat and fever. I glance at the clock on the small table next to my bed; it is ten o´clock Sunday morning.

I look up at the ceiling from the center of which dangles a solitary electric bulb. I glance around the room: there are small bushes and pink and red flowers on the wall paper and, set at intervals, two black birds sit on a single branch facing each other. One of the birds has his beak open as if he were chatting with the other. The designs on the wallpaper are driving me crazy. I don´t know why, but
whether I roll to this side or that, there they are before my eyes. The single writing table in the room is covered with bottles and bolts of cotton and boxes of medicine. The odor of burned alcohol pervades the room–the odor of a sickroom. I want to get up and open a window, but an overwhelming feeling of indolence keeps me pinned to the bed. I´d like to smoke a cigarette but really don´t feel like making the effort. Not even ten minutes have passed since I shaved the stubble that had grown on my face. I came directly over and fell onto the bed. When I looked into the mirror to shave I could see I had grown thin and weak. I walked with great difficulty. The room is a mess. I am alone. A thousand different
thoughts swirl dizzily through my mind. I understand them all, but to convey in writing even the tiniest passing thought or feeling I would have to tell my life story from beginning to end, and that is simply not possible.
These thoughts and feelings are all the result of some period in my life, the result of some pattern instilled in me by something I have seen, heard, read, felt, or reflected upon. All of these thoughts and feelings make up my fanciful, laughable existence."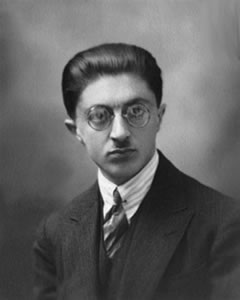 Sadegh Hedayat (17 februari 1903 – 9 april 1951)
De Chinese schrijver Mo Yan werd geboren op 17 februari 1955 in Gaomi in de provincie Shandong. Zie ook mijn blog van 17 februari 2009 en ook mijn blog van 17 februari 2010.
Uit: Horse Talk (Vertaald door Aili Mu)
"It was like a big, thick, bristly brush whisking across my face, waking me from my dream. A lofty shadow swayed before my eyes like a massive black wall. A familiar smell made my heart pound. I suddenly came to my senses. The backdrop of modern life behind me quietly withdrew; the sun shown brightly over that dingy yellow earthen wall. On top of the wall, withered grass rustled; a brightly feathered rooster stretched its neck and crowed heartily. A haystack in front of the wall was crumbling. A flock of hens was digging for food in the scattered hay. There were also several oxen tethered to posts along the wall, all bending their heads and chewing their cud, as if deep in thought. The crooked wooden posts were coated in ox hair, the dirt wall covered with ox dung. I was sitting in front of the haystack. I could reach out and touch the hens; leaning over a little, I could also stroke the oxen. But I didn't touch the hens or stroke the oxen. I looked up at her—my close friend—that old mare, black, worry-laden, with "Z99" branded on her flank, blind, reportedly retired from a field army, currently the wheel horse for our production team, known throughout town for her limitless strength and "all-work, no-complaints" attitude.
"Horse, it's you!" I jumped up from the haystack and wrapped my arms around her, embracing her strong, thick neck. The warmth and powerful smell of grease from her neck brought a surge of emotions and hot tears that rolled around on her smooth skin. The horse straightened her ears, which looked like whittled bamboo, and said, in a tone of experience and wisdom: "Don't cry, young man, don't cry. I don't like crying. There's no need to cry. Sit up and listen to me." As the horse clicked her neck, I was lifted from the ground like a feather and then landed on my backside by the haystack. I could reach out and touch the hens; leaning over a little I could stroke the oxen."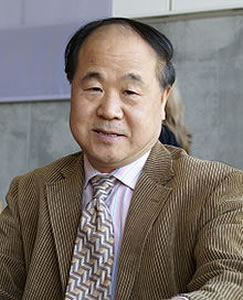 Mo Yan (Gaomi, 17 februari 1955)
De Russische schrijver, regisseur en acteur Yevgeni Grishkovetz werd geboren op 17 februari 1969 in Kemerovo. Zie ook mijn blog van 17 februari 2009 en ook mijn blog van 17 februari 2010.
Uit: Das Hemd (Vertaald door Beate Rausch)
"Obwohl klar ist, daß auf allen Sendern ungefähr das Gleiche läuft. Die Nachrichten sind ungefähr die gleichen, die Musik ... Aber es beunruhigt mich irgendwie ...«, er sprach langsam, ruhig. Man sah, daß er schon lange Leute durch Moskau fuhr. Er wird gefragt, er antwortet. Er wird nicht gefragt, er schweigt. »Übrigens, auch Moskau hat mich früher stark beunruhigt. Solange ich Moskau nicht gut studiert hatte, war ich unruhig, ich konnte nicht schlafen, hatte Angst, etwas zu verpassen. Aber jetzt kenne ich es ... nicht ausgezeichnet, aber eine gute Zwei würde ich mir schon geben. Jetzt habe ich mich beruhigt. Ich bin nicht mehr so zappelig.«
»Lieben Sie Jazz?« Jetzt fand ich es schon interessant, ihm irgendeine Frage zu stellen.
»Lieben wäre zuviel gesagt, ich höre einfach zu. Ich kann gar nicht ohne Musik. Aber jetzt gibt es so viel verschiedene Musik, das regt mich auch auf. Aber Jazz bleibt Jazz. Außerdem findet man bei uns in der Regel, daß Jazz ernsthafte und nicht einfache Musik ist. Jazz hören kluge und nicht einfache Menschen ... Und so behandelt man mich auch, aha, der Mann hört Jazz, also ist er ein ernsthafter Mann. Ohne Erlaubnis raucht hier niemand oder läßt seinen Abfall liegen.«
»Wenn Sie allein fahren, hören Sie dann auch Jazz? Oder gibt es eine Lieblingsmusik, nur für Sie selbst?« Ich war wirklich neugierig."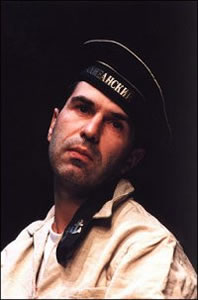 Yevgeni Grishkovetz (Kemerovo, 17 februari 1969)
De Duitse schrijver Frederik Hetmann (eig. Hans-Christian Kirsch) werd geboren op 17 februari 1934 in Breslau. Zie ook mijn blog van 17 februari 2010.
Uit: Traumklänge
"Der Traum, den Izaak mit sich herumtrug, war es, einen großen Roman zu schreiben. Roman hätte er es nur genannt, wenn er nicht darum herumgekommen wäre, mit anderen darüber zu sprechen, was er aber vermied. Eigentlich stellte er sich eine lange Geschichte vor, mit der man lesend nicht so rasch zu Ende kam, eine Geschichte, die Bücher füllte, so dick wie die von Thomas Wolfe oder von Marcel Proust, eine Geschichte, in der man eine Woche Tag und Nacht schmökern konnte, die Welt vergessend, Essen, Trinken, Schlaf, Einsamkeit und die Liebe, und die nach der Lektüre immer noch nicht zu Ende war. Es war seine fixe Idee, dass eine solche Geschichte unbedingt nötig sei für diese Zeit, als Trost, Ermunterung, Freudenfeuerwerk der Fantasie, und er sei dazu ausersehen, sie zu erfinden. Dabei hatte er bisher noch nicht die leiseste Ahnung, wie sie konkret aussehen, von was sie handeln werde. Dennoch gab es sie im Grund genommen schon, und all sein Suchen und Trachten bestand nur darin, sich zu ihr hin zu tasten, sie zu entziffern, und was er selbst in diesen Gewölben und Höhlen, in denen sie lag, vorfand, dann für andere aufzuschreiben.
Freilich musste er auch Geld verdienen. Also arbeitete er als Journalist. Er schrieb über literarische und kulturgeschichtliche Themen für New Yorker Blätter. Er war ein guter Journalist, umfassend literarisch gebildet, und er verdiente nicht schlecht, jedenfalls genug, um bequem zu leben und die Alimente für seine Tochter Rosalie zu zahlen und. Aber in seinem Bewusstsein hielt sich eine Wolkenbank aus Unzufriedenheit. Wie angestrengt er auch nachdachte, sich umsah und meditierte, er
fand das Thema für seinen Roman nicht. Wie er es vor sich selbst ausdrückte: Er tappte in der Höhle, in der die Tafeln der großen Geschichte verborgen lagen, noch völlig im Dunkeln. Das war die ständige Malaise, und dann gab es hin und wieder noch die kleinen Ärgernisse. Ein solches stieß ihm just an diesem Tag, von dem wir erzählen, zu."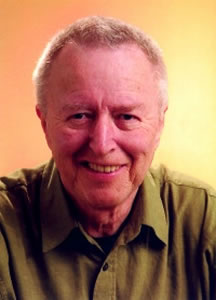 Frederik Hetmann (17 februari 1934 – 1 juni 2006)
De Duitse dichteres, schrijfster en caberetiere Emmy Hennings werd geboren op 17 februari 1885 in Flensburg. Zie ook mijn blog van 17 februari 2008 en ook mijn blog van 17 februari 2009 en ook mijn blog van 17 februari 2010.
Traum

Ich bin so vielfach in den Nächten.
Ich steige aus den dunklen Schächten.
Wie bunt entfaltet sich mein Anderssein.

So selbstverloren in dem Grunde,
Nachtwache ich, bin Traumesrunde
Und Wunder aus dem Heiligenschrein.

Und öffnen sich mir alle Pforten,
Bin ich nicht da, bin ich nicht dorten?
Bin ich entstiegen einem Märchenbuch?

Vielleicht geht ein Gedicht in ferne Weiten.
Vielleicht verwehen meine Vielfachheiten,
Ein einsam flatternd, blasses Fahnentuch...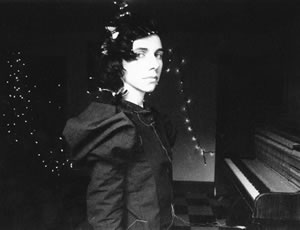 Emmy Hennings
(17 februari 1885 – 10 augustus 1948)



Zie voor nog meer schrijvers van de 17e februari ook

mijn vorige blog van vandaag

en eveneens

mijn eerste blog van vandaag.



17-02-2011 om 19:09 geschreven door Romenu

Tags:Shahrnush Parsipur, Sadegh Hedayat, Mo Yan,Yevgeni Grishkovetz, Frederik Hetmann, Emmy Hennings, Romenu



Chaim Potok, Mori Ōgai, Gustavo Bécquer, Georg Britting, Andrew Paterson, Margaret Truman
De Amerikaanse schrijver Chaim Potok werd geboren in New York City op 17 februari 1929. Zie ook mijn blog van 17 februari 2007 Zie ook mijn blog van 17 februari 2008 en ook mijn blog van 17 februari 2009 en ook mijn blog van 17 februari 2010.
Uit: My name is Asher Lev
"My father's great-great-grandfather was in his early years the manager of the vast estates of a carousing Russian nobleman who when drunk sometimes killed serfs; once, in an act of wild drunkenness, he burned down a village and people died. You see how a goy behaves, I would be told by my father and mother. The people of the sitra achra behave this way. They are evil and from the Other Side. Jews do not behave this way. My father's great-great-grandfather had transformed those estates into a source of immense wealth for his employer as well as himself. In his middle years, he began to travel. Why did he travel so much? I would ask. To do good deeds and bring the Master of the Universe into the world, my father would respond. To find people in need and to comfort and help them, my mother would say. I was told about him so often during my very early years that he began to appear quite frequently in my dreams: a man of mythic dimensions, tall, dark-bearded, powerful of mind and body; a brilliant entrepreneur; a beneficent supporter of academies of learning; a legendary traveler, and author of the Hebrew work Journeys to Distant Lands. That great man would come to me in my dreams and echo my father's queries about the latest bare wall I had decorated and the sacred margins I had that day filled with drawings. It was no joy waking up after a dream about that man. He left a taste of thunder in my mouth.
My father's father, the man whose name I bear, was a scholar and recluse in his early and middle years, a dweller in the study halls of synagogues and academies. He was never described to me, but I pictured him as slight of body and huge of head, with eyelids swollen from lack of sleep, face pale, lips dry, the veins showing blue along his cheeks and temples. In his youth, he earned the name "ilui," genius, a term not lightly bestowed by the Jews of Eastern Europe. And by the time he was twenty he had come to be known as the Genius of Mozyr, after the Russian town in which he lived. Shortly before his fiftieth birthday, he abruptly and mysteriously left Mozyr and, with his wife and children, journeyed to Ladov and became a member of the Russian Hasidic sect led by the Rebbe of Ladov. He began to travel throughout the Soviet Union as an emissary of the Rebbe. Why did he travel so much? I once asked. To bring the Master of the Universe into the world, my father replied."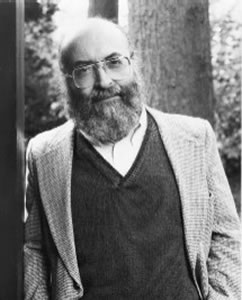 Chaim Potok (17 februari 1929 – 23 juli 2002)





De Japanse schrijver Mori Ōgai werd geboren op 17 februari 1862 als Mori Rintaro in het dorpTsuwano in Iwami. Zie ook mijn blog van 17 februari 2010.
Uit: The Wild Geese (Vertaald door Kingo Ochiai en Sanford Goldstein)
"A good-looking face may influence others, but it alone does not carry weight in a boardinghouse. Personal be- havior must also be considered, and I doubt if many students lived as well-balanced a life as Okada did. He wasn't a bookworm who worked greedily for examination marks each term and who wanted to win a scholarship. Okada did the required amount of work and was never lower than the middle of his class. And in his free time he always relaxed. After supper he would take a walk and would return without fail before ten. On Sun-days he rowed or set off on a long hike. Except for periods
of living with his crew before a match or of returning to his home in the country for summer vacations, the time never varied when he was in or out of his room. Often a boarder who had forgotten to set his watch by the signal gun at noon went to Okada's room to find out the time.
And occasionally even the office clock in the Kamijo was put right by Okada. The more we observed him, the stronger became our impression that he was reliable. Even though Okada didn't flatter the landlady or spend much money above his room and board, she began to praise him. Needless to say, the fact that he paid his rent regularly was one of the reasons for her attitude.
She often said: "Look at Mr. Okada!"
But, anticipating her words, some of the students would say: "Well, we can't all be like him."
Before anyone realized it, Okada had become a model tenant.
Okada had regular routes for his daily walks. He would go down the lonely slope called Muenzaka and travel north along Shinobazu Pond. Then he would stroll up the hill in Ueno Park. Next he went down to Hirokoji and, turning into Naka-cho--narrow, crowded, full of activity --he would go through the compound of Yushima Shrine and set out for the Kamijo after passing the gloomy Karatachi Temple. Sometimes he made a slight variation in a particular route, such as a right turn at the end of Naka-cho, so that he would come back to his room along the silence and loneliness of Muenzaka."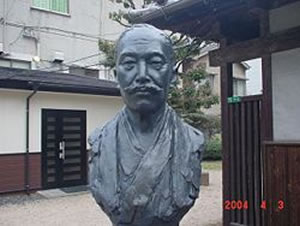 Mori Ōgai (17 februari 1862 – 9 juli 1922)
Beeld in Kokura Kita
De Spaanse dichter Gustavo Adolfo Bécquer werd op 17 februari 1836 in Sevilla geboren. Zie ook mijn blog van 17 februari 2007 en ook mijn blog van 17 februari 2008 en ook mijn blog van 17 februari 2009 en ook mijn blog van 17 februari 2010.
Schwebende Wolke, duftig und rein
Schwebende Wolke, duftig und rein
Silberne Welle in Mondenschein
Inniges Lied,
Das aufwärts zieht,
Kosender Wind und sein Rauschen dazu,
- Ja - das bist du.

Ein Schatten, du, der aus Äther gesponnen,
Der, will ich ihn fassen, jählings zerronnen,
Wie zuckendes Leuchten, rauschendes Tönen,
Wallender Nebel, heimliches Stöhnen
Der blauen See.

Meer ohne Küste, treibender Schaum,
Irrender Stern im endlosen Raum,
Heiserer Laut
Der Windesbraut,
Sehnende Angst um ein Glück das verblich, -
Ja - das bin ich.

Ich, der den brechenden Blick nicht vermag
Von dir zu wenden bei Nacht und bei Tag,
Der ein Nichts, ein Phantom, einen Schatten umwirbt,
Und heimatlos irrt und ruhelos stirbt,
- Um einen Traum!
Heut stieg der Himmel
Heut stieg der Himmel auf die Erde wieder, -
Heut kränkt mich nicht des Schicksals Hohn und Spott, -
Heut sah ich sie, und sie - sie sah mich wieder, -
Heut glaube ich an Gott! ...
Vertaald door Richard Jordan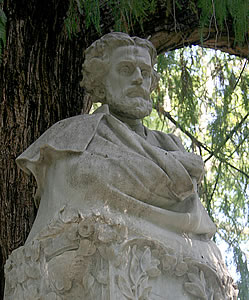 Gustavo Adolfo Bécquer (17 februari 1836 – 22 december 1870)
Monument in Sevilla (Detail)
De Duitse dichter en schrijver Georg Britting werd op 17 februari 1891 geboren in Regensburg. Zie ook mijn blog van 17 februari 2007 en ook mijn blog van 17 februari 2009 en ook mijn blog van 17 februari 2010.
Uit: Eglseder
"Der kleine, schnellfüßige Mann mit den feurigen Augen war der uneheliche Sohn einer Dienstmagd aus dem Bayerischen Wald. Auf einem Einödhof, nahe der böhmischen Grenze, hatte er das Licht der Welt erblickt. »Das Licht ist aber ziemlich dunkel dort«, sagte er, »schon mehr eine Finsternis!« Maria Walburga Theresia Eglseder, die Mutter, die bald nach der Geburt gestorben war, am Kindbettfieber, hatte den Namen des Kindsvaters nicht zu nennen gewußt, oder sie hatte ihn nicht nennen wollen. »Vielleicht war der ein Böhmak«, vermutete Eglseder, »ein Mausefallenhändler oder ein wandernder Musikant.« Das war ohne Wichtigkeit für ihn, er hatte keinen Ahnenstolz. Daß seine Mutter gleich drei Vornamen gehabt habe! sagten wir. »So ists, so stehts in meinen Papieren«, antwortete er, »aber sonst hatte sie wenig, das heißt, sie hatte nichts. Sie war arm wie eine Kirchenmaus. Ich muß mich mit einem Vornamen durchs Leben schlagen, so sparsam war sie, in dieser Beziehung wenigstens, oder es war Bescheidenheit. Auf den Namen Georg bin ich christkatholisch getauft. Es hat aber nicht viel genützt«, sagte er, »das Wasser machte mich nur naß.« Er lachte.
Die Frucht der Sünde, mit des Drachentöters Namen, wurde in einem Waisenhaus aufgezogen, fromm und fröstelnd, und lernte das Einmaleins und sein Bett selber zu machen und das Rosenkranzbeten. Mit vierzehn Jahren wurde Eglseder in die Schneiderlehre getan. »Man fragte mich nicht lange«, sagte er, »was ich Lust hätte zu werden, wir waren alle armer Leute Kinder, man verfuhr mit uns, wie man nur eben wollte, und zu einem Schmied, weiß Gott, hätte ich auch nicht getaugt! Ein schmächtiges Knäblein war ich, könnt ihr euch ausmalen, aber zum Zwirneinfädeln, dazu reichte es, und ich war dann sogar gern ein Schneider, und kein schlechter.«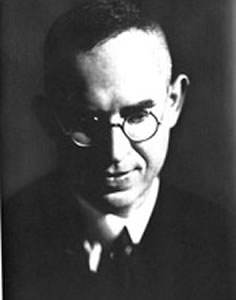 Georg Britting (7 februari 1891- 27 april 1964)
De Australische dichter Andrew Barton "Banjo" Paterson werd geboren op 17 februari 1864 in Narambla in New South Wales. Zie ook mijn blog van 17 februari 2007 en ook mijn blog van 17 februari 2010.
At the Melting of the Snow
There's a sunny Southern land,
And it's there that I would be
Where the big hills stand,
In the South Countrie!
When the wattles bloom again,
Then it's time for us to go
To the old Monaro country
At the melting of the snow.
To the East or to the West,
Or wherever you may be,
You will find no place
Like the South Countrie.
For the skies are blue above,
And the grass is green below,
In the old Monaro country
At the melting of the snow.
Now the team is in the plough,
And the thrushes start to sing,
And the pigeons on the bough
Sit a-welcoming the Spring.
So come, my comrades all,
Let us saddle up and go
To the old Monaro country
At the melting of the snow.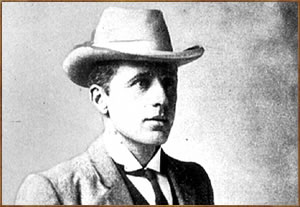 Andrew Paterson (17 februari 1864 – 5 april 1941)
De Amerikaanse schrijfster Margaret Truman werd geboren op 17 februari 1924 in Independence, Missouri. Zie ook mijn blog van 17 februari 2010.
Uit: The President's House
"Once, one of these brides married a president. I am speaking of Frances Folsom and Grover Cleveland. A century or so ago, when I was a twenty-something, I had the pleasure of meeting Mrs. Cleveland, who told me the reason she was married in the White House instead of in her family home: Nowhere else could she and the president have their privacy guaranteed.
The old house is, to put it mildly, a paradoxical place. People who think in straight lines have a very difficult time adjusting to it. And as history has shown again and again, many of them never do. Even so, I think everyone who has ever lived in the White House would agree that it's a special experience--a unique combination of history, tragedy, comedy, melodrama, and the ups and downs of ordinary living all under one roof.
II
Men bearing that unique title, president of the United States, the office my father called "the greatest in the history of the world," have paced the White House's darkened halls in periods of national crisis, gazing at portraits of their predecessors on the walls, seeking communion with their triumphs--or shuddering at their blunders. Women reached out to these men, trying to offer them guidance, or at the very least solace for their awesome burdens. My mother managed to play both roles in my father's presidency--a feat too many obtuse historians and biographers have failed to recognize."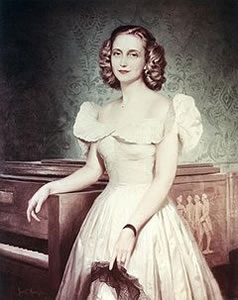 Margaret Truman (17 februari 1924 – 29 januari 2008)
Portret door Greta Kempton

17-02-2011 om 18:59 geschreven door Romenu

Tags:Chaim Potok, Mori Ō,gai, Gustavo Bécquer, Georg Britting, Andrew Paterson, Margaret Truman, Romenu



Ruth Rendell, Fjodor Sologoeb, Pêr-Jakez Helias, Georg Weerth, Friedrich Klinger, Louisa Lawson, Maria Rossetti, Max Schneckenburger
De Britse schrijfster Ruth Rendell werd geboren als Ruth Grasemann in Londen op 17 februari 1930. Zie ook mijn blog van 17 februari 2007 en ook mijn blog van 17 februari 2008 en ook mijn blog van 17 februari 2009 en ook mijn blog van 17 februari 2010.
Uit: Some Lie and Some Die
'But why here? Why do they have to come here? There must be thousands of places all over this country where they could go without doing anyone any harm. The Highlands for instance. Dartmoor. I don't see why they have to come here.'
Detective Inspector Michael Burden had made these remarks, or remarks very much like them, every day for the past month. But this time his voice held a note which had not been there before, a note of bitter bewilderment. The prospect had been bad enough. The reality was now unreeling itself some thirty feet below him in Kingsmarkham High Street and he opened the window to get a better—or a more devastating—look.
'There must be thousands of them, all coming up from Station Road. And this is only a small percentage when you consider how many more will be using other means of transport. It's an invasion. God, there's a dirty-looking great big one coming now. You know what it reminds me of? That poem my Pat was doing at school. Something about a pied piper. If "pied" means what I think it does, that customer's pied all right. You should see his coat.'
The only other occupant of the room had so far made no reply to this tirade. He was a big, heavy man, the inspector's senior by two decades, being at that time of life when people hesitated to describe him as middle-aged and considered 'elderly' as the more apt epithet. His face had never been handsome. Age and a very nearly total loss of hair had not improved its pouchy outlines, but an expression that was not so much easy-going as tolerant of everything but intolerance, redeemed it and made it almost attractive. He was sitting at his rosewood desk, trying to compose a directive on crime prevention, and now, giving an impatient shake of his head, he threw down his pen."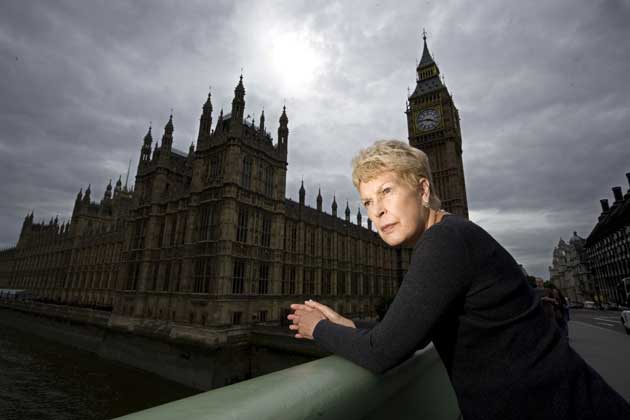 Ruth Rendell (Londen, 17 februari 1930)
De Russische dichter en schrijver Fjodor Sologoeb (eig. Fjodor Koezmitsj Teternikov) werd geboren in Sint-Petersburg op 17 februari 1863. Zie ook mijn blog van 17 februari 2009 en ook mijn blog van 17 februari 2010.
A Son Was Born To A Poor Peasant
A son was born to a poor peasant.
A foul old woman stepped inside
The hut, with trembling bony fingers
Clawing her tangled locks aside.
And when the midwife wasn't looking,
Across towards that babe she reached.
And with her gnarled, misshapen fingers
His cheek she very lightly touched.
Mumbling weird words and slowly tapping
Her crooked stick, she went away.
Nobody knew what charm she'd woven,
And so the years went duly by -
The secret spell came to fulfilment:
In life, much sorrow came to him
But happiness, and joy, and true love
Fled the dark sign upon the skin.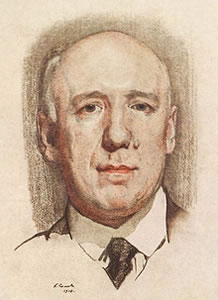 Fjodor Sologoeb (17 februari 1863 - 5 december 1927)
De Franse dichter, schrijver en acteur Pêr-Jakez Helias werd geboren op 17 februari 1914 in Pouldreuzig, Penn-ar-Bed. Zie ook mijn blog van 17 februari 2009 en ook mijn blog van 17 februari 2010.
Uit: Légendes de la Mer
"Au pays de Saint-Malo, il y avait naguère plus de fées dans la mer et sur les grèves qu'on ne comptait de bergères dans les landes.
Un soir de lune, une troupe de fées se livraient à la danse ronde. Il arriva que douze jeunes gens étaient en fête, quand ils furent un peu chauds de boire, ils décidèrent d'aller inviter à la contredanse les belles fées de la grève.
Mais, au cours de la danse, elles s'aperçurent que les garçons avaient le souffle court et les jambes de laine, et elles entrèrent en fureur. D'un coup de leur baguette, elles changèrent les malappris en six gros matous noirs et six chattes blanches.
Quand elles virent les pauvres animaux miauler de détresse, la bonté naturelle des fées de Saint-Malo leur attendrit le coeur, et elles promirent aux farauds de les rétablir dans leur forme première aussitôt qu'ils auraient filé, pour chacune d'elles, un manteau d'or et une robe d'argent tissés dans le seul mica de la grève.
La tâche n'eut pas été longue si les fées n'avaient précisé qu'ils ne pourraient filer que durant les douze coups de minuit.
Les six matous et les six chattes se mirent au travail sans attendre. Lorsque toutes les fées furent habillées, elles frappèrent les chats de leur baguette et en refirent des humains. On ne dit pas si plusieurs siècles avaient passés sur leur tête.
Ce qui est sûr, c'est qu'il est très rare de voir de vrais chats s'égarer sur le sable de mer. A Saint-Malo, pourtant, "argent de chat" est le nom du mica gris. Quand ce mica s'allume d'un reflet blond, il devient "l'or de chat", dont se tissait jadis le manteau d'apparat des Dames de la Mer."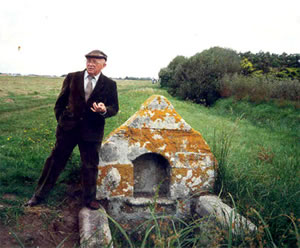 Pêr-Jakez Helias (17 februari 1914 – 13 augustus 1995)

De Duitse dichter en schrijver Georg Weerth werd geboren op 17 februari 1822 in Detmold. Zie en ook mijn blog van 17 februari 2010.
Der Wein ist mein Vergnügen!
Der Wein ist mein Vergnügen!
Ich wollt, das ganze Meer
Wär Wein und ich ein Walfisch,
Der schwömme drüber her.
Die Berge, Felsen, Inseln,
Die säuselten sich voll
Des kühlen Tranks und würden
All miteinander toll,
Und fingen an zu tanzen
In ihrer großen Kraft:
Der Nordpol und der Südpol,
Die tränken Bruderschaft.
In langen Zügen schlürfte
Die Sonne aus der Flut,
Verlöre die Balance
Und jagte fort in Wut,
Ergriffe bei den Schultern
Den alten Uranus,
Zu einem Riesenwalzer
Erhöben sie den Fuß.
Kometen, Monde, Sterne,
Die flögen hinterdrein –
Das würd am andern Tage
Ein Katzenjammer sein!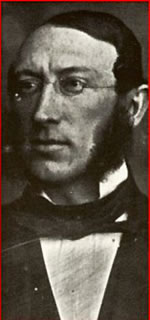 Georg Weerth (17 februari 1822 - 30 juli 1856)
De Duitse dichter en schrijver Friedrich Maximilian Klinger werd geboren op 17 februari 1752 in Frankfurt am Main. Zie ook mijn blog van 17 februari 2009 en ook mijn blog van 17 februari 2010.
Uit: Geschichte eines Teutschen der neusten Zeit
"Der teutsche Mann, dessen Geschichte ich, aus mir selbst aufgelegter Pflicht, zu schreiben unternommen habe, ist durch seine ihm eigne Denkungsart und besondre Stimmung des Herzens ebenso merkwürdig als durch sein Schicksal. Für mich war er eine Erscheinung in der moralischen Welt, einem Luftzeichen ähnlich, das durch seinen strahlenden Ausfluß die Augen so lange ergötzt, als es sich noch am fernen Horizont bildet; zieht es aber im düstern Dunstkreise den Bogen des Himmels herauf, so fliehet der Haufen vor der ihm zweideutigen Erscheinung, und nur der Kundige freut sich, wenn auch unter kleinem Schauder, eine nicht alltägliche Wirkung der Natur gesehen zu haben. Unter diesem Bilde stelle ich euch Ernst von Falkenburg als Jüngling und Mann dar. Als er in blühender Jugend die Bahn des tätigen Lebens betrat, zog er die Blicke der Menschen auf sich; als er aber die Mitte derselben kaum erreicht hatte und Bosheit und Wahnsinn seinen Glanz verdunkelten, ward er eben diesen Menschen ein Gegenstand des Schreckens, des Abscheus. Was er dem Kundigen werden wird, hängt von dieser Geschichte ab. Hier, wo nur Wahrheit spricht, wo nur sie Zweck ist, zieht sich der Schriftsteller zurück.
Von ihr allein geleitet, soll und muß ich dartun, warum, wie und wodurch Ernst von Falkenburg aus dem mildesten, freundlichsten und edelsten Jüngling ein Mann geworden ist, den man in den Gegenden seines Aufenthalts nur zu nennen braucht, um die Herzen erkalten oder ergrimmen zu sehen; den man nie nennt, ohne daß eben die Lippen, welche einst nie ermüdeten ihn lobzupreisen, den Spruch des Hasses und der Verwerfung über ihn aussprechen."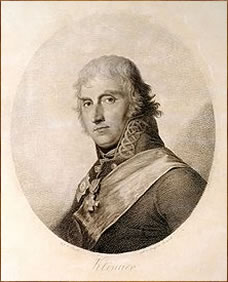 Friedrich Maximilian Klinger (17 februari 1752 – 25 februari 1831)
De Australische dichteres, schrijfster, uitgeefster en suffragette Louisa Lawson werd geboren op 17 februari 1848 in Mudgee, New South Wales. Zie ook mijn blog van 17 februari 2009 en ook mijn blog van 17 februari 2010.
A Child's Question
O, why do you weep mother, why do you weep
For baby that fell in the summer to sleep?
You say that you prayed, when she lingered in pain,
That God in His mercy would take her again.
He heeded your prayer, and a beautiful sleep
Stole over our darling; then why do you weep?
You tell how the angels sang paeans of love
To welcome her home to the mansions above,
356ഊWhere lovingly over her spirit they keep
A bright watch forever; then why do you weep?
And have you not told us again and again
That we will yet see her set free from all pain,
Beyond the bright sun where no dark shadows creep?
Then why do you weep, mother? Why do you weep?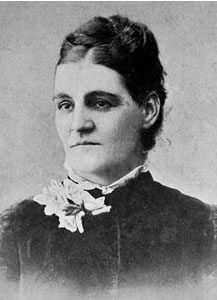 Louisa Lawson (17 februari 1848 – 12 augustus 1920)
Zie voor onderstaande schrijvers ook mijn blog van 17 februari 2010.
De Engelse schrijfster Maria Francesca Rossetti werd geboren in Londen op 17 februari 1827.
De Duitse dichter Max Schneckenburger werd geboren op 17 februari 1819 in Talheim bij Tuttlingen. Zie ook mijn blog van 17 februari 2009.
17-02-2011 om 18:53 geschreven door Romenu

Tags:Ruth Rendell, Fjodor Sologoeb, Pêr-Jakez Helias, Georg Weerth, Friedrich Klinger, Louisa Lawson, Maria Rossetti, Max Schneckenburger, Romenu



| | |
| --- | --- |
| | |



Inhoud blog


| | |
| --- | --- |
| | The Enkindled Spring (D. H. Lawrence) |
| | Charlotte Brontë, Patrick Rambaud, John Mortimer, Charles den Tex, Ahmed Arif, Michael Mann |
| | Peter Schneider, Meira Delmar, Alistair MacLean, Gerrit Wustmann, Népomucène Lemercier |
| | Prijs der Nederlandse Letteren voor Judith Herzberg |
| | Martinus Nijhoff, Jan Cremer, Jean Pierre Rawie, Marieke Lucas Rijneveld, Sebastian Faulks, Jozef Deleu, Steve Erickson, Arto Paasilinna, Michel Leiris |
| | Martin Michael Driessen, Marjoleine de Vos, Manuel Bandeira, n. c. kaser, Veniamin Kaverin, Louis Amédée Achard, Pierre-Jean de Béranger, Gudrun Reinboth, Werner Rohner |
| | Wam de Moor, Bas Belleman, Roos van Rijswijk, Hanane Aad, Clara Eggink, Kathy Acker, Joy Davidman, Henry Kendall, Katharina Schwanbeck |
| | Antoon Coolen, Vincent Corjanus, Nick Hornby, Ida Boy-Ed, Thornton Wilder, David Wagner, R.J. Pineiro, Helen Meier, Karen Blixen |
| | Sarah Kirsch, Thomas Olde Heuvelt, Kingsley Amis, Patricia De Martelaere, Tristan Tzara, Ewald Vanvugt, Sibylle Lewitscharoff, Jan Luyken, Anatole France |
| | Emmaüs (Felix Timmermans) |
| | Tomas Tranströmer, Daniël Samkalden, Jérôme Lambert, Patrick Bernauw, Benjamin Zephaniah, Henry James, Wilhelm Busch, Ina Boudier-Bakker |
| | Bliss Carman, Beate Morgenstern, Jeffrey Archer, Bernhard Lassahn, Erich Arendt, Pol De Mont, Staf Weyts, Hans Egon Holthusen |
| | Péter Esterházy, Alexandre Jardin, Tjitse Hofman, Landolf Scherzer, Charles Lewinsky, Roman Graf |
| | Roberto Schopflocher, Martin Kessel, Gabriele Stötzer, Helene Hübener, Gerhard Rohlfs |
| | Nachoem Wijnberg, K. Michel, Alexander Münninghoff, Michel Faber, Jean-Marie Gustave Le Clézio, Samuel Beckett, Seamus Heaney, Tim Krabbé, Eudora Welty |
| | Antje Rávic Strubel, Alan Ayckbourn, Scott Turow, Tom Clancy, Agnes Sapper, Edward de Vere, José Gautier Benítez, Alexander Ostrovski, Guillaume-Thomas Raynal |
| | Leonard Nolens, Mark Strand, Silvia Avallone, Walid Soliman, Dorothy Allison, Hubert Nyssen, Rolf Schilling, Glenway Wescott, Claude Tillier |
| | Leo Vroman, Jan van Mersbergen, Paul Theroux, Claudio Magris, Bella Akhmadulina, Stefan Heym, Richard Wagner, Marcel van Maele, Eric Knight |
| | Charles Baudelaire, Jelle Brandt Corstius, Karel Jonckheere, Joolz Denby, Albert von Schirnding, Johannes Bobrowski, Bernard-Marie Koltès, Arnold Stadler, Yaël Vinckx |
| | Thomas (Jan Willem Schulte Nordholt) |
| | Herinnering aan Gerard Reve, Hanz Mirck, Christoph Hein, Judith Koelemeijer, Nnedi Okorafor, Barbara Kingsolver |
| | John Fante, Johann Christian Günther, Glendon Swarthout, Martin Grzimek, Hégésippe Moreau, Robert Askins |
| | Den Haag (Paul Rodenko) |
| | Juliana Spahr, William Wordsworth, Özcan Akyol, Gabriela Mistral |
| | Kazim Ali, Annejet van der Zijl, John Pepper Clark, Jakob Ejersbo, Günter Herburger, Uljana Wolf, Brigitte Schwaiger, Julien Torma, Nicolas Chamfort |
| | Iulian Ciocan |
| | Hugo Claus, Martin Reints, Mieke van Zonneveld, Vítězslav Hálek, Algernon Swinburne, Bora Ćosić,, Werner J. Egli, Michael Georg Conrad, Marente de Moor |
| | Maya Angelou, Hanneke Hendrix, Marko Klomp, Marcel Vaarmeijer, E. L. James, Marguerite Duras, Robert Schindel, Michiel van Kempen, Bettina von Arnim |
| | Charles Ducal, Adriaan Jaeggi, Frederik van Eeden, Bert Bakker, Peter Huchel, Arlette Cousture, Pieter Aspe, Karel N.L. Grazell, Washington Irving |
| | Die Sonne geht im Osten auf (Christian Morgenstern) |
| | Thomas Glavinic, Jay Parini, Anneke Claus, Klaus Ender, Konrad Merz, Ed Dorn, Émile Zola |
| | György Konrád, Anne Waldman, Casanova, Hans Christian Andersen, Roberto Arlt, Edgar Hilsenrath, George Fraser |
| | Hoffmann von Fallersleben, Johann Gleim, Pierre Zaccone, Pietro della Valle, Zwier van Haren, Joanna Chmielewska, Brigitte Struzyk |
| | Preis dem Todesüberwinder! (Friedrich Klopstock) |
| | Milan Kundera, Sandro Veronesi, Nikolaj Gogol, Arnold Aletrino, Max Nord, Urs Allemann, Rolf Hochhuth, John Wilmot, Deborah Feldman |
| | Maria Polydouri, Edgar Wallace, Carl Sternheim, Edmond Rostand, Armel Guerne, Friedrich Güll, Antoine Prévost, Josep de Maistre |
| | Litanie van een wachter bij het graf (Willem Jan Otten) |
| | Stefan Hertmans, Octavio Paz, Asis Aynan, Martijn Teerlinck, Marga Minco, Enrique Vila-Matas |
| | Rob Boudestein, Kornej Tsjoekovski, Andrew Lang, Nichita Stănescu, Hartmut Lange, Marge Piercy |
| | Angela Kreuz, Judith Rossner, Andrew Marvell, John Fowles, Edward FitzGerald, Robert Brasillach, Peter Motte |
| | Golgotha (Theo Thijssen) |
| | Gerrit Komrij, Paul Verlaine, Milton Acorn, Erika Mitterer, Uwe Timm, Tom Sharpe, Gert Heidenreich, Theo Breuer, Luise Hensel |
| | Gethsemane (Jacqueline van der Waals) |
| | Geert van Istendael, Wim Brands, Ernst Jünger, Eric Walz, Georg Klein, Yvan Goll, R. S. Thomas, Jacques Brault, Denton Welch |
| | Walter van den Broeck, Joost de Vries, Mario Vargas Llosa, Chrétien Breukers, Steye Raviez, Nelson Algren, Marianne Frederiksson, Russell Banks, Léon-Gontran Damas |
| | Heinrich Mann, Shusaku Endo, Carolina Trujillo, Golo Mann, Patrick McCabe, Bob den Uyl, Dubravka Ugresić, Francis Ponge, Alfred de Vigny |
| | Tennessee Williams, Gregory Corso, Hwang Sun-won, Martin McDonagh, Robert Frost, Patrick Süskind, A. E. Housman, Bettina Galvagni, Erica Jong |
| | Jezus intrede in Jeruzalem (Nicolaas Beets) |
| | Pol Hoste, Menno Van der Beek, Jung Chang, Paul Meeuws, Flannery O'Connor, Jaime Sabines, Peter Van Straaten, Toni Cade Bambara |
| | Antonio Fogazzaro, Jacques Bens, Jacques Audiberti, Filip De Pillecyn, Erica Pedretti, Evliya Çelebi, Anne Fanshawe, Daniel Schiebeler, Mary Webb |


Gastenboek


Druk op onderstaande knop om een berichtje achter te laten in mijn gastenboek