E-mail mij


Druk op onderstaande knop om mij te e-mailen.


Romenu


Romenu is een blog over gedichten, literatuur en kunst Maar Romenu is ook een professionele freelance vertaler
Du-Ne en Ne-Du http://www.romenu.nl.


Huur eens een (vakantie)huis in een natuurgebied, dichtbij het centrum van Nijmegen


Google


Georg Trakl

Georg Trakl werd op 3 februari 1887 in het conducteurshuis aan de Waagplatz 2 in Salzburg geboren. Zijn vader, Tobias Trakl, was een handelaar in ijzerwaren en zijn moeder, die ook psychische problemen had, was Maria Catharina Trakl, (meisjesnaam Halik). Voorts had hij nog drie broers en drie zussen. Margarethe (doorgaans Grethe genoemd) stond hem het naast, zelfs zodanig dat sommigen een incestueuze verhouding vermoeden. Zijn jeugd bracht hij door in Salzburg. Vervolgens bezocht hij van 1897 tot 1905 het humanistische gymnasium. Om toch een academische opleiding te kunnen volgen, werkte hij tot 1908 in de praktijk bij een apotheker. Sommigen vermoedden dat hij dit vooral deed om zichzelf opiaten te kunnen verschaffen. Bij het uitbreken van WO I werd Trakl als medicus naar het front in Galicië (heden ten dage in Oekraïne en Polen) gestuurd. Zijn gemoedsschommelingen leidden tot geregelde uitbraken van depressie, die verergerd werden door de afschuw die hij voelde voor de verzorging van de ernstig verwonde soldaten. De spanning en druk dreven hem ertoe een suïcidepoging te ondernemen, welke zijn kameraden nochtans verhinderden. Hij werd in een militair ziekenhuis opgenomen in Kraków, alwaar hij onder strikt toezicht geplaatst werd.Trakl verzonk daar in nog zwaardere depressies en schreef Ficker om advies. Ficker overtuigde hem ervan dat hij contact moest opnemen met Wittgenstein, die inderdaad op weg ging na Trakls bericht te hebben ontvangen. Op 4 november 1914, drie dagen voordat Wittgenstein aan zou komen, overleed hij echter aan een overdosis cocaïne


Paul Celan

Paul Celan werd onder de naam Paul Antschel op 23 november 1920 geboren in Czernowitz, toentertijd de hoofdstad van de Roemeense Boekovina, nu behorend bij de Oekraïne. Paul Celans ouders waren Duitssprekende joden die hun zoon joods opvoedden en hem naar Duitse christelijke scholen stuurden. In 1942 werden Celans ouders door de Duitse bezetter naar een werkkamp gedeporteerd en daar vermoord. Hijzelf wist aanvankelijk onder te duiken, maar moest vanaf juli 1942 in een werkkamp dwangarbeid verrichten. Celan overleefde de oorlog. Via Boekarest en Wenen vestigde Celan zich in 1948 in Parijs. Daar was hij werkzaam als dichter, vertaler en doceerde hij aan de prestigieuze Ecole Normale Supérieure. Vermoedelijk op 20 april 1970 beëindigde hij zijn leven zelf door in de Seine te springen.


Gerard Reve

Gerard Reve over: Medearbeiders "God is in de mensen, de dieren, de planten en alle dingen - in de schepping, die verlost moet worden of waaruit God verlost moet worden, door onze arbeid, aangezien wij medearbeiders van God zijn." Openbaring "Tja, waar berust elk godsbegrip op, elke vorm van religie? Op een openbaring, dat wil zeggen op een psychische ervaring van zulk een dwingende en onverbiddelijke kracht, dat de betrokkene het gevoel heeft, niet dat hij een gedachte of een visioen heeft, maar dat een gedachte gedachte of visioen hem bezit en overweldigt."


Simon Vestdijk
Simon Vestdijk (Harlingen, 17 oktober 1898 – Utrecht, 23 maart 1971) was een Nederlands romancier, dichter, essayist en vertaler. Zijn jeugd te Harlingen en Leeuwarden beschreef hij later in de Anton Wachter-cyclus. Van jongs af aan logeerde hij regelmatig bij zijn grootouders in Amsterdam, waar hij zich in 1917 aan de Universiteit van Amsterdam inschrijft als student in de medicijnen. Tijdens zijn studie die van 1917 tot 1927 duurde, leerde hij Jan Slauerhoff kennen.Tot 1932 is hij als arts in praktijken door heel Nederland werkzaam. In 1932 volgt zijn officiële schrijversdebuut met de uitgave van de bundel Verzen in De Vrije Bladen. Doorslaggevend voor Vestdijks uiteindelijke keuze voor de literatuur is zijn ontmoeting in 1932 met Eddy Du Perron en Menno ter Braak. Deze ontmoeting had tot resultaat dat hij redactielid werd van het tijdschrift Forum Kort daarop, in 1933, wordt zijn eerste novelle, De oubliette, uitgegeven. In hetzelfde jaar schrijft hij Kind tussen vier vrouwen, dat, eerst geweigerd door de uitgever, later de basis zal vormen voor de eerste drie delen van de Anton Wachter-romans. In 1951 ontvangt Vestdijk de P.C. Hooftprijs voor zijn in 1947 verschenen roman De vuuraanbidders. In 1957 wordt hij voor het eerst door het PEN-centrum voor Nederland voorgedragen voor de Nobelprijs voor de Literatuur, die hij echter nooit zal krijgen. Op 20 maart 1971 wordt hem de Prijs der Nederlandse Letteren toegekend, maar voor hij deze kan ontvangen overlijdt hij op 23 maart te Utrecht op 72-jarige leeftijd. Vestdijk was auteur van ca. 200 boeken. Vanwege deze enorme productie noemde de dichter Adriaan Roland Holst hem 'de man die sneller schrijft dan God kan lezen'. Andere belangrijke boeken van Simon Vestdijk zijn: "Kind van stad en land" (1936), "Meneer Visser's hellevaart" (1936), "Ierse nachten" (1946), "De toekomst de religie" (1947), "Pastorale 1943" (1948), "De koperen tuin" (1950), "Ivoren wachters" (1951), "Essays in duodecimo" (1952) en "Het genadeschot" (1964).


K.P. Kavafis

K.P. Kavafis werd als kind van Griekse ouders, afkomstig uit Konstantinopel, geboren in 1863 in Alexandrië (tot vandaag een Griekse enclave) waar hij ook het grootste deel van zijn leven woonde en werkte. Twee jaar na de dood van zijn vader verhuist het gezin in 1872 naar Engeland om na een verblijf van vijf jaar naar Alexandrië terug te keren. Vanwege ongeregeldheden in Egypte vlucht het gezin in 1882 naar Konstantinopel, om na drie jaar opnieuw naar Alexandrië terug te gaan. In de jaren die volgen maakt Kavafis reizen naar Parijs, Londen en in 1901 zijn eerste reis naar Griekenland, in latere jaren gevolgd door nog enkele bezoeken. Op de dag van zijn zeventigste verjaardag, in 1933 sterft Kavafis in Alexandrië. De roem kwam voor Kavafis pas na zijn dood, dus postuum. Deels is dat toe te schrijven aan zijn eigen handelswijze. Hij was uiterst terughoudend met de publicatie van zijn gedichten, liet af en toe een enkel gedicht afdrukken in een literair tijdschrift, gaf in eigen beheer enkele bundels met een stuk of twintig gedichten uit en het merendeel van zijn poëzie schonk hij op losse bladen aan zijn beste vrienden.


Thomas Mann


Thomas Mann, de jongere broer van Heinrich Mann, werd geboren op 6 juni 1875 in Lübeck. Hij was de tweede zoon van de graankoopman Thomas Johann Heinrich Mann welke later één van de senatoren van Lübreck werd. Zijn moeder Julia (geboren da Silva-Bruhns) was Duits-Braziliaans van Portugees Kreoolse afkomst. In 1894 debuteerde Thomas Mann met de novelle "Gefallen". Toen Thomas Mann met 21 jaar eindelijk volwassen was en hem dus geld van zijn vaders erfenis toestond - hij kreeg ongeveer 160 tot 180 goldmark per jaar - besloot hij dat hij genoeg had van al die scholen en instituties en werd onafhankelijk schrijver. Kenmerkend voor zijn stijl zijn de ironie, de fenomenale taalbeheersing en de minutieuze detailschildering. Manns reputatie in Duitsland was sterk wisselend. Met zijn eerste roman, Buddenbrooks (1901), had hij een enorm succes, maar door zijn sceptische houding tegenover Duitsland na de Eerste Wereldoorlog veranderde dit volledig. Stelde hij zich tot aan de jaren twintig apolitiek op (Betrachtungen eines Unpolitischen, 1918), meer en meer raakte hij bij het Politiek gebeuren betrokken. Zijn afkeer van het nationaal socialisme groeide, zijn waarschuwingen werden veelvuldiger en heftiger. In 1944 accepteerde hij het Amerikaanse staatsburgerschap. Tussen 1943 en 1947 schreef Mann Doktor Faustus (zie Faust), de roman van de 'Duitse ziel' in de gecamoufleerd geschilderde omstandigheden van de 20ste eeuw. In 1947 bezocht hij voor het eerst sinds de Oorlog Europa, twee jaar later pas Duitsland. In 1952 vertrok hij naar Zwitserland. Op 12 augustus 1955 stierf hij in Zürich. Twintig jaar na zijn dood, in aug. 1975, is zijn literaire nalatenschap geopend: dagboekaantekeningen van 15 maart 1933 tot 29 juli 1955, alsmede notities uit de jaren 1918 tot en met 1921.Belangrijke werken zijn: Der Zauberberg, Der Tod in Venedig, Dokter Faustus , Joseph und seine Brüder en Die Bekenntnisse des Hochstaplers Felix Krull.


Rainer Maria Rilke

Rilke werd op 4 december 1875 geboren in Praag. Hij had al naam gemaakt als dichter met zijn bundels Das Stundenbuch en Das Buch der Bilder, toen hij de literaire wereld versteld deed staan en wereldfaam verwierf met de publicatie van zijn twee delen Neue Gedichte in 1907 en 1908. Hij verzamelde daarin het beste werk uit een van zijn vruchtbaarste periodes, die hij grotendeels doorbracht in Parijs. Rilke was daar diep onder de indruk gekomen van Rodin, bij wie hij een tijdlang in dienst was als particulier secretaris. Rodin, zei hij later, had hem leren kijken. Dit kijken kwam neer op intense concentratie, om het mysterie te kunnen zien 'achter de schijnbare werkelijkheid'. Latere en rijpere werken als Duineser Elegien (1912-1923) en het ronduit schitterende Die Sonette an Orfeus (1924) illustreren Rilkes metafysische visie op het onzegbare, dat haar verwoording vindt in een hermetische muzikale taal. Op 29 december 1926 overlijdt Rilke in het sanatorium in Val-Mont aan de gevolgen van leukemie. Enkele dagen later wordt hij, overeenkomstig zijn wens, begraven op het kerkhof van Raron.


* * * * * * * * * * * * * * * *

| | |
| --- | --- |
| | Over literatuur, gedichten, kunst en cultuur |

08-01-2017

Juan Marsé, Alfred Tomlinson, Gaston Miron, Leonardo Sciascia, Waldtraut Lewin, Vasyl Stus
De Catalaanse schrijver Juan Marsé werd geboren op 8 januari 1933 in Barcelona. Zie ook alle tags voor Juan Marsé op mijn blog.
Uit:The Calligraphy of Dreams (Vertaald door Nick Caistor)
"Torrente de las Flores. He never thought that a street whose name meant a river of flowers could be the backdrop to a tragedy. From the top of Travesera de Dalt, the street slopes steeply downwards, levelling out where it meets Travesera de Gracia. It has forty-six corners, is seven-and-a half metres wide, is lined with low-rise buildings, and boasts three taverns. In summer, during the perfumed days of the patron saint's fiesta, drowsy beneath an ornamental bower of paper bunting and multi-coloured
garlands, the street takes on a sound like reeds rustling in the breeze, and a quavering, underwater glow that makes it seem otherworldly. After supper on nights of stifling heat, it becomes a prolongation of everyone's home.
These events happened many years ago, when the city was less believable than now, but more real. One July Sunday, shortly before two in the afternoon, the blazing sun and a sudden shower mingle for a few minutes, and the air is filled with a shimmering light, a wavering, deceptive transparency that envelops the whole street. This is turning out to be a very hot summer, and by this time of day the blackish road surface has become so heated that the drizzle evaporates even before it hits the ground. When the shower ends, on the pavement outside the Rosales bar-cum-wine cellar a block of ice delivered by a truck and loosely wrapped in a cloth is melting in the remorseless sunlight. It's not long before tubby Agustin, the bar owner, emerges with bucket and ice pick, squats down, and starts chipping pieces off it.
On the stroke of half-past two, a little higher up than the bar and across the street, where the optical illusion is at its strongest, Senora Mir comes running out of the doorway of number 117. She is clearly in distress, as if she is fleeing a fire or an apparition. She stands in the middle of the road in her slippers, her white nurse's uniform only half done up, apparently unconcerned that she is revealing what she shouldn't. For a few seconds she doesn't seem to know where she is; she twists round, clawing the air with both hands until she stops spinning and, head sunk on her chest, lets out a long, hoarse cry that seems to come from the pit of her stomach, a scream that slowly subsides into sighs and then tails off like a kitten's mewling."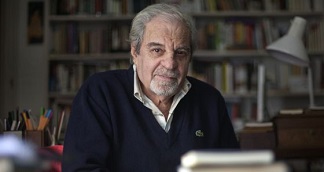 Juan Marsé (Barcelona, 8 januari 1933)
De Engelse dichter, vertaler en graficus Alfred Charles Tomlinson werd geboren op 8 januari 1927 in Stoke-on-Trent, Staffordshire. Zie ook alle tags voor Alfred Tomlinson op dit blog.
Words For The The Madrigalist
Look with the ears, said Orazio Vecchi,
Trusting to music. willing to be led
Voluntarily blind through its complete
Landscape of the emotion, feeling beneath the feet
Of the mind's heart, the land fill, the height
Re-form: Look with the ears-they are all
Looking with the eyes. missing the way:
So. waiting for sleep, I look
With the cars at the confused clear sounds
As each replenished tributary unwinds
Its audible direction, and dividing
The branchwork of chime and counterchime
Runs the river's thick and drumming stem:
Loud with their madrigal of limestone beds
Where nothing sleeps. they all
Give back-not the time the listener calls
But the measure of what he is
In the hard. sweet music of his lack.
The unpremeditated oonsonanoes: and the words
Return it to you over the ground-
Bass of their syllables. Orazio Vecchi:
Hear with the eyes as you catch the current of their sounds.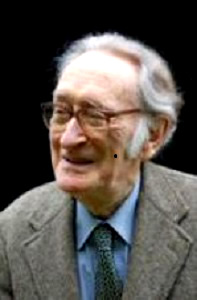 Alfred Tomlinson (8 januari 1927 - 22 August 2015)
De Franstalige, Canadese dichter, schrijver en uitgever Gaston Miron werd geboren op 8 januari 1928 in Sainte-Agathe-des-Monts. Zie ook alle tags voor Gaston Miron op dit blog.
La marche à l'amour (Fragmment)
Tu as les yeux pers des champs de rosée
Tu as des yeux d'aventure et d'années-lumière
La douceur du fond des brises au mois de mai
Dans les accompagnements de ma vie en friche
Avec cette chamleur d'oiseau à ton corps craintif
Moi qui suis charpente et beaucoup de fardoches
Moi je fonce à vive allure et entêté d'avenir
La tête en bas comme un bison dans son destin
La blancheur des nénuphars s'élève jusqu'à ton cou
Pour la conjuration de mes manitous maléfiques
Moi qui ai des yeux où ciel et mer s'influencent
Pour la réverbération de ta mort lointaine
Avec cette tache errante de chevreuil que tu as
Tu viendras toute ensoleillée d'existence
La bouche envahie par la fraicheur des herbes
Le corps muri par des jardins oubliés
Où tes seins sont devenus des envoûtements
Tu te lèves, tu es l'aube dans mes bras
Où tu changes comme les saisons
Je te prendrai marcheur d'un pays d'haleine
A bouts de misère et à bout de démesures
Je veux te faire aimer la vie notre vie
t'aimer fou de racines à feuilles et grave
De jour en jour à travers nuits et gués
De moellons nos vertus silencieuses
Je finirai bien par te rencontrer quelque part
Bon dieu!
Et contre tout ce qui me rend absent et douloureux
Par le mince regard qui me reste au fond du froid
J'affirme ô mon amour que tu existes
Je corrige notre vie
Nous n'irons plus mourir de langueur
A des milles de distance dans nos rêves bourrasques
Des filets de sang dans la soif craquelée de nos lèvres
Les épaules baignées de vols de mouette
Non
J'irai te chercher nous vivrons sur la terre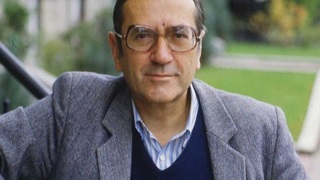 Gaston Miron (8 januari 1928 – 14 december 1996)
De Italiaanse schrijver en politicus Leonardo Sciascia werd geboren in Racalmuto, Agrigento op 8 januari 1921. Zie ook alle tags voor Leonardo Sciascia op dit blog.
Uit: Le long voyage (Vertaald door Olivier Favier)
« C'était par une nuit qui semblait opportune, une obscurité dense dont chaque déplacement faisait presque sentir le poids. Le bruit de la mer faisait peur, souffle de ce fauve qui était le monde: un souffle qui venait s'éteindre à leurs pieds.
Ils étaient, avec leurs valises de carton et leurs bagages, sur un fragment de plage pierreuse, abritée par les collines, entre Gela et Licata: ils y étaient arrivés à la nuit tombante, et ils étaient partis à l'aube de leurs villages; villages de l'intérieur, loin de la mer, agglutinés sur les contrées arides de ce fief. Certains d'entre eux voyaient la mer pour la première fois: l'idée les épouvantait de tout traverser, depuis cette plage déserte de Sicile, la nuit, vers une autre plage déserte de l'Amérique, encore de nuit. Parce que tel était le contrat -moi je vous embarque la nuit, avait dit l'homme: une sorte de commis-voyageur pour le bagou, mais au visage sérieux et honnête- et de nuit je vous débarque: sur la plage du Nugiorsi, je vous débarque, à deux pas de Nuovaiorche… Ceux qui ont de la famille en Amérique peuvent leur écrire d'attendre à la gare de Trenton, douze jours après l'embarquement… Calculez par vous-mêmes.
Bien sûr je ne peux pas vous assurer de jour précis, supposons que la mer soit mauvaise, que les gardes-côtes soient en train de surveiller.
Un jour de plus, un jour de moins, cela ne fait rien: l'important c'est de débarquer en Amérique.
L'important c'était vraiment de débarquer en Amérique: quand et comment ça n'avait pas d'importance.
Si les lettres arrivaient à leur famille, avec ces adresses confuses pleines de taches d'encre qu'ils parvenaient à tracer sur les enveloppes, ils seraient arrivés eux aussi; « qui a une langue traverse la mer », disait justement le proverbe.
Et ils traverseraient la mer, cette grande mer obscure; et ils atteindraient les stori et les farme de l'Amérique, l'affection de leur frères, oncles, neveux et cousins, les maisons riches, chaudes et abondantes, les automobiles grandes comme des maisons. Deux-cent cinquante mille lires: moitié au départ, moitié à l'arrivée. »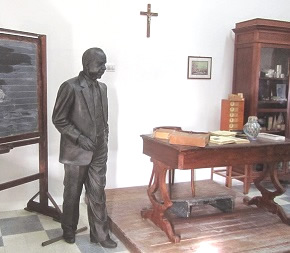 Leonardo Sciascia (8 januari 1921 - 20 november 1989)
Standbeeld in de lagere school "General Macaluso" in Racalmuto
De Duitse schrijfster Waldtraut Lewin werd geboren op 8 januari 1937 in Wernigerode. Zie ook alle tags voor Waldtraut Lewin op dit blog.
Uit: Drei Zeichen sind ein Wort
"Murmelt etwas von Schweinehunden, Ganoven und Antisemiten. Aber das verdirbt niemandem weiter die Stimmung…
Madame beschäftigt sich mit Buchführung, und der Heldendarsteller zieht sich nach dem Endlosfrühstück in sein Zimmer zurück, um - ja, was wohl zu machen? Studiert er neue Rollen ein, macht er Übungen, oder faulenzt er nur mit einem Buch, auf dem Bett hingefl äzt? Leonie hat keine Ahnung.
Sie hat mitbekommen, dass man, trotz hervorragend bestück ter Küche, einfach keine Lust hat, den Herd anzuwerfen. >>Etwas kommen lassen« ist einfacher.
Am nächsten Freitagvormittag beginnt sie ihre Offensive mit der naiven Frage: >>Madame Laskarow, kochen Sie eigentlich morgen am Sabbat oder verbietet Ihnen das Ihr Glaube?«
>>Mein Glaube?« Die Angesprochene legt den Kopf schief, als habe man ihr ein schwieriges Rätsel vorgesetzt. Sie wirkt ein bisschen verlegen. (Leonie hat längst mitbekommen, dass keiner hier in die Synagoge geht.)
Der Prinzipal hebt den Kopf und sieht über den Rand der Zeitung hinweg von der einen Frau zur anderen. >>Meine Selde, was die Madame ist, kann nicht mal gef1 llte Fisch machen, obwohl das aus der Gegend, wo sie herkommt, die Hauptspeise ist.<<
>>Gef1 llte Fisch kann ich auch nicht«, sagt Leonie und blickt ihn mit großen Augen an. >>Aber sonst kann ich sehr gut kochen. Das sagen alle. Mein Vater ist Koch, er hat es mir beigebracht."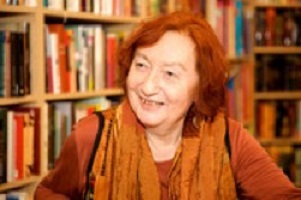 Waldtraut Lewin (Wernigerode, 8 januari 1937)
De Oekraïense dichter en schrijver Vasyl Stus werd geboren op 8 januari 1938 in Rakhnivka, in de provincie Vinnytsia Oblast. Zie ook alle tags voor Vasyl Stus op dit blog.
How I Wish to Die (Fragment)
How I wish to die!
So es not to be silent,
or toscream'
the last star,
weathered eafly.
The last ascent
on a dull day
to see it - and die!
And not to
turn back anymore:
I to deep peace,
where silence is lulling,
where song will grip
the sick heart –
not even to breathe –
how I wish to die!
The dreams have
already been dreamt through,
the thoughts have been
thought through,
all the joy has abated,
all the colors died away.
Cold, as an icevhole,
is the vertical road.
You won't ascend it
either by foot, or by eye,
or by movement, or by spirit,
or by sick body.
Vertaald door Natalia Burianyk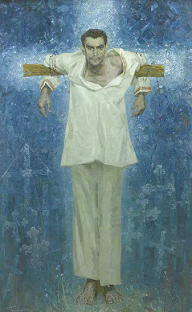 Vasyl Stus (8 januari 1938 – 4 september 1985)
Portret door Boris Spornikov, jaren 1980
Zie voor nog meer schrijvers van de 8e januari ook mijn vorige blog van vandaag.



08-01-2017 om 12:15 geschreven door Romenu

Tags:Juan Marsé, Alfred Tomlinson, Gaston Miron, Leonardo Sciascia, Waldtraut Lewin, Vasyl Stus, Romenu



Claudia Grehn, Wilkie Collins, Béla Zsolt, Francisco Bocanegra, Baltasar Gracián y Morales, Roland Moed
De Duitse (toneel)schrijfster Claudia Grehn werd geboren op 8 januari 1982 in Wiesbaden. Zie ook alle tags voor Claudia Grehn op dit blog.
Uit: Reicht es nicht zu sagen ich will leben
"JÜRGEN Siehst du wie die Leute schauen. Weißt du warum die das machen. Wegen dir starren die uns an. Weil du so tust.
ANNETTE Oder ist das der Zeitpunkt zu fragen, was meinst du mit – da – und wen meinst du mit – alle – was soll das heißen – man hat – bist du keine eigene Person?
JÜRGEN Sag: Ciao Bella. Ciao Bella.
VERA Der Vater reißt am Arm des kleinen Mädchens.
JÜRGEN Du hältst die Fresse.
BRIETZ Als ich zum ersten Mal auf diesem Platz stand war ich 53, 11 Jahre vor
der Pension. Jürgen.
JÜRGEN Herbert.
BRIETZ Janine hat mich in Köln angerufen. Wegen der Firma, die du hier übernommen hast. Deine Firma läuft nicht.
JÜRGEN Du kommst zum genau richtigen Zeitpunkt.
BRIETZ Sie hat gesagt, sie hat Glück gehabt mit dir. "Aber seine Kumpels, die gefallen dir nicht, Herbert. Wenn du nicht kommst, nimmt er sich einen von denen als Partner." Seit der Trennung nennt sie mich Herbert. Wir haben uns früh getrennt, Janines Mutter und ich. Wenn
was war, war ich immer da. Ich bin dreiundfünfzig. Und noch immer gefragt. Holt den Brietz,
heißt es, der macht, dass nicht wir denen was schulden sondern die uns. Als Janine angerufen hat. Hatte ich ein Angebot für Bochum auf dem Tisch. Wenn man in diesen Zeiten nicht einmal mehr der Familie hilft.
JÜRGEN Das muss jetzt schnell gehen. Vor Jahresende in die Bauphase. Diese Stadt, die wächst nach innen verschachtelt sich - Denkmalschutzobjekt, integrierte Innenstadtlage, nachhaltiger Standort- so was findest du nie wieder, nicht hier. Das wird ein Wohlfühlort und dann machen wir gleich noch Verwaltung, Ordnung, Sicherheit, Gebäudefunktionen aufrechterhalten etc., ich habe übrigens einen Projektmanager gefunden, ein fleißiger, "macht es einfach", herrlich und wenn der hört politisch unkorrekt, ist der dabei."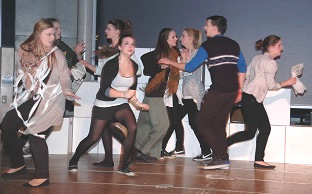 Claudia Grehn (Wiesbaden, 8 januari 1982)
Scene uit een opvoering door leerlingen van hetHAP Grieshaber Gymnasium in Reutlingen. 2013
De Britse schrijver Wilkie Collins werd geboren in Londen op 8 januari 1824. Zie ook alle tags voor Wilkie Collins op dit blog.
Uit: The Woman in White
"This is the story of what a Woman's patience can endure, and what a Man's resolution can achieve.
If the machinery of the Law could be depended on to fathom every case of suspicion, and to conduct every process of inquiry, with moderate assistance only from the lubricating influences of oil of gold, the events which fill these pages might have claimed their share of the public attention in a Court of Justice.
But the Law is still, in certain inevitable cases, the pre-engaged servant of the long purse; and the story is left to be told, for the first time, in this place. As the Judge might once have heard it, so the Reader shall hear it now. No circumstance of importance, from the beginning to the end of the disclosure, shall be related on hearsay evidence. When the writer of these introductory lines (Walter Hartright by name) happens to be more closely connected than others with the incidents to be recorded, he will describe them in his own person. When his experience fails, he will retire from the position of narrator; and his task will be continued, from the point at which he has left it off, by other persons who can speak to the circumstances under notice from their own knowledge, just as clearly and positively as he has spoken before them.
Thus, the story here presented will be told by more than one pen, as the story of an offence against the laws is told in Court by more than one witness—with the same object, in both cases, to present the truth always in its most direct and most intelligible aspect; and to trace the course of one complete series of events, by making the persons who have been most closely connected with them, at each successive stage, relate their own experience, word for word.
Let Walter Hartright, teacher of drawing, aged twenty-eight years, be heard first."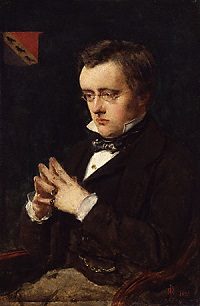 Wilkie Collins (8 januari 1824 – 23 september 1889)
Portret door John Everett Millais, 1850
De Hongaarse schrijver Béla Zsolt werd op 8 januari 1895 geboren in Komárom in het noorden van Hongarije. Zie ook alle tags voor Béla Zsolt op dit blog.
Uit: Nine Suitcases (Vertaald door Ladislaus Lob)
"These nocturnal passenger trains in wartime have their own peculiar sounds. The deportation wagons have a way ofscreeching, like an eagle or a vulture - whereas this kind of train whines and groans as if beseeching, then grinds its teeth in furious impotence, not so much like a beast of burden but like an overburdened man bent double, whose heart skips a beat, but if he dares stop, he is mercilessly driven forward again. Every five hundred paces or so the train comes to a stop, hoping to stay there, on the dark railroad bed – but there is no reprieve; by noon it must arrive at the Keleti Terminal in Budapest. This puny locomotive must drag to the capital seemingly half of the bombed-out families in the country, and an equal number of soldiers on leave, and black-marketeers - anyone traveling from Zägon, Kolozsva'r, Gyula, and Szatma'r to Budapest must manage to get on this one and only daily train. From time to time the locomotive seems to breathe its last, as if it had run out ofsteam for good - and then its whistle sounds an almost fiuting note of entreaty for help. But the troop trains coming from the other direction streak past like fire engines or ambulances speeding on city streets.
And that puny little locomotive, if one can believe the male falsetto emanating from the other end of the car, had almost been done in by Russian airplanes yesterday afternoon. The falsetto, obviously belonging to an expert, went on to explain that a locomotive such as ours would not even have been allowed out on the tracks ofa main line in peacetime.
'The whole front of the engine is riddled with bulletholes! It's a miracle the boiler escaped undamaged!'
'Where did it happen?' asked a tired voice.
- 'Just past Csap.'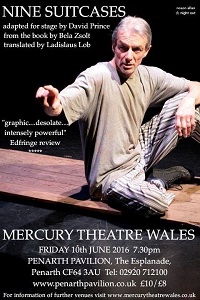 Béla Zsolt (8 januari 1895 – 6 februari 1949)
Affiche voor een toneelopvoering in Penarth, Wales, 2016
De Mexicaanse dichter Francisco González Bocanegra werd geboren in San Luis Potosí op 8 januari 1824. Zie ook alle tags voor Francisco Bocanegra op dit blog.
Uit: Himno Nacional Mexicano
Estrofa X
¡Patria, Patria! tus hijos te juran
exhalar en tus aras su aliento,
si el clarín, con su bélico acento,
los convoca a lidiar con valor.
¡Para ti las guirnaldas de oliva!
¡Un recuerdo para ellos de gloria!
¡Un laurel para ti de victoria!
¡Un sepulcro para ellos de honor!
Coro
Mexicanos al grito de guerra
el acero aprestad y el bridón.
Y retiemble en sus centros la tierra,
al sonoro rugir del cañón.
¡Y retiemble en sus centros la tierra,
al sonoro rugir del cañón!
Couplet X
Vaderland, Vaderland! Je zonen zweren
hun adem uit te blazen op je altaar,
als de klaroen met zijn oorlogszuchtige toon
hen oproept waardig te strijden.
Voor jou kransen van olijf!
Voor hen een herinnering van glorie!
Voor jou een lauwerkrans van overwinning!
Voor hen een tombe van eer!
Refrein
Mexicanen, op de roep van de oorlog,
weest gereed om het zwaard en de teugels te grijpen.
En laat de aarde tot in het binnenste beven
door het geluid van een brullend kanon.
En laat de aarde tot in het binnenste beven
door het geluid van een brullend kanon!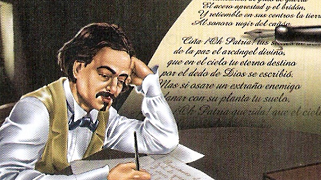 Francisco Bocanegra (8 januari 1824 - 1 april 1861)
De Spaanse schrijver Baltasar Gracián y Morales S.J. werd geboren in Belmonte (bij Calatayud) op 8 januari 1601. Zie ook alle tags voor Baltasar Gracián y Morales op dit blog.
Uit: The Art of Worldly Wisdom (Vertaald door Joseph Jacobs)
"v Create a Feeling of Dependence.
Not he that adorns but he that adores makes a divinity. The wise man would rather see men needing him than thanking him. To keep them on the threshold of hope is diplomatic, to trust to their gratitude boorish; hope has a good memory, gratitude a bad one. More is to be got from dependence than from courtesy. He that has satisfied his thirst turns his back on the well, and the orange once sucked falls from the golden platter into the waste-basket. When dependence disappears, good behaviour goes with it as well as respect. Let it be one of the chief lessons of experience to keep hope alive without entirely satisfying it, by preserving it to make oneself always needed even by a patron on the throne. But let not silence be carried to excess lest you go wrong, nor let another's failing grow incurable for the sake of your own advantage.
vi A Man at his Highest Point.
We are not born perfect: every day we develop in our personality and in our calling till we reach the highest point of our completed being, to the full round of our accomplishments, of our excellences. This is known by the purity of our taste, the clearness of our thought, the maturity of our judgment, and the firmness of our will. Some never arrive at being complete; somewhat is always awanting: others ripen late. The complete man, wise in speech, prudent in act, is admitted to the familiar intimacy of discreet persons, is even sought for by them."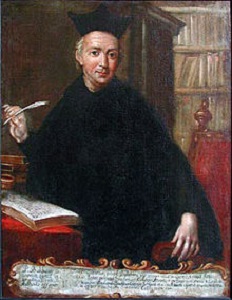 Baltasar Gracián y Morales (8 januari 1601 – 6 december 1658)
Anoniem portret in de parochiekerk San Miguel de Graus, Spanje
De Duitse schrijver, schilder en beeldhouwer Roland Moed werd geboren op 8 januari 1961 in Frankfurt am Main. Zie ook alle tags voor Roland Moed op dit blog.
Uit: Wie Europakinder: Hesperiens Wandlung
"Manchmal wenn ich, wie so oft, alleine an meinem Schreibtisch sitze und der Rauch meiner Zigarette sich verflüchtigt wie die Erinnerungen, die bald verblassen und in den Augenblicken in denen man sich erinnert, sich doch nicht an das erinnert wie es wirklich gewesen war und wir manchmal voller Sehnsucht auf die Bilder starren die wir einmal gewesen; während ununterbrochen die Autos auf der Potsdamer Strasse entlang fahren und das dröhnen und vibrieren der Motoren nur unterbrochen wird vom Sirenengeheul der Feuerwehr die ihre schrillen Signale in die Dunkelheit schickt und das Blaulicht in Intervallen körperlos sich in den Fensterscheiben spiegelt und Gedanken unterbrochen werden, ohne sich zu manifestieren und, wahrgenommen zu werden, wie die vielen Selbstgespräche deren Worte an Schaufensterscheiben unbenutzt verhallen, niemanden erreichen und doch an jemanden gerichtet sind und sie, den kindlichen Worten gleich, einen Sinn erfüllen und Befriedigung verschaffen ohne die wir heute nicht wortlos stehen könnten, wie die Bilder einer Ausstellung unaufdringlich an den Wänden hängen und sichtbares Zeichen geben von anderen Existenzen hinter dem Horizont, der uns begrenzt und den wir stets verschieben müssen, wollen wir weiterkommen und uns entwickeln oder erkunden, und ohne ein Wort der Bestellung der Wirt in aller Ruhe einen kleinen schwarzen Kaffee serviert der alle Lebensgeister weckt, die bis dahin ihre Arbeit rein mechanisch ausgeführt haben und nach dem ersten Schluck begannen langsam die Worte zu mir zu dringen die mein Nachbar, ein ärmlich gekleideter Mann etwa Mitte vierzig, dessen Hose, eine dunkelbraune Kordhose die ihm gerade bis zu seinen Knöcheln ging und seine blauen dünnen Socken zum Vorschein kamen die so gar nicht zur Hose passen wollten und eine gräulich gefärbte Windjacke die ursprünglich einmal weiß gewesen sein muss, unaufhörlich mit südfranzösischem Akzent auf mich einredete und selbst wenn ich nicht auf seine Fragen reagierte, er für mich antwortete und manchmal übergangslos seine Worte an den nächsten Gast richtete der gerade ein- trat und von einem Wortschwall begrüßt wurde..."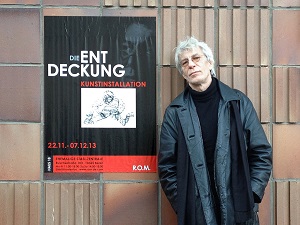 Roland Moed (Frankfurt am Main, 8 januari 1961)
08-01-2017 om 11:59 geschreven door Romenu

Tags:Claudia Grehn, Wilkie Collins, Béla Zsolt, Francisco Bocanegra, Baltasar Gracián y Morales, Roland Moed, Romenu



| | |
| --- | --- |
| | |



Inhoud blog


| | |
| --- | --- |
| | Dolce far niente, Victor Vroomkoning, Charles Busch, Curtis Sittenfeld, Koos Dijksterhuis, Albert Alberts, Ilija Trojanow |
| | Dolce far niente, Jacob Israël de Haan, Griet Op de Beeck, Jeroen Theunissen, Annie Proulx, Krijn Peter Hesselink, Willem Arondeus |
| | Dolce far niente, Martin Bril, Rogi Wieg, X.J. Kennedy, Robert Stone, Aubrey Beardsley, Frédéric Mitterrand |
| | Dolce far niente, Tom van Deel, Anneke Brassinga, Etgar Keret, James Rollins, Clemens Meyer, Arno Surminski |
| | Maren Winter, Charles de Coster, Edgar Guest, Tarjei Vesaas, Salvatore Quasimodo, Colin MacInnes |
| | Sylvie Richterová, Ernst-Jürgen Dreyer, Boleslaw Prus, Menno Lievers, Vasili Aksjonov, Jacqueline Susann |
| | Alfred Birney |
| | Mies Bouhuys, Jonathan Coe, Li-Young Lee, Frederik Lucien De Laere, Louis Th. Lehmann, Ogden Nash, Frank McCourt |
| | Marion Pauw, John Dryden, Samuel Richardson, Jerzy Andrzejewski, James Gould Cozzens, Claude Gauvreau, Inigo de Mendoza |
| | Dolce far niente, Hans Andreus, Ulrich Woelk, Marc Degens, Luciano de Crescenzo, Alain Robbe-Grillet, Idea Vilariño |
| | Dolce far niente, Simon Vestdijk, Ted Hughes, V. S. Naipaul, Nis-Momme Stockmann, Jonathan Franzen, Jan Emmens |
| | Dolce far niente, Willen van Toorn, Charles Bukowski, Reiner Kunze, Moritz Rinke, Ferenc Juhász, Justus van Maurik |
| | Sander Kok |
| | Dolce far niente, Nescio, Guillaume van der Graft, Mary Jo Salter, Leonie Ossowski, Daan Zonderland, Jan Campert |
| | Kees Fens, Wolf Wondratschek, Danielle Steel, Erwin Strittmatter, Sir Walter Scott, Thusnelda Kühl |
| | Adriaan Roland Holst, antoine de kom, Atte Jongstra, Amélie Nothomb, Nikolaus Lenau, Tom Perrotta |
| | Justus van Maurik, Thomas Mann, Hans-Ulrich Treichel, Stefano Benni, Marcellus Emants, Naoki Higashida |
| | Remco Campert, Hugh MacDiarmid, Ernst Stadler, Yoshikawa Eiji, Fernando Arrabal, Andre Dubus |
| | Kees van Kooten, Alfred Döblin, Moses Isegawa, Mark Doty, Jerzy Pilch, Elvis Peeters, Michail Zostsjenko, Piet Bakker, René Crevel |
| | Luuk Gruwez, Philip Larkin, Gerrit Kouwenaar, Henk Romijn Meijer, Linn Ullmann, P. L. Travers, Pierre Klossowski, Daniel Keyes, Leonid Andreyev |
| | Jostein Gaarder, Klaus Ebner, Birgit Vanderbeke, Gernot Wolfram, Hieronymus van Alphen, André Demedts, Sara Teasdale, Donald Davidson, Lotte Lentes |
| | John Birmingham, Cees Buddingh', Diana Ozon, Vladimir Sorokin, Michael Roes, Joachim Ringelnatz, Garrison Keillor, Dieter Schlesak, Othon III de Grandson |
| | Dolce far niente, Jason O. Gilbert, Alfred Tennyson |
| | Dolce far niente,Tom Lanoye, Cees van der Pluijm, Pier Paolo Pasolini, Martin Piekar |
| | Hendrik Marsman, Rutger Kopland, Rudi van Dantzig, Percy Bysshe Shelley, Liao Yiwu, Pierre Jarawan |
| | Jan Campert, Rupert Brooke, Radek Knapp, P. D. James, Marica Bodrozic, Mirko Wenig |
| | Jussi Adler-Olsen, James Baldwin, Isabel Allende, Kristine Bilkau, Philippe Soupault, Ernest Dowson, Zoltán Egressy, Caleb Carr, Félix Leclerc |
| | Gerrit Krol, Frans Pointl, Mehis Heinsaar, Ko Un, Edward van de Vendel, Jim Carroll, Juan Filloy, Anne Hébert, Herman Melville |
| | Cees Nooteboom, Wouter Godijn, Grand Corps Malade, Joanne Rowling, Alain Nadaud, Daniel Bielenstein, Hans-Eckardt Wenzel, Ahmed Zitouni, Munshi Premchand |
| | Frans Budé, Patrick Modiano, Maja Lunde, Emily Brontë, Cherie Priest, Pauline van der Lans |
| | Harry Mulisch, Chang-Rae Lee, Thomas Rosenlöcher, Guillermo Martínez, Marja Brouwers, Wolfgang Bittner |
| | Stanley Kunitz, Sten Nadolny, Eyvind Johnson, August Stramm, Walter van den Berg |
| | Remco Campert, Malcolm Lowry, Herman Stevens, Gerard Manley Hopkins, Stephan Sanders, Angélica Gorodischer, Shahyar Ghanbari, John Ashbery, Drew Karpyshyn |
| | Michael Longley, Marijke Höweler, Theodore Dreiser, Hilde Domin, Julien Gracq, Hilaire Belloc, Vladimir Korolenko, Eimear McBride, Graeme C. Simsion |
| | Arthur Japin, Gregoire Delacourt, Anne Provoost, Yves Petry, Aldous Huxley, Nicholas Evans, Chairil Anwar, George Bernard Shaw, Hanya Yanagihara |
| | Lieke Marsman, Sytze van der Zee, Elias Canetti, Max Dauthendey, Jovica Tasevski – Eternijan, Annette Pehnt, Ottokar Kernstock, Albert Knapp, Louise Boege |
| | Robert Graves, Johan Andreas der Mouw, Banana Yoshimoto, Rosemarie Schuder, Katia Mann, Junichirō Tanizaki, Frank Wedekind, Alexandre Dumas père, Betje Wolff |
| | Wilfried de Jong, Mohsin Hamid, Lauren Groff, Frans Erens, Kai Meyer, Thea Dorn, Irina Liebmann |
| | Lisa Alther, Hubert Selby jr., Raymond Chandler, Matthias Spiegel, Tim Reus |
| | Arno Geiger, Susan Hinton, Manu Joseph, Stephen Vincent Benét, Tom Robbins |
| | Maria Janitschek, Oskar Maria Graf, Emma Lazarus, Per Hojholt, Jakob Lorber |
| | Frouke Arns, Ernest Hemingway, Belcampo, Boris Dittrich , Hans Fallada, David Boerljoek |
| | Hans Lodeizen, Henk Hofland, Arie Storm, Uwe Johnson, Simin Behbahāni, Francesco Petrarca, Maurice Gilliams, Erik Axel Karlfeldt, Cormac McCarthy |
| | Otto Julius Bierbaum, Anna Enquist, Gottfried Keller, Lucas Malan, Miltos Sachtouris, Jean-Pierre Faye |
| | Simon Vinkenoog, Steffen Popp, Per Petterson, Elizabeth Gilbert, Alicia Steimberg, Jevgeni Jevtoesjenko, Aad Nuis, William M. Thackeray, Nathalie Sarraute |
| | Martin R. Dean, Rainer Kirsch, Eelke de Jong, Alie Smeding, Paul Lomami Tshibamba, James Purdy, Roger Garaudy, Clara Viebig, Lilian Loke |
| | In Memoriam Anne Golon |
| | Reinaldo Arenas, Georges Rodenbach, Tony Kushner, Anita Brookner, Jörg Fauser |
| | Dag Solstad, Bernard Dimey, Andrea Wolfmayr, Pierre Benoit, Franz Nabl |
| | Ann De Craemer, Jean Christophe Grangé, Driss Chraïbi, Iris Murdoch, Richard Russo, Jacques Rivière, Rira Abbasi |


Gastenboek


Druk op onderstaande knop om een berichtje achter te laten in mijn gastenboek