De Nederlandse schrijfster en journaliste Marga Minco, pseudoniem van Sara Minco, werd geboren in Ginneken op 31 maart 1920. Zie ook mijn blog van 31 maart 2007 en ook mijn blog van 31 maart 2008. en ook mijn blog van 31 maart 2009 en ook mijn blog van 31 maart 2010.
Uit: Rose schuimpjes
'Mag ik een ons schuimpjes?' vroeg hij.
'Hebt u een vergunning?' vroeg het meisje achter de toonbank.
'Nee,' zei hij.
'Dan gaat 't niet, dat weet u.'
'Wilt u ze mij niet zó verkopen?' Hij bracht zijn gezicht iets dichter bij het hare.
'Ik kijk wel uit. Mij te riskant. Mag 't niet iets anders wezen? Ik heb verse boterbiesjes, kletskoppen, kano's, spritsen, macarons...'
'Het klinkt heel smakelijk allemaal, maar ik kom voor schuimpjes.'
'Meneer, ik mag 't niet doen.' Ze keek over zijn schouder alsof ze de volgende klant wilde helpen. Maar er was verder niemand in de winkel.
Hij bleef staan en boog zich nog wat meer naar haar toe. 'Wilt u voor deze keer niet eens over uw hart strijken?'
'Ik heb alleen rose schuimpjes,' zei ze.
'Dat komt goed uit. Die wou ik net hebben.' Hij zette zijn tas voor haar neer, deed hem open en liet haar een koffieblik zien, waarvan hij het deksel afnam. 'Als u ze hier in doet, kraait er geen haan naar.'
'Vooruit dan maar.' Het meisje zuchtte. 'Voor deze ene keer wil ik ze u wel klandestien verkopen. Maar zegt u in godsnaam nooit tegen iemand dat u ze van mij hebt.' Ze bukte zich achter de toonbank, zodat hij alleen nog haar rug zag met de gekruiste witte schortbanden.
Hij hoorde haar in een trommel scharrelen en hield zijn tas alvast zo ver mogelijk open. Toen ze weer recht stond, deed ze snel het zakje in het blik.
'Dat is dan tweevijftig,' zei ze.
'Pardon?' Hij schrok. 'Kost een ons schuimpjes tweevijftig?'
'Wat wilt u? Zonder vergunning. Denkt u eens aan het risiko dat ik loop.'
Hij knikte. 'Het is goed,' zei hij, legde een biljet van een rijksdaalder voor haar neer en verliet de winkel.
Toen hij de tramhalte aan de overkant van de straat had bereikt zag hij een agent langzaam op zich af komen. Gelukkig schoof op dat moment net een lijn 14 langs de vluchtheuvel. Hij holde er naar toe en wist in het gedrang met moeite een plaats te vinden op het achterbalkon. Aan de hand waarmee hij de lus vasthield hing ook zijn tas. Een vrouw vroeg of hij er soms eieren in had zitten, maar hij deed of hij haar niet hoorde. Hij neuriede wat en keek naar buiten. Bij de volgende halte stapte een kontroleur in. Dat beviel hem niet. 'Nu moeten we onze tassen openmaken,' dacht hij en terwijl de tram optrok sprong hij er af en holde een zijstraat in, waar hij bedaard verder liep nadat hij had vastgesteld dat niemand hem volgde. Even overwoog hij of hij een taxi naar Francien zou nemen, maar hij zag er van af. De schuimpjes waren al duur genoeg geweest."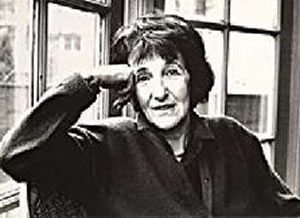 Marga Minco (Ginneken, 31 maart 1920)
De Mexicaanse schrijver, dichter, en diplomaat Octavio Paz werd geboren op 31 maart 1914 in Mixcoac, tegenwoordig een deel van Mexico-stad. Zie ook mijn blog van 31 maart 2007 en ook mijn blog van 31 maart 2008. en ook mijn blog van 31 maart 2009 en ook mijn blog van 31 maart 2010.

Uit: Das Labyrinth der Einsamkeit (Vertaald door Carl Heupel)
"Uns allen hat sich irgendwann unser Dasein als etwas Besonderes, Unübertragbares und Kostbares offenbart. Fast immer geschieht diese Offenbarung in der Jugend. Die Entdeckung unserer selbst
bekundet sich als eine Erfahrung unserer Einsamkeit. Zwischen uns und der Welt öffnet sich eine unspürbare, durchsichtige Mauer: die unseres Bewußtseins. Ja, kaum sind wir geboren, fühlen wir uns schon einsam. Kindern und Erwachsenen gelingt es, durch Spiel und Arbeit sich selbst zu vergessen und so ihre Einsamkeit zu überwinden; der Jüngling aber, der zwischen Kindheit und Mannesalter schwankt, steht für einen Augenblick vor dem unendlichen Reichtum der Welt still und betrachtet verwundert sein Dasein. Dem Staunen folgt das Nachdenken: über den Strom seines Bewußtseins gebeugt, fragt er Sich, ob dieses Gesicht, das allmählich aus der Tiefe steigt und vom Wasser
entstellt ist, das eigene sei. Das Einzigartige des Daseins - im Kind noch reine Empfindung - verwandelt sich in Problem, Frage und Forscherdrang.
Völkern in der Wachstumskrise widerfährt Ähnliches: Ihr Dasein offenbart sich als Frage: Was sind wir, und wie werden wir das verwirklichen, was wir sind? Oft werden die Antworten auf diese Fragen von der Geschichte Lügen gestraft; vielleicht deshalb, weil das, was man "Volksgeist" nennt, nur ein
Bündel von Reaktionen auf einen gegebenen Reiz ist; angesichts verschiedenartiger Umstände können die Reaktionen verschiedenartig sein und dementsprechend auch der Nationalcharakter, den man für unwandelbar hielt."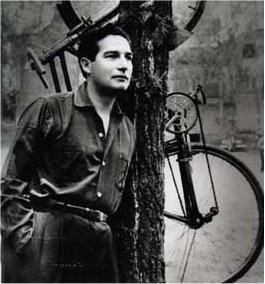 Octavio Paz (31 maart 1914 – 19 april 1998)
De Roemeense dichter en essayist Nichita Stănescu werd geboren op 31 maart 1933 in Ploieşti. Zie ook mijn blog van 31 maart 2007 en ook mijn blog van 31 maart 2008. en ook mijn blog van 31 maart 2009 en ook mijn blog van 31 maart 2010.

Adolescents on the Sea
This sea is covered with adolescents
learning to walk on waves, upright,
sometimes resting their arms on the currents,
sometimes gripping a stiff beam of sunlight.
I lie on the broad beach, an angled shape, cut perfectly,
and I ponder them like travelers landing.
An infinite fleet of yawls. I wait to see
a false step, or at least a grounding
up to knee in the diaphanous swell
beneath their measured progress, sounding.
But they are slim and calm - as well,
they've learned to walk on waves - and standing.
Poetry
Poetry is the weeping eye
it is the weeping shoulder
the weeping eye of the shoulder
it is the weeping hand
the weeping eye of the hand
it is the weeping soul
the weeping eye of the heel.
Oh, you friends,
poetry is not a tear
it is the weeping itself
the weeping of an uninvented eye
the tear of the eye
of the one who must be beautiful
of the one who must be happy.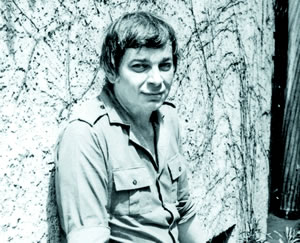 Nichita Stănescu (31 maart 1933 – 13 december 1983)
De Spaanse schrijver Enrique Vila-Matas werd geboren in Barcelona op 31 maart 1948. Zie ook mijn blog van 31 maart 2009 en ook mijn blog van 31 maart 2010.
Uit: Bartleby & Co. (Vertaald door Jonathan Dunne)
"I never had much luck with women. I have a pitiful hump, which I am resigned to. All my closest relatives are dead. I am a poor recluse working in a ghastly office. Apart from that, I am happy. Today most of all because, on this day 8 July 1999, I have begun this diary that is also going to be a book of footnotes commenting on an invisible text, which I hope will prove my reliability as a tracker of Bartlebys.
Twenty-five years ago, when I was very young, I published a short novel on the impossibility of love. Since then, on account of a trauma that I shall go into later, I had not written again, I stopped altogether, I became a Bartleby, and that is why I have been interested in them for some time.
We all know the Bartlebys, they are beings inhabited by a profound denial of the world. They are named after the scrivener Bartleby, a clerk in a story by Herman Melville, who has never been seen reading, not even a newspaper; who for long periods stands looking out at a pale window behind a folding screen, upon a brick wall in Wall Street; who never drinks beer, or tea and coffee, like other men; who has never been anywhere, living as he does in the office, spending even his Sundays there; who has never said who he is, or where he comes from, or whether he has anyrelatives in this world; who, when he is asked where he was born or given a job to do or asked to reveal something about himself, responds always by saying,
"I would prefer not to."
For some time now I have been investigating the frequent examples of Bartleby's syndrome in literature, for some time I have studied the illness, the disease, endemic to contemporary letters, the negative impulse or attraction towards nothingness that means that certain creators, while possessing a very demanding literary conscience (or perhaps precisely because of this), never manage to write: either they write one or two books and then stop altogether or, working on a project, seemingly without problems, one day they become literally paralysed for good.
The idea of investigating the literature of the No, that of Bartleby & Co., came about last Tuesday in the office when I thought I heard my boss's secretary say to somebody on the phone,
"Mr Bartleby is in a meeting."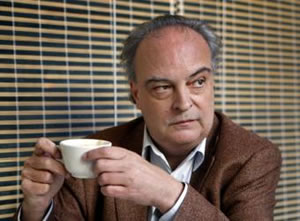 Enrique Vila-Matas (Barcelona, 31 maart 1948)
De Duitse schrijver Hartmut Lange werd geboren op 31 maart 1937 in Berlijn. Zie ook mijn blog van 31 maart 2009 en ook mijn blog van 31 maart 2010.
Uit: Der Abgrund des Endlichen
"Am 30. November 2008 bekam ich folgenden Brief:
»Sehr geehrter Herr«, schrieb da jemand, den ich nicht kannte, »erinnern Sie sich an das Jahr 1948
und an jene Juninacht, in der Ihr Bruder tot im Wald aufgefunden wurde! Nun, ich bin sein Mörder,
und ich habe allen Grund, mich Ihnen anzuvertrauen.«
Es folgte so etwas wie ein Gruß und eine Unterschrift, die ich nicht entziffern konnte, und es war
vollkommen klar, dass ich annehmen musste, hier hätte sich jemand einen schlechten Scherz erlaubt.
Tage später erhielt ich einen zweiten Brief.
»Hätten Sie Zeit, sich mit mir zu treffen?«, stand da in derselben, kaum leserlichen Schrift. »Und
zwar vor jener Laube in Johannisthal, die Sie, wie ich vermute, noch in Erinnerung haben. Nennen
Sie mir einen Termin. Ich werde, wann immer es Ihnen passt, dort sein.«
Ich war betroffen, versuchte nochmals, die Unterschrift zu entziffern, wendete das Kuvert hin und
her. Aber da war nirgends ein Absender, nur die Briefmarke mit dem Poststempel, und nun grübelte
ich darüber nach, wie es möglich sein sollte, dass jemand über ein Ereignis, das sechzig Jahre zurücklag, offenbar Bescheid wusste, und vor allem irritierte es mich, dass er die Laube erwähnte, jene Laube, in der ich tatsächlich mit meiner Mutter und meinem Bruder einige Jahre gewohnt hatte."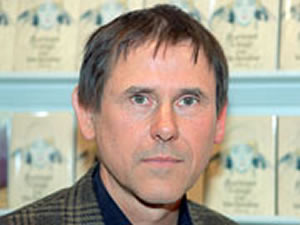 Hartmut Lange (Berlijn, 31 maart 1937)



Zie voor nog meer schrijvers van de 31e maart ook
mijn vorige blog van vandaag
en eveneens
mijn eerste blog van vandaag
.
31-03-2011 om 19:04 geschreven door Romenu

Tags:Marga Minco, Octavio Paz, Nichita Stă,nescu, Enrique Vila-Matas, Hartmut Lange, Romenu