De Nederlandse schrijver en cabaretier Kees van Kooten werd geboren op 10 augustus 1941 in Den Haag. Zie ook mijn blog van 10 augustus 2010 en eveneens alle tags voor Kees van Kooten op dit blog. Kwees van Kooten viert vandaag zijn 70e verjaardag.
Uit: Scheren
'Het is niet zoals er sommigen zijn die dit de laatste tijd overal schijnen rond te beweren (achter mijn rug en hun hand natuurlijk altijd hoor, zo doen de dames en heren wel, want kom je ze ergens gewoon tegen dan zijn ze een en al Hoe gaat het en ooh dan zie je er ineens ZO goed uit en dan vinden ze je toch ZO'N leuke broek aandragen en zo die dingen) maar ik herhaal dat het dus ABsoluut niet is dat ik het mij niet zou kunnen verOORloven, een elektries scheerapparaat.
Toevallig heb ik namelijk zojuist DUIZEND GULDEN op DE BANK gezet tegen een looptijd van achtenkwart procent over zeven jaar, dat ik dat sommetje daar rustig kan laten liggen staffelen, dus dan zou IK mij als diegene geen electries scheerapparaat kunnen behappen?! Nou al is het een electroniese digitaal-shaver met 24 koppen en ingebouwde elektret-mikrofoons - die koop ik namelijk ZO, als ik hem zou willen. Want dan wil ik diezelfde mensen die mij op deze insinuerende wijze rondstrooien wel even verklappen dat ik namelijk toevallig NOG EEN KEER DUIZEND GULDEN op een ANDERE BANK heb staan uitgroeien! En wel expres mijn bedje een beetje verspreid à zevenhalf procent over zes jaar tijds. Dus hiermee moge ik dan definitief het praatje van de wereld afdoen dat ik bepaalde zaken niet zou kunnen betalen. Ik kan ALLES betalen. Ik kan elk electries apparaat, ALS het maar bestaat, in huis halen, als ik hier behoefte voor zou voelen hebben. Wat mijn ogen zien, kunnen mijn handen neertellen. En of bepaalde mensen hier vooral goede nota van willen knopen! De enige reden dat ik geen electries scheerapparaat heb, is, dat ik geen electries scheerapparaat heb. Ik heb geen electries scheerapparaat omdat ik mij nog steeds niet electries scheer.
En wel hierom: dat ik mij nooit electries ben gaan scheren, maar altijd aan het mesje heb vastgehouden.
Aan extra haargroei blijft het bij mij bij mijn bovenlip (maar dan daarboven) en de Kin Rondom. Maar die moeten dan ook elke dag ontdaan worden. Een Baard als zodanig ontspringt mij echter niet. Met een eenvoudig Krabbertje scheer ik mijn gezicht binnen vier minuten Het Heertje. Tegen vieren 's middags, als mijn opkomende snor zijn "shadow" over mijn hoofd begint te "five o'clocken" schaaf ik de boel in een extra beurtje voor als ik ergens heenmoet wel eens opnieuw helemaal morgenschoon. Verder niks geen problemen. Wat mijn kwaliteit van Scheren aangaat draai ik ergens middenin het grote slappe mannenpeloton mijn rondjes".
Kees van Kooten (Den Haag, 10 augustus 1941)
In zijn rol van het vieze mannetje

De Duitse schrijver Alfred Döblin werd op 10 augustus 1878 geboren in Stettin. Zie ook mijn blog van 10 augustus 2006 en ook mijn blog van 10 augustus 2007 en ook mijn blog van 10 augustus 2008 en ook mijn blog van 10 augustus 2009 en ook mijn blog van 10 augustus 2010
Uit: Berlin Alexanderplatz
"Das weiß ich, seufzte er in sich, daß ich hier rin muß und daß ich aus dem Gefängnis entlassen bin. Sie mußten mich ja entlassen, die Strafe war um, hat seine Ordnung, der Bürokrat tut seine Pflicht. Ich geh auch rin, aber ich möchte nicht, mein Gott, ich kann nicht.
Er wanderte die Rosenthaler Straße am Warenhaus Tietz vorbei, nach rechts bog er ein in die schmale Sophienstraße. Er dachte, diese Straße ist dunkler, wo es dunkel ist, wird es besser sein. Die Gefangenen werden in Einzelhaft, Zellenhaft und Gemeinschaftshaft untergebracht. Bei Einzelhaft wird der Gefangene bei Tag und Nacht unausgesetzt von andern Gefangenen gesondert gehalten. Bei Zellenhaft wird der Gefangene in einer Zelle untergebracht, jedoch bei Bewegung im Freien, beim Unterricht, Gottesdienst mit andern zusammengebracht. Die Wagen tobten und klingelten weiter, es rann Häuserfront neben Häuserfront ohne Aufhören hin. Und Dächer waren auf den Häusern, die schwebten auf den Häusern, seine Augen irrten nach oben: wenn die Dächer nur nicht abrutschten, aber die Häuser standen grade. Wo soll ick armer Deibel hin, er latschte an der Häuserwand lang, es nahm kein Ende damit. Ich bin ein ganz großer Dussel, man wird sich hier doch noch durchschlängeln können, fünf Minuten, zehn Minuten, dann trinkt man einen Kognak und setzt sich. Auf entsprechendes Glockenzeichen ist sofort mit der Arbeit zu beginnen. Sie darf nur unterbrochen werden in der zum Essen, Spaziergang, Unterricht bestimmten Zeit. Beim Spaziergang haben die Gefangenen die Arme ausgestreckt zu halten und sie vor- und rückwärts zu bewegen.
Da war ein Haus, er nahm den Blick weg von dem Pflaster eine Haustür stieß er auf, und aus seiner Brust kam ein trauriges brummendes oh, oh. Er schlug die Arme umeinander, so mein Junge, hier frierst du nicht. Die Hoftür öffnete sich ..."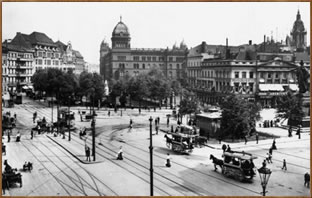 Alfred Döblin (10 augustus 1878 – 26 juni 1957)
De Alexanderplatz in 1908
De Oegandese schrijver Moses Isegawa (pseudoniem van Sey Wava) werd geboren op 10 augustus xml:namespace prefix = st1 />1963 in Kawempe in Oeganda. Zie ook mijn blog van 10 augustus 2008 en ook mijn blog van 10 augustus 2009 en ook mijn blog van 10 augustus 2010
Uit: Snakepit
"On the way to the hotel the events of the past weeks had rolled through his mind. A month ago he had completed his post-graduate degree at Cambridge University in Britain and decided to return to Uganda to seek his fortune. So much had happened during his time away. Fifty thousand Indians and 180,000 Africans from different countries had been expelled, leaving many places open in the civil service. It seemed that flag independence was giving way to economic independence, and he wanted to be part of it. He remembered the euphoria and uncertainty which had marked his arrival, the application letters to government ministries and parastatal organizations, and the encouragement from family and friends. Now he was on his way to meet the Minister of Power and Communications in the sanctity of his favourite toy, the Mirage Avenger. It looked almost too good to be true. He remembered exiting the car and walking on the red carpet to the steps, the wind in his face, all kinds of thoughts in his mind. Inside, he walked through a corridor to a comfortable compartment. The background was dominated by a huge portrait of Marshal Amin making the salute, huge fingers jutting, the medals on his chest shining. There were files on a table, a battery of golden Parker pens, a black telephone, and a general's woolen hat.
Suddenly, General Bazooka's imposing frame obstructed the light. He had emerged from another compartment and stood erect in an immaculate uniform adorned with medals, a gleaming holster at his side, a swagger stick in one hand. He measured Bat up for one long moment before stepping forward, bending a little and gripping his hand in a crushing handshake which was meant to show him who the boss was. He sat down with a grin on his face, commented on the fine weather, patted his hair, strapped himself in the seat and gave the order to take off.
"I am sure that we are going to have a very good working relationship. You can tell a man by the way he shakes hands. First, I am taking you on a tour. If at the end you are unimpressed, then I will interview somebody else. But I have never been wrong in my estimation of a man."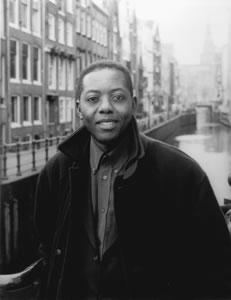 Moses Isegawa (Kawempe, 10 augustus 1963)
De Amerikaanse dichter en schrijver Mark Doty werd geboren op 10 augustus 1953 in Maryville, Tennessee. Zie ook mijn blog van 10 augustus 2009 en ook mijn blog van 10 augustus 2010
1. Faith
"I've been having these
awful dreams, each a little different,
though the core's the same-
we're walking in a field,
Wally and Arden and I, a stretch of grass
with a highway running beside it,
or a path in the woods that opens
onto a road. Everything's fine,
then the dog sprints ahead of us,
exicted; we're calling but
he's racing down a scent and doesn't hear us,
and that's when he goes
onto the highway. I don't want to describe it.
Sometimes it's brutal and over,
and others he's struck and takes off
so we don't know where he is
or how bad. This wakes me
every night, and I stay awake;
I'm afraid if I sleep I'll go back
into the dream. It's been six months,
almost exactly, since the doctor wrote
not even a real word
but an acronym, a vacant
four-letter cipher
that draws meanings into itself,
reconstitutes the world.
We tried to say it was just
a word; we tried to admit
it had power and thus to nullify it
by means of our acknowledgement.
I know the current wisdom:
bright hope, the power of wishing you're well.
He's just so tired, though nothing
shows in any tests, Nothing,
the doctor says, detectable:
the doctor doesn't hear what I de,
that trickling, steadily rising nothing
that makes him sleep all say,
vanish into fever's tranced afternoons,
and I swear sometimes
when I put my head to his chest
I can hear the virus humming
like a refrigerator.
Which is what makes me think
you can take your positive attitude
and go straight to hell.
We don't have a future,
we have a dog.
Who is he?
Soul without speech,
sheer, tireless faith,
he is that -which-goes-forward,
black muzzle, black paws
scouting what's ahead;
he is where we'll be hit first,
he's the part of us
that's going to get it.
I'm hardly awake on our mourning walk
-always just me and Arden now-
and sometimes I am still
in the thrall if the dream,
which is why, when he took a step onto Commercial
before I'd looked both ways,
I screamed his mane and grabbed his collar.
And there I was on my knees,
both arms around his nieck
and nothing coming,
and when I looken into that bewildered face
I realized I didn't know what it was
I was shouting at,
I didn't know who I was trying to protect."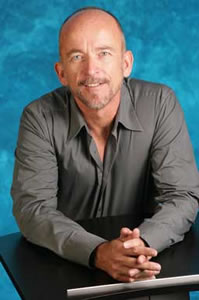 Mark Doty (Maryville, 10 augustus 1953)

De Poolse schrijver Jerzy Pilch werd geboren op 10 augustus 1952 in Wisla. Zie ook mijn blog van 10 augustus 2009 en ook mijn blog van 10 augustus 2010
Uit: His Current Woman (Vertaald door Bill Johnston)
"By the by, thinks Kohoutek, I wonder how it's possible that no one ever goes into the stove room and yet everyone knows that there are three Skoczów woolen blankets on the wooden benches in there. A curious paradox. Kohoutek would like to pursue his inquiry, since he senses subconsciously that it may bring relief to his fraught nerves; but no such luck, there's no chance of relief as yet another fear pierces his body and soul like a darkling blade. What will happen tomorrow morning when at the crack of dawn everyone continues the search for the two-liter jar of beef meatballs which they had thus far failed to find? They might start looking in the old slaughterhouse, and if they don't find it in the old slaughterhouse they'll climb up to the attic of the old slaughterhouse, and then they're absolutely sure to find something, only it won't be a two-liter jar of beef meatballs, but instead they'll find my current woman. True, I did build her a shelter which the most meticulous searcher would never find; but they, the members of my family-they're bound to find it.
Kohoutek turns on his side and assumes the fetal position; and, as always when in the fetal position, his thoughts turn to crime. Best of all, he whispers to himself, seized with a sudden rage, best of all would be to kill her. I ought to get up, go out and kill her. When they find the body there'll be a row anyway, but not such a fearful one as if they'd found her alive. If they find her alive there'll be such a fearful row that they're all likely to end up killing each other. Father'll try to kill me, Grandfather will defend me so Father will kill Grandfather, Oma will kill Father, Mother will kill Oma, the Pastor will kill Mother, the Pastor's wife will kill the Pastor, then, taking advantage of the situation, since she's long hated her, Miss Wandzia's mother will kill the Pastor's wife, Miss Wandzia will kill her mother because she doesn't want to play the violin, I of course will be killed by my own wife, and the long and the short of it will be that for weeks on end everyone will be offended with everyone else to the point that no one will be speaking to anyone."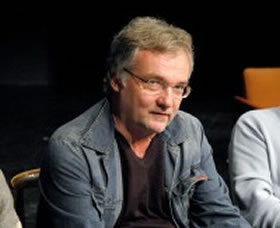 Jerzy Pilch (Wisla, 10 augustus 1952)


Zie voor nog meer schrijvers van de 10e augustus ook mijn vorige blog van vandaag.
10-08-2011 om 13:11 geschreven door Romenu

Tags:Kees van Kooten, Alfred Döblin, Moses Isegawa, Mark Doty, Jerzy Pilch, Romenu