E-mail mij


Druk op onderstaande knop om mij te e-mailen.


Romenu


Google


Georg Trakl

Georg Trakl werd op 3 februari 1887 in het conducteurshuis aan de Waagplatz 2 in Salzburg geboren. Zijn vader, Tobias Trakl, was een handelaar in ijzerwaren en zijn moeder, die ook psychische problemen had, was Maria Catharina Trakl, (meisjesnaam Halik). Voorts had hij nog drie broers en drie zussen. Margarethe (doorgaans Grethe genoemd) stond hem het naast, zelfs zodanig dat sommigen een incestueuze verhouding vermoeden. Zijn jeugd bracht hij door in Salzburg. Vervolgens bezocht hij van 1897 tot 1905 het humanistische gymnasium. Om toch een academische opleiding te kunnen volgen, werkte hij tot 1908 in de praktijk bij een apotheker. Sommigen vermoedden dat hij dit vooral deed om zichzelf opiaten te kunnen verschaffen. Bij het uitbreken van WO I werd Trakl als medicus naar het front in Galicië (heden ten dage in Oekraïne en Polen) gestuurd. Zijn gemoedsschommelingen leidden tot geregelde uitbraken van depressie, die verergerd werden door de afschuw die hij voelde voor de verzorging van de ernstig verwonde soldaten. De spanning en druk dreven hem ertoe een suïcidepoging te ondernemen, welke zijn kameraden nochtans verhinderden. Hij werd in een militair ziekenhuis opgenomen in Kraków, alwaar hij onder strikt toezicht geplaatst werd.Trakl verzonk daar in nog zwaardere depressies en schreef Ficker om advies. Ficker overtuigde hem ervan dat hij contact moest opnemen met Wittgenstein, die inderdaad op weg ging na Trakls bericht te hebben ontvangen. Op 4 november 1914, drie dagen voordat Wittgenstein aan zou komen, overleed hij echter aan een overdosis cocaïne


Paul Celan

Paul Celan werd onder de naam Paul Antschel op 23 november 1920 geboren in Czernowitz, toentertijd de hoofdstad van de Roemeense Boekovina, nu behorend bij de Oekraïne. Paul Celans ouders waren Duitssprekende joden die hun zoon joods opvoedden en hem naar Duitse christelijke scholen stuurden. In 1942 werden Celans ouders door de Duitse bezetter naar een werkkamp gedeporteerd en daar vermoord. Hijzelf wist aanvankelijk onder te duiken, maar moest vanaf juli 1942 in een werkkamp dwangarbeid verrichten. Celan overleefde de oorlog. Via Boekarest en Wenen vestigde Celan zich in 1948 in Parijs. Daar was hij werkzaam als dichter, vertaler en doceerde hij aan de prestigieuze Ecole Normale Supérieure. Vermoedelijk op 20 april 1970 beëindigde hij zijn leven zelf door in de Seine te springen.


Gerard Reve

Gerard Reve over: Medearbeiders "God is in de mensen, de dieren, de planten en alle dingen - in de schepping, die verlost moet worden of waaruit God verlost moet worden, door onze arbeid, aangezien wij medearbeiders van God zijn." Openbaring "Tja, waar berust elk godsbegrip op, elke vorm van religie? Op een openbaring, dat wil zeggen op een psychische ervaring van zulk een dwingende en onverbiddelijke kracht, dat de betrokkene het gevoel heeft, niet dat hij een gedachte of een visioen heeft, maar dat een gedachte gedachte of visioen hem bezit en overweldigt."


Simon Vestdijk
Simon Vestdijk (Harlingen, 17 oktober 1898 – Utrecht, 23 maart 1971) was een Nederlands romancier, dichter, essayist en vertaler. Zijn jeugd te Harlingen en Leeuwarden beschreef hij later in de Anton Wachter-cyclus. Van jongs af aan logeerde hij regelmatig bij zijn grootouders in Amsterdam, waar hij zich in 1917 aan de Universiteit van Amsterdam inschrijft als student in de medicijnen. Tijdens zijn studie die van 1917 tot 1927 duurde, leerde hij Jan Slauerhoff kennen.Tot 1932 is hij als arts in praktijken door heel Nederland werkzaam. In 1932 volgt zijn officiële schrijversdebuut met de uitgave van de bundel Verzen in De Vrije Bladen. Doorslaggevend voor Vestdijks uiteindelijke keuze voor de literatuur is zijn ontmoeting in 1932 met Eddy Du Perron en Menno ter Braak. Deze ontmoeting had tot resultaat dat hij redactielid werd van het tijdschrift Forum Kort daarop, in 1933, wordt zijn eerste novelle, De oubliette, uitgegeven. In hetzelfde jaar schrijft hij Kind tussen vier vrouwen, dat, eerst geweigerd door de uitgever, later de basis zal vormen voor de eerste drie delen van de Anton Wachter-romans. In 1951 ontvangt Vestdijk de P.C. Hooftprijs voor zijn in 1947 verschenen roman De vuuraanbidders. In 1957 wordt hij voor het eerst door het PEN-centrum voor Nederland voorgedragen voor de Nobelprijs voor de Literatuur, die hij echter nooit zal krijgen. Op 20 maart 1971 wordt hem de Prijs der Nederlandse Letteren toegekend, maar voor hij deze kan ontvangen overlijdt hij op 23 maart te Utrecht op 72-jarige leeftijd. Vestdijk was auteur van ca. 200 boeken. Vanwege deze enorme productie noemde de dichter Adriaan Roland Holst hem 'de man die sneller schrijft dan God kan lezen'. Andere belangrijke boeken van Simon Vestdijk zijn: "Kind van stad en land" (1936), "Meneer Visser's hellevaart" (1936), "Ierse nachten" (1946), "De toekomst de religie" (1947), "Pastorale 1943" (1948), "De koperen tuin" (1950), "Ivoren wachters" (1951), "Essays in duodecimo" (1952) en "Het genadeschot" (1964).


K.P. Kavafis

K.P. Kavafis werd als kind van Griekse ouders, afkomstig uit Konstantinopel, geboren in 1863 in Alexandrië (tot vandaag een Griekse enclave) waar hij ook het grootste deel van zijn leven woonde en werkte. Twee jaar na de dood van zijn vader verhuist het gezin in 1872 naar Engeland om na een verblijf van vijf jaar naar Alexandrië terug te keren. Vanwege ongeregeldheden in Egypte vlucht het gezin in 1882 naar Konstantinopel, om na drie jaar opnieuw naar Alexandrië terug te gaan. In de jaren die volgen maakt Kavafis reizen naar Parijs, Londen en in 1901 zijn eerste reis naar Griekenland, in latere jaren gevolgd door nog enkele bezoeken. Op de dag van zijn zeventigste verjaardag, in 1933 sterft Kavafis in Alexandrië. De roem kwam voor Kavafis pas na zijn dood, dus postuum. Deels is dat toe te schrijven aan zijn eigen handelswijze. Hij was uiterst terughoudend met de publicatie van zijn gedichten, liet af en toe een enkel gedicht afdrukken in een literair tijdschrift, gaf in eigen beheer enkele bundels met een stuk of twintig gedichten uit en het merendeel van zijn poëzie schonk hij op losse bladen aan zijn beste vrienden.


Thomas Mann


Thomas Mann, de jongere broer van Heinrich Mann, werd geboren op 6 juni 1875 in Lübeck. Hij was de tweede zoon van de graankoopman Thomas Johann Heinrich Mann welke later één van de senatoren van Lübreck werd. Zijn moeder Julia (geboren da Silva-Bruhns) was Duits-Braziliaans van Portugees Kreoolse afkomst. In 1894 debuteerde Thomas Mann met de novelle "Gefallen". Toen Thomas Mann met 21 jaar eindelijk volwassen was en hem dus geld van zijn vaders erfenis toestond - hij kreeg ongeveer 160 tot 180 goldmark per jaar - besloot hij dat hij genoeg had van al die scholen en instituties en werd onafhankelijk schrijver. Kenmerkend voor zijn stijl zijn de ironie, de fenomenale taalbeheersing en de minutieuze detailschildering. Manns reputatie in Duitsland was sterk wisselend. Met zijn eerste roman, Buddenbrooks (1901), had hij een enorm succes, maar door zijn sceptische houding tegenover Duitsland na de Eerste Wereldoorlog veranderde dit volledig. Stelde hij zich tot aan de jaren twintig apolitiek op (Betrachtungen eines Unpolitischen, 1918), meer en meer raakte hij bij het Politiek gebeuren betrokken. Zijn afkeer van het nationaal socialisme groeide, zijn waarschuwingen werden veelvuldiger en heftiger. In 1944 accepteerde hij het Amerikaanse staatsburgerschap. Tussen 1943 en 1947 schreef Mann Doktor Faustus (zie Faust), de roman van de 'Duitse ziel' in de gecamoufleerd geschilderde omstandigheden van de 20ste eeuw. In 1947 bezocht hij voor het eerst sinds de Oorlog Europa, twee jaar later pas Duitsland. In 1952 vertrok hij naar Zwitserland. Op 12 augustus 1955 stierf hij in Zürich. Twintig jaar na zijn dood, in aug. 1975, is zijn literaire nalatenschap geopend: dagboekaantekeningen van 15 maart 1933 tot 29 juli 1955, alsmede notities uit de jaren 1918 tot en met 1921.Belangrijke werken zijn: Der Zauberberg, Der Tod in Venedig, Dokter Faustus , Joseph und seine Brüder en Die Bekenntnisse des Hochstaplers Felix Krull.


Rainer Maria Rilke

Rilke werd op 4 december 1875 geboren in Praag. Hij had al naam gemaakt als dichter met zijn bundels Das Stundenbuch en Das Buch der Bilder, toen hij de literaire wereld versteld deed staan en wereldfaam verwierf met de publicatie van zijn twee delen Neue Gedichte in 1907 en 1908. Hij verzamelde daarin het beste werk uit een van zijn vruchtbaarste periodes, die hij grotendeels doorbracht in Parijs. Rilke was daar diep onder de indruk gekomen van Rodin, bij wie hij een tijdlang in dienst was als particulier secretaris. Rodin, zei hij later, had hem leren kijken. Dit kijken kwam neer op intense concentratie, om het mysterie te kunnen zien 'achter de schijnbare werkelijkheid'. Latere en rijpere werken als Duineser Elegien (1912-1923) en het ronduit schitterende Die Sonette an Orfeus (1924) illustreren Rilkes metafysische visie op het onzegbare, dat haar verwoording vindt in een hermetische muzikale taal. Op 29 december 1926 overlijdt Rilke in het sanatorium in Val-Mont aan de gevolgen van leukemie. Enkele dagen later wordt hij, overeenkomstig zijn wens, begraven op het kerkhof van Raron.


* * * * * * * * * * * * * * * *

| | |
| --- | --- |
| | Over literatuur, gedichten, kunst en cultuur |

19-02-2011

Siri Hustvedt, Helen Fielding, Jaan Kross, Herbert Rosendorfer, Amy Tan
De Amerikaanse schrijfster en essayiste Siri Hustvedt werd geboren op 19 februari 1955 in Northfield, Minnesota. Zie ook mijn blog van 19 februari 2007 en ook mijn blog van 19 februari 2009 en ook mijn blog van 19 februari 2010.
Uit: Wat me lief was (Vertaald door Heleen ten Holt)
"Ieder incident speelde zich af volgens hetzelfde vaste patroon: eerste de treurige ontdekking, dan de woede van de getroffene, dan Marks terugkomst en heftige ontkenningen. Ja, hij was weggelopen, maar hij had niets slechts gedaan. Hij had rondgelopen in de stad. Dat was alles. Hij had behoefte om alleen te zijn. Hij had niet 's nachts in Philips auto gereden. Als er een deuk achter het portier zat, had iemand anders de stationwagon zeker gestolen. Ja, hij was die nacht van huis weggelopen, maar hij had geen geld gestolen. Violet vergiste zich, waarschijnlijk had ze het uitgegeven of verkeerd geteld. Marks verontwaardigde ontkenningen waren vreemd irrationeel. Alleen als hij met een direct bewijs werd geconfronteerd, bekende hij schuld. Als je erop terugkijkt was alles wat Mark deed akelig voorspelbaar, maar we keken toentertijd geen van allen terug, en hoewel zijn gedrag volgens een cyclus verliep, waren we niet helderziend. We konden de dag van zijn rebellie niet voorspellen.
Mark was een raadsel dat op verschillende manieren kon worden uitgelegd. Het kwam me voor dat er twee manieren waren om zijn gedrag te begrijpen, die allebei een vorm van dualisme betroffen. De eerste was manicheïstisch. Marks dubbele leven was een slinger die tussen licht en donker heen en weer zwaait. Een deel van hem wilde echt zijn best doen. Hij hield van zijn ouders en zijn vrienden, maar hij werd met regelmatige tussenpozen overvallen door plotselinge impulsen, waar hij aan toegaf."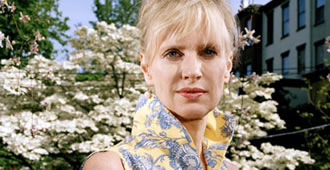 Siri Hustvedt (Northfield, 19 februari 1955)
De Engelse schrijfster Helen Fielding werd geboren in Morley, Yorkshire op 19 februari 1958. Zie ook mijn blog van 19 februari 2009 en ook mijn blog van 19 februari 2010.
Uit: Bridget Jones's Diary
"Julie Enderby's got one. She says she never uses anything else."
"Who's Julie Enderby?"
"You know Julie, darling! Mavis Enderby's daughter. Julie! The one that's got that super-dooper job at Arthur Andersen ..."
"Mum ..."
"Always takes it on her trips ..."
"I don't want a little bag with wheels on."
"I'll tell you what. Why don't Jamie, Daddy and I all club together and get you a proper new big suitcase and a set of wheels?"
Exhausted, I held the phone away from my ear, puzzling about where the missionary luggage-Christmas-gift zeal had stemmed from. When I put the phone back she was saying: "... in actual fact, you can get them with a compartment with bottles for your bubble bath and things. The other thing I thought of was a shopping cart."
"Is there anything you'd like for Christmas?" I said desperately, blinking in the dazzling Bank Holiday sunlight.
"No, no," she said airily. "I've got everything I need. Now, darling," she suddenly hissed, "you will be coming to Geoffrey and Una's New Year's Day Turkey Curry Buffet this year, won't you?"
"Ah. Actually, I ..." I panicked wildly. What could I pretend to be doing? "... think I might have to work on New Year's Day."
"That doesn't matter. You can drive up after work. Oh, did I mention? Malcolm and Elaine Darcy are coming and bringing Mark with them. Do you remember Mark, darling? He's one of those top-notch barristers. Masses of money. Divorced. It doesn't start till eight."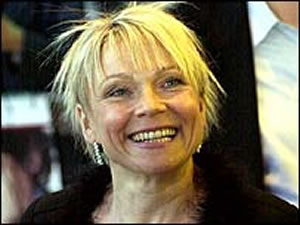 Helen Fielding (Morley, 19 februari 1958)
De Estlandse schrijver Jaan Kross werd geboren op 19 februari 1920 in Tallin. Zie ook mijn blog van 19 februari 2007 en ook mijn blog van 19 februari 2008 en ook mijn blog van 19 februari 2009 en ook mijn blog van 19 februari 2010.
Uit : Uncle (Vertaald door Eric Dickens)
« The chain led back to the spring of 1941, that is to say when the order had arrived in Tartu from a certain adviser to Herr Litzmann at the General Commission in Tallinn to swiftly pack together and transport, in part to Tallinn, in part to country manor houses, such-and-such valuable collections housed in the University Library. Those items most valuable from a German cultural (and, consequently, global cultural) point of view were to go to Tallinn, those of lesser importance to the stone cellars of suitable manor houses throughout the Province of Tartumaa.
The order to set to work the appropriate librarians plus those assistants they had come from the Vice-Chancellor of the university. Carpenters had begun (swearing as always) knocking together crates, heads of department (anxious as always) bustling about and directing operations, bibliographers (critical and whispering as always) making book inventories and packers-cum-bearers (sweating and sniffing as always) lugging piles of books and manuscripts down creaking flights of stairs. Each, of course, according to his nature. Perfunctorily and smoothly, assiduously and laboriously, thoughtlessly and twitteringly, inquisitively and mutteringly. Some hurried, others dawdled, some made sure the order was carried out to the letter while others again tried to find the easiest way of wriggling out of it. For there were two, even three attitudes for the order and as many reasons for carrying it out.
Some wished to do everything correctly. More rapidly or more slowly but above all, correctly. Others were indifferent to results as long as they got the mark notes and penni coins at the end of the day to pay for the items printed on their ration coupons. A third group which formed after much cursing and whispering among themselves, a group which grew even larger after the thin cigarettes and dishwater coffee of the lunch break, well, this third group began to hatch their own plans. Why should the most valuable items be packed in the first place? To save them from air raids? All well and good. But not only for that reason."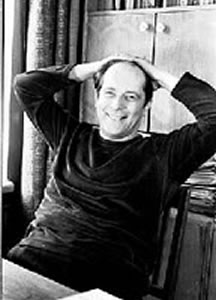 Jaan Kross (19 februari 1920 – 27 december 2007)
De Duitse schrijver Herbert Rosendorfer werd op 19 februari 1934 in Gries geboren. Zie ook mijn blog van 19 februari 2007 en ook mijn blog van 19 februari 2008 en ook mijn blog van 19 februari 2009 en ook mijn blog van 19 februari 2010.
Uit: Briefe in die chinesische Vergangenheit
« Zweiter Brief
(Samstag, '3. Juli)
[…] Aber ich sage Dir: tausend Jahre sind mehr als vergangene Zeit. Tausend Jahre sind ein so gewaltiger Berg von Zeit, daß selbst die kühnsten Vögel phantastischer Gedanken ihn nicht zu überfliegen vermögen.
Tausend Jahre sind nicht »jetzt« und »damals«.
Tausend Jahre sind »hier« und »dort«. Ich werde beim »hier« bleiben.
Ich bin sehr glücklich, daß ich den Kontaktpunkt, an dem ich diesen Brief niederlegen werde, wiedergefunden habe. Es ist mir dank eines Mannes gelungen, der mir viel geholfen hat und noch hilft. Mehr von ihm berichte ich Dir demnächst. Anders als mit fremder Hilfe hätte ich den Kontaktpunkt nicht gefunden, denn unser K'ai-feng hat sich so vollständig geändert, daß ich meine, es müßte eine andere Stadt sein. Das hängt vielleicht damit zusammen, daß der Fluß seinen Lauf gewechselt hat; er fließt jetzt fast genau nach Norden.
Die Stadt ist unvorstellbar grüß geworden, und es ist nahezu unerträglich laut. Von keinem einzigen der Paläste, die uns für die Ewigkeit gebaut erscheinen, ist auch nur eine Spur noch vorhanden (soweit ich das bisher gesehen habe), von den einfachen Häusern ganz zu schweigen. Selbst die Hügel sind weg. Alles ist flach, dafür sind die Häuser aufgetürmt wie zackige Berge, und kaum ein Baum ragt über die Häuser hinaus. Du würdest nichts, aber auch gar nichts wieder-erkennen. Wie das alles zugegangen ist, kann ich mir nicht vorstellen. Ich traue unseren barbarischen Enkeln — ich kann Dir sagen: ein würdeloser, verrohter Haufen — zu, daß sie die Hügel abgetragen haben.
Selbst unser Himmel, scheint es mir, hat sich aus dem ständigen Dunst und Ruß in eine fernere Welt zurückgezogen. Es kommt mir fast vor, als wäre ich nicht nur zeitlich, sondern auch örtlich versetzt.
Ich sitze hier, während ich das schreibe, auf einem Stein. Der Lärm, der mich umtost, ist nicht übermä-
ßig; ein, zwei Li* weiter ist er viel schlimmer. Nicht weit von dem Stein muß das kleine Sommerhaus sein, wo ich Dich vor tausend Jahren und drei Tagen zum Abschied umarmt habe. »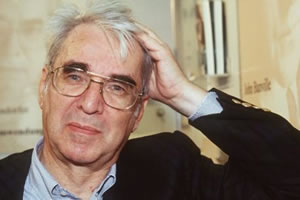 Herbert Rosendorfer (Gries, 19 februari 1934)
De Amerikaanse schrijfster Amy Tan werd geboren in Oakland, Ohio, op 19 februari 1952. Zie ook mijn blog van 19 februari 2007 en ook mijn blog van 19 februari 2009 en ook mijn blog van 19 februari 2010.
Uit : A Brief History of My Shortened Life
« It was not my fault. If only the group had followed my original itinerary without changing it hither, thither, and yon, this debacle would never have happened. But such was not the case, and there you have it, I regret to say.
"Following the Buddha's Footsteps" is what I named the expedition. It was to have begun in the southwestern corner of China, in Yunnan Province, with vistas of the Himalayas and perpetual spring flowers, and then to have continued south on the famed Burma Road. This would allow us to trace the marvelous influence of various religious cultures on Buddhist art over a thousand years and a thousand miles—a fabulous journey into the past. As if that were not enough appeal, I would be both tour leader and personal docent, making the expedition a truly value-added opportunity. But in the wee hours of December 2nd, and just fourteen days before we were to leave on our expedition, a hideous thing happened . . . I died. There. I've finally said it, as unbelievable as it sounds. I can still see the tragic headline: "Socialite Butchered in Cult Slaying."
The article was quite long: two columns on the left-hand side of the front page, with a color photo of me covered with an antique textile, an exquisite one utterly ruined for future sale.
The report was a terrible thing to read: "The body of Bibi Chen, 63, retail maven, socialite, and board member of the Asian Art Museum, was found yesterday in the display window of her Union Square store, The Immortals, famed for its chinoiserie. . . ." That odious word—"chinoiserie"—so belittling in a precious way. The article continued with a rather nebulous description of the weapon: a small, rakelike object that had severed my throat, and a rope tightened around my neck, suggesting that someone had tried to strangle me after stabbing had failed. »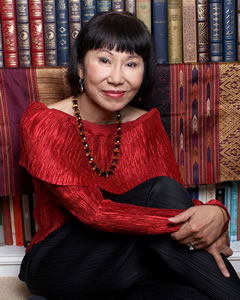 Amy Tan (Oakland, 19 februari 1952)




Zie voor nog meer schrijvers van de 19e februari ook
mijn vorige blog van vandaag
en eveneens
mijn eerste blog van vandaag.
19-02-2011 om 18:55 geschreven door Romenu

Tags:Siri Hustvedt, Helen Fielding, Jaan Kross, Herbert Rosendorfer, Amy Tan, Romenu



Dmitri Lipskerov, Thomas Brasch, Carson McCullers, Alfredo Bryce Echenique, Björn Kuhligk
De Russische schrijver Dmitri Lipskerov werd geboren op 19 februari 1964 in Moskou. Zie ook mijn blog van 19 februari 2007 en ook mijn blog van 19 februari 2008 en ook mijn blog van 19 februari 2009 en ook mijn blog van 19 februari 2010.
Uit:

Le Dernier Rêve de la Raison
"Ilya disposait aussi d'un petit local supplémentaire, où l'on entreposait toutes sortes d'outils pour travailler les différentes espèces de poissons — des couteaux pour racler les écailles les plus résistantes, des crochets en fer forgé où l'on suspendait des poissons aux dimensions particulièrement imposantes, qui avaient été légèrement salés par le Tatare sur toute leur longueur, selon une recette unique, une recette qu'il avait inventée lui-même dans sa jeunesse, désormais bien lointaine, dans la Crimée couverte de pêchers, au bord de la mer Noire... Si l'on ouvrait le ventre d'un tel colosse avec une lame tranchante, les yeux du client enthousiasmé voyaient apparaître une chair d'un rouge très tendre, plutôt grasse, et de ce fait, d'un jaune translucide sur les bords, accrochée à de molles arêtes blanches. Il était rare, le client qui restait indifférent à un tel spectacle ; en général, il se mettait aussitôt à saliver et achetait un morceau de la délicatesse pour ses bambins, tout en se représentant la chair fine et tendre, étalée tel un drapeau rouge sur une tranche de pain de mie français enduite de beurre fondu. Au-delà, son imagination lui promettait une tasse de café crème et le mélange de sensations gustatives, sucrées et légèrement salées, si agréables pour commencer un dimanche ensoleillé.
Ilya le Tatare n'était pas propriétaire, même s'il travaillait dans une coopérative, mais il gérait son affaire en patron, prenait soin de son comptoir comme s'il lui avait appartenu, et le lavait à la fin du service au moyen d'un chiffon propre, veillant tout particulièrement à ce que l'odeur de poisson n'empire pas et n'effraie pas le client, le lendemain matin, en lui donnant l'impression que les
produits étaient avariés."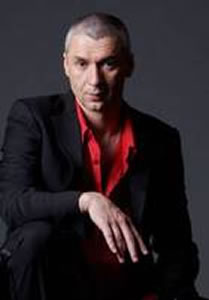 Dmitri Lipskerov (Moskou, 19 februari 1964)
De Duitse dichter en schrijver Thomas Brasch werd geboren in Westow,Yorkshire (Engeland) op 19 februari 1945. Zie ook mijn blog van 19 februari 2007 en ook mijn blog van 19 februari 2008.en ook mijn blog van 19 februari 2009 en ook mijn blog van 19 februari 2010.
WENN DIE SCHNELLEN WINDE WEHN
in den warmen Nächten
wollen wir aber die Trümmer gehn
in den warmen Nächten
Deine Hand inmeiner, Lisa
deine Haut anmeiner
schneller Lisa, schneller
uns sieht keiner
Wenn der weißeMond aufgeht
über den Ruinen
siehst Du wie die Nacht sich dreht
über den Ruinen
Deine Hand inmeiner, Lisa
Deine Haut anmeiner
weiter Lisa, weiter
uns sieht keiner
Wenn unsre Mäntel nicht mehr schwer
auf unsern Schultern liegen
wenn sie zwei Segel unterm Wind
werden wir fliegen
deine Hand in meiner, Lisa
deine Haut an meiner
höher Lisa, höher
uns sieht keiner
OFT BIST DU DER, DEN ICH LIEBE
oft bist Du der, den ich hasse
viel seltener jedoch.
Auch der bist Du, vor dem ich
mich fürchte.
Du bist der, der mich schlägt
du bist der, der mich streichelt
du bist der, der mir sagt, wer
ich bin
du bist der, der mir sagt, was
ich kann.
Du bist der, der schreit
und du bist der, der flüstert.
Alles bist du.
Aber nie wirst du der sein,
der immer hier bleibt.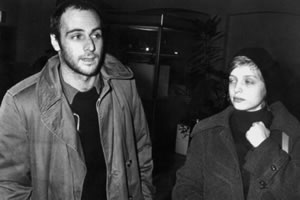 Thomas Brasch (19 februari 1945 – 3 november 2001)
Hier met de actrice Katharina Thalbach
De Amerikaanse schrijfster Carson McCullers werd geboren als Lula Carson Smith 19 februari 1917 in Columbus, Georgia. Zie ook mijn blog van 19 februari 2007 en ook mijn blog van 19 februari 2009 en ook mijn blog van 19 februari 2010.
Uit: Ballad of the Sad Café
"First of all, love is a joint experience between two persons – but the fact that it is a joint experience does not mean that it is a similar experience to the two people involved. There are the lover and the beloved, but these two come from different countries. Often the beloved is only a stimulus for all the stored up love which has lain quiet within the lover for a long time hitherto. And somehow every lover knows this. He feels in his soul that his love is a solitary thing. He comes to know a new, strange loneliness and it is this knowledge which makes him suffer. So there is only one thing for the lover to do. He must house his love within himself the best he can; he must create for himself a whole new inward world, a world intense and strange, complete in himself. Let it be added here that this lover about whom we speak need not necessarily be a young man saving for a wedding ring – this lover can be man, woman, child, or indeed any human creature on this earth.
Now, the beloved can also be of any description. The most outlandish people can be the stimulus for love. A man may be a doddering great-grandfather and still love only a strange girl he saw in the streets of Cheehaw one afternoon two decades past. The preacher may love a fallen woman. The beloved may be treacherous, greasy-headed and given to evil habits. Yes, and the lover may see this as clearly as anyone else – but that does not affect the evolution of his love one whit. A most mediocre person can be the object of a love which is wild, extravagant and beautiful as the poison lilies of the swamp. A good man may be the stimulus for a love both violent and debased, or a jabbering madman may bring about in the soul of someone a tender and simple idyll. Therefore, the value and quality of any love is examined solely by the lover himself."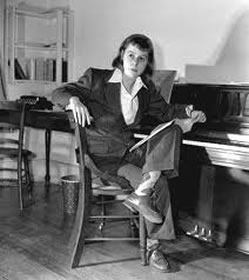 Carson McCullers (19 februari 1917 - 29 september 1967)
De Peuaanse schrijver Alfredo Bryce Echenique werd op 19 februari 1939 in Lima geboren. Zie ook mijn blog van 19 februari 2009 en ook mijn blog van 19 februari 2010.
Uit: Le Verger de mon aimée (Vertaald door Jean-Marie Saint-Lu)
"Carlitos Alegre, qui ne remarquait jamais rien, ressentit tout à coup quelque chose de très fort et de très troublant, quelque chose d'irrépressible et d'explosif, et qui devint plus fort encore, quelque chose d'aussi violent qu'inexplicable, mais de tout à fait agréable, à vrai dire, quand en rentrant chez lui par cette chaude soirée d'été il vit des préparatifs de fête, à l'extérieur, sur la terrasse et dans le jardin. Cela faisait deux semaines qu'il préparait tous les jours son examen d'entrée à l'université au dernier étage d'une très vieille bâtisse à la façade humide et poussiéreuse, jaunâtre, sale, une maison de torchis promise à la démolition et située rue de la Amargura, où vivaient doña María Salinas, veuve Céspedes, ponctuellissime employée de la Poste centrale, et les trois enfants – deux garçons, des jumeaux, ah, et une fille aussi, bien sûr, une fille… – qu'elle avait eus de son défunt mari, César Céspedes, vaillant et talentueux dermatologue originaire du département de Chiclayo qui commençait à se faire un chemin dans la Lima des années 40 et en était à rêver de se faire construire une villa à San Isidro et tout, avec son cabinet sur le devant, bien entendu, prenez-en de la graine, les garçons, cette ascension professionnelle et sociale, c'est tout seul, tout seul et en partant de zéro que je suis en train de la réaliser, vous m'avez compris?, quand la mort le surprit, ou le ravit – comme avait dit quelqu'un lors de son enterrement multitudinaire et rhétorique à Puerto Eten, département de Chiclayo, sa ville natale –; cela avait obligé sa veuve à abandonner sa condition de maîtresse de maison satisfaite et pleine d'espérances pour se vouer corps et âme à la bonne éducation de ses enfants, à brader quasiment leur petite maison du district de Jesús María, et à se transformer en très résignée et très efficace fonctionnaire de l'État et en très correcte locataire aux yeux cernés du dernier étage de cette vieille bâtisse chaque jour un peu plus promise à la démolition de la rue de la Amargura, rue qui n'était déjà plus très cotée, et même pas dans la vieille Lima historique de Pizarre, non, même pas, mais dans la Lima archaïque, où le président don Manuel Prado Ugarteche – qui exerçait alors son second mandat – avait pourtant toujours sa résidence ornée d'un remarquable balcon liménien, parce qu'il vivait à Paris, évidemment, n'importe qui dans ces conditions, sauf quand il gouvernait le Pérou, [...]"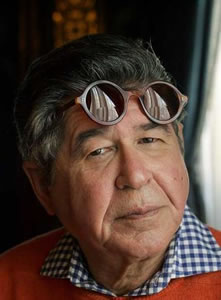 Alfredo Bryce Echenique (Lima, 19 februari 1939)
De Duitse dichter en schrijver Björn Kuhligk werd geboren op 19 februari 1975 in Berlijn. Zie ook mijn blog van 19 februari 2009 en ook mijn blog van 19 februari 2010.
Sie macht am liebsten Pasta
Und morgens steht sie nackt
am Fenster, etwas Banales
etwas Göttliches, und sieht
die Gegenwart, wie die sich
unten auf der Straße bemüht
sie träumt auf russisch
und raucht filterlose Franzosen
gießt vorm Frühstück den Teppich
verleugnet Schulfreunde und hat
sich nie den Arm abgebunden
sie hat den falschen Freund
und selten Geld auf der Kante
den Tag, also genau diesen
den Tag, denkt sie manchmal
den hatte schon mal jemand
sie hat keine Fotos an den Wänden
und nach der Tagesschau
ein gewöhnliches Gesicht, sie denkt sich
einen Satz wie diesen oder jenen
etwas Banales, etwas Göttliches
am Wochenende sei sie, sagen
ihre Freunde, eine Mischung
aus Kneipentier und Partyknaller
manchmal, wenn sie tanzt, habe sie
Männer an den Beinen
am liebsten beendet sie ihre Sätze
mit: "Kannst du mir folgen?"
sie lacht nicht oft, doch manchmal
lächelt sie versteckt, am schönsten
redet sie, wenns regnet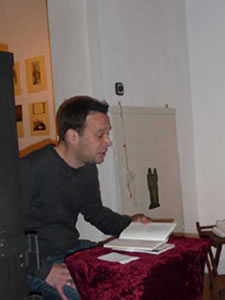 Björn Kuhligk (Berlijn, 19 februari 1975)

19-02-2011 om 18:48 geschreven door Romenu

Tags:Dmitri Lipskerov, Thomas Brasch, Carson McCullers, Alfredo Bryce Echenique, Björn Kuhligk, Romenu



Kay Boyle, Wolfgang Fritz, Yuri Olesha, André Breton, Paul Zech, Mark Prager Lindo, Heinrich L. Wagner
De Amerikaanse dichteres en schrijfster Kay Boyle werd geboren op 19 februari 1902 in Saint Paul, Minnesota. ook mijn blog van 19 februari 2009 en ook mijn blog van 19 februari 2010.
Monody to the Sound of Zithers
I HAVE wanted other things more than lovers …
I have desired peace, intimately to know
The secret curves of deep-bosomed contentment,
To learn by heart things beautiful and slow.
Cities at night, and cloudful skies, I've wanted;
And open cottage doors, old colors and smells a part;
All dim things, layers of river-mist on river—
To capture Beauty's hands and lay them on my heart.
I have wanted clean rain to kiss my eyelids,
Sea-spray and silver foam to kiss my mouth.
I have wanted strong winds to flay me with passion;
And, to soothe me, tired winds from the south.
These things have I wanted more than lovers …
Jewels in my hands, and dew on morning grass—
Familiar things, while lovers have been strangers.
Friended thus, I have let nothing pass.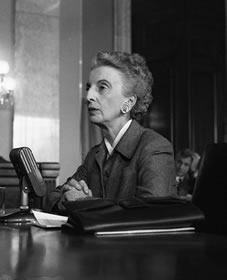 Kay Boyle (19 februari 1902 – 27 december 1992)
De Oostenrijkse schrijver Wolfgang Fritz werd geboren op 19. Februar 1947 in Innsbruck. Zie ook mijn blog van 19 februari 2009 en ook mijn blog van 19 februari 2010.
Uit: Eine ganz einfache Geschichte
"Es war da ein Jüngling mit Namen Peter Kaiser, der studierte die so trockene wie unzugängliche Rechtswissenschaft, und er war darin, nach dem Verlauf von vier Semestern, an einem Juniabend, so weit gediehen, daß ihn nur noch vierzehn Tage von seiner ersten Staatsprüfung trennten, worin er Kenntnisse unter Beweis zu stellen haben würde, deren meiste erst noch ihrer Aneignung harrten.
Nichtsdestotrotz glaubte er an diesem Abend, so gegen sechs, keine allzugroße Sünde zu begehen, wenn er seine durch intensives Skriptenbüffeln geschwächten Kräfte mit Hilfe eines Abendspazierganges wiederherzustellen suchte, wobei er, wie sich verstand, spätestens in zwei Stunden wieder an die Stätte seiner Pflicht zurückgekehrt sein wollte. Peter hauste zu seinem nicht geringen Leidwesen noch immer in der elterlichen Wohnung, welche sich am Alsergrund, in einer der Seitengassen der Währingerstraße befand. Seine beiden Eltern dienten im Rathaus als Beamte von subalternem Wirkungskreis. Daß ihr Sohn dereinst dortselbst, als Jurist, zu Macht und Ansehen gelangen würde, schien ihnen ausgemacht, obschon er ihnen wegen seiner allzu träumerischen, allzu wenig zielgerichteten Wesensart nicht wenige Sorgen bereitete.
Da erschien es nur als konsequent, wenn die gestrenge Mama die effiziente Ausnützung der entscheidenden vierzehn Tage höchstselbst überwachte; aber gegen einen Abendspaziergang nach einem ganzen Tag Fleiß wußte auch sie nichts einzuwenden. Später gelangte sie manchmal in ihrem nächtlichen Grübeln zu der Theorie, daß dies vielleicht ihr größer Fehler in dieser Sache, wenn nicht gar der größte Fehler in ihrem Leben gewesen sei, denn an diesem Abend zerrann die Frucht von einundzwanzig Jahren Mühe wie ein kunstvoll gebauter Schneemann an der Märzsonne, und das kam so: Peter eilte zielstrebig zur Fußgängerzone rund um den Stephansdom, denn hier, auf Graben und Kärntnerstraße, kommt der einsame Flanierer auf seine Rechnung.'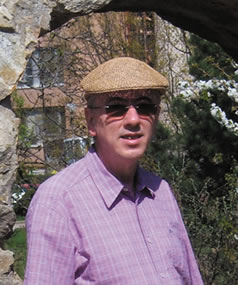 Wolfgang Fritz (Innsbruck, 19 februari 1947)
De Russische schrijver Yuri Olesha werd geboren op 19 februari 1899 in Elizavetgrad (nu Kirovohrad, Oekraïne). Zie ook mijn blog van 19 februari 2009 en ook mijn blog van 19 februari 2010.
Uit: The Cherry Seed
"The bird's not there anymore. It flew up through the crown of the tree. The flight is difficult. The bird flies, hitting the leaves.
Natasha treated us to cherries. By a childish habit, I kept one seed in my mouth. It rolled around in my mouth and was sucked clean. I took it out. It looked wooden.
I left the dacha with a cherry seed in my mouth.
I travel through the invisible country.
I return from the dacha to the city. The sun is setting. I'm heading east. I am traveling a double path. One path is accessible to the observation of everyone. A passerby sees a man walking along an empty, overgrown area. But what's going on with this peacefully walking man? He sees his shadow in front of himself. The shawdow moves along the ground, extending into the distance. It has long, colorless legs. I traverse the vacant lot. The shadow rises along a brick wall and suddenly loses its head. The passerby doesn't see this. Only I see it. I step into a corridor between two buildings. The corridor is endlessly high, filled with shade. Here the soil is claylike, pliable, like in a garden. Toward me, along the wall, moving to the side, runs a stray dog. We pass. I look behind. The threshhold behind is shining. There on the threshold, a solar flare momentarily covers over the dog. Then it runs off into the emptiness, and only now can I see its color--reddish.
All this happens in the invisible country, because in the country accessible to normal vision, something else is going on: a traveler meets a dog, the sun sets, the vacant lot turns green."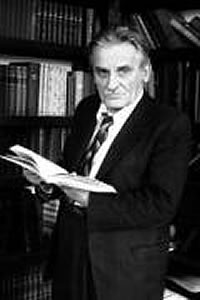 Yuri Olesha (19 februari 1899 – 10 mei 1960)
De Franse dichter en essayist André Breton werd geboren in Tinchebray in het departement Orne op 19 februari 1896. Zie ook mijn blog van 18 februari 2007 en ook mijn blog van 18 februari 2008. en ook mijn blog van 19 februari 2009 en ook mijn blog van 19 februari 2010.
Five Ways To Kill A Man
There are many cumbersome ways to kill a man.
You can make him carry a plank of wood
to the top of a hill and nail him to it. To do this
properly you require a crowd of people
wearing sandals, a cock that crows, a cloak
to dissect, a sponge, some vinegar and one
man to hammer the nails home.

Or you can take a length of steel,
shaped and chased in a traditional way,
and attempt to pierce the metal cage he wears.
But for this you need white horses,
English trees, men with bows and arrows,
at least two flags, a prince, and a
castle to hold your banquet in.

Dispensing with nobility, you may, if the wind
allows, blow gas at him. But then you need
a mile of mud sliced through with ditches,
not to mention black boots, bomb craters,
more mud, a plague of rats, a dozen songs
and some round hats made of steel.

In an age of aeroplanes, you may fly
miles above your victim and dispose of him by
pressing one small switch. All you then
require is an ocean to separate you, two
systems of government, a nation's scientists,
several factories, a psychopath and
land that no-one needs for several years.

These are, as I began, cumbersome ways
to kill a man. Simpler, direct, and much more neat
is to see that he is living somewhere in the middle
of the twentieth century, and leave him there.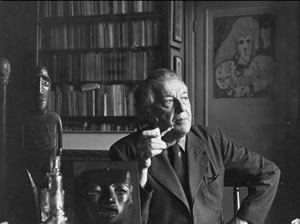 André Breton (19 februari 1896 – 28 september 1966)
De Duitse dichter en schrijver Paul Zech werd geboren op 19 februari 1881 in Briesen. Zie ook mijn blog van 19 februari 2009 en ook mijn blog van 19 februari 2010.
Novembernacht
Für Leo Grein
Zwielicht macht alle Ebenen blank wie Silberseen
und überbrückt den schmalen Fluß,
der ganz ins Uferlose rückt.
Vertiefter Wolkenzug erdrückt
den seufzenden Verdruß
in den erloschenen Alleen.
Turmuhren gehen ihren Kreisgang ohne Zeiger.
Am Kreuzweg, wo der Weiser wie ein Galgen droht,
lärmt einer Krähe frostverschärfte Not:
Gebt Brot…
Der Wind ist aller Kümmernis Verschweiger.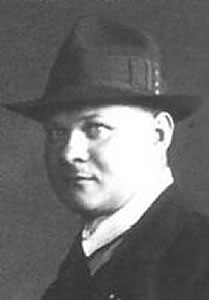 Paul Zech (19 februari 1881 – 7 september 1946)
Zie voor onderstaande schrijvers ook mijn blog van 19 februari 2010.
De Nederlandse schrijver Mark Prager Lindo, beter bekend als Den Ouden Heer Smits werd geboren in Londen op 19 februari 1819. Zie ook mijn blog van 19 februari 2007 en ook mijn blog van 19 februari 2009.
De Duitse schrijver Heinrich Leopold Wagner werd geboren op 19 februari 1747 in Straatsburg. Zie ook mijn blog van 19 februari 2009.

19-02-2011 om 18:43 geschreven door Romenu

Tags:Kay Boyle, Wolfgang Fritz, Yuri Olesha, André Breton, Paul Zech, Mark Prager Lindo, Heinrich L. Wagner, Romenu



| | |
| --- | --- |
| | |



Inhoud blog


| | |
| --- | --- |
| | David Leavitt, Jo Govaerts, Rafik Shami, Aart van der Leeuw, Pascal Mercier, Franca Treur, Jean Anouilh, Anna Achmatova |
| | Richard Bach, Cornelia Schmerle, Wolfgang Koeppen, Urs Jaeggi, Robert C. Hunter, Hanneke van Eijken, Will Shutt |
| | Nescio, Juliën Holtrigter, Jaap Robben, Willie Verhegghe, Erich Maria Remarque, Dan Brown, Aaro Hellaakoski, Henry Rider Haggard, Xavier Grall |
| | Ed Leeflang, Thomas Blondeau, Anne Carson, Adam Zagajewski, Ian McEwan, Alon Hilu, Jean-Paul Sartre, Stanley Moss, Machado de Assis |
| | Vikram Seth, Paul Muldoon, Kurt Schwitters, Jean-Claude Izzo, Silke Andrea Schuemmer, Carel van Nievelt, Robert Rozhdestvensky, Laure Wyss, Lillian Hellman |
| | Salman Rushdie, Sybren Polet, Josef Nesvadba, Osamu Dazai, José Rizal, Friedrich Huch, Gustav Schwab, Elke Geurts, Claudia Gabler |
| | Richard Powers, Marije Langelaar, Raymond Radiguet, Geoffrey Hill, Bert Schierbeek, Aster Berkhof, Karin Fellner, Mirjam Pressler, Ivan Gontsjarov |
| | Voor vader (Hans Lodeizen) |
| | Das Senfkorn (Meister Eckhart) |
| | Peter Rosei, Kamel Daoud, Gail Jones, Ron Padgett, Ward Ruyslinck, Adriaan van der Hoop jr, Hanna Johansen, Max Dendermonde, Tom Hofland |
| | Hanna Johansen, James Weldon Johnson, Henry Lawson, Ferdinand Freiligrath, Henrik Wergeland, John Hersey, Felix Hartlaub, Ossip Schubin |
| | Birthdays (Robert W. Service) |
| | Joël Dicker, August Willemsen, Theo Thijssen, Ronelda Kamfer, Frans Roumen |
| | Maria Dermoût, Christian Bauman, Silke Scheuermann, Hugo Borst, Ramon Lopez Velarde, Roland Dorgelès, François-Xavier Garneau, Emma Cline, Hannah van Wieringen |
| | Alex Boogers, Lieve Joris, Allard Schröder, John van Ierland, Peter O. Chotjewitz, Harriet Beecher Stowe, Hermann Kant, Jerzy Kosiński, Thomas Graftdijk |
| | Fernando Pessoa, Thomas Heerma van Voss, Willem Brakman, Virginie Despentes, William Butler Yeats, Tristane Banon, Marcel Theroux, Lode Zielens, Dorothy L. Sayers |
| | Christoph Meckel, Wolfgang Herrndorf, Anne Frank, Renan Demirkan, Djuna Barnes, Sandro Penna, Johanna Spyri H. C. Artmann, Günter Nehm |
| | William Styron, Sophie van der Stap, N. P. van Wyk Louw, Renée Vivien, Jean-Pierre Chabrol, Ben Jonson, Yasunari Kawabata, Athol Fugard, Nnimmo Bassey |
| | Magdalene—The Seven Devils (Marie Howe) |
| | Louis Couperus, D. Hooijer, Jacques Perk, James Salter, Mensje van Keulen, Jan Brokken |
| | Saul Bellow, Ion Creanga, Oktay Rifat, Peter Kurzeck, Antun Mihanović, Tijl Nuyts |
| | Maarten Doorman, Paul Beatty, Xander Michiel Beute, Anton Roothaert, Mirko Bonné, Curzio Malaparte, Jian Ghomeshi, Charles Webb, Rudolf Borchardt |
| | Willy Roggeman, Jurij Brězan, José Antonio Ramos Sucre, Akaki Zereteli, John Gillespie Magee jr., Bertha von Suttner |
| | Marguerite Yourcenar, Nino Haratischwili, Lutz Seiler, Ulf Stolterfoht, Péter Gárdos, Gwen Harwood, H. J. Friedericy, Udo Kawasser, Frank Keizer |
| | Marie Howe |
| | Het leven in juni (Marjoleine de Vos) |
| | Orhan Pamuk, Monika Mann, Nikki Giovanni, Harry Crews, Louise Erdrich, Mascha Kaléko, Jan Engelman, Gwendolyn Brooks, Elizabeth Bowen |
| | Thomas Mann, Aleksandr Poesjkin, Sarah Dessen, Jean Cayrol, Pierre Corneille, Hendrik van Teylingen, V. C. Andrews, Frank Gericke |
| | Dolce far niente, Groen-grijs gebied (Jesse Laport) |
| | Federico García Lorca, Adriaan Morriën, Ken Follett, Paul Farley, Geoff Dyer |
| | Ralf Thenior, Marie Ndiaye, Erasmus Schöfer, Buddy Wakefield, Yaak Karsunke, Charles Dickinson, Dana Bönisch, Elizabeth Jolley, Apollon Maykov |
| | Het laatste avondmaal (Nicolaas Beets) |
| | Allen Ginsberg, Philippe Djian, Maarten van Buuren, Solomonica de Winter, Monika Maron, Larry McMurtry, Norbert Gstrein, Wolfgang Cordan, Gerhard Zwerenz |
| | Carlo Michelstaedter, Kathleen E. Woodiwiss, Eugène Van Oye, Pedro Mir, Detlev von Liliencron, Friederike Brun, Otto Erich Hartleben, Philippe Quinault |
| | Jim Knipfel, Marcel Reich-Ranicki, Sibylle Berg, Carol Shields, Jean Nelissen, Thomas Hardy |
| | Markies De Sade, Dorothy West, Max Aub, Karl Gjellerup, Barbara Pym |
| | Patrick Besson, John Masefield, Ferdinand Raimund, Peter de Mendelssohn, Petra Morsbach, Colleen McCullough, Macedonio Fernández, Wilfred Campbell, Vicky Francken |
| | C. Buddingh'-prijs voor Radna Fabias |
| | Love's Choice (Malcolm Guite) |
| | Mariae Heimsuchung (Rainer Maria Rilke) |
| | Walt Whitman, Frank Goosen, Gabriel Barylli, Konstantin Paustovski, Svetlana Alexievich, Ludwig Tieck, Gerd Hergen Lübben, Saint-John Perse, T. T. Cloete |
| | Summer Storm (Bliss Carman) |
| | Elizabeth Alexander, Oscar van den Boogaard, Countee Cullen, Emmanuel Hiel, Martin Jankowski, Alfred Austin, Eddy Bruma, Henri François Rikken, Jan Geerts |
| | Summer in the City, 1949 (Ernest Farrés) |
| | André Brink, Eduard Escoffet, G. K. Chesterton, Bernard Clavel, T. H. White, Hans Weigel, Alfonsina Storni, Max Brand, Joel Benton |
| | Ein Sommergedicht (Thomas Gsella) |
| | Ad Zuiderent, Leo Pleysier, Adriaan Bontebal, Guntram Vesper, Frank Schätzing, Maeve Binchy, Ian Fleming, Sjoerd Leiker, Vladislav Chodasevitsj |
| | Dolores Dorantes |
| | St. Matthew (D. H. Lawrence) |
| | Niels 't Hooft, Jan Blokker, Linda Pastan, Louis-Ferdinand Céline, Georges Eekhoud, Said, John Cheever, John Barth |


Gastenboek


Druk op onderstaande knop om een berichtje achter te laten in mijn gastenboek