E-mail mij


Druk op onderstaande knop om mij te e-mailen.


Romenu


Romenu is een blog over gedichten, literatuur en kunst Maar Romenu is ook een professionele freelance vertaler
Du-Ne en Ne-Du http://www.romenu.nl.


Huur eens een (vakantie)huis in een natuurgebied, dichtbij het centrum van Nijmegen


Google


Georg Trakl

Georg Trakl werd op 3 februari 1887 in het conducteurshuis aan de Waagplatz 2 in Salzburg geboren. Zijn vader, Tobias Trakl, was een handelaar in ijzerwaren en zijn moeder, die ook psychische problemen had, was Maria Catharina Trakl, (meisjesnaam Halik). Voorts had hij nog drie broers en drie zussen. Margarethe (doorgaans Grethe genoemd) stond hem het naast, zelfs zodanig dat sommigen een incestueuze verhouding vermoeden. Zijn jeugd bracht hij door in Salzburg. Vervolgens bezocht hij van 1897 tot 1905 het humanistische gymnasium. Om toch een academische opleiding te kunnen volgen, werkte hij tot 1908 in de praktijk bij een apotheker. Sommigen vermoedden dat hij dit vooral deed om zichzelf opiaten te kunnen verschaffen. Bij het uitbreken van WO I werd Trakl als medicus naar het front in Galicië (heden ten dage in Oekraïne en Polen) gestuurd. Zijn gemoedsschommelingen leidden tot geregelde uitbraken van depressie, die verergerd werden door de afschuw die hij voelde voor de verzorging van de ernstig verwonde soldaten. De spanning en druk dreven hem ertoe een suïcidepoging te ondernemen, welke zijn kameraden nochtans verhinderden. Hij werd in een militair ziekenhuis opgenomen in Kraków, alwaar hij onder strikt toezicht geplaatst werd.Trakl verzonk daar in nog zwaardere depressies en schreef Ficker om advies. Ficker overtuigde hem ervan dat hij contact moest opnemen met Wittgenstein, die inderdaad op weg ging na Trakls bericht te hebben ontvangen. Op 4 november 1914, drie dagen voordat Wittgenstein aan zou komen, overleed hij echter aan een overdosis cocaïne


Paul Celan

Paul Celan werd onder de naam Paul Antschel op 23 november 1920 geboren in Czernowitz, toentertijd de hoofdstad van de Roemeense Boekovina, nu behorend bij de Oekraïne. Paul Celans ouders waren Duitssprekende joden die hun zoon joods opvoedden en hem naar Duitse christelijke scholen stuurden. In 1942 werden Celans ouders door de Duitse bezetter naar een werkkamp gedeporteerd en daar vermoord. Hijzelf wist aanvankelijk onder te duiken, maar moest vanaf juli 1942 in een werkkamp dwangarbeid verrichten. Celan overleefde de oorlog. Via Boekarest en Wenen vestigde Celan zich in 1948 in Parijs. Daar was hij werkzaam als dichter, vertaler en doceerde hij aan de prestigieuze Ecole Normale Supérieure. Vermoedelijk op 20 april 1970 beëindigde hij zijn leven zelf door in de Seine te springen.


Gerard Reve

Gerard Reve over: Medearbeiders "God is in de mensen, de dieren, de planten en alle dingen - in de schepping, die verlost moet worden of waaruit God verlost moet worden, door onze arbeid, aangezien wij medearbeiders van God zijn." Openbaring "Tja, waar berust elk godsbegrip op, elke vorm van religie? Op een openbaring, dat wil zeggen op een psychische ervaring van zulk een dwingende en onverbiddelijke kracht, dat de betrokkene het gevoel heeft, niet dat hij een gedachte of een visioen heeft, maar dat een gedachte gedachte of visioen hem bezit en overweldigt."


Simon Vestdijk
Simon Vestdijk (Harlingen, 17 oktober 1898 – Utrecht, 23 maart 1971) was een Nederlands romancier, dichter, essayist en vertaler. Zijn jeugd te Harlingen en Leeuwarden beschreef hij later in de Anton Wachter-cyclus. Van jongs af aan logeerde hij regelmatig bij zijn grootouders in Amsterdam, waar hij zich in 1917 aan de Universiteit van Amsterdam inschrijft als student in de medicijnen. Tijdens zijn studie die van 1917 tot 1927 duurde, leerde hij Jan Slauerhoff kennen.Tot 1932 is hij als arts in praktijken door heel Nederland werkzaam. In 1932 volgt zijn officiële schrijversdebuut met de uitgave van de bundel Verzen in De Vrije Bladen. Doorslaggevend voor Vestdijks uiteindelijke keuze voor de literatuur is zijn ontmoeting in 1932 met Eddy Du Perron en Menno ter Braak. Deze ontmoeting had tot resultaat dat hij redactielid werd van het tijdschrift Forum Kort daarop, in 1933, wordt zijn eerste novelle, De oubliette, uitgegeven. In hetzelfde jaar schrijft hij Kind tussen vier vrouwen, dat, eerst geweigerd door de uitgever, later de basis zal vormen voor de eerste drie delen van de Anton Wachter-romans. In 1951 ontvangt Vestdijk de P.C. Hooftprijs voor zijn in 1947 verschenen roman De vuuraanbidders. In 1957 wordt hij voor het eerst door het PEN-centrum voor Nederland voorgedragen voor de Nobelprijs voor de Literatuur, die hij echter nooit zal krijgen. Op 20 maart 1971 wordt hem de Prijs der Nederlandse Letteren toegekend, maar voor hij deze kan ontvangen overlijdt hij op 23 maart te Utrecht op 72-jarige leeftijd. Vestdijk was auteur van ca. 200 boeken. Vanwege deze enorme productie noemde de dichter Adriaan Roland Holst hem 'de man die sneller schrijft dan God kan lezen'. Andere belangrijke boeken van Simon Vestdijk zijn: "Kind van stad en land" (1936), "Meneer Visser's hellevaart" (1936), "Ierse nachten" (1946), "De toekomst de religie" (1947), "Pastorale 1943" (1948), "De koperen tuin" (1950), "Ivoren wachters" (1951), "Essays in duodecimo" (1952) en "Het genadeschot" (1964).


K.P. Kavafis

K.P. Kavafis werd als kind van Griekse ouders, afkomstig uit Konstantinopel, geboren in 1863 in Alexandrië (tot vandaag een Griekse enclave) waar hij ook het grootste deel van zijn leven woonde en werkte. Twee jaar na de dood van zijn vader verhuist het gezin in 1872 naar Engeland om na een verblijf van vijf jaar naar Alexandrië terug te keren. Vanwege ongeregeldheden in Egypte vlucht het gezin in 1882 naar Konstantinopel, om na drie jaar opnieuw naar Alexandrië terug te gaan. In de jaren die volgen maakt Kavafis reizen naar Parijs, Londen en in 1901 zijn eerste reis naar Griekenland, in latere jaren gevolgd door nog enkele bezoeken. Op de dag van zijn zeventigste verjaardag, in 1933 sterft Kavafis in Alexandrië. De roem kwam voor Kavafis pas na zijn dood, dus postuum. Deels is dat toe te schrijven aan zijn eigen handelswijze. Hij was uiterst terughoudend met de publicatie van zijn gedichten, liet af en toe een enkel gedicht afdrukken in een literair tijdschrift, gaf in eigen beheer enkele bundels met een stuk of twintig gedichten uit en het merendeel van zijn poëzie schonk hij op losse bladen aan zijn beste vrienden.


Thomas Mann


Thomas Mann, de jongere broer van Heinrich Mann, werd geboren op 6 juni 1875 in Lübeck. Hij was de tweede zoon van de graankoopman Thomas Johann Heinrich Mann welke later één van de senatoren van Lübreck werd. Zijn moeder Julia (geboren da Silva-Bruhns) was Duits-Braziliaans van Portugees Kreoolse afkomst. In 1894 debuteerde Thomas Mann met de novelle "Gefallen". Toen Thomas Mann met 21 jaar eindelijk volwassen was en hem dus geld van zijn vaders erfenis toestond - hij kreeg ongeveer 160 tot 180 goldmark per jaar - besloot hij dat hij genoeg had van al die scholen en instituties en werd onafhankelijk schrijver. Kenmerkend voor zijn stijl zijn de ironie, de fenomenale taalbeheersing en de minutieuze detailschildering. Manns reputatie in Duitsland was sterk wisselend. Met zijn eerste roman, Buddenbrooks (1901), had hij een enorm succes, maar door zijn sceptische houding tegenover Duitsland na de Eerste Wereldoorlog veranderde dit volledig. Stelde hij zich tot aan de jaren twintig apolitiek op (Betrachtungen eines Unpolitischen, 1918), meer en meer raakte hij bij het Politiek gebeuren betrokken. Zijn afkeer van het nationaal socialisme groeide, zijn waarschuwingen werden veelvuldiger en heftiger. In 1944 accepteerde hij het Amerikaanse staatsburgerschap. Tussen 1943 en 1947 schreef Mann Doktor Faustus (zie Faust), de roman van de 'Duitse ziel' in de gecamoufleerd geschilderde omstandigheden van de 20ste eeuw. In 1947 bezocht hij voor het eerst sinds de Oorlog Europa, twee jaar later pas Duitsland. In 1952 vertrok hij naar Zwitserland. Op 12 augustus 1955 stierf hij in Zürich. Twintig jaar na zijn dood, in aug. 1975, is zijn literaire nalatenschap geopend: dagboekaantekeningen van 15 maart 1933 tot 29 juli 1955, alsmede notities uit de jaren 1918 tot en met 1921.Belangrijke werken zijn: Der Zauberberg, Der Tod in Venedig, Dokter Faustus , Joseph und seine Brüder en Die Bekenntnisse des Hochstaplers Felix Krull.


Rainer Maria Rilke

Rilke werd op 4 december 1875 geboren in Praag. Hij had al naam gemaakt als dichter met zijn bundels Das Stundenbuch en Das Buch der Bilder, toen hij de literaire wereld versteld deed staan en wereldfaam verwierf met de publicatie van zijn twee delen Neue Gedichte in 1907 en 1908. Hij verzamelde daarin het beste werk uit een van zijn vruchtbaarste periodes, die hij grotendeels doorbracht in Parijs. Rilke was daar diep onder de indruk gekomen van Rodin, bij wie hij een tijdlang in dienst was als particulier secretaris. Rodin, zei hij later, had hem leren kijken. Dit kijken kwam neer op intense concentratie, om het mysterie te kunnen zien 'achter de schijnbare werkelijkheid'. Latere en rijpere werken als Duineser Elegien (1912-1923) en het ronduit schitterende Die Sonette an Orfeus (1924) illustreren Rilkes metafysische visie op het onzegbare, dat haar verwoording vindt in een hermetische muzikale taal. Op 29 december 1926 overlijdt Rilke in het sanatorium in Val-Mont aan de gevolgen van leukemie. Enkele dagen later wordt hij, overeenkomstig zijn wens, begraven op het kerkhof van Raron.


* * * * * * * * * * * * * * * *

| | |
| --- | --- |
| | Over literatuur, gedichten, kunst en cultuur |

06-09-2011

Alice Sebold, Christopher Brookmyre, Amelie Fried, Jennifer Egan
De Amerikaanse schrijfster Alice Sebold op 6 september 1962 in Madison, Wisconsin. Zie ook mijn blog van 6 september 2009 en ook mijn blog van 6 september 2010.
Uit: Lucky
"This is what I remember. My lips were cut. I bit down on them when he grabbed me from behind and covered my mouth. He said these words: "I'll kill you if you scream." I remained motionless. "Do you understand? If you scream you're dead." I nodded my head. My arms were pinned to my sides by his right arm wrapped around me and my mouth was covered with his left.
He released his hand from my mouth.
I screamed. Quickly. Abruptly.
The struggle began.
He covered my mouth again. He kneed me in the back of my legs so that I would fall down. "You don't get it, bitch. I'll kill you. I've got a knife. I'll kill you." He released his grip on my mouth again and I fell, screaming, on the brick path. He straddled me and kicked me in the side. I made sounds, they were nothing, they were soft footfalls. They urged him on, they made him righteous. I scrambled on the path. I was wearing soft-soled moccasins with which I tried to land wild kicks. Everything missed or merely grazed him. I had never fought before, was chosen last in gym.
Somehow, I don't remember how, I made it back on my feet. I remember biting him, pushing him, I don't know what. Then I began to run. Like a giant who is all powerful, he reached out and grabbed the end of my long brown hair. He yanked it hard and brought me down onto my knees in front of him. That was my first missed escape, the hair, the woman's long hair.
"You asked for it now," he said, and I began to beg.
He reached around to his back pocket to draw out a knife. I struggled still, my hair coming out painfully from my skull as I did my best to rip myself free of his grip. I lunged forward and grabbed his left leg with both arms, throwing him off balance and making him stagger. I would not know it until the police found it later in the grass, a few feet away from my broken glasses, but with that move, the knife fell from his hands and was lost.
Then it was fists."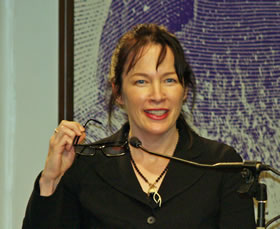 Alice Sebold (Madison, 6 september 1962)
De Schotse schrijver Christopher Brookmyre werd geboren op 6 september 1968 in Glasgow. Zie ook mijn blog van 6 september 2008. Zie ook mijn blog van 6 september 2009 en ook mijn blog van 6 september 2010.
Uit: Pandaemonium
'We're going to Hell for this.'
It is one of the soldiers who speaks, talking almost under his breath to the similarly sculpted muscular redoubt standing beside him. Their arms are bare from the shoulders down, dark green sleeveless slips the only clothing between the skin of their chests and sweat-streaked grey tabards of body armour. Their biceps are taut from the weight of their weapons, or maybe that's just how it looks, because Merrick knows what those things feel like to hold; knows a weight in them that derives from more than simply mass and gravity. Those muscles are US military: built, trained and maintained. You could sling a feather duster across those forearms and the musculature would look just as pronounced, just as swollen and primed.
Merrick recalls a detached fragment he glimpsed surfing the digital channels, showing a poster from the Weimar Republic. It depicted an Aryan god of an athlete above the slogan: 'A healthy body houses a healthy mind'. To which some seditionary artist had added: 'but often a very small one'.
All of the soldiers in here look like gay porn. So much muscle on show, all of it glistening with moisture, fresh beads of sweat pooling for a moment, then suddenly swooping in rivulets in response to a slight movement, a shift in stance, and not infrequently a nervous shudder. It's the heat: that's why they're dressed that way. It's so hot in this place, so infernally hot, always. No amount of venting seems to make a difference. He's stood right next to the giant fans at the base of the intake regulation shaft, walked beneath the coolant transit vessels in the heat-exchange orbital, several miles of insulated alloys thrusting through a circular tubeway engirthing the primary accelerator chase."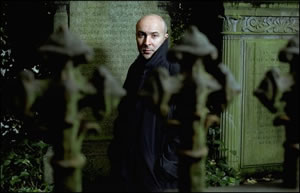 Christopher Brookmyre (Glasgow, 6 september 1968)
De Duitse schrijfster Amelie Fried werd geboren op 6 september 1958 in Ulm. Zie ook mijn blog van 6 september 2009 en ook mijn blog van 6 september 2010.
Uit: Rosannas Tochter
"Ein Gewitter zog auf an diesem Nachmittag. Eigentlich kein Wunder, dachte Nela. Wenn in meinem Leben etwas Bedeutsames passiert, gibt es Unwetter. Schon bei ihrer Geburt hatte es angeblich geblitzt und gedonnert, von ihrem ersten Schultag war sie klatschnass, mit aufgeweichter Schultüte und vor Nässe quietschenden Schuhen nach Hause gekommen, weil ihre Mutter vergessen hatte, sie abzuholen, und bei ihrer Hochzeit war ein regelrechter Hagelsturm niedergegangen, der innerhalb von Minuten die Autos der Hochzeitsgäste in einen Haufen Versicherungsfälle verwandelt hatte.
Es donnerte. Nela zuckte zusammen. Nein, sie hatte keine Angst, sie saß bei Gewitter nur gern an einem sicheren Ort und hielt sich die Ohren zu.
Also kuschelte sie sich aufs Sofa, zog sich eine Decke über den Kopf und zählte den Abstand zwischen Blitz und Donner. Jede Sekunde ein Kilometer, hatte sie an jenem ersten Schultag gelernt. Mit beruhigenden Worten hatte die Lehrerin das ängstliche Gemurmel der
Kinder gedämpft. Dann hatte sie allerhand über Gewitter erzählt, unter anderem, wie gering die Wahrscheinlichkeit ist, vom Blitz getroffen zu werden, aber das hatte Nela nicht beruhigen können. Auf Wahrscheinlichkeit gab sie bis heute nichts, sie glaubte an Zufälle, glückliche - und unglückliche.
Unruhig sah sie auf die Uhr. Hoffentlich kam Josch bald nach Hause.
Heute war die Nachricht eingetroffen, auf die sie so lange gewartet hatte, eine sensationelle Nachricht, und sie brannte darauf, ihm davon zu erzählen.
Meist kam Josch erst um zehn, elf Uhr abends aus seiner Kanzlei; und manchmal wurde er schon frühmorgens zum Flughafen gerufen, wo er die Abschiebung irgendeines armen Kerls verhindern sollte, der hier auf ein besseres Leben gehofft hatte. Es war nicht leicht, einen ruhigen Moment mit ihrem Mann, dem streitbaren Rechtsanwalt, zu finden, aber heute hatte er ihr fest versprochen, um sieben da zu sein."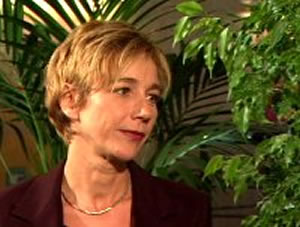 Amelie Fried (Ulm, 6 september 1958)
De Amerikaanse schrijfster Jennifer Egan werd geboren in Chicago op 6 september 1962. Zie ook mijn blog van 6 september 2007 en ook mijn blog van 6 september 2008. Zie ook mijn blog van 6 september 2009 en ook mijn blog van 6 september 2010.
Uit: A Visit From the Goon Squad
"It began the usual way, in the bathroom of the Lassimo Hotel. Sasha was adjusting her yellow eye shadow in the mirror when she noticed a bag on the floor beside the sink that must have belonged to the woman whose peeing she could faintly hear through the vaultlike door of a toilet stall. Inside the rim of the bag, barely visible, was a wallet made of pale green leather. It was easy for Sasha to recognize, looking back, that the peeing woman's blind trust had provoked her: We live in a city where people will steal the hair off your head if you give them half a chance, but you leave your stuff lying in plain sight and expect it to be waiting for you when you come back? It made her want to teach the woman a lesson. But this wish only camouflaged the deeper feeling Sasha always had: that at, tender wallet, offering itself to her hand — it seemed so dull, so life-as-usual to just leave it there rather than seize the moment, accept the challenge, take the leap, fly the coop, throw caution to the wind, live dangerously ("I get it," Coz, her therapist, said), and take the [expletive] thing.
"You mean steal it."
He was trying to get Sasha to use that word, which was harder to avoid in the case of a wallet than with a lot of the things she'd lifted over the past year, when her condition (as Coz referred to it) had begun to accelerate: five sets of keys, fourteen pairs of sunglasses, a child's striped scarf, binoculars, a cheese grater, a pocketknife, twenty-eight bars of soap, and eighty-five pens, ranging from cheap ballpoints she'd used to sign debit-card slips to the aubergine Visconti that cost two hundred sixty dollars online, which she'd lifted from her former boss's lawyer during a contracts meeting. Sasha no longer took anything from stores — their cold, inert goods didn't tempt her. Only from people."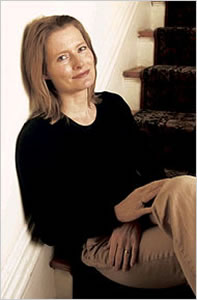 Jennifer Egan (Chicago, 6 september 1962)



Zie voor nog meer schrijvers van de 6e september ook
mijn vorige blog van vandaag.
06-09-2011 om 18:59 geschreven door Romenu

Tags:Alice Sebold, Christopher Brookmyre, Amelie Fried, Jennifer Egan, Romenu



Julien Green, Carmen Laforet, Cyrus Atabay, Jessica Durlacher
De Frans – Amerikaanse schrijver Julien Green werd geboren op 6 september 1900 in Parijs. Zie ook mijn blog van 6 september 2006 en ook mijn blog van 6 september 2008. Zie ook mijn blog van 6 september 2009 en ook mijn blog van 6 september 2010.
Uit: Jeunes années, autobiographie 2
«Ce fut, me semble-t-il, dans les dernières semaines de 1923 que Philippe me demanda de passer chez lui pour une raison qui ne me fut révélée que plus tard. Si je ne puis situer exactement la date, je revois la couleur du jour et le décor, l'un aussi triste que l'autre. Dans le bureau banal, mais confortable, j'étais assis sur un de ces canapés tout en rondeurs et qui n'ont de vertu à mes yeux que leur élasticité. Une table chargée de papiers cache à moitié un appareil de chauffage au gaz, et voilà le bout de mise en scène que me livre ma mémoire. Il est peut-être trop tôt pour allumer une lampe et la lueur maussade qui tombe du ciel gris pénètre comme à regret dans cette petite pièce mélancolique. De quoi parlons-nous ? Aucun souvenir... Mais on sonne. Un instant s'écoule, puis je vois mon ami revenir avec un des plus étranges personnages qu'il m'ait été donné de voir. Comme il m'arrive le plus souvent, je ne saisis pas son nom et je suis bien sûr aujourd'hui qu'il n'a pas entendu le mien. Le regard qu'il me jette me réduirait au silence si j'avais le désir de parler : les yeux d'un noir profond ne se posent qu'une seconde sur moi, mais d'une manière inoubliable et comme pour m'écarter. Je pourrais aussi bien être un meuble. Cette situation anéantissante me dispense de faire un effort pour me joindre à la conversation, et je me contente de regarder. D'assez haute taille, le visiteur est habillé d'une grosse étoffe mieux faite pour la campagne que pour la ville et les manches d'un chandail noir lui descendent jusque sur les mains qu'elles couvrent à moitié un peu comme des mitaines. Là n'est pourtant pas le plus intéressant : le visage à lui seul est comme un spectacle dont on ne veut rien manquer. Haut et dégagé par la calvitie, le front aux proportions magnifiques surplombe les sourcils noirs et les grandes orbites où luisent les prunelles d'un éclat sombre et dur. La bouche est mince et prudente, il en sort une voix aux modulations si bizarres que le sens des mots qu'elle prononce m'échappe de temps en temps. Jamais encore je n'ai entendu parler le français de cette façon. Les dentales surtout feraient croire que le bout de la langue appuie contre le palais, non contre les incisives, et les sifflantes chuintent sans retenue. Parfois le ton s'élève, les sourcils montent et s'arrondissent, les lèvres s'écartent et un rire de fausset rompt tout à coup l'ordonnance de ce visage immobile. L'impression que je me trouve devant quelqu'un a été immédiate. De quoi parle-t-on ? De littérature sans doute, et soudain j'entends le nom de Blake. Il se trouve que j'ai dans la poche le petit volume de Chesterton sur ce poète. Ne hésitation et voilà le livre entre mes doigts."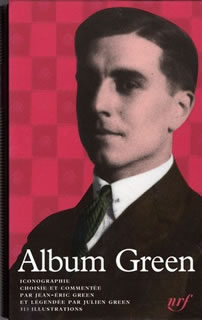 Julien Green (6 september 1900 - 13 augustus 1998)
De Spaanse schrijfster Carmen Laforet werd geboren op 6 september 1921 in Barcelona. Zie ook mijn blog van 6 september 2006 en ook mijn blog van 6 september 2008. Zie ook mijn blog van 6 september 2009 en ook mijn blog van 6 september 2010.

Uit: Nada (Vertaald door Edith Grossman)
"Behind Uncle Juan appeared another woman who was thin and young, her disheveled red hair falling over her sharp white face and over the languor that clung to the sheets, which increased the painful impression made by the group.
I was still standing, feeling my grandmother's head on my shoulder, held by her embrace, and all those figures seemed equally elongated and somber. Elongated, quiet, and sad, like the lights at a village wake.
"All right, that's enough, Mamá, that's enough," said a dry, resentful-sounding voice.
Then I realized there was yet another woman behind me. I felt a hand on my shoulder and another lifting my chin. I'm tall, but my Aunt Angustias was taller, and she obliged me to look at her like that. Her expression revealed a certain contempt. She had graying hair that fell to her shoulders and a certain beauty in her dark, narrow face.
"You really kept me waiting this morning, my girl! . . . How could I imagine that you'd arrive in the middle of the night?"
She'd let go of my chin and stood in front of me with all the height of her white nightgown and blue robe.
"Lord, Lord, how upsetting! A child like this, alone . . ."
I heard Juan grumble. "Now Angustias is ruining everything, the witch!"
Angustias appeared not to hear him.
"All right, you must be tired. Antonia"—and she turned to the woman enveloped in black—"you have to prepare a bed for the señorita."
I was tired, and besides, at that moment I felt horribly dirty. Those people moving around or looking at me in an atmosphere darkened by an accumulation of things crowded together seemed to have burdened me with all the trip's heat and soot that I'd forgotten about earlier. And I desperately wanted a breath of fresh air.
I observed that the disheveled woman, stupefied by sleep, smiled as she looked at me and also looked at my suitcase with the same smile. She obliged me to look in that direction, and my traveling companion seemed somewhat touching in its small-town helplessness. Drab and tied with rope, it sat beside me, at the center of that strange meeting.
Juan approached me:
"Andrea, don't you know my wife?"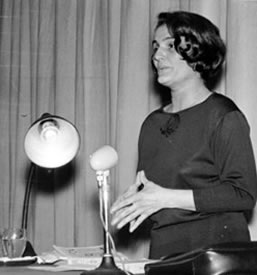 Carmen Laforet (6 september 1921 – 28 februari 2004)
De Duitstalige, Iraanse dichter en schrijver Cyrus Atabay werd geboren op 6 september 1929 in Teheran. Zie ook mijn blog van 6 september 2009 en ook mijn blog van 6 september 2010.
Uit: Poet und Vagant
"In Zürich schrieb ich meine ersten Gedichte, die 1948 in der Zeitung Die Tat gedruckt wurden, deren Literaturteil Max Rychner leitete. Auf einigen Umwegen begann ich schließlich 1952 mit dem Studium der Germanistik in München. Einige Schatten hieß das erste Gedichtheft, das von mir in der Reihe »Dichtung unserer Zeit« 1956 im Limes Verlag erschien. Zwei weitere Gedichtbände wurden vom Hanser Verlag herausgebracht. Seit Anfang der sechziger Jahre lebte ich abwechselnd in Teheran und in London. In London entstanden viele Gedichte und Prosastücke, die in dem Buch DoppelteWahrheit zusammengefaßt wurden. Die unvergessene Hilde Claassen erklärte sich bereit, meine Gedichte und Übersetzungen zu drucken, allerdings ohne Anspruch auf ein Honorar. Ich wohnte in den Belsize Park Gardens, heimisch in der Nachbarschaft jüdischer Emigranten; unweit, in der Thurlow Road, wohnte Elias Canetti, den ich häufig besuchte.
Obschon oder gerade weil ich die englische Sprache liebe, beschäftigte mich unablässig das Problem der Sprache für den Dichter, der im Exil oder längere Zeit fern von seiner Heimat lebt. Zunächst schien mir die Distanz zur Sprache fruchtbar und womöglich die Sprachkraft des Dichters steigernd; eine zu lange Trennung vom Resonanzboden der Sprache konnte andererseits Erosionen auslösen, die zu Sprachverfall und zunehmender Abstraktion führten. Meine eigene Sorge war, daß das Echo der Sprache im Ohr erlöschen könnte, wenn die gesprochene Sprache es nicht wieder akkumulierte."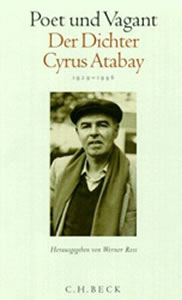 Cyrus Atabay (6 september 1929 – 26 januari 1996)
De Nederlandse schrijfster Jessica Durlacher werd geboren in Amsterdam op 6 september 1961. Zie ook mijn blog van 6 september 2007 en ook mijn blog van 6 september 2008. Zie ook mijn blog van 6 september 2009 en ook mijn blog van 6 september 2010.
Uit: De held
'Geen boot camp had hem voor zijn verschrikkingen klaargestoomd, voor hem geen instructeurs wier wreedheid slechts gespeeld is, in dienst van een verborgen agenda vol min of meer educatieve bedoelingen ten behoeve van iets groters, universelers (ja, zo is het in een leger als dit, al kan ik het bijna niet verteren dat ik dit denk).'
(...)
'"Kom ervan af", zegt hij. "Daar kom je niet. Dat is het Parade Deck, dat is alleen voor speciale gelegenheden. Daar zijn mensen geëerd die hun leven geofferd hebben voor dit land." Wit van schrik en meteen geluidloos huilend met tranen die in stromen over haar wangen glijden, klimt Tess naar beneden. Verschrompeld gaat ze naast me staan, met stille snikken, terwijl Mich zijn gesprek met Jacob voortzet.'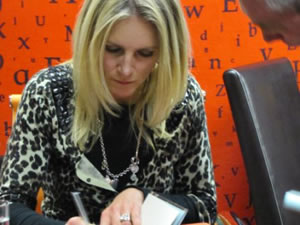 Jessica Durlacher (Amsterdam, 6 september 1961)

06-09-2011 om 18:53 geschreven door Romenu

Tags:Julien Green, Carmen Laforet, Cyrus Atabay, Jessica Durlacher, Romenu



| | |
| --- | --- |
| | |



Inhoud blog


| | |
| --- | --- |
| | Michael Longley, Marijke Höweler, Theodore Dreiser, Hilde Domin, Julien Gracq, Hilaire Belloc, Vladimir Korolenko, Eimear McBride, Graeme C. Simsion |
| | Arthur Japin, Gregoire Delacourt, Anne Provoost, Yves Petry, Aldous Huxley, Nicholas Evans, Chairil Anwar, George Bernard Shaw, Hanya Yanagihara |
| | Lieke Marsman, Sytze van der Zee, Elias Canetti, Max Dauthendey, Jovica Tasevski – Eternijan, Annette Pehnt, Ottokar Kernstock, Albert Knapp, Louise Boege |
| | Robert Graves, Johan Andreas der Mouw, Banana Yoshimoto, Rosemarie Schuder, Katia Mann, Junichirō Tanizaki, Frank Wedekind, Alexandre Dumas père, Betje Wolff |
| | Wilfried de Jong, Mohsin Hamid, Lauren Groff, Frans Erens, Kai Meyer, Thea Dorn, Irina Liebmann |
| | Lisa Alther, Hubert Selby jr., Raymond Chandler, Matthias Spiegel, Tim Reus |
| | Arno Geiger, Susan Hinton, Manu Joseph, Stephen Vincent Benét, Tom Robbins |
| | Maria Janitschek, Oskar Maria Graf, Emma Lazarus, Per Hojholt, Jakob Lorber |
| | Frouke Arns, Ernest Hemingway, Belcampo, Boris Dittrich , Hans Fallada, David Boerljoek |
| | Hans Lodeizen, Henk Hofland, Arie Storm, Uwe Johnson, Simin Behbahāni, Francesco Petrarca, Maurice Gilliams, Erik Axel Karlfeldt, Cormac McCarthy |
| | Otto Julius Bierbaum, Anna Enquist, Gottfried Keller, Lucas Malan, Miltos Sachtouris, Jean-Pierre Faye |
| | Simon Vinkenoog, Steffen Popp, Per Petterson, Elizabeth Gilbert, Alicia Steimberg, Jevgeni Jevtoesjenko, Aad Nuis, William M. Thackeray, Nathalie Sarraute |
| | Martin R. Dean, Rainer Kirsch, Eelke de Jong, Alie Smeding, Paul Lomami Tshibamba, James Purdy, Roger Garaudy, Clara Viebig, Lilian Loke |
| | In Memoriam Anne Golon |
| | Reinaldo Arenas, Georges Rodenbach, Tony Kushner, Anita Brookner, Jörg Fauser |
| | Dag Solstad, Bernard Dimey, Andrea Wolfmayr, Pierre Benoit, Franz Nabl |
| | Ann De Craemer, Jean Christophe Grangé, Driss Chraïbi, Iris Murdoch, Richard Russo, Jacques Rivière, Rira Abbasi |
| | Robert Wohlleben, Heinrich Peuckmann, Walter Benjamin, Clive Cussler, Jacques Derrida, Hammond Innes, Kunikida Doppo |
| | Irving Stone, Volker Kaminski, Natalia Ginzburg, Jacques de Lacretelle, Gavrila Derzjavin, Béatrix Beck, Arthur Laurents, Owen Wister, Willard Motley |
| | Boris Pasternak, Wole Soyinka, Isaak Babel |
| | Hugo von Hofmannsthal, Kees 't Hart, Carla Bogaards, Elias Khoury, Stefan George |
| | Nikolaus Lenau, Jhumpa Lahir, Jane Gardam |
| | Ann De Craemer |
| | Marcel Proust, Erik Jan Harmens, Alice Munro, J.C. Noordstar, Hermann Burger, Salvador Espriu, Gerhard L. Durlacher, Jürgen Becker, Nicolás Guillén |
| | Gerard Walschap, Hans Arnfrid Astel, June Jordan, John Heath-Stubbs, Ann Radcliffe, Mervyn Peake, Jan Neruda, Peter Märthesheimer |
| | Jean Cassou, Johanna Schopenhauer, Johann Götz, Alexis Piron, Matthew Lewis, Barbara Cartland, Robert Gratzer |
| | Thijs Zonneveld, Micha Hamel, Maria van Daalen, Peter Orlovsky, Walter Hasenclever |
| | Richard Aldington, Jean Ray, Jean de La Fontaine, Julius Mosen, Eva Roman, Hanns Johst |
| | Jan H. de Groot, Ivo Victoria, Lion Feuchtwanger, Vladimir Majakovski, Clemens Haipl |
| | Christopher Marlowe, Bodo Kirchhoff, Lucas Hirsch, William Wall, Hilary Mantel, Bernhard Schlink |
| | Felix Timmermans, Josef Haslinger, Barbara Frischmuth, Jean Cocteau, Michael Blake, Jacqueline Harpman, Jean Raspail, Tin Ujević, Marcel Achard |
| | Neil Simon, Paul de Wispelaere, Christine Lavant, Sébastien Japrisot, Walter Wippersberg, Rob van Erkelens, Robert Desnos, Nathaniel Hawthorne, Lionel Trilling |
| | Franz Kafka, Christopher Kloeble, Dorota Masłowska, Joanne Harris, Gerard den Brabander, Tom Stoppard, Andreas Burnier, David Barry, William Henry Davies |
| | Frans Budé, Hermann Hesse, Wisława Szymborska, Erik Vlaminck, Pierre H. Dubois, Axel Brauns, Friedrich Klopstock |
| | Johannes Immerzeel, Alekos Panagoulis, Ota Pavel, C. C. Bergius, Arend Fokke Simonsz |
| | Remco Ekkers, F. Starik, Wim T. Schippers, J. J. Voskuil, Carry Slee, Denis Johnson |
| | Hans Bender, George Sand, Juan Carlos Onetti, Georg Christoph Lichtenberg, Phil Bosmans, Heinrich Wiesner |
| | Czeslaw Milosz, Juli Zeh, Yaseen Anwer, José Emilio Pacheco, Assia Djebar, Jacqueline Zirkzee, Hendrik Jan Schimmel, Georges Duhamel, Thomas Lovell Beddoes |
| | Maarten Asscher, Ror Wolf, Thomas Frahm, Vasko Popa, Oriana Fallaci, Giacomo Leopardi, Antoine de Saint-Exupéry, Anton Bergmann, Willibald Alexis |
| | Florian Zeller, Ryszard Krynicki, Mark Helprin, Marlene Streeruwitz, Fritzi Harmsen van Beek, Luigi Pirandello, Jean Jacques Rousseau, Anton van Wilderode, Juan José Saer |
| | Lucille Clifton, Rafael Chirbes, Teju Cole, Frank O'Hara, Paul Laurence Dunbar, E. J. Potgieter, Kees Ouwens, Dawud Wharnsby, João Guimarães Rosa |
| | Aimé Césaire, Jacqueline van der Waals, Yves Beauchemin, Elisabeth Büchle, Laurie Lee, Pearl S. Buck, Stefan Andres, Martin Andersen-Nexø, Branwell Brontë |
| | George Orwell, Yann Martel, Rob van Essen, Michel Tremblay, Nicholas Mosley, Ingeborg Bachmann, Arseny Tarkovsky |
| | Larry Kramer, Claude Seignolle, Ariel Gore, Heinrich Seidel, Hans Marchwitza, Georges Courteline, Friederike Kempner |
| | Wilfred Smit, Ernesto Sabato, Yves Bonnefoy, Scott Oden, John Ciardi, Matthijs Kleyn |
| | Madelon Székely-Lulofs, Johannes van het Kruis, Kurt Kusenberg, Ambrose Bierce, Jean-Baptiste Boyer d'Argens, Josse Kok |
| | David Leavitt, Jo Govaerts, Rafik Shami, Aart van der Leeuw, Pascal Mercier, Franca Treur, Jean Anouilh, Anna Achmatova, Hanneke van Eijken |
| | Sommer (Ilse Kleberger), Nescio, Juliën Holtrigter, Jaap Robben |
| | Summer Solstice (Stacie Cassarino), Ed Leeflang, Thomas Blondeau, Adam Zagajewski |
| | Detlev von Liliencron, Vikram Seth, Paul Muldoon |


Gastenboek


Druk op onderstaande knop om een berichtje achter te laten in mijn gastenboek