De Frans – Amerikaanse schrijver Julien Green werd geboren op 6 september 1900 in Parijs. Zie ook mijn blog van 6 september 2006 en ook mijn blog van 6 september 2008. Zie ook mijn blog van 6 september 2009 en ook mijn blog van 6 september 2010.
Uit: Jeunes années, autobiographie 2
«Ce fut, me semble-t-il, dans les dernières semaines de 1923 que Philippe me demanda de passer chez lui pour une raison qui ne me fut révélée que plus tard. Si je ne puis situer exactement la date, je revois la couleur du jour et le décor, l'un aussi triste que l'autre. Dans le bureau banal, mais confortable, j'étais assis sur un de ces canapés tout en rondeurs et qui n'ont de vertu à mes yeux que leur élasticité. Une table chargée de papiers cache à moitié un appareil de chauffage au gaz, et voilà le bout de mise en scène que me livre ma mémoire. Il est peut-être trop tôt pour allumer une lampe et la lueur maussade qui tombe du ciel gris pénètre comme à regret dans cette petite pièce mélancolique. De quoi parlons-nous ? Aucun souvenir... Mais on sonne. Un instant s'écoule, puis je vois mon ami revenir avec un des plus étranges personnages qu'il m'ait été donné de voir. Comme il m'arrive le plus souvent, je ne saisis pas son nom et je suis bien sûr aujourd'hui qu'il n'a pas entendu le mien. Le regard qu'il me jette me réduirait au silence si j'avais le désir de parler : les yeux d'un noir profond ne se posent qu'une seconde sur moi, mais d'une manière inoubliable et comme pour m'écarter. Je pourrais aussi bien être un meuble. Cette situation anéantissante me dispense de faire un effort pour me joindre à la conversation, et je me contente de regarder. D'assez haute taille, le visiteur est habillé d'une grosse étoffe mieux faite pour la campagne que pour la ville et les manches d'un chandail noir lui descendent jusque sur les mains qu'elles couvrent à moitié un peu comme des mitaines. Là n'est pourtant pas le plus intéressant : le visage à lui seul est comme un spectacle dont on ne veut rien manquer. Haut et dégagé par la calvitie, le front aux proportions magnifiques surplombe les sourcils noirs et les grandes orbites où luisent les prunelles d'un éclat sombre et dur. La bouche est mince et prudente, il en sort une voix aux modulations si bizarres que le sens des mots qu'elle prononce m'échappe de temps en temps. Jamais encore je n'ai entendu parler le français de cette façon. Les dentales surtout feraient croire que le bout de la langue appuie contre le palais, non contre les incisives, et les sifflantes chuintent sans retenue. Parfois le ton s'élève, les sourcils montent et s'arrondissent, les lèvres s'écartent et un rire de fausset rompt tout à coup l'ordonnance de ce visage immobile. L'impression que je me trouve devant quelqu'un a été immédiate. De quoi parle-t-on ? De littérature sans doute, et soudain j'entends le nom de Blake. Il se trouve que j'ai dans la poche le petit volume de Chesterton sur ce poète. Ne hésitation et voilà le livre entre mes doigts."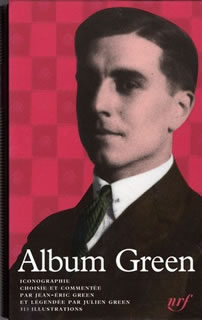 Julien Green (6 september 1900 - 13 augustus 1998)
De Spaanse schrijfster Carmen Laforet werd geboren op 6 september 1921 in Barcelona. Zie ook mijn blog van 6 september 2006 en ook mijn blog van 6 september 2008. Zie ook mijn blog van 6 september 2009 en ook mijn blog van 6 september 2010.

Uit: Nada (Vertaald door Edith Grossman)
"Behind Uncle Juan appeared another woman who was thin and young, her disheveled red hair falling over her sharp white face and over the languor that clung to the sheets, which increased the painful impression made by the group.
I was still standing, feeling my grandmother's head on my shoulder, held by her embrace, and all those figures seemed equally elongated and somber. Elongated, quiet, and sad, like the lights at a village wake.
"All right, that's enough, Mamá, that's enough," said a dry, resentful-sounding voice.
Then I realized there was yet another woman behind me. I felt a hand on my shoulder and another lifting my chin. I'm tall, but my Aunt Angustias was taller, and she obliged me to look at her like that. Her expression revealed a certain contempt. She had graying hair that fell to her shoulders and a certain beauty in her dark, narrow face.
"You really kept me waiting this morning, my girl! . . . How could I imagine that you'd arrive in the middle of the night?"
She'd let go of my chin and stood in front of me with all the height of her white nightgown and blue robe.
"Lord, Lord, how upsetting! A child like this, alone . . ."
I heard Juan grumble. "Now Angustias is ruining everything, the witch!"
Angustias appeared not to hear him.
"All right, you must be tired. Antonia"—and she turned to the woman enveloped in black—"you have to prepare a bed for the señorita."
I was tired, and besides, at that moment I felt horribly dirty. Those people moving around or looking at me in an atmosphere darkened by an accumulation of things crowded together seemed to have burdened me with all the trip's heat and soot that I'd forgotten about earlier. And I desperately wanted a breath of fresh air.
I observed that the disheveled woman, stupefied by sleep, smiled as she looked at me and also looked at my suitcase with the same smile. She obliged me to look in that direction, and my traveling companion seemed somewhat touching in its small-town helplessness. Drab and tied with rope, it sat beside me, at the center of that strange meeting.
Juan approached me:
"Andrea, don't you know my wife?"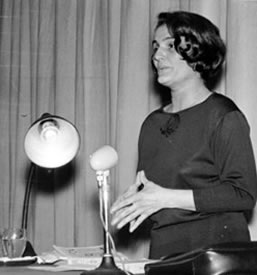 Carmen Laforet (6 september 1921 – 28 februari 2004)
De Duitstalige, Iraanse dichter en schrijver Cyrus Atabay werd geboren op 6 september 1929 in Teheran. Zie ook mijn blog van 6 september 2009 en ook mijn blog van 6 september 2010.
Uit: Poet und Vagant
"In Zürich schrieb ich meine ersten Gedichte, die 1948 in der Zeitung Die Tat gedruckt wurden, deren Literaturteil Max Rychner leitete. Auf einigen Umwegen begann ich schließlich 1952 mit dem Studium der Germanistik in München. Einige Schatten hieß das erste Gedichtheft, das von mir in der Reihe »Dichtung unserer Zeit« 1956 im Limes Verlag erschien. Zwei weitere Gedichtbände wurden vom Hanser Verlag herausgebracht. Seit Anfang der sechziger Jahre lebte ich abwechselnd in Teheran und in London. In London entstanden viele Gedichte und Prosastücke, die in dem Buch DoppelteWahrheit zusammengefaßt wurden. Die unvergessene Hilde Claassen erklärte sich bereit, meine Gedichte und Übersetzungen zu drucken, allerdings ohne Anspruch auf ein Honorar. Ich wohnte in den Belsize Park Gardens, heimisch in der Nachbarschaft jüdischer Emigranten; unweit, in der Thurlow Road, wohnte Elias Canetti, den ich häufig besuchte.
Obschon oder gerade weil ich die englische Sprache liebe, beschäftigte mich unablässig das Problem der Sprache für den Dichter, der im Exil oder längere Zeit fern von seiner Heimat lebt. Zunächst schien mir die Distanz zur Sprache fruchtbar und womöglich die Sprachkraft des Dichters steigernd; eine zu lange Trennung vom Resonanzboden der Sprache konnte andererseits Erosionen auslösen, die zu Sprachverfall und zunehmender Abstraktion führten. Meine eigene Sorge war, daß das Echo der Sprache im Ohr erlöschen könnte, wenn die gesprochene Sprache es nicht wieder akkumulierte."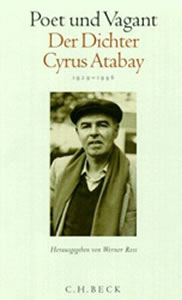 Cyrus Atabay (6 september 1929 – 26 januari 1996)
De Nederlandse schrijfster Jessica Durlacher werd geboren in Amsterdam op 6 september 1961. Zie ook mijn blog van 6 september 2007 en ook mijn blog van 6 september 2008. Zie ook mijn blog van 6 september 2009 en ook mijn blog van 6 september 2010.
Uit: De held
'Geen boot camp had hem voor zijn verschrikkingen klaargestoomd, voor hem geen instructeurs wier wreedheid slechts gespeeld is, in dienst van een verborgen agenda vol min of meer educatieve bedoelingen ten behoeve van iets groters, universelers (ja, zo is het in een leger als dit, al kan ik het bijna niet verteren dat ik dit denk).'
(...)
'"Kom ervan af", zegt hij. "Daar kom je niet. Dat is het Parade Deck, dat is alleen voor speciale gelegenheden. Daar zijn mensen geëerd die hun leven geofferd hebben voor dit land." Wit van schrik en meteen geluidloos huilend met tranen die in stromen over haar wangen glijden, klimt Tess naar beneden. Verschrompeld gaat ze naast me staan, met stille snikken, terwijl Mich zijn gesprek met Jacob voortzet.'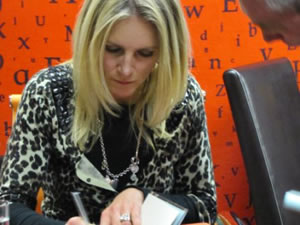 Jessica Durlacher (Amsterdam, 6 september 1961)

06-09-2011 om 18:53 geschreven door Romenu

Tags:Julien Green, Carmen Laforet, Cyrus Atabay, Jessica Durlacher, Romenu