E-mail mij


Druk op onderstaande knop om mij te e-mailen.


Romenu


Romenu is een blog over gedichten, literatuur en kunst Maar Romenu is ook een professionele freelance vertaler
Du-Ne en Ne-Du http://www.romenu.nl.


Huur eens een (vakantie)huis in een natuurgebied, dichtbij het centrum van Nijmegen


Google


Georg Trakl

Georg Trakl werd op 3 februari 1887 in het conducteurshuis aan de Waagplatz 2 in Salzburg geboren. Zijn vader, Tobias Trakl, was een handelaar in ijzerwaren en zijn moeder, die ook psychische problemen had, was Maria Catharina Trakl, (meisjesnaam Halik). Voorts had hij nog drie broers en drie zussen. Margarethe (doorgaans Grethe genoemd) stond hem het naast, zelfs zodanig dat sommigen een incestueuze verhouding vermoeden. Zijn jeugd bracht hij door in Salzburg. Vervolgens bezocht hij van 1897 tot 1905 het humanistische gymnasium. Om toch een academische opleiding te kunnen volgen, werkte hij tot 1908 in de praktijk bij een apotheker. Sommigen vermoedden dat hij dit vooral deed om zichzelf opiaten te kunnen verschaffen. Bij het uitbreken van WO I werd Trakl als medicus naar het front in Galicië (heden ten dage in Oekraïne en Polen) gestuurd. Zijn gemoedsschommelingen leidden tot geregelde uitbraken van depressie, die verergerd werden door de afschuw die hij voelde voor de verzorging van de ernstig verwonde soldaten. De spanning en druk dreven hem ertoe een suïcidepoging te ondernemen, welke zijn kameraden nochtans verhinderden. Hij werd in een militair ziekenhuis opgenomen in Kraków, alwaar hij onder strikt toezicht geplaatst werd.Trakl verzonk daar in nog zwaardere depressies en schreef Ficker om advies. Ficker overtuigde hem ervan dat hij contact moest opnemen met Wittgenstein, die inderdaad op weg ging na Trakls bericht te hebben ontvangen. Op 4 november 1914, drie dagen voordat Wittgenstein aan zou komen, overleed hij echter aan een overdosis cocaïne


Paul Celan

Paul Celan werd onder de naam Paul Antschel op 23 november 1920 geboren in Czernowitz, toentertijd de hoofdstad van de Roemeense Boekovina, nu behorend bij de Oekraïne. Paul Celans ouders waren Duitssprekende joden die hun zoon joods opvoedden en hem naar Duitse christelijke scholen stuurden. In 1942 werden Celans ouders door de Duitse bezetter naar een werkkamp gedeporteerd en daar vermoord. Hijzelf wist aanvankelijk onder te duiken, maar moest vanaf juli 1942 in een werkkamp dwangarbeid verrichten. Celan overleefde de oorlog. Via Boekarest en Wenen vestigde Celan zich in 1948 in Parijs. Daar was hij werkzaam als dichter, vertaler en doceerde hij aan de prestigieuze Ecole Normale Supérieure. Vermoedelijk op 20 april 1970 beëindigde hij zijn leven zelf door in de Seine te springen.


Gerard Reve

Gerard Reve over: Medearbeiders "God is in de mensen, de dieren, de planten en alle dingen - in de schepping, die verlost moet worden of waaruit God verlost moet worden, door onze arbeid, aangezien wij medearbeiders van God zijn." Openbaring "Tja, waar berust elk godsbegrip op, elke vorm van religie? Op een openbaring, dat wil zeggen op een psychische ervaring van zulk een dwingende en onverbiddelijke kracht, dat de betrokkene het gevoel heeft, niet dat hij een gedachte of een visioen heeft, maar dat een gedachte gedachte of visioen hem bezit en overweldigt."


Simon Vestdijk
Simon Vestdijk (Harlingen, 17 oktober 1898 – Utrecht, 23 maart 1971) was een Nederlands romancier, dichter, essayist en vertaler. Zijn jeugd te Harlingen en Leeuwarden beschreef hij later in de Anton Wachter-cyclus. Van jongs af aan logeerde hij regelmatig bij zijn grootouders in Amsterdam, waar hij zich in 1917 aan de Universiteit van Amsterdam inschrijft als student in de medicijnen. Tijdens zijn studie die van 1917 tot 1927 duurde, leerde hij Jan Slauerhoff kennen.Tot 1932 is hij als arts in praktijken door heel Nederland werkzaam. In 1932 volgt zijn officiële schrijversdebuut met de uitgave van de bundel Verzen in De Vrije Bladen. Doorslaggevend voor Vestdijks uiteindelijke keuze voor de literatuur is zijn ontmoeting in 1932 met Eddy Du Perron en Menno ter Braak. Deze ontmoeting had tot resultaat dat hij redactielid werd van het tijdschrift Forum Kort daarop, in 1933, wordt zijn eerste novelle, De oubliette, uitgegeven. In hetzelfde jaar schrijft hij Kind tussen vier vrouwen, dat, eerst geweigerd door de uitgever, later de basis zal vormen voor de eerste drie delen van de Anton Wachter-romans. In 1951 ontvangt Vestdijk de P.C. Hooftprijs voor zijn in 1947 verschenen roman De vuuraanbidders. In 1957 wordt hij voor het eerst door het PEN-centrum voor Nederland voorgedragen voor de Nobelprijs voor de Literatuur, die hij echter nooit zal krijgen. Op 20 maart 1971 wordt hem de Prijs der Nederlandse Letteren toegekend, maar voor hij deze kan ontvangen overlijdt hij op 23 maart te Utrecht op 72-jarige leeftijd. Vestdijk was auteur van ca. 200 boeken. Vanwege deze enorme productie noemde de dichter Adriaan Roland Holst hem 'de man die sneller schrijft dan God kan lezen'. Andere belangrijke boeken van Simon Vestdijk zijn: "Kind van stad en land" (1936), "Meneer Visser's hellevaart" (1936), "Ierse nachten" (1946), "De toekomst de religie" (1947), "Pastorale 1943" (1948), "De koperen tuin" (1950), "Ivoren wachters" (1951), "Essays in duodecimo" (1952) en "Het genadeschot" (1964).


K.P. Kavafis

K.P. Kavafis werd als kind van Griekse ouders, afkomstig uit Konstantinopel, geboren in 1863 in Alexandrië (tot vandaag een Griekse enclave) waar hij ook het grootste deel van zijn leven woonde en werkte. Twee jaar na de dood van zijn vader verhuist het gezin in 1872 naar Engeland om na een verblijf van vijf jaar naar Alexandrië terug te keren. Vanwege ongeregeldheden in Egypte vlucht het gezin in 1882 naar Konstantinopel, om na drie jaar opnieuw naar Alexandrië terug te gaan. In de jaren die volgen maakt Kavafis reizen naar Parijs, Londen en in 1901 zijn eerste reis naar Griekenland, in latere jaren gevolgd door nog enkele bezoeken. Op de dag van zijn zeventigste verjaardag, in 1933 sterft Kavafis in Alexandrië. De roem kwam voor Kavafis pas na zijn dood, dus postuum. Deels is dat toe te schrijven aan zijn eigen handelswijze. Hij was uiterst terughoudend met de publicatie van zijn gedichten, liet af en toe een enkel gedicht afdrukken in een literair tijdschrift, gaf in eigen beheer enkele bundels met een stuk of twintig gedichten uit en het merendeel van zijn poëzie schonk hij op losse bladen aan zijn beste vrienden.


Thomas Mann


Thomas Mann, de jongere broer van Heinrich Mann, werd geboren op 6 juni 1875 in Lübeck. Hij was de tweede zoon van de graankoopman Thomas Johann Heinrich Mann welke later één van de senatoren van Lübreck werd. Zijn moeder Julia (geboren da Silva-Bruhns) was Duits-Braziliaans van Portugees Kreoolse afkomst. In 1894 debuteerde Thomas Mann met de novelle "Gefallen". Toen Thomas Mann met 21 jaar eindelijk volwassen was en hem dus geld van zijn vaders erfenis toestond - hij kreeg ongeveer 160 tot 180 goldmark per jaar - besloot hij dat hij genoeg had van al die scholen en instituties en werd onafhankelijk schrijver. Kenmerkend voor zijn stijl zijn de ironie, de fenomenale taalbeheersing en de minutieuze detailschildering. Manns reputatie in Duitsland was sterk wisselend. Met zijn eerste roman, Buddenbrooks (1901), had hij een enorm succes, maar door zijn sceptische houding tegenover Duitsland na de Eerste Wereldoorlog veranderde dit volledig. Stelde hij zich tot aan de jaren twintig apolitiek op (Betrachtungen eines Unpolitischen, 1918), meer en meer raakte hij bij het Politiek gebeuren betrokken. Zijn afkeer van het nationaal socialisme groeide, zijn waarschuwingen werden veelvuldiger en heftiger. In 1944 accepteerde hij het Amerikaanse staatsburgerschap. Tussen 1943 en 1947 schreef Mann Doktor Faustus (zie Faust), de roman van de 'Duitse ziel' in de gecamoufleerd geschilderde omstandigheden van de 20ste eeuw. In 1947 bezocht hij voor het eerst sinds de Oorlog Europa, twee jaar later pas Duitsland. In 1952 vertrok hij naar Zwitserland. Op 12 augustus 1955 stierf hij in Zürich. Twintig jaar na zijn dood, in aug. 1975, is zijn literaire nalatenschap geopend: dagboekaantekeningen van 15 maart 1933 tot 29 juli 1955, alsmede notities uit de jaren 1918 tot en met 1921.Belangrijke werken zijn: Der Zauberberg, Der Tod in Venedig, Dokter Faustus , Joseph und seine Brüder en Die Bekenntnisse des Hochstaplers Felix Krull.


Rainer Maria Rilke

Rilke werd op 4 december 1875 geboren in Praag. Hij had al naam gemaakt als dichter met zijn bundels Das Stundenbuch en Das Buch der Bilder, toen hij de literaire wereld versteld deed staan en wereldfaam verwierf met de publicatie van zijn twee delen Neue Gedichte in 1907 en 1908. Hij verzamelde daarin het beste werk uit een van zijn vruchtbaarste periodes, die hij grotendeels doorbracht in Parijs. Rilke was daar diep onder de indruk gekomen van Rodin, bij wie hij een tijdlang in dienst was als particulier secretaris. Rodin, zei hij later, had hem leren kijken. Dit kijken kwam neer op intense concentratie, om het mysterie te kunnen zien 'achter de schijnbare werkelijkheid'. Latere en rijpere werken als Duineser Elegien (1912-1923) en het ronduit schitterende Die Sonette an Orfeus (1924) illustreren Rilkes metafysische visie op het onzegbare, dat haar verwoording vindt in een hermetische muzikale taal. Op 29 december 1926 overlijdt Rilke in het sanatorium in Val-Mont aan de gevolgen van leukemie. Enkele dagen later wordt hij, overeenkomstig zijn wens, begraven op het kerkhof van Raron.


* * * * * * * * * * * * * * * *

| | |
| --- | --- |
| | Over literatuur, gedichten, kunst en cultuur |

08-02-2015

Neal Cassady, Robin Block, Elizabeth Bishop, Eva Strittmatter, Gert Jonke
De Amerikaanse schrijver Neal Cassady werd geboren op 8 februari 1926 in Salt Lake City. Zie ook alle tags voor Neal Cassady op dit blog.
Uit: Relax, Man. The Gay Love Letters of Neal Cassady to Allen Ginsberg
"Denver, Colorado
March 14, 1947.
Dear Allen;
. . . My life is, at the moment, so cluttered up I have become incapable of relaxing long enough to even write a decent letter, really, I'm almost unable to think coherently. You must, then, not only forgive, but, find it within yourself to understand & in so doing develope a degree of patience until I am able to free myself enough to become truly close to you again.
On your part, you must know, that any letdown in your regard for me would upset me so much that, psychologically, I would be in a complete vacuum. At least for the immediate future I must request these things of you. so please don't fail me. I need you now more than ever, since I've noone else to turn to. I continually feel I am almost free enough to be a real help to you, but, my love can't flourish in my present position & if I forced it now, both you & I would lose. By God, though, every day I miss you more & More.
Understanding these things I hope, nay, in fact, know you must pour out more affection now than ever, rather than reacting negatively & withering up so that all is loss, or would be, between us.
Let us then find true awareness by realizing that each of us is depending on the other for fulfillment. In that realization lies, I believe, the germ that may grow to the great heights of complete oneness. . . .
I shall find a job tomorrow & perhaps by losing myself in work again I may become more rational & less upset & unnerved by the emotional shock of returning. Write soon I need you. I remain your other self.
Neal."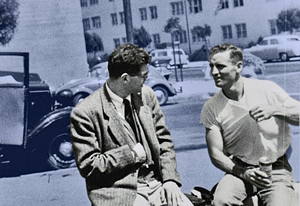 Neal Cassady (8 februari 1926 – 4 februari 1968)
Hier met Allen Ginsberg (links)
De Nederlandse dichter, songwriter en musicus Robin Block werd geboren op 8 februari 1980 in Heemskerk. Zie ook alle tags voor Robin Block op dit blog.
Sway
Sitting at the bar with your back against the wall
at some coke head festival with your eardrums beating out
booze breath girl in heat is boasting mutilation streaks
and her lack of calories makes you black as black can
oh my, don't mind;
you and I in the tide honey,you and I in the tide honey,
you and I in the tide honey,you and I in the tide honey
sitting on the floor in some godforsaken dumb,
while the walls are crumbling down, they will never let you out
oh, this darkness, all these hauntingeyes that strike you
down, they will never let you out
you and I in the tide honey,you and I in the tide honey,
you and I in the tide honey,you and I in the tide honey
come on now, speak up, come on now, be gone.
it's a long way home, it's a long way home.
can't you feel it sway?
can't you feel it all yhe time?
can't you feel it sway?
you and I in the tide honey,you and I in the tide honey,
you and I in the tide honey,you and I in the tide honey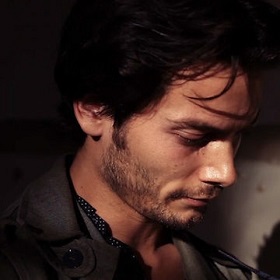 Robin Block (Heemskerk, 8 februari 1980)
De Amerikaanse dichteres en schrijfster Elizabeth Bishop werd geboren op 8 februari 1911 in Worcester, Massachusetts. Zie ook alle tags voor Elizabeth Bishop op dit blog.
One Art
The art of losing isn't hard to master;
so many things seem filled with the intent
to be lost that their loss is no disaster,
Lose something every day. Accept the fluster
of lost door keys, the hour badly spent.
The art of losing isn't hard to master.
Then practice losing farther, losing faster:
places, and names, and where it was you meant
to travel. None of these will bring disaster.
I lost my mother's watch. And look! my last, or
next-to-last, of three loved houses went.
The art of losing isn't hard to master.
I lost two cities, lovely ones. And, vaster,
some realms I owned, two rivers, a continent.
I miss them, but it wasn't a disaster.
- Even losing you (the joking voice, a gesture
I love) I shan't have lied. It's evident
the art of losing's not too hard to master
though it may look like (Write it!) like disaster.
While Someone Telephones
Wasted, wasted minutes that couldn't be worse,
minutes of a barbaric condescension.
--Stare out the bathroom window at the fir-trees,
at their dark needles, accretions to no purpose
woodenly crystallized, and where two fireflies
are only lost.
Hear nothing but a train that goes by, must go by, like tension;
nothing. And wait:
maybe even now these minutes' host
emerges, some relaxed uncondescending stranger,
the heart's release.
And while the fireflies
are failing to illuminate these nightmare trees
might they not be his green gay eyes.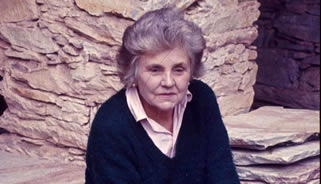 Elizabeth Bishop (8 februari 1911 – 6 oktober 1979)
De Duitse dichteres en schrijfster Eva Strittmatter werd als Eva Braun geboren op 8 februari 1930 in Neuruppin. Zie ook alle tags voor Eva Strittmatter op dit blog.
Große Nächte
Die gelben Lilien und die lilanen Lupinen,
Kastanien blühn und Fliederbaum.
Spät blühn Holunder und Robinen
Und drängen weiß in unsern Traum.
Im Juni, in den großen Nächten,
Macht manches Mal ihr Duft uns wach.
Was wir an Süße da genießen,
Geht uns noch im Dezember nach.
Euphorie
Ich will
Keine resignativen Gedichte mehr schreiben.
Resignation ist genug auf der Welt.
Durchhalten, überdrüberbleiben –
Das ist der Wahlspruch, der mir gefällt.

Klagen und Weimern sind so allgemein,
Verantwortlichmachen von Zeit und Geschichte.
Von jetzt an will ich heiter sein.
Wenn nicht – schreibe ich keine Gedichte.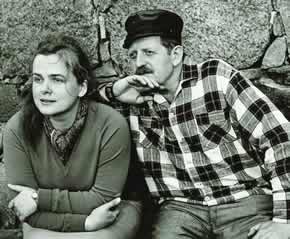 Eva Strittmatter (8 februari 1930 – 3 januari 2011)
Hier met echtgenoot Erwin
De Oostenrijkse dichter en schrijver Gert Jonke werd geboren op 8 februari 1946 in Klagenfurt. Zie ook alle tags voor Gert Jonke op dit blog.
Uit: Der ferne Klang
"Mir passiert es sehr oft, und zwar immer, wenn ich beim Schreiben von Geschichten wieder von vorne beginne, daß deren erstes Wort mir im Mund gefriert, ehe ich es aussprechen könnte wie ein Ort oder der Name eines Ortes, wo noch nie jemand gewesen ist, weil ich mit dieser Geschichte immer wieder jene Orte suche, wo noch niemand gewesen sein kann, um somit neue, unbetretbare Welten zu erfinden, aber ich bleibe schon beim ersten Wort meiner Geschichte stehen und stecken; ich versuche also, dieses Wort auf ein Blatt Papier zu schreiben. Das scheint sehr gut zu gelingen, und beinah wäre das Wort von dem Stift, den ich ergriffen habe, niedergeschrieben worden. Doch kurz bevor er das Wort geschrieben hat, stellt der Stift in meiner Hand sich deutlich als jener Stift eines Forschungsschiffes heraus, das schon vor hundert Jahren mit einer Expedition ins nördliche Eismeer aufgebrochen war und damals unmittelbar nach dem Beginn der Expedition in Vergessenheit geriet, weil das Schiff bis heute noch immer fossiliert in einem versteinerten Nordlichtquader wie eine Fliege im Bernstein steckengeblieben ist und noch immer steckt, dort, verschollen, vergessen, bis jetzt, bis mein Stift quer durchs arktische Eis des Papiers zu diesen nach wie vor in einem riesigen Lichtkristall steckengebliebenen Mitgliedern dieser vergessenen Expedition vorzudringen versucht, mit meiner wie ein Eisbrecher sich zu dem weißen Eispanzer hinüberschreibenden, ihn zerschneidenden Feder des Stifts, um an den erstarrten Minen dieser Leute abzulesen, wo denn der gesuchte Ort, den auch sie noch nicht ganz erreicht hatten, denn etwa liege ..."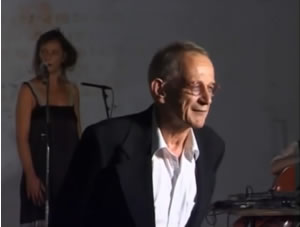 Gert Jonke (8 februari 1946 – 4 januari 2009)

Zie voor nog meer schrijvers van de 8e februari ook mijn vorige blog van vandaag.
08-02-2015 om 17:36 geschreven door Romenu

Tags:Neal Cassady, Robin Block, Elizabeth Bishop, Eva Strittmatter, Gert Jonke, Romenu



Henry Roth, John Grisham, Jules Verne, Kate Chopin, Gabriele Reuter
De Amerikaanse schrijver Henry Roth werd geboren op 8 februari 1906 in Tysmenitz nabij Stanislawow, Galicië, in het toenmalige Oostenrijk-Hongarije. Zie ook alle tags voor Henry Roth op dit blog.
Uit: An American Type
"That was the time, the general mood, the predicament out of which this story comes. The young woman I was courting — we shall call her M — was a very personable, tall, fair-haired young woman, a pianist and composer, a young woman with a world of patience, practicality, and self-discipline, bred and raised in the best traditions of New England and the Middle West, the most wholesome traditions. I was, at that time, sufficiently advanced and superior to be somewhat disdainful of those traditions. I wondered whether there was any reality to my courtship, any future, whether, in short, anything would come of it. I was so committed to being an artist — in spite of anything.
The colony was close to Saratoga Springs, and I owned a Model A Ford, and in the early morning hours before breakfast I would drive down from Yaddo to the spa. There was a kind of public place there in those days, a place where paper cups could be bought for a penny, and a sort of fountain where the water bubbled through a slender pipe into a basin — and I say bubbled because that was one of its attractions, the fact that it did bubble.
Ever since childhood I have regarded carbonated water as something of a treat, something not easily obtainable, in fact, only by purchase, remembering the seltzer-water man on the East Side laboring up the many flights of stairs with his dozen siphons in a box. And here it was free, and not only free but salutary. The water had a slightly musty or sulfurous flavor to go with its effervescence, but its properties were surpassingly benign.
I happened to mention the effectiveness and bracing qualities of the waters of the spring to a small group standing in front of the main building of Yaddo, and invited at large anyone who wished to accompany me in the morning. The response was almost universally negative. "Drink that water? That stuff?" was the tenor of their comments. "I'd sooner drink mud water," said one of the poets. But one person did reply in the affirmative. That was M. She liked the water; it shortly became apparent that she liked it as much as I did."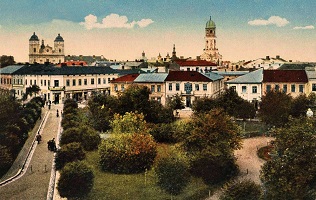 Henry Roth (8 februari 1906 – 13 oktober 1995)
Stanislawow, tegenwoordig Iwano-Frankowsk in Polen
De Amerikaanse schrijver John Grisham werd geboren in Jonesboro, Arkansas, op 8 februari 1955. Zie ook alle tags voor John Grisham op dit blog.
Uit: Sycamore Row
"They found Seth Hubbard in the general area where he had promised to be, though not exactly in the condition expected. He was at the end of a rope, six feet off the ground and twisting slightly in the wind. A front was moving through and Seth was soaked when they found him, not that it mattered. Someone would point out that there was no mud on his shoes and no tracks below him, so therefore he was probably hanging and dead when the rain began. Why was that important? Ultimately, it was not.
The logistics of hanging oneself from a tree are not that simple. Evidently, Seth thought of everything. The rope was three-quarter-inch braided natural Manila, of some age and easily strong enough to handle Seth, who weighed 160 pounds a month earlier at the doctor's office. Later, an employee in one of Seth's factories would report that he had seen his boss cut the fifty-foot length from a spool a week before using it in such dramatic fashion. One end was tied firmly to a lower branch of the same tree and secured with a slapdash mix of knots and lashings. But, they held. The other end was looped over a higher branch, two feet in girth and exactly twenty-one feet from the ground. From there it fell about nine feet, culminating in a perfect hangman's knot, one that Seth had undoubtedly worked on for some time. The noose was straight from the textbook with thirteen coils designed to collapse the loop under pressure. A true hangman's knot snaps the neck, making death quicker and less painful, and apparently Seth had done his homework. Other than what was obvious, there was no sign of a struggle or suffering.
A six-foot stepladder had been kicked aside and was lying benignly nearby. Seth had picked his tree, flung his rope, tied it off, climbed the ladder, adjusted the noose, and, when everything was just right, kicked the ladder and fell. His hands were free and dangling near his pockets."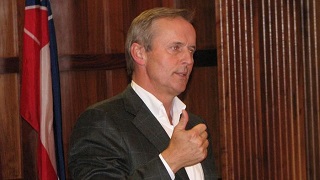 John Grisham (Jonesboro, 8 februari 1955)
De Franse schrijver Jules Verne werd geboren in Nantes op 8 februari 1828. Zie ook alle tags voor Jules Verne op dit blog.
Uit: 20.000 Mijlen onder Zee
"Op dit oogenblik is mij alles nog niet recht duidelijk; ik zie in deze duisternis maar enkele flikkeringen; en ik moet mij tevreden stellen met het opschrijven mijner denkbeelden onder den indruk der verschillende gebeurtenissen.
Bovendien bindt ons niets aan kapitein Nemo. Hij weet dat wij den Nautilus onmogelijk kunnen ontvluchten. Wij zijn zelfs niet op ons woord van eer gevangen. Geen belofte bindt ons aan hem. Wij zijn slechts gevangenen, die onder den schijn van beleefdheid als gasten behandeld worden. Ned Land heeft echter de hoop niet opgegeven om de vrijheid terug te krijgen. Zeker zal hij gebruik maken van de eerste gelegenheid de beste, die het toeval hem aanbiedt. Zonder twijfel zal ik zijn voorbeeld volgen. En toch zal ik niet zonder eenig leedwezen datgene met mij nemen, wat de edelmoedigheid van den kapitein ons van de geheimen van den Nautilus heeft laten doorgronden. Moet ik dien man haten of bewonderen?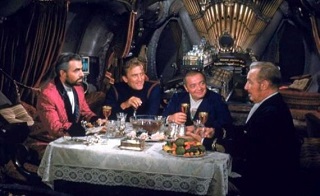 Scene uit de film "20.000 Leagues Under The Sea" uit 1954
Is hij slachtoffer of beul? En dan zou ik, om openhartig te spreken, voor ik hem verliet, gaarne die onderzeesche reis om de aarde volbrengen, waarvan het begin zoo schoon is geweest. Ik zou gaarne al de wonderen aanschouwen, die de wereldzeeen voor ons verborgen houden. Ik zou willen gezien hebben wat niemand nog heeft aanschouwd, zelfs al moest ik met mijn leven dien onleschbaren dorst naar kennis betalen! Wat heb ik tot nog toe ontdekt? Niets of bijna niets, want wij hebben nog maar 24000 kilometer door den Grooten Oceaan afgelegd!
Echter weet ik wel dat de Nautilus het bewoonde land nadert, en dat, als zich eenige kans op ontvluchten voordoet, het wreed zou zijn mijn makkers aan mijn zucht naar het onbekende op te offeren. Ik zal hen moeten volgen, misschien zelfs wel geleiden."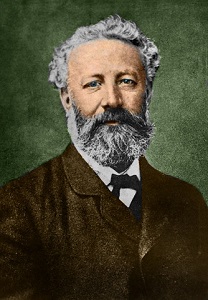 Jules Verne (8 februari 1828 – 24 maart 1905)

De Amerikaanse schrijfster Kate Chopin (pseudoniem van Katherine O'Flaherty) werd geboren op 8 februari 1851 in St. Louis. Zie ook alle tags voor Kate Chopin op dit blog.
Uit: A Respectable Woman
"Mrs. Baroda was a little provoked to learn
that her husband expected his friend, Gouvernail, up to spend a week or two on the plantation.
They had entertained a good deal during the winter; much of the time had also been passed in New Orleans in various forms of mild dissipation. She was looking forward to a period of unbroken rest, now, and undisturbed tete-a-tete with her husband, when he informed her that Gouvernail was coming up to stay a week or two.
This was a man she had heard much of but never seen. He had been her husband's college friend; was now a journalist, and in no sense a society man or "a man about town," which were, perhaps, some of the reasons she had never met him. But she had unconsciously formed an image of him in her mind. She pictured him tall, slim, cynical; with eye-glasses, and his hands in his pockets; and she did not like him. Gouvernail was slim enough, but he wasn't very tall nor very cynical; neither did he wear eyeglasses nor carry his hands in his pockets. And she rather liked him when he first presented himself.
But why she liked him she could not explain satisfactorily to herself when she partly attempted to do so. She could discover in him none of those brilliant and promising traits which Gaston, her husband, had often assured her that he possessed. On the contrary, he sat rather mute and receptive before her chatty eagerness to make him feel at home and in face of Gaston's frank and wordy hospitality. His manner was as courteous toward her as the most exacting woman could require; but he made no direct appeal to her approval or even esteem.
Once settled at the plantation he seemed to like to sit upon the wide portico in the shade of one of the big Corinthian pillars, smoking his cigar lazily and listening attentively to Gaston's experience as a sugar planter."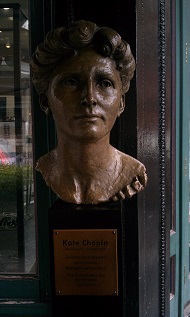 Kate Chopin (8 februari 1851 – 22 augustus 1904)
Bronzen borstbeeld in de Writer's Corner in St. Louis, Missouri
De Duitse schrijfster Gabriele Reuter werd geboren op 8 februari 1859 in Alexandrië. Zie ook alle tags voor Gabriele Reuter op dit blog.
Uit: Das Tränenhaus
"Das kleine Haus lag in einer freundlichen Wiesengegend Württembergs. Oben auf dem höchsten Punkt des lang hingestreckten Hügels hob ein graues Grafenschloß seine Dächer über das Grün der Parkbäume, die Dorfstraße mit den Bauernhöfen zog sich über den Rücken der Erdhebung. Unten, wo der helle junge Fluß durch Weidengebüsch und über weiße Kiesel plätscherte, gab es noch eine zweite Straße. Hier wohnten nur arme Weiblein in bescheidenen Hütten, mit winzigen, blumenreichen Vorgärten.
Das kleine Haus aber lag ganz allein und abseits von den beiden Dorfstraßen, am linken Abhang des Hügels, in seine Flanke gleichsam verschüchtert hineingedrückt. Der Weg, der vom Dorf zu ihm hinunter führte, war steil und steinicht, voller Löcher und Pfützen. Rechts und links neben den Schlehdornhecken wuchs ein Gestrüpp von Brennnesseln. Alles zeigte, daß niemand ein Interesse daran nahm, den Pfad in gangbarem Zustande zu erhalten. Er führte ja auch nur zu einem Gehöft notorisch verkommener armer Leute, und weiter zu dem kleinen Häuschen, von dem die Frauen im Dorf mit einem gewissen halblauten Ton der Scheu redeten, und die Männer mit einem zweideutigen Grinsen.
Freundlich genug schaute es aus unter dem großen blühenden Birnbaum, durch den die Bienen summten. Helle Gardinen hingen vor allen Fenstern, und seine stattliche Eigentümerin stand meistens würdevoll vor ihrer Türe, irgend etwas Gutes zwischen ihren großen weißen Zähnen behaglich kauend, während die kleine Schar ihrer Gäste um sie her auf der Schwelle oder auf der Bank an der Hauswand zu hocken pflegte, gähnend, träumend oder schwatzend, wie es sich eben fügen mochte.
Die Gäste waren das Bedenkliche in diesem kleinen Hause, von dessen Türe man unendlich weit ins Land schauen konnte, über das heitere Flüßchen hinweg, bis zu den duftigen Umrissen der Schweizeralpen fern am wolkigen Horizont, und das doch trotz dieser weiten und freien Aussicht so schüchtern sich hinter der Hügelflanke versteckte."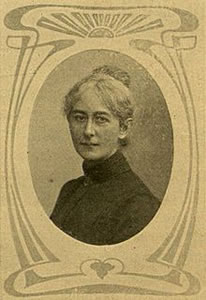 Gabriele Reuter (8 februari 1859 – 18 november 1941)
Rond 1900
08-02-2015 om 17:35 geschreven door Romenu

Tags:Henry Roth, John Grisham, Jules Verne, Kate Chopin, Gabriele Reuter, Romenu



In Memoriam André Brink
In Memoriam André Brink
De Zuid-Afrikaanse schrijver André Brink is vrijdagavond aan boord van een KLM-vlucht van Amsterdam naar Kaapstad overleden. Brink was op de terugweg van België, waar hij een eredoctoraat van de Universiteit van Leuven toegekend had gekregen. André Brink werd geboren op 29 mei 1935 in Vrede. Hij is 79 jaar geworden. Zie ook alle tags voor André Brink op dit blog.
Uit: A dry white season
"For some time he was houseboy for a rich Jewish family in Houghton; later he found a better paid job as messenger for a firm of attorneys in the city, and then as an assistant in a bookshop. Somehow he managed to keep up his reading and the manager of the bookshop, pleased by his interest, helped him to continue his studies. In this way he eventually passed Standard Four.
At that stage Gordon went back to the Transkei. A traumatic experience, as it turned out, since there was no work for him back home, apart from lending a hand with the paltry farming activities of a great-uncle: planting maize, scouring the veld with a lean dog in search of hares for meat, sitting in the sun in front of the hut. He'd left the city because he couldn't stand life there any more; but it proved to be worse on the farm. There was something fretful and desultory in his blood after the years he'd been away. All the money he'd brought with him had gone into lobola -- the dowry for a wife; and barely a year after his arrival in the Transkei he returned to the only place he really knew, Johannesburg, Gouthini. After a brief unsettled spell he landed at Ben's school.
One after another his children were born: in Alexandra, then Moroka, then Orlando. The eldest was Jonathan, his favourite. From the outset Gordon had resolved to rear his son in the traditions of his tribe. And when Jonathan turned fourteen he was sent back to the Transkei to be circumcised and initiated.
A year later Jonathan -- or Sipho, which Gordon said was his "real" name-was back, no longer a kwedini but a man. Gordon had always spoken about this day. From now on he and his son would be allies, two men in the house. There was no lack of friction, since Jonathan obviously had a mind of his awn; but on the main issue they agreed: Jonathan would go to school for as long as possible. And it was just after he'd passed Standard Six and secondary school was becoming an expensive business, that they turned to Ben for help."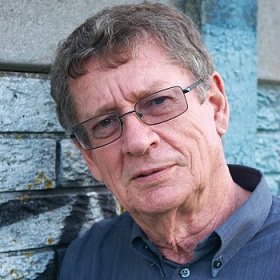 André Brink (29 mei 1935 – 6 februari 2015)
08-02-2015 om 10:28 geschreven door Romenu

Tags:In Memoriam, André Brink, Romenu



| | |
| --- | --- |
| | |



Inhoud blog


| | |
| --- | --- |
| | The Good Shepherd (Stanley Moss) |
| | Giorgio Fontana, Jan de Hartog, Björn Kern, Vladimir Nabokov, Chetan Bhagat, Peter Weber, Jos de Haes, Thommie Bayer, Madame de Staël |
| | Ana María Shua, Louise Glück, Robert Choquette, James Philip Bailey, Henry Fielding, Michael Schulte, Cabrera Infante, Ludwig Renn |
| | The Enkindled Spring (D. H. Lawrence) |
| | Charlotte Brontë, Patrick Rambaud, John Mortimer, Charles den Tex, Ahmed Arif, Michael Mann |
| | Peter Schneider, Meira Delmar, Alistair MacLean, Gerrit Wustmann, Népomucène Lemercier |
| | Prijs der Nederlandse Letteren voor Judith Herzberg |
| | Martinus Nijhoff, Jan Cremer, Jean Pierre Rawie, Marieke Lucas Rijneveld, Sebastian Faulks, Jozef Deleu, Steve Erickson, Arto Paasilinna, Michel Leiris |
| | Martin Michael Driessen, Marjoleine de Vos, Manuel Bandeira, n. c. kaser, Veniamin Kaverin, Louis Amédée Achard, Pierre-Jean de Béranger, Gudrun Reinboth, Werner Rohner |
| | Wam de Moor, Bas Belleman, Roos van Rijswijk, Hanane Aad, Clara Eggink, Kathy Acker, Joy Davidman, Henry Kendall, Katharina Schwanbeck |
| | Antoon Coolen, Vincent Corjanus, Nick Hornby, Ida Boy-Ed, Thornton Wilder, David Wagner, R.J. Pineiro, Helen Meier, Karen Blixen |
| | Sarah Kirsch, Thomas Olde Heuvelt, Kingsley Amis, Patricia De Martelaere, Tristan Tzara, Ewald Vanvugt, Sibylle Lewitscharoff, Jan Luyken, Anatole France |
| | Emmaüs (Felix Timmermans) |
| | Tomas Tranströmer, Daniël Samkalden, Jérôme Lambert, Patrick Bernauw, Benjamin Zephaniah, Henry James, Wilhelm Busch, Ina Boudier-Bakker |
| | Bliss Carman, Beate Morgenstern, Jeffrey Archer, Bernhard Lassahn, Erich Arendt, Pol De Mont, Staf Weyts, Hans Egon Holthusen |
| | Péter Esterházy, Alexandre Jardin, Tjitse Hofman, Landolf Scherzer, Charles Lewinsky, Roman Graf |
| | Roberto Schopflocher, Martin Kessel, Gabriele Stötzer, Helene Hübener, Gerhard Rohlfs |
| | Nachoem Wijnberg, K. Michel, Alexander Münninghoff, Michel Faber, Jean-Marie Gustave Le Clézio, Samuel Beckett, Seamus Heaney, Tim Krabbé, Eudora Welty |
| | Antje Rávic Strubel, Alan Ayckbourn, Scott Turow, Tom Clancy, Agnes Sapper, Edward de Vere, José Gautier Benítez, Alexander Ostrovski, Guillaume-Thomas Raynal |
| | Leonard Nolens, Mark Strand, Silvia Avallone, Walid Soliman, Dorothy Allison, Hubert Nyssen, Rolf Schilling, Glenway Wescott, Claude Tillier |
| | Leo Vroman, Jan van Mersbergen, Paul Theroux, Claudio Magris, Bella Akhmadulina, Stefan Heym, Richard Wagner, Marcel van Maele, Eric Knight |
| | Charles Baudelaire, Jelle Brandt Corstius, Karel Jonckheere, Joolz Denby, Albert von Schirnding, Johannes Bobrowski, Bernard-Marie Koltès, Arnold Stadler, Yaël Vinckx |
| | Thomas (Jan Willem Schulte Nordholt) |
| | Herinnering aan Gerard Reve, Hanz Mirck, Christoph Hein, Judith Koelemeijer, Nnedi Okorafor, Barbara Kingsolver |
| | John Fante, Johann Christian Günther, Glendon Swarthout, Martin Grzimek, Hégésippe Moreau, Robert Askins |
| | Den Haag (Paul Rodenko) |
| | Juliana Spahr, William Wordsworth, Özcan Akyol, Gabriela Mistral |
| | Kazim Ali, Annejet van der Zijl, John Pepper Clark, Jakob Ejersbo, Günter Herburger, Uljana Wolf, Brigitte Schwaiger, Julien Torma, Nicolas Chamfort |
| | Iulian Ciocan |
| | Hugo Claus, Martin Reints, Mieke van Zonneveld, Vítězslav Hálek, Algernon Swinburne, Bora Ćosić,, Werner J. Egli, Michael Georg Conrad, Marente de Moor |
| | Maya Angelou, Hanneke Hendrix, Marko Klomp, Marcel Vaarmeijer, E. L. James, Marguerite Duras, Robert Schindel, Michiel van Kempen, Bettina von Arnim |
| | Charles Ducal, Adriaan Jaeggi, Frederik van Eeden, Bert Bakker, Peter Huchel, Arlette Cousture, Pieter Aspe, Karel N.L. Grazell, Washington Irving |
| | Die Sonne geht im Osten auf (Christian Morgenstern) |
| | Thomas Glavinic, Jay Parini, Anneke Claus, Klaus Ender, Konrad Merz, Ed Dorn, Émile Zola |
| | György Konrád, Anne Waldman, Casanova, Hans Christian Andersen, Roberto Arlt, Edgar Hilsenrath, George Fraser |
| | Hoffmann von Fallersleben, Johann Gleim, Pierre Zaccone, Pietro della Valle, Zwier van Haren, Joanna Chmielewska, Brigitte Struzyk |
| | Preis dem Todesüberwinder! (Friedrich Klopstock) |
| | Milan Kundera, Sandro Veronesi, Nikolaj Gogol, Arnold Aletrino, Max Nord, Urs Allemann, Rolf Hochhuth, John Wilmot, Deborah Feldman |
| | Maria Polydouri, Edgar Wallace, Carl Sternheim, Edmond Rostand, Armel Guerne, Friedrich Güll, Antoine Prévost, Josep de Maistre |
| | Litanie van een wachter bij het graf (Willem Jan Otten) |
| | Stefan Hertmans, Octavio Paz, Asis Aynan, Martijn Teerlinck, Marga Minco, Enrique Vila-Matas |
| | Rob Boudestein, Kornej Tsjoekovski, Andrew Lang, Nichita Stănescu, Hartmut Lange, Marge Piercy |
| | Angela Kreuz, Judith Rossner, Andrew Marvell, John Fowles, Edward FitzGerald, Robert Brasillach, Peter Motte |
| | Golgotha (Theo Thijssen) |
| | Gerrit Komrij, Paul Verlaine, Milton Acorn, Erika Mitterer, Uwe Timm, Tom Sharpe, Gert Heidenreich, Theo Breuer, Luise Hensel |
| | Gethsemane (Jacqueline van der Waals) |
| | Geert van Istendael, Wim Brands, Ernst Jünger, Eric Walz, Georg Klein, Yvan Goll, R. S. Thomas, Jacques Brault, Denton Welch |
| | Walter van den Broeck, Joost de Vries, Mario Vargas Llosa, Chrétien Breukers, Steye Raviez, Nelson Algren, Marianne Frederiksson, Russell Banks, Léon-Gontran Damas |
| | Heinrich Mann, Shusaku Endo, Carolina Trujillo, Golo Mann, Patrick McCabe, Bob den Uyl, Dubravka Ugresić, Francis Ponge, Alfred de Vigny |
| | Tennessee Williams, Gregory Corso, Hwang Sun-won, Martin McDonagh, Robert Frost, Patrick Süskind, A. E. Housman, Bettina Galvagni, Erica Jong |


Gastenboek


Druk op onderstaande knop om een berichtje achter te laten in mijn gastenboek