E-mail mij


Druk op onderstaande knop om mij te e-mailen.


Romenu


Romenu is een blog over gedichten, literatuur en kunst Maar Romenu is ook een professionele freelance vertaler
Du-Ne en Ne-Du http://www.romenu.nl.


Huur eens een (vakantie)huis in een natuurgebied, dichtbij het centrum van Nijmegen


Google


Georg Trakl

Georg Trakl werd op 3 februari 1887 in het conducteurshuis aan de Waagplatz 2 in Salzburg geboren. Zijn vader, Tobias Trakl, was een handelaar in ijzerwaren en zijn moeder, die ook psychische problemen had, was Maria Catharina Trakl, (meisjesnaam Halik). Voorts had hij nog drie broers en drie zussen. Margarethe (doorgaans Grethe genoemd) stond hem het naast, zelfs zodanig dat sommigen een incestueuze verhouding vermoeden. Zijn jeugd bracht hij door in Salzburg. Vervolgens bezocht hij van 1897 tot 1905 het humanistische gymnasium. Om toch een academische opleiding te kunnen volgen, werkte hij tot 1908 in de praktijk bij een apotheker. Sommigen vermoedden dat hij dit vooral deed om zichzelf opiaten te kunnen verschaffen. Bij het uitbreken van WO I werd Trakl als medicus naar het front in Galicië (heden ten dage in Oekraïne en Polen) gestuurd. Zijn gemoedsschommelingen leidden tot geregelde uitbraken van depressie, die verergerd werden door de afschuw die hij voelde voor de verzorging van de ernstig verwonde soldaten. De spanning en druk dreven hem ertoe een suïcidepoging te ondernemen, welke zijn kameraden nochtans verhinderden. Hij werd in een militair ziekenhuis opgenomen in Kraków, alwaar hij onder strikt toezicht geplaatst werd.Trakl verzonk daar in nog zwaardere depressies en schreef Ficker om advies. Ficker overtuigde hem ervan dat hij contact moest opnemen met Wittgenstein, die inderdaad op weg ging na Trakls bericht te hebben ontvangen. Op 4 november 1914, drie dagen voordat Wittgenstein aan zou komen, overleed hij echter aan een overdosis cocaïne


Paul Celan

Paul Celan werd onder de naam Paul Antschel op 23 november 1920 geboren in Czernowitz, toentertijd de hoofdstad van de Roemeense Boekovina, nu behorend bij de Oekraïne. Paul Celans ouders waren Duitssprekende joden die hun zoon joods opvoedden en hem naar Duitse christelijke scholen stuurden. In 1942 werden Celans ouders door de Duitse bezetter naar een werkkamp gedeporteerd en daar vermoord. Hijzelf wist aanvankelijk onder te duiken, maar moest vanaf juli 1942 in een werkkamp dwangarbeid verrichten. Celan overleefde de oorlog. Via Boekarest en Wenen vestigde Celan zich in 1948 in Parijs. Daar was hij werkzaam als dichter, vertaler en doceerde hij aan de prestigieuze Ecole Normale Supérieure. Vermoedelijk op 20 april 1970 beëindigde hij zijn leven zelf door in de Seine te springen.


Gerard Reve

Gerard Reve over: Medearbeiders "God is in de mensen, de dieren, de planten en alle dingen - in de schepping, die verlost moet worden of waaruit God verlost moet worden, door onze arbeid, aangezien wij medearbeiders van God zijn." Openbaring "Tja, waar berust elk godsbegrip op, elke vorm van religie? Op een openbaring, dat wil zeggen op een psychische ervaring van zulk een dwingende en onverbiddelijke kracht, dat de betrokkene het gevoel heeft, niet dat hij een gedachte of een visioen heeft, maar dat een gedachte gedachte of visioen hem bezit en overweldigt."


Simon Vestdijk
Simon Vestdijk (Harlingen, 17 oktober 1898 – Utrecht, 23 maart 1971) was een Nederlands romancier, dichter, essayist en vertaler. Zijn jeugd te Harlingen en Leeuwarden beschreef hij later in de Anton Wachter-cyclus. Van jongs af aan logeerde hij regelmatig bij zijn grootouders in Amsterdam, waar hij zich in 1917 aan de Universiteit van Amsterdam inschrijft als student in de medicijnen. Tijdens zijn studie die van 1917 tot 1927 duurde, leerde hij Jan Slauerhoff kennen.Tot 1932 is hij als arts in praktijken door heel Nederland werkzaam. In 1932 volgt zijn officiële schrijversdebuut met de uitgave van de bundel Verzen in De Vrije Bladen. Doorslaggevend voor Vestdijks uiteindelijke keuze voor de literatuur is zijn ontmoeting in 1932 met Eddy Du Perron en Menno ter Braak. Deze ontmoeting had tot resultaat dat hij redactielid werd van het tijdschrift Forum Kort daarop, in 1933, wordt zijn eerste novelle, De oubliette, uitgegeven. In hetzelfde jaar schrijft hij Kind tussen vier vrouwen, dat, eerst geweigerd door de uitgever, later de basis zal vormen voor de eerste drie delen van de Anton Wachter-romans. In 1951 ontvangt Vestdijk de P.C. Hooftprijs voor zijn in 1947 verschenen roman De vuuraanbidders. In 1957 wordt hij voor het eerst door het PEN-centrum voor Nederland voorgedragen voor de Nobelprijs voor de Literatuur, die hij echter nooit zal krijgen. Op 20 maart 1971 wordt hem de Prijs der Nederlandse Letteren toegekend, maar voor hij deze kan ontvangen overlijdt hij op 23 maart te Utrecht op 72-jarige leeftijd. Vestdijk was auteur van ca. 200 boeken. Vanwege deze enorme productie noemde de dichter Adriaan Roland Holst hem 'de man die sneller schrijft dan God kan lezen'. Andere belangrijke boeken van Simon Vestdijk zijn: "Kind van stad en land" (1936), "Meneer Visser's hellevaart" (1936), "Ierse nachten" (1946), "De toekomst de religie" (1947), "Pastorale 1943" (1948), "De koperen tuin" (1950), "Ivoren wachters" (1951), "Essays in duodecimo" (1952) en "Het genadeschot" (1964).


K.P. Kavafis

K.P. Kavafis werd als kind van Griekse ouders, afkomstig uit Konstantinopel, geboren in 1863 in Alexandrië (tot vandaag een Griekse enclave) waar hij ook het grootste deel van zijn leven woonde en werkte. Twee jaar na de dood van zijn vader verhuist het gezin in 1872 naar Engeland om na een verblijf van vijf jaar naar Alexandrië terug te keren. Vanwege ongeregeldheden in Egypte vlucht het gezin in 1882 naar Konstantinopel, om na drie jaar opnieuw naar Alexandrië terug te gaan. In de jaren die volgen maakt Kavafis reizen naar Parijs, Londen en in 1901 zijn eerste reis naar Griekenland, in latere jaren gevolgd door nog enkele bezoeken. Op de dag van zijn zeventigste verjaardag, in 1933 sterft Kavafis in Alexandrië. De roem kwam voor Kavafis pas na zijn dood, dus postuum. Deels is dat toe te schrijven aan zijn eigen handelswijze. Hij was uiterst terughoudend met de publicatie van zijn gedichten, liet af en toe een enkel gedicht afdrukken in een literair tijdschrift, gaf in eigen beheer enkele bundels met een stuk of twintig gedichten uit en het merendeel van zijn poëzie schonk hij op losse bladen aan zijn beste vrienden.


Thomas Mann


Thomas Mann, de jongere broer van Heinrich Mann, werd geboren op 6 juni 1875 in Lübeck. Hij was de tweede zoon van de graankoopman Thomas Johann Heinrich Mann welke later één van de senatoren van Lübreck werd. Zijn moeder Julia (geboren da Silva-Bruhns) was Duits-Braziliaans van Portugees Kreoolse afkomst. In 1894 debuteerde Thomas Mann met de novelle "Gefallen". Toen Thomas Mann met 21 jaar eindelijk volwassen was en hem dus geld van zijn vaders erfenis toestond - hij kreeg ongeveer 160 tot 180 goldmark per jaar - besloot hij dat hij genoeg had van al die scholen en instituties en werd onafhankelijk schrijver. Kenmerkend voor zijn stijl zijn de ironie, de fenomenale taalbeheersing en de minutieuze detailschildering. Manns reputatie in Duitsland was sterk wisselend. Met zijn eerste roman, Buddenbrooks (1901), had hij een enorm succes, maar door zijn sceptische houding tegenover Duitsland na de Eerste Wereldoorlog veranderde dit volledig. Stelde hij zich tot aan de jaren twintig apolitiek op (Betrachtungen eines Unpolitischen, 1918), meer en meer raakte hij bij het Politiek gebeuren betrokken. Zijn afkeer van het nationaal socialisme groeide, zijn waarschuwingen werden veelvuldiger en heftiger. In 1944 accepteerde hij het Amerikaanse staatsburgerschap. Tussen 1943 en 1947 schreef Mann Doktor Faustus (zie Faust), de roman van de 'Duitse ziel' in de gecamoufleerd geschilderde omstandigheden van de 20ste eeuw. In 1947 bezocht hij voor het eerst sinds de Oorlog Europa, twee jaar later pas Duitsland. In 1952 vertrok hij naar Zwitserland. Op 12 augustus 1955 stierf hij in Zürich. Twintig jaar na zijn dood, in aug. 1975, is zijn literaire nalatenschap geopend: dagboekaantekeningen van 15 maart 1933 tot 29 juli 1955, alsmede notities uit de jaren 1918 tot en met 1921.Belangrijke werken zijn: Der Zauberberg, Der Tod in Venedig, Dokter Faustus , Joseph und seine Brüder en Die Bekenntnisse des Hochstaplers Felix Krull.


Rainer Maria Rilke

Rilke werd op 4 december 1875 geboren in Praag. Hij had al naam gemaakt als dichter met zijn bundels Das Stundenbuch en Das Buch der Bilder, toen hij de literaire wereld versteld deed staan en wereldfaam verwierf met de publicatie van zijn twee delen Neue Gedichte in 1907 en 1908. Hij verzamelde daarin het beste werk uit een van zijn vruchtbaarste periodes, die hij grotendeels doorbracht in Parijs. Rilke was daar diep onder de indruk gekomen van Rodin, bij wie hij een tijdlang in dienst was als particulier secretaris. Rodin, zei hij later, had hem leren kijken. Dit kijken kwam neer op intense concentratie, om het mysterie te kunnen zien 'achter de schijnbare werkelijkheid'. Latere en rijpere werken als Duineser Elegien (1912-1923) en het ronduit schitterende Die Sonette an Orfeus (1924) illustreren Rilkes metafysische visie op het onzegbare, dat haar verwoording vindt in een hermetische muzikale taal. Op 29 december 1926 overlijdt Rilke in het sanatorium in Val-Mont aan de gevolgen van leukemie. Enkele dagen later wordt hij, overeenkomstig zijn wens, begraven op het kerkhof van Raron.


* * * * * * * * * * * * * * * *

| | |
| --- | --- |
| | Over literatuur, gedichten, kunst en cultuur |

18-03-2017

Christa Wolf, Charlotte Roche, John Updike, Wilfred Owen, Stéphane Mallarmé
De Duitse schrijfster Christa Wolf werd geboren op 18 maart 1929 in het huidige Poolse Gorzów Wielkopolski. Zie ook alle tags voor Christa Wolf op dit blog.
Uit: Kassandra
»Verräterisch« sagte Myrine, die zornig mit der Axt auf das kleine Gebüsch im Graben um die Zitadelle einschlug, mir nicht zuhörte, mich vielleicht gar nicht verstand, denn seit ich im Korb gefangen gesessen, sprech ich leise. Die Stimme ist es nicht, wie alle meinten, die hatte nicht gelitten. Es ist der Ton. Der Ton der Verkündigung ist dahin. Glücklicherweise dahin.
Myrine schrie. Seltsam, daß ich, selbst noch nicht alt, von beinahe jedem, den ich gekannt, in der Vergangenheitsform reden muß. Nicht von Aineias, nein. Aineias lebt.
Aber muß ein Mann, der lebt, wenn alle Männer sterben ein Feigling sein? War es mehr als Politik, daß er, anstatt die Letzten in den Tod zu führen, sich mit ihnen auf den Berg Ida, in heimatliches Gelände, zurückzog? Ein paar müssen doch übrigbleiben – Myrine bestritt es –: warum nicht zuallererst Aineias und seine Leute. Warum nicht ich, mit ihm? Die Frage stellte sich nicht. Er, der sie mir stellen wollte, hat sie zuletzt zurückgenommen.
Wie ich, leider, unterdrücken mußte, was ich ihm jetzt erst hätte sagen können. Wofür ich, um es wenigstens zu denken, am Leben blieb. Am Leben bleibe, die wenigen Stunden. Nicht nach dem Dolch verlange, den, wie ich weiß, Marpessa bei sich führt. Den sie mir vorhin, als wir die Frau, die Königin gesehen hatten, nur mit den Augen angeboten hat. Den ich, nur mit den Augen, abgelehnt. Wer kennt mich besser als Marpessa? Niemand mehr. Die Sonne hat den Mittag überschritten. Was ich begreifen werde, bis es Abend wird, das geht mit mir zugrund. Geht es zugrund?
Lebt der Gedanke, einmal in der Welt, in einem andern fort?
In unserm wackern Wagenlenker, dem wir lästig sind?
Sie lacht, hör ich die Weiber sagen, die nicht wissen, daß ich ihre Sprache sprech. Schaudernd ziehn sie sich von mir zurück, überall das gleiche. Myrine, die mich lächeln sah, als ich von Aineias sprach, schrie: Unbelehrbar, das sei ich. Ich legte meine Hand in ihren Nacken, bis sie schwieg und wir beide, von der Mauer neben dem Skäischen Tor, die Sonne ins Meer tauchen sahn. So standen wir zum letzten Mal beisammen, wir wußten es."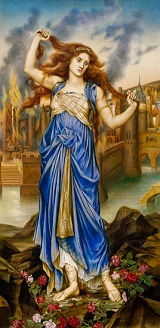 Christa Wolf (18 maart 1929 – 1 december 2011)
Cassandra door Evelyn de Morgan, 1898
De Duitse schrijfser, televisiepresentatrice, actrice en zangeres Charlotte Roche werd geboren in High Wycombe, Engeland, op 18 maart 1978. Zie ook alle tags voor Charlotte Roche op dit blog.
Uit: Wetlands (Vertaald door Tim Mohr)
"As far back as I can remember, I've had hemorrhoids. For many, many years I thought I couldn't tell anyone. After all, only grandfathers get hemorrhoids. I always thought they were very unladylike. I've been to Dr. Fiddel, my proctolo-gist, about them so many times. But he always said to leave them there as long as they didn't hurt. And they didn't. They just itched. And for that he gave me a zinc salve. For exterior itching, you squeeze a hazelnut-sized dol-lop from the tube onto your finger with the shortest nail and rub it onto your rosette. The tube's also got a pointed attach-ment with lots of holes in it that allows you to shove it up your ass and squeeze salve out to quell the itchiness inside. Before I had the salve I would scratch at my butthole in my sleep so much that I'd wake up in the morning with a brown stain in my underwear the size of the top of a cork. That's how much it itched, and that's how deep I'd stick my finger in. So yes, I'd say it's very unladylike. My hemorrhoids look strange. Over the years they've worked their way farther and farther out. All around the rosette now there almost look like the arms of a sea anemone. Dr. Fiddel calls it cauliflower. He says removing it would be strictly an aesthetic move. He'll only take it off if someone is really burdened by it. A good reason for removing it would be if my lover didn't like it, or if the cauliflower gave me anxiety during sex. But I'd never admit that. If somebody loves me or is even just hot for me, some-thing like the cauliflower shouldn't make a difference. And anyway, I've had very successful anal sex for many years—from the age of fifteen up to now, at eighteen—despite the ever-expanding cauliflower. By very successful I mean that I can come with just a cock up my ass, not being touched anywhere else. Yep, I'm proud of that. It's also a good way to test whether someone is serious about me."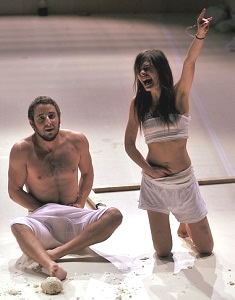 Charlotte Roche (High Wycombe, 18 maart 1978)
Scene uit een toneelbewerking in Halle in 2011
De Amerikaanse dichter en schrijver John Updike werd geboren in Shillington, Pennsylvania, op 18 maart 1932. Zie ook alle tags voor John Updike op dit blog.
Uit: Terrorist
"Relief at escaping their students unscathed for another day makes the teachers' chatter of farewell in the halls and on the parking lot too loud, like the rising excitement of drunks. The teachers revel when they are away from the school. Some have the pink lids and bad breaths and puffy bodies of those who habitually drink too much. Some get divorces; some live with others unmarried. Their lives away from the school are disorderly and wanton and self-indulgent. They are paid to instill virtue and democratic values by the state government down in Trenton, and that Satanic government farther down, in Washington, but the values they believe in are
Godless: biology and chemistry and physics. On the facts and formulas of these their false voices firmly rest, ringing out into the classroom. They say that all comes out of merciless blind atoms, which cause the cold weight of iron, the transparency of glass, the stillness of clay, the agitation of flesh. Electrons pour through copper threads and computer gates and the air itself when stirred to lightning by the interaction of water droplets. Only what we can measure and deduce from measurement is true. The rest is the passing dream that we call our selves.
Ahmad is eighteen. This is early April; again green sneaks, seed by seed, into the drab city's earthy crevices. He looks down from his new height and thinks that to the insects unseen in the grass he would be, if they had a consciousness like his, God. In the year past he has grown three inches, to six feet—more unseen materialist forces, working their will upon him. He will not grow any taller, he thinks, in this life or the next. If there is a next, an inner devil murmurs. What evidence beyond the Prophet's blazing and divinely inspired words proves that there is a next? Where would it be hidden? Who would forever stoke Hell's boilers? What infinite source of energy would maintain opulent Eden, feeding its dark-eyed houris, swelling its heavy-hanging fruits, renewing the streams and splashing fountains in which God, as described in the ninth sura of the Qur'an, takes eternal good pleasure? What of the second law of thermodynamics?"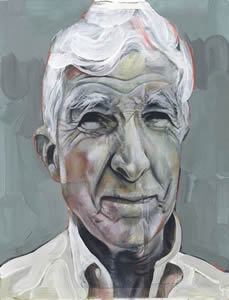 John Updike (18 maart 1932 – 27 januari 2009)
Portret door Scott Laumann, z.j.
De Engelse dichter en schrijver Wilfred Owen werd op 18 maart 1893 geboren in Oswestry in Shropshire. Zie ook alle tags voor Wilfred Owen op dit blog.
My Shy Hand
My shy hand shades a hermitage apart, -
O large enough for thee, and thy brief hours.
Life there is sweeter held than in God's heart,
Stiller than in the heavens of hollow flowers.
The wine is gladder there than in gold bowls.
And Time shall not drain thence, nor trouble spill.
Sources between my fingers feed all souls,
Where thou mayest cool thy lips, and draw thy fill.
Five cushions hath my hand, for reveries;
And one deep pillow for thy brow's fatigues;
Languor of June all winterlong, and ease
For ever from the vain untravelled leagues.
Thither your years may gather in from storm,
And Love, that sleepeth there, will keep thee warm.
Le Christianisme
So the church Christ was hit and buried
Under its rubbish and its rubble.
In cellars, packed-up saints long serried,
Well out of hearing of our trouble.
One Virgin still immaculate
Smiles on for war to flatter her.
She's halo'd with an old tin hat,
But a piece of hell will batter her.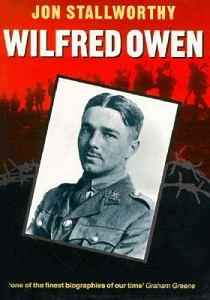 Wilfred Owen (18 maart 1893 – 4 november 1918)
Cover biografie
De Franse dichter Stéphane Mallarmé werd geboren in Parijs op 18 maart 1842. Zie ook alle tags voor Stéphane Mallarmé op dit blog.
Dans le jardin
La jeune dame qui marche sur la pelouse
Devant l'été paré de pommes et d'appas,
Quand des heures Midi comblé jette les douze,
Dans cette plénitude arrêtant ses beaux pas,

A dit un jour, tragique abandonnée - épouse -
A la Mort séduisant son Poëte : "Trépas !
Tu mens. Ô vain climat nul ! je me sais jalouse
Du faux Éden que, triste, il n'habitera pas."

Voilà pourquoi les fleurs profondes de la terre
L'aiment avec silence et savoir et mystère,
Tandis que dans leur coeur songe le pur pollen :

Et lui, lorsque la brise, ivre de ces délices,
Suspend encore un nom qui ravit les calices,
A voix faible, parfois, appelle bas : Ellen !
Le tombeau de Charles Baudelaire
Le temple enseveli divulgue par la bouche
Sépulcrale d'égout bavant boue et rubis
Abominablement quelque idole Anubis
Tout le museau flambé comme un aboi farouche

Ou que le gaz récent torde la mèche louche
Essuyeuse on le sait des opprobres subis
Il allume hagard un immortel pubis
Dont le vol selon le réverbère découche

Quel feuillage séché dans les cités sans soir
Votif pourra bénir comme elle se rasseoir
Contre le marbre vainement de Baudelaire

Au voile qui la ceint absente avec frissons
Celle son Ombre même un poison tutélaire
Toujours à respirer si nous en périssons.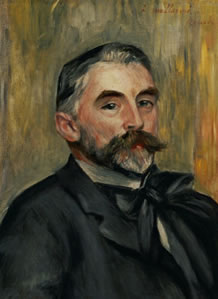 Stéphane Mallarmé (18 maart 1842 - 9 september 1898)
Portret door Auguste Renoir, 1892
Zie voor nog meer schrijvers van de 18e maart ook mijn twee vorige blogs van vandaag.
18-03-2017 om 13:20 geschreven door Romenu

Tags:Christa Wolf, Charlotte Roche, John Updike, Wilfred Owen, Stéphane Mallarmé, Romenu



Héctor Bianciotti, Hellema, Friedrich Hebbel, Max Barry, Wolfgang Bauer, Richard Condon
De Argentijnse schrijver Héctor Bianciotti werd geboren op 18 maart 1930 in Córdoba. Zie ook alle tags voor Héctor Bianciotti op dit blog.
Uit:L'amour n'est pas aimé
« J'en vins à penser avec joie que la finalité secrète de ce monde était d'ordre purement esthétique et que les horreurs qui peuplent notre histoire sont un festin destiné au poète. […] … mais je pense néanmoins que cette foi pure en la magie d'un adjectif ou d'un adverbe – toujours si méprisés -, cette certitude qu'un adverbe ou un adjectif peuvent aller là où la raison ne parvient pas et peuvent laisser entrevoir l'impossible Vérité qui jusqu'alors s'était dérobé à toute recherche, fut en fin de compte un exercice utile qui allait me servir plus tard, quand j'aurais à décrire quelque chose d'immédiat avec une sorte de rhétorique de l'urgence. "
(…)
« C'est là – ce fut un bonheur et un éblouissement – qu'il découvrit un jour qu'il savait lire. C'est là qu'il connut la réclusion, dans une cave obscure à laquelle on le condamnait parce qu'il lisait avec plaisir et que tout plaisir est un pêché – mais dans l'obscurité il se prit pour Robinson et des ombres tapies dans les coins il se forgea des interlocuteurs avec lesquels il faisait commerce (la solitude du personnage ne l'attirait pas). C'est là qu'il trouva, en la personne de l'oncle Henry, vieux marin boiteux qui profitait de la présence de l'enfant pour continuer à s'émerveiller de ses anciennes prouesses, la première des innombrables figures de héros anonymes qu'il exalterait plus tard. C'est là qu'il sut – mais qui dira son désarroi ? - douter de ce qu'on tentait de lui inculquer : l'obsession de la faute, la notion d'un enfer toujours mérité que le moindre de ses gestes appelait, d'un Très-Haut omniscient qui tenait un livre de comptes – ce qui l'amena à découvrir les avantages de la méfiance, de la dissimulation, du mensonge, toutes choses qui sont peut-être finalement, dans ce monde provisoire, des vertus esthétiques."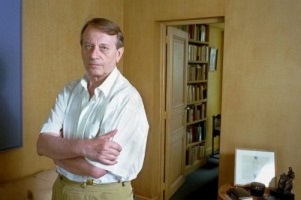 Héctor Bianciotti (18 maart 1930 – 11 juni 2012)

De Nederlandse schrijver Hellema (pseudoniem voor Alexander Bernard (Lex) van Praag) werd geboren in Amsterdam op 18 maart 1921. Zie ook alle tags voor Hellema op dit blog.
Uit: Bestekken
"Het is zaak dat wij ons nog eenmaal met het verleden bezighouden. Voor de dood - die ons toentertijd na stond als ons eigen vlees en bloed, maar van wie wij sindsdien vervreemd zijn - terugkeert en al onze tijd in beslag neemt. Misschien is er iemand die ons wil voorhouden dat wij er goed aan zouden doen ons - voor het te laat is - juist af te wenden van dat verleden; maar voor hij zich vergaloppeert, bedenkt hij dat van ons moeilijk kan worden verwacht onze gedachten te richten op wat ons aan toekomst rest. Misschien ook is er iemand die ons wil tegenwerpen dat wij ons al een leven lang - te lang - met niets anders dan juist het verleden hebben beziggehouden; maar voor hij dat uitspreekt, bedenkt hij dat dit verleden ons bezighield, ondanks ons zelf. En wij van onze kant herinneren ons de dagen waarop wij wakker werden met het voornemen ons - eindelijk - van dit verleden te ontdoen. Het was talloze malen herbeleefd, het was geheel doordacht, wij hadden gerouwd en ondervonden hoe vruchteloos de opstandigheid tegen de dood is. Kalme windstille dagen tussen de seizoenen waren het, waarop alles in de natuur elkaar ademloos in evenwicht lijkt te houden. En de avonden, voor het inslapen - gevreesd moment - waarop wij moesten toegeven dat het niet gelukt was en dat er andermaal in de coulissen van ons bewustzijn onrustige taferelen werden voorbereid voor de nacht. Wij herinneren ons de paniek toen de vraag zich opdrong of wij er wel ooit in zouden slagen onbevangen te leven als weleer. En wij herinneren ons de berusting waarmee wij inzagen dat het beter was ons met dit verleden te verstaan - een onontkoombare dialoog, een eindeloze uiteenzetting.
Wij. Want hoe verschillend onze belevenissen, hoe uiteenlopend het getal van ons verlies of het aantal van onze slachtoffers, geen die - toen de geschiedenis van Europa doormidden brak - op het breukvlak van de tijd stond, is afgezonderd."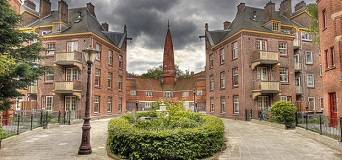 Hellema (18 maart 1921 – 19 maart 2005)
Amsterdam, Spaarndammerbuurt
De Duitse schrijver Christian Friedrich Hebbel werd geboren in Wesselburen op 18 maart 1813. Zie ook alle tags voor Friedrich Hebbel op dit blog.
Die Lerche
Ich kam in Ungarn durch ein Tal gefahren,
Von leichten Rossen schnell dahingetragen,
Und hörte über mir die Lerche schlagen,
Die durch den Äther zog, den bläulich-klaren.
Bald aber mußte ich erstaunt gewahren,
Daß sie zu mir hinabschoß in den Wagen,
Doch schien mir dies Vertraun zugleich ein Zagen
Vor einem andern Feind zu offenbaren.
Ich schaute auf und sah den Habicht hangen,
Der nicht gewohnt ist, Schwache zu verschonen,
Sie hatte Schutz gesucht auf meinen Knieen;
Ich aber dachte: daß das kleinre Bangen
Der Mensch dir einflößt, soll sich dir belohnen,
Und ließ sie ungefangen wieder ziehen!
Ein Reiseabenteuer in Deutschland
Es flog in X. mein Hut mir ab,
Natürlich über die Grenze,
Und als ich, ihn wiederzuholen, lief
Da gab's vertrackte Tänze.
Ich durfte den deutschen Nachbarstaat
Nicht ohne Paß betreten,
Und da ich bloß spazierenging,
So hatt ich mir keinen erbeten.
Das tat ich nun, auch wurde ich
In Gnaden damit versehen,
Doch war's um meinen armen Hut
Trotz alledem geschehen.
Der war schon längst im dritten Staat
Und blieb auch dort nicht liegen,
Ihn ließ der schadenfrohe Wind
Ein Dutzend noch durchfliegen.
Was half mir nun der gute Paß,
Den ich in X. genommen?
Zehn neue braucht ich in einem Tag,
Da war nicht nachzukommen.
Ich kaufte mir einen andern Hut,
Der Meister aber erwählte
Den Wiener Kongreß zum Schutzpatron,
Als ich mein Schicksal erzählte.
Vers und Prosa
Leichter wäre auf einmal der Vers, als die Prosa, geworden?
Schwerer ist er, wofern ihr ihn vortrefflich verlangt,
Denn mit jeglichem Reiz der Prosa muß er sich schmücken
Und mit dem höheren noch, den man an ihr nicht vermißt.
Wenn ihr ihm einen erlaßt, so wird's euch der Dichter nicht danken,
Denn ihr ebnet dadurch einzig dem Stümper die Bahn.
Aber, so seid ihr, ihr setzt, damit nur jeder ein Künstler
Heiße, ruhig die Kunst unter sich selbst erst herab,
Und da pfeifende Knaben das Nichts nun zu leisten vermögen,
Das ihr fordert, so denkt ihr sie euch selbst als ein Nichts!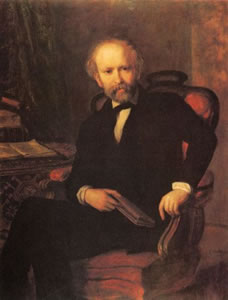 Friedrich Hebbel (18 maart 1813 - 13 december 1863)
Portret door Karl Rahl, 1855
De Australische schrijver Max Barry werd geboren op 18 maart 1973 in Melbourne. Zie ook alle tags voor Max Barry op dit blog.
Uit: Company
"Perched at the top is the word ZEPHYR and the corporate logo, which is an orange and black polygon of foggy intent. Orange and black crops up a lot at Zephyr Holdings; you can't walk down a corridor, visit the bathroom, or catch an elevator without being reminded whose turf you're on. There's a logo on each panel of the lobby's sliding glass doors, and when you're through them, logos adorn the walls at intervals of three feet. A water feature of dark stones and well-tended ferns is a small, logo-free oasis, but to make up for this, the reception desk is practically a logo with a sign-in sheet on top. Even under soft, recessed lighting, the reception desk delivers such a blast of orange to your retinas that long after you've left it behind, you can still see it when you blink.
On one side of the lobby is an arrangement of comfortable chairs and low-slung tables, where visitors browse Zephyr's marketing literature while waiting for whomever they're meeting. Sitting there with his hands in his lap is young, fresh-faced Stephen Jones. His eyes are bright. His suit glows. His sandy-brown hair contains so much styling mousse it's a fire risk, and his shoes are black mirrors. This is his first day. So far he's been shown a series of corporate induction videos, one of which contained glowing buzzwords like TEAMWORK and BEST PRACTICE rocketing at the screen, and another of which featured actors from the late 1980s talking about customer service. Now he is waiting for someone from the Training Sales department to come and collect him.
He accidentally catches the eye of the receptionist for about the fourteenth time and they both smile and look away. The receptionist is GRETEL MONADNOCK, according to her nameplate; she's quite young, has long, lustrous brown hair, and sits on the right side of the desk. On the left a nameplate says EVE JANTISS, but Eve herself is absent. He is a little disappointed about this, because while Gretel is nice, when he was here for his job interview and first saw Eve, he almost dropped his new briefcase. It would be an exaggeration to say he took a job at Zephyr because of the beauty of its receptionist, but during his interview he was very enthusiastic."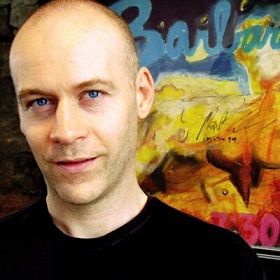 Max Barry (Melbourne, 18 maart 1973)
De Oostenrijkse schrijver en dichter Wolfgang Bauer werd geboren op 18 maart 1941 in Graz. Zie ook alle tags voor Wolfgang Bauer op dit blog.
Uit:Magic afternoon
"BIRGIT: Was tun wir jetzt am Abend? (setzt sich neu frisiert aufs Bett und raucht eine neue an)
CHARLY: Wie spät wirds jetzt sein?
BIRGIT: Was weiß ich ...?
[...] Wir können ja abends gar net so viel machen
...
CHARLY: Gar nichts [...] Glaubst, kriegst du von deiner Mutter ein Geld?
[...] BIRGIT: Da komm ma net weit.
[...] CHARLY: Baden gehen zahlt sich auch net aus
...
[...] BIRGIT: Hast du noch was zum Essen?
CHARLY: Ja ... irgendwelche Brote.
BIRGIT: Wurst ist aber keine ...
CHARLY: Irgendetwas muß noch sein ...
[...] BIRGIT: Is was im Kino? [...] Is was im Theater?
[...] CHARLY: I bleib zuhaus und schreib was [...] dann schlaf halt ... oder geh vielleicht arbeiten ...
BIRGIT: Ich kann mir gar nicht mehr vorstellen, daß ich arbeite ... unmöglich ... i fühl mi recht wohl, obwohl i zu nix Lust hab ..."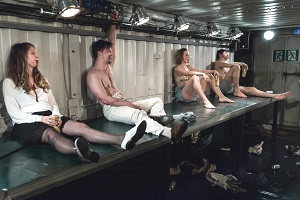 Wolfgang Bauer (18 maart 1941 – 26 augustus 2005)
Scene uit een opvoering in Keulen, 2016
De Amerikaanse romancier Richard Thomas Condon werd geboren op 18 maart 1915 in New York. Zie ook alle tags voor Richard Condon op dit blog.
Uit: The Manchurian Candidate
"He had snarled that maybe they would prefer it if he started out by asking what was the great man's hobby and what astrology sign he had been born under. It was hard to believe but that man's face had been as pocked and welted as a waffle, yet he was one of the biggest names in the business, which gives an idea what those swine will do to kid the jerky public. The actor had said, "Are you scared, kid?" Then, after that, everything seemed to go O.K. They got along like a bucket of chums. The point was, everybody had to start someplace.
Although he felt like a slob himself for doing it, he asked Mr. Mavole and the girl if they would have time to have a cup of coffee at the airport restaurant because he was a newspaperman himself and he knew that the little lady had a story to get. The little lady? That was overdoing it. He'd have to find a mirror and see if he had a wing collar on.
"You were?" the girl said. "Oh, Sergeant!" Mr. Mavole said a cup of coffee would be fine with him, so they went inside.
They sat down at a table in the coffee shop. The windows were steamy. Business was very quiet and unfortunately the waitress seemed to have nothing but time. They all ordered coffee and Raymond thought he'd like to have a piece of pie but he could not bring himself to decide what kind of pie. Did everybody have to look at him as though he were sick because he couldn't set his taste buds in advance to be able to figure which flavor he would favor before he tasted it? Did the waitress just have to start out to recite "We have peach pie, and pumpk—" and they'd just yell out Peach, peach, peach? What was the sense of eating in a place where they gabbled the menu at you, anyway? If a man were intelligent and he sorted through the memories of past tastes he not only could get exactly what he wanted sensually and with a flavor sensation, but he would probably be choosing something so chemically exact that it would benefit his entire body. But how could anyone achieve such a considerate deliberate result as that unless one were permitted to pore over a written menu?"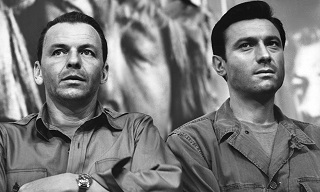 Richard Condon (18 maart 1915 – 9 april 1996)
Frank Sinatra als Bennett Marco en Laurence Harvey als Raymond Shaw in de gelijknamige film uit 1962
Zie voor nog meer schrijvers van de 18e maart ook mijn vorige blog van vandaag.
18-03-2017 om 13:19 geschreven door Romenu

Tags:Héctor Bianciotti, Hellema, Friedrich Hebbel, Max Barry, Wolfgang Bauer, Richard Condon, Romenu



Walter Rheiner, Srečko Kosovel, Jean Anglade, George Plimpton, Cosmo Monkhouse, Friedrich Nicolai
De Duitse dichter en schrijver Walter Rheiner (eig. Walter Heinrich Schnorrenberg) werd geboren op 18 maart 1895 in Keulen. Zie ook alle tags voor Walter Rheiner op dit blog.
Toten-Messe
Nun liegen ihre Leiber halb verscharrt,
geborsten und verwittert tief im Sand.
Verworren züngelt Haar, hoch wächst die Hand,
greift in die Nacht, die auf den Zinnen harrt.
Verkohlte Städte schwelen lang vorbei,
und Brücken flattern schief und ausgezackt.
Die Sonne stürzt, schäumender Katarakt,
auf morsche Schädel, Augen fahl wie Blei.
Durch ihre Zähne pfeift ein süßer Wind,
der warm und rosig ist von frischem Blut.
(- In Abendröten weiden Lämmer gut. -)
Schon quellen sie verwesend aufwärts lind,
durchdringen, Freunde, sich mit ihrem Duft,
umarmen sich in lächelnder Spirale.
Die kühlen Sterne sind mit einem Male
ganz nah und kreisen singend durch die Luft.
Im Rauch verbrannter Zimmer nisten sie sich ein.
Sie fahren aufgelöst durch Ozeane.
Erkennen unten Schiffe, zitternd klein:
sie, des Planeten großgewölbte Fahne.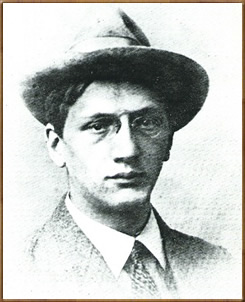 Walter Rheiner (18 maart 1895 – 12 juni 1925)
De Sloveense dichter en schrijver Srečko Kosove werd geboren in Sezana op 18 maart 1904. Zie ook alle tags voor Srečko Kosovel op dit blog.
In Silver Moonlight
A dark boat floats
in silver moonlight,
from the green harbour
a boatman set sail,
- from the green crystal
of a silent heart.
From the heart of midnight.

The leaves did not move
as if still in a dream,
alone by the shore
green they lean.

Each night on a silver ocean
the young boatman
dreams to and fro,
but back to the harbour
he'll never go.
The Marked
They walk with death in their hearts.
Death wakes in their eyes.
A car spattering mud.
Heads droop with no energy.
A light rain of evil falling into the eyes.
The lava of weariness.
Delirium tremens.
Hunger.
Starvation, starvation.
Oh, your white hands!
Like a rustling dream you pass by!
Vertaald door Nike Kocijancic Pokorn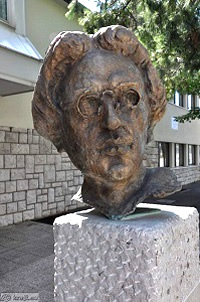 Srečko Kosovel (18 maart 1904 - 27 mei 1926)
Borstbeeld in Sezana, Slovenië
De Franse schrijver Jean Anglade werd geboren op 18 maart 1915 in Bonnets bij Thiers. Zie ook alle tags voor Jean Anglade op dit blog.
Uit: Confidences auvergnates
« Dans les vieilles rues de Thiers la coutelière, devenues une casbah; au milieu de paysans sans vaches et de vaches sans paysans; près des grands barrages de la Dordogne et de la Truyère ; sur le puy de Dôme lui même, qui fut jadis un jardin, transformé de nos jours en place publique. Je lui faisais entendre les Vichyssois pleurant les fastes perdus de leur ville, reine détrônée des villes d'eau; les sacrifiés de Naussac ; les vignerons d'Issoire qui, le matin, binent leur vigne, et l'aprèsmidi manceuvrent un clavier électronique chez CEGEDUR.
Un tel ouvrage devrait être remis à jour au moins tous les dix ans. Il est certain qu'une région qui n'évolue pas dans le bon sens, entourée d'un monde en perpétuel grouillement, est un désert en perspective. Voyez de larges étendues ainsi condamnées en Afrique, en Asie, en Amérique du Sud.
Mais qu'est-ce au juste que le " bon sens " dans le changement ? Les polytechniciens, les énarques qui nous gouvernent pensent d'abord à la prospérité économique et quantitative. Leur programme : jeter sur le marché la plus grande masse possible d'un produit déterminé, blé, tomates, viande, pneus, automobiles. Reste la question du prix. Il doit posséder deux caractères contradictoires: être élevé pour le producteur et bas pour le consommateur. Because concurrence. Celle des japonais, des Hollandais, des Italiens. Pourquoi la concurrence étrangère est-elle insupportable ? Parce qu'elle est toujours déloyale. Toute concurrence est déloyale. Ses armes sont le dumping, les hormones, la main-d'oeuvre bon marché, les charges sociales inexistantes, l'activité souterraine, les pots de vin. »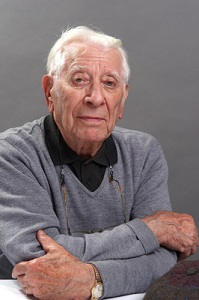 Jean Anglade (Bonnets, 18 maart 1915)
De Amerikaanse schrijver George Ames Plimpton werd geboren op 18 maart 1927 in New York. Zie ook alle tags voor George Plimpton op dit blog.
Uit: Paper Lion
"I decided finally to pack the football. It was a slightly used Spalding ball, an expensive one, with the information printed on it that it was "triple-lined and lock-stitched." Its sponsoring signature was that of Norman Van Brocklin, the ex–Philadelphia Eagle quarterback. It seemed a little deflated. I pressed it down hard against the shirts and was able to get the canvas suitcase cover zipped up around it. It was the bulkiest item in the suitcase, and the bulge of it was noticeable. I had two sweat suits in there, a pair of football shoes, some socks, a book on football formations written by a high-school coach, a sports coat and some trousers, and a few other things. I was not sure what I was going to need at the training camp. The Detroit Lion officials had not sent me the sort of list one remembered from boys' camp—that one should bring a pillowcase, a mattress cover, a flashlight, a laundry bag, etc. I assumed I could buy what I was lacking at the nearest town. I carried the suitcase down to the street and went out to Kennedy airport to catch an airplane to Detroit. From there I would go by car an hour north to Cranbrook, a boys' private school near Bloomfield Hills, whose athletic facilities were being used by the Detroit Lions for their preseason training. I was going there as the Lions' "last-string quarterback"—as my friends referred to it—to join the team as an amateur to undergo firsthand the life of the professional and, hopefully, to describe the experience in a book. I had written one such book—a recounting of my turbulent experiences pitching in Yankee Stadium in a postseason major-league All-Star game. Out of MI League the book was called, and it described what happened to someone with the temerity to climb the field-box railings to try the sport oneself, just to see how one got along and what happened. The notion behind the book was to play out the fantasies, the daydreams that so many people have—seeing themselves on the center court at Wimbledon, or sinking long putts in the U.S. Open, or ripping through the Green Bay secondary. I had been able to arrange with the baseball game's promoters to play. Ernest Hemingway had thought it an odd if interesting experiment and he described the difficulties of my participation as "the dark side of the moon of Walter Mitty."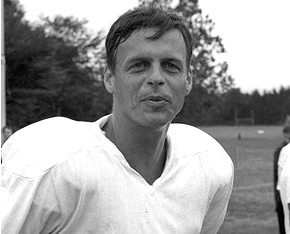 George Plimpton (18 maart 1927 – 25 septem 2003)
De Engelse dichter en kunstcriticus William Cosmo Monkhouse werd geboren op 18 maart 1840 in Londen. Zie ook alle tags voor Cosmo Monkhouse op dit blog.
A Song Of The Seasons
Sing a song of Spring-time,
The world is going round,
Blown by the south wind:
Listen to its sound.
'Gurgle' goes the mill-wheel,
'Cluck' clucks the hen;
And it's O for a pretty girl
To kiss in the glen.
Sing a song of Summer,
The world is nearly still,
The mill-pond has gone to sleep,
And so has the mill.
Shall we go a-sailing,
Or shall we take a ride,
Or dream the afternoon away
Here, side by side?
Sing a song of Autumn,
The world is going back;
They glean in the corn-field,
And stamp on the stack.
Our boy, Charlie,
Tall, strong, and light:
He shoots all the day
And dances all the night.
Sing a song of Winter,
The world stops dead;
Under snowy coverlid
Flowers lie abed.
There's hunting for the young ones
And wine for the old,
And a sexton in the churchyard
Digging in the cold.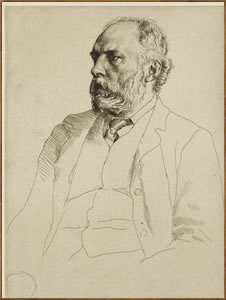 Cosmo Monkhouse (18 maart 1840 – 20 juli 1901)
Portret doorWilliam Strang, 1892
De Duitse schrijver Friedrich Nicolai werd geboren op 18 maart 1733 in Berlijn. Zie ook alle tags voor Friedrich Nicolai op dit blog.
Uit: Geschichte eines dicken Mannes
"Die merkwürdigen sieben dicken Männer, mit welchen man unsern Helden etwa möchte vergleichen wollen, wären: Thersites im Altertume und in neuern Zeiten Sancho Pansa, Falstaff, der Kanonikus Gil Perez, Oheim des berühmten Gil Blas de Santillana, der dicke Mann auf Otaheiti, der so vornehm war, daß er sich mit gehöriger Gravität täglich von seinen Weibern das Essen in den Mund stopfen ließ, und zwei dicke kurze Personen im Tristram Shandy, nämlich Doktor Slop, der Geburtshelfer, und der kleine Trommelschläger mit säbelförmigen Beinen, der am Tore zu Straßburg auf der Wache war, als ein Fremder hereinritt, kommend vom Vorgebirge der Nasen, mit der größten Nase, von welcher Welt und Nachwelt keinen Begriff haben würden, wenn der berühmte Hafen Slawkenbergius nicht Sorge getragen hätte, sie ganz genau zu beschreiben.
Diesem Trommelschläger gleicht unser Held nun auf gar keine Weise; denn er hat keinesweges säbelförmige, sondern gesunde ganz gerade Beine, mit netten Waden, wohlgeformt gleich den Waden des Apoll von Belvedere. Weder wurstförmige Waden, welche zufolge der Bemerkung des Physiognomisten Johannes Baptista Porta eine Eigenschaft der hagedornschen Schnarcher voller Schulgeschwätze sind, die jedem Naemanns Krätze gönnen, der von ihrem Systeme abweicht, noch schlotterige, gleich den Waden weiland Johann Kaspar Kubachs, des Gebethelden, der mit seinem Gebete nie Wunder getan hat.
Dem Doktor Slop, mögt Ihr ihn Euch auch denken wie Ihr wollt, ist unser Held gleichfalls nicht im mindesten ähnlich. Seht den Doktor nur an, es sei wie ihn Hogarth [Fußnote] schlafen läßt, oder wie ihn Chodowiecki vom Pferde wirft; und Ihr müßt gleich merken, Anselm Redlich müsse ein ganz anderes Kerlchen sein. Ihr werdet weiter unten finden, er ist rundlich, niedlich, witzig, gelehrt, galant, dem Frauenzimmer ergeben und nebenher zuweilen ein wenig ein Hasenfuß, unbeschadet seiner Sittsamkeit, Gelehrsamkeit und besonders seiner Klugheit, auf die er wohl, wie auch weiter unter erhellen wird, selbst einigen Wert setzen mag. Ein solches Männchen schläft ganz anders und fällt ganz anders vom Pferde als eine so plumpe Masse wie Doktor Slop."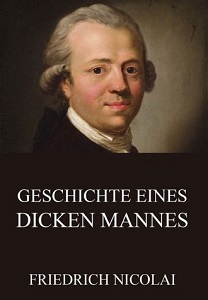 Friedrich Nicolai (18 maart 1733 - 8 januari 1811)
Cover
18-03-2017 om 13:18 geschreven door Romenu

Tags:Walter Rheiner, Sreč,ko Kosovel, Jean Anglade, George Plimpton, Cosmo Monkhouse, Friedrich Nicolai, Romenu



| | |
| --- | --- |
| | |



Inhoud blog


| | |
| --- | --- |
| | Frans Coenen, Eric Bogosian, Robert Penn Warren, George Oppen, Sue Grafton, Carl Spitteler, Anthony Trollope, Michael Schaefer, Marcus Clarke |
| | William Shakespeare, Roman Helinski, Pascal Quignard, Peter Horst Neumann, Andrey Kurkov, Halldór Laxness, Christine Busta, Adelheid Duvanel, Richard Huelsenbeck |
| | The Good Shepherd (Stanley Moss) |
| | Giorgio Fontana, Jan de Hartog, Björn Kern, Vladimir Nabokov, Chetan Bhagat, Peter Weber, Jos de Haes, Thommie Bayer, Madame de Staël |
| | Ana María Shua, Louise Glück, Robert Choquette, James Philip Bailey, Henry Fielding, Michael Schulte, Cabrera Infante, Ludwig Renn |
| | The Enkindled Spring (D. H. Lawrence) |
| | Charlotte Brontë, Patrick Rambaud, John Mortimer, Charles den Tex, Ahmed Arif, Michael Mann |
| | Peter Schneider, Meira Delmar, Alistair MacLean, Gerrit Wustmann, Népomucène Lemercier |
| | Prijs der Nederlandse Letteren voor Judith Herzberg |
| | Martinus Nijhoff, Jan Cremer, Jean Pierre Rawie, Marieke Lucas Rijneveld, Sebastian Faulks, Jozef Deleu, Steve Erickson, Arto Paasilinna, Michel Leiris |
| | Martin Michael Driessen, Marjoleine de Vos, Manuel Bandeira, n. c. kaser, Veniamin Kaverin, Louis Amédée Achard, Pierre-Jean de Béranger, Gudrun Reinboth, Werner Rohner |
| | Wam de Moor, Bas Belleman, Roos van Rijswijk, Hanane Aad, Clara Eggink, Kathy Acker, Joy Davidman, Henry Kendall, Katharina Schwanbeck |
| | Antoon Coolen, Vincent Corjanus, Nick Hornby, Ida Boy-Ed, Thornton Wilder, David Wagner, R.J. Pineiro, Helen Meier, Karen Blixen |
| | Sarah Kirsch, Thomas Olde Heuvelt, Kingsley Amis, Patricia De Martelaere, Tristan Tzara, Ewald Vanvugt, Sibylle Lewitscharoff, Jan Luyken, Anatole France |
| | Emmaüs (Felix Timmermans) |
| | Tomas Tranströmer, Daniël Samkalden, Jérôme Lambert, Patrick Bernauw, Benjamin Zephaniah, Henry James, Wilhelm Busch, Ina Boudier-Bakker |
| | Bliss Carman, Beate Morgenstern, Jeffrey Archer, Bernhard Lassahn, Erich Arendt, Pol De Mont, Staf Weyts, Hans Egon Holthusen |
| | Péter Esterházy, Alexandre Jardin, Tjitse Hofman, Landolf Scherzer, Charles Lewinsky, Roman Graf |
| | Roberto Schopflocher, Martin Kessel, Gabriele Stötzer, Helene Hübener, Gerhard Rohlfs |
| | Nachoem Wijnberg, K. Michel, Alexander Münninghoff, Michel Faber, Jean-Marie Gustave Le Clézio, Samuel Beckett, Seamus Heaney, Tim Krabbé, Eudora Welty |
| | Antje Rávic Strubel, Alan Ayckbourn, Scott Turow, Tom Clancy, Agnes Sapper, Edward de Vere, José Gautier Benítez, Alexander Ostrovski, Guillaume-Thomas Raynal |
| | Leonard Nolens, Mark Strand, Silvia Avallone, Walid Soliman, Dorothy Allison, Hubert Nyssen, Rolf Schilling, Glenway Wescott, Claude Tillier |
| | Leo Vroman, Jan van Mersbergen, Paul Theroux, Claudio Magris, Bella Akhmadulina, Stefan Heym, Richard Wagner, Marcel van Maele, Eric Knight |
| | Charles Baudelaire, Jelle Brandt Corstius, Karel Jonckheere, Joolz Denby, Albert von Schirnding, Johannes Bobrowski, Bernard-Marie Koltès, Arnold Stadler, Yaël Vinckx |
| | Thomas (Jan Willem Schulte Nordholt) |
| | Herinnering aan Gerard Reve, Hanz Mirck, Christoph Hein, Judith Koelemeijer, Nnedi Okorafor, Barbara Kingsolver |
| | John Fante, Johann Christian Günther, Glendon Swarthout, Martin Grzimek, Hégésippe Moreau, Robert Askins |
| | Den Haag (Paul Rodenko) |
| | Juliana Spahr, William Wordsworth, Özcan Akyol, Gabriela Mistral |
| | Kazim Ali, Annejet van der Zijl, John Pepper Clark, Jakob Ejersbo, Günter Herburger, Uljana Wolf, Brigitte Schwaiger, Julien Torma, Nicolas Chamfort |
| | Iulian Ciocan |
| | Hugo Claus, Martin Reints, Mieke van Zonneveld, Vítězslav Hálek, Algernon Swinburne, Bora Ćosić,, Werner J. Egli, Michael Georg Conrad, Marente de Moor |
| | Maya Angelou, Hanneke Hendrix, Marko Klomp, Marcel Vaarmeijer, E. L. James, Marguerite Duras, Robert Schindel, Michiel van Kempen, Bettina von Arnim |
| | Charles Ducal, Adriaan Jaeggi, Frederik van Eeden, Bert Bakker, Peter Huchel, Arlette Cousture, Pieter Aspe, Karel N.L. Grazell, Washington Irving |
| | Die Sonne geht im Osten auf (Christian Morgenstern) |
| | Thomas Glavinic, Jay Parini, Anneke Claus, Klaus Ender, Konrad Merz, Ed Dorn, Émile Zola |
| | György Konrád, Anne Waldman, Casanova, Hans Christian Andersen, Roberto Arlt, Edgar Hilsenrath, George Fraser |
| | Hoffmann von Fallersleben, Johann Gleim, Pierre Zaccone, Pietro della Valle, Zwier van Haren, Joanna Chmielewska, Brigitte Struzyk |
| | Preis dem Todesüberwinder! (Friedrich Klopstock) |
| | Milan Kundera, Sandro Veronesi, Nikolaj Gogol, Arnold Aletrino, Max Nord, Urs Allemann, Rolf Hochhuth, John Wilmot, Deborah Feldman |
| | Maria Polydouri, Edgar Wallace, Carl Sternheim, Edmond Rostand, Armel Guerne, Friedrich Güll, Antoine Prévost, Josep de Maistre |
| | Litanie van een wachter bij het graf (Willem Jan Otten) |
| | Stefan Hertmans, Octavio Paz, Asis Aynan, Martijn Teerlinck, Marga Minco, Enrique Vila-Matas |
| | Rob Boudestein, Kornej Tsjoekovski, Andrew Lang, Nichita Stănescu, Hartmut Lange, Marge Piercy |
| | Angela Kreuz, Judith Rossner, Andrew Marvell, John Fowles, Edward FitzGerald, Robert Brasillach, Peter Motte |
| | Golgotha (Theo Thijssen) |
| | Gerrit Komrij, Paul Verlaine, Milton Acorn, Erika Mitterer, Uwe Timm, Tom Sharpe, Gert Heidenreich, Theo Breuer, Luise Hensel |
| | Gethsemane (Jacqueline van der Waals) |
| | Geert van Istendael, Wim Brands, Ernst Jünger, Eric Walz, Georg Klein, Yvan Goll, R. S. Thomas, Jacques Brault, Denton Welch |
| | Walter van den Broeck, Joost de Vries, Mario Vargas Llosa, Chrétien Breukers, Steye Raviez, Nelson Algren, Marianne Frederiksson, Russell Banks, Léon-Gontran Damas |


Gastenboek


Druk op onderstaande knop om een berichtje achter te laten in mijn gastenboek