De Duitse dichter en schrijver Gottfried Benn werd geboren in Mansfeld op 2 mei 1886. Zie ook mijn blog van 2 mei 2007 en ook mijn blog van 2 mei 2008 en ook mijn blog van 2 mei 2009 en ook mijn blog van 2 mei 2010.
Blaue Stunde
Ich trete in die dunkelblaue Stunde -
da ist der Flur, die Kette schließt sich zu
und nun im Raum ein Rot auf einem Munde
und eine Schale später Rosen - du!

Wir wissen beide, jene Worte,
die jeder oft zu anderen sprach und trug,
sind zwischen uns wie nichts und fehl am Orte:
Dies ist das Ganze und der letzte Zug.

Das Schweigende ist so weit vorgeschritten
und füllt den Raum und denkt sich selber zu
die Stunde - nichts gehofft und nichts gelitten -
mit ihrer Schale später Rosen - du.

Dein Haupt verfließt, ist weiß und will sich hüten,
indessen sammelt sich auf deinem Mund
die ganze Lust, der Purpur und die Blüten
aus deinem angeströmten Ahnengrund.

Du bist so weiß, man denkt, du wirst zerfallen
vor lauter Schnee, vor lauter Blütenlos,
todweiße Rosen Glied für Glied - Korallen
nur auf den Lippen, schwer und wundergroß.

Du bist so weich, du gibst von etwas Kunde,
von einem Glück aus Sinken und Gefahr
in einer blauen, dunkelblauen Stunde
und wenn sie ging, weiß keiner, ob sie war.

Ich frage dich, du bist doch eines andern,
was trägst du mir die späten Rosen zu?
Du sagst, die Träume gehn, die Stunden wandern,
was ist das alles: er und ich und du?

"Was sich erhebt, das will auch wieder enden,
was sich erlebt - wer weiß denn das genau,
die Kette schließt, man schweigt in diesen Wänden
und dort die Weite, hoch und dunkelblau."

Rosen
Wenn erst die Rosen verrinnen
aus Vasen oder vom Strauch
und ihr Entblättern beginnen,
fallen die Tränen auch.

Traum von der Stunden Dauer,
Wechsel und Wiederbeginn,
Traum - vor der Tiefe der Trauer:
blättern die Rosen hin.

Wahn von der Stunden Steigen
aller ins Auferstehn,
Wahn - vor dem Fallen, dem Schweigen:
wenn die Rosen vergehn.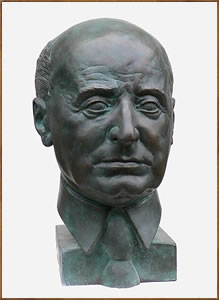 Gottfried Benn (2 mei 1886 - 7 juli 1956)
Buste door Bernd Streiter
De Engelse schrijfster Esther Freud werd geboren in Londen op 2 mei 1963. Zie ook mijn blog van 2 mei 2009.en en ook mijn blog van 2 mei 2010.
Uit: Hideous Kinky
"As promised, Bilal took us to visit his family in the mountains. We travelled through a whole day on a bus packed with people and then shared a taxi with a man Bilal knew and was happy to see. We had presents of a large packet of meat and three cones of white sugar for Bilal's mother.
The whole village was waiting to greet us at the end of a narrow track that joined the road. 'They welcome you like a wife,' Bilal whispered as Mum stepped out of the taxi. She was dressed in a swirling bulue cloak of material that covered her hair and swathed her body in folds that reached the floor. when she walked she drew up the cloth and let it hang over her shoulder.
Bilal introduced us to his mother. She was a large lady with a throaty voice tha tbillowed out from under her veil. Bilal's father was really an old man and half her size.
The women threw flower petals into the air and sang a low lilting song as we walked back along the path. From time to time they let their fingers brush against my hair. I held tightly on to my mother's hand.
The village was a cluster of low white houses at the foot of a hill that was almost a mountain. We followed Bilal into the dark inside of his family's house. Bilal's family trooped in afer us, and we all stood about smiling. Bea nudged Mum and she remembered and handed over the meat and the sugar.
'You see, she likes the presents,' Bilal whispered as his mother nodded, unwrapping and rewrapping her gifts. I had tried to convince him that she might prefer a Tintin book or a clay drum."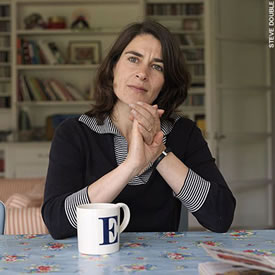 Esther Freud (Londen, 2 mei 1963)
De Duitse dichter en schrijver Novalis werd geboren in Oberwiederstedt op 2 mei 1772. Zie ook mijn blog van 2 mei 2007. en ook mijn blog van 2 mei 2006 en ook mijn blog van 2 mei 2008 en ook mijn blog van 2 mei 2009 en ook mijn blog van 2 mei 2010.
An den Tod
Wie den Seraph himmlische Lust erfüllet,
Kommt der Brüder einer, auch selger Engel,
Den des Himmels Freundschaft mit ihm verwebte
Zu dem unsterblichen Bunde,
Wieder von der fernesten Welten einer
Wo er Glück und Segen die Fülle ausstreut
Heitre Ruhe mit friedlicher Palme über
Tausend Geschöpfe ergossen,
Und nun fällt in Engels Entzücken seinem
Freunde an die himmlische Brust und dann im
Kusse, unaussprechbare Freundschaftswonne
Einet die Seelen der Seraphs.
So werd ich mich freuen wenn du einst holder
Todesengel meine geengte Seele
Zu dem selgen Anschaun Jehovas durch die
Trennung vom Körper beflügelst.
Und sich dann die neidische Hülle abstreift
Gleich der Puppe welche den Schmetterling hält
Und zerplatzet kommet die Zeit der Reife,
Jener befreit dann entfliehet.
So wird sie auch fliehen die edle Seele
Aus dem Erdenstaube entlastet dort zu
Jenen höhern, bessern Gefilden reich an
Seliger Ruhe und Freiheit.
Wo ein ewger Frühling die Wangen kleidet
Und ich voll unsterblicher Kraft die Schöpfung
Sehe, staune, himmlische Freundschaft mich un-
sterblichen Geistern vereinet.
Armenmitleid
Sag an, mein Mund, warum gab dir zum Sange
Gott Dichtergeist und süßen Wohlklang zu,
Ja wahrlich auch, daß du im hohen Drange
Den Reichen riefst aus träger, stumpfer Ruh.
Denn kann nicht Sang vom Herzen himmlisch rühren,
Hat er nicht oft vom Lasterschlaf erweckt;
Kann er die Herzen nicht am Leitband führen,
Wenn er sie aus der Dumpfheit aufgeschreckt.
Wohlauf; hört mich ihr schwelgerischen Reichen,
Hört mich doch mehr noch euren innren Ruf,
Schaut um euch her, seht Arme hülflos schleichen,
Und fühlt, daß euch ein Vater nur erschuf.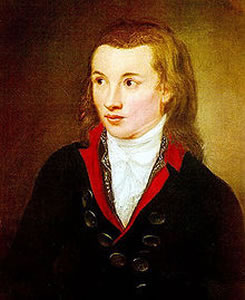 Novalis (2 mei 1772 - 25 maart 1801)
Portret door Franz Gareis, rond 1799
De Amerikaanse dichter en vertaler James Stratton Holmes werd geboren in Collins, Iowa, op 2 mei 1924. Zie ook mijn blog van 2 mei 2007 en ook mijn blog van 2 mei 2009 en ook mijn blog van 2 mei 2010.
Ad infinitum
The servant girl throws out the slaughtered lamb's
blood from the bowl. You lay new wood beside
the hearth, women whose womb my voice preserves.
The mirror gleams. The meat hangs in the flame.
Deep in the woods a bearing she-wolf cries,
and my forefather who came in the door
lifts up what he took from the lair as whelp
and has become a child, pale, without hair.
We stand one moment, he, I, and the tot
leaning on his shoulder, and gaze at this
familiar scene: a white room, filled with light,
filled with the smell of meat and new-sawn wood,
filled with brief joy constantly formed anew,
a homestead on a clearing in the woods.
Martinus Nijhoff, vertaald door James S Holmes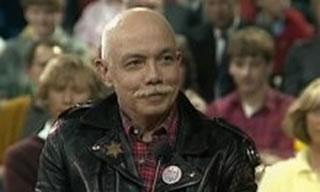 James Holmes (2 mei 1924 - 6 november 1986)
De Frans-Duitse schrijver, essayist en vertaler Georges-Arthur Goldschmidt werd geboren op 2 mei 1928 in Reinbek bij Hamburg. Zie ook mijn blog van 2 mei 2007 en ook mijn blog van 2 mei 2009 en ook mijn blog van 2 mei 2010.
Uit: Die Aussetzung
"Er ließ die Arme baumeln und hinter ihm lag der längliche holzgetäfelte Raum, stand der runde Tisch am Fenster mit dem rotkarierten Wachstuch. An der Wand hinter die Monstranz unter einer Glashaube und auf dem Bord der Radioapparat. Im ganzen Haus waren es die einzigen glattglänzenden Gegenstände, sonst war alles rauh, hart, hölzern, abgeschabt von altem Gebrauch, die Tonteller blasenüberzogen. Im Schrank der Bäuerin lag ein seidenes Tuch, über welches sie manchmal mit der Hand strich, als wolle sie auch Regelmäßiges, Glattes, Sanftes fühlen.
Der Radioapparat war aus braunlackiertem Holz, in der Mitte eine runde stoffüberspannte Öffnung mit Goldfäden durchwoben. Wenn man leise mit dem Finger darauf trommelte, durchzuckte die Leere dahinter den Körper. Zum Radiohören lehnte sich der Bauer an die Holzwand mit dem Bord in Kopfhöhe, er hörte das Schweizer Radio, Radio Sottens, Radio London und Radio Paris, den Sender des verratenen Frankreichs, da sprachen immer mit krächzenden, heiseren Stimmen die Kollaborateuere, von denen der Knabe, obgleich er doch Deutscher war und noch ein Kind, wußte, daß sie sich nur aus Feigheit dem Nazisieger ausgeliefert hatten.
Am liebsten hörte er Radio London, zur vollen Stunde, die von einem motorradähnlichen Geknatter immer wieder überdeckt wurde, er wußte, daß da Freunde sprachen und jedesmal, wenn die breite, ein wenig belegte und belustigte Männerstimme den Singsang: »Radio Paris ment, Radio Paris ment, Radio Paris est allemand« anstimmte, fühlte er sich wohl.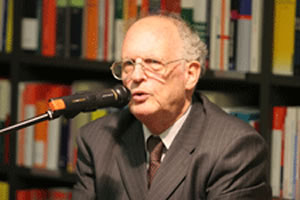 Georges-Arthur Goldschmidt (Reinbek, 2 mei 1928)



Zie voor nog meer schrijvers van de 2e mei ook
mijn vorige blog van vandaag
en eveneens
mijn eerste blog van vandaag.
02-05-2011 om 19:07 geschreven door Romenu

Tags:Gottfried Benn, Esther Freud, Novalis, James Holmes, Georges-Arthur Goldschmidt, Romenu, Martinus Nijhoff