De Spaanse schrijver, dichter, dramaturg en cineast Fernando Arrabal werd geboren in Melila, Spaans Marokko op 11 augustus 1932. Zie ook mijn blog van 11 augustus 2007 en ook mijn blog van 11 augustus 2008 en ook mijn blog van 11 augustus 2009.
Uit: The Burial of the Sardine (Vertaald door Patrick Bowles)
"XXVIII
Lis came in wearing a blue dress. So I went and hid behind the wardrobe and put on my yellow suit.
I asked her if I might place one hand on her neck when I spoke to her and the other on her hair. And she said, 'Yes.'
Since her breasts were bare I laid white roses on her bosom but I noticed that like all flowers they smelled bad. So I asked her if she'd prefer to watch me draw a goat on the wall. She smiled and I smiled.
I went over to the wall to draw her a goat. But it was a green horse that took shape beneath my fingers. And she smiled. And I didn't smile, but later on I smiled.
Then I drew a blue fish, then a red cockerel. And I asked her if I might place one hand on her neck when I spoke to her and the other on her hair. She said, 'Yes.'
She said, 'Yes,' or she smiled or she kept silent. And as for me, I spoke to her with one hand on her hair and the other on her neck.
XXXII
When Lis arrived I closed the window and I didn't climb onto the wardrobe.
Lis came to see me from time to time and brought me insects with their bodies pierced with a pin: wasps and scarabs and ants, and I fixed them to the head of my bed.
Lis came alone. I asked her why she didn't stay in my room all the time. And she didn't reply. I told her that I could show her many things Altagora had taught me or else I could draw on the wall. She didn't reply, but she smiled".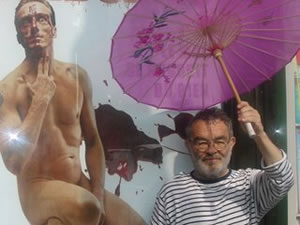 Fernando Arrabal (Melila, 11 augustus 1932)
De Duitse dichter Ernst Stadler werd geboren op 11 augustus 1883 in Colmar (Kolmar). Zie ook mijn blog van 11 augustus 2007 en ook mijn blog van 11 augustus 2008 en ook mijn blog van 11 augustus 2009.
Der Spruch
In einem alten Buche
stieß ich auf ein Wort,
Das traf mich wie ein Schlag
und brennt durch meine Tage fort:
Und wenn ich mich an
trübe Lust vergebe,
Schein, Lug und Spiel zu mir
anstatt des Wesens hebe,
Wenn ich gefällig mich
mit raschem Sinn belüge,
Als wäre Dunkles klar, als wenn nicht Leben
tausend wild verschlossne Tore trüge,
Und Worte wiederspreche,
deren Weite nie ich ausgefühlt,
Und Dinge fasse,
deren Sein mich niemals aufgewühlt,
Wenn mich vollkommner Traum
mit Sammethänden streicht,
Und Tag und Wirklichkeit
von mir entweicht,
Der Welt entfremdet,
fremd dem tiefsten Ich,
Dann steht das Wort mir auf:
Mensch, werde wesentlich!
Form ist Wollust
Form und Riegel mussten erst zerspringen,
Welt durch aufgeschlossene Röhren dringen;
Form ist Wollust, Friede, himmlisches Genügen,
Doch mich reißt es, Ackerschollen umzupflügen.
Form will mich verschnüren und verengen,
Doch ich will mein Sein in alle Weiten drängen -
Form ist klare Härte ohn` Erbarmen,
Doch mich treibt es zu den Dumpfen, zu den Armen,
Und in grenzenlosem Michverschenken
Will mich Leben mit Erfüllung tränken.
nach oben!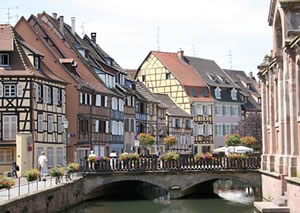 Ernst Stadler (11 augustus 1883 – 30 oktober 1914)
Colmar
De Schotse dichter Hugh MacDiarmid werd geboren op 11 augustus 1892 als Christopher Marray Grieve in Langholm. Zie ook mijn blog van 11 augustus 2007 en ook mijn blog van 11 augustus 2008 en ook mijn blog van 11 augustus 2009.
Water Music

(Fragment)
(To William and Flora Johnstone)
Wheesht, wheesht, Joyce, and let me hear
Nae Anna Livvy's lilt,
But Wauchope, Esk, and Ewes again,
Each wi' its ain rhythms till't.
I
Archin' here and arrachin there,
Allevolie or allemand,
Whiles appliable, whiles areird,
The polysemous poem's planned.
Lively, louch, atweesh, atween,
Auchimuty or aspate,
Threidin' through the averins
Or bightsom in the aftergait.
Or barmybrained or barritchfu',
Or rinnin' like an attercap,
Or shinin' like an Atchison,
Wi' a blare or wi' a blawp.
They ken a' that opens and steeks,
Frae Fiddleton Bar to Callister Ha',
And roon aboot for twenty miles,
They bead and bell and swaw.
Brent on or boutgate or beshacht,
Bellwaverin' or borne-heid,
They mimp and primp, or bick and birr,
Dilly-dally or show speed.
Brade-up or sclafferin', rouchled, sleek,
Abstraklous or austerne,
In belths below the brae-hags
And bebbles in the fern.
Bracken, blaeberries, and heather
Ken their amplefeysts and toves,
Here gangs ane wi' aiglets jinglin',
Through a gowl anither goves.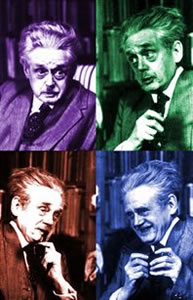 Hugh MacDiarmid (11 augustus 1892 – 9 september 1978)
De Japanse schrijver Yoshikawa Eiji werd geboren op 11 augustus 1892. Zie ook mijn blog van 11 augustus 2007 en ook mijn blog van 11 augustus 2008 en ook mijn blog van 11 augustus 2009.
Uit: Musashi Vertaald door Werner Peterich)
"Das Glöckchen
Takezo lag unter den Toten. Unter Tausenden von Toten. Auch er sah aus wie einer der leblosen Gefallenen um ihn herum. Er versuchte, den Kopf zu heben, gab jedoch schon wenige Fingerbreit über dem Boden auf. Nie war er sich so schwach vorgekommen. Ich muß eine ganze Weile bewußtlos gewesen sein, dachte er. Er ahnte dunkel, daß er verwundet war. Zwei Kugeln steckten in seinem Oberschenkel.
Tiefhängende, dunkle Wolken schoben sich unheilverheißend ineinander. Während der vergangenen Nacht, irgendwann zwischen Mitternacht und Morgengrauen, hatte ein alle Sicht auslöschender Regen die Ebene von Sekigahara aufgeweicht. Jetzt war es Nachmittag, und man schrieb den fünfzehnten Tag des neunten Monats im Jahre sechzehnhundert. Obwohl der Wirbelsturm vorübergezogen war, prasselten immer wieder neue Regenschauer auf die Leichen und auf Takezo. Seine Seite hatte verloren; so viel immerhin war ihm klar. Kobayakawa Hideaki, dem Vernehmen nach ein Verbündeter, hatte insgeheim auf Seiten der Ost-Armee gestanden; als er bei Morgengrauen plötzlich gegen Ishida Mitsunaris Truppen vorging, wendete sich das Kriegsglück. Nachdem er dann auch noch die Armeen der anderen Befehlshaber - Ukita, Shimazu und Konishi - angriff, war die
Niederlage der West-Armee besiegelt. Die Kämpfe hatten noch nicht einmal einen halben Tag gedauert, und schon war die Frage, wer fürderhin das Land regieren würde, entschieden: Tokugawa leyasu, der mächtige Daimyo von Edo.
Bilder seiner Schwester und der alten Dorfbewohner zogen vor Takezos innerem Auge vorüber. Plötzlich hob eine der Leichen in seiner Nähe den Kopf. "Takezo?"
Die Bilderflut vor seinem inneren Auge riß ab. Er drehte den Kopf. Die Stimme gehörte seinem besten Freund. "Matahachi, bist du's?" "Takezo! Lebst du wirklich?"
"Ja, ich lebe!" schrie er plötzlich in einem Ausbruch freudiger Erregtheit. "Und du? Paß auf, daß auch du nicht stirbst. Untersteh dich!"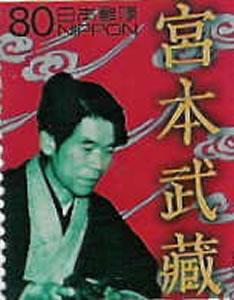 Yoshikawa Eiji (11 augustus 1892 – 7 september 1962)


Zie voor nog meer schrijvers ook
mijn vorige blog van vandaag.
11-08-2010 om 19:46 geschreven door Romenu

Tags:Fernando Arrabal, Ernst Stadler, Hugh MacDiarmid, Yoshikawa Eiji, Romenu