De Tsjechische schrijver Jáchym Topol werd geboren op 4 augustus inPraag. Zie ook mijn blog van 4 augustus 2009 en ook mijn blog van 4 augustus 2009 en ook blog van 4 augustus 2010.
Uit: Transcript
"Ondra found the bottles and emptied them into the sink, she would take a few gulps and forget about them. The sink smelled of wine, he rinsed it with water from the tap.
Anyway, said Pinkie, when they were lying in bed.
What? asked Ondra.
Why does Mama sit in there all day staring at that photo of Eluzína?
It's not a photo. It's a drawing.
What's better? To be a boy, or a girl?
A boy, said Ondra.
So why is she always staring at Eluzína?
Go to sleep.
It was better when they both drank, said Pinkie.
Sure was, said Ondra.
On one of those distant summer afternoons, when they were all still together, Papa had made them watermills out of wood. They spent their days in a beer garden near their new house.
Before that, Papa had gone to work every morning in a suit and white shirt. Now he had a different job, in a factory. They had moved to a working class neighborhood on the outskirts of Prague.
But they always had fun in the beer garden. It was the only one around.
Would you just smell those chestnut trees! They smell of... of pure longing!
And did you know, young lady, that it was under that very same sort of chestnut tree that the Communist Party of Czechoslovakia was founded? Hm?
Often they would be joined, on those long afternoons, by Papa's new colleagues. Usually his immediate superiors, Foreman Detmar and Sergeant Dudek. The Sergeant couldn't take his eyes off Mama".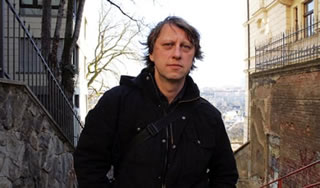 Jáchym Topol (Praag, 4 augustus 1962)
De Amerikaans-Canadese dichteres Allison Hedge Coke werd geboren op 4 augustus 1958 in Texas. Zie ook mijn blog van 4 augustus 2009 en ook blog van 4 augustus 2010.
When the Animals Leave This Place
Underneath ice caps, glacial peaks
deer, elk, vixen begin to ascend.
Wild creatures camouflaged as
waves and waves receding
from plains pulling
upward slopes and snow dusted mountains.
On spotted and clear cut hills robbed of fir,
high above wheat tapestried valleys, flood plains
up where head waters reside.
Droplets pound, listen.
Hoofed and pawed mammals
pawing and hoofing themselves up, up.
Along rivers dammed by chocolate beavers,
trailed by salamanders-mud puppies.
Plunging through currents,
above concrete and steel man-made barriers
these populations of forests flee
in such frenzy, popping splash dance,
pillaging cattail zones, lashing lily pads-
the breath of life in muddy ponds and still lakes.
Liquid beads slide on windshield glass
along cracked and shattered pane,
spider-like with webs and prisms.
Look, there, the rainbow
touched the ground both ends down.
Full arch, seven colors showered, heed
what the indigenous know,
why long ago they said people didn't belong here,
that this land was meant to be wet with waters
not fertile to crops and domestic grazing.
The old ones said,
When the animals leave this place
the waters will come again.
This power is beyond the strength of man.
The river will return with its greatest force
No one can stop her.
She was meant to be this way.
The rainbow tied with red and green like
that on petal rose, though only momentarily.
Colors disappear like print photograph fading.
They mix with dark grey surrounding.
A flurry of fowl follow
like strands, maidenhair falls,
from blackened clouds above
swarming inward
covering the basin and raising sky.
Darkness hangs over
the hills appear as black water crests,
blackness varying shades.
The sun is somewhere farther than the farthest ridge.
Main gravel crossroads and back back roads
slicken to mud, clay.
Turtles creep along rising banks, snapping jowls.
Frogs chug throaty songs.
The frogs only part of immense choir
heralding the downpour, the falling oceans.
Over the train trestle and suspension bridge with
current so slick everything slides off in sheets.
Among rotten stumps in dark bass ponds,
catfish reel in fins and crawl,
walking whiskers to higher waters.
Waters above and below
the choir calling it forth.
Brightly plumed jays and dull brown-headed cowbirds
fly as if hung in one place like pinwheels.
They dance toward the rain crest,
the approaching storm
beckoning, inviting, summoning.
A single sparrow sings the stroke of rain
past the strength of sunlight.
The frog chorus sings refrain,
melody drumming thunder,
evoked by beasts and water creatures wanting their homes.
Wanting to return to clearings and streams where
white birch woods rise and tower over
and quaking aspen stand against
dark, dark veils-sheeting rains crossing
pasture, meadow, mountain.
Sounds erupt.
Gathering clouds converge, push,
pull, push, pull forcing lightning
back and forth shaping
windy, sculptured swans, mallard ducks, and giants
from stratocumulus media.
As if they are a living cloud chamber,
As if they exist only in the heavens.
Air swells with dampness.
It has begun.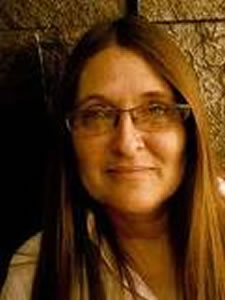 Allison Hedge Coke (Texas, 4 augustus 1958)
04-08-2011 om 19:09 geschreven door Romenu

Tags:Jáchym Topol, Allison Hedge Coke, Romenu