De Canadese dichter en schrijver Irving Layton werd geboren als Israel Pincu Lazarovici op 12 maart 1912 in Tîrgu Neamt, Roemenië. Zie ook mijn blog van 12 maart 2007 en ook mijn blog van 12 maart 2009 en ook mijn blog van 12 maart 2010.
Berry Picking

Silently my wife walks on the still wet furze
Now darkgreen the leaves are full of metaphors
Now lit up is each tiny lamp of blueberry.
The white nails of rain have dropped and the sun is free.

And whether she bends or straightens to each bush
To find the children's laughter among the leaves
Her quiet hands seem to make the quiet summer hush--
Berries or children, patient she is with these.

I only vex and perplex her; madness, rage
Are endearing perhaps put down upon the page;
Even silence daylong and sullen can then
Enamor as restraint or classic discipline.

So I envy the berries she puts in her mouth,
The red and succulent juice that stains her lips;
I shall never taste that good to her, nor will they
Displease her with a thousand barbarous jests.

How they lie easily for her hand to take,
Part of the unoffending world that is hers;
Here beyond complexity she stands and stares
And leans her marvelous head as if for answers.

No more the easy soul my childish craft deceives
Nor the simpler one for whom yes is always yes;
No, now her voice comes to me from a far way off
Though her lips are redder than the raspberries.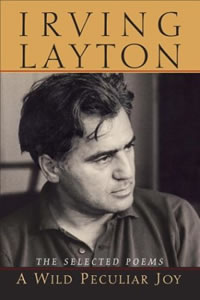 Irving Layton 12 maart 1912 – 4 janauri 2006)
Boekomslag
De Duitse dichteres, kunstenares en politiek activiste Helga Goetze werd geboren op 12 maart 1922 in Magdeburg. Zie ook mijn blog van 12 maart 2007 en ook mijn blog van 12 maart 2009 en ook mijn blog van 12 maart 2010.


Der Nützling
(fragment)
Kleiner Nützling, ei wie praktisch,
pinkeln kann er und noch mehr
lustvoll ziehen, strecken, dehnen,
nützlich ist der Kleine sehr.
Schon das Bübchen mit zwei Jahren
läuft zu seiner Frau Mama:
"Mami", ruft der Kleine strahlend.
"sieh mein Nützling, der ist da".
Doch die Mama selbst so prüde,
schreit das Kind an: Laß den doch.
Der ist nur zum Pinkeln nützlich
mit dem kleinen Pinkelloch.
Leute wollen das nicht sehen,
jeder steckt das Stäbchen weg,
denn so pissen ist doch wirklich
furchtbar schlechter Jauchedreck.
Und das Büblein ist erschrocken,
schnell das Ding in seine Hos'.
Weg ist der für alle Zeiten,
zuerst klein, dann riesengroß.
Unser Knab' ist 13 Jahre
und der Lehrer fährt ihn an.
Büblein kann vor Schreck nicht denken.
denn das Ding stößt unten dran.
Ist er 17, schaut die Mama
ärgerlich sein Bettuch an:
"Was soll denn der Fleck im Bette,
faßt du etwa unten dran?"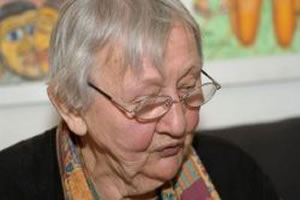 Helga Goetze (12 maart 1922 – 29 januari 2008)
De Franse schrijfster en feministe Françoise d'Eaubonne werd geboren op 12 maart 1920 in Parijs. Zie ook mijn blog van 12 maart 2009 en ook mijn blog van 12 maart 2010.

Uit: Les Tricheurs
"Bernard avait rejoint Bob quelques minutes à peine après son arrivée à Passy et les deux
garçons s'étaient mis presque aussitôt au travail. L'appartement des Letellier était cossu, d'un
style assez nettement désuet; la chambre de Bob en était la note la plus moderne, avec ses
meubles aux lignes hardies et aux couleurs vives, sur lesquels traînait un mobile de Calder.
Le jeune homme aimait à s'y retrouver et à recevoir, de temps en temps, quelques bons
copains à la fois affranchis et sérieux, dans le genre de Bernard. C'était un gros bûcheur,
Bernard; le co-équipier idéal pour préparer un examen.
Mme Letellier les surprit en plein travail. Jeune d'allure et très élégante, on lui donnait à
peine trente-cinq ans. Bob l'aimait et se sentait très fier de sa mère. Elle entra si vite qu'il
n'eut pas le temps d'arrêter le tourne-disques.
– Ne vous dérangez pas, lança-t-elle à Bernard; dites-moi seulement si vous dînez avec nous
aujourd'hui ?
– Si cela ne vous dérange pas, madame, ce sera avec le plus grand plaisir, répondit
courtoisement Bernard.
– En écoutant ça ? dit la jeune femme.
Elle désignait en riant le tourne-disques.
– Ça ? dit Bob, mon Mulligan préféré, Bernie's Tune ? Ça aide, tu sais…
– C'est amusant, de mon temps, c'est le silence qui aidait… A propos, c'est vrai que dans vos
surboums on danse à nouveau le charleston ?
– Quelquefois, oui, madame, approuva Bernard, tout sourire.
– Tu l'as dansé, maman ? demanda Bob.
– Moi ? Tu ne voudrais pas ! J'étais au berceau ! Mais quelle drôle de génération ! Vous
n'avez donc rien inventé ?"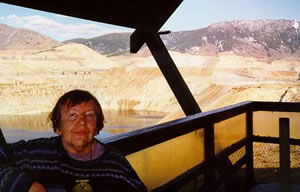 Françoise d'Eaubonne (12 maart 1920 – 3 augustus 2005)
De Franse dichter en vertaler Antony Deschamps (eig. Antoine-François-Marie Deschamps de Saint-Amand) werd geboren op 12 maart 1800 in Parijs.Deschamps was de jongere broer van de schrijver Émile Deschamps (1791-1871). Net als zijn broer was hij een van de Parnassiens. Zijn literaire doorbraak bereikte hij in 1829 met zijn vertaling van Dante Alighieri's Divina Commedia. Twee jaar later bleek Deschamps met zijn "Satires politiques" niet in staat om dit succes te herhalen. Uiterlijk vanaf 1840 leed aan een psychische aandoening, waarvan de oorzaken naar verluidt in zijn jeugd lagen. In 1839 kon hij nog "Résignation" publiceren. Zijn broer Emile hielp hem in de daaropvolgende jaren in zijn literaire werk, maar na 1840 publiceerde Deschamps niet meer en trok hij zich terug uit het openbare leven.
Sonnet
Parmi la mousse rouge et les fraises fleuries
Nous nous sommes assis en face des grands bois,
Ne voyant que le ciel, n'entendant que la voix
Des brises et des eaux, courant dans les prairies.
Tous trois jeunes amis, tous aimant à chercher
L'étroit sentier du val où souvent le pied glisse ,
La chaumine des bois que le bon Dieu bénisse,
Et le pommier tout rose aux flancs gris du rocher.
Nous nous sommes assis; et ce val solitaire
Où l'homme rêve et sent que son cœur aime mieux,
Nous a fait dire à tous, en nous mouillant les yeux ;
i• C'est un jour de bonheur ensemble sur la terre ! ••
Nous reviendrons encor, nous viendrons une fois,
L'autre mai, nous asseoir U, sur la même mousse,
Causant et répétant que la journée est douce....
Mais est-il sûr, amis , que nous viendrons tous trois ?....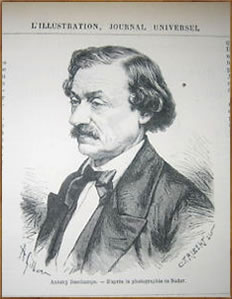 Antony Deschamps (12 maart 1800 - 29 oktober 1869)
De Russische dichter Sergej Michalkov werd geboren op 12 maart 1913 in Moskou. Zie ook mijn blog van 12 maart 2007 en ook mijn blog van 12 maart 2010.
Der Hase im Rausch (Fragment)
Und so verließ der Hase also bald das fröhlich laute Fest
und er begann im Wald von einem Stamm zum anderen zu wanken
und brüllt dabei die kühnlichsten Gedanken
laut in die dunkle Nacht hinaus.
Den Löwen werde ich zerzausen,
wir sahn in dem Wald noch ganz andre Tiere hausen
und machten ihnen doch den blutigen Garaus.
Infolge des geräuschvollen Gezeters
und des Gebrülls des trunknen Schwerenöters,
der sich mit Mühe durch das Dickicht schlug,
fuhr unser Löwe auf mit einem derben Fluch
und packt den Hasen grob am Kragen.
Du Strohkopf willst es also wagen, mich zu belästigen mit dem Gebrüll
... doch warte mal, halt still! Du scheinst mir ja nach Alkohol zu stinken.
Mit welchem Zeug gelang es dir, dich derart sinnlos zu betrinken?
Sofort verflog der Rausch dem kleinen Tier, er suchte rasch, sich irgendwie zu retten.
Sieh - wir - nein ich - ... - oh, wenn sie Einsicht hätten,
ich war auf einem Fest und trank viel Alkohol, doch immer nur auf euer Gnaden Wohl
und eurer guten Frau und eurer lieben Kleinen.
Das wäre doch, so woll' es mir scheinen,
ein trift'ger Grund, sich maßlos zu besaufen.
Vertaald door Eberhard Esche
Sergej Michalkov (12 maart 1913 – 27 augustus 2009)
12-03-2011 om 00:00 geschreven door Romenu

Tags:Irving Layton, Helga Goetze, Françoise d'Eaubonne, Antony Deschamps, Sergej Michalkov, Romenu