E-mail mij


Druk op onderstaande knop om mij te e-mailen.


Romenu


Romenu is een blog over gedichten, literatuur en kunst Maar Romenu is ook een professionele freelance vertaler
Du-Ne en Ne-Du http://www.romenu.nl.


Huur eens een (vakantie)huis in een natuurgebied, dichtbij het centrum van Nijmegen


Google


Georg Trakl

Georg Trakl werd op 3 februari 1887 in het conducteurshuis aan de Waagplatz 2 in Salzburg geboren. Zijn vader, Tobias Trakl, was een handelaar in ijzerwaren en zijn moeder, die ook psychische problemen had, was Maria Catharina Trakl, (meisjesnaam Halik). Voorts had hij nog drie broers en drie zussen. Margarethe (doorgaans Grethe genoemd) stond hem het naast, zelfs zodanig dat sommigen een incestueuze verhouding vermoeden. Zijn jeugd bracht hij door in Salzburg. Vervolgens bezocht hij van 1897 tot 1905 het humanistische gymnasium. Om toch een academische opleiding te kunnen volgen, werkte hij tot 1908 in de praktijk bij een apotheker. Sommigen vermoedden dat hij dit vooral deed om zichzelf opiaten te kunnen verschaffen. Bij het uitbreken van WO I werd Trakl als medicus naar het front in Galicië (heden ten dage in Oekraïne en Polen) gestuurd. Zijn gemoedsschommelingen leidden tot geregelde uitbraken van depressie, die verergerd werden door de afschuw die hij voelde voor de verzorging van de ernstig verwonde soldaten. De spanning en druk dreven hem ertoe een suïcidepoging te ondernemen, welke zijn kameraden nochtans verhinderden. Hij werd in een militair ziekenhuis opgenomen in Kraków, alwaar hij onder strikt toezicht geplaatst werd.Trakl verzonk daar in nog zwaardere depressies en schreef Ficker om advies. Ficker overtuigde hem ervan dat hij contact moest opnemen met Wittgenstein, die inderdaad op weg ging na Trakls bericht te hebben ontvangen. Op 4 november 1914, drie dagen voordat Wittgenstein aan zou komen, overleed hij echter aan een overdosis cocaïne


Paul Celan

Paul Celan werd onder de naam Paul Antschel op 23 november 1920 geboren in Czernowitz, toentertijd de hoofdstad van de Roemeense Boekovina, nu behorend bij de Oekraïne. Paul Celans ouders waren Duitssprekende joden die hun zoon joods opvoedden en hem naar Duitse christelijke scholen stuurden. In 1942 werden Celans ouders door de Duitse bezetter naar een werkkamp gedeporteerd en daar vermoord. Hijzelf wist aanvankelijk onder te duiken, maar moest vanaf juli 1942 in een werkkamp dwangarbeid verrichten. Celan overleefde de oorlog. Via Boekarest en Wenen vestigde Celan zich in 1948 in Parijs. Daar was hij werkzaam als dichter, vertaler en doceerde hij aan de prestigieuze Ecole Normale Supérieure. Vermoedelijk op 20 april 1970 beëindigde hij zijn leven zelf door in de Seine te springen.


Gerard Reve

Gerard Reve over: Medearbeiders "God is in de mensen, de dieren, de planten en alle dingen - in de schepping, die verlost moet worden of waaruit God verlost moet worden, door onze arbeid, aangezien wij medearbeiders van God zijn." Openbaring "Tja, waar berust elk godsbegrip op, elke vorm van religie? Op een openbaring, dat wil zeggen op een psychische ervaring van zulk een dwingende en onverbiddelijke kracht, dat de betrokkene het gevoel heeft, niet dat hij een gedachte of een visioen heeft, maar dat een gedachte gedachte of visioen hem bezit en overweldigt."


Simon Vestdijk
Simon Vestdijk (Harlingen, 17 oktober 1898 – Utrecht, 23 maart 1971) was een Nederlands romancier, dichter, essayist en vertaler. Zijn jeugd te Harlingen en Leeuwarden beschreef hij later in de Anton Wachter-cyclus. Van jongs af aan logeerde hij regelmatig bij zijn grootouders in Amsterdam, waar hij zich in 1917 aan de Universiteit van Amsterdam inschrijft als student in de medicijnen. Tijdens zijn studie die van 1917 tot 1927 duurde, leerde hij Jan Slauerhoff kennen.Tot 1932 is hij als arts in praktijken door heel Nederland werkzaam. In 1932 volgt zijn officiële schrijversdebuut met de uitgave van de bundel Verzen in De Vrije Bladen. Doorslaggevend voor Vestdijks uiteindelijke keuze voor de literatuur is zijn ontmoeting in 1932 met Eddy Du Perron en Menno ter Braak. Deze ontmoeting had tot resultaat dat hij redactielid werd van het tijdschrift Forum Kort daarop, in 1933, wordt zijn eerste novelle, De oubliette, uitgegeven. In hetzelfde jaar schrijft hij Kind tussen vier vrouwen, dat, eerst geweigerd door de uitgever, later de basis zal vormen voor de eerste drie delen van de Anton Wachter-romans. In 1951 ontvangt Vestdijk de P.C. Hooftprijs voor zijn in 1947 verschenen roman De vuuraanbidders. In 1957 wordt hij voor het eerst door het PEN-centrum voor Nederland voorgedragen voor de Nobelprijs voor de Literatuur, die hij echter nooit zal krijgen. Op 20 maart 1971 wordt hem de Prijs der Nederlandse Letteren toegekend, maar voor hij deze kan ontvangen overlijdt hij op 23 maart te Utrecht op 72-jarige leeftijd. Vestdijk was auteur van ca. 200 boeken. Vanwege deze enorme productie noemde de dichter Adriaan Roland Holst hem 'de man die sneller schrijft dan God kan lezen'. Andere belangrijke boeken van Simon Vestdijk zijn: "Kind van stad en land" (1936), "Meneer Visser's hellevaart" (1936), "Ierse nachten" (1946), "De toekomst de religie" (1947), "Pastorale 1943" (1948), "De koperen tuin" (1950), "Ivoren wachters" (1951), "Essays in duodecimo" (1952) en "Het genadeschot" (1964).


K.P. Kavafis

K.P. Kavafis werd als kind van Griekse ouders, afkomstig uit Konstantinopel, geboren in 1863 in Alexandrië (tot vandaag een Griekse enclave) waar hij ook het grootste deel van zijn leven woonde en werkte. Twee jaar na de dood van zijn vader verhuist het gezin in 1872 naar Engeland om na een verblijf van vijf jaar naar Alexandrië terug te keren. Vanwege ongeregeldheden in Egypte vlucht het gezin in 1882 naar Konstantinopel, om na drie jaar opnieuw naar Alexandrië terug te gaan. In de jaren die volgen maakt Kavafis reizen naar Parijs, Londen en in 1901 zijn eerste reis naar Griekenland, in latere jaren gevolgd door nog enkele bezoeken. Op de dag van zijn zeventigste verjaardag, in 1933 sterft Kavafis in Alexandrië. De roem kwam voor Kavafis pas na zijn dood, dus postuum. Deels is dat toe te schrijven aan zijn eigen handelswijze. Hij was uiterst terughoudend met de publicatie van zijn gedichten, liet af en toe een enkel gedicht afdrukken in een literair tijdschrift, gaf in eigen beheer enkele bundels met een stuk of twintig gedichten uit en het merendeel van zijn poëzie schonk hij op losse bladen aan zijn beste vrienden.


Thomas Mann


Thomas Mann, de jongere broer van Heinrich Mann, werd geboren op 6 juni 1875 in Lübeck. Hij was de tweede zoon van de graankoopman Thomas Johann Heinrich Mann welke later één van de senatoren van Lübreck werd. Zijn moeder Julia (geboren da Silva-Bruhns) was Duits-Braziliaans van Portugees Kreoolse afkomst. In 1894 debuteerde Thomas Mann met de novelle "Gefallen". Toen Thomas Mann met 21 jaar eindelijk volwassen was en hem dus geld van zijn vaders erfenis toestond - hij kreeg ongeveer 160 tot 180 goldmark per jaar - besloot hij dat hij genoeg had van al die scholen en instituties en werd onafhankelijk schrijver. Kenmerkend voor zijn stijl zijn de ironie, de fenomenale taalbeheersing en de minutieuze detailschildering. Manns reputatie in Duitsland was sterk wisselend. Met zijn eerste roman, Buddenbrooks (1901), had hij een enorm succes, maar door zijn sceptische houding tegenover Duitsland na de Eerste Wereldoorlog veranderde dit volledig. Stelde hij zich tot aan de jaren twintig apolitiek op (Betrachtungen eines Unpolitischen, 1918), meer en meer raakte hij bij het Politiek gebeuren betrokken. Zijn afkeer van het nationaal socialisme groeide, zijn waarschuwingen werden veelvuldiger en heftiger. In 1944 accepteerde hij het Amerikaanse staatsburgerschap. Tussen 1943 en 1947 schreef Mann Doktor Faustus (zie Faust), de roman van de 'Duitse ziel' in de gecamoufleerd geschilderde omstandigheden van de 20ste eeuw. In 1947 bezocht hij voor het eerst sinds de Oorlog Europa, twee jaar later pas Duitsland. In 1952 vertrok hij naar Zwitserland. Op 12 augustus 1955 stierf hij in Zürich. Twintig jaar na zijn dood, in aug. 1975, is zijn literaire nalatenschap geopend: dagboekaantekeningen van 15 maart 1933 tot 29 juli 1955, alsmede notities uit de jaren 1918 tot en met 1921.Belangrijke werken zijn: Der Zauberberg, Der Tod in Venedig, Dokter Faustus , Joseph und seine Brüder en Die Bekenntnisse des Hochstaplers Felix Krull.


Rainer Maria Rilke

Rilke werd op 4 december 1875 geboren in Praag. Hij had al naam gemaakt als dichter met zijn bundels Das Stundenbuch en Das Buch der Bilder, toen hij de literaire wereld versteld deed staan en wereldfaam verwierf met de publicatie van zijn twee delen Neue Gedichte in 1907 en 1908. Hij verzamelde daarin het beste werk uit een van zijn vruchtbaarste periodes, die hij grotendeels doorbracht in Parijs. Rilke was daar diep onder de indruk gekomen van Rodin, bij wie hij een tijdlang in dienst was als particulier secretaris. Rodin, zei hij later, had hem leren kijken. Dit kijken kwam neer op intense concentratie, om het mysterie te kunnen zien 'achter de schijnbare werkelijkheid'. Latere en rijpere werken als Duineser Elegien (1912-1923) en het ronduit schitterende Die Sonette an Orfeus (1924) illustreren Rilkes metafysische visie op het onzegbare, dat haar verwoording vindt in een hermetische muzikale taal. Op 29 december 1926 overlijdt Rilke in het sanatorium in Val-Mont aan de gevolgen van leukemie. Enkele dagen later wordt hij, overeenkomstig zijn wens, begraven op het kerkhof van Raron.


* * * * * * * * * * * * * * * *

| | |
| --- | --- |
| | Over literatuur, gedichten, kunst en cultuur |

11-09-2016

Dolce far niente, Martinus Nijhoff, David van Reybrouck, Murat Isik, D.H. Lawrence, Eddy van Vliet, Andre Dubus III
Dolce far niente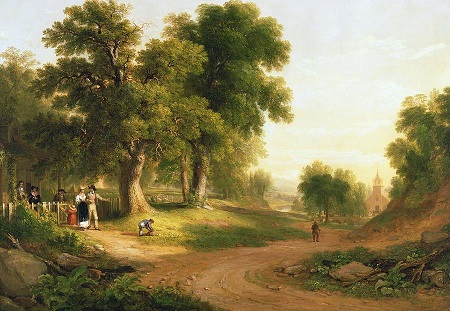 Sunday Morning door Asher Brown Durand, 1839
Zondagmorgen
In 't stille, bleeke water drijven booten:
Zij wachten in de oneindigheid der grijze
Rivier, maar in hun buik zwelt zwaar het groote
Verlangen naar den horizon te reizen.

Ver, in een dorp, begon een klok te luiden,
Een carillon-lied uit den toren kwam -
Een warme wind gaat waaien uit het zuiden,
En ginder rijst het parallellogram
Der ophaalbrug - De klokken luiden, luiden.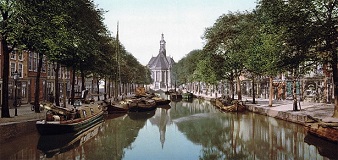 Martinus Nijhoff (20 april 1894 – 26 januari 1953)
Den Haag. De Turfmarkt en Nieuwe Kerk rond 1900. Nijhoff werd geboren in Den Haag.
De Vlaamse dichter, schrijver en wetenschapper David Van Reybrouck werd geboren in Brugge op 11 september 1971. Zie ook mijn blog van 11 september 2010 en eveneens alle tags voor David van Reybrouck op dit blog.
Uit: De kapper
"Morgenochtend vertrek ik naar de Waterberg. ik heb alvast een auto gehuurd. maar ik wil eerst nog even naar de kapper. Het is een kleine gewoonte geworden. telkens als ik in het buitenland ben naar de kapper te gaan. Geen betere manier om de alledaagsheid van een "vreemd" land te lemn kennen dan een bezoek aan de kapperszaak. Geen geschikter souvenir van de reis dan zo'n doorgaans mislukt kapsel waarje bij thuiskomst nog een paar weken mee rondloopt. In de afgelopen jarren heb ik daarom met plezier plukken haar afgestaan aan een getatoeëerde kapper in de haven van Dublin, aan een barbier in Kairo, aan een boerin in de Dordogne, in het oudste salon van Lissabon. in het Pakistaanse getto van Parijs. Aan de voet van het Alhambra. En nu loop ik door een galerij in het centrum van Pretoria, op zoek naar een geschikte plek om mijn haar te lozen.
Als er in Zuid-Afrika een domein is waar een strikte rassenscheiding na de afschaffing van de apartheid nog standhoudt. dan is het ongetwijfeld het kappersbedrijf. zo leer ik algauw. De doorsnee zwarte kapperaaak lijkt op een bouwwerf. Mensen lopen af en aan met emmertjes mortel, schedelvelden worden geplamuurrd, kabels wonden getrokken, siervlechten ingedraaid. Een radio speelt loeihard en, de bouwstiel getrouw, wordt er vooral heel veel gepalaverd. Maar als ik binnenkom. vallen de gesprekken stil. De eigenaar schiet op me af. Hij zou me graag helpen. zegt hij, maar hij kan het eenvoudigweg niet, steil haar. Beteuterd verwijst hij me door naar een blanke kapper, aan de overkant van de straat. Ik stap binnen en wordt door een blonde vrouw naar de kappersstoe! geleid. Ze vraagt hoe het moet. neemt mijn bril af en voor ik het weet. zit ik tegenover een wazig beeld dat mezelf moet zijn. Ook dat is onderdeel van de culturele onderdompeling - het letterlijk blinde vertrouwen in de handen die door het haar woelen. De schaar die langs de oren gaat, het scheermes dat over de slagaders raspt."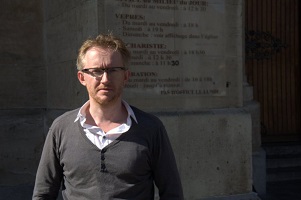 David van Reybrouck (Brugge, 11 september 1971)
De Nederlands-Turkse schrijver, columnist en journalist Murat Isik werd geboren in Izmir op 11 september 1977. Zie ook mijn blog van 11 september 2010 en eveneens alle tags voor Murat Isik op dit blog.
Uit: Verloren grond
"Lange tijd waren mijn ouders bang dat ik plotseling zou sterven, net als mijn tweelingbroers Salman en Muse, die twee dagen na hun geboorte kort na elkaar overleden. In ons dorp Sobyan beschikten we in die tijd niet over medicijnen, laat staan dat er een dokter in ons midden was. We waren overgeleverd aan de genade van de onbarmhartige natuur. De angst voor mijn dood hield mijn ouders in een wurggreep. Vooral mijn moeder verloor me in mijn eerste levensjaren geen ogenblik uit het oog. Als ik me verslikte, klopte ze me hysterisch op mijn rug en na een ongelukkige val kwam ze meteen aangesneld om me te troosten. Meer dan eens werd ze daarbij overvallen door huilbuien.
Ik zag het hele jaar uit naar ons verblijf op het plateau. We speelden de hele dag buiten en als we kattenkwaad uithaalden, waren er geen mannen die ons streng toespraken. Op sommige avonden mochten mijn vriendjes en ik een tent delen. We bleven dan de hele nacht op om buiten naar de sterren te kijken en elkaar enge verhalen te vertellen.
Het was voor mij de gelukkigste tijd van het jaar. Ik kon toen onmogelijk weten dat ik na de zomer van 1965 de yayla nooit meer zou zien. Een jaar later trof het noodlot ons en maakte voor altijd een einde aan ons geluk.
***********
Ons dorp was lang geleden gesticht door Armenen die het de naam Sobyan gaven. In Oost-Turkije woonden in die tijd behalve Zaza's en Koerden veel Armenen. Sobyan werd in mijn kinderjaren echter uitsluitend bewoond door Zaza's en het Zazaki was tot mijn tiende jaar de enige taal die ik sprak. Mijn vader leerde me dat onze voorouders uit het noorden van het vroegere Perzië kwamen. Daar vormde de zuidkust van de Kaspische zee lange tijd hun leefgebied. Hij vertelde me dat de Zaza's van daaruit naar Turkije trokken en zich vooral in het oosten van het huidige Anatolië vestigden.
De overgrootouders van mijn moeder vestigden zich in Sobyan nadat ze na een familievete, uit hun dorp waren verbannen door de muhtar. Samen met een groep dorpelingen die hun kant had gekozen, gingen ze op zoek naar een plek om opnieuw te beginnen. Ze werden gewezen op een dorp in de buurt van Varto dat door de Armenen was verlaten. Na een dagenlange voettocht bereikten ze het dorp waar ik tientallen jaren later op de wereld zou worden gezet."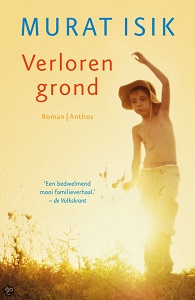 Murat Isik (Izmir, 11 september 1977)
Cover
De Engelse dichter en schrijver D.H. Lawrence werd geboren op 11 september 1885 in Eastwood (Nottinghamshire). Zie ook mijn blog van 11 september 2010 en eveneens alle tags voor D. H. Lawrence op dit blog.
Uit: Lady Chatterley's Lover
"They had been sent to Dresden at the age of fifteen, for music among other things. And they had had a good time there. They lived freely among the students, they argued with the men over philosophical, sociological and artistic matters, they were just as good as the men themselves: only better, since they were women. And they tramped off to the forests with sturdy youths bearing guitars, twang-twang! They sang the Wandervogel songs, and they were free. Free! That was the great word. Out in the open world, out in the forests of the morning, with lusty and splendid-throated young fellows, free to do as they liked, and — above all — to say what they liked. It was the talk that mattered supremely: the impassioned interchange of talk. Love was only a minor accompaniment.
Both Hilda and Constance had had their tentative love-affairs by the time they were eighteen. The young men with whom they talked so passionately and sang so lustily and camped under the trees in such freedom wanted, of course, the love connexion. The girls were doubtful, but then the thing was so much talked about, it was supposed to be so important. And the men were so humble and craving. Why couldn't a girl be queenly, and give the gift of herself?
So they had given the gift of themselves, each to the youth with whom she had the most subtle and intimate arguments. The arguments, the discussions were the great thing: the love-making and connexion were only a sort of primitive reversion and a bit of an anti-climax. One was less in love with the boy afterwards, and a little inclined to hate him, as if he had trespassed on one's privacy and inner freedom. For, of course, being a girl, one's whole dignity and meaning in life consisted in the achievement of an absolute, a perfect, a pure and noble freedom. What else did a girl's life mean? To shake off the old and sordid connexions and subjections.
And however one might sentimentalize it, this sex business was one of the most ancient, sordid connexions and subjections. Poets who glorified it were mostly men. Women had always known there was something better, something higher. And now they knew it more definitely than ever. The beautiful pure freedom of a woman was infinitely more wonderful than any sexual love. The only unfortunate thing was that men lagged so far behind women in the matter. They insisted on the sex thing like dogs."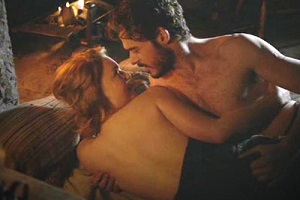 D.H. Lawrence (11 september 1885 – 2 maart 1930)
Scene uit de BBC-serie uit 2015 met Holliday Grainger (Lady Chatterley) en Richard Madden (Oliver Mellors)
De Vlaamse dichter en schrijver Eddy van Vliet werd geboren op 11 september 1942 in Antwerpen. Zie ook mijn blog van 11 september 2010 en eveneens alle tags voor Eddy van Vliet op dit blog
Uit: De laatste dagen van 1991
"Dinsdag 31.12.1991
Onze vriend Jan Van der Borgt is een gevreesd wandelaar. Als hij tijdens het ontbijt achteloos enkele stafkaarten tussen de croissants legt, weten wij hoe laat het is. Vluchten kan niet meer. De duurtijd van de in zijn reisgids beschreven wandelingen varieert tussen twee en vijf uren. Angst. Wij kiezen voor het minste kwaad en vangen een twee uur durende tocht aan. Een bescheiden doch goed bedoeld nieuwjaarsgeschenk voor onze longen. Geen duin zal ons weerstaan, geen jager zal ons van het voorgenomen pad verjagen, hoewel het geluid van neervallende hagel ons even aan de uitvoering van dit voornemen doet twijfelen.
Drie uren later staan wij opnieuw voor het hotel, waar wij door Hugo Claus, die wegens een acute en onweerstaanbare leesdrang was achtergebleven, verwelkomd worden.
De hele middag worden al onze handelingen, uitspraken, blikken en bedenkingen beheerst door de pétanque. Wij spelen met een wilskracht die in staat is om de meeuwen het zwijgen op te leggen en de branding kilometers ver terug te drijven. De om onze oren en monden gewikkelde sjaals, de tot over onze wenkbrauwen hangende bontmutsen en hoofddoeken en de nauwelijks zichtbare stukjes paars gekleurde wangen geven ons het uiterlijk van Koerdische krijgers.
Na het spel trekken wij opnieuw naar 'Le Bar de la Plage' waar wij ons onmiddellijk op een nieuw spel werpen: de Pictionary. De zandloper wordt op tafel gezet, de viltstiften worden uitgedeeld. Ik durf er niet aan denken welke indruk onze spastische gebaren, kreten en lachbuien moeten hebben achtergelaten bij de schaarse en norskijkende tooghangers."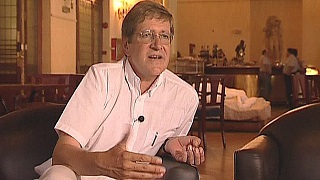 Eddy van Vliet (11 september 1942 – 5 oktober 2002)
De Amerikaanse schrijver Andre Dubus III werd geboren op 11 september 1959 in Oceanside, California. Zie ook alle tags voor Andre Dubus III op dit blog.
Uit: Dirty Love
"She'd done it herself without asking her mother for any help. She'd felt grown-up and a little scared but strong and ready for whatever would come next. But this magazine of her father's made her feel young and stupid, ugly even, and Devon closed it and put it back on the stack. And was it later in the kitchen, dipping the eggplant slices into the milk and raw egg, then the bread crumbs, that she began to wonder about her mother? Her heavy, beautiful mother who smiled at everyone and treated them as if they were special and deserved kindness just because they were alive? Was it then, the first time Devon had helped her to bake eggplant parmigiana, that she began to feel sorry for her own mother?
"Sixteen minutes, Devy," Uncle Francis calls this out from the living room. Devon stares down at the notebook. She reads what she's written, ending with my first tampon. She crosses out the small t and makes it a big one. Then she crosses out the whole paragraph because this is bullshit. All of it. The reason why she hates school in the first place. Everything so fucking fake. She can't write about her vagina or her father's magazines. They want her to write about making eggplant parmigiana with her mother so it shows how close they are; they want Devon to write that this is a precious memory for her, one that has helped her to become "the confident person I am today," and she needs to do all this in five paragraphs, her conclusion a neat echo of her introduction, which she does not have. They want her to type it up with no misspellings, all the rules obeyed, every mark of punctuation right where it should be, then they want her to solve math problems and science problems; they want her to memorize important dates from history and be able to point to any country and its capital on a map, all of this and more so that she can what? Pretend she walked up onstage in a borrowed gown with a bunch of fucking drunks and hypocrites like Trina? Get a framed piece of paper with her name on it so she can look forward to another four years of sitting in more classrooms on some campus somewhere, memorizing and writing and reading just so she can get another piece of paper with her name on it? And then what? Get some job sitting at a desk in some office in some building in some city where they'll pay her money just so she can use it to have a house of her own on a quiet street like Haven Court with a green lawn her husband will cut on the weekends when he's not sitting in the pool drinking a vodka tonic, thumbing through his iEverything for a half-naked picture of his girlfriend? »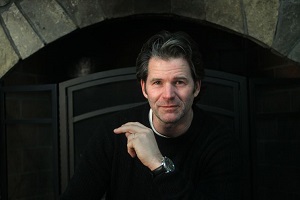 Andre Dubus III (Oceanside, 11 september 1959)
Zie voor nog meer schrijvers van de 11e september ook mijn vorige twee blogs van vandaag.


11-09-2016 om 10:53 geschreven door Romenu

Tags:Dolce far niente, Martinus Nijhoff, David van Reybrouck, Murat Isik, D.H. Lawrence, Eddy van Vliet, Andre Dubus III, Romenu



Tomas Venclova, Merill Moore, Barbara Bongartz, O. Henry, Joachim Fernau, Peter Hille
De Litouwse dichter, schrijver en vertaler Tomas Venclova werd geboren op 11 september 1937 in Klaipeda, Litouwen. Zie ook mijn blog van 11 september 2010 en eveneens alle tags voor Tomas Venclova op dit blog.
Poem
Since early September we have been caught in the pull of the cosmos.
Close your eyes, and you'll know how a leaf that brushes your face
Rubs against the shutters, by mistake touches a cloud,
And sticks between the rooftiles to escape the touch of our hands.
A tree drains the day. The sky is white and blind.
The voice withdraws, having waded into the ebbing valley.
Everything gathers within me so I would know how wearied Atreus
Rejoiced at the castle's silence and the steaming waters.
Will you pass this threshold? Fate, weir, gravel,
Niggardly shabby churches, triangular mires.
The wide hour rushes into rot and loam,
The city circles, and the twelve winds rise in a row.
Will you win me or lose me—thus far no one knows.
The fallows have eroded, the constellations have been pruned.
I attract misfortune, like true north the magnet,
Like a magnet a magnet, misfortune attracts me.
Vertaald door Jonas Zdanys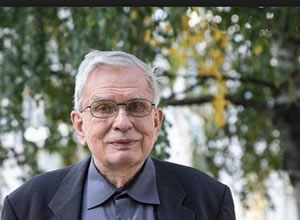 Tomas Venclova (Klaipeda, 11 september 1937)
De Amerikaanse dichter en psychiater Merill Moore werd geboren op 11 september 1903 in Columbia, Tennessee. Zie ook alle tags voor Merill Moore op dit blog.
So Ordered
LEAVE THE TELLING OF JOKES
Leave the telling of jokes to the tellers of jokes,
And tales of seduction to men whose lechery
Has granted them more of virtue than yours has;
And leave the lonely club-room and the smoke
Of idle cigars to those who love to smell
The sulphur fumes that blow from out their hell.
And come (I can show you the rock whereofi' one fell
Whose strong attractions made the masses weak,
Masses who were strong, too strong to break
Apart at the tread of a god's advancing foot,
Too strong to relinquish grasp upon the root
Of evil in their cities)-come with me
To where a sermon has becalmed the sea
And listen with me to the dark emphatic rain.
Fidelitas
I feel sure that inexorable laws
Control events for which we know no cause.
I am certain that infinite gain
Accrues out of the suffering of pain.
I believe that the road that has no end
Leads to the mansion of a certain friend.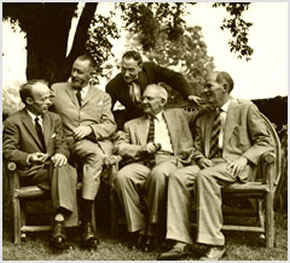 Merill Moore (11 september 1903 – 20 september 1957)
Hier tussen The Fugitives Poets in 1956: Allen Tate (links), Merrill Moore, Robert Penn Warren (staande), John Crowe Ransom en Donald Davidson.
De Duitse schrijfster Barbara Bongartz werd geboren op 11 september 1957 in Keulen. Zie ook mijn blog van 11 september 2010 en eveneens alle tags voor Barbara Bongartz op dit blog.
Uit: Der Tote von Passy -
"Lange Zeit wünschte ich den Tod meiner Eltern. Ich liebte sie, und ich schämte mich für diesen Wunsch. Seine Erfüllung aber schien dem Mädchen, das ich war, die einzige Rettung für unsere Familie. Ich dachte, wenn sie tot wären, würden wir glücklich sein und ihre Sorgen hätten ein Ende. Wer sind meine Eltern gewesen, bevor sie meine Eltern wurden? Ich habe mir die Frage zu spät gestellt. Etwas stimmte mit ihnen nicht. Sie waren nicht einverstanden mit ihrem Leben. Da war diese Unruhe im Haus. Unglück in den Augen meiner Mutter. Zorn in der Stimme meines Vaters. Ihr Mund. Sein Blick. In mir ein diffuses Schuldgefühl. Etwas schien nicht zusammenzugehen. Ich spürte das. Sie quälten sich. Aber ich wusste nicht womit.«
(…)
"Unser Nachbarsjunge und ich machten vor dem Spiegel im Ankleidezimmer meiner Mutter Faxen. Das Spiel hieß HuHu (ich vermute heute, es handelte sich um eine Verballhornung von Who is Who, aber keiner von uns Kindern wußte je, was es zu bedeuten hatte), und wir versuchten, wie unsere Verwandten auszusehen. Zwischendurch kam meine Mutter herein [...] und schüttelte über die bizarren Grimassen den Kopf. 'Ihr treibt es zu doll. Das Gesicht bleibt stehen, und dann seht ihr wie die Monster aus."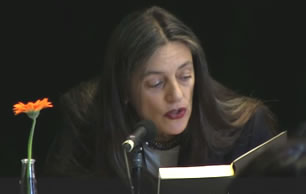 Barbara Bongartz (Keulen, 11 september 1957)

De Amerikaanse schrijver O.Henry, pseudoniem van William Sydney Porter , werd geboren in Greensboro (North Carolina) op 11 september 1862. Zie ook alle tags voor O. Henry op dit blog en ook mijn blog van 11 september 2009 en eveneens mijn blog van 11 september 2010.
Uit: The Voice of the City
"Twenty-five years ago the school children used to chant their lessons. The manner of their delivery was a singsong recitative between the utterance of an Episcopal minister and the drone of a tired sawmill. I mean no disrespect. We must have lumber and sawdust.
I remember one beautiful and instructive little lyric that emanated from the physiology class. The most striking line of it was this:
"The shin-bone is the long-est bone in the hu-man bod-y."
What an inestimable boon it would have been if all the corporeal and spiritual facts pertaining to man had thus been tunefully and logically inculcated in our youthful minds! But what we gained in anatomy, music and philosophy was meagre.
The other day I became confused. I needed a ray of light. I turned back to those school days for aid. But in all the nasal harmonies we whined forth from those hard benches I could not recall one that treated of the voice of agglomerated mankind.
In other words, of the composite vocal message of massed humanity.
In other words, of the Voice of a Big City.
Now, the individual voice is not lacking. We can understand the song of the poet, the ripple of the brook, the meaning of the man who wants $5 until next Monday, the inscriptions on the tombs of the Pharaohs, the language of flowers, the "step lively" of the conductor, and the prelude of the milk cans at 4a. m. Certain large-eared ones even assert that they are wise to the vibrations of the tympanum produced by concussion of the air emanating from Mr. H. James. But who can comprehend the meaning of the voice of the city?
I went out for to see."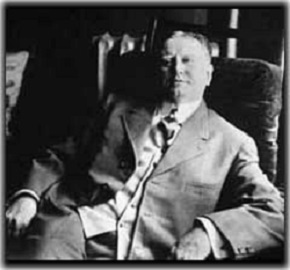 O. Henry (11 september 1862 – 5 juni 1910)
De Duitse schrijver, kunstenaar en kunstverzamelaar Joachim Fernau werd geboren in Bromberg op 11 september 1909. Zie ook alle tags voor Joachim Fernau op dit blog en ook mijn blog van 11 september 2009 en eveneens mijn blog van 11 september 2010.
Uit: Hallelujah
"Als wir – meine Frau und ich -1945 in einem kleinen Mansardenzimmer lebten, dessen Wände zwei Monate im Jahr mit einer Eiskruste überzogen waren, überbrachte uns freundlicherweise ein alliierter Soldat einen Brief aus Amerika, Antwort einer alten Freundin. Der Brief bestand nur aus einer Zeile; sie lautete: »Ich verabscheue alle Deutschen.«
Jahre später zeigte ich diesen Brief meinem alten Verleger Walter Kahnert und fragte ihn, ob ich den Spieß auch umdrehen dürfte. Er sah mich ernst an und sagte: »Nein. Die Amerikaner sind im Grunde ihres Herzens gute Menschen. Sie haben uns, als wir hungerten, Care-Pakete geschickt. Vergessen Sie das niemals!«
In Rom fragte ich einmal eine freundliche Anarchistin, warum sie sich Abend für Abend die Ohren mit der Musik der Amerikaner volldudele und ein Hemd mit der Aufschrift »Wrigley« trage. Sie antwortete:»Der Amerikanismus ist des Teufels, aber das amerikanische Volk ist gut.«
Unmittelbar nach Kriegsende (das Beispiel gehört also eigentlich an den Anfang) lebte ich in Süddeutschland unangemeldet und incognito. Eines Tages erhielt ich ein Schreiben unter meinem vollen Namen vom amerikanischen C./.C. Man forderte mich auf, zwei Tage später in der Dienststelle zu erscheinen. Unterschrieben war der Brief von einem Leutnant. Wohlgemerkt, es kam kein Jeep, der mich einfach abholte. Man gab mir zwei Tage Zeit zu erscheinen, das heißt, zwei Tage Zeit zu verschwinden, ich begriff es sofort. Bis auf den heutigen Tag zerbreche ich mir den Kopf, warum dieser Leutnant das tat. Es gibt nur eine Erklärung: Dieser Amerikaner war ein guter Mensch.
Wieder also. Sind die Amerikaner gut? Ich muß es glauben.
Es ist angenehm, so etwas im voraus zu wissen. Und mit solcher Gewißheit wollen wir nun mit der Geschichte dieses guten Volkes beginnen."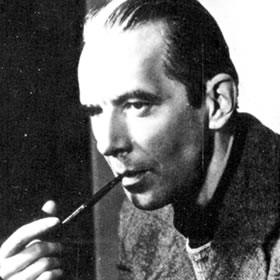 Joachim Fernau (11 september 1909 - 24 november 1988)



De Duitse dichter en schrijver Peter Hille werd geboren in Erwitzen bij Nieheim op 11 september 1854. Zie ook alle tags voor Peter Hille op dit blog en ook mijn blog van 11 september 2009 en eveneens mijn blog van 11 september 2010.
Nordost
Die Zeit ist vorüber. Die Wandervögel ziehen in hohen, langhingewellten, schwarzen Geschwadern durch die grauen Lüfte. Und bisweilen tönt aus unsichtbaren Höhen die Stimme des Herbstes, des Bußpredigers da oben, des ernsten Himmels, wie ein Anruf von dannen, ein Sammeln und ein Ziehen, herb und verhallend. Auch die Fremden zogen von dannen. Nur die Sinnigen blieben, die es gerne haben, wenn es ernster und versunkener wird in ihrer Seele wie in der großen Natur.
Aber auch die Natur will allein gelassen sein, wie laut Detlev von Liliencron der Adel von Holstein. Und da ihr das zu lange dauert, eh alles geräumt ist, so greift sie selbst zu und bricht das Gerümpel ab, damit man es den Fremden in seiner unmittelbaren Nähe gemacht hat.
Da schwimmt hier eine Treppe, da ein Pfahl, nun bohrt sich eine Laufplanke, mit Leinwand bezogen zum Schutz der zarten Damenfüße, mit Stürmerwucht in den tannenglatten Strand.
Der rostentblätterte Anker ist fast ganz eingeschwemmt, an seinen noch freien herzförmigen Zacken hängen wie wilde, welke, vom Leben losgerissene Kränze gelber Verzweiflung, Büschel lohenden Tanges und bläulich angelaufene Stranddisteln. Das Wrack aber, das seit den Frühlingsstürmen hier festliegt, ist wieder lebendig geworden und führt den Vorgang seines Untergangs noch einmal auf: es schluckt eine Sturzsee nach der anderen und gibt sie durch die lecken Planken seines Rumpfes dem bis auf etwa zehn Minuten hinein sandgelben Strandmeer wieder. Sprühgebüsche stieben über Deck. Ganz in der Weite düstergrüne Schollen, wie aufgeworfener Kirchhofsrasen, tobende Höhen, rasender Schaum, stürmende Berge, stürzender Jubel, durcheinandergeschüttelte Winde, ein wild durchäderter Grabstein von gelbem schluchzendem Marmor.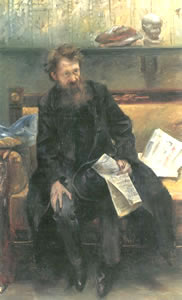 Peter Hille (11 september 1854 - 7 mei 1904)
Portret door Lovis Corinth, 1902
Zie voor nog meer schrijvers van de 11e september ook mijn vorige blog van vandaag.
11-09-2016 om 10:52 geschreven door Romenu

Tags:Tomas Venclova, Merill Moore, Barbara Bongartz, O. Henry, Joachim Fernau, Peter Hille, Romenu



Adam Asnyk, James Thomson, Thomas Parnell, Fitz Hugh Ludlow, Johann Jakob Engel
De Poolse dichter en toneelschrijver Adam Asnyk werd geboren op 11 september 1838 in Kalisz. Zie ook alle tags voor Adam Asnyk op dit blog en ook mijn blog van 11 september 2010.
No, nothing happened there between us two
No, nothing happened there between us two.
Confessions none, no secrets to reveal.
No obligations had we to pursue,
But for the springtide fancies so unreal;
But for the fragrances and colors bright
That floated freely in the mirthful air,
But for the singing groves by day or night,
And all the green and fragrant meadows there;
But for the brooks and waterfalls up high
That cheerfully sprinkled every gorge and dell,
But for the clouds and rainbows in the sky,
But for the nature's of all sweetest spell.
But for the lucid fountains we did share,
Wherefrom our hearts would drink delights so true,
But for the primroses and bindweeds there,
No, nothing happened there between us two.

Vertaald door Jarek Zawadzki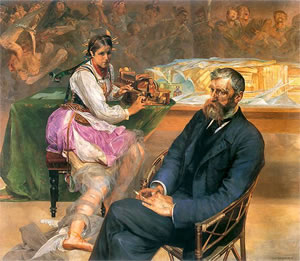 Adam Asnyk (11 september 1838 – 2 augustus 1897)
Adam Asnyk en de muze, geschilderd doorJacek Malczewski
De Schotse dichter en schrijver James Thomson werd geboren op 11 september 1700 in Ednam, Roxburghshire. Zie ook alle tags voor James Thomson op dit blog en ook mijn blog van 11 september 2009 en ook mijn blog van 11 september 2010.
The Four Seasons : Summer (Fragment)
From brightening fields of ether fair disclosed,
Child of the Sun, refulgent Summer comes,
In pride of youth, and felt through Nature's depth:
He comes attended by the sultry Hours,
And ever fanning breezes, on his way;
While, from his ardent look, the turning Spring
Averts her blushful face; and earth, and skies,
All-smiling, to his hot dominion leaves.
Hence, let me haste into the mid-wood shade,
Where scarce a sunbeam wanders through the gloom;
And on the dark-green grass, beside the brink
Of haunted stream, that by the roots of oak
Rolls o'er the rocky channel, lie at large,
And sing the glories of the circling year.
Come, Inspiration! from thy hermit-seat,
By mortal seldom found: may Fancy dare,
From thy fix'd serious eye, and raptured glance
Shot on surrounding Heaven, to steal one look
Creative of the Poet, every power
Exalting to an ecstasy of soul.
And thou, my youthful Muse's early friend,
In whom the human graces all unite:
Pure light of mind, and tenderness of heart;
Genius, and wisdom; the gay social sense,
By decency chastised; goodness and wit,
In seldom-meeting harmony combined;
Unblemish'd honour, and an active zeal
For Britain's glory, liberty, and Man:
O Dodington! attend my rural song,
Stoop to my theme, inspirit every line,
And teach me to deserve thy just applause.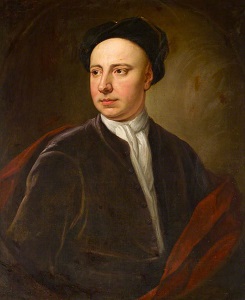 James Thomson (11 september 1700 – 27 augustus 1748)
Portret door Thomas Hudson, 1735
De Ierse dichter Thomas Parnell werd geboren in Dublin op 11 september 1679. Zie ook alle tags voor Thomas Parnell op dit blog en ook mijn blog van 11 september 2009 en eveneens mijn blog van 11 september 2010.
Thou Gaudy Idle world adieu
Thou Gaudy Idle world adieu,
& all thy tinsell Joys;
I lovd thee dearly once tis true,
But since a better choice I knew,
Ive made that better choice.
My wishes mount above the sky
Upon the wings of faith,
My soul shall follow when I dy,
For much I doubt if bodys fly,
What ever Asgill saith.
All things are fickle here below,
How ere above they be,
& If I had not left thee now,
Thy pleasures had left me.
Count but the changes Memory
Which your short time has known,
This is the third King which you see
Upon the English throne.
The Irish who by Williams reign
Were run so much aground,
Do by the Trust (confound it) Gain
three hundred thousand pound.
& My acquaintance wonder not
When you my change discover
Ev'n Methwin has a prayr book bought
'Gainst Rochester comes over.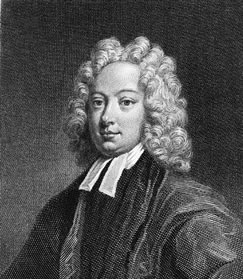 Thomas Parnell (11 september 1679 – 24 oktober 1718)
De Amerikaanse schrijver, journalist en ontdekkingsreiziger Fitz Hugh Ludlow werd geboren op 11 september 1836 in New York. Zie ook alle tags voor Fitz Hugh Ludlow op dit blog en ook mijn blog van 11 september 2010.
Uit: The Hasheesh Eater
"In the hasheesh expansion of seconds into minutes, or even according to a much mightier ratio, there is an opportunity thoroughly to scrutinize the hitherto evanescent phenomena, and the truth comes out. How any more such prophecies as these may have been rejected through the gross habit of the body we may never know until spirit vindicates her claim in a court where she must have audience.
At length the torture of my delirium became so great that I could no longer exist unsustained by sympathy. To Bob, as possessing, from his own experience, a better appreciation of that which I suffered, I repaired in preference to all others. "Let us walk," said I; "it is impossible for me to remain here."
Arm-in-arm we passed down the front steps. And now all traces of the surrounding world passed away from before me like marks wiped from a slate. When we first emerged from the building, I noticed that the night was dark, but this was the last I knew of any thing external. I was beyond all troubles from earth or sky; my agonies were in the spiritual, and there all was terrific light. By the flame of my previous vision the corporeal had been entirely burned off from about the soul, and I trod its charred ruins under foot without a remembrance that they had ever been sensitive or part of me. A voice spoke to me, "By the dissolution of fire hast thou been freed, to behold all things as they are, to gaze on realities, to know principles, to understand tendencies of being."
I now perceived that I was to pass through some awful revelation. It proved to be both Heaven and Hell, the only two states in the universe which together comprehend all free-agent creatures, whether in the Here or the hereafter. Of both I drank tremendous draughts, holding the cup to my lips as may never be done again until the draught of one of them is final."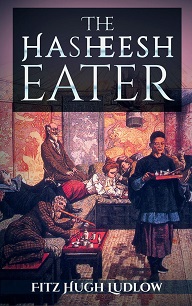 Fitz Hugh Ludlow (11 september 1836 – 12 september 1870)
Cover
De Duitse schrijver Johann Jakob Engel werd geboren op 11 september 1741 in Parchim, Mecklenburg-Schwerin. Zie ook alle tags voor Johann Jakob Engel op dit blog en ook mijn blog van 11 september 2010.
Uit: Herr Lorenz Stark
"Herrn Stark waren von seinen vielen Kindern nur zwei am Leben geblieben: ein Sohn, der sich nach dem Beispiel des Vaters der Handlung gewidmet hatte, und eine Tochter. Letztere war an einen der berühmtesten Aerzte des Orts, Herrn Doctor Herbst, verheirathet: einen Mann, der nicht weniger Geschicklichkeit besaß, Leben hervorzubringen, als zu erhalten. Er hatte das ganze Haus voll Kinder und eben dies machte die Tochter zum Liebling des Alten, der ein großer Kinderfreund war. Weil der Schwiegersohn unfern der Kirche wohnte, die Herr Stark zu besuchen pflegte, so war es ausgemacht, daß er jeden Sonntag bei dem Schwiegersohn aß: und seine Frömmigkeit hätte zuweilen wol gern die Kirche versäumt, wenn nur seine Großvaterliebe den Anblick so werther Enkel und Enkelinnen hätte versäumen können. Es ging ihm immer das Herz auf, wenn ihm der kleine Schwarm, beim Hereintreten in's Haus, mit Jubelgeschrei entgegensprang, sich an seine Hände und Rockschöße hängte, und ihm die kleinen Geschenke abschmeichelte, die er für sie in den Taschen hatte. Unter dem Tischgebete schweiften zuweilen die Augen der Kleinen umher, und er pflegte ihnen dann leise zuzurufen: Andacht! Andacht! aber der gerade am wenigsten Andacht hatte, war er selbst; denn sein ganzes Herz war, wo seine Augen waren, bei seinen Enkeln.
Mit seinem Sohne war dagegen Herr Stark desto unzufriedener. Auf der einen Seite war er ihm zu verschwenderisch, weil er ihm zu viel Geld verkleidete, verritt und verfuhr; insbesondere aber, weil er zu viel auf Kaffeehäuser und in Spielgesellschaften ging. Auf der andern Seite verdroß es Herrn Stark, daß der Sohn als Kaufmann zu wenig Unternehmungsgeist, und als Mensch zu wenig von der Wohlthätigkeit und Großmuth seines eigenen Charakters hatte. Er hielt ihn für ein Mittelding von einem Geizhalse und einem Verschwender; zwei Eigenschaften, die Herr Stark in gleichem Grade verabscheute."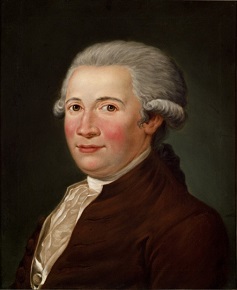 Johann Jakob Engel (11 september 1741 – 28 juni 1802)
Portret door Ferdinand Collmann, 1789
11-09-2016 om 10:51 geschreven door Romenu

Tags:Adam Asnyk, James Thomson, Thomas Parnell, Fitz Hugh Ludlow, Johann Jakob Engel, Romenu



| | |
| --- | --- |
| | |



Inhoud blog


| | |
| --- | --- |
| | Cri Stellweg, Jonathan Ames, Yōko Tawada, Gary Whitehead, Mitch Cullin, Roger Martin du Gard, Madison Cawein, Nils-Aslak Valkeapää, Federica de Cesco |
| | Billy Collins, Theo Kars, Eveline Hasler, Érik Orsenna, Arnold Sauwen, Wolfgang Bächler, Ilse Kleberger, Léon Deubel, Karel Poláček |
| | Willem de Mérode, Pim te Bokkel, Kees van Beijnum, Hamid Skif, Jean Paul |
| | Hubert Fichte, Peter Hacks, Michel Bartosik, Youssef Rzouga, Günter Vallaster, Siegfried Kapper |
| | David Malouf, Katharina Hartwell, Ricus van de Coevering, Roman Libbertz, Jens Petersen, Benoît Duteurtre, Friedrich Hölderlin, Ralph Giordano, Henrik Johan Ibsen |
| | Mano Bouzamour, Hans Mayer, Philip Roth, Noud Bles, Lynne Sharon Schwartz, Lina Kostenko, Kirsten Boie, William Allingham, Ion Barbu |
| | 'Unless a grain of wheat falls into the ground and dies…' (Malcolm Guite) |
| | Christa Wolf, Charlotte Roche, John Updike, Wilfred Owen, Stéphane Mallarmé, Héctor Bianciotti, Hellema, Friedrich Hebbel, Max Barry |
| | Wolfgang Bauer, Richard Condon, Walter Rheiner, Srečko Kosovel, Jean Anglade, George Plimpton, Cosmo Monkhouse, Friedrich Nicolai |
| | In Memoriam F. Starik |
| | Siegfried Lenz, Thomas Melle, Rense Sinkgraven, Hafid Aggoune, Hans Wollschläger, William Ford Gibson |
| | Patrick Hamilton, Karl Gutzkow, Urmuz, Jean Ingelow, Ebenezer Elliott, Paul Green |
| | Ida Gerhardt Poëzieprijs 2018 voor Menno Wigman |
| | P.C. Hooft, Bredero, Dirk von Petersdorff, Zoë Jenny, Alice Hoffman, Hooshang Golshiri, Francisco Ayala, César Vallejo, Per Leo |
| | Ben Okri, David Albahari, Louis Paul Boon, Kurt Drawert, Gerhard Seyfried, Andreas Okopenko, An Rutgers van der Loeff, Prosper van Langendonck, Paul Heyse |
| | Pam Ayres, Jochen Schimmang, Horton Foote, Volker von Törne, Olivier Delorme, Alexandru Macedonski, Albert Robida, Theodore de Banville, Wout Waanders |
| | Mahmoud Darwish, Yuri Andrukhovych, Didier Decoin, Vladimir Makanin, Yeghishe Charent, Geert van Beek, Jan H. de Groot, Kemal Tahir, Joseph Beaumont |
| | Dave Eggers, Jenny Erpenbeck, Jack Kerouac, Henrike Heiland, Naomi Shihab Nye, Carl Hiaasen, Edward Albee, De Schoolmeester, Gabriele d'Annunzio |
| | Nicodemus (Muus Jacobse) |
| | Leena Lehtolainen, Karl Krolow, Daan de Ligt, Frans Vogel, Willem Claassen, Amal Karam, Max Hermens, Eva Meijer, Helena Hoogenkamp |
| | Ernst Wichert, Douglas Adams, Torquato Tasso, Georg Maurer, Josef Martin Bauer, Maartje Smits |
| | John Rechy, Hilde Van Cauteren, Joseph von Eichendorff, Jakob Wassermann, Karel van de Woestijne, Chloé Delaume, Friedrich Schlegel |
| | Boris Vian, Manolis Anagnostakis, Peter McArthur, Samuel Ferguson, Georges Dor, Pedro Antonio de Alarcón, Otto Heinrich Kühner |
| | Koen Peeters, Peter Zantingh, Ed Hoornik, Heere Heeresma, Peter Altenberg, Vita Sackville-West, Josef Weinheber, Taras Sjevtsjenko, Umberto Saba |
| | Ariane Sommer |
| | Jeffrey Eugenides, Walter Jens, Hafid Bouazza, Cándani, A. Marja, Aslı Erdoğan, John McPhee, Mouloud Feraoun, Dominic Angeloch |
| | Bret Easton Ellis, Robert Harris, Jürgen Theobaldy, Georges Perec, Abe Kōbō, Reinhard Kaiser, Manfred Gregor, Jan Frederik Helmers, Alessandro Manzoni |
| | Patrick deWitt, Gabriel García Márquez, Jeremy Reed, Marijke Hanegraaf, Thomas Acda, Günter Kunert, Clark Accord, Elizabeth Barrett Browning, Michelangelo |
| | Pier Paolo Pasolini, Koos van Zomeren, Jurre van den Berg, Arthur van Schendel, Nelly Arcan, Jean Orizet, Leslie Marmon Silko, Frank Norris, Ennio Flaiano |
| | De tempelreiniging (Nicolaas Beets) |
| | Robert Kleindienst, Khaled Hosseini, Kristof Magnusson, Irina Ratushinskaya, Alan Sillitoe, Ryszard Kapuściński, Jean-Joseph Rabearivelo, Annette Seemann |
| | F. W. Bernstein, Giorgio Bassani, Bernardo Ashetu, Léon-Paul Fargue, Kito Lorenc, Jacques Dupin, Thomas S. Stribling |
| | Manfred Flügge, Hans Verhagen, Tjitske Jansen, James Merrill, Kola Boof, Clifton Snider, Gudrun Pausewang, Chris Kraus |
| | Josef Winkler, Heinz Knobloch, Alexandros Papadiamantis, Charles Sealsfield, William Godwin, Paul Guimard, Edmund Waller, Thomas Otway |
| | Godfried Bomans, Multatuli, Frank Albers, John Irving, Thom Wolfe, Michael Salinger, János Arany, Olivia Manning, Rinske Kegel |
| | Jan Eijkelboom, Jim Crace, Delphine de Vigan, Franz Hohler, Lytton Strachey, Robert Lowell, Myrthe van der Meer, Franzobel, Steven Barnes |
| | Peter Pessl |
| | Benedict Wells |
| | Bart Koubaa, Stephen Spender, John Montague, Josef Svatopluk Machar, Luc Dellisse, Marcel Pagnol, Bodo Morshäuser, Martin Suter, Yórgos Seféris |
| | Howard Nemerov, Daniel Handler, Dee Brown, Michel de Montaigne, Marin Sorescu, Saul Williams |
| | Cynan Jones, John Steinbeck, Ruy Belo, Lawrence Durrell, André Roy, Henry Longfellow, Elisabeth Borchers, James T. Farrell, Irwin Shaw |
| | Michel Houellebecq, Victor Hugo, Adama van Scheltema, George Barker, Ulrike Syha, Hermann Lenz, Antonin Sova, Jean Teulé, Elias Annes Borger |
| | De verheerlijking op den berg (Nicolaas Beets) |
| | Amin Maalouf, Aldo Busi, Gabriël Smit, Anthony Burgess, Robert Rius, Karl May, Lesja Oekrajinka, Karel Toman, Vittoria Colonna |
| | Franz Xaver Kroetz, Gérard Bessette, Mary Chase, Karl Wilhelm Ramler, Friedrich von Spee, Carlo Goldoni, Quirinus Kuhlmann |
| | Leon de Winter, Alain Mabanckou, George Moore, Erich Loest, Herman Maas, Luc Verbeke, Wilhelm Grimm, Friedrich Spielhagen, Jacques Presser |
| | August Derleth, Keto von Waberer, Yüksel Pazarkaya, Erich Pawlu, Irène Némirovsky, Vincent Voiture, Rosalía de Castro, Paul Alfred Kleinert, Stanisław Witkiewicz |
| | César Aira, Robert Gray, Jef Geeraerts, Bernard Cornwell, Ljoedmila Oelitskaja, Toon Kortooms, Jo Ypma, Sonya Hartnett, Maxim Februari |
| | Arnon Grunberg, Rob Schouten, Ruben van Gogh, Paul van Ostaijen, Hugo Ball, Danilo Kis, Sean O'Faolain, Ishmael Reed, Edna St. Vincent Millay |
| | J.M.A. Biesheuvelprijs voor Annelies Verbeke |


Gastenboek


Druk op onderstaande knop om een berichtje achter te laten in mijn gastenboek