De Amerikaanse schrijver en acteur Charles Busch werd geboren op 23 augustus 1954 in New York. Zie ook mijn blog van 23 augustus 2010 en ook alle tags voor Charles Busch op dit blog.
Uit: Psycho Beach Party
« Chicklet, a wholesome All-American teenage girl suffers from a multiple personality syndrome. At the big luau, Starcat, a surfer and a psychology major, hypnotizes her and she reveals the dark secret that has caused her personality to fracture.
CHICKLET
I was so angry with my mother. I wanted to hurt her. I took my brother Frankie's hand and we crossed the street to the playground. There were these awful slum children playing, pounding strange primitive instruments. A sharp breeze caused the wild flowers to have the wizened faces of starving circus clowns. The sky seemed so threatening, as if the clouds were created of demented angels warning me to flee. But I couldn't. I look down and there's a pale green snake slithering along the crack of the pavement, a cooly seductive creature on its way to a lizard ball. This viridian temptress stops to deliver me a message.
A perverse billet-doux that I must disobey my mother. No, no, I can't do that. I love my mother. She's kind and beautiful. The snakes multiply, in a moment, there are reptiles covering the jungle gym making those steel bars as green as grass and terrifyingly alive. And all of them whispering "Go on, go on, go on the swings. Your mother doesn't love you.
She loathes the very sight of you." I looked at my little brother, wearing his red overalls with the little fishes. I said, "Frankie, let's go on the swings. It'll be fun. I don't care what Mama said," He got on the swing and I pushed him. Harder and harder I pushed him until he was soaring into the clouds and that's when I dared him. I dared him, "I bet you can't stay on with no hands." He took me up on the bet and let go, and my wonderful little twin brother, this adorable little boy who loved and trusted me, he flew off the swing and into the outstretched arms of those ghastly angels and I never saw him again until we found his crushed, little body in thedumpster next door!"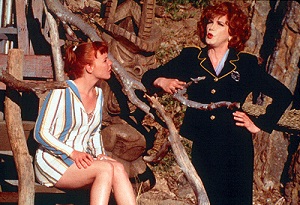 Charles Busch (New York, 23 augustus 1954)
Lauren Ambrose als Chicklet en Charles Busch (r) als Captain Monica Stark in een opvoering in 2000
De Nederlandse schrijver en vertaler Albert Alberts werd op 23 augustus 1911 in Haarlem geboren. Zie ook mijn blog van 23 augustus 2010 en ook alle tags voor Albert Alberts op dit blog.
Uit: Het moeras
'Waarom woont meneer Naman niet meer in het dorp, vroeg ik. Meneer Naman heeft een huis laten bouwen achter het moeras, zei de man, die het woord voerde. Maar waarom achter het moeras, vroeg ik weer. Iedereen zweeg. Zelfs de man, die tot nog toe had gesproken. Eindelijk zei er een hulpeloos: Meneer Naman wilde achter het moeras een huis bouwen.'
(…)
'Ik hoorde stappen achter me en ik draaide me om. In de open deur van zijn huis stond Naman, zijn rechterarm op een dubbelloops geweer. Kijk eens aan, zei Naman.
Dag Naman, zei ik en ik stond op en liep op hem toe.
Ik dacht, ik moest je eens komen opzoeken.
En daar doe je goed aan, zei Naman. Een uitstekend idee, een hartelijk idee.'
(…)
'Iedereen is hier altijd weer weg, zei ik. Ik riep: Naman, de sherry wordt warm. Er kwam geen antwoord. Later vergat ik de sherry. Ik riep: Naman, als je niet gauw komt, is de kruik leeg! Is de kruik warempel al leeg? zei ik tegen mezelf en ik hief de karaf met de jenever naar het licht van de lamp.'
(…)
Ik vroeg: Zeg Naman, hoe heb je de verlichting eigenlijk geregeld? Hè? vroeg Naman verward. Hij liep op dat ogenblik juist van me af en ik had hem blijkbaar midden tussen een paar knikken in gestoord. Het is toch niet donker, zei hij. Het is nog niet zo donker! riep hij nog eens hard. Nee, zeker niet, zei ik, het is nog niet zo donker. Petroleum, zei Naman. Je wilt zeker een borrel, hè? Haha, je wilt natuurlijk een borrel, dat je zo over donker worden begint te praten.' En even verder zegt Naman: 'Het wordt toch donker... Het wordt hier altijd zo verdraaid gauw donker. Waarom ben je ook niet vroeger gekomen?'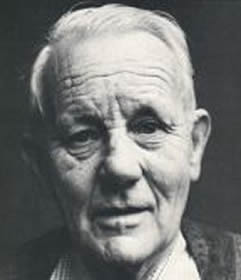 Albert Alberts (23 augustus 1911 – 16 december 1995)
De Duitse schrijver en uitgever Ilija Trojanow werd geboren in Sofia, Bulgarije, op 23 augustus 1965. Zie ook mijn blog van 23 augustus 2010 en ook alle tags voor Ilija Trojanow op dit blog.
Uit:Macht und Widerstand
"Ging früher einer fremd, galt er als sittlich verkommen. Böser Mann, böser kleiner Mann. War's einer aus der Partei, so hieß es, er habe einen Fehler begangen. Unbedacht, kann ja mal passieren. Verführte ein Bonze die Tochter eines Arbeiters, klopften ihm die Genossen auf die Schulter. Du Schlingel du. Und sammelte einer der Oberen Liebschaften wie Orden, wurden seine Verführungskünste bewundert. Das war früher. Heute ist die Moral an den Dollar gekoppelt.
Ein grandioses Zeitalter läuft aus in vollen Touren, und die Wassermelonen, aufgeschnitten am Straßenrand, glänzen wonnevoll. Dem Einfallsreichtum der Verkäufer höchstes Lob: zwei Tropfen Urin in die Melone gespritzt und schon reift sie prall rot, diese Traummelone. Was für eine elegante Lösung, zeitgemäß effizient statt der umständlichen und langwierigen Pfropferei von einst. Mühsam mussten die Altvorderen Schweine mit Tausendfüßlern kreuzen, zur Ankurbelung der Schweinshaxenproduktion. Mitschurin, du Held jeder Tafelrunde, wie ist dir bloß ein rostresistenter Traktor gelungen? Simpel, aber raffiniert, mit der Kartoffel gekreuzt …
Posaunen und Fanfaren sind passé, Hupe und gestreckter Mittelfinger en vogue, die Reifen zu beiden Seiten des Mittelstreifens, im Rückspiegel Überflüssiges, im Straßengraben ein ölverschmiertes Kopftuch, Brocken selbstgebackenen Brots, eine faulige Zwetschge und ein Passat, Baujahr 1977, erworben im Industriegebiet einer westdeutschen Kleinstadt von einem Studenten der Nationalökonomie, der sich im Ausland von mitgeführten Konserven ernährte, ein grüner Variant, der bis vor einer Stunde gute Dienste geleistet hat, ein Relikt aus Mangelzeiten, die Taschen stehen neben dem geöffneten Kofferraum, im Warten geht es weiter. Schade wirklich, dass dieses Jahrhundert sich dem Ende zuneigt. Bleibt denn noch Zeit für eine Reprise, für eine letzte Gelegenheit, den Rotz aus der Nase zu blasen?"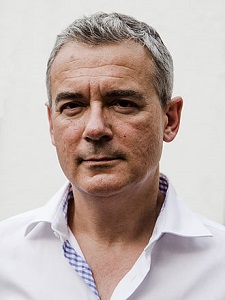 Ilija Trojanow (Sofia, 23 augustus 1965)
De Engelse dichter, schrijver, dramaturg en componist Willy Russell werd geboren op 23 augustus 1947 in Whinston bij Liverpool. Zie ook mijn blog van 23 augustus 2010 en ook alle tags voor Willy Russell op dit blog.
Uit:Blood brothers
"Mrs Johnstone: Mickey. Don't shoot Eddie. He's your brother. You had a twin brother. I couldn't afford to keep both of you. New shoes on the table, take them off… "They say I'm incapable of controllin' the kids I've already got." I'll have a look in the catalogue next week. We'll see what the bikes are like in there. He's gone, he's gone up to heaven, love. "I love the bones of everyone of them." I'd spend it. I'd buy more junk and trash; that's all. I don't want your money. "But like they say at the Welfare, kids can't live on love alone." "couldn't I keep them together for a few more days, please, please, they're a pair, they go together." Mickey: 'Oh thanks, mam. I love y'
(…)
Mickey Johnstone Sammy: 'Look at y' Mickey. What have y' got? Nothin', like me Mam. Where y' takin y' tart for New Year? Nowhere.' Edward – To Mrs Lyons 'I like him more than you.' 'we were born on the same day….that means we can be blood brothers.' 'See this means that we're blood brothers, an' that we always have to stand by each other.' Edward: (awed) 'Pissed off. You say smashing things don't you? Do you know any more words like that? Yeh, I know loads of words like that. Y'know like the "f" word. Mickey: 'there's very little to celebrate, Eddie.' Erm… well, the thing is.. Linda, I've erm.. Linda for Christ's sake will you go out with me? Aah… take no notice. We've been caught loads of times by policemen.. haven't we Linda? Round here if y'ask for a sweet, y'have to ask about twenty million times. "he's feelin' fifteen years older/And his speech is rather slow...you'd think he was dead" "Why didn't you give me away! I could have been... I could have been him!"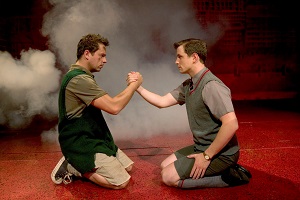 Willy Russell (Whinston, 23 augustus 1947)
Sean Jones en Joel Benedict in een opvoering in St Helens, 2014
De Oostenrijkse schrijver Gustav Ernst werd geboren in Wenen op 23 augustus 1944. Zie ook mijn blog van 23 augustus 2010 en ook alle tags voor Gustav Ernst op dit blog.
Uit: Grundlsee
"Bella ist fünf. Oder vier? Sie ergreift Lilis Hand. Lass sie, sagt meine Frau, sie schläft. Lili schlägt die Augen auf. Sie schläft nicht, sagt Bella. Sie stinkt, sagt John. Meine Frau sagt: Sie muss gewickelt werden. Machst du das?, sagt sie zu mir. Papa muss mich kitzeln, sagt John. Mich auch, sagt Bella und legt sich auf John. Ich kitzle beide. Sie lachen und schlagen um sich. Aufpassen auf Lili, sagt meine Frau. Jetzt passt doch auf Lili auf, sagt sie. John klammert sich an mich. Bella klammert sich an John. Ihr seid mir zu schwer, sage ich, ich krieg keine Luft. Nein, sagt John, wir sind ganz leicht. Ja, sagt Bella, wir fliegen. Und Papa fliegt mit, sagt John. Und Mama auch, sagt Bella. Und Lili bleibt da, sagt John. Nein, sagt Bella, Lili fliegt mit. Lili kommt in mein Körbchen, Lili kommt mit.
John steckt seinen Kopf unter meine Achsel. Bellas Körper klatscht auf meine Brust. Jetzt bin ich bei Papa, sagt sie. Ihr Gesicht ist ganz nah. Sie schaut mir in die Augen und grinst. Ich betrachte ihr Muttermal unter dem rechten Auge: ein winziger Punkt auf einer makellosen Haut. Hier ist es schön warm, sagt John. Hier auch, sagt Bella und drückt ihren Kopf unter mein Kinn. Warum hast du so viele Haare auf der Brust?, sagt sie. Mama, sagt sie, warum hat Papa so viele Haare auf der Brust? Du hast ja auch keine.
Papa, zu mir drehen, sagt John. Nein, sagt Bella, Papa dreht sich zu mir. Sie nimmt meinen Kopf und dreht ihn zu sich. Unfair, sagt John, ich war zuerst, nimmt meinen Kopf und dreht ihn zu sich. Zu dir hat er eh die ganze Zeit geschaut, sagt Bella, nimmt meinen Kopf und dreht ihn zu sich. Ist nicht wahr, sagt John, nimmt meinen Kopf und will ihn zu sich drehen, aber Bella lässt ihn nicht los. Au, sage ich, ihr reißt mir ja den Kopf ab. Lasst doch den Papa in Ruh, sagt meine Frau.
Lili schreit. Was schreit sie denn so, sagt John. Sie muss gewickelt werden, sagt meine Frau. Deswegen muss sie nicht so schreien, sagt er. Du hast auch so geschrien, sagt meine Frau. Ich hab nicht so geschrien, sagt John."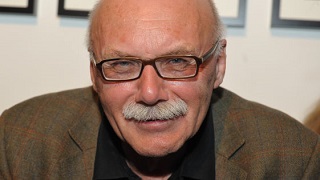 Gustav Ernst (Wenen, 23 augustus 1944)


Zie voor nog meer schrijvers van de 23e augustus ook mijn vorige blog van vandaag.
23-08-2015 om 14:29 geschreven door Romenu

Tags:Charles Busch, Albert Alberts, Ilija Trojanow, Willy Russell, Gustav Ernst, Romenu