E-mail mij


Druk op onderstaande knop om mij te e-mailen.


Romenu


Romenu is een blog over gedichten, literatuur en kunst Maar Romenu is ook een professionele freelance vertaler
Du-Ne en Ne-Du http://www.romenu.nl.


Huur eens een (vakantie)huis in een natuurgebied, dichtbij het centrum van Nijmegen


Google


Georg Trakl

Georg Trakl werd op 3 februari 1887 in het conducteurshuis aan de Waagplatz 2 in Salzburg geboren. Zijn vader, Tobias Trakl, was een handelaar in ijzerwaren en zijn moeder, die ook psychische problemen had, was Maria Catharina Trakl, (meisjesnaam Halik). Voorts had hij nog drie broers en drie zussen. Margarethe (doorgaans Grethe genoemd) stond hem het naast, zelfs zodanig dat sommigen een incestueuze verhouding vermoeden. Zijn jeugd bracht hij door in Salzburg. Vervolgens bezocht hij van 1897 tot 1905 het humanistische gymnasium. Om toch een academische opleiding te kunnen volgen, werkte hij tot 1908 in de praktijk bij een apotheker. Sommigen vermoedden dat hij dit vooral deed om zichzelf opiaten te kunnen verschaffen. Bij het uitbreken van WO I werd Trakl als medicus naar het front in Galicië (heden ten dage in Oekraïne en Polen) gestuurd. Zijn gemoedsschommelingen leidden tot geregelde uitbraken van depressie, die verergerd werden door de afschuw die hij voelde voor de verzorging van de ernstig verwonde soldaten. De spanning en druk dreven hem ertoe een suïcidepoging te ondernemen, welke zijn kameraden nochtans verhinderden. Hij werd in een militair ziekenhuis opgenomen in Kraków, alwaar hij onder strikt toezicht geplaatst werd.Trakl verzonk daar in nog zwaardere depressies en schreef Ficker om advies. Ficker overtuigde hem ervan dat hij contact moest opnemen met Wittgenstein, die inderdaad op weg ging na Trakls bericht te hebben ontvangen. Op 4 november 1914, drie dagen voordat Wittgenstein aan zou komen, overleed hij echter aan een overdosis cocaïne


Paul Celan

Paul Celan werd onder de naam Paul Antschel op 23 november 1920 geboren in Czernowitz, toentertijd de hoofdstad van de Roemeense Boekovina, nu behorend bij de Oekraïne. Paul Celans ouders waren Duitssprekende joden die hun zoon joods opvoedden en hem naar Duitse christelijke scholen stuurden. In 1942 werden Celans ouders door de Duitse bezetter naar een werkkamp gedeporteerd en daar vermoord. Hijzelf wist aanvankelijk onder te duiken, maar moest vanaf juli 1942 in een werkkamp dwangarbeid verrichten. Celan overleefde de oorlog. Via Boekarest en Wenen vestigde Celan zich in 1948 in Parijs. Daar was hij werkzaam als dichter, vertaler en doceerde hij aan de prestigieuze Ecole Normale Supérieure. Vermoedelijk op 20 april 1970 beëindigde hij zijn leven zelf door in de Seine te springen.


Gerard Reve

Gerard Reve over: Medearbeiders "God is in de mensen, de dieren, de planten en alle dingen - in de schepping, die verlost moet worden of waaruit God verlost moet worden, door onze arbeid, aangezien wij medearbeiders van God zijn." Openbaring "Tja, waar berust elk godsbegrip op, elke vorm van religie? Op een openbaring, dat wil zeggen op een psychische ervaring van zulk een dwingende en onverbiddelijke kracht, dat de betrokkene het gevoel heeft, niet dat hij een gedachte of een visioen heeft, maar dat een gedachte gedachte of visioen hem bezit en overweldigt."


Simon Vestdijk
Simon Vestdijk (Harlingen, 17 oktober 1898 – Utrecht, 23 maart 1971) was een Nederlands romancier, dichter, essayist en vertaler. Zijn jeugd te Harlingen en Leeuwarden beschreef hij later in de Anton Wachter-cyclus. Van jongs af aan logeerde hij regelmatig bij zijn grootouders in Amsterdam, waar hij zich in 1917 aan de Universiteit van Amsterdam inschrijft als student in de medicijnen. Tijdens zijn studie die van 1917 tot 1927 duurde, leerde hij Jan Slauerhoff kennen.Tot 1932 is hij als arts in praktijken door heel Nederland werkzaam. In 1932 volgt zijn officiële schrijversdebuut met de uitgave van de bundel Verzen in De Vrije Bladen. Doorslaggevend voor Vestdijks uiteindelijke keuze voor de literatuur is zijn ontmoeting in 1932 met Eddy Du Perron en Menno ter Braak. Deze ontmoeting had tot resultaat dat hij redactielid werd van het tijdschrift Forum Kort daarop, in 1933, wordt zijn eerste novelle, De oubliette, uitgegeven. In hetzelfde jaar schrijft hij Kind tussen vier vrouwen, dat, eerst geweigerd door de uitgever, later de basis zal vormen voor de eerste drie delen van de Anton Wachter-romans. In 1951 ontvangt Vestdijk de P.C. Hooftprijs voor zijn in 1947 verschenen roman De vuuraanbidders. In 1957 wordt hij voor het eerst door het PEN-centrum voor Nederland voorgedragen voor de Nobelprijs voor de Literatuur, die hij echter nooit zal krijgen. Op 20 maart 1971 wordt hem de Prijs der Nederlandse Letteren toegekend, maar voor hij deze kan ontvangen overlijdt hij op 23 maart te Utrecht op 72-jarige leeftijd. Vestdijk was auteur van ca. 200 boeken. Vanwege deze enorme productie noemde de dichter Adriaan Roland Holst hem 'de man die sneller schrijft dan God kan lezen'. Andere belangrijke boeken van Simon Vestdijk zijn: "Kind van stad en land" (1936), "Meneer Visser's hellevaart" (1936), "Ierse nachten" (1946), "De toekomst de religie" (1947), "Pastorale 1943" (1948), "De koperen tuin" (1950), "Ivoren wachters" (1951), "Essays in duodecimo" (1952) en "Het genadeschot" (1964).


K.P. Kavafis

K.P. Kavafis werd als kind van Griekse ouders, afkomstig uit Konstantinopel, geboren in 1863 in Alexandrië (tot vandaag een Griekse enclave) waar hij ook het grootste deel van zijn leven woonde en werkte. Twee jaar na de dood van zijn vader verhuist het gezin in 1872 naar Engeland om na een verblijf van vijf jaar naar Alexandrië terug te keren. Vanwege ongeregeldheden in Egypte vlucht het gezin in 1882 naar Konstantinopel, om na drie jaar opnieuw naar Alexandrië terug te gaan. In de jaren die volgen maakt Kavafis reizen naar Parijs, Londen en in 1901 zijn eerste reis naar Griekenland, in latere jaren gevolgd door nog enkele bezoeken. Op de dag van zijn zeventigste verjaardag, in 1933 sterft Kavafis in Alexandrië. De roem kwam voor Kavafis pas na zijn dood, dus postuum. Deels is dat toe te schrijven aan zijn eigen handelswijze. Hij was uiterst terughoudend met de publicatie van zijn gedichten, liet af en toe een enkel gedicht afdrukken in een literair tijdschrift, gaf in eigen beheer enkele bundels met een stuk of twintig gedichten uit en het merendeel van zijn poëzie schonk hij op losse bladen aan zijn beste vrienden.


Thomas Mann


Thomas Mann, de jongere broer van Heinrich Mann, werd geboren op 6 juni 1875 in Lübeck. Hij was de tweede zoon van de graankoopman Thomas Johann Heinrich Mann welke later één van de senatoren van Lübreck werd. Zijn moeder Julia (geboren da Silva-Bruhns) was Duits-Braziliaans van Portugees Kreoolse afkomst. In 1894 debuteerde Thomas Mann met de novelle "Gefallen". Toen Thomas Mann met 21 jaar eindelijk volwassen was en hem dus geld van zijn vaders erfenis toestond - hij kreeg ongeveer 160 tot 180 goldmark per jaar - besloot hij dat hij genoeg had van al die scholen en instituties en werd onafhankelijk schrijver. Kenmerkend voor zijn stijl zijn de ironie, de fenomenale taalbeheersing en de minutieuze detailschildering. Manns reputatie in Duitsland was sterk wisselend. Met zijn eerste roman, Buddenbrooks (1901), had hij een enorm succes, maar door zijn sceptische houding tegenover Duitsland na de Eerste Wereldoorlog veranderde dit volledig. Stelde hij zich tot aan de jaren twintig apolitiek op (Betrachtungen eines Unpolitischen, 1918), meer en meer raakte hij bij het Politiek gebeuren betrokken. Zijn afkeer van het nationaal socialisme groeide, zijn waarschuwingen werden veelvuldiger en heftiger. In 1944 accepteerde hij het Amerikaanse staatsburgerschap. Tussen 1943 en 1947 schreef Mann Doktor Faustus (zie Faust), de roman van de 'Duitse ziel' in de gecamoufleerd geschilderde omstandigheden van de 20ste eeuw. In 1947 bezocht hij voor het eerst sinds de Oorlog Europa, twee jaar later pas Duitsland. In 1952 vertrok hij naar Zwitserland. Op 12 augustus 1955 stierf hij in Zürich. Twintig jaar na zijn dood, in aug. 1975, is zijn literaire nalatenschap geopend: dagboekaantekeningen van 15 maart 1933 tot 29 juli 1955, alsmede notities uit de jaren 1918 tot en met 1921.Belangrijke werken zijn: Der Zauberberg, Der Tod in Venedig, Dokter Faustus , Joseph und seine Brüder en Die Bekenntnisse des Hochstaplers Felix Krull.


Rainer Maria Rilke

Rilke werd op 4 december 1875 geboren in Praag. Hij had al naam gemaakt als dichter met zijn bundels Das Stundenbuch en Das Buch der Bilder, toen hij de literaire wereld versteld deed staan en wereldfaam verwierf met de publicatie van zijn twee delen Neue Gedichte in 1907 en 1908. Hij verzamelde daarin het beste werk uit een van zijn vruchtbaarste periodes, die hij grotendeels doorbracht in Parijs. Rilke was daar diep onder de indruk gekomen van Rodin, bij wie hij een tijdlang in dienst was als particulier secretaris. Rodin, zei hij later, had hem leren kijken. Dit kijken kwam neer op intense concentratie, om het mysterie te kunnen zien 'achter de schijnbare werkelijkheid'. Latere en rijpere werken als Duineser Elegien (1912-1923) en het ronduit schitterende Die Sonette an Orfeus (1924) illustreren Rilkes metafysische visie op het onzegbare, dat haar verwoording vindt in een hermetische muzikale taal. Op 29 december 1926 overlijdt Rilke in het sanatorium in Val-Mont aan de gevolgen van leukemie. Enkele dagen later wordt hij, overeenkomstig zijn wens, begraven op het kerkhof van Raron.


* * * * * * * * * * * * * * * *

| | |
| --- | --- |
| | Over literatuur, gedichten, kunst en cultuur |

28-10-2007

Evelyn Waugh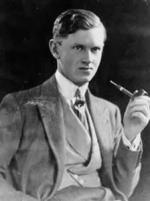 Evelyn Waugh (28 oktober 1903 – 10 april 1966)







De Britse schrijver Evelyn Waugh werd geboren in Londen op 28 oktober 1903. Zie ook mijn blog van 28 oktober 2006.


Uit: Brideshead Revisited
"I HAVE been here before," I said; I had been there before; first with Sebastian more than twenty years ago on a cloudless day in June, when the ditches were white with fool's-parsley and meadowsweet and the air heavy with all the scents of summer; it was a day of peculiar splendour, such as our climate affords once or twice a year, when leaf and flower and bird and sun-lit stone and shadow seem all to proclaim the glory of God; and though I had been there so often, in so many moods, it was to that first visit that my heart returned on this, my latest.

That day, too, I had come not knowing my destination. It was Eights Week. Oxford - submerged now and obliterated, irrecoverable as Lyonnesse, so quickly have the waters come flooding in - Oxford, in those days, was still a city of aquatint. In her spacious and quiet streets men walked and spoke as they had done in Newman's day; her autumnal mists, her grey springtime, and the rare glory of her summer days - such as that day - when the chestnut was in flower and the bells rang out high and clear over her gables and cupolas, exhaled the soft vapours of a thousand years of learning. It was this cloistral hush which gave our laughter its resonance, and carried it still, joyously, over the intervening clamour. Here, discordantly, in Eights Week, came a rabble of womankind, some hundreds strong, twittering and fluttering over the cobbles and up the steps, sight-seeing and pleasure-seeking, drinking claret cup, eating cucumber sandwiches; pushed in punts about the river, herded in droves to the college barges; greeted in the Isis and in the Union by a sudden display of peculiar, facetious, wholly distressing Gilbert-and-Sullivan badinage, and by peculiar choral effects in the college chapels. Echoes of the intruders penetrated every corner, and in my own college was no echo, but an original fount of the grossest disturbance. We were giving a ball. The front quad, where I lived, was floored and tented; palms and azaleas were banked round the porter's lodge; worst of all, the don who lived above me, a mouse of a man connected with the Natural Sciences, had lent his rooms for a Ladies' Cloakroom, and a printed notice proclaiming this outrage hung not six inches from my oak.

No one felt more strongly about it than my scout.

"Gentlemen who haven't got ladies are asked as far as possible to take their meals out in the next few days," he announced despondently. "Will you be lunching in?"

"No, Lunt."

"So as to give the servants a chance, they say. What a chance! I've got to buy a pin-cushion for the Ladies' Cloakroom. What do they want with dancing? I don't see the reason in it. There never was dancing before in Eights Week. Commem. now is another matter being in the vacation, but not in Eights Week as if teas and the river wasn't enough. If you ask me, sir, it's all on account of the war. It couldn't have happened but for that." For this was 1923 and for Lunt, as for thousands of others, things could never be the same as they had been in 1914. "Now wine in the evening," he continued, as was his habit, half in and half out of the door, "or one or two gentlemen to luncheon, there's reason in. But not dancing. It all came in with the men back from the war. They were too old and they didn't know and they wouldn't learn. That's the truth. And there's some even goes dancing with the town at the Masonic - but the proctors will get them, you see. . . . Well, here's Lord Sebastian. I mustn't stand here talking when there's pin-cushions to get."

Sebastian entered - dove-grey flannel, white crepe-de-chine, a Charvet tie, my tie as it happened, a pattern of postage stamps - "Charles, what in the world's happening at your college? Is there a circus? I've seen everything except elephants. I must say the whole of Oxford has become most peculiar suddenly. Last night it was pullulating with women. You're to come away at once, out of danger. I've got a motor-car and a basket of strawberries and a bottle of Château Peyraguey - which isn't a wine you've ever tasted, so don't pretend. It's heaven with strawberries."

"Where are we going?"

"To see a friend."

"Who?"

"Name of Hawkins. Bring some money in case we see anything we want to buy. The motor-car is the property of a man called Hardcastle. Return the bits to him if I kill myself; I'm not very good at driving."

Beyond the gate, beyond the winter garden that was once the lodge, stood an open, two-seater Morris-Cowley. Sebastian's Teddy-bear sat at the wheel. We put him between us - "Take care he's not sick" - and drove off. The bells of St. Mary's were chiming nine; we escaped collision with a clergyman, black-straw-hatted, white-bearded, pedalling quietly down the wrong side of the High Street, crossed Carfax, passed the station, and were soon in open country on the Botley Road; open country was easily reached in those days.
28-10-2007 om 20:27 geschreven door Romenu


| | |
| --- | --- |
| | |



Inhoud blog


| | |
| --- | --- |
| | Dolce far niente, Victor Vroomkoning, Charles Busch, Curtis Sittenfeld, Koos Dijksterhuis, Albert Alberts, Ilija Trojanow |
| | Dolce far niente, Jacob Israël de Haan, Griet Op de Beeck, Jeroen Theunissen, Annie Proulx, Krijn Peter Hesselink, Willem Arondeus |
| | Dolce far niente, Martin Bril, Rogi Wieg, X.J. Kennedy, Robert Stone, Aubrey Beardsley, Frédéric Mitterrand |
| | Dolce far niente, Tom van Deel, Anneke Brassinga, Etgar Keret, James Rollins, Clemens Meyer, Arno Surminski |
| | Maren Winter, Charles de Coster, Edgar Guest, Tarjei Vesaas, Salvatore Quasimodo, Colin MacInnes |
| | Sylvie Richterová, Ernst-Jürgen Dreyer, Boleslaw Prus, Menno Lievers, Vasili Aksjonov, Jacqueline Susann |
| | Alfred Birney |
| | Mies Bouhuys, Jonathan Coe, Li-Young Lee, Frederik Lucien De Laere, Louis Th. Lehmann, Ogden Nash, Frank McCourt |
| | Marion Pauw, John Dryden, Samuel Richardson, Jerzy Andrzejewski, James Gould Cozzens, Claude Gauvreau, Inigo de Mendoza |
| | Dolce far niente, Hans Andreus, Ulrich Woelk, Marc Degens, Luciano de Crescenzo, Alain Robbe-Grillet, Idea Vilariño |
| | Dolce far niente, Simon Vestdijk, Ted Hughes, V. S. Naipaul, Nis-Momme Stockmann, Jonathan Franzen, Jan Emmens |
| | Dolce far niente, Willen van Toorn, Charles Bukowski, Reiner Kunze, Moritz Rinke, Ferenc Juhász, Justus van Maurik |
| | Sander Kok |
| | Dolce far niente, Nescio, Guillaume van der Graft, Mary Jo Salter, Leonie Ossowski, Daan Zonderland, Jan Campert |
| | Kees Fens, Wolf Wondratschek, Danielle Steel, Erwin Strittmatter, Sir Walter Scott, Thusnelda Kühl |
| | Adriaan Roland Holst, antoine de kom, Atte Jongstra, Amélie Nothomb, Nikolaus Lenau, Tom Perrotta |
| | Justus van Maurik, Thomas Mann, Hans-Ulrich Treichel, Stefano Benni, Marcellus Emants, Naoki Higashida |
| | Remco Campert, Hugh MacDiarmid, Ernst Stadler, Yoshikawa Eiji, Fernando Arrabal, Andre Dubus |
| | Kees van Kooten, Alfred Döblin, Moses Isegawa, Mark Doty, Jerzy Pilch, Elvis Peeters, Michail Zostsjenko, Piet Bakker, René Crevel |
| | Luuk Gruwez, Philip Larkin, Gerrit Kouwenaar, Henk Romijn Meijer, Linn Ullmann, P. L. Travers, Pierre Klossowski, Daniel Keyes, Leonid Andreyev |
| | Jostein Gaarder, Klaus Ebner, Birgit Vanderbeke, Gernot Wolfram, Hieronymus van Alphen, André Demedts, Sara Teasdale, Donald Davidson, Lotte Lentes |
| | John Birmingham, Cees Buddingh', Diana Ozon, Vladimir Sorokin, Michael Roes, Joachim Ringelnatz, Garrison Keillor, Dieter Schlesak, Othon III de Grandson |
| | Dolce far niente, Jason O. Gilbert, Alfred Tennyson |
| | Dolce far niente,Tom Lanoye, Cees van der Pluijm, Pier Paolo Pasolini, Martin Piekar |
| | Hendrik Marsman, Rutger Kopland, Rudi van Dantzig, Percy Bysshe Shelley, Liao Yiwu, Pierre Jarawan |
| | Jan Campert, Rupert Brooke, Radek Knapp, P. D. James, Marica Bodrozic, Mirko Wenig |
| | Jussi Adler-Olsen, James Baldwin, Isabel Allende, Kristine Bilkau, Philippe Soupault, Ernest Dowson, Zoltán Egressy, Caleb Carr, Félix Leclerc |
| | Gerrit Krol, Frans Pointl, Mehis Heinsaar, Ko Un, Edward van de Vendel, Jim Carroll, Juan Filloy, Anne Hébert, Herman Melville |
| | Cees Nooteboom, Wouter Godijn, Grand Corps Malade, Joanne Rowling, Alain Nadaud, Daniel Bielenstein, Hans-Eckardt Wenzel, Ahmed Zitouni, Munshi Premchand |
| | Frans Budé, Patrick Modiano, Maja Lunde, Emily Brontë, Cherie Priest, Pauline van der Lans |
| | Harry Mulisch, Chang-Rae Lee, Thomas Rosenlöcher, Guillermo Martínez, Marja Brouwers, Wolfgang Bittner |
| | Stanley Kunitz, Sten Nadolny, Eyvind Johnson, August Stramm, Walter van den Berg |
| | Remco Campert, Malcolm Lowry, Herman Stevens, Gerard Manley Hopkins, Stephan Sanders, Angélica Gorodischer, Shahyar Ghanbari, John Ashbery, Drew Karpyshyn |
| | Michael Longley, Marijke Höweler, Theodore Dreiser, Hilde Domin, Julien Gracq, Hilaire Belloc, Vladimir Korolenko, Eimear McBride, Graeme C. Simsion |
| | Arthur Japin, Gregoire Delacourt, Anne Provoost, Yves Petry, Aldous Huxley, Nicholas Evans, Chairil Anwar, George Bernard Shaw, Hanya Yanagihara |
| | Lieke Marsman, Sytze van der Zee, Elias Canetti, Max Dauthendey, Jovica Tasevski – Eternijan, Annette Pehnt, Ottokar Kernstock, Albert Knapp, Louise Boege |
| | Robert Graves, Johan Andreas der Mouw, Banana Yoshimoto, Rosemarie Schuder, Katia Mann, Junichirō Tanizaki, Frank Wedekind, Alexandre Dumas père, Betje Wolff |
| | Wilfried de Jong, Mohsin Hamid, Lauren Groff, Frans Erens, Kai Meyer, Thea Dorn, Irina Liebmann |
| | Lisa Alther, Hubert Selby jr., Raymond Chandler, Matthias Spiegel, Tim Reus |
| | Arno Geiger, Susan Hinton, Manu Joseph, Stephen Vincent Benét, Tom Robbins |
| | Maria Janitschek, Oskar Maria Graf, Emma Lazarus, Per Hojholt, Jakob Lorber |
| | Frouke Arns, Ernest Hemingway, Belcampo, Boris Dittrich , Hans Fallada, David Boerljoek |
| | Hans Lodeizen, Henk Hofland, Arie Storm, Uwe Johnson, Simin Behbahāni, Francesco Petrarca, Maurice Gilliams, Erik Axel Karlfeldt, Cormac McCarthy |
| | Otto Julius Bierbaum, Anna Enquist, Gottfried Keller, Lucas Malan, Miltos Sachtouris, Jean-Pierre Faye |
| | Simon Vinkenoog, Steffen Popp, Per Petterson, Elizabeth Gilbert, Alicia Steimberg, Jevgeni Jevtoesjenko, Aad Nuis, William M. Thackeray, Nathalie Sarraute |
| | Martin R. Dean, Rainer Kirsch, Eelke de Jong, Alie Smeding, Paul Lomami Tshibamba, James Purdy, Roger Garaudy, Clara Viebig, Lilian Loke |
| | In Memoriam Anne Golon |
| | Reinaldo Arenas, Georges Rodenbach, Tony Kushner, Anita Brookner, Jörg Fauser |
| | Dag Solstad, Bernard Dimey, Andrea Wolfmayr, Pierre Benoit, Franz Nabl |
| | Ann De Craemer, Jean Christophe Grangé, Driss Chraïbi, Iris Murdoch, Richard Russo, Jacques Rivière, Rira Abbasi |


Gastenboek


Druk op onderstaande knop om een berichtje achter te laten in mijn gastenboek