E-mail mij


Druk op onderstaande knop om mij te e-mailen.


Romenu


Romenu is een blog over gedichten, literatuur en kunst Maar Romenu is ook een professionele freelance vertaler
Du-Ne en Ne-Du http://www.romenu.nl.


Huur eens een (vakantie)huis in een natuurgebied, dichtbij het centrum van Nijmegen


Google


Georg Trakl

Georg Trakl werd op 3 februari 1887 in het conducteurshuis aan de Waagplatz 2 in Salzburg geboren. Zijn vader, Tobias Trakl, was een handelaar in ijzerwaren en zijn moeder, die ook psychische problemen had, was Maria Catharina Trakl, (meisjesnaam Halik). Voorts had hij nog drie broers en drie zussen. Margarethe (doorgaans Grethe genoemd) stond hem het naast, zelfs zodanig dat sommigen een incestueuze verhouding vermoeden. Zijn jeugd bracht hij door in Salzburg. Vervolgens bezocht hij van 1897 tot 1905 het humanistische gymnasium. Om toch een academische opleiding te kunnen volgen, werkte hij tot 1908 in de praktijk bij een apotheker. Sommigen vermoedden dat hij dit vooral deed om zichzelf opiaten te kunnen verschaffen. Bij het uitbreken van WO I werd Trakl als medicus naar het front in Galicië (heden ten dage in Oekraïne en Polen) gestuurd. Zijn gemoedsschommelingen leidden tot geregelde uitbraken van depressie, die verergerd werden door de afschuw die hij voelde voor de verzorging van de ernstig verwonde soldaten. De spanning en druk dreven hem ertoe een suïcidepoging te ondernemen, welke zijn kameraden nochtans verhinderden. Hij werd in een militair ziekenhuis opgenomen in Kraków, alwaar hij onder strikt toezicht geplaatst werd.Trakl verzonk daar in nog zwaardere depressies en schreef Ficker om advies. Ficker overtuigde hem ervan dat hij contact moest opnemen met Wittgenstein, die inderdaad op weg ging na Trakls bericht te hebben ontvangen. Op 4 november 1914, drie dagen voordat Wittgenstein aan zou komen, overleed hij echter aan een overdosis cocaïne


Paul Celan

Paul Celan werd onder de naam Paul Antschel op 23 november 1920 geboren in Czernowitz, toentertijd de hoofdstad van de Roemeense Boekovina, nu behorend bij de Oekraïne. Paul Celans ouders waren Duitssprekende joden die hun zoon joods opvoedden en hem naar Duitse christelijke scholen stuurden. In 1942 werden Celans ouders door de Duitse bezetter naar een werkkamp gedeporteerd en daar vermoord. Hijzelf wist aanvankelijk onder te duiken, maar moest vanaf juli 1942 in een werkkamp dwangarbeid verrichten. Celan overleefde de oorlog. Via Boekarest en Wenen vestigde Celan zich in 1948 in Parijs. Daar was hij werkzaam als dichter, vertaler en doceerde hij aan de prestigieuze Ecole Normale Supérieure. Vermoedelijk op 20 april 1970 beëindigde hij zijn leven zelf door in de Seine te springen.


Gerard Reve

Gerard Reve over: Medearbeiders "God is in de mensen, de dieren, de planten en alle dingen - in de schepping, die verlost moet worden of waaruit God verlost moet worden, door onze arbeid, aangezien wij medearbeiders van God zijn." Openbaring "Tja, waar berust elk godsbegrip op, elke vorm van religie? Op een openbaring, dat wil zeggen op een psychische ervaring van zulk een dwingende en onverbiddelijke kracht, dat de betrokkene het gevoel heeft, niet dat hij een gedachte of een visioen heeft, maar dat een gedachte gedachte of visioen hem bezit en overweldigt."


Simon Vestdijk
Simon Vestdijk (Harlingen, 17 oktober 1898 – Utrecht, 23 maart 1971) was een Nederlands romancier, dichter, essayist en vertaler. Zijn jeugd te Harlingen en Leeuwarden beschreef hij later in de Anton Wachter-cyclus. Van jongs af aan logeerde hij regelmatig bij zijn grootouders in Amsterdam, waar hij zich in 1917 aan de Universiteit van Amsterdam inschrijft als student in de medicijnen. Tijdens zijn studie die van 1917 tot 1927 duurde, leerde hij Jan Slauerhoff kennen.Tot 1932 is hij als arts in praktijken door heel Nederland werkzaam. In 1932 volgt zijn officiële schrijversdebuut met de uitgave van de bundel Verzen in De Vrije Bladen. Doorslaggevend voor Vestdijks uiteindelijke keuze voor de literatuur is zijn ontmoeting in 1932 met Eddy Du Perron en Menno ter Braak. Deze ontmoeting had tot resultaat dat hij redactielid werd van het tijdschrift Forum Kort daarop, in 1933, wordt zijn eerste novelle, De oubliette, uitgegeven. In hetzelfde jaar schrijft hij Kind tussen vier vrouwen, dat, eerst geweigerd door de uitgever, later de basis zal vormen voor de eerste drie delen van de Anton Wachter-romans. In 1951 ontvangt Vestdijk de P.C. Hooftprijs voor zijn in 1947 verschenen roman De vuuraanbidders. In 1957 wordt hij voor het eerst door het PEN-centrum voor Nederland voorgedragen voor de Nobelprijs voor de Literatuur, die hij echter nooit zal krijgen. Op 20 maart 1971 wordt hem de Prijs der Nederlandse Letteren toegekend, maar voor hij deze kan ontvangen overlijdt hij op 23 maart te Utrecht op 72-jarige leeftijd. Vestdijk was auteur van ca. 200 boeken. Vanwege deze enorme productie noemde de dichter Adriaan Roland Holst hem 'de man die sneller schrijft dan God kan lezen'. Andere belangrijke boeken van Simon Vestdijk zijn: "Kind van stad en land" (1936), "Meneer Visser's hellevaart" (1936), "Ierse nachten" (1946), "De toekomst de religie" (1947), "Pastorale 1943" (1948), "De koperen tuin" (1950), "Ivoren wachters" (1951), "Essays in duodecimo" (1952) en "Het genadeschot" (1964).


K.P. Kavafis

K.P. Kavafis werd als kind van Griekse ouders, afkomstig uit Konstantinopel, geboren in 1863 in Alexandrië (tot vandaag een Griekse enclave) waar hij ook het grootste deel van zijn leven woonde en werkte. Twee jaar na de dood van zijn vader verhuist het gezin in 1872 naar Engeland om na een verblijf van vijf jaar naar Alexandrië terug te keren. Vanwege ongeregeldheden in Egypte vlucht het gezin in 1882 naar Konstantinopel, om na drie jaar opnieuw naar Alexandrië terug te gaan. In de jaren die volgen maakt Kavafis reizen naar Parijs, Londen en in 1901 zijn eerste reis naar Griekenland, in latere jaren gevolgd door nog enkele bezoeken. Op de dag van zijn zeventigste verjaardag, in 1933 sterft Kavafis in Alexandrië. De roem kwam voor Kavafis pas na zijn dood, dus postuum. Deels is dat toe te schrijven aan zijn eigen handelswijze. Hij was uiterst terughoudend met de publicatie van zijn gedichten, liet af en toe een enkel gedicht afdrukken in een literair tijdschrift, gaf in eigen beheer enkele bundels met een stuk of twintig gedichten uit en het merendeel van zijn poëzie schonk hij op losse bladen aan zijn beste vrienden.


Thomas Mann


Thomas Mann, de jongere broer van Heinrich Mann, werd geboren op 6 juni 1875 in Lübeck. Hij was de tweede zoon van de graankoopman Thomas Johann Heinrich Mann welke later één van de senatoren van Lübreck werd. Zijn moeder Julia (geboren da Silva-Bruhns) was Duits-Braziliaans van Portugees Kreoolse afkomst. In 1894 debuteerde Thomas Mann met de novelle "Gefallen". Toen Thomas Mann met 21 jaar eindelijk volwassen was en hem dus geld van zijn vaders erfenis toestond - hij kreeg ongeveer 160 tot 180 goldmark per jaar - besloot hij dat hij genoeg had van al die scholen en instituties en werd onafhankelijk schrijver. Kenmerkend voor zijn stijl zijn de ironie, de fenomenale taalbeheersing en de minutieuze detailschildering. Manns reputatie in Duitsland was sterk wisselend. Met zijn eerste roman, Buddenbrooks (1901), had hij een enorm succes, maar door zijn sceptische houding tegenover Duitsland na de Eerste Wereldoorlog veranderde dit volledig. Stelde hij zich tot aan de jaren twintig apolitiek op (Betrachtungen eines Unpolitischen, 1918), meer en meer raakte hij bij het Politiek gebeuren betrokken. Zijn afkeer van het nationaal socialisme groeide, zijn waarschuwingen werden veelvuldiger en heftiger. In 1944 accepteerde hij het Amerikaanse staatsburgerschap. Tussen 1943 en 1947 schreef Mann Doktor Faustus (zie Faust), de roman van de 'Duitse ziel' in de gecamoufleerd geschilderde omstandigheden van de 20ste eeuw. In 1947 bezocht hij voor het eerst sinds de Oorlog Europa, twee jaar later pas Duitsland. In 1952 vertrok hij naar Zwitserland. Op 12 augustus 1955 stierf hij in Zürich. Twintig jaar na zijn dood, in aug. 1975, is zijn literaire nalatenschap geopend: dagboekaantekeningen van 15 maart 1933 tot 29 juli 1955, alsmede notities uit de jaren 1918 tot en met 1921.Belangrijke werken zijn: Der Zauberberg, Der Tod in Venedig, Dokter Faustus , Joseph und seine Brüder en Die Bekenntnisse des Hochstaplers Felix Krull.


Rainer Maria Rilke

Rilke werd op 4 december 1875 geboren in Praag. Hij had al naam gemaakt als dichter met zijn bundels Das Stundenbuch en Das Buch der Bilder, toen hij de literaire wereld versteld deed staan en wereldfaam verwierf met de publicatie van zijn twee delen Neue Gedichte in 1907 en 1908. Hij verzamelde daarin het beste werk uit een van zijn vruchtbaarste periodes, die hij grotendeels doorbracht in Parijs. Rilke was daar diep onder de indruk gekomen van Rodin, bij wie hij een tijdlang in dienst was als particulier secretaris. Rodin, zei hij later, had hem leren kijken. Dit kijken kwam neer op intense concentratie, om het mysterie te kunnen zien 'achter de schijnbare werkelijkheid'. Latere en rijpere werken als Duineser Elegien (1912-1923) en het ronduit schitterende Die Sonette an Orfeus (1924) illustreren Rilkes metafysische visie op het onzegbare, dat haar verwoording vindt in een hermetische muzikale taal. Op 29 december 1926 overlijdt Rilke in het sanatorium in Val-Mont aan de gevolgen van leukemie. Enkele dagen later wordt hij, overeenkomstig zijn wens, begraven op het kerkhof van Raron.


* * * * * * * * * * * * * * * *

| | |
| --- | --- |
| | Over literatuur, gedichten, kunst en cultuur |

25-01-2014

Renate Dorrestein, William S. Maugham, Virginia Woolf, Stephen Chbosky, David Grossman, J. G. Farrell
De Nederlandse schrijfster Renate Dorrestein werd geboren in Amsterdam op 25 januari 1954.Zie ook alle tags voor Renate Dorrestein op dit blog. Renate Dorrestein viert vandaag haar 60e verjaardag.
Uit: Een hart van steen
"Het liep tegen het einde van de zomervakantie; ik weet het nog precies. Elke avond zaten er dikke, taaie teken tussen je tenen die je er volgens Billie tegen de klok in uit moest draaien, anders kreeg je de ziekte van Lyme. We hadden die dag bosbessen geplukt, onze tanden waren er nog blauw van. Alleen Kester had de zijne gepoetst. Mijn broer was de laatste tijd in een verbeten gevecht verwikkeld met het vuil van de wereld. Hij waste elke dag zijn oksels en zijn gezicht, maar hij bleef stinken en hij zag er altijd uit als een beduimelde oude krant. Om hem te laten merken dat het mij niets uitmaakte, ging ik onder het lezen af en toe even tegen hem aan hangen.
Hij zat met gekruiste benen op zijn rode sprei, de voeten onder zich getrokken. Hij had sinds kort stugge zwarte haren op zijn tenen, waarvoor hij zich doodschaamde.
Hij wachtte de afloop van Batman niet af, maar pakte Billies vijl van de vloer en begon ermee onder zijn nagels te peuteren.
Onze bedden stonden tegen de vier muren geschoven:
we hadden allemaal ons eigen domein. Soms, als we ruzie hadden, trokken we met krijtstrepen op de plankenvloer om ons gebied af te bakenen, of we legden gore, weke vondsten uit de vijver bij elkaar onder de lakens.
'Zou het nog lang duren?' zei Billie terwijl ze naast me kwam zitten.
Kester boog de vijl met zijn duim achterover en liet hem toen met een zoevend geluid in haar richting schieten.
'Moeten we geen water koken?'
'We zitten hier niet op de High Chaparall,' zei mijn zuster. Ze krabde verveeld aan haar kuit.
We zaten een tijdje zwijgend bijeen, te moe om nieuwe afleiding te verzinnen. Ten slotte zei Kes: 'Je hoeft niet van me te houden, Scarlett, maar kus me.'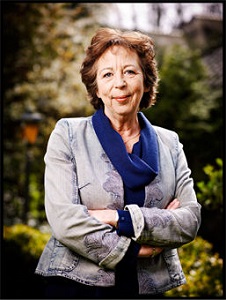 Renate Dorrestein (Amsterdam, 25 januari 1954)
De Engelse schrijver William Somerset Maugham werd geboren in Parijs op 25 januari 1874. Zie ook alle tags voorWilliam Somerset Maugham op dit blog.
Uit: The Moon and Sixpence
"Each one of us is alone in the world. He is shut in a tower of brass, and can communicate with his fellows only by signs, and the signs have no common value, so that their sense is vague and uncertain. We seek pitifully to convey to others the treasures of our heart, but they have not the power to accept them, and so we go lonely, side by side but not together, unable to know our fellows and unknown by them. We are like people living in a country whose language they know so little that, with all manner of beautiful and profound things to say, they are condemned to the banalities of the conversation manual. Their brain is seething with ideas, and they can only tell you that the umbrella of the gardener's aunt is in the house."
(…)
"Why should you think that beauty, which is the most precious thing in the world, lies like a stone on the beach for the careless passer-by to pick up idly? Beauty is something wonderful and strange that the artist fashions out of the chaos of the world in the torment of his soul. And when he has made it, it is not given to all to know it. To recognize it you must repeat the adventure of the artist. It is a melody that he sings to you, and to hear it again in your own heart you want knowledge and sensitiveness and imagination."
(…)
"For men, as a rule, love is but an episode which takes place among the other affairs of the day, and the emphasis laid on it in novels gives it an importance which is untrue to life. There are few men to whom it is the most important thing in the world, and they are not the very interesting ones; even women, with whom the subject is of paramount interest, have a contempt for them."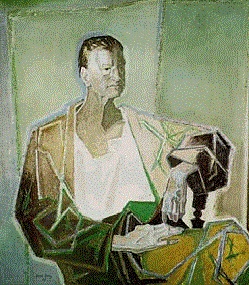 William Somerset Maugham (25 januari 1874 – 16 december 1965)
Portret door Edouard MacAvoy, z.j.
De Engelse schrijfster Virginia Woolf werd geboren op 25 januari 1882 te Londen. Zie ook alle tags voor Virginia Woolf op dit blog.
Uit:To the Lighthouse
"It's due west," said the atheist Tansley, holding his bony fingers spread so that the wind blew through them, for he was sharing Mr. Ramsay's evening walk up and down, up and down the terrace. That is to say, the wind blew from the worst possible direction for landing at the Lighthouse.
Yes, he did say disagreeable things, Mrs. Ramsay admitted; it was odious of him to rub this in, and make James still more disappointed; but at the same time, she would not let them laugh at him. "The atheist," they called him; "the little atheist." Rose mocked him; Prue mocked him;
Andrew, Jasper, Roger mocked him; even old Badger without a tooth in his head had bit him, for being (as Nancy put it) the hundred and tenth young man to chase them all the way up to the Hebrides when it was ever so much nicer to be alone.
"Nonsense," said Mrs. Ramsay, with great severity. Apart from the habit of exaggeration which they had from her, and from the implication (which was true) that she asked too many people to stay, and had to lodge some in the town, she could not bear incivility to her guests, to young men in particular, who were poor as churchmice, "exceptionally able," her husband said, his great admirers, and come there for a holiday. Indeed, she had the whole of the other sex under her protection; for reasons she could not explain, for their chivalry and valour, for the fact that they negotiated treaties, ruled India, controlled finance; finally for an attitude towards herself which no woman could fail to feel or to find agreeable, something trustful, childlike, reverential; which an old woman could take from a young man without loss of dignity, and woe betide the girl--pray Heaven it was none of her daughters!--who did not feel the worth of it, and all that it implied, to the marrow of her bones!"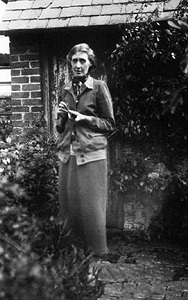 Virginia Woolf (25 januari 1882 – 28 maart 1941)
In 1926
De Amerikaanse schrijver en regisseur Stephen Chbosky werd geboren op 25 januari 1970 in Pittsburgh, Pennsylvania. Zie ook alle tags voor Stephen Chbosky op dit blog.
Uit: The Perks of Being a Wallflower
"Once on a yellow piece of paper with green lines
he wrote a poem
And he called it "Chops"
because that was the name of his dog

And that's what it was all about
And his teacher gave him an A
and a gold star
And his mother hung it on the kitchen door
and read it to his aunts
That was the year Father Tracy
took all the kids to the zoo

And he let them sing on the bus
And his little sister was born
with tiny toenails and no hair
And his mother and father kissed a lot
And the girl around the corner sent him a
Valentine signed with a row of X's

and he had to ask his father what the X's meant
And his father always tucked him in bed at night
And was always there to do it

Once on a piece of white paper with blue lines
he wrote a poem
And he called it "Autumn"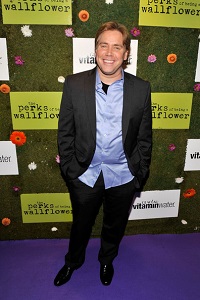 Stephen Chbosky (Pittsburgh, 25 januari 1970)
De Israëlische schrijver David Grossman werd geboren op 25 januari 1954 in Jeruzalem. Zie ook alle tags voor David Grossman op dit blog.
Uit: Uit de tijd vallen (Vertaald door Ruben Verhasselt)
"stadschroniqueur: Als ze 's avonds aan tafel zitten te eten, verandert plots het gezicht van de man. Met een bruuske beweging schuift hij het bord van zich weg. Messen en vorken rammelen op tafel. Hij staat op en lijkt niet te weten waar hij is. De vrouw schrikt terug op haar stoel. Zijn blik zweeft om haar heen zonder houvast te vinden en zij – ze is al eens eerder getroffen door een ramp — voelt meteen aan: daar is het weer, het raakt me al aan, zijn koude vingers op mijn lippen. Maar wat is er gebeurd? vraagt haar blik, en de man kijkt haar verbijsterd aan —
— Ik moet weg.
— Waarheen?
— Naar hem.
— Waarheen?
— Naar hem, daarheen.
— Naar de plek waar het gebeurd is?
— Nee, nee. Daarheen.
— Wat bedoel je met daar?
— Weet ik niet.
— Je maakt me bang.
— Nog één keer hem even zien.
— Maar wat zul je daar nu zien? Wat valt er nog te zien?
— Misschien kan ik hem daar zien. Misschien zelfs met hem praten.
— Praten?!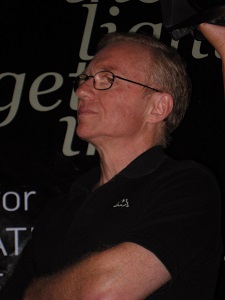 David Grossman (Jeruzalem, 25 januari 1954)
De Iers-Britrse schrijver James Gordon Farrell werd geboren op 25 januari 1935 in Liverpool. Zie ook alle tags voor J. G. Farrell op dit blog.
Uit: Troubles
"The Irish, as far as he knew, had always had a habit of making trouble. That was in the nature of things. As for the aim of their unruly behaviour, self-government for Ireland, that seemed quite absurd. What could be the advantage to the Irish themselves? They were so ill-educated that they could not possibly hope to gain anything from it. The English undoubtedly knew more about running the country.
(…)
Watching him climb the stairs towards his patient was like watching the hands of a clock: he moved so slowly that he might not have been moving at all. One day the Major saw him on his way upstairs, clinging to the banister as a snail clings to the bark of a tree. After he had smoked a cigarette and glanced through the newspaper he happened to pass through the foyer again and there was the doctor, still clinging to the banister and still apparently not moving, but nevertheless much nearer to the top. The Major shook his head and hoped that it was not an emergency."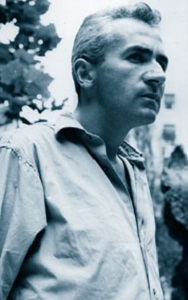 J. G. Farrell (25 januari 1935 – 11 augustus 1979)


Zie voor nog meer schrijvers van de 25e januari ook mijn vorige blog van vandaag en eveneens mijn eerste blog van vandaag.
25-01-2014 om 13:23 geschreven door Romenu

Tags:William S. Maugham, Virginia Woolf, Renate Dorrestein, Stephen Chbosky, David Grossman, J. G. Farrell, Romenu



Alessandro Baricco, Stefan Themerson, Jozef Slagveer, Paavo Haavikko, Robert Burns, Vladimir Vysotsky
De Italiaanse schrijver Alessandro Baricco werd geboren op 25 januari 1958 in Turijn. Zie ook alle tags voor Alessandro Baricco op dit blog.
Uit: City (Vertaald door Ann Goldstein)
"It was Shatzy's voice. It came from outside the door. The bathroom door.
"I'm coming, I'm coming."
Music of flushing. Tap on. Tap off. Pause. Door opens.
"They've been waiting half an hour for you."
"I'm coming."
Some people from the local TV station had come to Gould's house. They wanted to do a feature for the Friday evening special. Title: Portrait of a Child Genius. They had set up the camera in the living room. What they had in mind was a half-hour interview. They counted on working up a sad story of a boy condemned by his intelligence to solitude and success. Its brilliance lay in their having found someone whose life was a tragedy not because he was terribly unfortunate but, on the contrary, because he was terribly fortunate. If it wasn't exactly brilliant at least it seemed like a good idea.
Gould sat on the sofa, in front of the camera. Poomerang was beside him, also sitting. Diesel didn't fit on the sofa, so he sat on the floor, although it took him a while to get there. And then it wasn't clear how he would ever get up. Anyway. They arranged the microphones and turned on the spots. The interviewer smoothed her skirt over her crossed legs."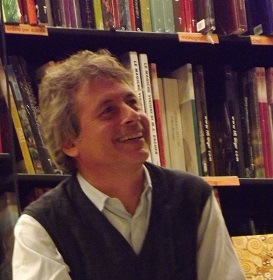 Alessandro Baricco (Turijn, 25 januari 1958)
De Pools-Britse dichter, schrijver, filmmaker, componist en filosoof Stefan Themerson werd geboren in Płock op 25 januari 1910. Zie ook alle tags voor Stefan Themerson op dit blog.
Uit:The Mystery of the Sardine
"You don't want to see the mystery. And this place is full of mysteries, Madame. One would need a Simenon to unravel all the coincidences. . . . Pardon? Sherlock Holmes? Oh, no, Madame. Your Sherlock Holmes is a puppet made of papier mache, Madame. One could rewrite his stories to show that he always points out the wrong suspect and lets the real criminal go scot-free. No, no. Sherlock Holmes doesn't understand a thing. Especially women. And if you don't like Simenon, Madame, then perhaps Zola? Maupassant? Mauriac? Or, pourquoi pas? Racine? Corneille? Unless you prefer your Father Brown, Chesterton I mean, or do you find the comparison outrageous? Yet, wouldn't he—Simenon, I mean—wouldn't he be the best man to explain why she didn't cry?"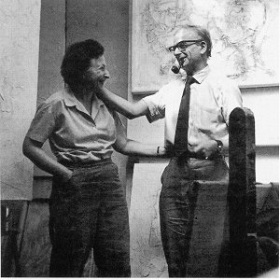 Stefan Themerson (25 januari 1910 - 6 september 1988)
Hier met zijn vrouw, de beeldend kunstenaar Franciszka Themerson
De Surinaamse dichter en journalist Jozef Hubert Maria Slagveer werd geboren in Totness op 25 januari 1940. Zie ook alle tags voor Jozef Slagveer op dit blog.
daggebed van de establishment
ik dank u
heer
dat ik het beter heb
dan mijn buurman
ik dank u
jezus

ik dank u
heer
dat er rijkdom
en armoede is
en dat dit verschil
zo mag blijven
voor mezelf
en mijn kindskinderen
ik dank u
jezus


ik dank u
heer
dat ik niet pinaar
zoals mijn bediende
(maar ze moeten er
ook zijn heer
voor het verschil
tussen rijk en arm)
ik ben u dankbaar
heer
uw naam is groot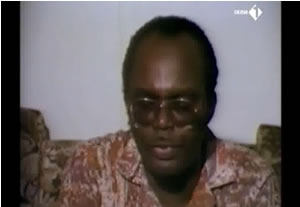 Jozef Slagveer (25 januari 1940 — 8 december 1982)
De Finse dichter, toneelschrijver en uitgever Paavo Juhani Haavikko werd geboren in Helsinki op 25 januari 1931. Zie ook alle tags voor Paavo Haavikko op dit blog.
Uit: Trees, Their Legacy Of Green
Faulkner, Early in the Morning
The old man is tired of talking
incessantly about himself.
Who has answered all the letters
saying nothing.
No Chekov.
Who forgot his name.
When a man dies, he once again goes
to his car, to his wife, to work.
The motor won't start, the wife won't
wake up, it's much too early.
He is dead.
*
Many books remain unread when
it is not clear
where so and so sleeps, where he gets his money,
with whom he sleeps,
how he gets away with life, the only
adventure
I indulge in,
Life & Works & Love, abstractions –
read no further
where they end.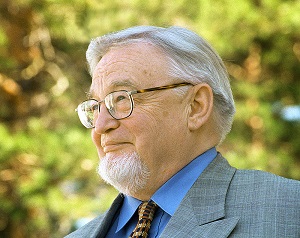 Paavo Haavikko (25 januari 1931 – 6 oktober 2008)
De Schotse dichter Robert Burns werd geboren op 25 januari 1759 in Alloway, Ayrshire. Zie ook alle tags voor Robert Burns op dit blog.
A Bottle And Friend
There's nane that's blest of human kind,
But the cheerful and the gay, man,
Fal, la, la, &c.

Here's a bottle and an honest friend!
What wad ye wish for mair, man?
Wha kens, before his life may end,
What his share may be o' care, man?

Then catch the moments as they fly,
And use them as ye ought, man:
Believe me, happiness is shy,
And comes not aye when sought, man.
To A Kiss
Humid seal of soft affections,
Tend'rest pledge of future bliss,
Dearest tie of young connections,
Love's first snow-drop, virgin kiss.

Speaking silence, dumb confession,
Passion's birth, and infants' play,
Dove-like fondness, chaste concession,
Glowing dawn of brighter day.

Sorrowing joy, adieu's last action,
Ling'ring lips, -- no more to join!
What words can ever speak affection
Thrilling and sincere as thine!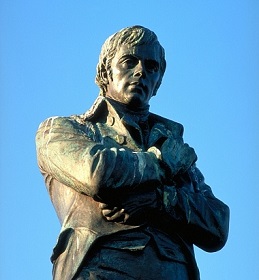 Robert Burns (25 januari 1759 – 21 juli 1796)
Standbeeld in Ayr (Detail)
De Russische zanger, acteur en dichter Vladimir Semjonovitsj Vysotsky werd geboren op 25 januari 1938 in Moskou. Zie ook alle tags voor Vladimir Vysotsky op dit blog.
The crystal house
If I am rich like the king of the sea,
Shout to me only: "Catch the spoon-bait!"
And I will pour out my above and underwater world
Without even thinking!
The crystal house in the mountain is for her.
I grew up myself in chains, alone like a dog.
My springs are of silver,
And my mines are of gold!
My springs are of silver,
And my mines are of gold!
If I hadn't compared some other girl with you,
Just put me to death, shoot me.
Look how I admire you,
Like Raphael's Madonna!
The crystal house in the mountain is for her.
I grew up myself in chains, alone like a dog.
My springs are of silver,
And my mines are of gold!
My springs are of silver,
And my mines are of gold!
If I am poor and lonely like a dog,
And my house is totally empty -
Cause you'll help me, God!
And you won't give me a crumpled life...
The crystal house in the mountain is for her.
I grew up myself in chains, alone like a dog.
My springs are of silver,
And my mines are of gold!
My springs are of silver,
And my mines are of gold!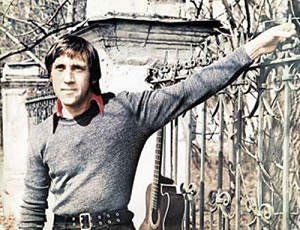 Vladimir Vysotsky (25 januari 1938 – 25 juli 1980)
Zie voor nog meer schrijvers van de 25e januari ook mijn vorige blog van vandaag.
25-01-2014 om 13:09 geschreven door Romenu

Tags:Alessandro Baricco, Stefan Themerson, Jozef Slagveer, Paavo Haavikko, Robert Burns, Vladimir Vysotsky, Romenu



Daniel von Lohenstein, Friedrich Jacobi, Alfred Gulden, Eva Zeller, Stéphanie de Genlis
De Duitse dichter Daniel Caspar von Lohenstein werd geboren op 25 januari 1635 in Nimptsch, in Silezië. Zie ook alle tags voor Daniel Caspar von Lohenstein op dit blog.

Umschrift eines Sarges
Irdisches und sterblich Volk, lebend-todte Erdengäste,
Ihr Verwürflinge des Himmels, ihr Gespenster dieser Welt,
Denen Nichts, als falsche Waare, Nichts, als Rauch und Wind gefällt,
Thoren, klettert und besteigt die bequalmten Ehrenäste,
Setzt euch Säulen von Porphyr, mauert euch aus Gold Paläste,
Festigt Tempel euch aus Marmor, der der Zeit die Wage hält,
Rafft zu euch mit gicht'gen Klauen er verdammten Klumpen Geld,
Macht euch euer stolzes Lob durch gelehrte Schriften feste;
Aber wißt, wenn das Verhängniß euer Lebensgarn reißt ab,
Schwindet Wissenschaft und Kunst, Schätze, Reichthum, Ehr' und Titel,
Und ihr nehmet Nichts mit euch, als den nackten Sterbekittel,
Wo ihr auch noch aus dem allen noch erschwitzet Sarg und Grab!
Tausend, Tausend sind gewest, die mich nicht erlangt noch haben,
Die die Lüfte, die die Gluth, die der blaue Schaum begraben.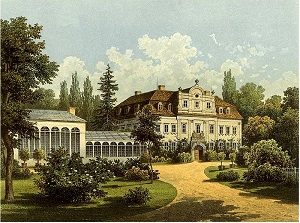 Daniel Caspar von Lohenstein (25 januari 1635 - 28 april 1683)
Het landgoed Kittelau dat von Lohenstein in 1673 verwierf
De Duitse schrijver en filosoof Friedrich Heinrich Jacobi werd geboren in Düsseldorf op 25 januari 1743. Zie ook alle tags voor Friedrich Jacobi op dit blog.
Uit: Woldemar
"Damals kam Luise, eben siebenzehn Jahr alt, aus dem Kloster zurück, und entzündete in Biederthalen eine unüberwindliche Leidenschaft. Er wollte sie erst unterdrücken, hernach verbergen; aber es war Liebe. Daß ihm der alte Hornich das Mädchen geben würde, daran war nicht zu denken; er hatte geschworen, daß keine seiner Töchter einen Gelehrten heyrathen sollte, und dazu besaß Biederthal nur ein sehr geringes Vermögen. Dorenburg, dem das Geheimniß seines Freundes nicht lange verborgen blieb, genoß keine frohe Stunde mehr. Da er bey seinem Schwiegervater, dessen Handlung durch ihn ungemein war erweitert worden, in großem Ansehn stand, so hatte er sich anfangs geschmeichelt, dieser würde, aus Ergebenheit gegen ihn, sich ein einzigmahl in seinem Leben großmüthig stellen, und auf sein Bitten den wackern Biederthal glücklich machen: aber der Alte wußte von keinem Edelsinn, als daß er das Nichts der Ehre und alles brodlose Wesen verachtete, weder durch Sache noch Grund sich bethören, und in seiner Ueberzeugung durch nichts sich irre machen ließ; er hatte nur die Tugenden der Kargheit, oder richtiger, einer polizeymäßigen Gewinnsucht. Da alles vergeblich gewesen war, so erklärte ihm Dorenburg, in sechs Monathen laufe der Societäts-Contract mit ihm zu Ende, er sey gesonnen alsdann auszuscheiden. Der Alte gab die besten Worte, that die vortheilhaftesten Vorschläge; Dorenburg war nicht zu bewegen. Endlich wurden sie einig, Biederthal sollte sich der Handlung widmen, und dann das Mädchen nehmen. Voll Entzücken gab dieser eine ansehnliche Bedienung auf, worauf er Anwartschaft hatte, und ergriff das Gewerbe seines Freundes. Luise fühlte das im Innersten der Seele. Kein Brautpaar ist jemahls glücklicher gewesen. Nach einem halben Jahre ward die Heyrath vollzogen; und die beiden Freunde hatten sich nun zu Gefährten in all ihrem Thun."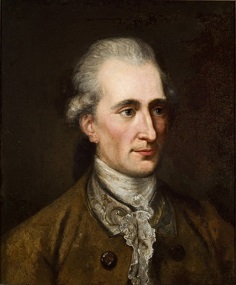 Friedrich Jacobi (25 januari 1743 - 10 maart 1819)
Portret door Johann Friedrich Eich, 1780
De Duitse dichter, schrijver, musicus en filmmaker Alfred Gulden werd geboren op 25 januari 1944 in Saarlouis. Zie ook alle tags voor Alfred Gulden op dit blog.
Die Grenze (Fragment)
Am helllichten Tag
mitten auf der Straße
hab ich die Grenze
gefunden.
Was hatte die da
verloren?

Die hatte keinen Draht,
die hatte keine Gräber,
die hatte kein Wasser,
die hatte keine Balken,
die hatte keinen Berg,
die hatte keine Mauer
die hatte keine Minen
die hatte nicht einmal Soldaten!
Mitten auf der Straße
Am helllichten Tag
Habe ich die Grenze
gefunden,
Was hatte die da
Verloren?

Die Sonne geht auf
Geht unter
Der Wind bläst
Wie er will.
Der Regen fällt
Auf den Boden.
Der Nebel drückt
Auf das Gemüt
Der Schnee deckt
Alles zu.
Der Mond scheint
Ohne sich zu kümmern
Ich habe die Grenze
Gefunden
Mitten auf der Straße
Am helllichten Tag
Was hatte die da
Verloren?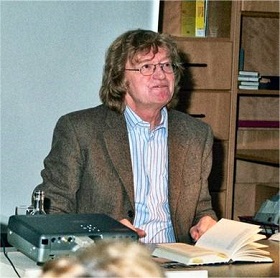 Alfred Gulden (Saarlouis, 25 januari 1944)
De Duitse schrijfster en dichteres Eva Zeller werd geboren op 25 januari 1923 in Eberswalde. Zie ook alle tags voor Eva Zeller op dit blog.
Das Kind in dem ich stak
Das Kind in dem ich stak
es reicht mir bis zur Hüfte
nimmt überhand wächst mir
ans Herz und übern Kopf
füllt ganz und gar den
Horizont großäugig
angestrahlt von warmen Kerzen
beugt es die größere Ikone
sich über mich spiegelt
mir Bläue himmlische ins
Aug zurück ich möchte mich
auf Zehenspitzen stellen
und wäre doch zu klein
um es zu küssen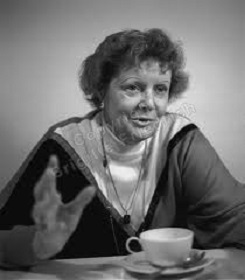 Eva Zeller (Eberswalde, 25 januari 1923)
De Franse schrijfster Stéphanie Félicité Du Crest de Saint-Aubin, comtesse de Genlis, werd geboren op 25 januari 1746 in Champcéry bij Autun. Zie ook alle tags voor Stéphanie de Genlis op dit blog.
Uit: L'Amant Anonyme
"Scène 1
Ophémon, seul.
(Il regarde de tous côtés s'il n'y a personne. Il s'assied ; & tirant une lettre de sa poche, il dit.)
Il est cinq heures. Tout le monde est à la promenade. Pendant que nous sommes seuls, relisons un peu la lettre de M. le Vicomte… Je crois n'avoir rien oublié de ce qu'il m'ordonne. Voyons (Il tire ses lunettes, & lit) Hom…. " Mon courier a dû vous porter toutes les choses nécessaires pour la petite fête en question… les couplets & les instructions relatives à ce sujet. Songez bien à votre déguisement ; que la jeune Villageoise sache parfaitement son rôle… enfin, mon cher Ophémon, il s'agit du bonheur de ma vie. Souvenez-vous à quelle condition je vous ai placé chez Léontine " (Ophémon, après avoir lu…) Il arrive Jeudi… Jeudi, c'est aujourd'hui. Voilà qui est bon : il aura lieu d'être satisfait de mon exactitude… C'est une chose singulière que la destinée ! Moi, grave Professeur de Langues & de Sciences, me voilà devenu l'Agent d'une intrigue amoureuse , la plus bizarre, la plus romanesque !… Enfin, si nous réusissons, ma fortune est faite. Mais je suis encore bien loin de me flatter du succès. La tête de Léontine tient bon. Tous mes progrès se bornent à lui inspirer quelque légère curiosité. Cette fuite de Paris m'a presque déconcerté tout-à-fait… Quelle femme extraordinaire ! quelle fierté ! quelle obstination dans ses systèmes ! Mais chut, on vient."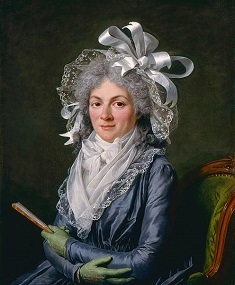 Stéphanie de Genlis (25 januari 1746 – 31 december 1830)
Portrait door Adélaïde Labille-Guiard, 1790
25-01-2014 om 12:56 geschreven door Romenu

Tags:Daniel von Lohenstein, Friedrich Jacobi, Alfred Gulden, Eva Zeller, Stéphanie de Genlis, Romenu



| | |
| --- | --- |
| | |



Inhoud blog


| | |
| --- | --- |
| | Martin Michael Driessen, Marjoleine de Vos, Manuel Bandeira, n. c. kaser, Veniamin Kaverin, Louis Amédée Achard, Pierre-Jean de Béranger, Gudrun Reinboth, Werner Rohner |
| | Wam de Moor, Bas Belleman, Roos van Rijswijk, Hanane Aad, Clara Eggink, Kathy Acker, Joy Davidman, Henry Kendall, Katharina Schwanbeck |
| | Antoon Coolen, Vincent Corjanus, Nick Hornby, Ida Boy-Ed, Thornton Wilder, David Wagner, R.J. Pineiro, Helen Meier, Karen Blixen |
| | Sarah Kirsch, Thomas Olde Heuvelt, Kingsley Amis, Patricia De Martelaere, Tristan Tzara, Ewald Vanvugt, Sibylle Lewitscharoff, Jan Luyken, Anatole France |
| | Emmaüs (Felix Timmermans) |
| | Tomas Tranströmer, Daniël Samkalden, Jérôme Lambert, Patrick Bernauw, Benjamin Zephaniah, Henry James, Wilhelm Busch, Ina Boudier-Bakker |
| | Bliss Carman, Beate Morgenstern, Jeffrey Archer, Bernhard Lassahn, Erich Arendt, Pol De Mont, Staf Weyts, Hans Egon Holthusen |
| | Péter Esterházy, Alexandre Jardin, Tjitse Hofman, Landolf Scherzer, Charles Lewinsky, Roman Graf |
| | Roberto Schopflocher, Martin Kessel, Gabriele Stötzer, Helene Hübener, Gerhard Rohlfs |
| | Nachoem Wijnberg, K. Michel, Alexander Münninghoff, Michel Faber, Jean-Marie Gustave Le Clézio, Samuel Beckett, Seamus Heaney, Tim Krabbé, Eudora Welty |
| | Antje Rávic Strubel, Alan Ayckbourn, Scott Turow, Tom Clancy, Agnes Sapper, Edward de Vere, José Gautier Benítez, Alexander Ostrovski, Guillaume-Thomas Raynal |
| | Leonard Nolens, Mark Strand, Silvia Avallone, Walid Soliman, Dorothy Allison, Hubert Nyssen, Rolf Schilling, Glenway Wescott, Claude Tillier |
| | Leo Vroman, Jan van Mersbergen, Paul Theroux, Claudio Magris, Bella Akhmadulina, Stefan Heym, Richard Wagner, Marcel van Maele, Eric Knight |
| | Charles Baudelaire, Jelle Brandt Corstius, Karel Jonckheere, Joolz Denby, Albert von Schirnding, Johannes Bobrowski, Bernard-Marie Koltès, Arnold Stadler, Yaël Vinckx |
| | Thomas (Jan Willem Schulte Nordholt) |
| | Herinnering aan Gerard Reve, Hanz Mirck, Christoph Hein, Judith Koelemeijer, Nnedi Okorafor, Barbara Kingsolver |
| | John Fante, Johann Christian Günther, Glendon Swarthout, Martin Grzimek, Hégésippe Moreau, Robert Askins |
| | Den Haag (Paul Rodenko) |
| | Juliana Spahr, William Wordsworth, Özcan Akyol, Gabriela Mistral |
| | Kazim Ali, Annejet van der Zijl, John Pepper Clark, Jakob Ejersbo, Günter Herburger, Uljana Wolf, Brigitte Schwaiger, Julien Torma, Nicolas Chamfort |
| | Hugo Claus, Martin Reints, Mieke van Zonneveld, Vítězslav Hálek, Algernon Swinburne, Bora Ćosić,, Werner J. Egli, Michael Georg Conrad, Marente de Moor |
| | Maya Angelou, Hanneke Hendrix, Marko Klomp, Marcel Vaarmeijer, E. L. James, Marguerite Duras, Robert Schindel, Michiel van Kempen, Bettina von Arnim |
| | Charles Ducal, Adriaan Jaeggi, Frederik van Eeden, Bert Bakker, Peter Huchel, Arlette Cousture, Pieter Aspe, Karel N.L. Grazell, Washington Irving |
| | Die Sonne geht im Osten auf (Christian Morgenstern) |
| | Thomas Glavinic, Jay Parini, Anneke Claus, Klaus Ender, Konrad Merz, Ed Dorn, Émile Zola |
| | György Konrád, Anne Waldman, Casanova, Hans Christian Andersen, Roberto Arlt, Edgar Hilsenrath, George Fraser |
| | Hoffmann von Fallersleben, Johann Gleim, Pierre Zaccone, Pietro della Valle, Zwier van Haren, Joanna Chmielewska, Brigitte Struzyk |
| | Preis dem Todesüberwinder! (Friedrich Klopstock) |
| | Milan Kundera, Sandro Veronesi, Nikolaj Gogol, Arnold Aletrino, Max Nord, Urs Allemann, Rolf Hochhuth, John Wilmot, Deborah Feldman |
| | Maria Polydouri, Edgar Wallace, Carl Sternheim, Edmond Rostand, Armel Guerne, Friedrich Güll, Antoine Prévost, Josep de Maistre |
| | Litanie van een wachter bij het graf (Willem Jan Otten) |
| | Stefan Hertmans, Octavio Paz, Asis Aynan, Martijn Teerlinck, Marga Minco, Enrique Vila-Matas |
| | Rob Boudestein, Kornej Tsjoekovski, Andrew Lang, Nichita Stănescu, Hartmut Lange, Marge Piercy |
| | Angela Kreuz, Judith Rossner, Andrew Marvell, John Fowles, Edward FitzGerald, Robert Brasillach, Peter Motte |
| | Golgotha (Theo Thijssen) |
| | Gerrit Komrij, Paul Verlaine, Milton Acorn, Erika Mitterer, Uwe Timm, Tom Sharpe, Gert Heidenreich, Theo Breuer, Luise Hensel |
| | Gethsemane (Jacqueline van der Waals) |
| | Geert van Istendael, Wim Brands, Ernst Jünger, Eric Walz, Georg Klein, Yvan Goll, R. S. Thomas, Jacques Brault, Denton Welch |
| | Walter van den Broeck, Joost de Vries, Mario Vargas Llosa, Chrétien Breukers, Steye Raviez, Nelson Algren, Marianne Frederiksson, Russell Banks, Léon-Gontran Damas |
| | Heinrich Mann, Shusaku Endo, Carolina Trujillo, Golo Mann, Patrick McCabe, Bob den Uyl, Dubravka Ugresić, Francis Ponge, Alfred de Vigny |
| | Tennessee Williams, Gregory Corso, Hwang Sun-won, Martin McDonagh, Robert Frost, Patrick Süskind, A. E. Housman, Bettina Galvagni, Erica Jong |
| | Jezus intrede in Jeruzalem (Nicolaas Beets) |
| | Pol Hoste, Menno Van der Beek, Jung Chang, Paul Meeuws, Flannery O'Connor, Jaime Sabines, Peter Van Straaten, Toni Cade Bambara |
| | Antonio Fogazzaro, Jacques Bens, Jacques Audiberti, Filip De Pillecyn, Erica Pedretti, Evliya Çelebi, Anne Fanshawe, Daniel Schiebeler, Mary Webb |
| | Peter Bichsel, Joy Ladin, Martin Walser, Dario Fo, Lawrence Ferlinghetti, Jacob van Lennep, Jeroen Mettes, Harry Prenen, Willem van Iependaal |
| | Top Naeff, Robert Hamerling, Fanny Lewald, Christian Schubart, Gabriele von Baumberg, Olive Schreiner, William Morris, Richard Leising |
| | Cri Stellweg, Jonathan Ames, Yōko Tawada, Gary Whitehead, Mitch Cullin, Roger Martin du Gard, Madison Cawein, Nils-Aslak Valkeapää, Federica de Cesco |
| | Billy Collins, Theo Kars, Eveline Hasler, Érik Orsenna, Arnold Sauwen, Wolfgang Bächler, Ilse Kleberger, Léon Deubel, Karel Poláček |
| | Willem de Mérode, Pim te Bokkel, Kees van Beijnum, Hamid Skif, Jean Paul |
| | Hubert Fichte, Peter Hacks, Michel Bartosik, Youssef Rzouga, Günter Vallaster, Siegfried Kapper |


Gastenboek


Druk op onderstaande knop om een berichtje achter te laten in mijn gastenboek