De Franse schrijver Olivier Delorme werd geboren op 14 maart 1958 in Chalon-sur-Saône. Zie ook mijn blog van 14 maart 2009 en ook mijn blog van 14 maart 2010.
Uit: Le Plongeon
"La terre, sur l'île de Marc, est presque partout d'un noir profond ; et quand elle n'est pas noire, la terre de K. est souvent grise, ou bien parfois d'un rouge très singulier de brique dix fois recuite – un rouge cramoisi qui tire sur le violet et vire nettement au rose sous la caresse oblique des lumières du couchant.
» Car cette terre-là est capable de mêler les teintes les plus douces – pâle grège du tuf ou blanc cassé de la ponce – aux plus extravagantes, comme le jaune d'or du soufre dont les cristaux élèvent ici des cheminées pareilles aux termitières du désert australien de Victoria, non loin de Kalgoorlie ; des merveilles de cristaux, aigus comme des épingles, qui s'épanouissent ailleurs en anémones toutes semblables à celles qui palpitent dans la mer, le long des côtes de K.
» Quant aux verts, le promeneur qui arpente les chemins muletiers de l'île de Marc, Mathias et Iris en découvrira une innombrable variété : smaragdites, chrysoprases, serpentines, malachites, une débauche de verts, purs ou veinés de blanc – légers ou pondéreux ; sans oublier les infinies nuances des caroubiers, oliviers, mûriers, amandiers ou figuiers. Car l'île de K., que les Turcs ont appelée « île aux figues », est beaucoup plus fertile que toutes ses voisines, à cause de la pierre ponce du sous-sol, prétendent les gens d'ici, parce qu'elle se gorge des pluies de l'hiver afin d'en abreuver les arbres même en plein été, même quand le soleil a roussi jusqu'au dernier brin d'herbe. (…)"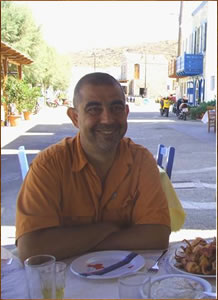 Olivier Delorme (Chalon-sur-Saône, 14 maart 1958)
De Amerikaanse schrijver en draaiboekauteur Horton Foote werd geboren op 14 maart 1916 in Wharton, Texas. Zie ook mijn blog van 14 maart 2009 en ook mijn blog van 14 maart 2010.
Uit: Horton Foote (Biografie door Charles S. Watson)
"What distinguishes Horton Foote from other playwrights of his time? It is the deep compassion that shapes his many plays. He is not a social protester like Arthur Miller, a constant experimenter with dramatic techniques like Eugene O'Neill, nor a psychological investigator like Tennessee Williams. Rather it is his sensitivity to the troubled men and women who live in Southeast Texas that gives his work unity. Foote's most precious resource comes from his personal experience in Wharton, where he absorbed into art the sensibility of his kindred. He has said that more than one-half of his plays have begun with tales told by his father, Albert Horton Foote, Jr.
While working at the haberdashery run by his father, Foote observed his father's compassion. On Saturday evenings over fried oysters, the elder Foote would recount to his son the hardships of his customers and would be moved to tears. The memory of his admired father marked the son indelibly. It permeates his playwriting, develops his art, and shapes his writing.
Wharton is still a small town in Southeast Texas, as it was when Horton Foote was born there in 1916. The future playwright assimilated its life before leaving at age sixteen to begin his work in the theatre, first as an actor and later as a playwright. Foote saw and heard all about this place. He absorbed its history, beginning before the Civil War when his great-great-grandfather Albert Clinton Horton arrived to claim many acres of rich farmland.
Few American dramatists have recorded the changing life of their hometown with such single-minded devotion as Horton Foote. Marion Castleberry has aptly spoken of Foote's "compassionate depiction" of a small town in the series of plays about Wharton. Born and reared there, this loyal son has never long been physically absent and, more importantly, never spiritually absent."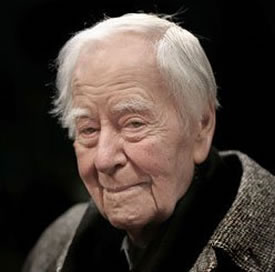 Horton Foote (14 maart 1916 – 4 maart 2009)

De Duitse schrijver Jochen Schimmang werd geboren op 14 maart 1948 in Leer, Ostfriesland. Zie ook mijn blog van 14 maart 2007 en ook mijn blog van 14 maart 2008 en ook mijn blog van 14 maart 2009 en ook mijn blog van 14 maart 2010.
Uit: Das Beste, was wir hatten
»Björn ist doch ein schöner Name. Und Pia natürlich auch. Und warum seid ihr Außenseiter?«
»Wir sind nicht einverstanden«, sagte das Mädchen.
»Womit?«
»Mit allem. Wir sind am Rand der Gesellschaft. Und Sie?«
»Ich bin Gregor. Ich bin auch am Rand der Gesellschaft. Das heißt, bis vor Kurzem war ich mittendrin, ganz dick mittendrin, aber jetzt verliere ich vielleicht sogar meine Wohnung.«
»Obdachlos? Glaube ich nicht«, sagte Björn. »So, wie Sie aussehen. Sie können uns viel erzählen.«
»Mache ich«, sagte Gregor. »Gibt es etwas zu trinken?«
Es gab Kaffee aus einer Thermoskanne, der noch fast heiß war. Björn schenkte drei Tassen ein, und dann erzählte Gregor: wie er in Westberlin studiert hatte und bei einer der seltsamen kommunistischen Truppen gelandet war, von denen es damals so viele gab. Wie er durchs Fußballspielen Leo kennengelernt und seine Truppe verlassen hatte. Wie er sein Studium beendet und in Göttingen und später in Speyer gelehrt hatte, und wie er auf einer Tagung einen ranghohen Politiker kennengelernt hatte, der sein Chef werden sollte. Wie er von einer Frau, die er zu lieben glaubte, im Auftrag der Stasi bespitzelt wurde und wie das später herauskam. Wie er seinen besten Freund mit dessen Frau betrogen hatte und wie sie das schließlich beendet hatten. Wie sein Freund Carl in Schwierigkeiten geraten und verurteilt worden war. Wie sie, also Anita und er, seine Befreiung inszeniert hatten und wie man ihn nach Holland gebracht hatte. Wie er bei der Veranstaltung in Köln die Farbeier geworfen hatte.
Manchmal, während er erzählte, gab es ungläubige oder amüsierte oder zustimmende oder angewiderte Reaktionen von Björn. Als er von Carls missglücktem Anschlag berichtete, sahen die beiden sich bedeutungsvoll an. Als es um Carls Befreiung ging, mochten sie es kaum glauben. Der Junge schnaufte manchmal deutlich hörbar, und das Mädchen ballte immer wieder ihre Hände zu Fäusten und presste ihre Fingerknöchel gegeneinander. Gregor kam es vor, als habe ihm in seinem ganzen Leben noch nie jemand so aufmerksam zugehört wie diese beiden."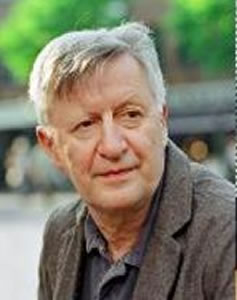 Jochen Schimmang (Leer, 14 maart 1948)
De Duitse dichter Volker von Törne werd geboren op 14 maart 1934 in Quedlinburg. Zie ook mijn blog van 14 maart 2007 en ook mijn blog van 14 maart 2008 en ook mijn blog van 14 maart 2009 en ook mijn blog van 14 maart 2010.
Berufung
Geboren bin ich im März vierunddreißig
In Quedlinburg und Törne heiß ich
Aus Quedlinburg kam auch Gottlieb
Klopstock der den Messias schrieb
So fand ich also schon sehr früh
Beziehung zu der Poesie
Wir zogen um nach Niedersachsen
In Gandersheim bin ich aufgewachsen
Vor tausend Jahren schrieb in Latein
Gedichte Roswitha von Gandersheim
So blieb ich weiter ich sags voll Rührung
Mit deutscher Dichtung in enger Berührung
Meine Mutter erzählte von unseren Ahnen
Tapfren blonden und edlen Germanen
Ich fing Salamander im Bach hinterm Müll
Und hörte im Radio des Führers Gebrüll
Ich hörte Heil Hitler und Juda verrecke
Und spielte Versteck in der Weißdornhecke
Zur Schule kam ich ein halbes Jahr
Ehe der Krieg in Polen war
Mein Vater zog mit Hitlers Armee
Nach Leningrad und blieb da im Schnee
Meine Mutter weinte der Krieg zog sich hin
Wir saßen die Nächte im Keller drin
Im Mai fünfundvierzig verbrannte das Haus
Mit allem was drin war der Krieg war aus
Wir fanden ein Zimmer im Dorfe Lutter
Beim Bauern Golis es gab keine Butter
Bei Golis im Garten war Bierausschank
Die Bauern pissten den Zaun entlang
Meine Mutter nähte Röcke und Kleider
Für die Damen des Dorfes und blieb dabei heiter
Sie stand beim Kaufmann nach Nährmitteln an
Über drei Stunden für fünfhundert Gramm
Unsre Rente im Monat genau neunzig Mark
Wir aßen Kartoffeln und Magerquark
Ich las Villon und schwänzte wenns ging
Die Schule, die mir zum Halse raus hing
Ich trieb mich herum mit Heinrich Heine
Bewegte wie er durch den Harz meine Beine
Am Straßenrand saß ich mit Bertolt Brecht
Und sang das Lied vom letzten Gefecht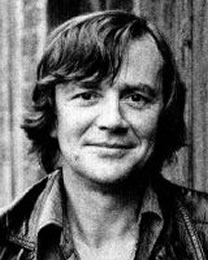 Volker von Törne ( 14 maart 1934 – 30 december 1980)
De Britse dichteres van humoristische poëzie Pam Ayres werd geboren op 14 maart 1947 in Stanford in the Vale in Berkshire (tegenwoordig Oxfordshire). Zie ook mijn blog van 14 maart 2007 en ook mijn blog van 14 maart 2008 en ook mijn blog van 14 maart 2009 en ook mijn blog van 14 maart 2010.


Oh I Wish I'd Looked After Me Teeth
Oh, I wish I'd looked after me teeth,
And spotted the perils beneath,
All the toffees I chewed,
And the sweet sticky food,
Oh, I wish I'd looked after me teeth.
When I had more tooth there than fillin'
To pass up gobstoppers,
From respect to me choppers
And to buy something else with me shillin'.
When I think of the lollies I licked,
And the liquorice allsorts I picked,
Sherbet dabs, big and little,
All that hard peanut brittle,
My conscience gets horribly pricked.
My Mother, she told me no end,
"If you got a tooth, you got a friend"
I was young then, and careless,
My toothbrush was hairless,
I never had much time to spend.
Oh I showed them the toothpaste all right,
I flashed it about late at night,
But up-and-down brushin'
And pokin' and fussin'
Didn't seem worth the time... I could bite!
If I'd known I was paving the way,
To cavities, caps and decay,
The murder of fiIlin's
Injections and drillin's
I'd have thrown all me sherbet away.
So I lay in the old dentist's chair,
And I gaze up his nose in despair,
And his drill it do whine,
In these molars of mine,
"Two amalgum," he'll say, "for in there."
How I laughed at my Mother's false teeth,
As they foamed in the waters beneath,
But now comes the reckonin'
It's me they are beckonin'
Oh, I wish I'd looked after me teeth.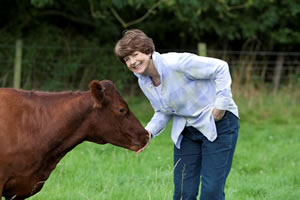 Pam Ayres (Stanford in the Vale, 14 maart 1947)



Zie voor nog meer schrijvers van de 14e maart ook mijn vorige blog van vandaag.
14-03-2011 om 19:58 geschreven door Romenu

Tags:Olivier Delorme, Horton Foote, Jochen Schimmang, Volker von Törne, Pam Ayr, Romenu