E-mail mij


Druk op onderstaande knop om mij te e-mailen.


Romenu


Romenu is een blog over gedichten, literatuur en kunst Maar Romenu is ook een professionele freelance vertaler
Du-Ne en Ne-Du http://www.romenu.nl.


Huur eens een (vakantie)huis in een natuurgebied, dichtbij het centrum van Nijmegen


Google


Georg Trakl

Georg Trakl werd op 3 februari 1887 in het conducteurshuis aan de Waagplatz 2 in Salzburg geboren. Zijn vader, Tobias Trakl, was een handelaar in ijzerwaren en zijn moeder, die ook psychische problemen had, was Maria Catharina Trakl, (meisjesnaam Halik). Voorts had hij nog drie broers en drie zussen. Margarethe (doorgaans Grethe genoemd) stond hem het naast, zelfs zodanig dat sommigen een incestueuze verhouding vermoeden. Zijn jeugd bracht hij door in Salzburg. Vervolgens bezocht hij van 1897 tot 1905 het humanistische gymnasium. Om toch een academische opleiding te kunnen volgen, werkte hij tot 1908 in de praktijk bij een apotheker. Sommigen vermoedden dat hij dit vooral deed om zichzelf opiaten te kunnen verschaffen. Bij het uitbreken van WO I werd Trakl als medicus naar het front in Galicië (heden ten dage in Oekraïne en Polen) gestuurd. Zijn gemoedsschommelingen leidden tot geregelde uitbraken van depressie, die verergerd werden door de afschuw die hij voelde voor de verzorging van de ernstig verwonde soldaten. De spanning en druk dreven hem ertoe een suïcidepoging te ondernemen, welke zijn kameraden nochtans verhinderden. Hij werd in een militair ziekenhuis opgenomen in Kraków, alwaar hij onder strikt toezicht geplaatst werd.Trakl verzonk daar in nog zwaardere depressies en schreef Ficker om advies. Ficker overtuigde hem ervan dat hij contact moest opnemen met Wittgenstein, die inderdaad op weg ging na Trakls bericht te hebben ontvangen. Op 4 november 1914, drie dagen voordat Wittgenstein aan zou komen, overleed hij echter aan een overdosis cocaïne


Paul Celan

Paul Celan werd onder de naam Paul Antschel op 23 november 1920 geboren in Czernowitz, toentertijd de hoofdstad van de Roemeense Boekovina, nu behorend bij de Oekraïne. Paul Celans ouders waren Duitssprekende joden die hun zoon joods opvoedden en hem naar Duitse christelijke scholen stuurden. In 1942 werden Celans ouders door de Duitse bezetter naar een werkkamp gedeporteerd en daar vermoord. Hijzelf wist aanvankelijk onder te duiken, maar moest vanaf juli 1942 in een werkkamp dwangarbeid verrichten. Celan overleefde de oorlog. Via Boekarest en Wenen vestigde Celan zich in 1948 in Parijs. Daar was hij werkzaam als dichter, vertaler en doceerde hij aan de prestigieuze Ecole Normale Supérieure. Vermoedelijk op 20 april 1970 beëindigde hij zijn leven zelf door in de Seine te springen.


Gerard Reve

Gerard Reve over: Medearbeiders "God is in de mensen, de dieren, de planten en alle dingen - in de schepping, die verlost moet worden of waaruit God verlost moet worden, door onze arbeid, aangezien wij medearbeiders van God zijn." Openbaring "Tja, waar berust elk godsbegrip op, elke vorm van religie? Op een openbaring, dat wil zeggen op een psychische ervaring van zulk een dwingende en onverbiddelijke kracht, dat de betrokkene het gevoel heeft, niet dat hij een gedachte of een visioen heeft, maar dat een gedachte gedachte of visioen hem bezit en overweldigt."


Simon Vestdijk
Simon Vestdijk (Harlingen, 17 oktober 1898 – Utrecht, 23 maart 1971) was een Nederlands romancier, dichter, essayist en vertaler. Zijn jeugd te Harlingen en Leeuwarden beschreef hij later in de Anton Wachter-cyclus. Van jongs af aan logeerde hij regelmatig bij zijn grootouders in Amsterdam, waar hij zich in 1917 aan de Universiteit van Amsterdam inschrijft als student in de medicijnen. Tijdens zijn studie die van 1917 tot 1927 duurde, leerde hij Jan Slauerhoff kennen.Tot 1932 is hij als arts in praktijken door heel Nederland werkzaam. In 1932 volgt zijn officiële schrijversdebuut met de uitgave van de bundel Verzen in De Vrije Bladen. Doorslaggevend voor Vestdijks uiteindelijke keuze voor de literatuur is zijn ontmoeting in 1932 met Eddy Du Perron en Menno ter Braak. Deze ontmoeting had tot resultaat dat hij redactielid werd van het tijdschrift Forum Kort daarop, in 1933, wordt zijn eerste novelle, De oubliette, uitgegeven. In hetzelfde jaar schrijft hij Kind tussen vier vrouwen, dat, eerst geweigerd door de uitgever, later de basis zal vormen voor de eerste drie delen van de Anton Wachter-romans. In 1951 ontvangt Vestdijk de P.C. Hooftprijs voor zijn in 1947 verschenen roman De vuuraanbidders. In 1957 wordt hij voor het eerst door het PEN-centrum voor Nederland voorgedragen voor de Nobelprijs voor de Literatuur, die hij echter nooit zal krijgen. Op 20 maart 1971 wordt hem de Prijs der Nederlandse Letteren toegekend, maar voor hij deze kan ontvangen overlijdt hij op 23 maart te Utrecht op 72-jarige leeftijd. Vestdijk was auteur van ca. 200 boeken. Vanwege deze enorme productie noemde de dichter Adriaan Roland Holst hem 'de man die sneller schrijft dan God kan lezen'. Andere belangrijke boeken van Simon Vestdijk zijn: "Kind van stad en land" (1936), "Meneer Visser's hellevaart" (1936), "Ierse nachten" (1946), "De toekomst de religie" (1947), "Pastorale 1943" (1948), "De koperen tuin" (1950), "Ivoren wachters" (1951), "Essays in duodecimo" (1952) en "Het genadeschot" (1964).


K.P. Kavafis

K.P. Kavafis werd als kind van Griekse ouders, afkomstig uit Konstantinopel, geboren in 1863 in Alexandrië (tot vandaag een Griekse enclave) waar hij ook het grootste deel van zijn leven woonde en werkte. Twee jaar na de dood van zijn vader verhuist het gezin in 1872 naar Engeland om na een verblijf van vijf jaar naar Alexandrië terug te keren. Vanwege ongeregeldheden in Egypte vlucht het gezin in 1882 naar Konstantinopel, om na drie jaar opnieuw naar Alexandrië terug te gaan. In de jaren die volgen maakt Kavafis reizen naar Parijs, Londen en in 1901 zijn eerste reis naar Griekenland, in latere jaren gevolgd door nog enkele bezoeken. Op de dag van zijn zeventigste verjaardag, in 1933 sterft Kavafis in Alexandrië. De roem kwam voor Kavafis pas na zijn dood, dus postuum. Deels is dat toe te schrijven aan zijn eigen handelswijze. Hij was uiterst terughoudend met de publicatie van zijn gedichten, liet af en toe een enkel gedicht afdrukken in een literair tijdschrift, gaf in eigen beheer enkele bundels met een stuk of twintig gedichten uit en het merendeel van zijn poëzie schonk hij op losse bladen aan zijn beste vrienden.


Thomas Mann


Thomas Mann, de jongere broer van Heinrich Mann, werd geboren op 6 juni 1875 in Lübeck. Hij was de tweede zoon van de graankoopman Thomas Johann Heinrich Mann welke later één van de senatoren van Lübreck werd. Zijn moeder Julia (geboren da Silva-Bruhns) was Duits-Braziliaans van Portugees Kreoolse afkomst. In 1894 debuteerde Thomas Mann met de novelle "Gefallen". Toen Thomas Mann met 21 jaar eindelijk volwassen was en hem dus geld van zijn vaders erfenis toestond - hij kreeg ongeveer 160 tot 180 goldmark per jaar - besloot hij dat hij genoeg had van al die scholen en instituties en werd onafhankelijk schrijver. Kenmerkend voor zijn stijl zijn de ironie, de fenomenale taalbeheersing en de minutieuze detailschildering. Manns reputatie in Duitsland was sterk wisselend. Met zijn eerste roman, Buddenbrooks (1901), had hij een enorm succes, maar door zijn sceptische houding tegenover Duitsland na de Eerste Wereldoorlog veranderde dit volledig. Stelde hij zich tot aan de jaren twintig apolitiek op (Betrachtungen eines Unpolitischen, 1918), meer en meer raakte hij bij het Politiek gebeuren betrokken. Zijn afkeer van het nationaal socialisme groeide, zijn waarschuwingen werden veelvuldiger en heftiger. In 1944 accepteerde hij het Amerikaanse staatsburgerschap. Tussen 1943 en 1947 schreef Mann Doktor Faustus (zie Faust), de roman van de 'Duitse ziel' in de gecamoufleerd geschilderde omstandigheden van de 20ste eeuw. In 1947 bezocht hij voor het eerst sinds de Oorlog Europa, twee jaar later pas Duitsland. In 1952 vertrok hij naar Zwitserland. Op 12 augustus 1955 stierf hij in Zürich. Twintig jaar na zijn dood, in aug. 1975, is zijn literaire nalatenschap geopend: dagboekaantekeningen van 15 maart 1933 tot 29 juli 1955, alsmede notities uit de jaren 1918 tot en met 1921.Belangrijke werken zijn: Der Zauberberg, Der Tod in Venedig, Dokter Faustus , Joseph und seine Brüder en Die Bekenntnisse des Hochstaplers Felix Krull.


Rainer Maria Rilke

Rilke werd op 4 december 1875 geboren in Praag. Hij had al naam gemaakt als dichter met zijn bundels Das Stundenbuch en Das Buch der Bilder, toen hij de literaire wereld versteld deed staan en wereldfaam verwierf met de publicatie van zijn twee delen Neue Gedichte in 1907 en 1908. Hij verzamelde daarin het beste werk uit een van zijn vruchtbaarste periodes, die hij grotendeels doorbracht in Parijs. Rilke was daar diep onder de indruk gekomen van Rodin, bij wie hij een tijdlang in dienst was als particulier secretaris. Rodin, zei hij later, had hem leren kijken. Dit kijken kwam neer op intense concentratie, om het mysterie te kunnen zien 'achter de schijnbare werkelijkheid'. Latere en rijpere werken als Duineser Elegien (1912-1923) en het ronduit schitterende Die Sonette an Orfeus (1924) illustreren Rilkes metafysische visie op het onzegbare, dat haar verwoording vindt in een hermetische muzikale taal. Op 29 december 1926 overlijdt Rilke in het sanatorium in Val-Mont aan de gevolgen van leukemie. Enkele dagen later wordt hij, overeenkomstig zijn wens, begraven op het kerkhof van Raron.


* * * * * * * * * * * * * * * *

| | |
| --- | --- |
| | Over literatuur, gedichten, kunst en cultuur |

28-11-2015

Erwin Mortier, Alberto Moravia, Hugo Pos, Stefan Zweig, Sherko Fatah, William Blake
De Vlaamse dichter en schrijver Erwin Mortier werd geboren in Nevele op 28 november 1965. Zie ook alle tags voor Erwin Mortier op dit blog.
Uit: Les dix doigts des jour (Alle dagen samen. vertaald door Marie Hooghe)
"Car les mots ne se montrent pas encore à lui. Il ne peut boire qu'à petites gorgées à leurs coupes.
« On ne peut pas dire qu'il a la langue bien pendue, dit, maman. S'il tient quelque chose de son père... Mais Dieu sait tout ce qui mijote dans cette petite caboche. »
Sa voix tourne en rond et se rembobine d'elle-même quand elle est au bout de la chanson, elle tapote des touches et frappe des cymbales. Elles croient qu'elles parlent, maman, grand-maman, tante Cactus, mais elles sont seulement, comme dit parfois papa, des grandes machines à trompette où il n'y a pas de bouton pour couper le son quand la mélodie ne vous plaît plus.
(…)
Quand papa vient m'éveiller, je rêve de grands papillons de nuit dans la haie de troènes. Ils frétillent sur le drap quand je m'assieds et frotte les fils de mes yeux.
Il me soulève et me prend dans ses bras. Je pose mon cou sur l'arrondi de sa nuque et me laisse retomber par-dessus ses épaules pour compter le bord de chaque marche pendant que nous descendons. Il y en a dix et sept.
Quand nous arrivons en bas, je crie « Bravo ». Je veux taper dans mes mains, mais papa attrape mes doigts dans son poing.
Autour du lit en bas, les gens rient dans leur barbe.
Arrière-grand-père réfléchit sérieusement, les couvertures sont tirées jusque sous son menton. Ses fausses dents, il les a mises dans un verre sur la tablette de la fenêtre, ainsi il peut rire sans se fatiguer pendant qu'il meurt.
« Chuut », dit papa.
Arrière-grand-père se redresse. Regarde autour de lui avec des yeux qui n'ont encore jamais été aussi grands.
« Tous ces gens, dit-il. Tous ces gens », et il retombe sur les draps.
Les gens hoquètent de rire.
Toi aussi, maman."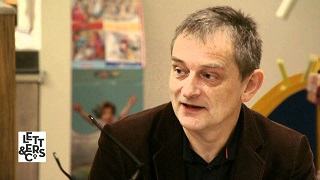 Erwin Mortier (Nevele, 28 november 1965)
De Italiaanse schrijver Alberto Moravia werd geboren in Rome op 28 november 1907. Zie ook ale tags voor Alberto Moravia op dit blog.
Uit:Two Friends (Vertaald door Marina Harss)
"Even though he was still very young, Maurizio had already developed a Don Juan — like attitude — he could not tolerate a serious bond with a woman, and preferred to pursue many light, inconsequential affairs rather than devote himself to a singular, deep relationship. For some time now, this woman's attachment had been an inconvenience to him, especially because his lucid intuition told him that this attachment was not unselfish on her part. On the day of his conversation with Sergio, Maurizio had gone to see Emilia and told her what had happened. He explained that his friendship had probably come to an end. The woman did not hide her satisfaction, and Maurizio suddenly realized — though he had not reflected on this possibility before — that the quarrel with his friend might also be an opportunity to free himself of this woman. He told her that she should not be so happy, since after all Sergio had always been and was still his best friend; that she had done her best to come between them; that she had probably encouraged Sergio to speak ill of him in order to create discord between them. This was the truth of the matter, and Maurizio had been able to see it by remembering her attitude as well as Sergio's. She confirmed his intuition by exclaiming: "There you go; you trust Sergio more than me … Who knows what that hateful man has said?" Maurizio answered that Sergio had said nothing at all, and that he was not the least bit hateful. He would probably never see Sergio again, but he regretted the loss of a friend who, all in all, had always shown himself to be affectionate and loyal."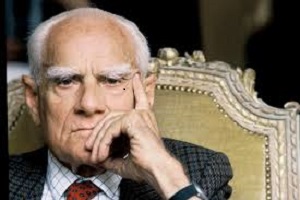 Alberto Moravia (28 november 1907 – 26 september 1990)

De Surinaamse schrijver, dichter en jurist Hugo Pos werd geboren in Paramaribo op 28 november 1913. Zie ook alle tags voor Hugo Pos op dit blog.
Kwatrijnen
Wat heeft de eeuw ons aangedaan
dat ik het boek niet dicht kan slaan:
Tot alles is de mens in staat
tot in de nde, nde graad.
*
Ik vroeg mijn guru: 'waar ontspringt de droom,
in mij of buiten mij, of is er soms een zone,
een onderduikadres voor mij en mijn demonen,
met water, gas en licht, tv, een zachte dood?'
*
Geloof me toch, als ik van hier verdwijn
maakt het niet uit. Straks bloeit weer de jasmijn
en geurt de kamperfoelie. Erger zou het wezen
als zij verdwenen waren - ik er nog zou zijn.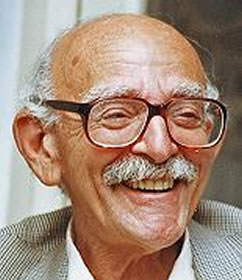 Hugo Pos (28 november 1913 - 11 november 2000)
De Oostenrijkse schrijver Stefan Zweig werd op 28 november 1881 in Wenen. Zie ook alle tags voor Stefan Zweig op dit blog.
Uit:Die Welt von Gestern. Erinnerungen eines Europäers
"Die Menschen wurden schöner, kräftiger, gesünder, seit der Sport ihnen die Körper stählte, immer seltener sah man Verkrüppelte, Kropfige, Verstümmelte auf den Straßen, und alle diese Wunder hatte die Wissenschaft vollbracht, dieser Erzengel des Fortschritts. Auch im Sozialen ging es voran; von Jahr zu Jahr wurden dem Individuum neue Rechte gegeben, die Justiz linder und humaner gehandhabt, und selbst das Problem der Probleme, die Armut der großen Massen, schien nicht mehr unüberwindlich. Immer weiteren Kreisen gewährte man das Wahlrecht und damit die Möglichkeit, legal ihre Interessen zu verteidigen, Soziologen und Professoren wetteiferten, die Lebenshaltung des Proletariats gesünder und sogar glücklicher zu gestalten - was Wunder darum, wenn dieses Jahrhundert sich an seiner eigenen Leistung sonnte und jedes beendete Jahrzehnt nur als die Vorstufe eines besseren empfand? An barbarische Rückfälle, wie Kriege zwischen den Völkern Europas, glaubte man so wenig wie an Hexen und Gespenster; beharrlich waren unsere Väter durchdmngen von dem Vertrauen auf die unfehlbar bindende Kraft von Toleranz und Konzilianz.
Redlich meinten sie, die Grenzen von Divergenzen zwischen den Nationen und Konfessionen würden allmählich zerfließen ins gemeinsame Humane und damit Friede und Sicherheit, diese höchsten Güter, der ganzen Menschheit zugeteilt sein.
Es ist billig für uns heute, die wir das Wort >Sicherheit< längst als ein Phantom aus unserem Vokabular gestrichen haben, den optimistischen Wahn jener idealistisch verblendeten Generation zu belächeln, der technische Fortschritt der Menschheit müsse unbedingterweise einen gleich rapiden moralischen Aufstieg zur Folge haben."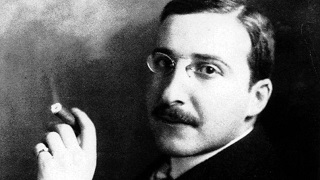 Stefan Zweig (28 november 1881 – 22 februari 1942)
De Duitse schrijver Sherko Fatah werd geboren op 28 november 1964 in Oost-Berlijn. Zie ook alle tags voor Sherko Fatah op dit blog.
Uit: Ein weißes Land
"Manchmal an diesen langen Nachmittagen fragte ich mich, ob ich mich nicht doch irrte. Ob ich den Mann, den ich von früher kannte, einfach nur wiedererkennen wollte in diesem Arzt aus Europa. Ich hatte nur mit wenigen Menschen über meine Er-lebnisse gesprochen. Als ich zurückkehrte, war meine Fähigkeit zu berichten oder gar zu erzählen erloschen. Wem auch hätte ich davon erzählen sollen, wie eine Welt in Trümmern versank, während hier, in meinem Land, alles beim Alten war. Die vertrauten Gassen und Straßen, die gewohnte Hitze und Langsamkeit, nichts hatte sich verändert. Niemand hätte mir geglaubt, was ich gesehen hatte. Ich wusste es im Moment, da ich den Fuß auf heimatlichen Boden setzte. Obwohl ich die Hitze des Feuers noch auf den Wangen, der Stirn fühlte, sprang mir, als ich endlich wieder in meiner Sprache sprechen konnte, etwas an den Hals, ja, genau so fühlte es sich an. Was immer es war, es würgte mich, wenn ich reden wollte. Doch niemand vermisste meine Worte. Es wären nur Worte des Boten Anwar gewesen, die allem, was gewiss erscheint, nichts hinzufügen konnten, keinen Zweifel, keine wichtigen Informationen, nichts.
Als ich begriff, dass ich in dieser neuen Rolle das Stummsein nicht mehr zu spielen brauchte, sondern mühelos, auch sprechend beibehielt, war ich erleichtert. Noch im Krieg hatte ich geglaubt, ich würde auch deshalb durch die endlose Weite und zerstörten Städte wandern, um jemandem in der Heimat davon berichten zu können. Alles, so dachte ich, sei in mir bereit für diese Begegnung. Dann aber, als es so weit war, sagte ich kaum etwas.
Es ist, als suche man einen Menschen, dem man sein Herz ausschütten kann, warte in Wahrheit aber auf Gott. Was sind ein paar Worte zu einem Satz verknüpft, was können sie sein in den Ohren eines Fremden."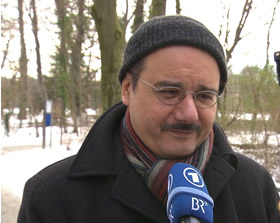 Sherko Fatah (Oost-Berlijn, 28 november 1964)
De Engelse schrijver, dichter en schilder William Blake werd geboren op 28 november 1757 in Londen. Zie ook alle tags voor William Blake op dit blog.
A Poison Tree
I was angry with my friend:
I told my wrath, my wrath did end.
I was angry with my foe:
I told it not, my wrath did grow.
And I watered it in fears,
Night and morning with my tears;
And I sunned it with smiles,
And with soft deceitful wiles.
And it grew both day and night,
Till it bore an apple bright.
And my foe beheld it shine.
And he knew that it was mine,
And into my garden stole
When the night had veiled the pole;
In the morning glad I see
My foe outstretched beneath the tree.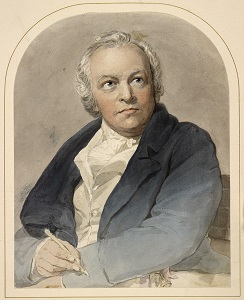 William Blake (28 november 1757 – 12 augustus 1827)
Portret, waterverf, naar Thomas Phillips, 1903
Zie voor nog meer schrijvers van de 28e november mijn twee vorige blogs van vandaag.
28-11-2015 om 14:26 geschreven door Romenu

Tags:Erwin Mortier, Alberto Moravia, Hugo Pos, Stefan Zweig, Sherko Fatah, William Blake, Romenu



Alexander Blok, Rita Mae Brown, Julian Randolph Stow, Philippe Sollers, Nancy Mitford
De Russische schrijver en dichter Alexander Blok werd geboren op 28 november 1880 in St. Petersburg. Zie ook alle tags voor Alexander Blok op dit blog.
The night
The night. The street. Street-lamp. Drugstore.
A meaningless dull light about.
You may live twenty-five years more;
All will still be there. No way out.
You die. You start again and all
Will be repeated as before:
The cold rippling of a canal.
The night. The street. Street-lamp. Drugstore.
Vertaald door Vladimir Markov en Merrill Sparks
Here We Live..
Here we live in ancient chambers
By the water strings.
Here at spring the gladness rambles,
And the river sings.
As the gaiety's first message,
With the first spring gales,
There will pour the blazing azure
In the doors of cells.
And quite full of sacred shudder
Of the years of dreams,
Through the fields we'll gaily ride in
Bless of dazzling beams.

My Monastery, Where..
My monastery, where I'm badly pining,
Is granite, melted by the burning mind.
I'm strangled and blinded under this heat, lying,
And leave it, trying a new cell to find…
There'll be still heat, but one that's always warming.
The bloody ball will melt my brain to ash,
I'll lose my mind in ways, the more calming,
Than in this one, oppressing blood and flesh.
Where's the new cell? Where is my cloister, novel?
Not on the skies, the grave's darkness behind,
But on the Earth it's healthy one and low,
Where I'll find all, when having lost my mind!...
Vertaald door Yevgeny Bonver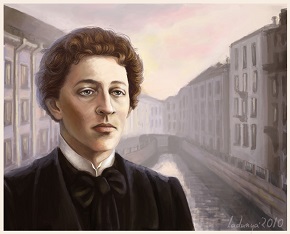 Alexander Blok (28 november 1880 – 7 augustus 1921)
Portret door Ladunya, 2010
De Amerikaanse schrijfster Rita Mae Brown werd geboren in Hanover, Pennsylvania op 28 november 1944. Zie ook alle tags voor Rita Mae Brown op dit blog.
Uit: Rubyfruit Jungle
"Okay, okay, Nancy, that's enough. You might wear him out and we have other customers to satisfy." That took the wind out of her and she went home. "Look, Broccoli, what's the big idea of letting Nancy touch you for free? That ought to be worth at least a dime. We oughta let kids do it for a dime and Nancy can play for free when everyone goes home if you want her to."
"Deal."
This new twist drew half the school into the woods. Everything was fine until Earl Stambach ratted on us to Miss Martin, the teacher. Miss Martin contacted Carrie and Broccoli's mother and it was all over.
When I got home that night I didn't even get through the door when Carrie yells, "Molly, come in here right this minute." The tone in her voice told me I was up for getting strapped.
"I'm coming, Mom."
"What's this I hear about you out in the woods playing with Brockhurst Detwiler's peter? Don't lie to me now, Earl told Miss Martin you're out there every night."
"Not me, Mom, I never played with him." Which was true.
"Don't lie to me, you big-mouthed brat. I know you were out there jerking that dimwit off. And in front of all the other brats in the Hollow."
"No, Mom, honest, I didn't do that." There was no use telling her what I really did. She wouldn't have believed me. Carrie assumed all children lied."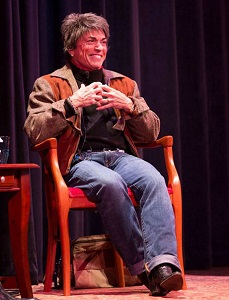 Rita Mae Brown (Hanover, 28 november 1944)
De Australische dichter en schrijver Julian Randolph Stow werd geboren in Geraldton in het westen van Australië op 28 november 1935. Zie ook alle tags voor Julian Randolph Stow op dit blog.
Uit: The Merry-Go-Round in the Sea
"When the merry-go-round was moving it gratcd under its collar. But now it was still. there were no children playing about it. only the one small boy who had climhed out of the car by the curh and stood studying the meny-go-round from a distance. his hands jammed down inside the waistband of his shorts.
Under his sandals. leaves and nuts fallen from the Moreton Bay ligtrees crunched and popped. Beyond the merry-go-round was the sea. The colour of the sea should have astounded. but the boy was seldom astounded. It was simply the sea. dark and glowing blue. hiseeted by seagullgrey timbers of the rotting jetty. which dwindled away in the distance until it seemed to come to an end in the flat-topped hills to the north. He did not think about the sea. or about the purple bougainvillaea that glowed against it. propped on a sagging shed. These existed only as the familiar haekdrop of the merry-go-round. Nevertheless. the colours had entered into him. printing a hrilliant memory.
Ile went, scufling leaves. to the merry-go-round. And hanging his body over the narrow seat he began to run with it. lifting his legs from the ground as it gained momentum. But he could not achieve more than half a revolution by this means, and presently he stopped. feeling vaguely hard-used.
His mother was in the Library. getting books. He could see her now, coming out on to the veranda. The Library was a big place with an upstairs. lt used to be the railway station in the Old Days, which made it very old indeed. In fact. everything about the merry-go-round was old. though he did not know it. Across the street the eonvict«huilt eourthouse erumbled away, sunilowers sprouting from the erueked steps.
The great stone ham at the next corner was Wainwright's store. where the early ships had landed supplies. That. Too was erumbling, like the jetty und the eourthouse and the hougainvillaea-torn shed. like the upturned hoat on the force shore with sunllowers hlossoming through its ribs."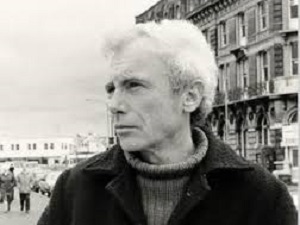 Julian Randolph Stow (28 november 1935 – 29 mei 2010)




De Franse schrijver Philippe Sollers werd geboren op 28 november 1936 in Bordeaux. Zie ook alle tags voor Philippe Sollers op dit blog.
Uit: Portraits de femmes
« On ne naît pas homme, on le devient, la plupart du temps à ses dépens. C'est un long chemin dangereux qui, le plus souvent, ne mène nulle part. On vous montre des directions, on vous les impose, c'est fou ce que le mot « homme » engendre comme bruit de valeurs. Il faut ceci, il faut cela, tenez-vous droit et marchez au pas, tu seras un homme, mon fils, comme moi j'ai été fils pour pouvoir commander des fils. Tables de la loi, catéchisme en bois, formules toutes faites, la plus sinistre étant un mannequin en képi, devant un cercueil décoré, faisant état de sa tristesse, mais aussi de sa « fierté » à l'égard d'un soldat « qui n'est pas mort pour rien, les armes à la main ».
Tableaux d'honneur, champs d'honneur, monuments aux morts, mémorials, sacrifices, bénédictions, exemples à suivre, « le vrai tombeau des morts est le coeur des vivants », transmissions, initiations, commémorations, cendres. La voie est tracée, il faut se courber, faire du sport, de la gymnastique, se pencher sur des livres, et encore des livres, que vous n'avez pas plus envie de lire que de courir à n'en plus finir. Quand tout un système s'effondre, comme aujourd'hui, ce fameux homme n'est plus qu'un délinquant précoce, un terroriste cinglé, un trader scotché jour et nuit à son ordinateur. S'il n'a pas déjà divorcé deux ou trois fois, il rentre chez lui, subit la mauvaise humeur de sa femme, les demandes tapageuses et absurdes de ses enfants, les voix hallucinées de la télévision, l'affairement autour du Net, la société, quoi, qui vit chez lui comme chez elle. Il essaye de dormir un peu, la tête pleine de chiffres ou de chèques à faire. Il a un travail, celui-là, encore heureux, il n'est pas chômeur, sans-papiers, ou sans domicile fixe. Il peut même faire partie d'une minorité influente, et croire peser (mais si peu !) dans les décisions du marché. C'est l'homme, enfin, ou ce qu'il en reste, dans la mondialisation en cours. De plus en plus de femmes se reconnaîtront d'ailleurs dans ce portrait rapide."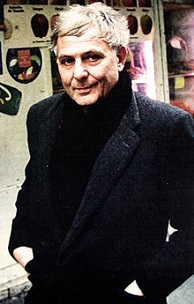 Philippe Sollers (Bordeaux, 28 november 1936)
De Engelse schrijfster Nancy Mitford werd geboren op 28 november 1904 in Londen. Zie ook alle tags voor Nancy Mitford op dit blog.
Uit: Love in a Cold Climate
"This he assembled round a splendid tower of his own designing, covered the walls of the rooms with French panelling and silks and set it in a formal landscape which he also designed and planted himself. It was all very grand and very mad, and in the between wars period of which I write, very much out of fashion. "I suppose it is beautiful," people used to say, "but frankly I don't admire it."
This Lord Montdore also built Montdore House in Park Lane and a castle on a crag in Aberdeenshire. He was really much the most interesting and original character the family produced, but no member of it deviated from a tradition of authority. A solid, worthy, powerful Hampton can be found on every page of English history, his influence enormous in the West of England and his counsels not unheeded in London.
The tradition was carried on by the father of my friend, Polly Hampton. If an Englishman could be descended from the gods it would be he, so much the very type of English nobleman that those who believed in aristocratic government would always begin by pointing to him as a justification of their argument. It was generally felt, indeed, that if there were more people like him the country would not be in its present mess, even Socialists conceding his excellence, which they could afford to do since there was only one of him and he was getting on. A scholar, a Christian, a gentleman, finest shot in the British Isles, best-looking Viceroy we ever sent to India, a popular landlord, a pillar of the Conservative Party, a wonderful old man, in short, who nothing common ever did or mean. My cousin Linda and I, two irreverent little girls whose opinion makes no odds, used to think that he was a wonderful old fraud, and it seemed to us that in that house it was Lady Montdore who really counted. Now Lady Montdore was forever doing common things and mean, and she was intensely unpopular, quite as much disliked as her husband was loved, so that anything he might do that was considered not quite worthy of him, or which did not quite fit in with his reputation, was immediately laid at her door. "Of course she made him do it." On the other hand, I have often wondered whether without her to bully him and push him forward and plot and intrigue for him and "make him do it," whether, in fact, without the help of those very attributes which caused her to be so much disliked, her thick skin and ambition and boundless driving energy, he would ever have done anything at all noteworthy in the world. »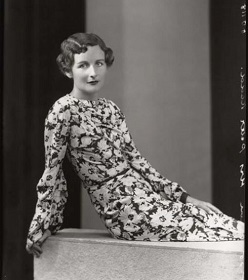 Nancy Mitford (28 november 1904 – 30 juni 1973)
Zie voor nog meer schrijvers van de 28e november mijn vorige blog van vandaag.
28-11-2015 om 14:24 geschreven door Romenu

Tags:Alexander Blok, Rita Mae Brown, Julian Randolph Stow, Philippe Sollers, Nancy Mitford, Romenu



Yves Thériault , Dawn Powell, Dennis Brutus, Carl Jonas Love Almqvist
De Canadese schrijver Yves Thériault werd geboren op 28 november 1915 in Quebec. Zie ook alle tags voor Yves Thériault op dit blog.
Uit:Le Dernier Havre
" L'histoire est toute simple, et tient en une phrase : c'est un vieux pêcheur - d'âge incertain, 80, 90, qui tient ces comptes-là, dans son univers ? – qui remet en état en douce une vieille barque échouée, afin de faire son dernier voyage.
Mais c'est surtout l'occasion pour lui de se raconter, de nous faire partager sa vision – savoureuse, ô combien – de la vie. le tout avec ce merveilleux accent québécois, qu'on entend, à travers les mots, et dans la beauté flamboyante et amicale de la Gaspésie, ah, on bave d'envie.
C'est beau, c'est du miel pour les yeux et les oreilles, d'ailleurs, c'est impossible de garder ça pour soi, on n'a qu'une envie, c'est de le lire à haute voix à quelqu'un.
« Raisonner, en ce bas monde, vous savez ce que c'est ? Pourvu que vous pensiez comme tout le monde, le plus niaisement possible, c'est ça, raisonner. Jour après jour, vivre de la même manière ; jour après jour, penser comme pense le voisin, faire attention pour pas avoir une idée un peu audacieuse, un peu risquée, un peu plaisante. Oui, j'ai bien dit plaisante. Se conformer, marcher dans les traces du premier qui a marché, prendre garde de pas voir le beau du temps ou la grâce des fleurs, fuir tout ce qui pourrait être étrivant ou tentant, c'est ça, vivre, pour la plupart des gens.
[…]
Tout ça pour dire que nous autres, les vieux, loin d'avoir les idées aussi ankylosées que les genoux, on est souvent rendu au point où on voit plus clair que bien des jeunes, et que le vrai progrès, on le salue avec plaisir…
Et que même si on semble radoter, on a le plus souvent cent fois de lucidité comme les gens pris dans la routine, qui ont peur de penser par eux-mêmes, au cas où ça serait mal vu. »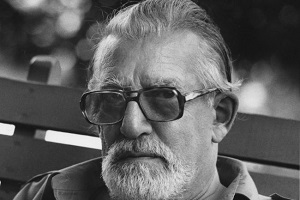 Yves Thériault (28 november 1915 – 20 oktober 1983)
De Amerikaanse schrijfster Dawn Powell werd geboren op 28 november 1896 in Mount Gilead, Ohio. Zie ook alle tags voor Dawn Powell op dit blog.
Uit: Dance Night
"Rage swept over her at being young, young and little, as if some evil fairy had put that spell on her. Why must you be locked up in this dreadful cage of childhood for twenty or a hundred years? Nothing in life was possible unless you were old and rich, until then you were only small and futile before your tormentors, desperately waiting for the release that only years could bring."
(…)
"There was gray train smoke over the town most days, it smelled of travel, of transcontinental trains about to flash by, of important things about to happen. The train smell sounded the 'A' for Lamptown and then a treble chord of frying hamburger and onions and boiling coffee was struck by Hermann Bauer's kitchen, with a sostenuto of stale beer from Delaney's back door. These were all busy smells and seemed a 6 to 6 smell, a working town's smell, to be exchanged at the last factory whistle for the festival night odors of popcorn, Spearmint chewing gum, barber-shop pomades, and the faint smell of far-off damp cloverfields. Mornings the cloverfields retreated when the first Columbus local roared through the town. Bauer's coffee pot boiled over again, and the factory's night watchmen filed into Delaney's for their morning beer."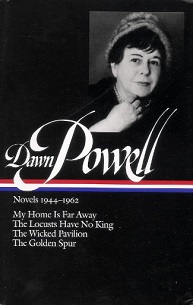 Dawn Powell (28 november 1896 – 14 november 1965)
Cover
De Zuidafrikaanse dichter en (oud-)verzetsstijder Dennis Brutus werd geboren op 28 november 1924 in Harare in Zimbabwe. Zie ook alle tags voor Dennis Brutus op dit blog.
A common hate enriched our love and us
Escape to parasitic ease disgusts;
discreet expensive hushes stifled us
the plangent wines became acidulous
Rich foods knotted to revolting clots
of guilt and anger in our queasy guts
remembering the hungry comfortless.
In drafty angles of the concrete stairs
or seared by salt winds under brittle stars
we found a poignant edge to tenderness,
and, sharper than our strain, the passion
against our land's disfigurement and tension;
hate gouged out deeper levels for our passion-
a common hate enriched our love and us.

Horror is all around us
Guernica Sharpeville Shatilla Gaza
Horror is all around us
Death destruction mashed corpses
it is all around us: commonplace
Astonishingly humanity erupts
such virulent excesses against humanity
there is no limit to our ingenuity
in the service of torture carnage
Astonishingly too we have wells
of pity mercy goodness;
we can find ways to heal wounds
devices to repair injury:
Miraculously, somewhere, we have compassion.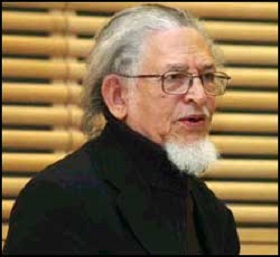 Dennis Brutus (28 november 1924 – 26 december 2009)
De Zweedese dichter, schrijver, criticus en reiziger Carl Jonas Love Almqvist werd geboren in Stockholm op 28 november 1793. Zie ook alle tags voorCarl Jonas Love Almqvist op dit blog.
Uit: Das Geschmeide der Königin (Vertaald door Klaus-Jürgen Liedtke)
"I. Brief.
Clas Henrik an Mauritz Ulriksdal, den 1. März 1792 spät am Abend
Mir fehlen die Worte für meine Bestürzung! Aus meinem Kopf verflogen sind Politik, alle Pläne und Berechnungen, obzwar unrecht, unverzeihlich unrecht – ich gebe es zu –, da die Dinge so weit gediehen sind. Doch ich kann mir nicht helfen, in was für Zeiten leben wir? Sind wir nicht mehr in Stockholm, sondern etwa in den romantischen Tagen eines König Artus in den Zauberhainen um sein berüchtigtes Ritterschloss Camelot? Großer Gott, wie kann ich noch scherzen? allzu nah berührt mich selbst, wie ich glaube, das Abenteuer, dessen Zeuge ich war; mein Blut lodert, gleichwohl steht meine Lebensfackel auf dem Kopf; noch eine solche Szene, und sie erlischt für immer.
In Kürze, guter Waffenkamerad! geh auf meine Zimmer, sieh nach in meiner Kleiderkammer; aber mit größter Vorsicht, und dem Stillschweigen eines Tataren! Prüfe die Schlösser an meinen Pistolen, ob sie gut genug sind, damit sie nicht versagen.
Mauritz, höre und urteile selbst, Mauritz! Es dämmerte schon, als ich zu Pferde saß und mein Logis verließ: Mit dem fröhlichsten Herzen trabte ich den Kungsbacken hinan und durch Norrtull hinaus. Nie hat ein schönerer Abend seinen sanften Schein über Brunnsviken gesenkt – der Frühling sei spät dran dies Jahr, heißt es – und dennoch, was für ein Abend – möge dies für das Unternehmen des grauen Mantels und einen glücklichen Ausgang bedeuten. Gleich einer hübschen Opernszenerie zeigte sich in der Bucht das Wasser (vereist, glaube ich, doch war Wasser auf dem Eis, das glänzte) und floss zusammen mit den Wäldchen im Fond. Immer höher klopfte meine Brust; ich dachte einzig und wieder einzig an Du weißt wen. Eifrig spitzte mein munteres Pferd die Ohren, und ich fuhr aus meinem Traum auf."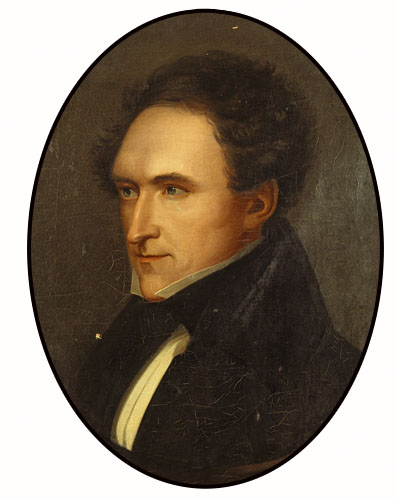 Carl Jonas Love Almqvist (28 november 1793 - 26 september 1866)
28-11-2015 om 14:22 geschreven door Romenu

Tags:Yves Thériault , Dawn Powell, Dennis Brutus, Carl Jonas Love Almqvist, Romenu



| | |
| --- | --- |
| | |



Inhoud blog


| | |
| --- | --- |
| | Bernard Malamud, Vincente Alexandre, Carl-Christian Elze, Hannelies Taschau, Theun de Vries, Hertha Kräftner, Johann Uhland, Margreet van Hoorn, Leo Stilma |
| | Erik Menkveld, Ted Kooser, James Fenton, Walter de la Mare, Richard Anders, William Temple, John Keble, Ross Franklin Lockridge Jr., Leopoldo Alas |
| | Frans Coenen, Eric Bogosian, Robert Penn Warren, George Oppen, Sue Grafton, Carl Spitteler, Anthony Trollope, Michael Schaefer, Marcus Clarke |
| | William Shakespeare, Roman Helinski, Pascal Quignard, Peter Horst Neumann, Andrey Kurkov, Halldór Laxness, Christine Busta, Adelheid Duvanel, Richard Huelsenbeck |
| | The Good Shepherd (Stanley Moss) |
| | Giorgio Fontana, Jan de Hartog, Björn Kern, Vladimir Nabokov, Chetan Bhagat, Peter Weber, Jos de Haes, Thommie Bayer, Madame de Staël |
| | Ana María Shua, Louise Glück, Robert Choquette, James Philip Bailey, Henry Fielding, Michael Schulte, Cabrera Infante, Ludwig Renn |
| | The Enkindled Spring (D. H. Lawrence) |
| | Charlotte Brontë, Patrick Rambaud, John Mortimer, Charles den Tex, Ahmed Arif, Michael Mann |
| | Peter Schneider, Meira Delmar, Alistair MacLean, Gerrit Wustmann, Népomucène Lemercier |
| | Prijs der Nederlandse Letteren voor Judith Herzberg |
| | Martinus Nijhoff, Jan Cremer, Jean Pierre Rawie, Marieke Lucas Rijneveld, Sebastian Faulks, Jozef Deleu, Steve Erickson, Arto Paasilinna, Michel Leiris |
| | Martin Michael Driessen, Marjoleine de Vos, Manuel Bandeira, n. c. kaser, Veniamin Kaverin, Louis Amédée Achard, Pierre-Jean de Béranger, Gudrun Reinboth, Werner Rohner |
| | Wam de Moor, Bas Belleman, Roos van Rijswijk, Hanane Aad, Clara Eggink, Kathy Acker, Joy Davidman, Henry Kendall, Katharina Schwanbeck |
| | Antoon Coolen, Vincent Corjanus, Nick Hornby, Ida Boy-Ed, Thornton Wilder, David Wagner, R.J. Pineiro, Helen Meier, Karen Blixen |
| | Sarah Kirsch, Thomas Olde Heuvelt, Kingsley Amis, Patricia De Martelaere, Tristan Tzara, Ewald Vanvugt, Sibylle Lewitscharoff, Jan Luyken, Anatole France |
| | Emmaüs (Felix Timmermans) |
| | Tomas Tranströmer, Daniël Samkalden, Jérôme Lambert, Patrick Bernauw, Benjamin Zephaniah, Henry James, Wilhelm Busch, Ina Boudier-Bakker |
| | Bliss Carman, Beate Morgenstern, Jeffrey Archer, Bernhard Lassahn, Erich Arendt, Pol De Mont, Staf Weyts, Hans Egon Holthusen |
| | Péter Esterházy, Alexandre Jardin, Tjitse Hofman, Landolf Scherzer, Charles Lewinsky, Roman Graf |
| | Roberto Schopflocher, Martin Kessel, Gabriele Stötzer, Helene Hübener, Gerhard Rohlfs |
| | Nachoem Wijnberg, K. Michel, Alexander Münninghoff, Michel Faber, Jean-Marie Gustave Le Clézio, Samuel Beckett, Seamus Heaney, Tim Krabbé, Eudora Welty |
| | Antje Rávic Strubel, Alan Ayckbourn, Scott Turow, Tom Clancy, Agnes Sapper, Edward de Vere, José Gautier Benítez, Alexander Ostrovski, Guillaume-Thomas Raynal |
| | Leonard Nolens, Mark Strand, Silvia Avallone, Walid Soliman, Dorothy Allison, Hubert Nyssen, Rolf Schilling, Glenway Wescott, Claude Tillier |
| | Leo Vroman, Jan van Mersbergen, Paul Theroux, Claudio Magris, Bella Akhmadulina, Stefan Heym, Richard Wagner, Marcel van Maele, Eric Knight |
| | Charles Baudelaire, Jelle Brandt Corstius, Karel Jonckheere, Joolz Denby, Albert von Schirnding, Johannes Bobrowski, Bernard-Marie Koltès, Arnold Stadler, Yaël Vinckx |
| | Thomas (Jan Willem Schulte Nordholt) |
| | Herinnering aan Gerard Reve, Hanz Mirck, Christoph Hein, Judith Koelemeijer, Nnedi Okorafor, Barbara Kingsolver |
| | John Fante, Johann Christian Günther, Glendon Swarthout, Martin Grzimek, Hégésippe Moreau, Robert Askins |
| | Den Haag (Paul Rodenko) |
| | Juliana Spahr, William Wordsworth, Özcan Akyol, Gabriela Mistral |
| | Kazim Ali, Annejet van der Zijl, John Pepper Clark, Jakob Ejersbo, Günter Herburger, Uljana Wolf, Brigitte Schwaiger, Julien Torma, Nicolas Chamfort |
| | Iulian Ciocan |
| | Hugo Claus, Martin Reints, Mieke van Zonneveld, Vítězslav Hálek, Algernon Swinburne, Bora Ćosić,, Werner J. Egli, Michael Georg Conrad, Marente de Moor |
| | Maya Angelou, Hanneke Hendrix, Marko Klomp, Marcel Vaarmeijer, E. L. James, Marguerite Duras, Robert Schindel, Michiel van Kempen, Bettina von Arnim |
| | Charles Ducal, Adriaan Jaeggi, Frederik van Eeden, Bert Bakker, Peter Huchel, Arlette Cousture, Pieter Aspe, Karel N.L. Grazell, Washington Irving |
| | Die Sonne geht im Osten auf (Christian Morgenstern) |
| | Thomas Glavinic, Jay Parini, Anneke Claus, Klaus Ender, Konrad Merz, Ed Dorn, Émile Zola |
| | György Konrád, Anne Waldman, Casanova, Hans Christian Andersen, Roberto Arlt, Edgar Hilsenrath, George Fraser |
| | Hoffmann von Fallersleben, Johann Gleim, Pierre Zaccone, Pietro della Valle, Zwier van Haren, Joanna Chmielewska, Brigitte Struzyk |
| | Preis dem Todesüberwinder! (Friedrich Klopstock) |
| | Milan Kundera, Sandro Veronesi, Nikolaj Gogol, Arnold Aletrino, Max Nord, Urs Allemann, Rolf Hochhuth, John Wilmot, Deborah Feldman |
| | Maria Polydouri, Edgar Wallace, Carl Sternheim, Edmond Rostand, Armel Guerne, Friedrich Güll, Antoine Prévost, Josep de Maistre |
| | Litanie van een wachter bij het graf (Willem Jan Otten) |
| | Stefan Hertmans, Octavio Paz, Asis Aynan, Martijn Teerlinck, Marga Minco, Enrique Vila-Matas |
| | Rob Boudestein, Kornej Tsjoekovski, Andrew Lang, Nichita Stănescu, Hartmut Lange, Marge Piercy |
| | Angela Kreuz, Judith Rossner, Andrew Marvell, John Fowles, Edward FitzGerald, Robert Brasillach, Peter Motte |
| | Golgotha (Theo Thijssen) |
| | Gerrit Komrij, Paul Verlaine, Milton Acorn, Erika Mitterer, Uwe Timm, Tom Sharpe, Gert Heidenreich, Theo Breuer, Luise Hensel |
| | Gethsemane (Jacqueline van der Waals) |


Gastenboek


Druk op onderstaande knop om een berichtje achter te laten in mijn gastenboek