De Duitse dichter, schrijver, musicus en filmmaker Alfred Gulden werd geboren op 25 januari 1944 in Saarlouis. Zie ook mijn blog van 25 januari 2009 en ook mijn blog van 25 januiari 2010 en ook mijn blog van 25 januari 2011.
Wärme wörtlich
...und
eine Lederhaut sich reiben
Wärme wörtlich nur
ein jeder für sich selbst
der Antwort Hinterhand
das Stichwort
warten
Fallen
Aus den Gesprächen fallen
Sätze wie es ist
doch so nicht anders
kann das sein daß da
sieht er ein geschlagen
den Kopf zieht er ein
fällt nach und nach
aus den Gesprächen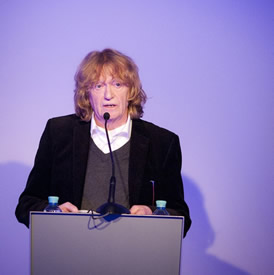 Alfred Gulden (Saarlouis, 25 januari 1944)
De Schotse dichter Robert Burns werd geboren op 25 januari 1759 in Alloway, Ayrshire. Zie ook alle tags voor Robert Burns op dit blog.
To The Wood-Lark
O stay, sweet warbling wood-lark, stay,
Nor quit for me the trembling spray,
A hapless lover courts thy lay,
Thy soothing fond complaining.
Again, again that tender part,
That I may catch thy melting art,
For surely that wad touch her heart,
Wha kills me wi' disdaining.
Say, was thy little mate unkind,
And heard thee as the careless wind?
Oh, nocht but lobve and sorrow join'd,
Sic notes o' woe could wauken.
Thou tells o' never-ending care;
O' speechless grief, and dark despair;
For pity's sake, sweet bird, nae mair!
Or my poor heart is broken!
Up in the Morning Early
Cauld blaws the wind frae east to west,
The drift is driving sairly;
Sae loud shrill`s I hear the blast,
I`m sure it`s winters fairly.
CHORUS:Up in the morning`s no for me,
Up in the mornings early;
When a` the hills are cover`d wi` snaw,
I`m sure it`s winter fairly.
The birds sit chittering on the the thorn,
A` day they fare but sparely;
And lang`s the night frae e`en to morn,
I`m sure it`s winter fairly.
CHORUS: Up in the morning`s no for me,
Up in the mornings early;
When a` the hills are cover`d wi` snaw,
I`m sure it`s winter fairly.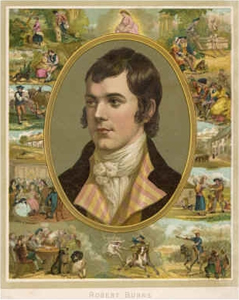 Robert Burns (25 januari 1759 – 21 juli 1796)
De Duitse dichter Daniel Caspar von Lohenstein werd geboren op 25 januari 1635 in Nimptsch, in Silezië. Zie ook alle tags voor Daniel Caspar von Lohenstein op dit blog.
Aus dem Trauerspiel »Epicharis«
Die Welttheile.
Große Götter, wie viel Jahre
Soll der Weltkreis eine Bahre,
Rom der Völker Zuchthaus sein?
Jeder Abgott tritt mit Füßen
Uns, die wir ihm opfern müssen,
Schließt in Stahl und Stein uns ein.
Schickt demnach gerechter Sache,
Große Götter, Rache! Rache!
Rom.
Ihr Sklavinnen, wollt ihr das Joch abwerfen,
Das doch ich selbst, ich Mutter, tragen muß?
Wenn auf mein Haupt die Kinder Dolche schärfen,
So zins' ich Blut; ihr blos den Ueberfluß;
Ja, wenn ihr nur von ferne donnern höret,
Wird durch den Blitz mein Herze selbst versehret.
Sibylle.
Der Ungeduld ist jedes Reich zu schwer;
Ein böses Kind flucht seiner Mutter Ruthe.
Gott straft mit Fug mit Drangsal und mit Blute
Die, die nicht sind von eigner Blutschuld leer.
Ja, wißt, daß euer Meer verdammter Missethat
Die Tyrannei noch nicht halb ausgemessen hat.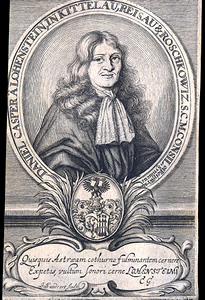 Daniel Caspar von Lohenstein (25 januari 1635 - 28 april 1683)
De Russische zanger, acteur en dichter Vladimir Semjonovitsj Vysotsky werd geboren op 25 januari 1938 in Moskou. Zie ook alle tags voor Vladimir Vysotsky op dit blog.
Katherine
Katherine, oh, Kathie, Katherinie!
I'm delighted by your own ways,
Like the Christmas tree you're so skinny
But dressed up you'll have another weight.
You will have all bloody fancy dresses,
Swear to you by hell and holly ghost,
Like the bitch I stabbed after the passes.
Take the things just as the way they go
Don't get frightened, Kathie, Katherinie, -
We shall have the glamour in our ditch
We'll get everything the loot is bringing
And not each year's marked with killing bitch.
Katherinie, throw away the doubts
Don't' you trust the words I just have said
Fetch the sledge, we gonna have a bout!
And the funeral is yet far-fetched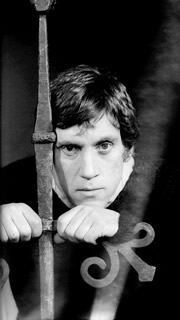 Vladimir Vysotsky (25 januari 1938 – 25 juli 1980)
De Duitse schrijver en filosoof Friedrich Heinrich Jacobi werd geboren in Düsseldorf op 25 januari 1743. Zie ook alle tags voor Friedrich Jacobi op dit blog.
Uit: Über die Lehre des Spinoza in Briefen an den Herrn Moses Mendelssohn
"Eine vertraute Freundin von Lessing, welche durch ihn auch die meinige wurde, schrieb mir im Februar des Jahres 1783, dass sie im Begriff sei, eine Reise nach Berlin zu unternehmen, und frag-te mich, ob ich Aufträge dahin hätte.
Aus Berlin schrieb mir meine Freundin wieder. Ihr Brief handelte hauptsächlich von Mendels-sohn, »diesem echten Verehrer und Freund unseres Lessings.« Sie meldete mir, dass sie über den Verewigten und auch über mich Geringen viel mit Mendelssohn gesprochen hätte, welcher nun endlich daran sei, sein längst verheissenes Werk über Lessings Charakter und Schriften vorzu-nehmen. 2) Verschiedene Hindernisse machten es mir unmöglich, gleich auf diesen Brief zu ant-worten, und der Aufenthalt meiner Freundin in Berlin war nur von wenigen Wochen.
Da sie wieder zu Hause war, schrieb ich ihr, und erkundigte mich, wieviel oder wenig Men-delssohn von Lessings religiösen Gesinnungen bekannt geworden wäre. – Lessing sei ein Spinozist gewesen. 3) Gegen mich hatte Lessing über diesen Gegenstand ohne alle Zurückhaltung sich geäu-ssert; und da er überhaupt nicht geneigt war, seine Meinungen zu verhehlen, so durfte ich vermu-ten, was ich von ihm wusste, sei mehreren bekannt geworden. Dass er selbst aber gegen Men-delssohn sich hierüber nie deutlich erkläret hatte, dieses wurde mir auf folgende Weise bekannt."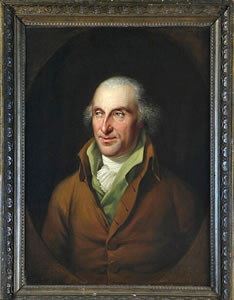 Friedrich Jacobi (25 januari 1743 - 10 maart 1819)
Portret door Georg Weitsch, 1799
De Duitse schrijfster en dichteres Eva Zeller werd geboren op 25 januari 1923 in Eberswalde. Zie ook mijn blog van 25 januari 2007 en ook mijn blog van 25 januari 2009.en ook mijn blog van 25 januari 2010.
Bibellesen
Nicht daß ich es
nur lese um es
zu lesen
Ich habe das
unverschämte Glück
am Tropf dieser
Worte zu hängen
an dieser Stelle
auf die Trittbretter
anfahrender Züge
springe ich
noch im Traum
der Fahrtwind reißt
mir deinen Namen
von den Lippen
und dich hinweg
an dieser Stelle
wird der Film
wieder schwarzweiß
und stumm
kein Schnitt
erlöst mich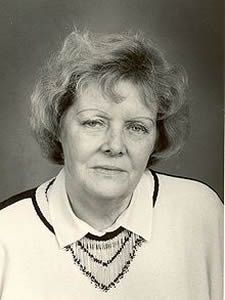 Eva Zeller (Eberswalde, 25 januari 1923)
De Franse schrijfster Stéphanie Félicité Du Crest de Saint-Aubin, comtesse de Genlis, werd geboren op 25 januari 1746 in Champcéry bij Autun. Zie ook mijn blog van 25 januari 2007 en ook mijn blog van 25 januari 2009.en ook mijn blog van 25 januari 2010

Uit: Adèle et Théodore ou Lettres sur l'éducation
"Lettre 1
le baron D' Almane au vicomte de Limours, le 2 février à trois heures du matin.
quand vous recevrez ce billet, mon cher vicomte, je serai déjà à vingt lieues de Paris. Je pars dans l' instant avec ma femme et mes deux enfans, et je pars pour quatre ans. Je n' ai eu ni la force de vous détailler moi-même mes projets, ni celle de vous dire adieu ; et craignant les oppositions et les instances de votre amitié, je vous ai soigneusement caché mon secret et mes desseins.
Le parti que je prends aujourd' hui, après une longue et mûre réflexion, n' est que le résultat de cette tendresse si vive que vous me connoissez pour mes enfans : j' attends d' eux le bonheur de
ma vie, et je me consacre entièrement à leur éducation. J' aurai l' air peut-être, aux yeux du monde, de faire un sacrifice éclatant et pénible ; on m' accusera aussi sans doute de singularité et de bizarrerie, et je ne suis que conséquent. Je ne puis dans cette lettre vous développer toutes
mes idées ; elles ont trop d' abondance et d' étendue. Quand je serai arrivé à B je vous écrirai avec le détail que vous êtes en droit d' attendre de ma confiance et de ma tendre amitié."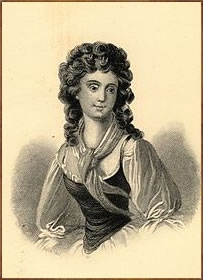 Stéphanie de Genlis (25 januari 1746 – 31 december 1830)

25-01-2012 om 19:14 geschreven door Romenu

Tags:Alfred Gulden, Robert Burns, Daniel von Lohenstein, Vladimir Vysotsky, Friedrich Jacobi, Eva Zeller, Stéphanie de Genlis, Romenu