De Amerikaanse dichter Madison Julius Cawein werd geboren in Louisville, Kentucky, op 23 maart 1865. Zie ook alle tags voor Madison Cawein op dit blog.
A Midsummer Day
The locust gyres; the heat intensifies'
The rain-crow croaks from hot-leafed tree to tree:
The butterfly, a flame-fleck, aimlessly
Droops down the air and knows not where it flies.
Beside the stream, whose bed in places
The small green heron flaps; the minnows flee:
And mid the blackberry-lilies, wasp and bee
Drowse where the cattle pant with half-closed eyes.
The Summer Day, like some tired labourer,
Lays down her burden here and sinks to rest,
The tan of toil upon her face and hands:
She dreams, and lo, the heavens over her
Unfold her dream: Along the boundless West
Rolls gold the harvest of the sunset's lands.
A Wet Day
Dark, drear, and drizzly, with vapor grizzly,
The day goes dully unto its close;
Its wet robe smutches each thing it touches,
Its fingers sully and wreck the rose.
Around the railing and garden-paling
The dripping lily hangs low its head:
A brood-mare whinnies; and hens and guineas
Droop, damp and chilly, beneath the shed.
In splashing mire about the byre
The cattle huddle, the farmhand plods;
While to some neighbor's a wagon labors
Through pool and puddle and clay that clods.
The day, unsplendid, at last is ended,
Is dead and buried, and night is come;
Night, blind and footless, and foul and fruitless,
With weeping wearied and sorrow dumb.
Ah, God! for thunder! for winds to sunder
The clouds and o'er us smite rushing bars!
And through wild masses of storm, that passes,
Roll calm the chorus of moon and stars.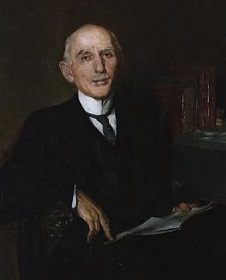 Madison Cawein (23 maart 1865 – 8 december 1914)
In 1910
De Zwitserse schrijfster Federica de Cesco werd geboren op 23 maart 1938 in Pordenone, Zie alle tags voor Federica de Cesco op dit blog.
Uit: Tochter des Windes
"Ich werde oft gefragt, warum ich denn eigentlich in Japan lebe. Was soll ich antworten? Die Wahrheit sagen? Dass meine Frau mich verlassen und eine andere mir Wein über die Hose geschüttet hatte? »Ein Trankopfer für die Götter« lässt sich dann noch in galantem Ton hinzufügen, was bei jedem Small Talk Amüsement auslöst. Ich vereinfache natürlich. Was wirklich geschah, kann ich leider nicht in ein paar Worten zusammenfassen, und ich bin auch heute noch nicht imstande, die Ereignisse in ihrer ganzen Tragweite zu erfassen. Der Brocken war einfach zu hart für mich. Eigentlich fing alles ganz harmlos an, und der erste Anblick Japans war mir freundlich erschienen. Diesem Land hatte ich mich sogleich nahe gefühlt. Ich glitt sozusagen wie auf Flügeln in mein neues Leben. Nicht in meinen kühnsten Träumen hätte ich mir jemals vorstellen können, in eine derart verrückte Geschichte zu geraten. Eine Geschichte mit einem Spukhaus, einem Gespenst, das sich in mich verguckte, und Katastrophen jeglicher Art, bei denen die Erdachse geradezu ins Wackeln geriet. Und das meine ich nicht nur als rhetorische Floskel.
Aber zunächst stand ich, Rainer Wilhelm Steckborn, Kunsthistoriker (oder -hysteriker?), Dozent an der Universität Hamburg, Spezialist für italienische Renaissance, wie ein begossener Pudel da und schwelgte in Selbstmitleid. Den großen Crash hatte ich nicht kommen sehen.
SOS, Bauchlandung. Amalia – meine Mutter hatte mich vorgewarnt; ich aber hatte Stöpsel in den Ohren und hörte Mozart. Mutter hat ziemlich viel Lebenserfahrung. Sie hatte im Laufe der Jahre genug Munition für ihre Misanthropie gesammelt. Meinem Vater – um ihn kurz zu erwähnen – war die Welt wurscht gewesen, für ihn zählte nur die Musik. Er war freundlich, unpünktlich, total geistesabwesend. »Macht, was ihr wollt, aber lasst mich in Frieden« – so ungefähr lautete sein Motto. Die Familie nannte er sein emotionales Umfeld, was auch immer er da run ter verstand. Als er starb – Herzinfarkt –, war ich vierzehn. Worauf Mutter sich ihre längst fällige Depression mit Schlafmitteln und Alkohol leistete – auf meinen Vater, den sie sehr liebte, war ja nie Verlass gewesen –, und ich prompt durchs Examen fiel. Daraufhin färbte ich mir die Haare grün, soff, rauchte und schluckte alles Mögliche und Unmögliche."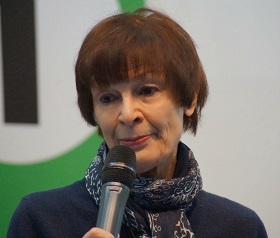 Federica de Cesco (Pordenone, 23 maart 1938)
De Franse schrijver Roger Martin du Gard werd geboren op 23 maart 1881 in Neuilly. Zie alle tags voor Roger Martin du Gard op dit blog.
Uit: Les Thibault, I, Le pénitencier
« Jacques achevait son pain en trempant de grosses mies dans l'eau noire des lentilles. Lorsqu'il eût terminé :
— « Maintenant, au plumard », dit Arthur.
— « Mais il n'est pas huit heures. »
— « Allons, dépêche ! C'est dimanche. Les copains m'attendent. »
Jacques ne répondit rien et commença à se déshabiller. Arthur, les mains dans les poches, le regardait. Il y avait, sur cette face un peu bestiale et dans ce corps trapu de blond déménageur, quelque chose d'assez doux.
— « Le frangin », fit-il sentencieusement, « voilà un bonhomme qui sait vivre. » Il fit le geste de glisser une pièce dans son gousset, sourit, prit le plateau vide, et sortit.
Lorsqu'il revint, Jacques était au lit.
— « Ça y est déjà ? » Du bout des pieds le garçon poussa les bottines sous la toilette. « Dis donc, tu ne pourrais pas ranger un peu tes affaires avant de te coucher ? » Il s'approcha du lit. « Tu entends, petite grapule ?… » Il appuyait ses deux mains sur les épaules de Jacques et riait bizarrement. Un sourire de plus en plus pénible déformait le visage de l'enfant. « Tu ne caches rien sous le polochon, au moins ? Pas de bougie ? Pas de bouquin ? »
Il avançait la main sous les draps. Mais, d'un mouvement qu'Arthur ne put ni prévoir ni retenir, le petit se dégagea et se jeta en arrière, le dos au mur. Ses yeux étaient pleins de haine.
— « Oh, oh », fit l'autre, « on est chatouilleux ce soir. » Il ajouta : « Je pourrais causer, moi aussi… »
Il parlait bas et surveillait de l'œil la porte du couloir. Puis, sans plus faire attention à Jacques, il alluma le quinquet qui restait toute la nuit en veilleuse pour la surveillance, ferma le commutateur avec son passe-partout, et sortit en sifflotant. »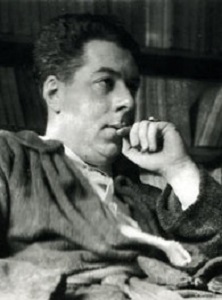 Roger Martin du Gard (23 maart 1881 – 22 augustus 1958)
De Hongaarse schrijver Hamvas Béla werd geboren op 23 maart 1897 in Eperjes (tegenwoordig Prešov). Zie alle tags voor Hamvas Béla op dit blog.
Uit: Silentium (Vertaald door Jörg Buschmann)
"Die Erneuerung meiner Lebensordnung: Sämtliche Fragen in der Schwebe halten. Also, das Denken nicht aussperren, sondern ihm jede Türe öffnen. Die Fäden nicht zum Knoten knüpfen, sondern jeden Knoten lösen. Die Fragen nicht beantworten, sondern sie suchen, möglichst viele und möglichst gefährliche, und sie so exakt wie möglich stellen. Der Tätigkeit des Geistes die Lösungen nicht vorenthalten, sondern ihm sämtliche Fenster und Türen öffnen, damit er frei einströmt und durchzieht. Keine fixen Vereinbarungen und Festlegungen. Kein Prinzip. Keine Überzeugung. Soll die Luft doch hereinkommen und durchwehen, soll die Sonne doch scheinen. Die einzige Möglichkeit für mich zu reifen. Lösungen können, wenn sie gut sind, immer entzücken. Aber keiner soll von mir verlangen, daß ich irgend etwas löse. Nichts liegt mir ferner, als Systeme zu errichten. Und nichts amüsiert mich mehr als sogenannte Weltanschauung"
.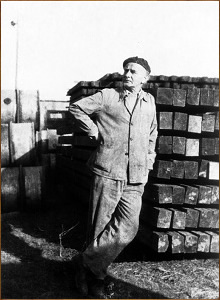 Hamvas Béla (23 maart 1897 – 7 november 1968)
De Franse dichter en schrijver Daniel Biga werd geboren op 23 maart 1940 in Nice. Zie alle tags voor Daniel Biga op dit blog.
Uit: Bienvenue à l'Athanée
«De favorite la page est maintenant ma seule amante. Sa virginité chaque fois renouvelée fait chaque union unique de notre union pour la vie. Car des vœux d'époux nous lient indissolubles. Des noces fortes de certitudes tranquilles : aucune tentation humaine n'est plus de taille ni de poids – seul le divin si tel devenait un jour son dessein pourrait nous délier…
Entré en toi dans la douceur ineffable la violence indicible de l'amour. Oui je suis entré en écriture comme on entre en religion. Comme pour d'autres évidences qu'on retrouve souvent dans une vie – flash blitz révélateurs – qu'on oublie autant. À nouveau plus solidement avançant dans l'âge – j'ose à peine dire "et la connaissance" une telle affirmaAAAtion se niant d'avance dans sa prétention – je redécouvre cette évidence : écriture comme religion – et quelques autres fleurissant dans des champs mitoyens.
Quand la page et moi nous unissons – là est l'utopie là est l'espoir – notre communion tend à l'absolu (seul ce qu'on n'atteint jamais vaut la peine du voyage). Ma semence si longtemps retenue purifiée si longtemps enfin gicle liquide sacré fluide translucide quasi transparente proche du spirituel coule à fleuves jaillit à grandes cascades chantantes…»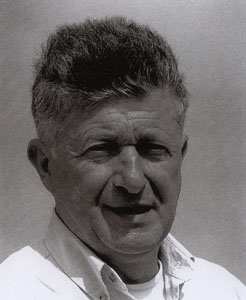 Daniel Biga (Nice, 23 maart 1940)
De Oostenrijkse schrijfster Ceija Stojka werd op 23 maart 1933 geboren in Kraubarth. Zie alle tags voor Ceija Stojka op dit blog.
Uit: Wir leben im Verborgenen
"Früher hat sie öfter zu mir gesagt: Du bist du, Ceija, du darfst keine andere sein, du mußt immer schau'n, daß du deine Art, die dir der liebe Gott gegeben hat, behältst, und daß du sagst: Ich bin ich, was willst du von mir? - Wenn man das nicht ist, wird man ein Mauerblümchen und kann aus seinem Leben nichts machen. Hätt ich mich immer verkrochen, wo wäre ich hingekommen? Wär ich wahrscheinlich in Auschwitz geblieben."
(…)
"Und in dem Moment rennen zwei Hasen vorbei, bleiben dort stehen, setzen sich auf und spielen miteinander. Ist denn so etwas möglich, hat der Karli gesagt, wenn du das jemandem erzählst, das glaubt dir kein Mensch, aber du siehst es mit deinen eigenen Augen. Mir kommt das so vor, als wären es der Kurti und unser Ossi. [..] Ja du hast recht, sie haben uns gesehen, das sind ihre Seelen. Du glaubst, sie sind in die Tiere hineingeschlüpft, um uns diese Freude zu machen. [..] Ein Bodenwind ist gegangen, ein leichter. Kein normaler Wind. Für mich war das ein Wind der Begrüßung, von den Menschen, deren Seelen dort sind. Mit dem Wind hab ich gesprochen: Ich bin eh da, wir haben es geschaft.
(…)
"Sonne, Wind, bei einer Mauer, gell. Und plötzlich kam durch das Feuchte, durch die Wärme kam der Geruch aus dem Stein raus, als wäre es jetzt genau wieder so, wie es damals war. Ja, könnt ihr das verstehen?"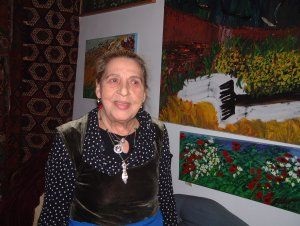 Ceija Stojka (Steiermark, 23 maart 1933)
23-03-2014 om 18:03 geschreven door Romenu

Tags:Madison Cawein, Federica de Cesco, Roger Martin du Gard, Hamvas Béla, Daniel Biga, Ceija Stojka, Romenu