E-mail mij


Druk op onderstaande knop om mij te e-mailen.


Romenu


Romenu is een blog over gedichten, literatuur en kunst Maar Romenu is ook een professionele freelance vertaler
Du-Ne en Ne-Du http://www.romenu.nl.


Google


Georg Trakl

Georg Trakl werd op 3 februari 1887 in het conducteurshuis aan de Waagplatz 2 in Salzburg geboren. Zijn vader, Tobias Trakl, was een handelaar in ijzerwaren en zijn moeder, die ook psychische problemen had, was Maria Catharina Trakl, (meisjesnaam Halik). Voorts had hij nog drie broers en drie zussen. Margarethe (doorgaans Grethe genoemd) stond hem het naast, zelfs zodanig dat sommigen een incestueuze verhouding vermoeden. Zijn jeugd bracht hij door in Salzburg. Vervolgens bezocht hij van 1897 tot 1905 het humanistische gymnasium. Om toch een academische opleiding te kunnen volgen, werkte hij tot 1908 in de praktijk bij een apotheker. Sommigen vermoedden dat hij dit vooral deed om zichzelf opiaten te kunnen verschaffen. Bij het uitbreken van WO I werd Trakl als medicus naar het front in Galicië (heden ten dage in Oekraïne en Polen) gestuurd. Zijn gemoedsschommelingen leidden tot geregelde uitbraken van depressie, die verergerd werden door de afschuw die hij voelde voor de verzorging van de ernstig verwonde soldaten. De spanning en druk dreven hem ertoe een suïcidepoging te ondernemen, welke zijn kameraden nochtans verhinderden. Hij werd in een militair ziekenhuis opgenomen in Kraków, alwaar hij onder strikt toezicht geplaatst werd.Trakl verzonk daar in nog zwaardere depressies en schreef Ficker om advies. Ficker overtuigde hem ervan dat hij contact moest opnemen met Wittgenstein, die inderdaad op weg ging na Trakls bericht te hebben ontvangen. Op 4 november 1914, drie dagen voordat Wittgenstein aan zou komen, overleed hij echter aan een overdosis cocaïne


Paul Celan

Paul Celan werd onder de naam Paul Antschel op 23 november 1920 geboren in Czernowitz, toentertijd de hoofdstad van de Roemeense Boekovina, nu behorend bij de Oekraïne. Paul Celans ouders waren Duitssprekende joden die hun zoon joods opvoedden en hem naar Duitse christelijke scholen stuurden. In 1942 werden Celans ouders door de Duitse bezetter naar een werkkamp gedeporteerd en daar vermoord. Hijzelf wist aanvankelijk onder te duiken, maar moest vanaf juli 1942 in een werkkamp dwangarbeid verrichten. Celan overleefde de oorlog. Via Boekarest en Wenen vestigde Celan zich in 1948 in Parijs. Daar was hij werkzaam als dichter, vertaler en doceerde hij aan de prestigieuze Ecole Normale Supérieure. Vermoedelijk op 20 april 1970 beëindigde hij zijn leven zelf door in de Seine te springen.


Gerard Reve

Gerard Reve over: Medearbeiders "God is in de mensen, de dieren, de planten en alle dingen - in de schepping, die verlost moet worden of waaruit God verlost moet worden, door onze arbeid, aangezien wij medearbeiders van God zijn." Openbaring "Tja, waar berust elk godsbegrip op, elke vorm van religie? Op een openbaring, dat wil zeggen op een psychische ervaring van zulk een dwingende en onverbiddelijke kracht, dat de betrokkene het gevoel heeft, niet dat hij een gedachte of een visioen heeft, maar dat een gedachte gedachte of visioen hem bezit en overweldigt."


Simon Vestdijk
Simon Vestdijk (Harlingen, 17 oktober 1898 – Utrecht, 23 maart 1971) was een Nederlands romancier, dichter, essayist en vertaler. Zijn jeugd te Harlingen en Leeuwarden beschreef hij later in de Anton Wachter-cyclus. Van jongs af aan logeerde hij regelmatig bij zijn grootouders in Amsterdam, waar hij zich in 1917 aan de Universiteit van Amsterdam inschrijft als student in de medicijnen. Tijdens zijn studie die van 1917 tot 1927 duurde, leerde hij Jan Slauerhoff kennen.Tot 1932 is hij als arts in praktijken door heel Nederland werkzaam. In 1932 volgt zijn officiële schrijversdebuut met de uitgave van de bundel Verzen in De Vrije Bladen. Doorslaggevend voor Vestdijks uiteindelijke keuze voor de literatuur is zijn ontmoeting in 1932 met Eddy Du Perron en Menno ter Braak. Deze ontmoeting had tot resultaat dat hij redactielid werd van het tijdschrift Forum Kort daarop, in 1933, wordt zijn eerste novelle, De oubliette, uitgegeven. In hetzelfde jaar schrijft hij Kind tussen vier vrouwen, dat, eerst geweigerd door de uitgever, later de basis zal vormen voor de eerste drie delen van de Anton Wachter-romans. In 1951 ontvangt Vestdijk de P.C. Hooftprijs voor zijn in 1947 verschenen roman De vuuraanbidders. In 1957 wordt hij voor het eerst door het PEN-centrum voor Nederland voorgedragen voor de Nobelprijs voor de Literatuur, die hij echter nooit zal krijgen. Op 20 maart 1971 wordt hem de Prijs der Nederlandse Letteren toegekend, maar voor hij deze kan ontvangen overlijdt hij op 23 maart te Utrecht op 72-jarige leeftijd. Vestdijk was auteur van ca. 200 boeken. Vanwege deze enorme productie noemde de dichter Adriaan Roland Holst hem 'de man die sneller schrijft dan God kan lezen'. Andere belangrijke boeken van Simon Vestdijk zijn: "Kind van stad en land" (1936), "Meneer Visser's hellevaart" (1936), "Ierse nachten" (1946), "De toekomst de religie" (1947), "Pastorale 1943" (1948), "De koperen tuin" (1950), "Ivoren wachters" (1951), "Essays in duodecimo" (1952) en "Het genadeschot" (1964).


K.P. Kavafis

K.P. Kavafis werd als kind van Griekse ouders, afkomstig uit Konstantinopel, geboren in 1863 in Alexandrië (tot vandaag een Griekse enclave) waar hij ook het grootste deel van zijn leven woonde en werkte. Twee jaar na de dood van zijn vader verhuist het gezin in 1872 naar Engeland om na een verblijf van vijf jaar naar Alexandrië terug te keren. Vanwege ongeregeldheden in Egypte vlucht het gezin in 1882 naar Konstantinopel, om na drie jaar opnieuw naar Alexandrië terug te gaan. In de jaren die volgen maakt Kavafis reizen naar Parijs, Londen en in 1901 zijn eerste reis naar Griekenland, in latere jaren gevolgd door nog enkele bezoeken. Op de dag van zijn zeventigste verjaardag, in 1933 sterft Kavafis in Alexandrië. De roem kwam voor Kavafis pas na zijn dood, dus postuum. Deels is dat toe te schrijven aan zijn eigen handelswijze. Hij was uiterst terughoudend met de publicatie van zijn gedichten, liet af en toe een enkel gedicht afdrukken in een literair tijdschrift, gaf in eigen beheer enkele bundels met een stuk of twintig gedichten uit en het merendeel van zijn poëzie schonk hij op losse bladen aan zijn beste vrienden.


Thomas Mann


Thomas Mann, de jongere broer van Heinrich Mann, werd geboren op 6 juni 1875 in Lübeck. Hij was de tweede zoon van de graankoopman Thomas Johann Heinrich Mann welke later één van de senatoren van Lübreck werd. Zijn moeder Julia (geboren da Silva-Bruhns) was Duits-Braziliaans van Portugees Kreoolse afkomst. In 1894 debuteerde Thomas Mann met de novelle "Gefallen". Toen Thomas Mann met 21 jaar eindelijk volwassen was en hem dus geld van zijn vaders erfenis toestond - hij kreeg ongeveer 160 tot 180 goldmark per jaar - besloot hij dat hij genoeg had van al die scholen en instituties en werd onafhankelijk schrijver. Kenmerkend voor zijn stijl zijn de ironie, de fenomenale taalbeheersing en de minutieuze detailschildering. Manns reputatie in Duitsland was sterk wisselend. Met zijn eerste roman, Buddenbrooks (1901), had hij een enorm succes, maar door zijn sceptische houding tegenover Duitsland na de Eerste Wereldoorlog veranderde dit volledig. Stelde hij zich tot aan de jaren twintig apolitiek op (Betrachtungen eines Unpolitischen, 1918), meer en meer raakte hij bij het Politiek gebeuren betrokken. Zijn afkeer van het nationaal socialisme groeide, zijn waarschuwingen werden veelvuldiger en heftiger. In 1944 accepteerde hij het Amerikaanse staatsburgerschap. Tussen 1943 en 1947 schreef Mann Doktor Faustus (zie Faust), de roman van de 'Duitse ziel' in de gecamoufleerd geschilderde omstandigheden van de 20ste eeuw. In 1947 bezocht hij voor het eerst sinds de Oorlog Europa, twee jaar later pas Duitsland. In 1952 vertrok hij naar Zwitserland. Op 12 augustus 1955 stierf hij in Zürich. Twintig jaar na zijn dood, in aug. 1975, is zijn literaire nalatenschap geopend: dagboekaantekeningen van 15 maart 1933 tot 29 juli 1955, alsmede notities uit de jaren 1918 tot en met 1921.Belangrijke werken zijn: Der Zauberberg, Der Tod in Venedig, Dokter Faustus , Joseph und seine Brüder en Die Bekenntnisse des Hochstaplers Felix Krull.


Rainer Maria Rilke

Rilke werd op 4 december 1875 geboren in Praag. Hij had al naam gemaakt als dichter met zijn bundels Das Stundenbuch en Das Buch der Bilder, toen hij de literaire wereld versteld deed staan en wereldfaam verwierf met de publicatie van zijn twee delen Neue Gedichte in 1907 en 1908. Hij verzamelde daarin het beste werk uit een van zijn vruchtbaarste periodes, die hij grotendeels doorbracht in Parijs. Rilke was daar diep onder de indruk gekomen van Rodin, bij wie hij een tijdlang in dienst was als particulier secretaris. Rodin, zei hij later, had hem leren kijken. Dit kijken kwam neer op intense concentratie, om het mysterie te kunnen zien 'achter de schijnbare werkelijkheid'. Latere en rijpere werken als Duineser Elegien (1912-1923) en het ronduit schitterende Die Sonette an Orfeus (1924) illustreren Rilkes metafysische visie op het onzegbare, dat haar verwoording vindt in een hermetische muzikale taal. Op 29 december 1926 overlijdt Rilke in het sanatorium in Val-Mont aan de gevolgen van leukemie. Enkele dagen later wordt hij, overeenkomstig zijn wens, begraven op het kerkhof van Raron.


* * * * * * * * * * * * * * * *

| | |
| --- | --- |
| | Over literatuur, gedichten, kunst en cultuur |

03-05-2010

Jehuda Amichai, Ben Elton, Jens Wonneberger
De Duits-Israëlische dichter en schrijver Jehuda Amichai werd op 3 mei 1924 geboren in Würzburg. Zie ook mijn blog van 3 mei 2007 en ook mijn blog van 3 mei 2008 en ook mijn blog van 3 mei 2009.
The First Rain
The first rain reminds me
Of the rising summer dust.
The rain doesn't remember the rain of yesteryear.
A year is a trained beast with no memories.
Soon you will again wear your harnesses,
Beautiful and embroidered, to hold
Sheer stockings: you
Mare and harnesser in one body.
The white panic of soft flesh
In the panic of a sudden vision
Of ancient saints.
Vertaald door Barbara en Benjamin Harshav
Tourists
Visits of condolence is all we get from them.
They squat at the Holocaust Memorial,
They put on grave faces at the Wailing Wall
And they laugh behind heavy curtains
In their hotels.
They have their pictures taken
Together with our famous dead
At Rachel's Tomb and Herzl's Tomb
And on Ammunition Hill.
They weep over our sweet boys
And lust after our tough girls
And hang up their underwear
To dry quickly
In cool, blue bathrooms.
Pity, We Were A Good Invention
They amputated
Your thighs from my waist.
For me they are always
Surgeons. All of them.
They dismantled us
One from another. For me they are engineers.
Pity, We were a good and loving
Invention: an airplane made of man and woman,
Wings and all:
We soared a bit from the earth,
We flew a bit.
Jehuda Amichai (3 mei 1924 – 22 september 2000)
De Britse schrijver en komiek Ben Elton werd geboren in Londen op 3 mei 1959. Zie ook mijn blog van 3 mei 2009.
Uit: Chart Throb
"Some years from now
The nation had watched Shaiana cry so many times. Heard her voice crack as she struggled to complete her sentence.
'I just want this so much. I really, really want it so much. It's all I ever wanted. Since I was a little girl . . . It's my . . . It's my . . .'
She couldn't do it. Words failed her. Her lip quivered, her nostrils flared and a watery film spread across her eyes. The lids closed in an agonized grimace and squeezed out a glistening tear.
Just a tear, a single tear, but such a tear. One of the most scrutinized tears that was ever shed. Few tears in all history would be seen by so many and so often. Over and over again it had teetered momentarily upon the thickly mascaraed lashes of Shaiana's lower lid before tipping forward and rolling heavily across the downy expanse of that now nationally familiar cheek, tracing its course through the heavy blusher with which the makeup artist had struggled in vain to cover the tiny blemishes on Shaiana's quivering face.
The people in their millions had absorbed this scene immediately before the last break and also before the break which preceded that. They had seen it at the very beginning of the programme and in the trailers that had played throughout the earlier part of the evening. Those with access to the digital channels had been able to watch the tear for nearly a week already and grainy stills of it had appeared in the press. It was also possible to download it to one's mobile phone by accessing the 'preview highlights' section of the Chart Throb website.
But despite all this massive exposure, up until now that tear had always been a future tear, a tear which, in the endlessly repeated phrase of Keely the presenter, was 'still to come'.
'And still to come, it's all too much for Shaiana.'
'Still to come, Shaiana struggles to keep it together.'
'Is Shaiana's dream turning into a nightmare? All that and more, still to come.'
And so the tear had teetered. A maybe tear, present and entirely familiar but nonetheless a tear in waiting. But now finally it had arrived. No longer a tear that was 'still to come' but all of a sudden a clear and present tear, a tear that was on its way. And for the first time (but most certainly not the last) the viewing millions saw it disappear beneath the square white plastic nail of Shaiana's outstretched finger as she rested her chin upon Keely's gorgeous skinny shoulder, and failed to find the word for which she was struggling."
Ben Elton (Londen, 3 mei 1959)

De Duitse schrijver Jens Wonneberger werd in Großröhrsdorf geboren op 3 mei 1960. Zie ook mijn blog van 3 mei 2007 en ook mijn blog van 3 mei 2008 en ook mijn blog van 3 mei 2009.

Uit: P. Dienemann Nachf.

"P. Dienemann Nachf., Buchhandlung und Antiquariat, befindet sich in der Nähe vom Bahnhof Neustadt in einem alten Haus, dessen Eingang man nur über den Hof erreicht.
Vor der Haustür liegt ein Gitterrost aus Stahl. Bitte die Füße abtreten, steht auf einem Schild an der Haustür.
Vor der Zwischentür liegt ein Fußabtreter aus Bürsten. Bitte die Füße abstreichen, steht auf einem Schild an der Zwischentür.
Vor der Ladentür liegt eine Fußmatte aus Kokos. Auf dem Schild an der Ladentür steht, Bitte die Füße sorgfältig abstreichen.
P. Dienemann Nachf. ist privat. Privat heißt, daß am Montag geschlossen ist. Hier gehen die Uhren anders, sagt Fräulein Leukroth. Fräulein Leukroth ist die Tochter des Nachfolgers und in einem Alter, in dem das Wort Fräulein eine Offenbarung ist. Sie kommt jeden Morgen mit gesenktem Kopf und kleinen, schnellen Schritten in das Geschäft. Jeden Morgen trägt sie ein anderes Kleid. Die Kleider sehen alle gleich aus. Jeden Morgen trägt Fräulein Leukroth einen Stoffbeutel ins Geschäft, der aussieht wie ihr Kleid. Wenn sie kommt, hat sie einen steifen Arm, der beim Gehen fast den Boden berührt. Bevor sie das Geschäft betritt, hat sie sich zweimal normal und einmal sorgfältig die Schuhe abgetreten. Das Linoleum im Laden ist so oft gebohnert worden, daß es kein Muster mehr hat, nur auf den vier kleinen Kreisen um die Füße eines Tisches ist es noch zu erkennen."

Jens Wonneberger (Großröhrsdorf, 3 mei 1960)
03-05-2010 om 20:13 geschreven door Romenu


Klaus Modick, Tatjana Tolstaja, Agnès Desarthe
De Duitse schrijver

Klaus Modick

werd geboren in Oldenburg op 3 mei 1951. Zie ook

mijn blog van 3 mei 2007

en ook mijn blog van 3 mei 2008 en ook mijn blog van 3 mei 2009.

Uit: Vatertagebuch

"Jamie und ich liegen um zwei Uhr im Bett. Emily kommt umfünf Uhr, öffnet unsere Schlafzimmertür einen Spalt breit undruft, daß sie wieder da sei. Sie und ihre ältere Schwester öffnendie Tür nie so weit, daß sie hereinsehen können. Die Liebe der Elternmöchte man spüren, vor Augen haben lieber nicht.Mittags Tennis.
In der ungeheizten Halle bleibe ich kalt und steif,das sportliche Ergebnis entsprechend dürftig, eher eine Ausnüchterungsübung.Als ich nach Haus komme, sitzen die drei Damenvor dem Fernseher und sehen eine geliehene DVD, Corellis Mandoline.Der Film sei, sagt Marlene, irgendwie wohl so ähnlich wiemein Roman Der kretische Gast. Wenn der von Hollywood verfilmtwird, soll's mir allemal recht sein. Wäre ein Trostpflasterauf die von Kritikerhäme geschlagenen Wunden.
Den DVD-Player habe ich im vergangenen Jahr als Weihnachtsgeschenk"für alle" gekauft. Jamie und die Mädchenbehaupten, der Vorteil des Geräts sei, daß man nun Filme imnicht-synchronisierten O-Ton sehen könne. Angesichts unsererhäuslichen Dreisprachigkeit - Deutsch, Englisch und fließendesDenglish - ein unwiderlegbares Argument. Und es nervt tatsächlich,wenn beispielsweise Tom Hanks und Bill Murray oderDanny Devito und Ernie aus der Sesamstraße auf Deutsch diegleichen Stimmen haben. Schließ einfach die Augen und stell dirvor, ich sei Tom Hanks ...
Heute kosten DVD-Player kaum noch die Hälfte. Im nächstenJahr wird's vermutlich DVD-Recorder zum gleichen Preis geben.Technisches Gerät veraltet, ohne zu altern, kann nie "antik" werden,sondern verliert seine Funktion und wird deshalb nur billigund häßlich. Das Neue als Schrott von morgen.
Klaus Modick (Oldenburg, 3 mei 1951)
De Russische schrijfster Tatjana Tolstaja werd geboren op 3 mei 1951 in Leningrad.
Uit: The Slynx (Vertaald door Jamey Gambrell)
"His hometown, Fyodor-Kuzmichsk, spread out over seven hills. Benedikt walked along listening to the squeak of fresh snow, enjoying the February sun, admiring the familiar streets. Here and there black izbas stood in rows behind high pike fences and wood gates; stone pots or wood jugs were set to dry on the pikes. The taller terems had bigger jugs, and some people would even stick a whole barrel up there on the spike, right in your face as if to say: Look how rich I am, Golubchiks! People like that don't trudge to work on their own two feet, they ride on sleighs, flashing their whips, and they've got a Degenerator hitched up. The poor thing runs, all pale, in a lather, its tongue hanging out, its felt boots thudding. It races to the Work Izba and stops stock-still on all four legs, but its fuzzy sides keep going huffa, puffa, huffa, puffa.
And it rolls its eyes, rolls 'em up and down and sideways. And bares its teeth. And looks around . . .
To hell with them, those Degenerators, better to keep your distance. They're strange ones, and you can't figure out if they're people or not. Their faces look human, but their bodies are all furry and they run on all fours. With a felt boot on each leg. It's said they lived before the Blast, Degenerators. Could be.
It's nippy out now, steam comes out of his mouth, and his beard's frozen up. Still—what bliss! The izbas are sturdy and black, there are high white snowdrifts leaning against the fences, and a little path has been beaten to each gate. The hills run smooth all the way up and back down, white, wavy; sleighs slide along the snowy slopes, and beyond the sleighs are blue shadows, and the snow crunches in colors, and beyond the hills the sun rises, splashing rainbows on the dark blue sky. When you squint, the rays of the sun turn into circles; when you stomp your boots in the fluffy snow it sparks, like when ripe firelings flicker.
Benedikt thought a moment about firelings, remembered his mother, and sighed: she passed away on account of those firelings, poor thing. They turned out to be fake."
Tatjana Tolstaja (Leningrad, 3 mei 1951)
De Franse dichteres en schrijfster Agnès Desarthe werd geboren op 3 mei 1966 in Parijs.
Uit: Le Remplaçant
"A la même époque, je voyais à la télé ou au cinéma des films de Truffaut, de Claude Sautet. Ils étaient pour moi d'un exotisme saisissant. Je restais extérieure aux intrigues et les observais avec la distance étonnée d'un Breton en Papouasie.J'enviais les personnages qui les peuplaient parce qu'ils me paraissaient libres et simples. Ils évoluaient dans un univers dépourvu de cet écho assourdissant qui envahissait le mien. Ils ne se déplaçaient pas avec, à leurs trousses, l'ombre de tous les morts dont l'âme n'a pas trouvé le repos. Ils étaient légers et insouciants, comme le sont proverbialement les enfants. Pour ma part, je ne me rappelle pas avoir connu pareille transparence dans le rapport au monde. Même toute petite, je traînais à ma suite un bataillon d'ectoplasmes dontj'avais l'impression qu'ils me souillaient plus qu'ils ne m'alourdissaient.
(...)
Janusz Korczak écrit de très belles pages sur un bébé mort enveloppé dans du papier. Le paquet est posé sur le trottoir, Korczak l'observe longuement et se demande pourquoi la mère a laissé dépasser les pieds du nourrisson. Il y avait vraisemblablement assez de feuilles pour emballer efficacement le petit corps. Korczak en conclut que cette imperfection est délibérée. La mère a choisi de laisser dépasser les pieds de son bébé, non seulement parce qu'il n'aura plus jamais froid, mais surtout, parce que cela permet aux passants de savoir que ce ballot n'est pas un déchet, un vulgaire tas d'ordures que l'on peut piétiner ou fouiller à la recherche d'un croûton oublié. Ceci est un humain, disent les minuscules orteils. Et Korczak voit dans cette ultime attention de la mère pour son enfant, un concentré de respect et de tendresse."
Agnès Desarthe (Parijs, 3 mei 1966)
Zie voor de drie bovenstaande schrijvers ook mijn blog van 3 mei 2007 en ook mijn blog van 3 mei 2008 en ook mijn blog van 3 mei 2009.


03-05-2010 om 20:13 geschreven door Romenu


Juan Gelman, Soma Morgenstern, Nélida Piñon
De Argentijnse dichter Juan Gelman werd geboren op 3 mei 1930 in Buenos Aires. Zie ook mijn blog van 3 mei 2009.
lament for the death of parsifal hoolig
it began to rain cows
and in light of the prevailing situation in the country
the agronomy students sowed disorder
the engineering professors proclaimed their virginity
the philosophy janitors oiled the staples of intellectual reason
the math teachers verified crying the two plus two
the language learners invented good bad words
while this was happening
a wave of nostalgia invaded the country's beds
and the couples look at each other as strangers
and twilight was served for lunch by mothers and fathers
and the pain or the hurt slowly dressed the little ones
and the chests fell off some and the backs off others and to the
rest nothing fell off at all
and they found God dead several times
and old men flew through the air holding tightly to their dried
testicles
and old women hurled exclamations and felt painful stitches
in their memory or oblivion
and various dogs approved and toasted with Armenian cognac
and they found a man dead several times
near a carnival Friday ripped from the carnival
under an invasion of autumnal insults
or over blue elephants standing on Mr. Hollow's cheek
or close by the larks in sweet vocal challenge with summer
they found that man dead
with his hands openly gray
his hips disordered by the events in Chicago
remains of wind in his throat
25 cents in his pocket and its still eagle
with feathers wet from infernal rain
Vertaald door Katherine Hedeen en Víctor Rodríguez Núñez
Juan Gelman (Buenos Aires, 3 mei 1930)
De Duits-joodse schrijver Soma Morgenstern (eig. Salomo) werd geboren op 3 mei 1890 in Budzanów in Oostgalicië. Zie ook mijn blog van 3 mei 2007 en ook mijn blog van 3 mei 2008 en ook mijn blog van 3 mei 2009.
Uit: The Third Pillar
"During that night we heard the tumult of battle. And when at the very break of day we ventured out into the street we saw the victors of those nocturnal skirmishes crowd into the city. There were the Germans in their grayish-green uniforms and on their sleeves were the hooked crosses, the swift pockmarks of the German pestilence.
"On that day of their rapid victory they did us almost no harm. Perhaps it was that these soldiers were no murderers; perhaps it was that they wanted to give no time to murder. The bloody deeds of this day and of those that followed were committed by our fellow citizens, our neighbors. Ah, it is an ancient sorrow that in the days of their history, whether fortunate or wretched, it was always they, our neighbors, who were prone to vent their spleen on us. That is an old story, a European and Christian refrain.
"And yet, contemptible as they were, what were the deeds of violence of our neighbors compared to the ill deeds of the German murderers as they now set in? Those were raging flames; these were all-consuming forest fires. Those neighbors devoured hundreds of us, but millions were spared. These other devoured millions and only hundreds were saved.
"I, the narrating judge, mournfully name the deeds of violence of our neighbors, inspired more by the lust of gain than by the lust of blood, in order to commemorate those victims too, may their names be sanctified. Concerning the misdeeds of the German murderers the accusing judge will bear witness, and he will do so according to the measure of blood guiltiness, primarily of the blood guiltiness incurred upon the bodies and lives of our children: from the newborn to those thirteen; that is to say, children according to our Law.
"May the accusing judge be upheld before this court by the merits of our fathers and the memory of our martyrs who fell for the Sanctification of the Name. And may strength be granted him to speak of what is unspeakable, that is, to bear witness according to the needs of this court, not to delineate, for that would be contrary to our Law. For only he could succeed in describing these bloody deeds and delineate them who was in a measure allied to the monsters who committed them. Only such a one would be willing and capable of rehearsing these deeds in word or writing or image."
Soma Morgenstern (3 mei 1890 – 17 april 1976)

De Braziliaanse schrijfster Nélida Piñon werd geboren op 3 mei 1937 in Rio de Janeiro als dochter van Spaanse immigranten. Zie ook mijn blog van 3 mei 2009.

Uit: Voices of the Desert (Vertaald door Clifford Landers)

"Scheherazade has no fear of death. She does not believe that worldly power as represented by the Caliph, whom her father serves, decrees by her death the extinguishing of her imagination.

She tried to persuade her father that she alone can break the chain of deaths of maidens in the kingdom. She cannot bear seeing the triumph of evil that marks the Caliph's face. She will oppose the misfortune that invades the homes of Baghdad and its environs, by offering herself to the ruler in a seditious sacrifice.

Her father objected when he heard his daughter's proposal calling upon her to reconsider but failing to change her mind. He insisted again, this time smiting the purity of the Arabic language, employing imprecations, spurious, bastardized, scatological words used by the Bedouins in wrath and frolic alike. Shamelessly he marshaled every resource to persuade her. After all, his daughter owed him not only her life but also the luxury, the nobility, her rarefied education. (...)

Despite the Vizier's protests when faced with the threat of losing his beloved daughter, Scheherazade persisted in this decision, which really involved her entire family. Each member of the Vizier's clan evaluated in silence the significance of the decreed punishment, the effects that her death would have on their lives."
Nélida Piñon (Rio de Janeiro, 3 mei 1937)
03-05-2010 om 20:04 geschreven door Romenu


Dodie Smith, Pierre Emmanuel, August von Kotzebue
De Engelse schrijfster Dodie Smith werd geboren op 3 mei 1896 in Whitefield. Zie ook mijn blog van 3 mei 2009.
Uit: The Hundred and One Dalmatians
"Not long ago, there lived in London a young married couple of Dalmatian dogs named Pongo and Missis Pongo. (Missis had added Pongo's name to her own on their marriage, but was still called Missis by most people.) They were lucky enough to own a young married couple of humans named Mr. and Mrs. Dearly, who were gentle, obedient, and unusually intelligent-almost canine at times. They understood quite a number of barks: the barks for "Out, please!" "In, please!" "Hurry up with my dinner!" and "What about a walk?" And even when they could not understand, they could often guess-if looked at soulfully or scratched by an eager paw. Like many other much-loved humans, they believed that they owned their dogs, instead of realizing that dogs owned them. Pongo and Missis found this touching and amusing and let their pets think it was true. Mr. Dearly, who had an office in the City, was particularly good at arithmetic. Many people called him a wizard of finance-which is not the same thing as a wizard of magic, though sometimes fairly similar. At the time when this story starts he was rather unusually rich for a rather unusual reason. He had done the Government a great service (something to do with getting rid of the national debt) and, as a reward, had been let off his income tax for life. Also the Government had lent him a small house on the Outer Circle of Regent's Park-just the right house for a man with a wife and dogs. Before their marriages, Mr. Dearly and Pongo had lived in a bachelor flat, where they were looked after by Mr. Dearly's old nurse, Nanny Butler. Mrs. Dearly and Missis had also lived in a bachelor flat (there are no such things as spinster flats), where they were looked after by Mrs. Dearly's old nurse, Nanny Cook. The dogs and their pets met at the same time and shared a wonderfully happy double engagement, but they were all a little worried about what was to happen to Nanny Cook and Nanny Butler. It would be all right when the Dearlys started a family, particularly if it could be twins, with one twin for each Nanny, but until then, what were the Nannies going to do?"
Dodie Smith (3 mei 1896 – 24 november 1990)
De Franse dichter en schrijver Pierre Emmanuel (eig. Noël Mathieu) werd geboren op 3 mei 1916 in Gan (Pyrénées-Atlantiques). Zie ook mijn blog van 3 mei 2007 en ook mijn blog van 3 mei 2008 en ook mijn blog van 3 mei 2009.
Uit: La Vie Terrestre
« Dans le stupéfiant Jacob de Delacroix que l'on peut voir à Saint-Sulpice, écrit Pierre Emmanuel dans La vie terrestre en 1976, Jacob se rue sur l'Ange qu'il semble s'ouvrir en lui tenant le bras gauche écarté, et l'Ange fléchit sous le poids formidable de cet homme-peuple, de cet homme-humanité. (...) L'Ange reçoit Jacob comme une femme reçoit l'homme : bien qu'il s'arc-boute sur la pointe du pied, il se donne davantage qu'il ne résiste. L'Ange - Dieu ? -, être éternellement jeune, étrangement féminin, danse tandis que l'homme se jette en avant pour le forcer, le pénétrer, passer outre.
Ce Combat avec l'Ange fut pour moi le symbole libérateur qui me tira de l'ambiguïté esthétique. Du fait de la personnalité de Jacob, la plus ambiguë peut-être de l'Écriture, il m'était possible d'assumer la mienne sans voir en elle un obstacle coupable à l'unité : le Combat avec l'Ange, ce sont aussi les noces avec Dieu (...). Voir le tableau me fut une illumination : quelques jours plus tard, je relus l'histoire de Jacob dans la Genèse, et je fus, comme devant l'Orphée ou le Christ de ma jeunesse, empli d'un besoin à demi conscient d'identification. »
Pierre Emmanuel (3 mei 1916 – 24 september 1984)

De Duitse dichter en toneelschrijver August Friedrich Ferdinand von Kotzebue werd in Weimar geboren op 3 mei 1761. Zie ook mijn blog van 3 mei 2007 en ook mijn blog van 3 mei 2009.

Gesellschaftslied

Es kann ja nicht immer so bleiben
Hier unter dem wechselnden Mond;
Es blüht eine Zeit und verwelket,
Was mit uns die Erde bewohnt.

Es haben viel fröhliche Menschen
Lang vor uns gelebt und gelacht;
Den Ruhenden unter dem Rasen
Sei fröhlich dies Gläschen gebracht!

Es werden viel fröhliche Menschen
Lang nach uns des Lebens sich freun,
Uns Ruhenden unter dem Rasen
Den Becher der Fröhlichkeit weihn.

Wir sitzen so traulich beisammen
Wir haben einander so lieb,
Erheitern einander das Leben;
Ach, wenn es doch immer so blieb'!

Doch weil es nicht immer so bleibet,
So haltet die Freunde recht fest;
Wer weiß denn, wie bald uns zerstreuet
Das Schicksal nach Ost und nach West!

Und sind wir auch fern von einander,
So bleiben die Herzen doch nah!
Und Alle, ja Alle wird's freuen,
Wenn Einem was Gutes geschah.

Und kommen wir wieder zusammen,
Auf weise verhüllter Bahn,
So knüpfen ans fröhliche Ende
Den fröhlichen Anfang wir an!
August von Kotzebue (3 mei 1761 - 23 maart 1819)
03-05-2010 om 20:02 geschreven door Romenu


Erik Lindner
De Nederlandse dichter Erik Lindner werd geboren op 3 mei 1968 in Den Haag. Lindner begon op zijn zestiende met het voordragen van gedichten. Hij werkte de eerste jaren dikwijls samen met verschillende muzikanten. Hij debuteerde in 1996 met de bundel "Tramontane". Hierna publiceerde hij "Tong en trede" (2000) en "Tafel" (2004). Hij organiseerde literaire programma's in ondermeer het Institut Néerlandais in Parijs en was ook als docent schrijven verbonden aan ondermeer de Gerrit Rietveld Academie. Juni 2007 verscheen een bundel eigen werk in Franse vertaling: "Terrain". Voor de VPRO radio maakte Lindner reportages vanuit verschillende landen: Albania, Canada en Taiwan. Hij schrijft recensies voor De Groene Amsterdammer, Ons erfdeel, Poëziekrant en De Reactor. Op www.groene.nl/boeken heeft hij een wekelijkse rubriek over poëzie.
De zee is paars
De zee is paars bij Piraeus.

Een vlag kruipt uit de klokkentoren
als de wind draait.

Een man stapt over een hond.
Een vrouw wrijft gebogen over haar ooglid.

In een parapluwinkel valt een paraplu van de toonbank.

Op een smalle tak zit een duif
die erafvalt, fladdert en opnieuw gaat zitten
de bes die te ver op het uiteinde van de twijg zit
de tak die doorbuigt, de kraag die opbolt als de duif verschuift.

Een meisje stapt in de metro met een bureaula.

Op het dikke zand aan de branding
schuift een visser horizontaal zijn hengel uit
een fiets staat naast hem op de standaard.

Hij staat wijdbeens alsof hij plast.
Vogelpootafdrukken in het zand.
De hengel kromt boven de zee.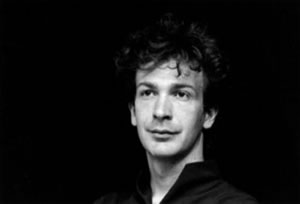 Erik Lindner (Den Haag, 3 mei 1968)

03-05-2010 om 00:00 geschreven door Romenu

Tags:Erik Lindner, Romenu



| | |
| --- | --- |
| | |



Inhoud blog


| | |
| --- | --- |
| | Joseph Brodsky, Michael Chabon, Bob Dylan, Henri Michaux, William Trevor, Tobias Falberg, Arnold Wesker, Rainald Goetz, Louis Fürnberg |
| | Adriaan Roland Holst, Maarten Biesheuvel, Lydia Rood, Jane Kenyon, Susan Cooper, Michaël Vandebril, Jack McCarthy, Mitchell Albom, Pär Fabian Lagerkvist |
| | In Memoriam Philip Roth |
| | Erik Spinoy, Arthur Conan Doyle, Ahmed Fouad Negm, Anne de Vries, Johannes R. Becher, Kees Winkler, Gérard de Nerval, Catulle Mendès, Takis Würger |
| | Pinksteren II (Willem de Mérode) |
| | Gabriele Wohmann, Amy Waldman, Maria Semple, Urs Widmer, Emile Verhaeren, Robert Creeley, Alexander Pope, Tudor Arghezi, Suzanne Lilar |
| | Pinksteren I (Willem de Mérode) |
| | Tommy Wieringa, Auke Hulst, Ellen Deckwitz, Jeroen Thijssen, Maurits de Bruijn, Gerrit Achterberg, Annie M.G. Schmidt, Sky du Mont |
| | Honoré de Balzac, William Michaelian, Wolfgang Borchert, Hector Malot, Ingvar Ambjørnsen, A.C. Cirino, Hanna Krall, Sigrid Undset |
| | Constantin Göttfert, Simone van Saarloos, Karel van het Reve, Gijs IJlander, Thera Coppens, H.W.J.M. Keuls, Jodi Picoult |
| | Ruskin Bond, Yahya Hassan, Fritz Rudolf Fries, Lorraine Hansberry, Rahel Varnhagen, Anna Jameson |
| | Yi Mun-yol, W.G. Sebald, Markus Breidenich, François Nourissier, Gunnar Gunnarsson, Omar Khayyam, Ernst Wiechert, Franziska zu Reventlow, John Wilson |
| | Lars Gustafsson, Peter Høeg, Eva Schmidt, Gary Paulsen, Henri Barbusse, Virginie Loveling, Dennis Potter, Cor Bruijn, Dorothy Richardson |
| | Paul Gellings, Adrienne Rich, Friedrich Rückert, Jakob van Hoddis, Juan Rulfo, Olaf J. de Landell, Olga Berggolts, Lothar Baier, Rens van der Knoop |
| | Mai (Johann Wolfgang von Goethe) |
| | Albert Verwey, Arthur Schnitzler, Pem Sluijter, W.J.M. Bronzwaer, Frits van Oostrom, Michael Lentz, Max Frisch, Judith Hermann, Mary Wortley Montagu |
| | In Memoriam Tom Wolfe |
| | Jo Gisekin, Karl-Markus Gauß, Eoin Colfer, Gaby Hauptmann, Wilma Vermaat, Frans Bastiaanse, Dante Alighieri, Krister Axel, Jens Sparschuh |
| | Moeder (M. Vasalis) |
| | Johannes (Willem de Mérode) |
| | Jan Lauwereyns, Reinout Verbeke, Bruce Chatwin, Daphne du Maurier, Kathleen Jamie, Armistead Maupin, Alphonse Daudet, Kōji Suzuki |
| | Theo van Baaren, Gregor von Rezzori, Reinhold Schneider, Jacob Haafner, Adolf Muschg, Roch Carrier, Franz Michael Felder |
| | Hagar Peeters, Bertus Aafjes, August Vermeylen, Andrej Voznesensky, Sabine Imhof, Dante Gabriel Rossetti |
| | Nicolaas Anslijn, Eva Demski, Farley Mowat, Werner Bräunig, Cäsar Flaischlen |
| | Edward Lear, Diana Raznovich, Andrej Amalrik, Maurice Carême, Massimo Bontempelli |
| | J. H. Leopold, Ida Gerhardt, Eva Menasse, Eugen O. Chirovici, Andre Rudolph, Rubem Fonseca, Henning Boëtius, Camilo José Cela, Rachel Billington |
| | De hemelvaart (Nicolaas Beets) |
| | J.C. Bloem, Herman Leenders, Didi de Paris, Ralf Rothmann, Jeremy Gable, Petra Hammesfahr, Roberto Cotroneo, Antonine Maillet, Johann Peter Hebel |
| | Jayne Cortez, Barbara Taylor Bradford, Benito Pérez Galdós, Ivan Cankar, Martin Boelitz, Ariel Durant, Fritz von Unruh, Leonard Buyst |
| | My Computer Ate My Homework 3, Dolce far niente, Gene Ziegler, Pieter Boskma, Jorie Graham, Luuk Wojcik |
| | Roddy Doyle, Thomas Pynchon, Pat Barker, Gary Snyder, Gertrud Fussenegger, Edmund Wilson, Alain-René Lesage, Sophus Schandorph, Romain Gary |
| | Libris Literatuurprijs 2018 voor Murat Isik |
| | Willem Elsschot, Almudena Grandes, Christoph Marzi, Edgar Cairo, Volker Braun, Robert Browning, Peter Carey, Archibald MacLeish, Rabindranath Tagore |
| | In Memoriam Renate Dorrestein |
| | Beloved, let us love one another,' says St. John (Christina Rossetti) |
| | Willem Kloos, Hélène Gelèns, Sasja Janssen, Ariel Dorfman, Erich Fried, Yasushi Inoue, Harry Martinson, Christian Morgenstern, Carl Ludwig Börne |
| | Ferdinand Sauter, Eugène Labiche, Gaston Leroux, Júlio César de Mello e Souza, Marie-Aude Murail, Paul Alverdes, Erik Bindervoet, Simon Mulder |
| | Als je de vrijheid tegenkomt (Ankie Peypers) |
| | Roni Margulies, Miklós Radnóti, Petra Else Jekel, Morton Rhue, Christopher Morley, George Albert Aurier |
| | Henryk Sienkiewicz, Richard Watson Dixon, Hans Werner Kolben, Christian Friedrich Scherenberg, Catullus |
| | Oorlog (Rutger Kopland) |
| | Christiaan Weijts, Amos Oz, J.W.F. Werumeus Buning, Cola Debrot, Graham Swift, Monika van Paemel, David Guterson, Jan Mulder, Werner Fritsch |
| | Erik Lindner, Jehuda Amichai, Johan de Boose, Paul Bogaert, Marc Dugain, Ben Elton, Klaus Modick, Agnès Desarthe, Juan Gelman |
| | Esther Freud, Wytske Versteeg, Rob Waumans, Tilman Rammstedt, James Holmes, Theo Sontrop, Jef Last, Gottfried Benn, Novalis |
| | What Work Is (Philip Levine) |
| | Guido Gezelle, Johano Strasser, Yasmina Reza, Joseph Heller, Yánnis Rítsos, Antal Szerb, Ignazio Silone, Aleksander Wat, Reinier van Genderen Stort |
| | Jeroen Brouwers, Alexander Osang, Ulla Hahn, Luise Rinser, John Boyne, Annie Dillard, Jaroslav Hasek, Jacob Hiegentlich, Kno'Ledge Cesare |
| | Der Weinstock und die Reben (Julie Hausmann) |
| | Konstantínos Petros Kaváfis, Rod McKuen, Bernhard Setzwein, Monika Rinck, Alejandra Pizarnik, Walter Kempowski, Bjarne Reuter, Kurt Pinthus, Humphrey Carpenter |
| | Wim Hazeu, Gerbrand Bakker, Zia Haider Rahman, Roberto Bolaño, Gerhard Henschel, Harper Lee, Joop Waasdorp |


Gastenboek


Druk op onderstaande knop om een berichtje achter te laten in mijn gastenboek