De Nederlandse schrijfster Cissy van Marxveldt werd geboren in Oranjewoud op 24 november 1889. Zie ook alle tags voor Cissy van Marxveldt op dit blog.
Uit: De H.B.S. tijd van Joop ter Heul
"Julie vertelde me gisteravond dat ze met Jog samen een zomerhoed gekocht heeft.
'Met je verkouden gezicht?' Vroeg ik. Ja, want als hij me dàn goed staat, dan flatteert hij me zeker, als ik er gewoon uitzie… Het is een schat van een dopje, zei Julie, Wit met kleine theeroosjes, heel snoezig'. 'Hoe staat hij Jog?' vroeg ik.
'Oh you horrid pig' zei Julie weer eens voor de verandering.
(…)

Ik ben gisteren uit gym gestuurd, omdat ik een ouwe tafelschel achter aan Steub zijn jasje had gehangen. 't Stond zo gek zeg, en het mooiste was, hij merkte er eerst niets van. De schel werkte niet al te best meer, zie je, maar toen hij ons van die armoefeningen ging voordoen met beenhuppen, was 't klingeling jongens bij elke hup. Hij brulde maar; 'Wie belt daar? Ik wil weten wie daar belt' En wij stikten gewoonweg. Pop zei nog: 't is buiten geloof ik, de tram mijnheer.' En toen dacht Steub eerst werkelijk nog, dat het de tram was, en hij begon weer te huppen en te luien. We konden geen stap meer doen van het lachen..."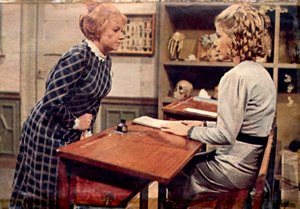 Cissy van Marxveldt (24 november 1889 – 31 oktober 1948)
Scene uit Joop ter Heul, een KRO tv-serie uit 1968


De Indiase schrijfster Arundhati Roy werd geboren op 24 november 1961 in Shillong. Zie ook alle tags voor Arundhati Roy op dit blog.
Uit: The God of Small Things
"She was Rahel's baby grandaunt, her grandfather's younger sister. Her name was really Navomi, Navomi Ipe, but everybody called her Baby. She became Baby Kochamma when she was old enough to be an aunt. Rahel hadn't come to see her, though. Neither niece nor baby grandaunt labored under any illusions on that account. Rahel had come to see her brother, Estha. They were two-egg twins. "Dizygotic" doctors called them. Born from separate but simultaneously fertilized eggs. Estha--Esthappen--was the older by eighteen minutes.
They never did look much like each other, Estha and Rahel, and even when they were thin-armed children, flat-chasted, wormridden and Elvis Presley-puffed, there was none of the usual "Who is who?" and "Which is which?" from oversmiling relatives or the Syrian Orthodox bishops who frequently visited the Ayemenem House for donations.
The confusion lay in a deeper, more secret place.
In those early amorphous years when memory had only just begun, when life was full of Beginnings and no Ends, and Everything was Forever, Esthappen and Rahel thought of themselves together as Me, and separately, individually, as We or Us. As though they were a rare breed of Siamese twins, physically separate, but with joint identities.
Now, these years later, Rahel has a memory of waking up one night giggling at Estha's funny dream.
She has other memories too that she has no right to have.
She remembers, for instance (though she hadn't been there), what the Orangedrink Lemondrink Man did to Estha in Abhilash Talkies. She remembers the taste of the tomato sandwiches--Estha's sandwiches, that Estha ate--on the Madras Mail to Madras."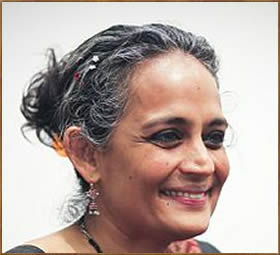 Arundhati Roy (Shillong, 24 november 1961)
De Amerikaanse schrijver Thomas Kohnstamm werd geboren in Seattle, Washington op 24 november 1975. Zie ook alle tags voor Thomas Kohnstamm op dit blog.
Uit: Do Travel Writers Go to Hell?
"It wasn't until eight years after the bridge construction had started that a French physiologist determined the cause of the illness. Contrary to popular assumption, oxygen is a lesser ingredient in the air that we breathe. Seventy-eight percent of air is comprised of nitrogen, which, under normal circumstances, has no effect on the human body. When breathing air at depth, the water pressure converts the nitrogen in the bloodstream from a gas to a liquid, washing it through the veins and arteries. So long as you resurface at a slow pace, the liquid gradually transforms back into a gas and is disposed of by your body.
If the change of pressure is too sudden, the liquid bursts out of solution, fizzing back into gas. Similar to the millions of microscopic nitrogen bubbles that are released when you crack a can of Guinness, the bubbles surge through the bloodstream. If they don't lodge themselves in your joints, the bubbles charge on the fatal path to your brain. You come up too quickly, you die.
I remove a folded piece of printer paper from my pocket and smooth it open:
Thomas,
I want to know if you'd like do some writing for our new Brazil guidebook?
If you're interested in jumping ship within the next few weeks for Brazil, let me know right away and I could put together an offer for you.
Commissioning Editor--South America & Antarctica
Lonely Planet."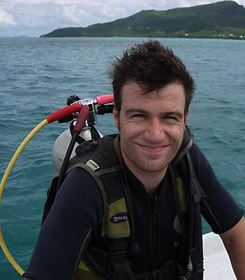 Thomas Kohnstamm (Seattle, 24 november 1975)
De Italiaanse schrijver Carlo Collodi werd als Carlo Lorenzi op 24 november 1826 in Florence geboren. Zie ook alle tags voor Carlo Corrodi op dit blog.
Uit: Pinocchio (Vertaald door Charlotte Birnbaum)
"Da kratzte er sich die Perücke und lachte und sagte: 'Sieh einmal an. Ich habe mir das Stimmchen eingebildet. Gehen wir wieder an die Arbeit.' Und er nahm die Axt in die Hand und schlug kräftig auf das Stück Holz los.
'Au, du hast mir wehgetan!', schrie das Stimmchen kläglich.
Diesmal war Meister Kirsche starr vor Schrecken. Die Augen kullerten fast aus dem Kopf, der Mund blieb offen stehen, die Zunge hing ihm schlaff bis aufs Kinn. Er sah aus wie der Wasserspeier an einem Brunnen. Es dauerte eine Weile, bis er wieder Worte fand. Dann stammelte er mit zitternden Lippen:
'Woher ist bloß das Stimmchen gekommen? Hier ist ja keine Menschenseele. Aber es hat doch 'Au!' gerufen. Sollte etwa dieses Stück Holz weinen und jammern wie ein Kind? Das kann ich nicht glauben. Anton, sieh es dir einmal ruhig an: es ist ein Stück Holz wie alle anderen. Man kann es ins Feuer werfen und eine Bohnensuppe darauf kochen. Oder... sollte jemand darin stecken? Ach was! Und wenn jemand darin steckt, um so schlimmer für ihn: Ich will es jetzt herauskriegen.'
Mit diesen Worten packte er das arme Stück Holz mit beiden Händen und schleuderte es ohne Mitleid gegen die Wand. Danach horchte er, ob sich jetzt ein Stimmchen beklage. Er wartete eine Minute - nichts; fünf Minuten - nichts; zehn Minuten - immer noch nichts."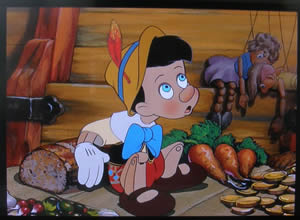 Carlo Collodi (24 november 1826 – 26 oktober 1890)
Pinocchio, scene uit de Disney film uit 1940



De Duitse schrijver Gerhard Bengsch werd geboren op 24 november 1928 in Berlijn. Zie voor onderstaande schrijver ook mijn blog van 24 november 2008.
Uit: Unterlassene Hilfeleistung
"Lire oder Zloty?" fragte Annabella mit der eindeutigen Absicht, bei Frau Hiltrud einen Gehirnschlag auszulösen.
"Es ist bedauerlich, daß man mit Ihnen nicht sachlich reden kann", sagte Herr Woyko.
Er rief den Kellner und zahlte.
Während seine Frau im Foyer die Damentoilette suchte und in Ihrer Aufregung in die Herrentoilette geriet, begleitete er uns an die Tür. Er werde sich morgen oder übermorgen wieder bei uns melden."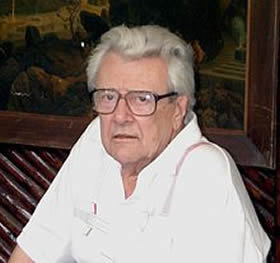 Gerhard Bengsch (24 november 1928 – 11 maart 2004)
De Duitse dichter, schrijver, bibliothecaris en archibaris Ludwig Bechstein werd geboren op 24 november 1801 in Weimar. Zie ook alle tags voor Ludwig Bechstein op dit blog.
Uit: Des kleinen Hirten Glückstraum
"Es war einmal ein sehr armer Bauersmann, der war in einem Dörflein Hirte, und das schon seit vielen Jahren. Seine Familie war klein, er hatte eine Frau und nur ein einziges Kind, einen Knaben. Doch diesen hatte er sehr frühzeitig mit hinaus auf die Weide genommen und ihm die Pflichten eines treuen Hirten eingeprägt, und so konnte er, als nur einigermaßen der Knabe herangewachsen war, sich ganz auf denselben verlassen, konnte ihm die Herde allein anvertrauen und konnte unterdessen daheim noch einige Dreier mit Körbeflechten verdienen. Der kleine Hirte trieb seine Herde munter hinaus auf die Triften und Raine; er pfiff oder sang manch helles Liedlein und ließ dazwischen gar laut seine Hirtenpeitsche knallen; dabei wurde ihm keine Zeit lang. Des Mittags lagerte er sich gemächlich neben seine Herde, aß sein Brot und trank aus der Quelle dazu, und dann schlief er auch wohl ein Weilchen, bis es Zeit war weiterzutreiben. Eines Tages hatte sich der kleine Hirte unter einen schattigen Baum zur Mittagsruhe gelagert, schlief ein und träumte einen gar wunderlichen Traum: Er reise fort, gar unendlich weit fort – ein lautes Klingen, wie wenn unaufhörlich eine Masse Münzen zu Boden fielen – ein Donnern, wie wenn unaufhörlich Schüsse knallten – eine endlose Schar Soldaten, mit Waffen und in blitzenden Rüstungen – das alles umkreisete, umschwirrte, umtosete ihn. Dabei wanderte er immerzu und stieg immer bergan, bis er endlich oben auf der Höhe war, wo ein Thron aufgebaut war, darauf er sich setzte, und neben ihm war noch ein Platz, auf dem eine schöne Frau, die plötzlich erschien, sich niederließ. Nun richtete sich im Traum der kleine Hirte empor und sprach ganz ernst und feierlich: »Ich bin König von Spanien.« Aber in demselben Augenblick wachte er auf. Nachdenklich über seinen sonderbaren Traum trieb der Kleine seine Herde weiter, und des Abends erzählte er daheim seinen Eltern, die vor der Türe saßen und Weiden schnitzten, wobei er ihnen auch half, seinen wunderlichen Traum und sprach zum Schluß: »Wahrlich, wenn ich noch einmal träume, so gehe ich fort nach Spanien und will doch einmal sehen, ob ich nicht König werde!«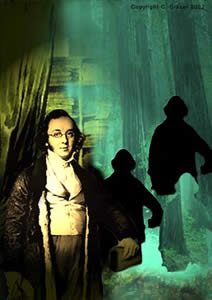 Ludwig Bechstein (24 november 1801 – 14 mei 1860)

24-11-2012 om 19:07 geschreven door Romenu

Tags:Cissy van Marxveldt, Arundhati Roy, Thomas Kohnstamm, Carlo Collodi, Ludwig Bechstein, Gerhard Bengsch, Romenu