E-mail mij


Druk op onderstaande knop om mij te e-mailen.


Romenu


Google


Georg Trakl

Georg Trakl werd op 3 februari 1887 in het conducteurshuis aan de Waagplatz 2 in Salzburg geboren. Zijn vader, Tobias Trakl, was een handelaar in ijzerwaren en zijn moeder, die ook psychische problemen had, was Maria Catharina Trakl, (meisjesnaam Halik). Voorts had hij nog drie broers en drie zussen. Margarethe (doorgaans Grethe genoemd) stond hem het naast, zelfs zodanig dat sommigen een incestueuze verhouding vermoeden. Zijn jeugd bracht hij door in Salzburg. Vervolgens bezocht hij van 1897 tot 1905 het humanistische gymnasium. Om toch een academische opleiding te kunnen volgen, werkte hij tot 1908 in de praktijk bij een apotheker. Sommigen vermoedden dat hij dit vooral deed om zichzelf opiaten te kunnen verschaffen. Bij het uitbreken van WO I werd Trakl als medicus naar het front in Galicië (heden ten dage in Oekraïne en Polen) gestuurd. Zijn gemoedsschommelingen leidden tot geregelde uitbraken van depressie, die verergerd werden door de afschuw die hij voelde voor de verzorging van de ernstig verwonde soldaten. De spanning en druk dreven hem ertoe een suïcidepoging te ondernemen, welke zijn kameraden nochtans verhinderden. Hij werd in een militair ziekenhuis opgenomen in Kraków, alwaar hij onder strikt toezicht geplaatst werd.Trakl verzonk daar in nog zwaardere depressies en schreef Ficker om advies. Ficker overtuigde hem ervan dat hij contact moest opnemen met Wittgenstein, die inderdaad op weg ging na Trakls bericht te hebben ontvangen. Op 4 november 1914, drie dagen voordat Wittgenstein aan zou komen, overleed hij echter aan een overdosis cocaïne


Paul Celan

Paul Celan werd onder de naam Paul Antschel op 23 november 1920 geboren in Czernowitz, toentertijd de hoofdstad van de Roemeense Boekovina, nu behorend bij de Oekraïne. Paul Celans ouders waren Duitssprekende joden die hun zoon joods opvoedden en hem naar Duitse christelijke scholen stuurden. In 1942 werden Celans ouders door de Duitse bezetter naar een werkkamp gedeporteerd en daar vermoord. Hijzelf wist aanvankelijk onder te duiken, maar moest vanaf juli 1942 in een werkkamp dwangarbeid verrichten. Celan overleefde de oorlog. Via Boekarest en Wenen vestigde Celan zich in 1948 in Parijs. Daar was hij werkzaam als dichter, vertaler en doceerde hij aan de prestigieuze Ecole Normale Supérieure. Vermoedelijk op 20 april 1970 beëindigde hij zijn leven zelf door in de Seine te springen.


Gerard Reve

Gerard Reve over: Medearbeiders "God is in de mensen, de dieren, de planten en alle dingen - in de schepping, die verlost moet worden of waaruit God verlost moet worden, door onze arbeid, aangezien wij medearbeiders van God zijn." Openbaring "Tja, waar berust elk godsbegrip op, elke vorm van religie? Op een openbaring, dat wil zeggen op een psychische ervaring van zulk een dwingende en onverbiddelijke kracht, dat de betrokkene het gevoel heeft, niet dat hij een gedachte of een visioen heeft, maar dat een gedachte gedachte of visioen hem bezit en overweldigt."


Simon Vestdijk
Simon Vestdijk (Harlingen, 17 oktober 1898 – Utrecht, 23 maart 1971) was een Nederlands romancier, dichter, essayist en vertaler. Zijn jeugd te Harlingen en Leeuwarden beschreef hij later in de Anton Wachter-cyclus. Van jongs af aan logeerde hij regelmatig bij zijn grootouders in Amsterdam, waar hij zich in 1917 aan de Universiteit van Amsterdam inschrijft als student in de medicijnen. Tijdens zijn studie die van 1917 tot 1927 duurde, leerde hij Jan Slauerhoff kennen.Tot 1932 is hij als arts in praktijken door heel Nederland werkzaam. In 1932 volgt zijn officiële schrijversdebuut met de uitgave van de bundel Verzen in De Vrije Bladen. Doorslaggevend voor Vestdijks uiteindelijke keuze voor de literatuur is zijn ontmoeting in 1932 met Eddy Du Perron en Menno ter Braak. Deze ontmoeting had tot resultaat dat hij redactielid werd van het tijdschrift Forum Kort daarop, in 1933, wordt zijn eerste novelle, De oubliette, uitgegeven. In hetzelfde jaar schrijft hij Kind tussen vier vrouwen, dat, eerst geweigerd door de uitgever, later de basis zal vormen voor de eerste drie delen van de Anton Wachter-romans. In 1951 ontvangt Vestdijk de P.C. Hooftprijs voor zijn in 1947 verschenen roman De vuuraanbidders. In 1957 wordt hij voor het eerst door het PEN-centrum voor Nederland voorgedragen voor de Nobelprijs voor de Literatuur, die hij echter nooit zal krijgen. Op 20 maart 1971 wordt hem de Prijs der Nederlandse Letteren toegekend, maar voor hij deze kan ontvangen overlijdt hij op 23 maart te Utrecht op 72-jarige leeftijd. Vestdijk was auteur van ca. 200 boeken. Vanwege deze enorme productie noemde de dichter Adriaan Roland Holst hem 'de man die sneller schrijft dan God kan lezen'. Andere belangrijke boeken van Simon Vestdijk zijn: "Kind van stad en land" (1936), "Meneer Visser's hellevaart" (1936), "Ierse nachten" (1946), "De toekomst de religie" (1947), "Pastorale 1943" (1948), "De koperen tuin" (1950), "Ivoren wachters" (1951), "Essays in duodecimo" (1952) en "Het genadeschot" (1964).


K.P. Kavafis

K.P. Kavafis werd als kind van Griekse ouders, afkomstig uit Konstantinopel, geboren in 1863 in Alexandrië (tot vandaag een Griekse enclave) waar hij ook het grootste deel van zijn leven woonde en werkte. Twee jaar na de dood van zijn vader verhuist het gezin in 1872 naar Engeland om na een verblijf van vijf jaar naar Alexandrië terug te keren. Vanwege ongeregeldheden in Egypte vlucht het gezin in 1882 naar Konstantinopel, om na drie jaar opnieuw naar Alexandrië terug te gaan. In de jaren die volgen maakt Kavafis reizen naar Parijs, Londen en in 1901 zijn eerste reis naar Griekenland, in latere jaren gevolgd door nog enkele bezoeken. Op de dag van zijn zeventigste verjaardag, in 1933 sterft Kavafis in Alexandrië. De roem kwam voor Kavafis pas na zijn dood, dus postuum. Deels is dat toe te schrijven aan zijn eigen handelswijze. Hij was uiterst terughoudend met de publicatie van zijn gedichten, liet af en toe een enkel gedicht afdrukken in een literair tijdschrift, gaf in eigen beheer enkele bundels met een stuk of twintig gedichten uit en het merendeel van zijn poëzie schonk hij op losse bladen aan zijn beste vrienden.


Thomas Mann


Thomas Mann, de jongere broer van Heinrich Mann, werd geboren op 6 juni 1875 in Lübeck. Hij was de tweede zoon van de graankoopman Thomas Johann Heinrich Mann welke later één van de senatoren van Lübreck werd. Zijn moeder Julia (geboren da Silva-Bruhns) was Duits-Braziliaans van Portugees Kreoolse afkomst. In 1894 debuteerde Thomas Mann met de novelle "Gefallen". Toen Thomas Mann met 21 jaar eindelijk volwassen was en hem dus geld van zijn vaders erfenis toestond - hij kreeg ongeveer 160 tot 180 goldmark per jaar - besloot hij dat hij genoeg had van al die scholen en instituties en werd onafhankelijk schrijver. Kenmerkend voor zijn stijl zijn de ironie, de fenomenale taalbeheersing en de minutieuze detailschildering. Manns reputatie in Duitsland was sterk wisselend. Met zijn eerste roman, Buddenbrooks (1901), had hij een enorm succes, maar door zijn sceptische houding tegenover Duitsland na de Eerste Wereldoorlog veranderde dit volledig. Stelde hij zich tot aan de jaren twintig apolitiek op (Betrachtungen eines Unpolitischen, 1918), meer en meer raakte hij bij het Politiek gebeuren betrokken. Zijn afkeer van het nationaal socialisme groeide, zijn waarschuwingen werden veelvuldiger en heftiger. In 1944 accepteerde hij het Amerikaanse staatsburgerschap. Tussen 1943 en 1947 schreef Mann Doktor Faustus (zie Faust), de roman van de 'Duitse ziel' in de gecamoufleerd geschilderde omstandigheden van de 20ste eeuw. In 1947 bezocht hij voor het eerst sinds de Oorlog Europa, twee jaar later pas Duitsland. In 1952 vertrok hij naar Zwitserland. Op 12 augustus 1955 stierf hij in Zürich. Twintig jaar na zijn dood, in aug. 1975, is zijn literaire nalatenschap geopend: dagboekaantekeningen van 15 maart 1933 tot 29 juli 1955, alsmede notities uit de jaren 1918 tot en met 1921.Belangrijke werken zijn: Der Zauberberg, Der Tod in Venedig, Dokter Faustus , Joseph und seine Brüder en Die Bekenntnisse des Hochstaplers Felix Krull.


Rainer Maria Rilke

Rilke werd op 4 december 1875 geboren in Praag. Hij had al naam gemaakt als dichter met zijn bundels Das Stundenbuch en Das Buch der Bilder, toen hij de literaire wereld versteld deed staan en wereldfaam verwierf met de publicatie van zijn twee delen Neue Gedichte in 1907 en 1908. Hij verzamelde daarin het beste werk uit een van zijn vruchtbaarste periodes, die hij grotendeels doorbracht in Parijs. Rilke was daar diep onder de indruk gekomen van Rodin, bij wie hij een tijdlang in dienst was als particulier secretaris. Rodin, zei hij later, had hem leren kijken. Dit kijken kwam neer op intense concentratie, om het mysterie te kunnen zien 'achter de schijnbare werkelijkheid'. Latere en rijpere werken als Duineser Elegien (1912-1923) en het ronduit schitterende Die Sonette an Orfeus (1924) illustreren Rilkes metafysische visie op het onzegbare, dat haar verwoording vindt in een hermetische muzikale taal. Op 29 december 1926 overlijdt Rilke in het sanatorium in Val-Mont aan de gevolgen van leukemie. Enkele dagen later wordt hij, overeenkomstig zijn wens, begraven op het kerkhof van Raron.


* * * * * * * * * * * * * * * *

| | |
| --- | --- |
| | Over literatuur, gedichten, kunst en cultuur |

04-03-2011

Kristof Magnusson, Khaled Hosseini, Robert Kleindienst, Irina Ratushinskaya, J. Rabearivelo
De Duitse schrijver Kristof Magnusson werd geboren op 4 maart 1976 in Hamburg. Zie ook mijn blog van 4 maart 2007 en ook mijn blog van 4 maart 2008 en ook mijn blog van 4 maart 2009 en ook mijn blog van 4 maart 2010.
Uit: Summer of Love (Vertaald door Mike Mitchell)
"Outside my window a lemon tree is steaming in the rising heat. Eyes closed, I feel all over the large mattress, although I know there's no one else there. I'm lying in bed in a hotel room in California reading about Australia in a guidebook. The trip round the world was the idea of the head of personnel who appointed me. For the first three months, he said, my position was free, after all the stress of the examinations I could take time out to live a little, to see something of life. The next day I paid three thousand marks for an air ticket with the words 'Hamburg — London — New York — San Francisco — Hong Kong — Bombay — Hamburg' printed on it in slightly smudged red ink. I'd already ticked off London, New York and San Francisco, I hadn't seen anything of life there. To me the red double-decker buses, yellow taxis and cable cars looked like poor, dirty copies of the double-deckers, taxis and cable cars I knew from films. In each place I stayed one night and flew on, only in San Francisco did I stay two nights, because I had a hotel room with cable TV. I began to get accustomed to things, bought a second deodorant, a rather sweet-smelling one by Jean Paul Gaultier, which I used for my left armpit. For the right one I continued to use the Hugo by Boss which I'd bought for my job interview. It was fun being able to distinguish left and right, port and starboard, the two halves of this body that was to carry me through the world, by smell. On the fifth day of my trip round the world I hired a bicycle and rode across the red bridge and out of the city. Soon I had no idea where I was any more. I was riding through pinewoods along a country road with no markings and which wasn't on my map. Coming round a curve, a village suddenly leapt out at me. It was simply there; without there having been any signposts or a board with the name, there were wooden houses in front of me with blue scraps of sea hung between them. I rode past a filling station with Save the Rainforest banners hanging out of the windows. Shortly after that I stopped and asked a man, who was sitting in the sun outside a house with paintings on the walls, where I could buy something to drink. The man had long grey hair and his beard was spattered with flecks of colour. He asked me how I liked his wall painting and pointed over his shoulder: animals, naked people and pink clouds, with flowers in all the colours of the rainbow twined round them. Above it was written: 30 Years Summer of Love 1967-1997."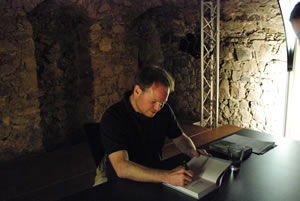 Kristof Magnusson (Hamburg, 4 maart 1976)
De Afghaanse schrijver Khaled Hosseini is geboren op 4 maart 1965 in Kabul. Zie ook mijn blog van 4 maart 2007 en ook mijn blog van 4 maart 2008 en ook mijn blog van 4 maart 2009 en ook mijn blog van 4 maart 2010.
Uit: De vliegeraar van Kabul (Vertaald door Miebeth van Horn)
"Ik herinner me hoofdzakelijk dit: zijn boksbeugel die in de middagzon flitst, hoe koud het ding bij de eerste klappen aanvoelt en hoe snel het warmer wordt van mijn bloed. Tegen de muur aan gegooid worden waar een spijker, waar misschien een schilderij aan gehangen heeft, in mijn rug prikt. Sohrab die gilt. Tabla, harmonium, een del-roba. Tegen de muur aan gekwakt worden. De boksbeugel die mijn kaak versplintert. In mijn eigen tanden stikken, ze doorslikken, met de gedachte aan die talloze uren die ik flossend en poetsend heb doorgebracht. Tegen de muur aan gekwakt worden. Op de grond liggen, waar bloed van mijn gesprongen bovenlip het mauve kleed kleurt, pijn die door mijn buik trekt, en me afvragen wanneer ik weer kan ademhalen. Het geluid van mijn knappende riben, dat net zo klinkt als de takken die Hassan en ik vroeger afbraken om te zwaardvechten, zoals Sindbad in die oude films. Sohrab die gilt. De zijkant van mijn gezicht die tegen de hoek van de televisietafel aan slaat. Weer dat knappende geluid, deze keer onder mijn linkeroog. Muziek. Sohrab die gilt. Vingers die mijn haar vastgrijpen, mijn hoofd naar achteren trekken, het geglinster van roestvrij staal. Daar komt hij. Alweer dat knappend geluid, nu mijn neus. Ik zet van pijn mijn tanden op elkaar en merk dat ze niet meer netjes gerangschikt staan. Geschopt worden. Sohrab gilt.
Ik weet niet op welk punt ik begon te lachen, maar ik deed het wel."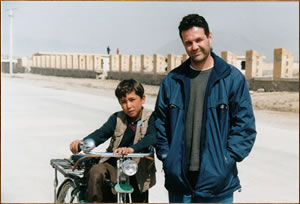 Khaled Hosseini (Kabul, 4 maart 1965)
De Oostenrijkse dichter en schrijver Robert Kleindienst werd geboren op 4 maart 1975 in Salzburg. Hij studeerde germanistiek, pedagogie en politicologie. Kleindienst schrijft gedichten, proza en drama. Zie ook mijn blog van 4 maart 2009 en ook mijn blog van 4 maart 2010.
festfahren

ob das gewitter niedergeht
wer weiß ob
sich die wolken verziehn
solang niemand fragt
wird nichts passiern

rostfreie viadukte
rollende räder wie gewohnt
sprungbildung auf den schienen

der zug rollt
aus dem morgen
überrollt dörfer
und menschen

in den vorderen zugabteilen
zelebriert man bereits
die sonnenfinsternis
der zugführer spielt schach
an der endstation
Wendekreis
geh komm mit uns im vorhof
schlachten wir dein mondkalb
aus dort können wir bleiben
bis sich das morgenrot bricht
was horchst du auf das sind nur
schritte komm bleib wir schlagen
dir fenster in deinen rücken
frag nicht
frag nicht nach dem letzten
tag er verglüht im aschenbecher
und die hände wischen
haarreste weg wie immer
morgenrot
unauffindbar
Stillstand, jetzt.
Stillstand.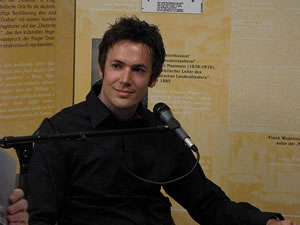 Robert Kleindienst (Salzburg, 4 maart 1975)
De Russische dichteres en dissidente Irina Ratushinskaya werd geboren op 4 maart 1954 in Odessa. Zie ook mijn blog van 4 maart 2007 en ook mijn blog van 4 maart 2009 en ook mijn blog van 4 maart 2010.
Uit: Two Poems from Prison (Vertaald door Frances Padorr Brent en Carol Avins)
I'll live through this, survive, and they'll ask me:
how they beat my head on the prison cot,
how it froze during the nights,
how the first wisps of gray hair broke through.
I'll smile and say some joke,
wave away the shadow that comes quickly,
and I'll honor the dry September
that's become my second birth.
And they'll ask: doesn't it hurt to remember?
without being deceived by the lightness around?
But names from the past burst in my memory—
beautiful—like old weapons.
And I'll tell about the best in all the world,
the most tender, who don't break,
how they accompanied us, how they went to torture,
awaited letters from those they loved.
And they'll ask: what helped us live,
without letters or news—just walls
and coldness in the cell, stupidity of official lies,
nauseating promises for betrayal.
And I'll tell about the first beauty which I saw in this captivity:
window in the frost! No spy holes, nor walls,
nor grating—no long suffering—
only bluish light in the smallest glass.
Whirling pattern—you can't dream of anything more enchanted!
Look close, you'll see it begin to blossom even more:
forests of thieves, fires, birds!
and how many times there was coldness
and how many windows glistened from that time on.
But it hasn't happened again …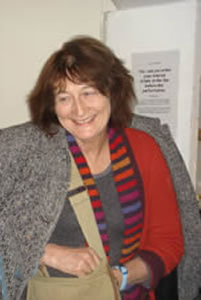 Irina Ratushinskaya (Odessa, 4 maart 1954)
De Madagassische dichter en schrijver Jean-Joseph Rabearivelo werd geboren op 4 maart 1901 in Antananarivo. Zie ook mijn blog van 4 maart 2007 en ook mijn blog van 4 maart 2009 en ook mijn blog van 4 maart 2010.
Farewell Poem
Is the age old of Guérin,
At the age of Deubel,
a little older than you,
Rimbaud anté-nothingness,
Because this life is for us too rebel
And because the bee dried up any pollen,
to compete for nothing more
and to wait for nothing more,
And, slept on the sand or the stone,
Under the herb, to fix a soft glance
To all which will become some days the sheaves.
Vertaald door Ramanatantara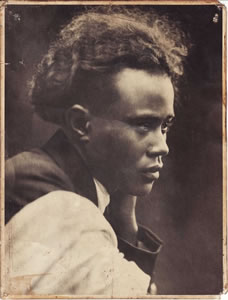 Jean-Joseph Rabearivelo (4 maart 1901 – 22 juni 1937)




Zie voor nog meer schrijvers van de 4e maart ook
mijn vorige blog van vandaag
en eveneens
mijn eerste blog van vandaag
.
04-03-2011 om 20:49 geschreven door Romenu

Tags:Kristof Magnusson, Khaled Hosseini, Robert Kleindienst, Irina Ratushinskaya, J. Rabearivelo, Romenu



Alan Sillitoe, Annette Seemann, F. W. Bernstein, Giorgio Bassani, Bernardo Ashetu
De Engelse schrijver Alan Sillitoe werd geboren op 4 maart 1928 in Nottingham. Zie ook mijn blog van 4 maart 2007 en ook mijn blog van 4 maart 2008 en ook mijn blog van 4 maart 2009 en ook mijn blog van 4 maart 2010.
Uit: The Loneliness of the Long-Distance Runner
"As soon as I got to Borstal they made me a long-distance cross-country runner. I suppose they thought I was just the build for it because I was long and skinny for my age (and still am) and in any case I didn't mind it much, to tell you the truth, because running had always been made much of in our family, especially running away from the police. I've always been a good runner, quick and with a big stride as well, the only trouble being that no matter how fast I run, and I did a very fair lick even though I do say so myself, it didn't stop me getting caught by the cops after that bakery job.
You might think it a bit rare, having long-distance cross-country runners in Borstal, thinking that the first thing a long-distance cross-country runner would do when they set him loose at them fields and woods would be to run as far away from the place as he could get on a bellyful of Borstal slumgullion-but you're wrong, and I'll tell you why. The first thing is that them bastards over us aren't as daft as they most of the time look, and for another thing I'm not so daft as I would look if I tried to make a break for it on my long-distance running, because to abscond and then get caught is nothing but a mug's game, and I'm not falling for it. Cunning is what counts in this life, and even that you've got to use in the slyest way you can; I'm telling you straight: they're cunning, and I'm cunning. If only 'them' and 'us' had the same ideas we'd get on like a house on fire, but they don't see eye to eye with us and we don't see eye to eye with them, so that's how it stands and how it will always stand. The one fact is that all of us are cunning, and because of this there's no love lost between us. So the thing is that they know I won't try to get away from them: they sit there like spiders in that crumbly manor house, perched like jumped-up jackdaws on the roof, watching out over the drives and fields like German generals from the tops of tanks."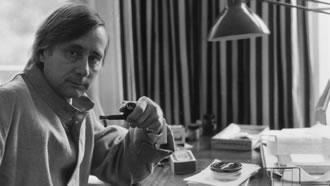 Alan Sillitoe (Nottingham, 4 maart 1928)
Hier in 1973
De Duitse schrijfster en vertaalster Annette Seemann werd geboren op 4 maart 1959 in Frankfurt am Main. Zie ook mijn blog van 4 maart 2009 en ook mijn blog van 4 maart 2010.
Uit: Anna Amalia - Herzogin von Weimar

"Sie wandelte sich von der charmanten jungen Rokokoprinzessin mit hohem Haarturmbau zur klassizistisch vor antiken Ruinen posierenden »Pallas Athene«, also entsprechend der Mode unterschiedlichster und für die europäische Geschichte wichtiger Epochen. Sie lebte in Zeiten des Übergangs zur bürgerlichen Gesellschaft, hielt an ständisch orien­tierten Hofzeremoniell fest, entwickelte aber gleichzeitig ein hohes Freundschaftsideal über die Standesgrenzen hinaus. Sie ignorierte die Französische Revolution soweit wie möglich und erlebte schmerzhaft 1806 den Einzug und die Plünderungen der napoleonischen Soldaten in Weimar.
Entscheidend für ihr Leben waren die menschlichen, kulturellen und politischen Beziehungen, die sie als junge Prinzessin und später als Her­zogin auch nach ihrer Übersiedlung nach Weimar und bis zum letzten Lebensjahr zu Braunschweig-Wolfenbüttel, ihrem Herkunftshof, pfleg­te. Dieser Aspekt wurde in der bislang erschienenen biographischen Literatur zu Anna Amalia nie in seiner wahren Bedeutung gewürdigt. Es sind der Braunschweiger Hof und seine kulturell orientierte, offene At­mosphäre, die Anna Amalia geprägt haben. Die Liebe zum Buch, zur Gelehrsamkeit wie zur Unterhaltung, zum Theater, zur Musik und zu den Fremdsprachen wurden in ihrer Kindheit gefördert und trugen die Herzogin lebenslang.."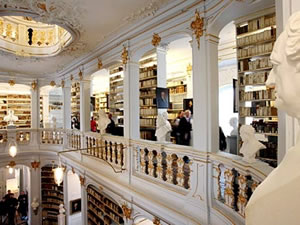 Annette Seemann (Frankfurt am Main, 4 maart 1959)
De Rokokozaal in de Anna Amalia Bibliotheek
De Duitse dichter, graficus, karikaturist en satiricus F. W. Bernstein (eig. Fritz Weigle) werd geboren op 4 maart 1938 in Göppingen. Zie ook mijn blog van 4 maart 2009 en ook mijn blog van 4 maart 2010.
Wachtel Weltmacht?
Schaut Euch nur die Wachtel an!
Trippelt aus dem dunklen Tann;
tut grad so, als sei sie wer.
Wachtel Wachtel täuscht sich sehr.
Wär sie hunderttausend Russen,
hätt den Vatikan zerschussen
und vom Papst befreit ja dann:
Wachtel Wachtel Dschingis Khan!
Doch die Wachtel ist nur friedlich,
rundlich und unendlich niedlich;
sie erweckt nur Sympathie.
Weltmacht Wachtel wird sie nie!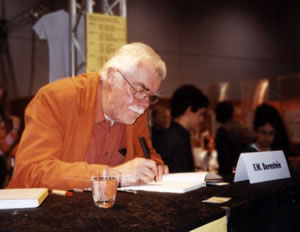 F. W. Bernstein (Göppingen, 4 maart 1938)
De Italiaanse schrijver Giorgio Bassani werd geboren op 4 maart 1916 in Bologna. Zie ook mijn blog van 4 maart 2007 en ook mijn blog van 4 maart 2009 en ook mijn blog van 4 maart 2010.
Uit: Die Brille mit dem Goldrand (Vertaald door Herbert Schlüter)
"Der Nebel war so dicht, dass ich die Stimme Fadigatis hörte, bevor ich ihn selbst sah.
"Mein dummes Schmutzlieschen, wenn du nichts Schlimmeres bist!" fuhr er mit klagendem Tonfall, in dem eine manierierte Zärtlichkeit lag, fort.
"Du musst wissen, dass ich auch rein gar nichts für dich habe!"
Mit wem sprach er? Endlich sah ich ihn. In dem gelben Schein der einzigen Straßenlaterne tauchte plötzlich seine massige Gestalt auf. Ein wenig zur Seite geneigt, bewegte er sich nur langsam vorwärts, wobei er fortwährend sprach – zu einem Hund, wie ich nun feststellte.
Ein paar Meter von mir entfernt blieb er stehen.
"Also, willst du mich nun in Ruhe lassen oder nicht?"
Er sah dem Hund in die Augen und erhob den Zeigefinger zu einer drohenden Gebärde. Das Tier, eine Bastardhündin mit weißem, braungeflecktem Fell (wahrscheinlich war sie das Produkt einer Kreuzung zwischen einer Bracke und einem Foxterrier) erwiderte mit einem feuchten, angsterfüllten Blick von unten, während sie verzweifelt mit dem Schweif wedelte. Sie kroch dabei über den Kies dem Arzt vor die Füße. Im nächsten Moment würde sie sich auf den Rücken wälzen, den Bauch und die Pfoten in der Luft und sich so ganz seiner Gnade anheimgeben."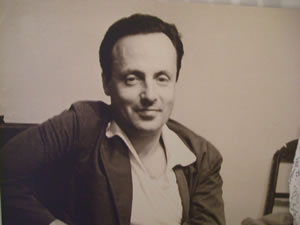 Giorgio Bassani (4 maart 1916 – 13 april 2000)
De Surinaamse dichter Bernardo Ashetu (Eig. Hendrik George van Ommeren) werd geboren in Kasabaholo op 4 maart 1929. Zie en ook mijn blog van 4 maart 2009 en ook mijn blog van 4 maart 2010.
Uit goud
Neem de zachte blâren
die hangen tussen bloemen
in glorierijke vazen
en sla de koude haak vast.

Hang 't kale touw op
en overtrek je laatste gedachte
met draden gesponnen uit goud.
Anders
Anir strandde
op een
drooggelopen zee.
Twee uitgebeten
ogen in een
omgeslagen sloep
troffen hem en
hij werd anders
naast een broze
schelp op een
drooggelopen zee
vol roepende vogels.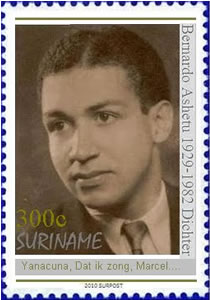 Bernardo Ashetu (4 maart 1929 - 3 augustus 1982)

04-03-2011 om 20:41 geschreven door Romenu

Tags:Alan Sillitoe, Annette Seemann, F. W. Bernstein, Giorgio Bassani, Bernardo Ashetu, Romenu



Ryszard Kapuściński, Léon-Paul Fargue, Kito Lorenc, Jacques Dupin, Thomas S. Stribling
De Poolse schrijver dichter en journalist Ryszard Kapuściński werd geboren in Pinsk, Polen (thans Wit-Rusland), op 4 maart 1932. Zie ook mijn blog van 4 maart 2009 en ook mijn blog van 4 maart 2010.
Uit: The Shadow of the Sun (Vertaald door Klara Glowczewska)
"People of the North. Have we sufficiently considered the fact that northerners constitute a distinct minority on our planet? Canadians and Poles, Lithuanians and Scandinavians, some Americans and Germans, Russians and Scots, Laplanders and Eskimos, Evenkis and Yakuts--the list is not very long. It may amount to no more than 500 million people: less than 10 percent of the earth's population. The overwhelming majority live in hot climates, their days spent in the warmth of the sun. Mankind first came into being in the sun; the oldest traces of his existence have been found in warm climes. What was the weather like in the biblical paradise? It was eternally warm, hot even, so that Adam and Eve could go about naked and not feel chilled even in the shade of a tree.
Something else strikes the new arrival even as he descends the steps of the airplane: the smell of the tropics. Perhaps he's had intimations of it. It is the scent that permeated Mr. Kanzman's little shop, Colonial and Other Goods, on Perec Street in my hometown of Pinsk. Almonds, cloves, dates, and cocoa. Vanilla and laurel leaves, oranges and bananas, cardamom and saffron. And Drohobych. The interiors of Bruno Schulz's cinammon shops? Didn't their "dimly lit, dark, and solemn interiors" smell intensely of paints, lacquer, incense, the aroma of faraway countries and rare substances? Yet the actual smell of the tropics is somewhat different. We instantly recognize its weight, its sticky materiality. The smell makes us at once aware that we are at that point on earth where an exuberant and indefatigable nature labors, incessantly reproducing itself, spreading and blooming, even as it sickens, disintegrates, festers, and decays."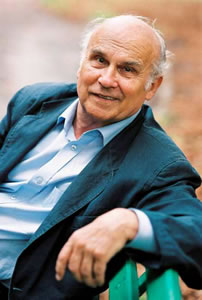 Ryszard Kapuściński (4 maart 1932 - 23 januari 2007)
De Franse dichter en essayist Léon-Paul Fargue werd geboren op 4 maart 1876 in Parijs. Zie ook mijn blog van 4 maart 2007 en ook mijn blog van 4 maart 2008 en ook mijn blog van 4 maart 2009 en ook mijn blog van 4 maart 2010.
Uit: D'après Paris
"J'ai découvert la mer, enfant, rue de Sèvres, un matin plein de courses, au seuil des vacances, en pleine fièvre de départ. Mon père me pressait la mains sans rien dire et se hâtait, de son pas carré. De temps en temps, je regardais d'en bas le doux souci de son profil, et le tournant de son chapeau à haute forme où le ciel d'été défilait. Les maisons s'écartaient et glissaient peu à peu devant un estuaire, que les passants bordaient de sillons mâchurés, comme nous en tracions, le crayon à plat, pour les côtes et pour les montagnes, quand nous faisions une carte de géographie.
(...)
Nous arrivions au Bon Marché: "Tu vois...", commença mon père. En effet. J'aperçus un port fermé de grilles, un môle, un vaisseau immense, aux vitres brillantes, aux cheminées bleues, comme j'en avais vu l'image en couleurs dans un vieux livre, et qui me fit penser à l'Astrolabe, à la Zélée ou au Vengeur, des dames de proue coiffées de fanaux, des hublots laiteux, des lampes qui brûlaient dans le plein jour, des battements d'ailes blanches et jaunes, des claquements de pavillons, des fumées coupées de cris chantants et de cloches, et je compris que c'était la Mer."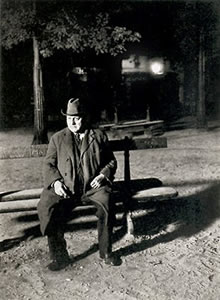 Léon-Paul Fargue (4 maart 1876 – 24 november 1947)
De Duits-sorbische dichter, schrijver en vertaler Kito Lorenc werd geboren op 4 maart 1938 in Schleife (Oost-Sachsen). Zie ook mijn blog van 4 maart 2007 en ook mijn blog van 4 maart 2009 en ook mijn blog van 4 maart 2010.
Uit: Die wendische Schiffahrt
"Alfons (rumpelt auf einer Art hölzernem Anti-Fahrrad zur Flurtür herein): Tanten, ich hab wieder was erfunden: das Fahrrad!
Wurscha (unwirsch wegen der Störung): Ach was, das Veloziped ist längst erfunden - schon 1865 wurden in Frankreich 400 Stück verkauft! Und in wenigen Jahren, 1898, wird es von der Firma Waltham Manufacturing in England sogar ein zehnsitziges Fahrrad geben!
Alfons (fährt, wie im folgenden mehrfach, mutwillig im Kreis herum):
Nein, ich hab das Pulver nicht erfunden,
und doch hat es geknallt!
(Da der Gendarm aufmerkt, harmloser weiter:)
Ja, das Fahrrad ist zwar schon erfunden,
aber gerade das Fahrrad, das Fahrrad!
kann man bekanntlich zum zweiten Mal erfinden!
Und schon erfinde ich die Klingel
und da erfinde ich auch das Katzenauge
und ganz beiläufig die Hosenklammer
und die Querstange für den Herrn
und keine Querstange für die Dame
und so weiter wie ich grad Lust hab
und überhaupt macht Fahrrad-Erfinden
erst beim zweiten Mal richtig Spaß!
(Hält, nachdem er einen weiteren Kreis gezogen, knapp vor dem Gendarmen.) Herr Wockatz, ich hab draußen Ihr Fahrrad gesehen. Warum haben Sie keine Schneekette drauf - soll ich Ihnen die Schneekette erfinden? (Fährt, ohne eine Antwort abzuwarten, wieder im Kreis.)"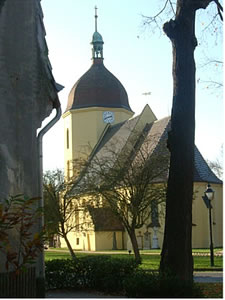 Kito Lorenc (Schleife, 4 maart 1938)
De kerk in Schleife
De Franse dichter Jacques Dupin werd geboren in Privas, Ardèche, op 4 maart 1927. Zie ook mijn blog van 4 maart 2009 en ook mijn blog van 4 maart 2010.
Uit: Écart
"Ce que nous nommons l'impalpable, dans un poème, est pour moi toujours très dur, pas du tout nébuleux. Il s'agit de laisser l'écriture, qui m'est propre quand même!, venir à la langue qui en sera l'expression, et ceci presque sans moi, comme si j'étais traversé, que l'écriture se servait de moi comme d'un médium. Ce qui m'intéresse, c'est d'aller vers quelque chose qui n'existe pas et qui ne commence à être que dans l'élaboration de l'écriture.
Il y a une sorte de consistance qui vient, qui est susceptible de venir à la lumière du fait même que l'on est dans un chantier perpétuel. Ce processus implique un rapport à un magma informe de concrétions mentales et un fonds de langue qui est celui que je puise en moi et dans mon dictionnaire. Écrire n'est que l'émancipation de cette rencontre, comme lorsque deux êtres se rencontrent : ce n'est ni lui ni elle, mais le mouvement qui vient les réunir. Il n'y a pas d'artisanat dans l'écriture. Je ne suis jamais face à ce que je fais comme si j'étais face à un corpus. Un livre s'écrit, s'oublie. Un autre vient, je passe à autre chose. C'est peut-être une grande faiblesse, mais dans tous les cas ça procède chez moi par des saccades, des coups. Je ne reviens pas en arrière, du moins j'essaye de faire que le coup me déporte en avant. J'essaye de parer au plus pressé. On écrit peut-être comme on est. Il n'y a pas de stratégie."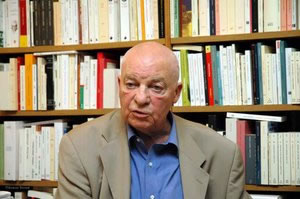 Jacques Dupin (Privas, 4 maart 1927)
De Amerikaanse schrijver Thomas S. Stribling werd geboren op 4 maart 1881 in Clifton, Tennessee. Zie ook mijn blog van 4 maart 2009 en ook mijn blog van 4 maart 2010.
Uit: Laughing Stock
"Louella and I drove back in the evening to Shiloh Battlefield, and we intended to stay overnight in the big, log tourist hotel in the park. We did indeed eat supper there, but the feeling of being married was so strange and unnatural to us that we decided to drive after supper back to Clifton, and she would stay at her home and I in mine, which we did.
Nobody knew we were married. We continued like that for a day or two, and then we decided that we would go on the honeymoon we had originally planned."
We left Clifton early one morning, and we learned afterwards that we were hardly out of town before all the villagers knew that we were married. However, we did not learn that until months later. We motored up through the Carolinas and Virginia, and stopped at Harper's Ferry, which was then one of the quaintest old towns in the United States, but which unhappily the WPA painted up and furbished up, until now it is about like any other old town. We also saw with amazement Copper City,
Tennessee....
...Louella and I drove on to New York....They were delighted with Louella, a Southern girl. All Northern people are delighted with Southern girls. They love to listen to them talk and see if they can understand anything they say. What they say makes no difference; just to comprehend the actual words themselves, that's their pleasure...."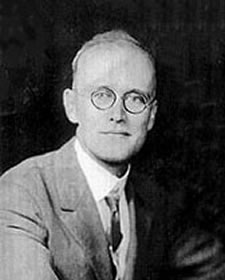 Thomas S. Stribling (4 maart 1881 – 8 juli 1965)

04-03-2011 om 20:36 geschreven door Romenu

Tags:Ryszard Kapuś,ciń,ski, Léon-Paul Fargue, Kito Lorenc, Jacques Dupin, Thomas S. Stribling, Romenu



| | |
| --- | --- |
| | |



Inhoud blog


| | |
| --- | --- |
| | Salman Rushdie, Sybren Polet, Josef Nesvadba, Osamu Dazai, José Rizal, Friedrich Huch, Gustav Schwab, Elke Geurts, Claudia Gabler |
| | Richard Powers, Marije Langelaar, Raymond Radiguet, Geoffrey Hill, Bert Schierbeek, Aster Berkhof, Karin Fellner, Mirjam Pressler, Ivan Gontsjarov |
| | Voor vader (Hans Lodeizen) |
| | Das Senfkorn (Meister Eckhart) |
| | Peter Rosei, Kamel Daoud, Gail Jones, Ron Padgett, Ward Ruyslinck, Adriaan van der Hoop jr, Hanna Johansen, Max Dendermonde, Tom Hofland |
| | Hanna Johansen, James Weldon Johnson, Henry Lawson, Ferdinand Freiligrath, Henrik Wergeland, John Hersey, Felix Hartlaub, Ossip Schubin |
| | Birthdays (Robert W. Service) |
| | Joël Dicker, August Willemsen, Theo Thijssen, Ronelda Kamfer, Frans Roumen |
| | Maria Dermoût, Christian Bauman, Silke Scheuermann, Hugo Borst, Ramon Lopez Velarde, Roland Dorgelès, François-Xavier Garneau, Emma Cline, Hannah van Wieringen |
| | Alex Boogers, Lieve Joris, Allard Schröder, John van Ierland, Peter O. Chotjewitz, Harriet Beecher Stowe, Hermann Kant, Jerzy Kosiński, Thomas Graftdijk |
| | Fernando Pessoa, Thomas Heerma van Voss, Willem Brakman, Virginie Despentes, William Butler Yeats, Tristane Banon, Marcel Theroux, Lode Zielens, Dorothy L. Sayers |
| | Christoph Meckel, Wolfgang Herrndorf, Anne Frank, Renan Demirkan, Djuna Barnes, Sandro Penna, Johanna Spyri H. C. Artmann, Günter Nehm |
| | William Styron, Sophie van der Stap, N. P. van Wyk Louw, Renée Vivien, Jean-Pierre Chabrol, Ben Jonson, Yasunari Kawabata, Athol Fugard, Nnimmo Bassey |
| | Magdalene—The Seven Devils (Marie Howe) |
| | Louis Couperus, D. Hooijer, Jacques Perk, James Salter, Mensje van Keulen, Jan Brokken |
| | Saul Bellow, Ion Creanga, Oktay Rifat, Peter Kurzeck, Antun Mihanović, Tijl Nuyts |
| | Maarten Doorman, Paul Beatty, Xander Michiel Beute, Anton Roothaert, Mirko Bonné, Curzio Malaparte, Jian Ghomeshi, Charles Webb, Rudolf Borchardt |
| | Willy Roggeman, Jurij Brězan, José Antonio Ramos Sucre, Akaki Zereteli, John Gillespie Magee jr., Bertha von Suttner |
| | Marguerite Yourcenar, Nino Haratischwili, Lutz Seiler, Ulf Stolterfoht, Péter Gárdos, Gwen Harwood, H. J. Friedericy, Udo Kawasser, Frank Keizer |
| | Marie Howe |
| | Het leven in juni (Marjoleine de Vos) |
| | Orhan Pamuk, Monika Mann, Nikki Giovanni, Harry Crews, Louise Erdrich, Mascha Kaléko, Jan Engelman, Gwendolyn Brooks, Elizabeth Bowen |
| | Thomas Mann, Aleksandr Poesjkin, Sarah Dessen, Jean Cayrol, Pierre Corneille, Hendrik van Teylingen, V. C. Andrews, Frank Gericke |
| | Dolce far niente, Groen-grijs gebied (Jesse Laport) |
| | Federico García Lorca, Adriaan Morriën, Ken Follett, Paul Farley, Geoff Dyer |
| | Ralf Thenior, Marie Ndiaye, Erasmus Schöfer, Buddy Wakefield, Yaak Karsunke, Charles Dickinson, Dana Bönisch, Elizabeth Jolley, Apollon Maykov |
| | Het laatste avondmaal (Nicolaas Beets) |
| | Allen Ginsberg, Philippe Djian, Maarten van Buuren, Solomonica de Winter, Monika Maron, Larry McMurtry, Norbert Gstrein, Wolfgang Cordan, Gerhard Zwerenz |
| | Carlo Michelstaedter, Kathleen E. Woodiwiss, Eugène Van Oye, Pedro Mir, Detlev von Liliencron, Friederike Brun, Otto Erich Hartleben, Philippe Quinault |
| | Jim Knipfel, Marcel Reich-Ranicki, Sibylle Berg, Carol Shields, Jean Nelissen, Thomas Hardy |
| | Markies De Sade, Dorothy West, Max Aub, Karl Gjellerup, Barbara Pym |
| | Patrick Besson, John Masefield, Ferdinand Raimund, Peter de Mendelssohn, Petra Morsbach, Colleen McCullough, Macedonio Fernández, Wilfred Campbell, Vicky Francken |
| | C. Buddingh'-prijs voor Radna Fabias |
| | Love's Choice (Malcolm Guite) |
| | Mariae Heimsuchung (Rainer Maria Rilke) |
| | Walt Whitman, Frank Goosen, Gabriel Barylli, Konstantin Paustovski, Svetlana Alexievich, Ludwig Tieck, Gerd Hergen Lübben, Saint-John Perse, T. T. Cloete |
| | Summer Storm (Bliss Carman) |
| | Elizabeth Alexander, Oscar van den Boogaard, Countee Cullen, Emmanuel Hiel, Martin Jankowski, Alfred Austin, Eddy Bruma, Henri François Rikken, Jan Geerts |
| | Summer in the City, 1949 (Ernest Farrés) |
| | André Brink, Eduard Escoffet, G. K. Chesterton, Bernard Clavel, T. H. White, Hans Weigel, Alfonsina Storni, Max Brand, Joel Benton |
| | Ein Sommergedicht (Thomas Gsella) |
| | Ad Zuiderent, Leo Pleysier, Adriaan Bontebal, Guntram Vesper, Frank Schätzing, Maeve Binchy, Ian Fleming, Sjoerd Leiker, Vladislav Chodasevitsj |
| | Dolores Dorantes |
| | St. Matthew (D. H. Lawrence) |
| | Niels 't Hooft, Jan Blokker, Linda Pastan, Louis-Ferdinand Céline, Georges Eekhoud, Said, John Cheever, John Barth |
| | Max Brod, Kaur Kender, Adriaan Venema, Arnold Bennett, Richard Schaukal, Ferdynand Ossendowski, M. A. von Thümmel, Herman Wouk, Dashiell Hammett |
| | Alan Hollinghurst, Radwa Ashour, Hugo Raes, Vítězslav Nezval, Ivan O. Godfroid, Maxwell Bodenheim, Isabella Nadolny, Edmond De Goncourt |
| | Egyd Gstättner, Madeleine Thien, Claire Castillon, Friedrich Dieckmann, Eve Ensler, Raymond Carver, Jamaica Kincaid, Robert Ludlum, Theodore Roethke |
| | Joseph Brodsky, Michael Chabon, Bob Dylan, Henri Michaux, William Trevor, Tobias Falberg, Arnold Wesker, Rainald Goetz, Louis Fürnberg |
| | Adriaan Roland Holst, Maarten Biesheuvel, Lydia Rood, Jane Kenyon, Susan Cooper, Michaël Vandebril, Jack McCarthy, Mitchell Albom, Pär Fabian Lagerkvist |


Gastenboek


Druk op onderstaande knop om een berichtje achter te laten in mijn gastenboek