E-mail mij


Druk op onderstaande knop om mij te e-mailen.


Romenu


Romenu is een blog over gedichten, literatuur en kunst Maar Romenu is ook een professionele freelance vertaler
Du-Ne en Ne-Du http://www.romenu.nl.


Huur eens een (vakantie)huis in een natuurgebied, dichtbij het centrum van Nijmegen


Google


Georg Trakl

Georg Trakl werd op 3 februari 1887 in het conducteurshuis aan de Waagplatz 2 in Salzburg geboren. Zijn vader, Tobias Trakl, was een handelaar in ijzerwaren en zijn moeder, die ook psychische problemen had, was Maria Catharina Trakl, (meisjesnaam Halik). Voorts had hij nog drie broers en drie zussen. Margarethe (doorgaans Grethe genoemd) stond hem het naast, zelfs zodanig dat sommigen een incestueuze verhouding vermoeden. Zijn jeugd bracht hij door in Salzburg. Vervolgens bezocht hij van 1897 tot 1905 het humanistische gymnasium. Om toch een academische opleiding te kunnen volgen, werkte hij tot 1908 in de praktijk bij een apotheker. Sommigen vermoedden dat hij dit vooral deed om zichzelf opiaten te kunnen verschaffen. Bij het uitbreken van WO I werd Trakl als medicus naar het front in Galicië (heden ten dage in Oekraïne en Polen) gestuurd. Zijn gemoedsschommelingen leidden tot geregelde uitbraken van depressie, die verergerd werden door de afschuw die hij voelde voor de verzorging van de ernstig verwonde soldaten. De spanning en druk dreven hem ertoe een suïcidepoging te ondernemen, welke zijn kameraden nochtans verhinderden. Hij werd in een militair ziekenhuis opgenomen in Kraków, alwaar hij onder strikt toezicht geplaatst werd.Trakl verzonk daar in nog zwaardere depressies en schreef Ficker om advies. Ficker overtuigde hem ervan dat hij contact moest opnemen met Wittgenstein, die inderdaad op weg ging na Trakls bericht te hebben ontvangen. Op 4 november 1914, drie dagen voordat Wittgenstein aan zou komen, overleed hij echter aan een overdosis cocaïne


Paul Celan

Paul Celan werd onder de naam Paul Antschel op 23 november 1920 geboren in Czernowitz, toentertijd de hoofdstad van de Roemeense Boekovina, nu behorend bij de Oekraïne. Paul Celans ouders waren Duitssprekende joden die hun zoon joods opvoedden en hem naar Duitse christelijke scholen stuurden. In 1942 werden Celans ouders door de Duitse bezetter naar een werkkamp gedeporteerd en daar vermoord. Hijzelf wist aanvankelijk onder te duiken, maar moest vanaf juli 1942 in een werkkamp dwangarbeid verrichten. Celan overleefde de oorlog. Via Boekarest en Wenen vestigde Celan zich in 1948 in Parijs. Daar was hij werkzaam als dichter, vertaler en doceerde hij aan de prestigieuze Ecole Normale Supérieure. Vermoedelijk op 20 april 1970 beëindigde hij zijn leven zelf door in de Seine te springen.


Gerard Reve

Gerard Reve over: Medearbeiders "God is in de mensen, de dieren, de planten en alle dingen - in de schepping, die verlost moet worden of waaruit God verlost moet worden, door onze arbeid, aangezien wij medearbeiders van God zijn." Openbaring "Tja, waar berust elk godsbegrip op, elke vorm van religie? Op een openbaring, dat wil zeggen op een psychische ervaring van zulk een dwingende en onverbiddelijke kracht, dat de betrokkene het gevoel heeft, niet dat hij een gedachte of een visioen heeft, maar dat een gedachte gedachte of visioen hem bezit en overweldigt."


Simon Vestdijk
Simon Vestdijk (Harlingen, 17 oktober 1898 – Utrecht, 23 maart 1971) was een Nederlands romancier, dichter, essayist en vertaler. Zijn jeugd te Harlingen en Leeuwarden beschreef hij later in de Anton Wachter-cyclus. Van jongs af aan logeerde hij regelmatig bij zijn grootouders in Amsterdam, waar hij zich in 1917 aan de Universiteit van Amsterdam inschrijft als student in de medicijnen. Tijdens zijn studie die van 1917 tot 1927 duurde, leerde hij Jan Slauerhoff kennen.Tot 1932 is hij als arts in praktijken door heel Nederland werkzaam. In 1932 volgt zijn officiële schrijversdebuut met de uitgave van de bundel Verzen in De Vrije Bladen. Doorslaggevend voor Vestdijks uiteindelijke keuze voor de literatuur is zijn ontmoeting in 1932 met Eddy Du Perron en Menno ter Braak. Deze ontmoeting had tot resultaat dat hij redactielid werd van het tijdschrift Forum Kort daarop, in 1933, wordt zijn eerste novelle, De oubliette, uitgegeven. In hetzelfde jaar schrijft hij Kind tussen vier vrouwen, dat, eerst geweigerd door de uitgever, later de basis zal vormen voor de eerste drie delen van de Anton Wachter-romans. In 1951 ontvangt Vestdijk de P.C. Hooftprijs voor zijn in 1947 verschenen roman De vuuraanbidders. In 1957 wordt hij voor het eerst door het PEN-centrum voor Nederland voorgedragen voor de Nobelprijs voor de Literatuur, die hij echter nooit zal krijgen. Op 20 maart 1971 wordt hem de Prijs der Nederlandse Letteren toegekend, maar voor hij deze kan ontvangen overlijdt hij op 23 maart te Utrecht op 72-jarige leeftijd. Vestdijk was auteur van ca. 200 boeken. Vanwege deze enorme productie noemde de dichter Adriaan Roland Holst hem 'de man die sneller schrijft dan God kan lezen'. Andere belangrijke boeken van Simon Vestdijk zijn: "Kind van stad en land" (1936), "Meneer Visser's hellevaart" (1936), "Ierse nachten" (1946), "De toekomst de religie" (1947), "Pastorale 1943" (1948), "De koperen tuin" (1950), "Ivoren wachters" (1951), "Essays in duodecimo" (1952) en "Het genadeschot" (1964).


K.P. Kavafis

K.P. Kavafis werd als kind van Griekse ouders, afkomstig uit Konstantinopel, geboren in 1863 in Alexandrië (tot vandaag een Griekse enclave) waar hij ook het grootste deel van zijn leven woonde en werkte. Twee jaar na de dood van zijn vader verhuist het gezin in 1872 naar Engeland om na een verblijf van vijf jaar naar Alexandrië terug te keren. Vanwege ongeregeldheden in Egypte vlucht het gezin in 1882 naar Konstantinopel, om na drie jaar opnieuw naar Alexandrië terug te gaan. In de jaren die volgen maakt Kavafis reizen naar Parijs, Londen en in 1901 zijn eerste reis naar Griekenland, in latere jaren gevolgd door nog enkele bezoeken. Op de dag van zijn zeventigste verjaardag, in 1933 sterft Kavafis in Alexandrië. De roem kwam voor Kavafis pas na zijn dood, dus postuum. Deels is dat toe te schrijven aan zijn eigen handelswijze. Hij was uiterst terughoudend met de publicatie van zijn gedichten, liet af en toe een enkel gedicht afdrukken in een literair tijdschrift, gaf in eigen beheer enkele bundels met een stuk of twintig gedichten uit en het merendeel van zijn poëzie schonk hij op losse bladen aan zijn beste vrienden.


Thomas Mann


Thomas Mann, de jongere broer van Heinrich Mann, werd geboren op 6 juni 1875 in Lübeck. Hij was de tweede zoon van de graankoopman Thomas Johann Heinrich Mann welke later één van de senatoren van Lübreck werd. Zijn moeder Julia (geboren da Silva-Bruhns) was Duits-Braziliaans van Portugees Kreoolse afkomst. In 1894 debuteerde Thomas Mann met de novelle "Gefallen". Toen Thomas Mann met 21 jaar eindelijk volwassen was en hem dus geld van zijn vaders erfenis toestond - hij kreeg ongeveer 160 tot 180 goldmark per jaar - besloot hij dat hij genoeg had van al die scholen en instituties en werd onafhankelijk schrijver. Kenmerkend voor zijn stijl zijn de ironie, de fenomenale taalbeheersing en de minutieuze detailschildering. Manns reputatie in Duitsland was sterk wisselend. Met zijn eerste roman, Buddenbrooks (1901), had hij een enorm succes, maar door zijn sceptische houding tegenover Duitsland na de Eerste Wereldoorlog veranderde dit volledig. Stelde hij zich tot aan de jaren twintig apolitiek op (Betrachtungen eines Unpolitischen, 1918), meer en meer raakte hij bij het Politiek gebeuren betrokken. Zijn afkeer van het nationaal socialisme groeide, zijn waarschuwingen werden veelvuldiger en heftiger. In 1944 accepteerde hij het Amerikaanse staatsburgerschap. Tussen 1943 en 1947 schreef Mann Doktor Faustus (zie Faust), de roman van de 'Duitse ziel' in de gecamoufleerd geschilderde omstandigheden van de 20ste eeuw. In 1947 bezocht hij voor het eerst sinds de Oorlog Europa, twee jaar later pas Duitsland. In 1952 vertrok hij naar Zwitserland. Op 12 augustus 1955 stierf hij in Zürich. Twintig jaar na zijn dood, in aug. 1975, is zijn literaire nalatenschap geopend: dagboekaantekeningen van 15 maart 1933 tot 29 juli 1955, alsmede notities uit de jaren 1918 tot en met 1921.Belangrijke werken zijn: Der Zauberberg, Der Tod in Venedig, Dokter Faustus , Joseph und seine Brüder en Die Bekenntnisse des Hochstaplers Felix Krull.


Rainer Maria Rilke

Rilke werd op 4 december 1875 geboren in Praag. Hij had al naam gemaakt als dichter met zijn bundels Das Stundenbuch en Das Buch der Bilder, toen hij de literaire wereld versteld deed staan en wereldfaam verwierf met de publicatie van zijn twee delen Neue Gedichte in 1907 en 1908. Hij verzamelde daarin het beste werk uit een van zijn vruchtbaarste periodes, die hij grotendeels doorbracht in Parijs. Rilke was daar diep onder de indruk gekomen van Rodin, bij wie hij een tijdlang in dienst was als particulier secretaris. Rodin, zei hij later, had hem leren kijken. Dit kijken kwam neer op intense concentratie, om het mysterie te kunnen zien 'achter de schijnbare werkelijkheid'. Latere en rijpere werken als Duineser Elegien (1912-1923) en het ronduit schitterende Die Sonette an Orfeus (1924) illustreren Rilkes metafysische visie op het onzegbare, dat haar verwoording vindt in een hermetische muzikale taal. Op 29 december 1926 overlijdt Rilke in het sanatorium in Val-Mont aan de gevolgen van leukemie. Enkele dagen later wordt hij, overeenkomstig zijn wens, begraven op het kerkhof van Raron.


* * * * * * * * * * * * * * * *

| | |
| --- | --- |
| | Over literatuur, gedichten, kunst en cultuur |

14-01-2017

J. Bernlef, Chris de Stoop, Edward St Aubyn, Yukio Mishima, Anchee Min, Martin Auer
De Nederlandse schrijver en dichter J. Bernlef werd geboren op 14 januari 1937 in Sint Pancras. Zie ook alle tags voor J. Bernlef en alle tags voor Bernlef op dit blog.
Aan het eind van een vorige eeuw
Er staat een rijtuig gereed op een binnenplaats
onder een zonnewering.
Voor mij of voor een ander.
Een ander stapte voor alle zekerheid vast in.
Ik weet nog niet of ik vertrekken zal
of hier moet blijven,
deuren open houden moet voor gasten uit het niets.

Alsof er iemand let op mij
achter de gordijnen.
Vriendinnen
Zij schildert alles wit
samen met een vriendin
zij schilderen alle kamers
op ladders staande wit

In jurken van jaren geleden
verven zij de vlekken weg
trekken naast elkaar verbeten
hun kaarsrechte banen

Als zij klaar zijn (ook wit)
kijken zij naar de nu weer
smetteloze muren en dan
aarzelend pas naar elkaar.

Is het berusting, is het vermoeidheid
handen op elkaars schouders, dat zij
daar zo roerloos blijven staan, als
waren zij nooit meer uit hun baan te drijven

Onaantastbaar, de strijd tegen 't bederf
met verf gewonnen, glorieus
in witgevlekte jurken beginnen zij - twee meisjes
langzaam te dansen met elkaar.
Sterven
Als je dicht genaderd bent
en denkt het is mij best,
ik heb het wel gezien en er
is niemand aan wie ik nog hecht,

laat nu maar, heer, uw knecht
met een lichaam dat
leger wordt en een
steeds meer gevuld met dromen
laat zachtjes en onvernomen -

dan kun je het wel vergeten.
Het moet nog uit je zweten.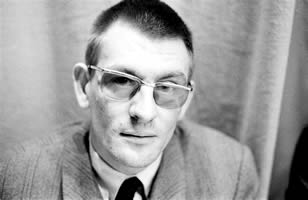 J. Bernlef (14 januari 1937 - 29 oktober 2012)
In 1968
De Vlaamse schrijver en journalist Chris De Stoop werd geboren op 14 januari 1958 in Sint-Gillis-Waas. Zie ook alle tags voor Chris de Stoop op dit blog.
Uit: Dit is mijn hof
"Daar staan we dan, mijn broer en ik, laat in de middag, diep in de modder, blauw van de kou, te roepen naar de koeien, 'kom, kom, kom', terwijl achter ons opeens kogels tegen het dak van de stal ketsen.
lnstinctmatig duiken we ineen en kijken rond. Verzopen velden en weilanden strekken zieh voor ons uit tot aan de horizon, met overvolle grachten eromheen. Het enige ongewone dat we zien is een bulldozer aan de overkant van de wei achter de omheining.
De oudere koeien laten zieh gewillig bijeendrijven. Ze luisteren nog naar roepnamen als Stampvoet, Steekhoorn of Wittekop en hebben al eerder een winter in de warme stal meegemaakt. Ze plonzen gezapig door het hek naar het erf, voorbij de lange, verse maiskuil, waarvan de bitterzoete geur als natte damp in de lucht hangt. Ze waggelen, draaiend met hun dikke konten, grommend van genoegen, blindelings naar de stal, recht naar de ruif om hooi te eten.
De zeven jonge vaarzen, met hun nog blinkende oranje chips in hun oren, willen echter met geen stokslagen naar het hek, waardoor ze pas in september voor het eerst in de wei zijn gekomen, samen met de springstier. We jagen ze armenzwaaiend op, roepen en tieren, glijden uit en worden drijfnat. Op het laatste moment draaien ze zieh telkens om en stormen rakelings langs ons. Luid loeiend vliegen ze alle kanten uit. En omdat het al sinds onze kinderjaren een uitgemaakte zaak is dat ik de snelste ben en mijn broer de sterkste, is het altijd aan mij om erachteraan te rennen.
De wind wakkert aan, ik spring op de graspollen aan de zijkant van een plas, verlies mijn evenwicht en val languit in het slijk. Uitgeteld kijk ik een halve minuut naar de grote vlakken grijs en zwart die boven me over elkaar schuiven. Hoe vaak hebben we dit al samen gedaan? Ik vond het altijd geweldig om met mijn broer de kudde in en uit de stal te laten.
In ruil daarvoor krijg ik om de paar jaar een aehterkwartier mee naar huis. Niet van de beste koe, die te veel geld waard is, maar van de slechtste."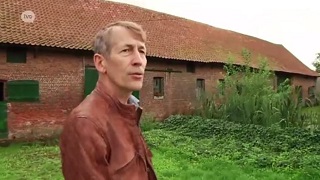 Chris De Stoop (Sint-Gillis-Waas, 14 januari 1958)
De Britse schrijver en journalist Edward St Aubyn werd geboren op 14 januari 1960 in Cornwall. Zie ook alle tags voor Edward St Aubyn op dit blog.
Uit: Lost For Words
« Malcolm's doubts were not confined to Hampshire. Elysian was a highly innovative but controversial agricultural company. It numbered among its products some of the world's most radical herbicides and pesticides, and was a leader in the field of genetically modified crops, crossing wheat with Arctic cod to make it frost resistant, or lemons with bullet ants to give them extra zest. Their Giraffe carrots had been a great help to the busy housewife, freeing her to peel a single carrot for Sunday lunch instead of a whole bunch or bag.
Nevertheless, environmentalists had attacked one Elysian product after another, claiming that it caused cancer, disrupted the food chain, destroyed bee populations, or turned cattle into cannibals. As the noose of British, European and American legislation closed around it, the company had to face the challenge of finding new markets in the less hysterically regulated countries of Africa, Asia and Latin America. That was where the Foreign Office, liaising with Trade and Industry, had stepped in with their combined expertise in exports and diplomacy. The latter had come very much to the fore after some regrettable suicides among Indian farmers, whose crops had failed when they were sold Cod wheat, designed to withstand the icy rigours of Canada and Norway rather than the glowing anvil of the Indian Plain. Although the company disclaimed any responsibility, an unusually generous consignment of Salamander wheat proved such a success that Elysian was able to use a shot of the gratefully waving villagers, their colourful clothing pressed to their elegantly thin bodies by the billows of a departing helicopter, in one of its advertising campaigns.
Elysian's weaponized agricultural agents had come to Malcolm's attention when he was asked to sit on the Government committee responsible for the 'Checkout List'. Aerially dispersed, Checkout caused any vegetation on the ground to burst immediately into flame, forcing enemy soldiers into open country where they could be destroyed by more conventional means. Debates about the Checkout List had of course remained secret, and from the general public's point of view, Elysian's name continued to be associated almost entirely with its literary prize."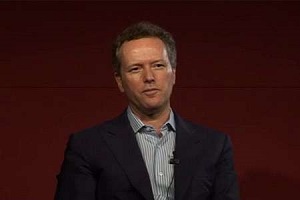 Edward St Aubyn (Cornwall, 14 januari 1960)
De Japanse schrijver Yukio Mishima werd geboren op 14 januari 1925 in Tokyo. Zie ook ook alle tags voor Yukio Mishima op dit blog.
Uit: Runaway Horses (Vertaald door Michael Gallagher)
"How oddly situated a man is apt to find himself at age thirty-eight! His youth belongs to the distant past. Yet the period of memory beginning with the end of youth and extending to the present has left him not a single vivid impression. And therefore he persists in feeling that nothing more than a fragile barrier separates him from his youth. He is forever hearing with the utmost clarity the sounds of this neighboring domain, but there is no way to penetrate the barrier.
Honda felt that his youth had ended with the death of Kiyoaki Matsugae. At that moment something real within him, something that had burned with a vibrant brilliance, suddenly ceased to be.
Now, late at night, when Honda grew weary of his legal drafts, he would pick up the dream journal that Kiyoaki had left him and turn over its pages.
(...)

Since then eighteen years had passed. The border between dream and memory had grown indistinct in Honda's mind. Because the words contained in this journal, his only souvenir of his friend, had been traced there by Kiyoaki's own hand, it had profound significance for Honda. These dreams, left like a handful of gold dust in a winnowing pan, were charged with wonder.
As time went by, the dreams and the reality took on equal worth among Honda's diverse memories. What had actually occurred was in the process of merging with what could have occurred. As reality rapidly gave way to dreams, the past seemed very much like the future.
When he was young, there had been only one reality, and the future had seemed to stretch before him, swelling with immense possibilities. But as he grew older, reality seemed to take many forms, and it was the past that seemed refracted into innumerable possibilities. Since each of these was linked with its own reality, the line distinguishing dream and reality became all the more obscure. His memories were in constant flux, and had taken on the aspect of a dream."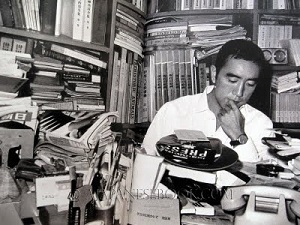 Yukio Mishima (14 januari 1925 - 25 november 1970)
De Chinese schrijfster Anchee Min werd geboren in Shanghai op 14 januari 1957. Zie ook alle tags voor Anchee Min op dit blog.
Uit: Red Azalea
"As I understood it, my parents were doing work that was saving the world. Every evening I would pick up the children and fight with the kids on the block all the way home. It was like eating a regular meal that I got a purple cheek or a bloody nose. It did not bother me too much. Although I was scared of crossing at traffic lights and dark alleys, I learned to not show my fear, because I had to be a model for the children, to show them what bravery meant. After I arranged for the children to play by themselves in the living room, I went to set up the stove to cook dinner. It always took me a long time to light the stove, because I did not understand that wood and coals needed air to burn. I stuffed the stove as I sang songs of Mao quotations. One time, when I tried many times and the stove would not light, I lost my patience. I went out to play, thinking that the stove was not burning. Then a kid came and told me that there was smoke coming out of our house window. This happened three times.I tried to put the children to sleep while the sky was still bright. The children's little feet kicked the cotton blankets and made new holes over the old. The blankets soon became rags. When the room quieted down, I would lean on the windowsill staring at the entrance to the lane, waiting for my parents to appear. I watched the sky turn deep blue, Venus rising, and I would fall asleep by the window.In 1967, when I was ten years old, we moved. It was because our downstairs neighbor accused us of having a bigger space than they had. They said, How can a family of six occupy four rooms while a family of eleven has only one? The revolution is about fairness. They came up with chamber pots and poured shit on our blankets. There were no police. The police station was called a revisionist mechanism and had been shut down by the revolutionaries. The Red Guards had begun looting houses. No one answered our call for help. The neighbors just watched.The downstairs neighbor kept bothering us. We cleaned the shit night after night, swallowed insults in meek submission. The downstairs family became uncontrollable. They threatened to harm us children when our parents were not at home. They said their second daughter had a history of mental illness. Therefore, they could not be responsible for what she was going to do. The second daughter came up and showed me an ax that she had just sharpened."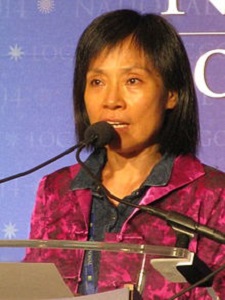 Anchee Min (Shanghai, 14 januari 1957)
De Oostenrijkse dichter en schrijver, musicus en cabaretier Martin Auer werd geboren op 14 januari 1951 in Wenen. Zie ook alle tags voor Martin Auer op dit blog.
Über die Erde
Über die Erde
sollst du barfuß gehen.
Zieh die Schuhe aus,
Schuhe machen dich blind.
Du kannst doch den Weg
mit deinen Zehen sehen,
das Wasser,
den Wind.
Sollst mit deinen Sohlen
die Steine berühren,
mit ganz nackter Haut.
Dann wirst du bald spüren,
daß dir die Erde vertraut.
Spür das nasse Gras
unter deinen Füßen
und den trockenen Staub.
Laß dir vom Moos
die Sohlen streicheln und küssen
und fühl
das Knistern im Laub.
Steig hinein,
steig hinein in den Bach
und lauf aufwärts
dem Wasser entgegen.
Halt dein Gesicht
unter den Wasserfall.
Und dann sollst du dich
in die Sonne legen.
Leg deine Wange an die Erde,
riech ihren Duft und spür,
wie aufsteigt aus ihr
eine ganz große Ruh'.
Und dann ist die Erde
ganz nah bei dir,
und du weißt:
Du bist ein Teil von Allem
und gehörst dazu.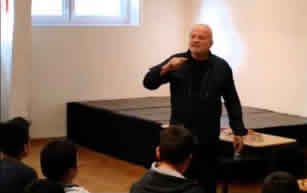 Martin Auer (Wenen, 14 januari 1951)
Zie voor nog meer schrijvers van de 14e januari ook mijn twee vorige blogs van vandaag.
14-01-2017 om 11:53 geschreven door Romenu

Tags:J. Bernlef, Chris de Stoop, Edward St Aubyn, Yukio Mishima, Anchee Min, Martin Auer, Romenu



John Dos Passos, Andreas Steinhöfel, Isaäc da Costa, Tillie Olsen, Marek Hlasko
De Amerikaanse schrijver John Dos Passos werd geboren op 14 januari 1896 in Chicago. Zie ook alle tags voor John Dos Passos op dit blog.
Uit: Manhattan Transfer
"Before the ferry leaves a horse and wagon comes aboard, a brokendown springwagon loaded with flowers, driven by a little brown man with high cheekbones. Jimmy Herf walks around it; behind the drooping horse with haunches like a hatrack the little warped wagon is unexpectedly merry, stacked with pots of scarlet and pink geraniums, carnations, alyssum, forced roses, blue lobelia. A rich smell of maytime earth comes from it, of wet flowerpots and greenhouses. The driver sits hunched with his hat over his eyes. Jimmy has an impulse to ask him where he is going with all of those flowers, but he stifles it.
(...)
He is walking up an incline. There are tracks below him and the slow clatter of a freight, the hiss of an engine. At the top of a hill he stops to look back. He can see nothing but fog spaced with a file of blurred archlights. Then he walks on, taking pleasure in breathing, in the beat of his blood, in the tread of his feet on the pavement, between rows of otherworldly frame houses. Gradually the fog thins, a morning pearliness is seeping in from somewhere. Sunrise finds him walking along a cement road between dumping grounds full of smoking rubbishpiles. The sun shines redly through the mist on rusty donkey-engines, skeleton trucks, wishbones of Fords, shapeless masses of corroding metal. Jimmy walks fast to get out of the smell. He is hungry; his shoes are beginning to raise blisters on his big toes. At a cross-road where the warning light still winks and winks, is a gasoline station, opposite it the Lightning Bug lunchwagon. Carefully he spends his last quarter on breakfast. That leaves him three cents for good luck, or bad luck for that matter. A huge furniture truck, shiny and yellow, has drawn up outside.
"Say will you give me a lift?" he asks the redhaired man at the wheel.
"How fur ye goin?"
"I dunno. . . . Pretty far."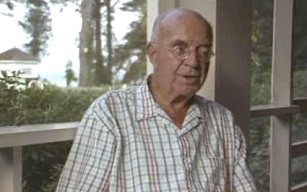 John Dos Passos (14 januari 1896 – 28 september 1970)
De Duitse schrijver en vertaler Andreas Steinhöfel werd geboren op 14 januari 1962 in Battenberg. Zie ook alle tags voor Andreas Steinhöfel op dit blog.
Uit: Anders
"Felix bedeutet der Glückliche. Der Name stammt aus dem Lateinischen. und er war. als die Winters ihn für ihren Sohn aussuchten, in der Hitparade der Jungennarnen soeben auf Platz elf vorgerückt - Tendenz leicht steigend. Melanie Winter hatte die Liste aus dem Internet heruntergeladen und hielt sie ihrem Mann unter die Nase. Ein sorgfältig rot lackierter Fingernagel tippte wiederholt auf die elfte Zeile, und tatsächlich, erkannte André Winter: Felix stand nicht nur weit genug vom. um später einmal belegen zu können. dass man sich mit dieser Wahl durchaus auf der Höhe der Zeit befunden hatte. Nein, in seiner hübschen Zweisilbigkeit stand der Name auch weit genug hinten, um sich deutlich von allen spitzenreitenden einsilbigen Jans und Toms und Bens abzugrenzen, die in diesem Jahr scharenweise, wie es aussah. zur Meinung der Menschheit an den Start geschickt wurden.
André Winter studierte stumm die Liste, speziell die Ziffer vor dem Namen Felix. Elf war eine Primzahl. Primzahlen machten ihn nervös. Alles, was sich nicht in ganzzahlige Größen teilen ließ, machte ihn nervös - das uferlose Internet, die gestauchten Zahlenkolonnen unter seinen Kontoausziigen… manchmal sein ganzes Leben. Ein Primzahlenname beschwor womöglich etwas herauf. das ihm in Zukunft Kopfzerbrechen bereiten mochte.
Aber die Zukunft war weit entfernt. Die Gegenwart war ausgefüllt von einem fordernd tippenden Zeigefinger, und noch nervöser als die Elf machte André Winter das Wissen darum, wie ungehalten seine Frau reagierte, wenn sie nicht bekam, was sie wollte. Deshalb stimmte er, mit einem letzten Blick auf ihre roten Fingernägel zu. Vermutlich war er bloß abergläubisch.
Vielleicht ging alles gut.
Und alles ging gut. Elf Jahre lang.
Am ersten Tag des zwölften ]ahres wurde alles anders."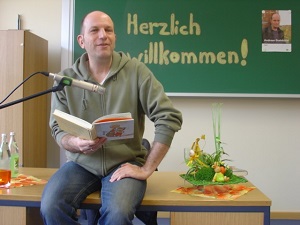 Andreas Steinhöfel (Battenberg, 14 januari 1962)
De Nederlandse dichter en schrijver Isaäc da Costa werd geboren in Amsterdam op 14 januari 1798. Zie ook alle tags voor Isaäc da Costa op dit blog.
Vijf en twintig jaren
Een lied in 1840
Kan het zijn dat de lier, die sinds lang niet meer ruiste,
die sinds lang tot geen harten in dichtmuziek sprak,
weer opeens van verrukking en hemellust bruiste,
en in stromende galmen het stilzwijgen brak?
Kan het zijn dat een ader, verstikt en vergeten,
schoon eens mede van jeugdige zangtonen vol,
thans opnieuw, door een stout maar gelukkig vermeten,
in de zandgrond geraakt, weder uitschoot en zwol?
't Mochte zijn, dat een winter voorbij waar gevaren,
en haar ijs bij de stralen der lentezon smolt; —
dat — een reeks van onvruchtbaar vervlotene jaren
door één oogst voor het minst al die dorheid vergold!
Neen! de mens mag zijn lente geen tweedemaal smaken;
op zijn winter volgt nooit weer herleving en groei! —
dan alleen als dit stof eens zijn doden zal slaken
voor een eeuwige zon, voor een eindloze bloei!
Evenwel heeft wellicht onze Dichtkunst haar tijden. —
o! De harp van mijn stam heeft de wissling gekend
van gejuich en geklag, van verheffing en lijden,
van bevrijding en lange — verdorrende ellend.

Isaäc da Costa (14 januari 1798 – 28 april 1860)
De Joods-Amerikaanse schrijfster, dichteres en feministe Tillie Lerner Olsen werd geboren in Omaha (Nebraska) op 14 januari 1912. Zie ook alle tags voor Tillie Olsen op dit blog.
Uit: I Stand Here Ironing
"I stand here ironing. and what you asked me moves tormented back and forth with the iron.
"I wish you would manage the time to come in and talk with me about your daughter. I'm sure you can help me understand her. She's a youngster who needs help and whom I'm deeply interested in helping."
"Who needs help." . . . Even if 1 came. what good would it do? You think because I am her mother 1 have a key. or that in some way you could use me as a key? She has lived for nineteen years. There is all that life that has happened outside of me, beyond me.
And when is there time to remember. to sift. to weigh. to estimate, to total? I will start and there will be an interruption and I will have to gather it all together again. Or I will become engulfed with all I did or did not do. with what should have been and what cannot be helped.
She was a beautiful baby. The first and only one of our five that was beautiful at birth. You do not guess how new and uneasy her tenancy in her now-loveliness. You did not know her all those years she was thought homely, or see her poring over her baby pictures, making me tell her over and over how beautiful she had been-and would be. I would tell her-and was now. to the seeing eye. But the seeing eyes were few or nonexistent. Including mine.
I nursed her. They feel that's important nowadays. I nursed all the children, but with her. with all the fierce rigidity of first motherhood. I did like the books then said. Though her cries battered me to trembling and my breasts ached with swollenness, I waited till the clock decreed."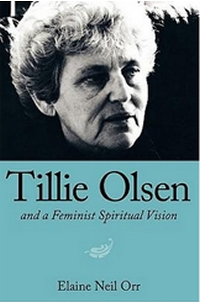 Tillie Olsen (14 januari 1912 – 1 januari 2007)
Cover
De Poolse schrijver Marek Hlasko werd geboren op 14 januari 1934 in Warschau. Zie ook alle tags voor Marek Hlasko op dit blog.
Uit: The Graveyard (Vertaald door Norbert Guterman)
"Franciszek Kowalski, forty-eight years of age, slender, slightly balding, with a ruddy complexion, prominent cheekbones, and blue eyes, took a drink you won't believe how rarely, only on really extraordinary occasions; he never drank more than he could hold, and never had to be told later by others what he had talked about and how he had behaved He was one of the lucky few who upon waking in the morning never have to be ashamed of the night before. Late one night, however, on his way home from a party meeting, a meeting which had dragged on for many hours, and at which he had often had to take the floor on matters of importance to him and his fellow workers, he ran into a friend whom he had known when they were both partisan fighters, He had not seen him since 1945 when he himself had marched off to the front while his friend, then seriously wounded, had gone to the hospital and stayed there until the end of the war.
This meeting so delighted them that they decided to celebrate it with a glass of vodka. They went to the nearest bar. The friend ordered a half pint; and when the bottom of the bottle showed, Franciszek called the waiter, and, so as not to give his friend the impression that he had gone completely rusty since the days of the underground, ordered another half pint
This put them in suda high spirits, they talked so heartily, and faded memories took on such brilliant colors, that they asked for a third half pint almost in one breath, and then the waiter himself, without asking them, served them a fourth. When they walked out, day was breaking, and the first bands of light were beginning to show in the gray sky. They said goodbye, afiecfionatdy shaking hands at great length, and then each went his way.
Franciszek walked briskly, keeping his eye on a line in the sidewalk, but he felt that some hitherto unknown forces were rocking him from side to side, and the line in the sidewalk kept vanishing from his field of vision. "I guess I'm a bit…", he murmured, "abit. . .what the hell . . ."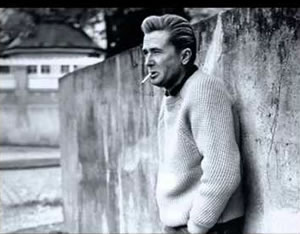 Marek Hlasko (14 januari 1934 – 14 juni 1969)
Zie voor nog meer schrijvers van de 14e januari ook mijn vorige blog van vandaag.
14-01-2017 om 11:52 geschreven door Romenu

Tags:John Dos Passos, Andreas Steinhöfel, Isaäc da Costa, Tillie Olsen, Marek Hlasko, Romenu



Rudolf Hagelstange, Anatoli Rybakov, Werner Helwig, Zacharias Topelius, Ida Dehmel
De Duitse dichter en schrijver Rudolf Hagelstange werd geboren op 14 januari 1912 in Nordhausen. Zie ook alle tags voor Rudolf Hagelstange op dit blog.
Von der Überwindung des Todes

Es gilt nicht dies: zu überwinden,
Was in uns nach Behalten schreit.
Es darf ein Herz wohl Freude finden
An Dingen der Vergänglichkeit:
Ein Abendfrieden unter Linden,
Ein Trunk, ein Stern, ein Frauenkleid.
Entsagung ist die Straße der Gefahren,
Und Torheit macht nicht halt vor weißen Haaren.

Es gilt auch nicht: den Tag verspielen
Mit dem Gedanken an den Untergang
Und nach dem eigenen Herzen zielen
In einem fieberhaften Überschwang.
Wer sah nicht zu, wie ach so vielen
Dabei der Bogen in der Hand zersprang,
Und wie sie wehrlos, selbstvergessen
Nun taumelnd ihren Weg durchmessen?

Wohl aber gilt uns dies: sich selbst entschreiten,
Den Blick gerichtet auf das große Tor,
In dem das Ungewisse dieser Zeiten
Sich ins unendlich Ungewisse still verlor.
Die Schätze, die uns hier entgleiten,
Sond ohnehin nur schwaches Rohr,
Das uns zerbricht auf dieser letzten Straße,
Die jenseits liegt vor uns und unserem Maße.

Ich wollte, daß ich diese Kraft besäße,
Ganz ohne Neugier schweigend nachzudringen
Dem Tode, so in Demut der Gefäße,
Die schmerz- und klagelos zur Neige gingen
Und ohne daß die Gier an ihnen fräße,
Zu wissen, welchen Trank sie bringen,
Bis ich am Tore still die Schuh vom Knöchel streife
Wie eine Frucht die Schale in der Zeit der Reife.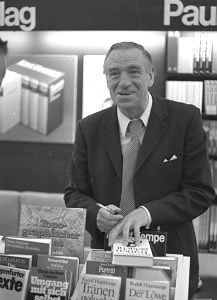 Rudolf Hagelstange (14 januari 1912 – 5 augustus 1984)
De Russische schrijver Anatoli Rybakov werd geboren op 14 januari 1911 in Tsjernihiv. Zie ook alle tags voor Anatoli Rybakov op dit blog.
Uit: The Children of the Arbat
"What Lenin had called bureaucratic perversion was in fact the only possible way to run the country. It had its dangers: the bureaucracy tries to stand between the people and the leadership, it tries to supplant the leadership. That has to be stamped out without mercy. The apparatus must be the unquestioning executor of the supreme will, it has to be kept in a state of fear, which it will in turn pass on to the people.
Did he have such an apparatus? No, he did not! The present apparatus had been formed in the struggle for power and was not yet an instrument of the leader; it regarded itself as a partner in the victory. Budyagin's visit had been a reminder of this.
The apparatus of the true leader is the one he creates for himself after he has come to power. Such an apparatus must not be eternal or permanent, otherwise ties become cemented and the apparatus acquires a monolithic quality and strength of its own. One must keep shuffling it, renewing and replacing it.
The creation of such an apparatus is more complicated than just getting rid of rivals. The apparatus consists of hundreds of thousands of people who have been concentrated into a single organism, linked and welded together from top to bottom. The present members of the Politburo were no longer those who had returned with Lenin from abroad. The Politburo members now had their own connections within the apparatus, their own links, which stretched from the top to the bottom. You only had to touch one link for the whole chain to rattle.
Did he trust his own entourage?
In politics you trust nobody."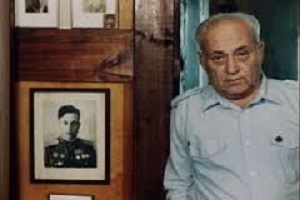 Anatoli Rybakov (14 januari 1911 – 23 december 1998)
De Duitse dichter en schrijver Werner Helwig werd op 14 januari 1905 in Berlijn geboren. Zie ook alle tags voor Werner Helwig op dit blog.
Uit:Auf der Knabenfährte
"Dieses mental Angestecktwerden ist auf sehr vielen Ebenen möglich. So ist das Sich-identisch-fühlen eines Lesers mit seinem Lieblingsschriftsteller dem gleichen Vorgang zuzuordnen. Ansteckungen können also zum Guten wie zum Schlimmen führen. Ich, beispielsweise, bin entscheidend von dem Werk des englischen Schriftstellers John Cowper Powys angesteckt worden. Das heißt, er hat einen Gärungsvorgang in mir angeregt, der meinen eigentlichen "Ton" fördern half. Zu solcher Fruchtbarkeit können Freundschaften und Liebesverhältnisse führen. Fuhrmann nennt das: Wir setzen uns aus den anderen zusammen, die wir suchen, weil sie wiederum uns für ihre eigene Komplettierung brauchen.
In diesem Sinne verstehe ich auch, warum das Schreiben von Büchern im Laufe der letzten Jahrzehnte, sozusagen durch Erpressung seitens der nothaften Zeit, zu einer Beschreibung des Vorgangs, der zum Schreiben führt, hat werden können. Wir suchen im Schriftsteller den Freund, mit dem wir Intimstes austauschen. Wir wünschen ihn, mehr als in ausgerundeten Romanen mit gestellten Kulissen, in Tagebüchern und Briefen über seinem mystischen Eigentum, im Zentrum dieses Eigentums anzutreffen und dort, in diesen Bezirken, Signale mit ihm zu tauschen, in denen er sich, wir uns, endgültig und vorbehaltlos zu erkennen geben. Das ist hilfreich. Das führt uns in brüderlicher Vereinigung durch die zermalmenden Gewalten der Gegenwart."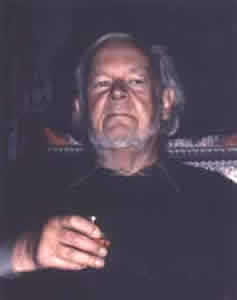 Werner Helwig (14 januari 1905 – 4 februari 1985)
De Finse dichter en schrijver Zacharias Topelius werd geboren in Nykarleby op 14 januari 1818. Zie ook alle tags voor Zacharias Topelius op dit blog.
Uit: Times of Gustaf Adolf (Vertaald door Selma Borg en Marie A. Brown)
"That is not true," rejoined another, who had received from returning soldiers a vague idea of the conspiracies against the king's life. "It is," added he, with a shy voice, as if fearing to be heard by the object of his story, " it is a nun from Walskland, hired by the Jesuits to make away with the king. Six times has she given him deadly poison, and six times has he been warned in dreams not to drink. When for the seventh time she offered him the draught, the king drew his sword and forced her to swallow her own poison."
"But how can she then be here alive?" remarked an elderly lady, innocently.
"Alive?" repeated the story-teller, without being disconcerted. "Oh, that is a question.
Those creatures can dissemble wonderfully. . . .
Yes, indeed, do you remember the Dutchman last year who swallowed melted lead ? I do not wish
to say too much — but just look! The black-haired nun is as pale as a corpse! "
"Has she given the king poison?" exclaimed a trembling female voice close by. It was Meri, who, with bated breath, drank every word.
"What nonsense!" replied a sea-captain, with the air of knowing more than all the rest. " When I was in Stralsund last spring, I saw those same eyes, which one cannot easily forget. The girl was then brought to Stockholm, and one of the guards told me the whole story. She is a Spanish witch, who has sold herself to the evil one, to be for seven years the most beautiful woman on earth."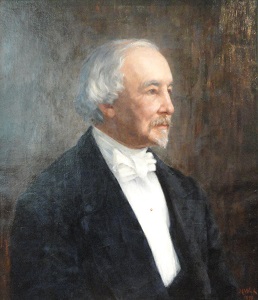 Zacharias Topelius (14 januari 1818 – 12 maart 1898)
Portret door Maria Wiik, z.j.
De Duitse dichteres en strijdster voor vrouwenrechten Ida Dehmel werd geboren op 14 januari 1870 in Bingen. Zie ook alle tags voor Isa Dehmel op dit blog.
Uit: Die Muse der Bohème (Artikel van Özlem Topçu in het Hamburger Abendblatt, 2008)
"Ida Dehmel war ein respektierter Teil der feinen Blankeneser Gesellschaft, auch nach dem Tod ihres Mannes 1920. Bis 1933. Dann durfte sie keine Muse mehr sein – weil sie Jüdin war, lebte aber mit einer Sodergenehmigung weiter in dem Haus. Die Zerstörung ihres Lebens und die Angst vor den Nazis trieb sie in den Selbstmord. Im Alter von 72 Jahren nahm sie sich 1942 mit Schlaftabletten das Leben. In der Straße vor dem Haus erinnert heute ein Stolperstein an Ida Dehmel.
Als sie 1896 das erste Mal Richard Dehmel begegnete, waren beide noch mit anderen Partnern verheiratet. Ida Dehmels Ehe war noch von ihrem Vater, einem konservativen Kaufmann aus Bingen am Rhein, arrangiert worden. Ida, die bereits einen Sohn hatte, ließ alles stehen und liegen und ging mit Richard nach Hamburg. Richard Dehmels Gedicht "Empfang" belegt die exzessive Liebe und das Verlangen zwischen den beiden:
"Wie dein Ohr brennt! wie dein Mieder drückt! / rasch, reiß auf, du atmest mit Beschwerde; / o, wie hüpft dein Herzchen nun beglückt! / Komm, ich trage dich, du wildes Wunder: / wie dich Gott gemacht hat! Weg den Plunder! / und dein Brautbett ist die ganze Erde."
Ida und Richard wurden ein Traumpaar, nicht nur, weil sie "für damalige Verhältnisse in einer nicht gekannten Offenheit mit ihrer Erotik umgin-gen", sagt ihr Biograf Matthias
Wegner ("Aber die Liebe. Der Lebenstraum der Ida Dehmel", Claassen-Verlag). Fotos dokumentieren ihre Lust an der Verkleidung und ihren Hang für "alles Dekorative", sagt Wegner. Feinste Stoffe, avantgardistischer Schmuck und Kleider, die alle Blicke auf die dunkle Schönheit mit dem vollen Haar zogen. "Sie wollte das so – und sie wollte auch provozieren", sagt der Autor. Das sei wichtig für sie gewesen, um aus dem Schatten ihres so präsenten Mannes heraustreten zu können. Es gelang ihr. Wenn Ida Dehmel zu ihren Soirées einlud, kamen sie alle. Im Mittelpunkt der Künstlerkreise zu stehen, hatte sie zu ihrer Lebensaufgabe gemacht – und institutionalisiert: 1926 gründete sie den Bund Deutscher Künstlerinnen, aus dem später die Gemeinschaft Deutscher und Österreichischer Künstlerinnenvereine aller Kunstgattungen hervorging (Gedok). Die Gemeinschaft gibt es heute noch – das größte Netzwerk für Künstlerinnen in Europa. Alle drei Jahre verleiht die Gedok in Gedenken an die Gründerin den "Ida-Dehmel-Literaturpreis".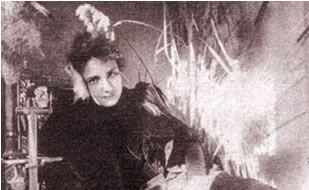 Ida Dehmel (14 januar 1870 - 29 september 1942)
14-01-2017 om 11:50 geschreven door Romenu

Tags:Rudolf Hagelstange, Anatoli Rybakov, Werner Helwig, Zacharias Topelius, Ida Dehmel, Romenu



| | |
| --- | --- |
| | |



Inhoud blog


| | |
| --- | --- |
| | Martin Michael Driessen, Marjoleine de Vos, Manuel Bandeira, n. c. kaser, Veniamin Kaverin, Louis Amédée Achard, Pierre-Jean de Béranger, Gudrun Reinboth, Werner Rohner |
| | Wam de Moor, Bas Belleman, Roos van Rijswijk, Hanane Aad, Clara Eggink, Kathy Acker, Joy Davidman, Henry Kendall, Katharina Schwanbeck |
| | Antoon Coolen, Vincent Corjanus, Nick Hornby, Ida Boy-Ed, Thornton Wilder, David Wagner, R.J. Pineiro, Helen Meier, Karen Blixen |
| | Sarah Kirsch, Thomas Olde Heuvelt, Kingsley Amis, Patricia De Martelaere, Tristan Tzara, Ewald Vanvugt, Sibylle Lewitscharoff, Jan Luyken, Anatole France |
| | Emmaüs (Felix Timmermans) |
| | Tomas Tranströmer, Daniël Samkalden, Jérôme Lambert, Patrick Bernauw, Benjamin Zephaniah, Henry James, Wilhelm Busch, Ina Boudier-Bakker |
| | Bliss Carman, Beate Morgenstern, Jeffrey Archer, Bernhard Lassahn, Erich Arendt, Pol De Mont, Staf Weyts, Hans Egon Holthusen |
| | Péter Esterházy, Alexandre Jardin, Tjitse Hofman, Landolf Scherzer, Charles Lewinsky, Roman Graf |
| | Roberto Schopflocher, Martin Kessel, Gabriele Stötzer, Helene Hübener, Gerhard Rohlfs |
| | Nachoem Wijnberg, K. Michel, Alexander Münninghoff, Michel Faber, Jean-Marie Gustave Le Clézio, Samuel Beckett, Seamus Heaney, Tim Krabbé, Eudora Welty |
| | Antje Rávic Strubel, Alan Ayckbourn, Scott Turow, Tom Clancy, Agnes Sapper, Edward de Vere, José Gautier Benítez, Alexander Ostrovski, Guillaume-Thomas Raynal |
| | Leonard Nolens, Mark Strand, Silvia Avallone, Walid Soliman, Dorothy Allison, Hubert Nyssen, Rolf Schilling, Glenway Wescott, Claude Tillier |
| | Leo Vroman, Jan van Mersbergen, Paul Theroux, Claudio Magris, Bella Akhmadulina, Stefan Heym, Richard Wagner, Marcel van Maele, Eric Knight |
| | Charles Baudelaire, Jelle Brandt Corstius, Karel Jonckheere, Joolz Denby, Albert von Schirnding, Johannes Bobrowski, Bernard-Marie Koltès, Arnold Stadler, Yaël Vinckx |
| | Thomas (Jan Willem Schulte Nordholt) |
| | Herinnering aan Gerard Reve, Hanz Mirck, Christoph Hein, Judith Koelemeijer, Nnedi Okorafor, Barbara Kingsolver |
| | John Fante, Johann Christian Günther, Glendon Swarthout, Martin Grzimek, Hégésippe Moreau, Robert Askins |
| | Den Haag (Paul Rodenko) |
| | Juliana Spahr, William Wordsworth, Özcan Akyol, Gabriela Mistral |
| | Kazim Ali, Annejet van der Zijl, John Pepper Clark, Jakob Ejersbo, Günter Herburger, Uljana Wolf, Brigitte Schwaiger, Julien Torma, Nicolas Chamfort |
| | Hugo Claus, Martin Reints, Mieke van Zonneveld, Vítězslav Hálek, Algernon Swinburne, Bora Ćosić,, Werner J. Egli, Michael Georg Conrad, Marente de Moor |
| | Maya Angelou, Hanneke Hendrix, Marko Klomp, Marcel Vaarmeijer, E. L. James, Marguerite Duras, Robert Schindel, Michiel van Kempen, Bettina von Arnim |
| | Charles Ducal, Adriaan Jaeggi, Frederik van Eeden, Bert Bakker, Peter Huchel, Arlette Cousture, Pieter Aspe, Karel N.L. Grazell, Washington Irving |
| | Die Sonne geht im Osten auf (Christian Morgenstern) |
| | Thomas Glavinic, Jay Parini, Anneke Claus, Klaus Ender, Konrad Merz, Ed Dorn, Émile Zola |
| | György Konrád, Anne Waldman, Casanova, Hans Christian Andersen, Roberto Arlt, Edgar Hilsenrath, George Fraser |
| | Hoffmann von Fallersleben, Johann Gleim, Pierre Zaccone, Pietro della Valle, Zwier van Haren, Joanna Chmielewska, Brigitte Struzyk |
| | Preis dem Todesüberwinder! (Friedrich Klopstock) |
| | Milan Kundera, Sandro Veronesi, Nikolaj Gogol, Arnold Aletrino, Max Nord, Urs Allemann, Rolf Hochhuth, John Wilmot, Deborah Feldman |
| | Maria Polydouri, Edgar Wallace, Carl Sternheim, Edmond Rostand, Armel Guerne, Friedrich Güll, Antoine Prévost, Josep de Maistre |
| | Litanie van een wachter bij het graf (Willem Jan Otten) |
| | Stefan Hertmans, Octavio Paz, Asis Aynan, Martijn Teerlinck, Marga Minco, Enrique Vila-Matas |
| | Rob Boudestein, Kornej Tsjoekovski, Andrew Lang, Nichita Stănescu, Hartmut Lange, Marge Piercy |
| | Angela Kreuz, Judith Rossner, Andrew Marvell, John Fowles, Edward FitzGerald, Robert Brasillach, Peter Motte |
| | Golgotha (Theo Thijssen) |
| | Gerrit Komrij, Paul Verlaine, Milton Acorn, Erika Mitterer, Uwe Timm, Tom Sharpe, Gert Heidenreich, Theo Breuer, Luise Hensel |
| | Gethsemane (Jacqueline van der Waals) |
| | Geert van Istendael, Wim Brands, Ernst Jünger, Eric Walz, Georg Klein, Yvan Goll, R. S. Thomas, Jacques Brault, Denton Welch |
| | Walter van den Broeck, Joost de Vries, Mario Vargas Llosa, Chrétien Breukers, Steye Raviez, Nelson Algren, Marianne Frederiksson, Russell Banks, Léon-Gontran Damas |
| | Heinrich Mann, Shusaku Endo, Carolina Trujillo, Golo Mann, Patrick McCabe, Bob den Uyl, Dubravka Ugresić, Francis Ponge, Alfred de Vigny |
| | Tennessee Williams, Gregory Corso, Hwang Sun-won, Martin McDonagh, Robert Frost, Patrick Süskind, A. E. Housman, Bettina Galvagni, Erica Jong |
| | Jezus intrede in Jeruzalem (Nicolaas Beets) |
| | Pol Hoste, Menno Van der Beek, Jung Chang, Paul Meeuws, Flannery O'Connor, Jaime Sabines, Peter Van Straaten, Toni Cade Bambara |
| | Antonio Fogazzaro, Jacques Bens, Jacques Audiberti, Filip De Pillecyn, Erica Pedretti, Evliya Çelebi, Anne Fanshawe, Daniel Schiebeler, Mary Webb |
| | Peter Bichsel, Joy Ladin, Martin Walser, Dario Fo, Lawrence Ferlinghetti, Jacob van Lennep, Jeroen Mettes, Harry Prenen, Willem van Iependaal |
| | Top Naeff, Robert Hamerling, Fanny Lewald, Christian Schubart, Gabriele von Baumberg, Olive Schreiner, William Morris, Richard Leising |
| | Cri Stellweg, Jonathan Ames, Yōko Tawada, Gary Whitehead, Mitch Cullin, Roger Martin du Gard, Madison Cawein, Nils-Aslak Valkeapää, Federica de Cesco |
| | Billy Collins, Theo Kars, Eveline Hasler, Érik Orsenna, Arnold Sauwen, Wolfgang Bächler, Ilse Kleberger, Léon Deubel, Karel Poláček |
| | Willem de Mérode, Pim te Bokkel, Kees van Beijnum, Hamid Skif, Jean Paul |
| | Hubert Fichte, Peter Hacks, Michel Bartosik, Youssef Rzouga, Günter Vallaster, Siegfried Kapper |


Gastenboek


Druk op onderstaande knop om een berichtje achter te laten in mijn gastenboek