E-mail mij


Druk op onderstaande knop om mij te e-mailen.


Romenu


Romenu is een blog over gedichten, literatuur en kunst Maar Romenu is ook een professionele freelance vertaler
Du-Ne en Ne-Du http://www.romenu.nl.


Huur eens een (vakantie)huis in een natuurgebied, dichtbij het centrum van Nijmegen


Google


Georg Trakl

Georg Trakl werd op 3 februari 1887 in het conducteurshuis aan de Waagplatz 2 in Salzburg geboren. Zijn vader, Tobias Trakl, was een handelaar in ijzerwaren en zijn moeder, die ook psychische problemen had, was Maria Catharina Trakl, (meisjesnaam Halik). Voorts had hij nog drie broers en drie zussen. Margarethe (doorgaans Grethe genoemd) stond hem het naast, zelfs zodanig dat sommigen een incestueuze verhouding vermoeden. Zijn jeugd bracht hij door in Salzburg. Vervolgens bezocht hij van 1897 tot 1905 het humanistische gymnasium. Om toch een academische opleiding te kunnen volgen, werkte hij tot 1908 in de praktijk bij een apotheker. Sommigen vermoedden dat hij dit vooral deed om zichzelf opiaten te kunnen verschaffen. Bij het uitbreken van WO I werd Trakl als medicus naar het front in Galicië (heden ten dage in Oekraïne en Polen) gestuurd. Zijn gemoedsschommelingen leidden tot geregelde uitbraken van depressie, die verergerd werden door de afschuw die hij voelde voor de verzorging van de ernstig verwonde soldaten. De spanning en druk dreven hem ertoe een suïcidepoging te ondernemen, welke zijn kameraden nochtans verhinderden. Hij werd in een militair ziekenhuis opgenomen in Kraków, alwaar hij onder strikt toezicht geplaatst werd.Trakl verzonk daar in nog zwaardere depressies en schreef Ficker om advies. Ficker overtuigde hem ervan dat hij contact moest opnemen met Wittgenstein, die inderdaad op weg ging na Trakls bericht te hebben ontvangen. Op 4 november 1914, drie dagen voordat Wittgenstein aan zou komen, overleed hij echter aan een overdosis cocaïne


Paul Celan

Paul Celan werd onder de naam Paul Antschel op 23 november 1920 geboren in Czernowitz, toentertijd de hoofdstad van de Roemeense Boekovina, nu behorend bij de Oekraïne. Paul Celans ouders waren Duitssprekende joden die hun zoon joods opvoedden en hem naar Duitse christelijke scholen stuurden. In 1942 werden Celans ouders door de Duitse bezetter naar een werkkamp gedeporteerd en daar vermoord. Hijzelf wist aanvankelijk onder te duiken, maar moest vanaf juli 1942 in een werkkamp dwangarbeid verrichten. Celan overleefde de oorlog. Via Boekarest en Wenen vestigde Celan zich in 1948 in Parijs. Daar was hij werkzaam als dichter, vertaler en doceerde hij aan de prestigieuze Ecole Normale Supérieure. Vermoedelijk op 20 april 1970 beëindigde hij zijn leven zelf door in de Seine te springen.


Gerard Reve

Gerard Reve over: Medearbeiders "God is in de mensen, de dieren, de planten en alle dingen - in de schepping, die verlost moet worden of waaruit God verlost moet worden, door onze arbeid, aangezien wij medearbeiders van God zijn." Openbaring "Tja, waar berust elk godsbegrip op, elke vorm van religie? Op een openbaring, dat wil zeggen op een psychische ervaring van zulk een dwingende en onverbiddelijke kracht, dat de betrokkene het gevoel heeft, niet dat hij een gedachte of een visioen heeft, maar dat een gedachte gedachte of visioen hem bezit en overweldigt."


Simon Vestdijk
Simon Vestdijk (Harlingen, 17 oktober 1898 – Utrecht, 23 maart 1971) was een Nederlands romancier, dichter, essayist en vertaler. Zijn jeugd te Harlingen en Leeuwarden beschreef hij later in de Anton Wachter-cyclus. Van jongs af aan logeerde hij regelmatig bij zijn grootouders in Amsterdam, waar hij zich in 1917 aan de Universiteit van Amsterdam inschrijft als student in de medicijnen. Tijdens zijn studie die van 1917 tot 1927 duurde, leerde hij Jan Slauerhoff kennen.Tot 1932 is hij als arts in praktijken door heel Nederland werkzaam. In 1932 volgt zijn officiële schrijversdebuut met de uitgave van de bundel Verzen in De Vrije Bladen. Doorslaggevend voor Vestdijks uiteindelijke keuze voor de literatuur is zijn ontmoeting in 1932 met Eddy Du Perron en Menno ter Braak. Deze ontmoeting had tot resultaat dat hij redactielid werd van het tijdschrift Forum Kort daarop, in 1933, wordt zijn eerste novelle, De oubliette, uitgegeven. In hetzelfde jaar schrijft hij Kind tussen vier vrouwen, dat, eerst geweigerd door de uitgever, later de basis zal vormen voor de eerste drie delen van de Anton Wachter-romans. In 1951 ontvangt Vestdijk de P.C. Hooftprijs voor zijn in 1947 verschenen roman De vuuraanbidders. In 1957 wordt hij voor het eerst door het PEN-centrum voor Nederland voorgedragen voor de Nobelprijs voor de Literatuur, die hij echter nooit zal krijgen. Op 20 maart 1971 wordt hem de Prijs der Nederlandse Letteren toegekend, maar voor hij deze kan ontvangen overlijdt hij op 23 maart te Utrecht op 72-jarige leeftijd. Vestdijk was auteur van ca. 200 boeken. Vanwege deze enorme productie noemde de dichter Adriaan Roland Holst hem 'de man die sneller schrijft dan God kan lezen'. Andere belangrijke boeken van Simon Vestdijk zijn: "Kind van stad en land" (1936), "Meneer Visser's hellevaart" (1936), "Ierse nachten" (1946), "De toekomst de religie" (1947), "Pastorale 1943" (1948), "De koperen tuin" (1950), "Ivoren wachters" (1951), "Essays in duodecimo" (1952) en "Het genadeschot" (1964).


K.P. Kavafis

K.P. Kavafis werd als kind van Griekse ouders, afkomstig uit Konstantinopel, geboren in 1863 in Alexandrië (tot vandaag een Griekse enclave) waar hij ook het grootste deel van zijn leven woonde en werkte. Twee jaar na de dood van zijn vader verhuist het gezin in 1872 naar Engeland om na een verblijf van vijf jaar naar Alexandrië terug te keren. Vanwege ongeregeldheden in Egypte vlucht het gezin in 1882 naar Konstantinopel, om na drie jaar opnieuw naar Alexandrië terug te gaan. In de jaren die volgen maakt Kavafis reizen naar Parijs, Londen en in 1901 zijn eerste reis naar Griekenland, in latere jaren gevolgd door nog enkele bezoeken. Op de dag van zijn zeventigste verjaardag, in 1933 sterft Kavafis in Alexandrië. De roem kwam voor Kavafis pas na zijn dood, dus postuum. Deels is dat toe te schrijven aan zijn eigen handelswijze. Hij was uiterst terughoudend met de publicatie van zijn gedichten, liet af en toe een enkel gedicht afdrukken in een literair tijdschrift, gaf in eigen beheer enkele bundels met een stuk of twintig gedichten uit en het merendeel van zijn poëzie schonk hij op losse bladen aan zijn beste vrienden.


Thomas Mann


Thomas Mann, de jongere broer van Heinrich Mann, werd geboren op 6 juni 1875 in Lübeck. Hij was de tweede zoon van de graankoopman Thomas Johann Heinrich Mann welke later één van de senatoren van Lübreck werd. Zijn moeder Julia (geboren da Silva-Bruhns) was Duits-Braziliaans van Portugees Kreoolse afkomst. In 1894 debuteerde Thomas Mann met de novelle "Gefallen". Toen Thomas Mann met 21 jaar eindelijk volwassen was en hem dus geld van zijn vaders erfenis toestond - hij kreeg ongeveer 160 tot 180 goldmark per jaar - besloot hij dat hij genoeg had van al die scholen en instituties en werd onafhankelijk schrijver. Kenmerkend voor zijn stijl zijn de ironie, de fenomenale taalbeheersing en de minutieuze detailschildering. Manns reputatie in Duitsland was sterk wisselend. Met zijn eerste roman, Buddenbrooks (1901), had hij een enorm succes, maar door zijn sceptische houding tegenover Duitsland na de Eerste Wereldoorlog veranderde dit volledig. Stelde hij zich tot aan de jaren twintig apolitiek op (Betrachtungen eines Unpolitischen, 1918), meer en meer raakte hij bij het Politiek gebeuren betrokken. Zijn afkeer van het nationaal socialisme groeide, zijn waarschuwingen werden veelvuldiger en heftiger. In 1944 accepteerde hij het Amerikaanse staatsburgerschap. Tussen 1943 en 1947 schreef Mann Doktor Faustus (zie Faust), de roman van de 'Duitse ziel' in de gecamoufleerd geschilderde omstandigheden van de 20ste eeuw. In 1947 bezocht hij voor het eerst sinds de Oorlog Europa, twee jaar later pas Duitsland. In 1952 vertrok hij naar Zwitserland. Op 12 augustus 1955 stierf hij in Zürich. Twintig jaar na zijn dood, in aug. 1975, is zijn literaire nalatenschap geopend: dagboekaantekeningen van 15 maart 1933 tot 29 juli 1955, alsmede notities uit de jaren 1918 tot en met 1921.Belangrijke werken zijn: Der Zauberberg, Der Tod in Venedig, Dokter Faustus , Joseph und seine Brüder en Die Bekenntnisse des Hochstaplers Felix Krull.


Rainer Maria Rilke

Rilke werd op 4 december 1875 geboren in Praag. Hij had al naam gemaakt als dichter met zijn bundels Das Stundenbuch en Das Buch der Bilder, toen hij de literaire wereld versteld deed staan en wereldfaam verwierf met de publicatie van zijn twee delen Neue Gedichte in 1907 en 1908. Hij verzamelde daarin het beste werk uit een van zijn vruchtbaarste periodes, die hij grotendeels doorbracht in Parijs. Rilke was daar diep onder de indruk gekomen van Rodin, bij wie hij een tijdlang in dienst was als particulier secretaris. Rodin, zei hij later, had hem leren kijken. Dit kijken kwam neer op intense concentratie, om het mysterie te kunnen zien 'achter de schijnbare werkelijkheid'. Latere en rijpere werken als Duineser Elegien (1912-1923) en het ronduit schitterende Die Sonette an Orfeus (1924) illustreren Rilkes metafysische visie op het onzegbare, dat haar verwoording vindt in een hermetische muzikale taal. Op 29 december 1926 overlijdt Rilke in het sanatorium in Val-Mont aan de gevolgen van leukemie. Enkele dagen later wordt hij, overeenkomstig zijn wens, begraven op het kerkhof van Raron.


* * * * * * * * * * * * * * * *

| | |
| --- | --- |
| | Over literatuur, gedichten, kunst en cultuur |

21-02-2015

Herman de Coninck, Chuck Palahniuk, Hans Andreus, Wystan Hugh Auden, Laure Limongi, Justus van Effen
De Vlaamse dichter, essayist, journalist en tijdschriftuitgever Herman de Coninck werd geboren in Mechelen op 21 februari 1944. Zie ook alle tags voor Herman de Coninck op dit blog.
De plek
Je moet niet alleen, om die plek te bereiken,
thuis opstappen, maar ook uit manieren van kijken.
Er is niets te zien, en dat moet je zien
om alles bij het zeer oude te laten.

Er is hier. Er is tijd
om overmorgen iets te hebben achtergelaten.
Daar moet je vandaag voor zorgen.
Voor sterfelijkheid.
Weilanden hebben avond
'Weilanden hebben avond,' zegt Achterberg.
Maar kun je dat wel hebben? Misschien
zoals je een ziekte hebt: avond.
(Iets met de ogen: alles veel te donker zien.)
Maar ook 's ochtends is het niet voorbij.
Zie je weer veel te klaar, maar wat je mist.
November. Elke ochtend is een morgue,
elk woord in dit gedicht een kist.

En daarboven, zwart op witte lucht,
fladderen de doodsbrieven, die kraaien
blijken te zijn, zo slordig vliegen ze:
god laat z'n correspondentie maar waaien.
Melkweg
Je kunt in de wei uit een melkweg van wit
één takje fluitekruid plukken om thuis
in een vaasje te zetten en van dat takje
één twijgje afbreken en daarvan één
steeltje en daarvan één bloempje
en van dat bloempje één pointe
van het godganse pointillisme.
Nee, dat kun je niet.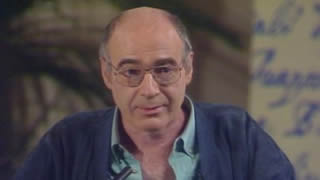 Herman de Coninck (21 februari 1944 - 22 mei 1997)
De Amerikaanse schrijver en journalist Chuck Palahniuk werd geboren op 21 februari 1962 in Pasco, Washington. Zie ook alle tags voor Chuck Palahniuk op dit blog.
Uit:Fight Club
« Pull a lever.
Push a button.
You don't understand any of it, and then you just die.
One hundred and ninety-one floors up, you look over the edge of the roof and the street below is mottled with a shag carpet of people, standing, looking up. The breaking glass is a window right below us. A window blows out the side of the building, and then comes a file cabinet big as a black refrigerator, right below us a six-drawer filing cabinet drops right out of the cliff face of the building, and drops turning slowly, and drops getting smaller, and drops disappearing into the packed crowd.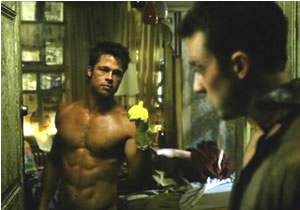 Brad Pitt als Taylor Durden en Edward Norton als The Narrator in de film "Fight Club" uit 1999
Somewhere in the one hundred and ninety-one floors under us, the space monkeys in the Mischief Committee of Project Mayhem are running wild, destroying every scrap of history.
That old saying, how you always kill the one you love, well, look, it works both ways.
With a gun stuck in your mouth and the barrel of the gun between your teeth, you can only talk in vowels.
We're down to our last ten minutes.
Another window blows out of the building, and glass sprays out, sparkling flock-of-pigeons style, and then a dark wooden desk pushed by the Mischief Committee emerges inch by inch from the side of the building until the desk tilts and slides and turns end-over-end into a magic flying thing lost in the crowd."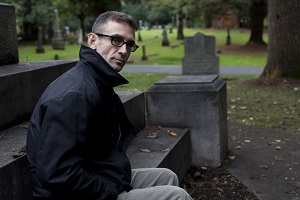 Chuck Palahniuk (Pasco, 21 februari 1962)
De Nederlandse dichter en prozaschrijver Hans Andreus werd geboren in Amsterdam op 21 februari 1926. Zie ook alle tags voor Hans Andreus op dit blog.
Voor de lieve lezer
De woorden der gemakkelijkheid,
woorden van rose sluimer,
kamer behangen met pastelkleurige dromen,
dat is de poëzie die u lust.

Volièrevogeltjes wapperen er in rond
en de meisjes hebben er een zeer zoete hals
en de dichter staat nimmer voor u
dan gekleed in het bleekblauwe avond­kostuum
van de maan.

Maar de poëzie die wil zeggen
dat ons aller broeder de mens is
een ellendige broeder,
een koude zuster,
een slaande aarde -
en wellicht ook een verre zon van lief­de,
maar deze alleen te bezichtigen middels
een zwart glaasje in het oog geplant,

die poëzie
eet u snel tegen, nietwaar?

En dat slechts een kiezel
de hemel parende met de aarde kan zien,
dat hoort u maar hoort u niet -

en vouwt de op elkaar verliefde handen
en denkt: ach ik, ach ja en amen.
In memoriam vogel
De beweging die het was,
laat deze zonder veel angst
nu zijn opgeheven of veranderd.
En laat de zwarte raaf of kraai
of welke vorm de dood
ook voor vogels aanneemt,
snel zijn werk hebben gedaan,
zoals tenslotte wij ook hopen,
dat onze dood zal zijn.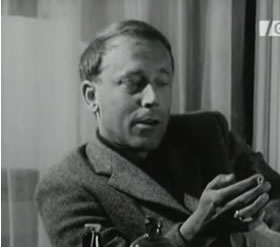 Hans Andreus (21 februari 1926 – 9 juni 1977)
De Engelse dichter, essayist en criticus Wystan Hugh Auden werd geboren in York op 21 februari 1907. Zie ook alle tags voor Wystan Hugh Auden op dit blog.
Uit: The Quest
III. The Crossroads

Two friends who met here and embraced are gone,
Each to his own mistake; one flashes on
To fame and ruin in a rowdy lie,
A village torpor holds the other one,
Some local wrong where it takes time to die:
This empty junction glitters in the sun.

So at all quays and crossroads: who can tell
These places of decision and farewell
To what dishonour all adventure leads,
What parting gift could give that friend protection,
So orientated his vocation needs
The Bad Lands and the sinister direction?

All landscapes and all weathers freeze with fear,
But none have ever thought, the legends say,
The time allowed made it impossible;
For even the most pessimistic set
The limit of their errors at a year.
What friends could there be left then to betray,
What joy take longer to atone for; yet
Who could complete without the extra day
The journey that should take no time at all?
IV. The Traveler

No window in his suburb lights that bedroom where
A little fever heard large afternoons at play:
His meadows multiply; that mill, though, is not there
Which went on grinding at the back of love all day.

Nor all his weeping ways through weary wastes have found
The castle where his Greater Hallows are interned;
For broken bridges halt him, and dark thickets round
Some ruin where an evil heritage was burned.

Could he forget a child's ambition to be old
And institutions where it learned to wash and lie,
He'd tell the truth for which he thinks himself too young,

That everywhere on his horizon, all the sky,
Is now, as always, only waiting to be told
To be his father's house and speak his mother tongue.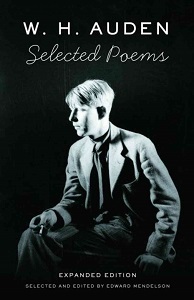 W. H. Auden (21 februari 1907 – 29 september 1973)
Cover
De Franse dichteres en schrijfster Laure Limongi werd geboren op 21 februari 1976 in Bastia (Corsica). Zie ook alle tags voor Laure Limongi op dit blog.
Uit: Soliste
« … Il regrette sa Lincoln telle une vieille amante. Elle avait toujours été si docile sous sa main, ronronnant gentiment aux vitesses les plus folles, prenant les virages en douceur, avalant les kilomètres sans effort. Et avec des sièges divinement accueillants, profonds, crissant en douceur. Tout en elle était raffiné. Ses chromes, sa couleur orage, ses finitions. La moindre poignée moulée avec un goût exquis. Et l'odeur de son habitacle, reconnaissable comme celui d'une maison de famille, mélange de cuir, de bois, de matières plastiques, avec, très loin, un souvenir de gasoil, et, imperceptiblement, des effluves de ce tabac qu'avait l'habitude de fumer l'un des rares amis admis dans ce temple. Le souvenir de cette voiture chérie le rend terriblement nostalgique. Il a dû l'abandonner, comme le reste, le chalet, le piano, la chaise, le bateau… Sa seule consolation est de savoir que la plupart de ces objets qui portent son empreinte, ont accompagné tant d'années de vie et, parfois, des moments heureux, sont entretenus par une fondation à son nom et conservés dans le meilleur état possible. Il rêve parfois de déjouer les systèmes d'alarme, briser une vitrine et repartir avec la bonne Lincoln ; il a gardé un jeu de clefs, anonyme.
Dans l'immédiat, il lui faut se contenter de cette Allemande qui remplit bien son office de discrète berline familiale. Il n'a pas de reproche particulier à formuler. Peu de pannes, une bonne reprise, une consommation raisonnable, une assise confortable, des accélérations tranquilles mais sûres. De toute façon, il faut éviter de se faire arrêter pour excès de vitesse. Allons, ce qui est est pour le mieux – se console-t-il. Seulement, elle manque d'âme."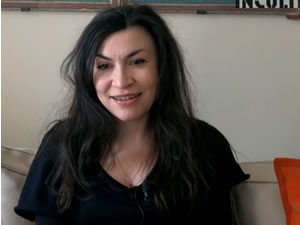 Laure Limongi (Bastia 21, februari 1976)
De Nederlandse schrijver Justus van Effen werd geboren in Utrecht op 21 februari 1684. Zie ook alle tags voor Justus van Effen op dit blog.
Uit: No. 6. Den 24. September 1731. De Hollandsche Spectator
"Dit volk, door eene onophoudende vervolging gesold, uit veele gedeeltens des waerelds verdreeven, gebannen, in anderen alwaar het geduld word, veragt, bespot, door versmadelyke kenteekenen van de andere ingezetenen onderscheiden, met byzondere lasten gedrukt, heeft by ons alleen volstrekte vryheid en veiligheid aangetroffen. Hier leeft het gerust onder zyne wynstok en vygeboom; Niets belet het zyne Godsdienst zo verre het buiten Jeruzalem in den Tempel uitgevoert kan worden, in 't openbaar, en zonder verstooring te oeffenen. Niets onderscheid het, op eene hatelyke wys, van deszelfs Mede-ingezetenen. Het geniet met ons de zelfde bescherming en voorregten. Van niemand, als van dwaaze en slegt opgevoede menschen, word het gesmaad en beschimpt, men verbind zig met het zelve, zonder de minste afkeer, door banden van Vriendschap en gemeenzaamheid. Ook moet men bekennen dat die luiden gevoelig aan zo veele dierbare weldaden, door de goedaardige redelykheid der Nederlanderen, ontlast van 't jok der verdrukking, noit verwaarloost hebben alle mogelyke tekenen van een opregte en yverige erkentenisse aan 't Vaderland en aan hunne mederburgers te geven, zo in tyden van oorlog als van vreede, hebben zy zig waare patriotten getoond, en aan de Christen ingezeetenen, in 't minst niet geweeken Veele der zelver, door de koophandel verrykt schudden een gedeelte hunner schatten in de schoot zo wel van onze als van hunne behoeftigen. In alles betoonen zy een ware liefde en achting voor hunne Vaderlanders, als of zy in ieder lid van 't Gemeenebest, trachten te beloonen de gunst, welke zy van 't gansche lichaam ontfangen hebben. In deze laatste gelegenheid hebben zy doen blyken, dat hunne weldaden noch aan een Land, noch aan een Godsdienst gebonden zyn, maar dat zy een geschiktheid des harte bezitten, om beminnaars en weldoenders te zyn van 't gansche menschdom."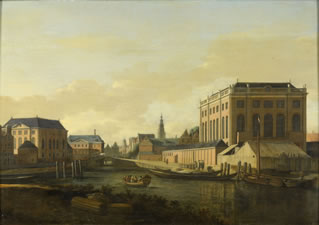 Justus van Effen (21 februari 1684 - 18 september 1735)
Gezicht op de Grote en Portugese Synagoge te Amsterdam, ca. 1680. Gerrit Adriaensz Berckheyde
Zie voor nog meer schrijvers van de 21e februari ook mijn vorige blog van vandaag.


21-02-2015 om 13:48 geschreven door Romenu

Tags:Herman de Coninck, Chuck Palahniuk, Hans Andreus, Wystan Hugh Auden, Laure Limongi, Justus van Effen, Romenu



Ha Jin, Anaïs Nin, Raymond Queneau, David Foster Wallace, Ingomar von Kieseritzky, Ishigaki Rin, José Zorrilla y Moral
De Chinees-Amerikaanse schrijver Ha Jin werd geboren op 21 februari 1956 in Jinzhou, China. Zie ook alle tags voor Ha Jin op dit blog.
Uit: Waiting
"Excuse me," the judge cut him short. "May I remind you that the law does not say every married man is entitled to a divorce? Go on."
Lin was flustered. He remained silent for a moment while his face was burning. Then he resumed warily, "I understand that, Comrade Judge, but my wife has already agreed to a divorce. We have worked out an arrangement between us, and I shall financially support her and our child afterward. Believe me, I'm a responsible man."
As he was speaking, Shuyu covered her mouth with a crumpled piece of paper. Her eyes were closed as though her scalp were smarting.
The judge turned to her after Lin was finished. "Comrade Shuyu Liu, I have a few questions for you. Now promise me you will think about them carefully before you answer me."
"I will." She nodded.
"What's the true reason that your husband wants a divorce?"
"Don't have a clue."
"Is there a third party involved?"
"What that mean?"
The young scribe, sitting behind the judge and taking notes, shook his head, blinking his round eyes. The judge went on, "I mean, has he been seeing another woman?"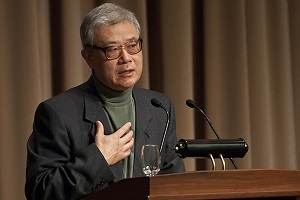 Ha Jin (Jinzhou, 21 februari 1956)
De Franse schrijfster Anaïs Nin werd geboren op 21 februari 1903 in Neuilly. Zie ook alle tags voor Anaïs Nin op dit blog.
Uit: Delta of Venus
"Dear Collector: We hate you. Sex loses all its power and magic when it becomes explicit, mechanical, overdone, when it becomes a mechanistic obsession. It becomes a bore. You have taught us more than anyone I know how wrong it is not to mix it with emotion, hunger, desire, lust, whims, caprices, personal ties, deeper relationships that change its color, flavor, rhythms, intensities.
"You do not know what you are missing by your micro-scopic examination of sexual activity to the exclusion of aspects which are the fuel that ignites it. Intellectual, imaginative, romantic, emotional. This is what gives sex its surprising textures, its subtle transformations, its aphrodisiac elements. You are shrinking your world of sensations. You are withering it, starving it, draining its blood.
If you nourished your sexual life with all the excitements and adventures which love injects into sensuality, you would be the most potent man in the world. The source of sexual power is curiosity, passion. You are watching its little flame die of asphyxiation. Sex does not thrive on monotony. Without feeling, inventions, moods, no surprises in bed. Sex must be mixed with tears, laughter, words, promises, scenes, jealousy, envy, all the spices of fear, foreign travel, new faces, novels, stories, dreams, fantasies, music, dancing, opium, wine. How much do you lose by this periscope at the tip of your sex, when you could enjoy a harem of distinct and never-repeated wonders? No two hairs alike, but you will not let us waste words on a description of hair; no two odors, but if we expand on this you cry Cut the poetry. No two skins with the same texture, and never the same light, temperature, shadows, never the same gesture; for a lover, when he is aroused by true love, can run the gamut of centuries of love lore. What a range, what changes of age, what variations of maturity and innocence, perversity and art . . ."

Anaïs Nin (21 februari 1903 – 14 januari 1977)
Cover
De Franse schrijver Raymond Queneau werd geboren op 21 februari 1903 in Le Havre. Zie ook alle tags voor Raymond Queneau op dit blog.
Pour un art poétique
Prenez un mot prenez en deux
faites les cuir' comme des oeufs
prenez un petit bout de sens
puis un grand morceau d'innocence
faites chauffer à petit feu
au petit feu de la technique
versez la sauce énigmatique
saupoudrez de quelques étoiles
poivrez et mettez les voiles
Où voulez vous donc en venir ?
A écrire Vraiment ? A écrire ?
Un poème
Bien placés bien choisis
quelques mots font une poésie
les mots il suffit qu'on les aime
pour écrire un poème
on ne sait pas toujours ce qu'on dit
lorsque naît la poésie
faut ensuite rechercher le thème
pour intituler le poème
mais d'autres fois on pleure on rit
en écrivant la poésie
ça a toujours kékchose d'extrème
un poème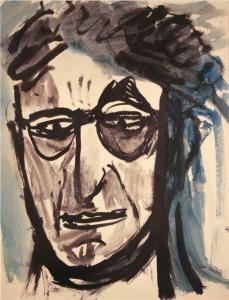 Raymond Queneau (21 februari 1903 – 25 oktober 1976)
Zelfportret, 1947
De Amerikaanse schrijver David Foster Wallace werd geboren op 21 februari 1962 in New York. Zie ook alle tags voor David Foster Wallace op dit blog.
Uit:The Broom of the System
"You want to know the story? I'd be happy to tell you. I think I have just enough caloric energy stored up to make it through the telling of the tale. It's short. I am monstrously fat. I am a glutton. My wife was disgusted and repulsed. She gave me six months to lose one hundred pounds. I joined Weight Watchers . . . see it there, right across the street, that gaunt storefront? This afternoon was the big six-month weigh-in. So to speak. I had gained almost seventy pounds in the six months. An errant Snickers bar fell out of the cuff of my pants and rolled against my wife's foot as I stepped on the scale. The scale over there across the street is truly an ingenious device. One preprograms the desired new weight into it, and if one has achieved or gone below that new low weight, the scale bursts into recorded whistles and cheers and some lively marching-band tune. Apparently, tiny flags protrude from the top and wave mechanically back and forth. A failure--see for instance mine--results in a flatulent dirge of disappointed and contemptuous tuba. To the strains of the latter my wife left, the establishment, me, on the arm of a svelte yogurt distributor whom I am even now planning to crush, financially speaking, first thing tomorrow morning. Ms. Beadsman, you will find an eclair on the floor to the left of your chair. Could you perhaps manipulate it onto this plate with minimal chocolate loss and pass it to me."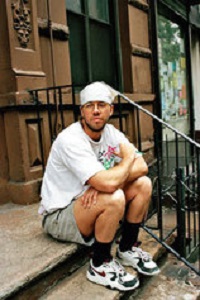 David Foster Wallace (21 februari 1962 – 12 september 2008)
De Duitse schrijver Ingomar von Kieseritzky werd geboren op 21 februari 1944 in Dresden. Zie ook alle tags voor Ingomar von Kieseritzky op dit blog.
Uit: Traurige Therapeuten
"Durch die freundliche Vermittlung des Therapeutengespanns Wolzan/Guth (Heilpraktiker und Hierologen), die ihre ungewöhnlichen wie erfolgreichen Therapien dem reichhaltigen Fundus altägyptischer Schriften, der Anthroposophie und dem MSD-Manual entnahmen, geriet ich in das Schweizer Sanatorium W. (der genaue Name tut nichts zur Sache) für Neurastheniker, Stoffwechselpsychosen und andere seelische Verstimmungen, dem ein Dr. Spoerri vorstand, dessen Spezialität die Migräne war.
Ich selbst hatte keinen spezifischen Schaden; ich litt an kleinen Gedächtnisstörungen, was Zahlen betraf, kurzen Absencen, Kopf schmerzen und an chronischer Schlaflosigkeit, also durchaus harmlosen Defekten, an denen ein jeder vernünftige Mensch in diesen Zeiten laboriert.
Nachdem ich Dr. Spoerri die Grüße aus Berlin ausgerichtet hatte, wurde ich in einem kleinen Apartment einquartiert – ein Zimmer, ein Bad, mehr nicht, für meine Bedürfnisse ausreichend – mit Blick, wie man mir sagte, auf den Piz Michel, Höhe unbekannt; ich habe auch keine Ahnung, in welchem Kanton das Sanatorium W. liegt. Ich dankte der Doppelpraxis mit einer farbigen Postkarte – Blick auf den Piz Michel-, und schrieb –:
Endlich im Sanatorium bei Ihrem Dr. Spoerri, guter Mann, gute Aura, fühle mich schon sehr viel wohler.
Herzliche Grüße, bitte auch an Miriam.
Der Ihre. Arthur Singram.
Miriam war eine riesige dänische Dogge, die ich in vier Sitzungen in meiner Tierheilpraxis (das Gründungsdatum ist mir entfallen) von ihrer Idée fixe heilte, die Außenwelt sei ihr feindlich gesonnen. Die Herren Wolzan & Guth entdeckten, dass Miriam sich ungern bewegte, d.h., wenn sie sich überhaupt bewegte, dann mit geschlossenen Augen, was Konflikte mit Möbeln und Menschen mit sich brachte; ich fand heraus, welchem Wahn sie anhing – sie fürchtete sich panisch vor nackten Holzböden, Linoleum, kurz vor jeder Fläche, die nicht mit einem Teppich versehen war, als handele es sich um einen Abgrund –, und sie fürchtete wie die Pest Asphalt, ja die ganze Terra firma ohne Teppiche."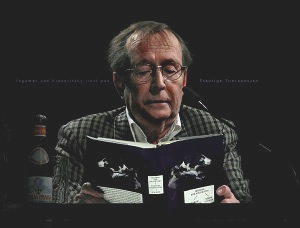 Ingomar von Kieseritzky (Dresden, 21 februari 1944)
De Japanse dichteres Ishigaki Rin werd geboren op 21 februari 1920 in Tokyo. Zie ook alle tags voor Ishigaki Rin op dit blog.
At The Bathhouse
In Tokyo
At the public bathhouse the price went up to 19 yen and so
When you pay 20 yen at the counter
You get one yen change.

Women have no leeway in their lives
To be able to say that
They don't need one yen
And so though they certainly accept the change
They have no place to put it
And drop it in between their washing things.

Thanks to that
The happy aluminium coins
Soak to their fill in hot water
And are splashed with soap.

One yen coins have the status of chess pawns
So worthless that they're likely to bob up even now
In the hot water.

What a blessing to be of no value
In monetary terms.

A one yen coin
Does not distress people in the way a 1,000 yen note does
Is not as sinful as a 10,000 yen note
The one yen coin in the bath
With healthy naked women.
Vertaald door Leith Morton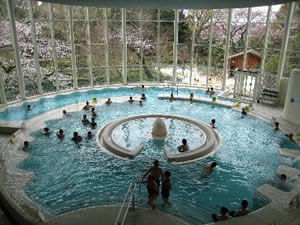 Ishigaki Rin (21 februari 1920 – 26 december 2004)
Toshimaen Niwa no Yu spa, Tokyo
De Spaanse dichter en schrijver José Zorrilla y Moral werd geboren op 21 februari 1817 in Valladolid. Zie ook alle tags voor José Zorrilla y Moral op dit blog.
Uit: Don Juan Tenorio
"BUTTARELLI: Excellency, he is not in Sevilla,
DON JUAN: Is he still absent? Really?
BUTTARELLI: I think so.
DON JUAN: And it's right you've no news of him?
BUTTARELLI: Ah, I find there's a story coming to mind I should tell you....
DON JUAN: Shedding light on the case?
BUTTARELLI: Maybe.
DON JUAN: Speak then.
BUTTARELLI: (Talking to himself)
No, no, I've just got it right:
the year is up tonight. I'd forgotten that.
DON JUAN: For God's sake will you start your tale?
BUTTARELLI: Excuse me sir, at once, I was thinking of the event.
DON JUAN: Out with it, then, because I'm getting more than impatient!
BUTTARELLI: Well, the story sir, round here is that the gentleman, Mejía whom you ask about, he I fear hit on the very worst idea that is ever likely to appear.
DON JUAN: Skip the extraordinary idea, it's well known to me, as to who in the space of a year, could do more harm with more good luck, Juan Tenorio or Luis Mejía."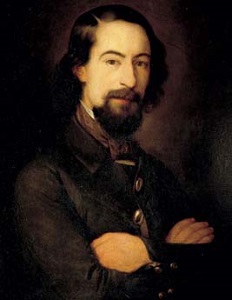 José Zorrilla y Moral (21 februari 1817 – 23 januari 1893)
Anoniem portret , rond 1844


21-02-2015 om 13:36 geschreven door Romenu

Tags:Ha Jin, Anaïs Nin, Raymond Queneau, David Foster Wallace, Ingomar von Kieseritzky, Ishigaki Rin, José Zorrilla y Moral, Romenu



| | |
| --- | --- |
| | |



Inhoud blog


| | |
| --- | --- |
| | Tennessee Williams, Gregory Corso, Hwang Sun-won, Martin McDonagh, Robert Frost, Patrick Süskind |
| | A. E. Housman, Bettina Galvagni, Hai Zi, Erica Jong, Artur Landsberger |
| | Am vierten Sonntage in der Fasten (Annette von Droste-Hülshoff) |
| | Pol Hoste, Menno Van der Beek, Flannery O'Connor, Jaime Sabines, Peter Van Straaten, Toni Cade Bambara, Antonio Fogazzaro |
| | Jacques Bens, Jacques Audiberti, Filip De Pillecyn, Erica Pedretti, Evliya Çelebi, Anne Fanshawe, Daniel Schiebeler, Mary Webb |
| | Peter Bichsel, Martin Walser, Dario Fo, Lawrence Ferlinghetti, Jacob van Lennep, Jeroen Mettes, Harry Prenen, Willem van Iependaal, Top Naeff |
| | Cri Stellweg, Yōko Tawada, Gary Whitehead, Mitch Cullin, Steven Saylor, Roger Martin du Gard, Madison Cawein, Nils-Aslak Valkeapää, Federica de Cesco |
| | Billy Collins, Eveline Hasler, Érik Orsenna, Léon Deubel, Karel Poláček, Arnold Sauwen, Wolfgang Bächler, Albrecht Goes, Gabrielle Roy |
| | In Memoriam Colin Dexter |
| | Willem de Mérode, Pim te Bokkel, Kees van Beijnum, Jean Paul, Hamid Skif, Hubert Fichte, Peter Hacks, Michel Bartosik, Youssef Rzouga |
| | David Malouf, Friedrich Hölderlin, Katharina Hartwell, Ralph Giordano, Ricus van de Coevering, Jens Petersen, Benoît Duteurtre, Gerard Malanga, Henrik Johan Ibsen |
| | Mano Bouzamour, Hans Mayer, Philip Roth, Kirsten Boie, Lynne Sharon Schwartz, Lina Kostenko, Petar Preradović |
| | William Allingham, Ion Barbu, Rosalie Loveling, Tobias Smollett, Irving Wallace, Peter Abrahams |
| | Am dritten Sonntage in der Fasten (Annette von Droste-Hülshoff) |
| | Christa Wolf, Charlotte Roche, John Updike, Wilfred Owen, Stéphane Mallarmé |
| | Héctor Bianciotti, Hellema, Friedrich Hebbel, Max Barry, Wolfgang Bauer, Richard Condon |
| | Walter Rheiner, Srečko Kosovel, Jean Anglade, George Plimpton, Cosmo Monkhouse, Friedrich Nicolai |
| | Siegfried Lenz, Thomas Melle, Hans Wollschläger, Rense Sinkgraven, Hafid Aggoune, William Gibson, Patrick Hamilton, Karl Gutzkow, Jean Ingelow |
| | In memoriam Torgny Lindgren |
| | Frühlingsglaube (Johann Ludwig Uhland) |
| | Ben Okri, David Albahari, Louis Paul Boon, Kurt Drawert, Gerhard Seyfried, Andreas Okopenko, An Rutgers van der Loeff, Prosper van Langendonck, Paul Heyse |
| | Pam Ayres, Jochen Schimmang, Volker von Törne, Horton Foote, Olivier Delorme, Alexandru Macedonski, Albert Robida, Theodore de Banville, Wout Waanders |
| | Mahmoud Darwish, Yuri Andrukhovych, Didier Decoin, Yeghishe Charents, Vladimir Makanin, Oskar Loerke, W.O. Mitchell, Hugh Walpole, Inge Müller |
| | Jenny Erpenbeck, Dave Eggers, Jack Kerouac, Naomi Shihab Nye, Carl Hiaasen, Edward Albee, De Schoolmeester, Benedict Wells |
| | Kathrin Schmidt, Henrike Heiland, M. A. Numminen, Gabriele d'Annunzio, Irving Layton, Helga Goetze, Françoise d'Eaubonne, Antony Deschamps, Sergej Michalkov |
| | Leena Lehtolainen, Karl Krolow, Daan de Ligt, Frans Vogel, Willem Claassen, Amal Karam |
| | Ernst Wichert, Douglas Adams, Torquato Tasso, Georg Maurer, Josef Martin Bauer |
| | John Rechy, Joseph von Eichendorff, Hilde Van Cauteren, Jakob Wassermann, Karel van de Woestijne, Chloé Delaume, Friedrich Schlegel, Boris Vian, Manolis Anagnostakis |
| | Peter Altenberg, Ed Hoornik, Peter Zantingh, Heere Heeresma, Vita Sackville-West, Josef Weinheber, Taras Sjevtsjenko, Umberto Saba, Agnes Miegel |
| | Jeffrey Eugenides, Walter Jens, Hafid Bouazza, A. Marja, Aslı Erdoğan, John McPhee, Mouloud Feraoun, Mechtilde Lichnowsky, Dominic Angeloch |
| | Bret Easton Ellis, Robert Harris, Jürgen Theobaldy, Georges Perec, Abe Kōbō, Reinhard Kaiser, Manfred Gregor, Jan Frederik Helmers, Alessandro Manzoni |
| | Patrick deWitt, Gabriel García Márquez, Jeremy Reed, Marijke Hanegraaf, Thomas Acda, Günter Kunert, Clark Accord, Elizabeth Barrett Browning, Michelangelo |
| | Pier Paolo Pasolini, Arthur van Schendel, Koos van Zomeren, Jurre van den Berg, Nelly Arcan, Danny King, Jean Orizet |
| | Leslie Marmon Silko, Frank Norris, Fritz Usinger, Friedrich Schnack, Ennio Flaiano, Moritz Carrière, Karl August Timotheus Kahlert |
| | Kristof Magnusson, Khaled Hosseini, Robert Kleindienst, Irina Ratushinskaya, Alan Sillitoe |
| | Ryszard Kapuściński, Jean-Joseph Rabearivelo, Annette Seemann, F. W. Bernstein, Giorgio Bassani |
| | Bernardo Ashetu, Léon-Paul Fargue, Kito Lorenc, Jacques Dupin, Thomas S. Stribling |
| | Manfred Flügge, Hans Verhagen, Tjitske Jansen, James Merrill, Kola Boof, Clifton Snider, Gudrun Pausewang, Josef Winkler, Chris Kraus |
| | Godfried Bomans, Multatuli, Frank Albers, John Irving, Thom Wolfe, Michael Salinger, János Arany, Olivia Manning, Rinske Kegel |
| | Ash Wednesday (T. S. Eliot) |
| | Jan Eijkelboom, Jim Crace, Delphine de Vigan, Franz Hohler, Lytton Strachey, Robert Lowell, Myrthe van der Meer, Franzobel, Steven Barnes |
| | Chanson pour mourir d'amour au temps de carnaval (Louis Aragon) |
| | Stephen Spender, Bart Koubaa, Luc Dellisse, John Montague, Marcel Pagnol, Bodo Morshäuser, Martin Suter, Yórgos Seféris, Howard Nemerov |
| | Josef Svatopluk Machar |
| | Carnival Evening (Linda Pastan) |
| | Cynan Jones, John Steinbeck, Lawrence Durrell, André Roy, Henry Longfellow, Elisabeth Borchers, James T. Farrell, Irwin Shaw |
| | Fastnacht (Achim von Arnim) |
| | Michel Houellebecq, Victor Hugo, Adama van Scheltema, George Barker, Hermann Lenz, Antonin Sova, Jean Teulé |
| | Ulrike Syha, Elias Annes Borger, Vercors, Pierre Mac Orlan, Janus Djurhuus, Johann Lauremberg, August Thieme |
| | Amin Maalouf, Aldo Busi, Gabriël Smit, Anthony Burgess, Robert Rius, Karl May, Lesja Oekrajinka, Vittoria Colonna |


Gastenboek


Druk op onderstaande knop om een berichtje achter te laten in mijn gastenboek