De Indiaase schrijfster Qurratulain Hyder werd geboren op 20 januari 1927 in Aligarh, Uttar Pradesh. Zie ook alle tags voor Qurratulain Hyder op dit blog.
Uit: Fireflies in the Mist
'Uncle…' she said now, a little uncertainly, "I merely wished to say that we could work together for unity instead of partition.'
'Where the hell is unity? The anti-Muslim Arya Samaj of Punjab and the Hindu militancy of Maharashtra and Bengal… are they symbols of peace and goodwill? Don't forget that these movements were started before we thought of setting up a separate political platform.'
'I don't know about other provinces, but in Bengal Hindus and Muslims share a common culture.'
'Did your community ever admit the fact that the folk music and folk literature of Bengal are largely the contribution of the Muslims? By 'Bengali culture' you only mean Hindu culture. During the last century your press even started the language controversy. They said Bengali was not the language of the Muslims, they declared that Bengali literature and culture were exclusively the heritage of the Hindus…By God, Deepali, we wanted unity. But now, such hatred for us! Such contempt. Like the Christians have for the Jews in Europe….
…. 'But. Uncle,' she cut in impatiently, 'both communities started their revivalist movements and were encouraged by the…'
'British! I agree. Well why did we let ourselves be manipulated by them?' He collected his papers and carried them to the writing table".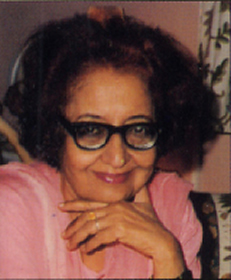 Qurratulain Hyder (20 januari 1927 – 21 augustus 2007)
De Franse dichter en schrijver Raymond Roussel werd geboren op 20 januari 1877 in Parijs. Zie ook alle tags vooor Raymond Roussel op dit blog.
Uit: Locus Solus
"Nous cheminions depuis peu dans une allée en pente ascendante fort raide.
À mi-côte nous vîmes au bord du chemin, debout dans une niche de pierre assez profonde, une statue étrangement vieille qui, paraissant formée de terre noirâtre, sèche et solidifiée, représentait, non sans charme, un souriant enfant nu. Les bras se tendaient en avant dans un geste d'offrande – les deux mains s'ouvrant vers le plafond de la niche. Une petite plante morte, d'une extrême vétusté, s'élevait au milieu de la dextre, où jadis elle avait pris racine.
Canterel, qui poursuivait distraitement son chemin, dut répondre à nos questions unanimes.
« C'est le Fédéral à semen-contra vu au cœur de Tombouctou par Ibn Batouta », dit-il en montrant la statue – dont il nous dévoila ensuite l'origine.
Le maître avait connu intimement le célèbre voyageur Echenoz, qui lors d'une expédition africaine remontant à sa prime jeunesse était allé jusqu'à Tombouctou.
S'étant pénétré, avant le départ, de la complète bibliographie des régions qui l'attiraient, Echenoz avait lu plusieurs fois certaine relation du théologien arabe Ibn Batouta, considéré comme le plus grand explorateur du XIVe siècle après Marco Polo."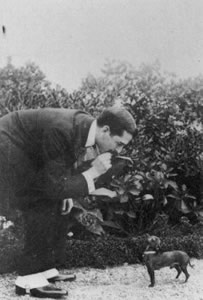 Raymond Roussel (20 januari 1877 – 14 juli 1933)
De Vlaamse dichter, rederijker en heelmeester Michiel de Swaen werd geboren in Duinkerke op 20 januari 1654. Zie ook alle tags voor Michiel de Swaen op dit blog.
Uit: Het leven en de dood van Jesus Christus
Op de Vlugt naer Egypten (Fragment)
Den woesten dwingelant op Davids throon gestegen
Gevoelde noyt syn hert door meerder spyt bewegen,
Dan als hem het vertrek der Wysen wierd geseydt.
Syn aders swollen op, door vraek en toornigheyt:
Dien afscheyt, waer toe hun den Engel had bewogen,
Nam hy voor eenen smaed van 't Vorstelyk vermogen:
Hy wierd door gramschap bleek, en swoer by syne Kroon,
Op 't nieuw-geboren Kind te vreken desen hoon.
Syn belgsucht dreef hem uyt de palen van de reden,
Wanneer verkondigt wierd de maer' der wonderheden
Ten offer van dat Kind, in 's Heerens woonst gesien;
Dan gaf hy vollen toom aen syne rasernien,
En toont in 't openbaer, voor Heydenen en Jooden
Syn wetteloos besluyt, van Jesus te doen dooden.
Waer hêen geweldenaer, met u verwaent vernuft,
Uw listen zyn om niet, uw oordeel is versuft.
Gy stelt vergeefs in 't werk soo veel doortrapte stucken,
Hoe loos, hoe snood sy zyn, Godt sal se doen mislucken.
Daer is voorsichtigheyt, nog wetenschap, nog raet,
Die tegen syn besluyt op vaste gronden staet.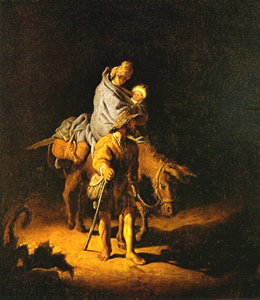 Michiel de Swaen (20 januari 1654 – 3 mei 1707)
Vlucht naar Egypte door Jozef en Maria door Rembrandt, 1627
De Duitse dichteres en schrijfster Edeltraud Eckert werd geboren op 20 januari 1930 in Hindenburg. Zie ook alle tags voor Edeltraud Eckert op dit blog.
Gedanken über den Tod
Tod ist wohl nicht ein Fallen
in Tiefen ohne Grund,
in Dunkelheit und ew'ges Schweigen.
Tod ist wohl mehr ein Steigen
aus dem begrenzten Rund
des menschlichen Begreifens,
aus unseren und allen
Fährnissen der Zeit.
Tod ist auch Ende nicht,
Beginnen nur des letzten Reifens,
das unser Sein in sich vollendet
und selbst den schmerzlichsten Verzicht
zur endlichen Erfüllung wendet.
Tod ist nicht Traum
und nicht Versinken
in Welten ohne Licht
und unsrer Ängste düstres Grau.
Tod ist nur durstendes Erkenntnis-Trinken
und Schweben über Zeit und Raum
in weiter ungetrübter Sicht
und tiefer inn'rer Schau.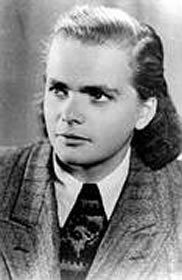 Edeltraud Eckert (20 januari 1930 – 18 april 1955)

Rectificatie
De Hongaarse schrijver Imre Madách werd geboren op 20 januari (en niet 21 januari) 1823 in Dolná Strehová in het huidige Slowakije. Zie ook alle tags voor Imre Madách op dit blog.
Uit: Die Tragödie des Menschen
"DER HERR.
Dir ziemt nur Huldigung und nicht Kritik.
LUCIFER.
Ich kann nur geben, was mein Wesen birgt.
Auf die Engel zeigend.
Sattsam lobhudelt dies Gelichter dich.
Die können sich den Aufwand auch gestatten;
Du zeugtest sie ja, wie das Licht den Schatten,
Seit jeher aber existire ich.
DER HERR.
Wie unverschämt! Hat dich nicht Stoff erzeugt?
Wo war dein Reich, wo deine Macht vorher?[
LUCIFER.
Dasselbe könnt' ich fragen auch von dir.
DER HERR.
Seit Urbeginn der Zeiten ward geplant
Und lebt' in mir, was nun geworden ist.
LUCIFER.
Empfandst du nicht die schauerliche Leere,
Die alles Werden hat gehemmt so lang,
Und immer hemmend dich zu schaffen zwang?
War dieses Hindernis nicht Lucifer,
Der Geist, der stets verneint von altersher?
Hast mich besiegt, denn mein Geschick gebeut
Im Kampf' zu unterliegen allezeit,
Doch neugekräftigt wieder zu erstehn.
Du zeugtest Stoff, und da gewann ich Spielraum,
Beim hellen Leben steht der blasse Tod,
Verstimmung folgt dem Glücke, Licht wirft Schatten,
Die Hoffnung hat den Zweifel zum Gefährten.
Du siehst, wo du bist, bin gewiß auch ich.
Und der ich so dich kenne, soll dir huld'gen?
DER HERR.
Ha, aus den Augen mir, abtrünn'ger Geist!
Könnt' dich vernichten wohl, doch thu' ich's nicht.
Magst ringen los von allen Geistesbanden,
Im Staube niedrig, ein verpönter Wicht;
Und so gehaßt, verstoßen und verlassen
Sollst reuevoll zur Einsicht kommen erst,
Daß du umsonst an deiner Kette zerrst,
Mit Gott im Kampfe nimmer Fuß wirst fassen."

Imre Madách (20 januari 1823 – 5 oktober 1864)
Borstbeeld in Boedapest
20-01-2013 om 00:00 geschreven door Romenu

Tags:Qurratulain Hyder, Raymond Roussel, Michiel de Swaen, Edeltraud Eckert, Romenu