De Duitse schrijver Arnold Stadler werd geboren op 9 april 1954 in Meßkirch. Zie ook alle tags voor Arnold Stadler op dit blog.
Uit: Salvatore
"Um seinen exhibitionistischen Übermut zu krönen, sagte er zum Abschluss einer solchen Volte, dass
er seit fünfundzwanzig Jahren nicht mehr wählen gewesen war. Und da er doch sehen konnte und einen Blick hatte für den Blick und die Mienen der anderen, hatte er ganz schnell widerrufen und seine Verlautbarungen und alles, was er gesagt hatte, als Scherz ausgegeben. Das war glatt eine Notlüge, um sich von der Welt zu distanzieren, wie sie war.
Und außerdem: Er wollte nicht auch noch für die Politik der vergangenen fünfundzwanzig Jahre mit zur Verantwortung gezogen werden. Aber er hatte auch Mitleid, besonders mit jenen, die ihm die ganze Arbeit, den Regierungsdreck, abnahmen und so zu leben verstanden, als hätten sie trotz allem
die Hoffnung niemals aufgegeben, mit den Frauen mehr als mit den Männern. Dafür bewunderte er sie.
Meist war es für Salvatore zu spät, die eigenen Dummheiten als Missverständnis oder Scherz auszugeben. Salvatore hatte es einfach nicht geschafft, sich rechtzeitig die Political Correctness wie ein zweites Hemd anzueignen und überzustreifen und so ein Doppelleben zu führen. Er trank ja nur,
weil er Angst hatte vor ihnen. Er fl üchtete in den Alkohol ja nur aus Furcht, dass ihm die richtigen Wörter nicht kämen."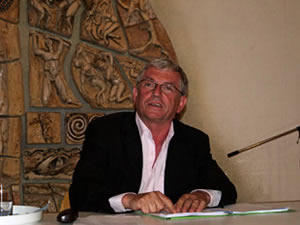 Arnold Stadler (Meßkirch, 9 april 1954)
De Franse toneelschrijver Bernard-Marie Koltès werd geboren in Metz op 9 april 1948. Zie ook alle tags voor Bernard-Marie Koltès op dit blog.
Uit: La marche
"(la fiancée)
...aussi loin que je me souvienne, il y a ces bras et ces jambes, tendus par secousses sous les poutres et les pierres. les mains écrasées et les pieds qui grattent le sol en soulevant la poussière. des visages encore tout souriant, et d'autres graves, après lesquels, au moment où c'est arrivé, le sourire et la gravité sont restés accrochés. je les ai vus ensuite, à travers la poussière, se secouer, s'agiter, comme pour faire tomber le sourire qui collait, ou les rides entre les yeux. puis tout doucement, ralentir, ralentir, jusqu'à s'arrêter. et tout s'est arrêté, les visages, les pieds, les mains. tout s'est immobilisé à travers la brume, dans le chaos.
Et la brume s'est épaissie, et les corps soudés aux pierres se sont éloignés, éloignés, jusqu'à n'être plus visibles ; plus visibles du tout."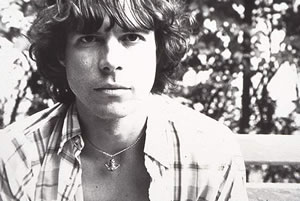 Bernard-Marie Koltès (9 april 1948 – 15 april 1989)
De Duitse dichter en schrijver Julius Hart werd geboren op 9 april 1859 in Münster. Zie ook alle tags voor Julius Hart op dit blog.
Der Seele Tod
Es geht ein seltsam Weben und Athmen durch die Nacht,
Seufzer der Sehnsucht beben in deinem Ohre sacht.
Die Winde gleiten kühler hinab den dunklen Weg,
Und leise Stimmen flüstern am blühenden Geheg.
Und in den fernen Wolken im Osten blitzt es auf,
Und von der Erde hebt sich ein sanfter Glanz hinauf.
Es quillt wie Licht und Leben aus dunklem Schooß hervor,
Es ringen sich Gestalten aus Nacht und Tod empor.
Die Welt schaut ihrem Morgen entgegen sehnsuchtsvoll,
Wie einst der ersten Liebe dein Herz entgegenschwoll.
So dürstet uns're Seele heiß nach des Lebens Gluth,
Emporzutauchen aus der schwarzen Todesfluth.
Und immer wieder ringt sich ein Tag aus jeder Nacht,
Du, Seele, bist aus jedem Tod noch auferwacht.
Du wandelst ewig weiter durch Nacht und Tageslicht,
Und Welt auf Welt erhebt sich und Welt auf Welt zerbricht.
Auf Sonnenschwingen hebt sich empor mein Herz und Sinn,
Auf Gottesflügeln schweb' ich empor – wohin? wohin?
In meinen Augen fluthet ein morgenheller Schein,
In meine Seele gluthet das Gottesaug' hinein.
O Glanz, o furchtbar Leuchten, das meinen Geist umwallt,
Du hundertfältig' Leben, dein letzter Schrei verhallt.
O süßes Wunderweben, was meinen Geist umwirbt,
Zu End' ist die Verwandlung, wer Gott geschaut der stirbt!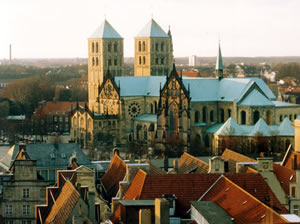 Julius Hart (9 april 1859 – 7 juli 1930)
Münster, Dom
De Russische schrijver Lev Zinovevitsj Kopelev werd op 9 april 1912 in Kiev geboren. Zie ook alle tags voor Lev Kopelev op dit blog.
Uit: The Education Of A True Believer (Vertaald door Gary Woodward Kern)
"The grain front! Stalin said the struggle for grain was the struggle for socialism. I was convinced that we were warriors on an invisi­ble front, fighting against kulak sabotage for the grain which was needed by the coun­try, by the five-year plan. Above all, for the grain, but also for the souls of these peasants who were mired in unconscientiousness, in ignorance, who succumbed to enemy agita­tion, who did not understand the great truth of communism….
The highest measure of coercion on the hard-core holdouts was "undisputed confiscation."
A team consisting of several young kol­khozniks [collective farmers] and members of the village soviet…would search the hut, barn, yard, and take away all the stores of seed, lead away the cow, the horse, the pigs.
In some cases they would be merciful and leave some potatoes, peas, corn for feeding the family. But the stricter ones would make a clean sweep. They would take not only the food and livestock, but also "all valuables and sur­pluses of clothing," including icons in their frames, samovars, painted carpets and even metal kitchen utensils which might be silver. And any money they found stashed away. Spe­cial instructions ordered the removal of gold, silver and currency….
Several times Volodya and I were present at such plundering raids. We even took part: we were entrusted to draw up inventories of the confiscated goods…. The women howled hys­terically, clinging to the bags.
"Oy, that's the last thing we have! That was for the children's kasha [cereal]! Honest to God, the children will starve!"
They wailed, falling on their trunks:
"Oy, that's a keepsake from my dead mama! People, come to my aid, this is my trousseau, never e'en put on!"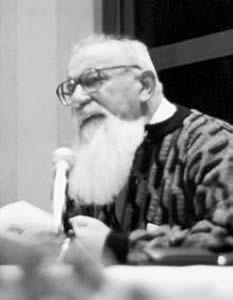 Lev Kopelev (9 april 1912 – 18 juni 1997)
De Duitse schrijver en milieu-acrivist Carl Amery werd als Christian Anton Mayer op 9 april 1922 in München geboren. Zie ook alle tags voor Carl Amery op dit blog.
Uit: Global Exit
"Daraus erwuchsen Kulturen, gräßliche und wundervolle; und damit war wundervoll und gräßlich zu leben - und zu sterben. Denn zur allgemeinen Krise des Lebendigen führten sie deshalb nicht, weil der Tod noch zu mächtig war, die unentbehrliche Verkehrsform des Lebens: Wirbelt die Spirale des Ausgriffs, der Jagd nach Glück und Ressourcen, zu weit in schlechte Unendlichkeit, dann zieht sie die zentripetale Kraft von Not und Tod an die festigende Achse zurück. Viel Grün, und die Schneehasen vervielfachen sich; viel Schneehasen, und die Zahl der Polarfüchse explodiert - bis das Gras verwelkt, die Hasen gefressen, die Füchse dezimiert sind. Gab es eine verheerende Pest, dann starb die Hälfte der Leute, die Rodungsflächen erholten sich, und die Löhne der Dienstboten stiegen. Die piekfeine, die hochmoderne, die Globalkrise: die besorgte uns der homo oeconomicus, der im Bierhefe- und Schimpansenprogramm nicht nur verharrte, sondern es zum Motor des Fortschritts verklärte; immer mehr von seinen höheren Fähigkeiten (zuletzt den ganzen Produktionsfaktor Wissenschaft) investierte er in den stets weiteren Ausgriff der Gierspirale, den (letzten Endes tragikomischen) Erfolg der Panikflucht vor Not und Tod, weg von der Todesachse, die er nicht als Stabilisierung, sondern als Verhöhnung, als Beleidigung, als unbedingt zu beseitigenden Grundfehler der Existenz begreift (vielmehr: zu begreifen vorzieht)."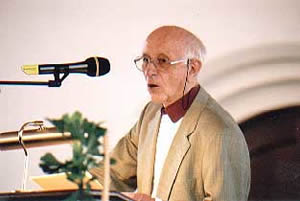 Carl Amery (9 april 1922 – 24 mei 2005)
De Iers-Amerikaanse schrijver Leonard Wibberley werd geboren op 9 april 1915 in Dublin. Zie ook alle tags voor Leonard Wibberley op dit blog.
Uit: The Mouse That Roared
"Either the defeated enemy must h ave an army and nave and air force of its own, or the Americans must remain there in an indefinite occupation.
"Americans, particularly American soldiers, do not like to remain long outside their own country. And in a matter of months, or at the most years, the United States is first requesting and then begging its former enemies to raise an army to defend their own territory. It is not unheard of that these defeated foes are able to state the terms under which they will raise an army for their own policing and defense. Those terms have involved the payments of large sums of money b y the United States, or the extension of generous credits, revision of trade agreements in favor of the defeated nation, return of shipping, rehabilitation of factories destroyed in the war, and even the gift of equipment needed for the army.
"All in all, as I said before, there is no more profitable and sound step for a nation without money or credit to take, than declare war on the United States and suffer a total defeat." She smiled indulgently at the two of them.
Count Mountjoy, who had commenced listening to the discourse as if h e were hearing a sentence of doom pronounced, was, when it ended, filled with lively interest.
"Why," he exclaimed, "the plan has possibilities that border on brilliant. We declare war on Monday, are vanquished Tuesday, and rehabilitated beyond our wildest dreams by Friday night."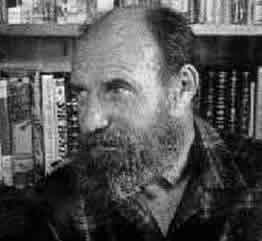 Leonard Wibberley (9 april 1915 – 22 november 1983)
09-04-2012 om 11:33 geschreven door Romenu

Tags:Arnold Stadler, Bernard-Marie Koltès, Julius Hart, Lev Kopelev, Carl Amery, Leonard Wibberley, Romenu