De Duitse schrijver Manfred Flügge werd geboren op 3 maart 1946 in Kolding, Denemarken. Zie ook mijn blog van 3 maart 2009 en ook mijn blog van 3 maart 2010.
Uit: Heinrich Mann
"Der störrische Knabe wollte aber nicht die Aufführung irgendeines Stücks sehen: «Ich will Herrn Gewert sehn!», rief er laut in den Saal hinein. Als der Bube ihn endlich auf der Bühne entdeckt hatte, wurden seine nächtlichen Phantasien wieder wach, und er verstand, dass Herr Gewert zu einer anderen Sphäre gehörte: «Er war ein verwegener, dabei düsterer Mann. Abenteuer und Märchen hatten ihn begleitet.»
Das Kind steigerte sich in eine Wahnvorstellung hinein, provozierte Eklat und Hinauswurf: Mine sollte ihn nach Hause bringen, doch unterwegs warf sich der unbändige Junge mit dem Sonntagsanzug in den Straßendreck, eine wahre Explosion der Affekte. Mine und das Kind gingen ziellos die Straßen auf und ab, bis sie schließlich zum Blumenladen von Gewerts Mutter fanden und dort anklopften. Sie entdeckten Herrn Gewert beim Abendessen. «Er saß und aß.» Aber dieses Sitzen und Essen entzauberte ihn, hob ihn aus der Sphäre von Abenteuer und Märchen heraus. «Der Anblick des ruhig essenden Herrn Gewert ernüchterte mich und erfüllte mich mit Trauer.» Fortan interessierte ihn Herr Gewert nicht mehr, auf Nachfragen der Eltern stellte er sich stumm und dumm. In der eindringlichen Schilderung des Missverständnisses, das eine widersinnige Poesie beinhaltet und zum Skandal führt, ist Heinrich Mann bei sich selbst. Es ist diese Märchensphäre, aus der seine ursprüngliche Inspiration hervorging, zu der immer schon der Wunsch nach der Verwandlung des Lebens gehörte, nach dem Übergreifen des Wunderbaren auf die eigene Erfahrung. Dieser Wunsch bestimmte seine Lebenswahl.
Als er 23 war, ein erstes Romanmanuskript beendet und auch zwei Wochen in Paris verbracht hatte, schrieb er während eines Aufenthalts in Florenz einen kurzen Text, teils in deutscher, teils in französischer Sprache, den er «Mein Plan» nannte. Darin imaginierte er ein apartes, elegantes, leicht theatralisches Leben in der großen Welt, stilvoll und selbstbewusst, beobachtend und genießend. Absolut modern wollte er sein und ein bisschen dekadent. Und: «Natürlich müsste Paris der Schauplatz sein.»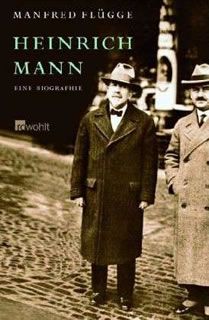 Manfred Flügge (Kolding, 3 maart 1946)
Boekomslag
De Oostenrijkse schrijver Josef Winkler werd geboren op 3 maart 1953 in Kamering, Kärnten. Zie ook mijn blog van 3 maart 2007 en ook mijn blog van 3 maart 2008 en ook mijn blog van 3 maart 2009 en ook mijn blog van 3 maart 2010.
Uit: Der Katzensilberkranz in der Henselstraße
"Immer wieder, besonders abends, wenn es dämmert und in Klagenfurt die Straßen leer werden, gehe ich von der Khevenhüllerstraße, über die Radetzkystraße, Richtung Kaserne, wenige hundert Meter weiter, in die Henselstraße, in der Ingeborg Bachmann einen Teil ihrer Kindheit und ihre Jugend verbracht hat, betrachte einen großen, an der Zauntür des Nachbarhauses hängenden Schildpattkranz, einen Katzensilberkranz, wie ich ihn nenne, der aus Hunderten hostiengroßen
Schildpattalern zusammengefügt ist, ziehe ein leicht angeklebtes Schildpatt aus dem Kranz, stecke es schnell und verstohlen ein – auf meinem Schreibtisch wird es liegen müssen, sage ich mir, während ich diesen Text schreibe – und gehe, an das Katzensilber meiner Kindheit denkend, ein paar Schritte weiter zum Haus Nummer 26, zum Haus der Ingeborg Bachmann, das Katzensilber vor Augen, das ich damals am Flußufer der Drau gesammelt, nach Hause getragen, als Lesezeichen in Winnetou I hineingesteckt habe – ein paar Jahre bevor ich den Namen Ingeborg Bachmann das erste Mal hörte –, an der Stelle, wo Winnetou bei einem Zweikampf seinem damals noch weißen Feind Old Shatterhand ein Messer ins Herz stoßen wollte, aber auf der linken Brusttasche seines Gegners an der Sardinenbüchse abrutschte, so daß das Messer des Indianers seinem Feind Old Shatterhand oberhalb des Halses und innerhalb der Kinnlade in den Mund und durch die Zunge stieß und sein
Blut, wie es in Winnetou I steht, »aus der äußeren Wundöffnung am Hals in einem beinahe fingerdicken Strahle herausrann«.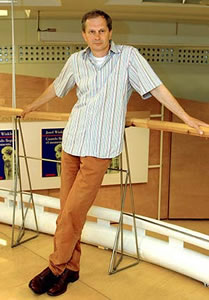 Josef Winkler (Kamering, 3 maart 1953)
De Nederlandse dichter en journalist Hans Verhagen werd geboren in Vlissingen op 3 maart 1939. Zie ook mijn blog van 3 maart 2008 en ook mijn blog van 3 maart 2009 en ook mijn blog van 3 maart 2010.
Wie het hevigst verlangt
Wie het hevigst verlangt naar de ochtend
raakt als eerste verstrikt in de nacht.
Tot in het holst van de kast loert nageslacht.

Zeker eerst vertederd toezien hoe de kindren
elkaar op een lentebriesje blazend zich
vermakend tussen omgekeerde hoge houten stoelen
voortplanten, dan je aangesproken
voelen bij het noemen van je naam
en ook nog eens als een geparkeerd station
luisterrijk te kijk staan
terwijl je zit te eten met andermans mond
omdat je de jouwe wil sparen
voor woorden die je nooit zult spreken.

- welke zou je trouwens ook niet weten –
Gedicht nr. 8 van Citadel
In de cel zucht... wat u nu hoort is het janken van een rat
of acht, hebben we allang gehad,
vier vierjarige personen op trompet,
onder wie de nieuwe Mozart.

Gewaarwordt hij - die grotendeels uit reukorgaan bestaat,
gestoken in een dwingender materie dan de wetenschap
dat de mystiek er niet om liegt, al zou ze graag willen -
dat ook-bekend-als-neus is afgezet, op die plek
bevindt zich nu een modieuze tennisarm
conform de allernieuwste toegevoegde waarde -
dezelfde die hij op z'n elfde al had onderkend
als één van de grootste dompers op aarde.

Domweg dapper zijn gelukkig niet,
maar onbezoedeld sneuvelen.
Drogerende wijn op het lichaam geclusterd met mispels,
gebotteld aan longen, in monden ontzield, ietwat kurkig.
Alleen in deze heuvelen.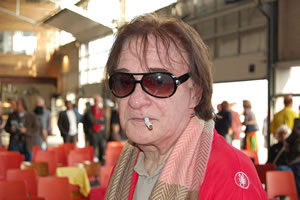 Hans Verhagen (Vlissingen, 3 maart 1939)
De Amerikaanse dichter James Merrill werd geboren op 3 maart 1926 in New York. Zie ook mijn blog van 3 maart 2007 en ook mijn blog van 3 maart 2008 en ook mijn blog van 3 maart 2009 en ook mijn blog van 3 maart 2010.
The Black Swan
Black on flat water past the jonquil lawns
Riding, the black swan draws
A private chaos warbling in its wake,
Assuming, like a fourth dimension, splendor
That calls the child with white ideas of swans
Nearer to that green lake
Where every paradox means wonder.
Though the black swan's arched neck is like
A question-mark on the lake,
The swan outlaws all possible questioning:
A thing in itself, like love, like submarine
Disaster, or the first sound when we wake;
And the swan-song it sings
Is the huge silence of the swan.
Illusion: the black swan knows how to break
Through expectation, beak
Aimed now at its own breast, now at its image,
And move across our lives, if the lake is life,
And by the gentlest turning of its neck
Transform, in time, time's damage;
To less than a black plume, time's grief.
Enchanter: the black swan has learned to enter
Sorrow's lost secret center
Where like a maypole separate tragedies
Are wound about a tower of ribbons, and where
The central hollowness is that pure winter
That does not change but is
Always brilliant ice and air.
Always the black swan moves on the lake; always
The blond child stands to gaze
As the tall emblem pivots and rides out
To the opposite side, always. The child upon
The bank, hands full of difficult marvels, stays
Forever to cry aloud
In anguish: I love the black swan.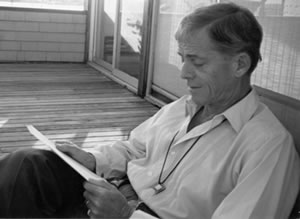 James Merrill (3 maart 1926 – 6 februari 1995)
De Amerikaanse dichteres en schrijfster Kola Boof werd (naar eigen zeggen) geboren als Naima Bint Harith op 3 maart 1972 in Omdurman, Soedan. Zie ook mijn blog van 3 maart 2009 en ook mijn blog van 3 maart 2010.
Naima Bint Harith
Jesus, are you lonely without
me?
Every since I came to this country
I have wanted to die.
I cannot find any dolphin to dream
about.
For here...the words of the children
are never children's words.
I am taller than the people here.
I am darker than everyone.
I am not beautiful in the songs they sing.
I am not Mohammed here.
This is a wedding cake, this country.
Stale and dusty.
No veil on my face, no Arab locust,
no husband to enslave me.
No one cuts my vagina here--I am not
accused of witchcraft here.
I am not naked on my dolphin here. There
is no Nile river here.
I have no mother (water) to bleed in.
There is no Blood...over here.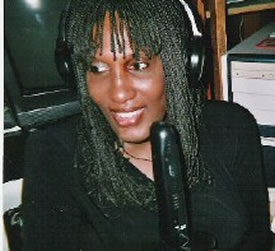 Kola Boof (Omdurman, 3 maart 1972)
De Duitse schrijfster Gudrun Pausewang werd geboren op 3 maart 1928 in Wichstadt. Zie ook mijn blog van 3 maart 2007 en ook mijn blog van 3 maart 2009 en ook mijn blog van 3 maart 2010.
Uit: Rosinkawiese - damals und heute
"Hartershausen, den 28. Februar 1979
Lieber Michael,
Du hast mich bisher nur einige Male kurz gesehen, als ich Deine Großmutter besuchte. Um so mehr überraschte mich Dein langer Brief, den ich vor einer Woche erhielt.
Ich konnte und wollte ihn nicht postwendend beantworten, denn er hat mich tief bewegt. Er hat lebhafte Erinnerungen, schöne und schmerzliche, in mir wachgerufen. Er hat mich gezwungen, meine Einstellung zu einem solchen Vorhaben, wie Du es erwägst, grundsätzlich zu überdenken. Er hat mich gefreut – ja wirklich, er löste in mir eine große Freude darüber aus, daß Du – so jung Du noch bist – einen ganz eigenen Lebensstil verwirklichen willst, daß Du das Sein, nicht das Haben, das Ideelle, nicht das Materielle, kurz: eine neue Lebensqualität anstrebst.
Und nicht zuletzt hat mich Dein Brief mit Dankbarkeit erfüllt, weil Du nach meinen Erfahrungen fragst. Im allgemeinen könnt Ihr jungen Leute heute, in unserer schnell-lebigen Welt, kaum noch etwas mit unseren Erfahrungen anfangen, weil sie längst vom Fortschritt überrollt wurden und dadurch für Euch wertlos geworden sind.
Aber da Du wohl offensichtlich vorhast, gegen den Strom zu schwimmen, oder besser gesagt, mitwirken willst, daß dieser Strom eine andere Richtung nehme, können Dir meine Erfahrungen, die einer Sechsundsiebzigjährigen, vielleicht doch dienlich sein, und ich will sie Dir daher gern übermit-
teln.
Um dies alles zu verarbeiten, habe ich ein paar Tage zeit- lichen Abstands gebraucht. Ich hoffe, Du kannst das begreifen."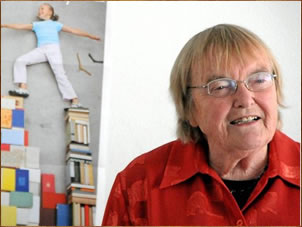 Gudrun Pausewang (Wichstadt, 3 maart 1928)
De Amerikaanse dichter, schrijver en criticus Clifton Mark Snider werd geboren op 3 maart 1947 in Duluth, Minnesota. Zie ook mijn blog van 3 maart 2009 en ook mijn blog van 3 maart 2010.
Le
Mont
Saint-Michel
A gold Michael
tops the pinnacle,
a small announcement;
wings apart, sword uplifted,
dragon under foot, he gazes down,
further than pilgrims in the Middle Ages,
who trudged, their view blocked by forest.
A triangle in the distance points to heaven,
from the place called before "tomb on a hill,"
before Archangel Michael troubled Saint Aubert
to mount his monument there. As the people fade
like icing down the narrow streets, the lights turn
stone into gold: this place, this entanglement of history,
with hidden, shoulder-wide stairways, midnight cemeteries,
and massive medieval walls, arches, and the golden pinnacle.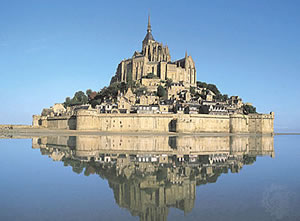 Clifton Snider (Duluth, 3 maart 1947)
Mont Saint Michel


Zie voor nog meer schrijvers van de 3e maart ook mijn vorige blog van vandaag.

03-03-2011 om 18:58 geschreven door Romenu

Tags:Manfred Flügge, Josef Winkler, Hans Verhagen, Kola Boof, Gudrun Pausewang, James Merrill, Clifton Snider, Romenu