E-mail mij


Druk op onderstaande knop om mij te e-mailen.


Romenu


Romenu is een blog over gedichten, literatuur en kunst Maar Romenu is ook een professionele freelance vertaler
Du-Ne en Ne-Du http://www.romenu.nl.


Huur eens een (vakantie)huis in een natuurgebied, dichtbij het centrum van Nijmegen


Google


Georg Trakl

Georg Trakl werd op 3 februari 1887 in het conducteurshuis aan de Waagplatz 2 in Salzburg geboren. Zijn vader, Tobias Trakl, was een handelaar in ijzerwaren en zijn moeder, die ook psychische problemen had, was Maria Catharina Trakl, (meisjesnaam Halik). Voorts had hij nog drie broers en drie zussen. Margarethe (doorgaans Grethe genoemd) stond hem het naast, zelfs zodanig dat sommigen een incestueuze verhouding vermoeden. Zijn jeugd bracht hij door in Salzburg. Vervolgens bezocht hij van 1897 tot 1905 het humanistische gymnasium. Om toch een academische opleiding te kunnen volgen, werkte hij tot 1908 in de praktijk bij een apotheker. Sommigen vermoedden dat hij dit vooral deed om zichzelf opiaten te kunnen verschaffen. Bij het uitbreken van WO I werd Trakl als medicus naar het front in Galicië (heden ten dage in Oekraïne en Polen) gestuurd. Zijn gemoedsschommelingen leidden tot geregelde uitbraken van depressie, die verergerd werden door de afschuw die hij voelde voor de verzorging van de ernstig verwonde soldaten. De spanning en druk dreven hem ertoe een suïcidepoging te ondernemen, welke zijn kameraden nochtans verhinderden. Hij werd in een militair ziekenhuis opgenomen in Kraków, alwaar hij onder strikt toezicht geplaatst werd.Trakl verzonk daar in nog zwaardere depressies en schreef Ficker om advies. Ficker overtuigde hem ervan dat hij contact moest opnemen met Wittgenstein, die inderdaad op weg ging na Trakls bericht te hebben ontvangen. Op 4 november 1914, drie dagen voordat Wittgenstein aan zou komen, overleed hij echter aan een overdosis cocaïne


Paul Celan

Paul Celan werd onder de naam Paul Antschel op 23 november 1920 geboren in Czernowitz, toentertijd de hoofdstad van de Roemeense Boekovina, nu behorend bij de Oekraïne. Paul Celans ouders waren Duitssprekende joden die hun zoon joods opvoedden en hem naar Duitse christelijke scholen stuurden. In 1942 werden Celans ouders door de Duitse bezetter naar een werkkamp gedeporteerd en daar vermoord. Hijzelf wist aanvankelijk onder te duiken, maar moest vanaf juli 1942 in een werkkamp dwangarbeid verrichten. Celan overleefde de oorlog. Via Boekarest en Wenen vestigde Celan zich in 1948 in Parijs. Daar was hij werkzaam als dichter, vertaler en doceerde hij aan de prestigieuze Ecole Normale Supérieure. Vermoedelijk op 20 april 1970 beëindigde hij zijn leven zelf door in de Seine te springen.


Gerard Reve

Gerard Reve over: Medearbeiders "God is in de mensen, de dieren, de planten en alle dingen - in de schepping, die verlost moet worden of waaruit God verlost moet worden, door onze arbeid, aangezien wij medearbeiders van God zijn." Openbaring "Tja, waar berust elk godsbegrip op, elke vorm van religie? Op een openbaring, dat wil zeggen op een psychische ervaring van zulk een dwingende en onverbiddelijke kracht, dat de betrokkene het gevoel heeft, niet dat hij een gedachte of een visioen heeft, maar dat een gedachte gedachte of visioen hem bezit en overweldigt."


Simon Vestdijk
Simon Vestdijk (Harlingen, 17 oktober 1898 – Utrecht, 23 maart 1971) was een Nederlands romancier, dichter, essayist en vertaler. Zijn jeugd te Harlingen en Leeuwarden beschreef hij later in de Anton Wachter-cyclus. Van jongs af aan logeerde hij regelmatig bij zijn grootouders in Amsterdam, waar hij zich in 1917 aan de Universiteit van Amsterdam inschrijft als student in de medicijnen. Tijdens zijn studie die van 1917 tot 1927 duurde, leerde hij Jan Slauerhoff kennen.Tot 1932 is hij als arts in praktijken door heel Nederland werkzaam. In 1932 volgt zijn officiële schrijversdebuut met de uitgave van de bundel Verzen in De Vrije Bladen. Doorslaggevend voor Vestdijks uiteindelijke keuze voor de literatuur is zijn ontmoeting in 1932 met Eddy Du Perron en Menno ter Braak. Deze ontmoeting had tot resultaat dat hij redactielid werd van het tijdschrift Forum Kort daarop, in 1933, wordt zijn eerste novelle, De oubliette, uitgegeven. In hetzelfde jaar schrijft hij Kind tussen vier vrouwen, dat, eerst geweigerd door de uitgever, later de basis zal vormen voor de eerste drie delen van de Anton Wachter-romans. In 1951 ontvangt Vestdijk de P.C. Hooftprijs voor zijn in 1947 verschenen roman De vuuraanbidders. In 1957 wordt hij voor het eerst door het PEN-centrum voor Nederland voorgedragen voor de Nobelprijs voor de Literatuur, die hij echter nooit zal krijgen. Op 20 maart 1971 wordt hem de Prijs der Nederlandse Letteren toegekend, maar voor hij deze kan ontvangen overlijdt hij op 23 maart te Utrecht op 72-jarige leeftijd. Vestdijk was auteur van ca. 200 boeken. Vanwege deze enorme productie noemde de dichter Adriaan Roland Holst hem 'de man die sneller schrijft dan God kan lezen'. Andere belangrijke boeken van Simon Vestdijk zijn: "Kind van stad en land" (1936), "Meneer Visser's hellevaart" (1936), "Ierse nachten" (1946), "De toekomst de religie" (1947), "Pastorale 1943" (1948), "De koperen tuin" (1950), "Ivoren wachters" (1951), "Essays in duodecimo" (1952) en "Het genadeschot" (1964).


K.P. Kavafis

K.P. Kavafis werd als kind van Griekse ouders, afkomstig uit Konstantinopel, geboren in 1863 in Alexandrië (tot vandaag een Griekse enclave) waar hij ook het grootste deel van zijn leven woonde en werkte. Twee jaar na de dood van zijn vader verhuist het gezin in 1872 naar Engeland om na een verblijf van vijf jaar naar Alexandrië terug te keren. Vanwege ongeregeldheden in Egypte vlucht het gezin in 1882 naar Konstantinopel, om na drie jaar opnieuw naar Alexandrië terug te gaan. In de jaren die volgen maakt Kavafis reizen naar Parijs, Londen en in 1901 zijn eerste reis naar Griekenland, in latere jaren gevolgd door nog enkele bezoeken. Op de dag van zijn zeventigste verjaardag, in 1933 sterft Kavafis in Alexandrië. De roem kwam voor Kavafis pas na zijn dood, dus postuum. Deels is dat toe te schrijven aan zijn eigen handelswijze. Hij was uiterst terughoudend met de publicatie van zijn gedichten, liet af en toe een enkel gedicht afdrukken in een literair tijdschrift, gaf in eigen beheer enkele bundels met een stuk of twintig gedichten uit en het merendeel van zijn poëzie schonk hij op losse bladen aan zijn beste vrienden.


Thomas Mann


Thomas Mann, de jongere broer van Heinrich Mann, werd geboren op 6 juni 1875 in Lübeck. Hij was de tweede zoon van de graankoopman Thomas Johann Heinrich Mann welke later één van de senatoren van Lübreck werd. Zijn moeder Julia (geboren da Silva-Bruhns) was Duits-Braziliaans van Portugees Kreoolse afkomst. In 1894 debuteerde Thomas Mann met de novelle "Gefallen". Toen Thomas Mann met 21 jaar eindelijk volwassen was en hem dus geld van zijn vaders erfenis toestond - hij kreeg ongeveer 160 tot 180 goldmark per jaar - besloot hij dat hij genoeg had van al die scholen en instituties en werd onafhankelijk schrijver. Kenmerkend voor zijn stijl zijn de ironie, de fenomenale taalbeheersing en de minutieuze detailschildering. Manns reputatie in Duitsland was sterk wisselend. Met zijn eerste roman, Buddenbrooks (1901), had hij een enorm succes, maar door zijn sceptische houding tegenover Duitsland na de Eerste Wereldoorlog veranderde dit volledig. Stelde hij zich tot aan de jaren twintig apolitiek op (Betrachtungen eines Unpolitischen, 1918), meer en meer raakte hij bij het Politiek gebeuren betrokken. Zijn afkeer van het nationaal socialisme groeide, zijn waarschuwingen werden veelvuldiger en heftiger. In 1944 accepteerde hij het Amerikaanse staatsburgerschap. Tussen 1943 en 1947 schreef Mann Doktor Faustus (zie Faust), de roman van de 'Duitse ziel' in de gecamoufleerd geschilderde omstandigheden van de 20ste eeuw. In 1947 bezocht hij voor het eerst sinds de Oorlog Europa, twee jaar later pas Duitsland. In 1952 vertrok hij naar Zwitserland. Op 12 augustus 1955 stierf hij in Zürich. Twintig jaar na zijn dood, in aug. 1975, is zijn literaire nalatenschap geopend: dagboekaantekeningen van 15 maart 1933 tot 29 juli 1955, alsmede notities uit de jaren 1918 tot en met 1921.Belangrijke werken zijn: Der Zauberberg, Der Tod in Venedig, Dokter Faustus , Joseph und seine Brüder en Die Bekenntnisse des Hochstaplers Felix Krull.


Rainer Maria Rilke

Rilke werd op 4 december 1875 geboren in Praag. Hij had al naam gemaakt als dichter met zijn bundels Das Stundenbuch en Das Buch der Bilder, toen hij de literaire wereld versteld deed staan en wereldfaam verwierf met de publicatie van zijn twee delen Neue Gedichte in 1907 en 1908. Hij verzamelde daarin het beste werk uit een van zijn vruchtbaarste periodes, die hij grotendeels doorbracht in Parijs. Rilke was daar diep onder de indruk gekomen van Rodin, bij wie hij een tijdlang in dienst was als particulier secretaris. Rodin, zei hij later, had hem leren kijken. Dit kijken kwam neer op intense concentratie, om het mysterie te kunnen zien 'achter de schijnbare werkelijkheid'. Latere en rijpere werken als Duineser Elegien (1912-1923) en het ronduit schitterende Die Sonette an Orfeus (1924) illustreren Rilkes metafysische visie op het onzegbare, dat haar verwoording vindt in een hermetische muzikale taal. Op 29 december 1926 overlijdt Rilke in het sanatorium in Val-Mont aan de gevolgen van leukemie. Enkele dagen later wordt hij, overeenkomstig zijn wens, begraven op het kerkhof van Raron.


* * * * * * * * * * * * * * * *

| | |
| --- | --- |
| | Over literatuur, gedichten, kunst en cultuur |

28-02-2011

Stephen Spender, Luc Dellisse, Marcel Pagnol, Raphaële Billetdoux
De Engelse dichter, essayist en schrijver Stephen Spender werd geboren op 28 februari 1909 in Londen. Zie ook mijn blog van 28 februari 2007 en ook mijn blog van 28 februari 2008 en ook mijn blog van 28 februari 2009 en ook mijn blog van 28 februari 2010.
Uit: World within world
"It was a sign of this submission of human beings to the mechanical forces they had called into being and put into motion against one another that I was no longer interested in the personality of Hitler, since, having begun the war, he had not the power to make it stop.
Everyone had shrunk in his own mind as well as in the minds of his fellow-beings, because his attention was diverted to events dwarfing individuals. These events could only lead to more battles and a victory catastrophic for the winning, as for the losing side. Personal misfortunes seemed of minor importance compared with the universal nature of the disaster overtaking civilization. So that in the summer of 1940, when invasion seemed imminent, a friend could say to me: "Within six weeks from now, if I blow out my brains and they spatter all over the carpet, in my own home and with my family in the room, no one will think it worth noticing."
We lived in a trance-like condition in which, from our fixed positions in our island-fortress-prison, we witnessed, as in a dream, not only armies, but whole populations controlled by the magnetic force of power. Even in the minds of those who knew them well, France and other continental countries had become mental concepts only, areas in our minds where incredible things happened; there, puppet dictators transmitted orders received from Germany, and Germany, a vast arsenal of mechanical power, added to its resources the industries of other nations and the slave labour of their peoples. Even today, France under the Occupation remains to me an idea only, to which I can attach little reality, a hallucinated vision of folly, betrayal, and despairing courage. So that, if some French friend begins to speak of his life during those years, I stare at him as though expecting to see him change into a different person."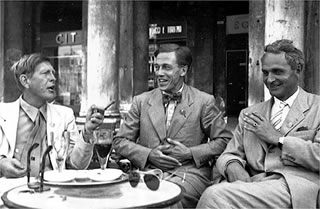 Stephen Spender (28 februari 1909 – 16 juli 1995)
WH Auden, Cecil Day Lewis en Stephen Spender op een conferencie in Venetië, 1949.
De Belgische-Franse dichter, schrijver, essayist, dramaturg en scenarioschrijver Luc Dellisse werd geboren op 28 februari 1953 in Brussel. Zie ook mijn blog van 28 februari 2009 en ook mijn blog van 28 februari 2010.
Uit: La poésie pense à autre chose… »
"1. La poésie ne connaît ni le temps, ni l'espace. Elle procède par gouttes de lumière. Elle ne sert pas à dire, mais à donner à voir. Elle n'a pas de mots pour penser.
Elle cherche à capter, non pas le flux du temps, mais sa dynamique invisible, son grand mouvement exponentiel, après l'explosion secrète du monde – feu et glace, mort et vie. Elle permet de suivre, à la pointe de l'œil, toutes les météorites décrivant leur course, et chaque éclat.
Comme une sonde spatiale de retour d'Alpha du centaure, elle ramène à nous des cailloux de différentes formes et de différentes couleurs, sur lesquels s'exercera, jusqu'à l'extinction des feux, notre ingéniosité géologique.
Ce rêve a plus de force et plus de durée que l'objet réel de la pensée.
La poésie, qui cherche et qui trouve là où il n'y a rien à trouver, est évidemment une aventure de l'esprit. En ce sens, elle appartient en propre au mouvement alternatif et prospectif de la pensée, qui s'empare des objets du monde, transitoires et mortels, et les transforme en vivants souvenirs.
Parce qu'elle s'approprie des moments rougeoyants du monde, la poésie est le bonheur. Non pas la reconstitution du bonheur, mais l'expérience du bonheur en soi. Moment d'intensité rejouable, dans les mêmes termes, car ce qui est parfait revient deux fois.
Quand je sciais la mort sur mon bûcher de verre
Tour de cristal dont les éclairs étaient des aigles
Des staccatos tirés au vol par la panique
Poudre de la main droite au piano
Fumée d'océans calcinés
Passage du vide en flocons de pollen
Porte des bras tordus sur la fresque des falaises
Son bel œil de forêt mâchée par les hiboux
L'âge réel du froid, l'ascenseur humide
Dans la peau du sommeil »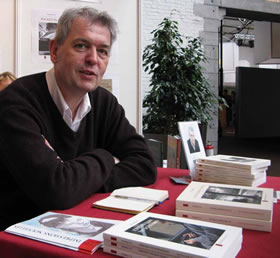 Luc Dellisse (Brussel, 28 februari 1953)
De Franse dichter, schrijver, dramaturg en regisseur Marcel Pagnol werd geboren op 28 februari 1895 in Aubagne, Bouches-du-Rhône. Zie ook mijn blog van 28 februari 2007 en ook mijn blog van 28 februari 2009 en ook mijn blog van 28 februari 2010.
ŒUFS DE PAQUES
Voici venir Pâques fleuries,
Et devant les confiseries
Les petits vagabonds s'arrêtent, envieux.
Ils lèchent leurs lèvres de rose
Tout en contemplant quelque chose
Qui met de la flamme à leurs yeux.
Leurs regards avides attaquent
Les magnifiques œufs de Pâques
Qui trônent, orgueilleux, dans les grands magasins,
Magnifiques, fermes et lisses,
Et que regardent en coulisse
Les poissons d'avril, leurs voisins.
Les uns sont blancs comme la neige.
Des copeaux soyeux les protègent.
Leurs flancs sont faits de sucre. Et l'on voit, à côté,
D'autres, montrant sur leurs flancs sombres
De chocolat brillant dans l'ombre,
De tout petits anges sculptés.
Les uns sont petits et graciles,
Il semble qu'il serait facile
D'en croquer plus d'un à la fois ;
Et d'autres, prenant bien leurs aises,
Unis, simples, pansus, obèses,
S'étalent comme des bourgeois.
Tous sont noués de faveurs roses.
On sent que mille bonnes choses
Logent dans leurs flancs spacieux
L'estomac et la poche vides,
Les pauvres petits, l'œil avide,
Semblent les savourer des yeux.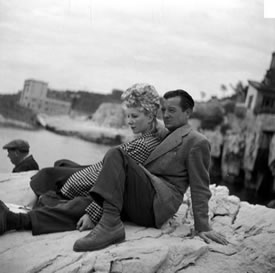 Marcel Pagnol (28 februari 1895 – 18 april 1974)
Hier met Jacqueline Bouvier
De Franse schrijfster Raphaële Billetdoux werd geboren op 28 februari 1951 in Neuilly sur Seine. Zie ook mijn blog van 28 februari 2009 en ook mijn blog van 28 februari 2010.
Uit: C'est encore moi qui vous écris
"Paris, janvier 1968,
Papa,
Je te le demande à l'avance, mais toujours maintenant je me sens coupable. Je cherche, je m'interroge par rapport à qui, à quoi, est-ce vous, est-ce moi, est-ce le seul fait d'avoir à demander une permission ou bien de devoir lutter pour l'obtenir.
Trop souvent je me suis trouvée dans le sentiment d'impuissance, à vouloir dire les vérités que je crois cachées sous les choses et j'ai terminé cette aventure d'une journée devant la télévision, en pensant que j'aurais mieux fait d'aller m'égayer avec les autres. J'ai des élans de tendresse pour les gens, pour des beautés dont ils n'ont pas conscience, pour ce professeur qui parle comme s'il avait du nougat collé aux dents, pour cet autre qui crie à chaque cours : « La foire, zéro ! Zéro, la foire ! », en agitant tristement les bras.
J'ai envie de tout définir dans de petits traités, de m'exprimer par théorèmes pour mettre de l'ordre dans ma vie. Pour cela je préfère la société des adultes car je suis sûre, au moins, qu'ils entendent ce qu'il faut comprendre dans ce que je dis, que je ne sais pas dire...
Ce merveilleux que me promettait maman vers les quatorze, quinze ans, je commence seulement, à dix-sept ans, à le voir un peu s'allumer. Il ne me paraît plus que j'appartiens à la vie, mais bien que la vie m'appartient, et dans chaque peine j'ai une force de bonheur. Bientôt je vous soumettrai quelque chose pour m'aider qui sera bien dans le fond, quoique décevant dans la forme.
Papa, sache que ma gaieté n'est jamais oublieuse : même dans l'amusement je travaille, pense à vous, à vos regards... Je note, je juge, je reste lucide, je vous raconte tout sans cesse et sans arrêt dans ma tête, je sais ce que vous aimeriez ou n'aimeriez pas, je suis votre fille et le reste à l'extérieur, j'ai à coeur, toujours, de vous prolonger. »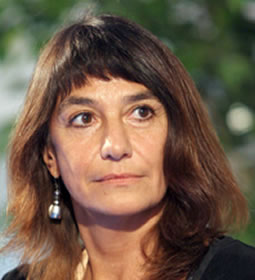 Raphaële Billetdoux (Neuilly sur Seine, 28 februari 1951)




Zie voor nog meer schrijvers van de 28e februari ook mijn vorige blog van vandaag en eveneens mijn eerste blog van vandaag.

Zie voor nog de schrijvers van de 29e februari ook
mijn derde blog van vandaag
.
28-02-2011 om 19:56 geschreven door Romenu

Tags:Stephen Spender, Luc Dellisse, Marcel Pagnol, Raphaële Billetdoux, Romenu



Bodo Morshäuser, John Montague, Dee Brown, Daniel Handler
De Duitse dichter en schrijver Bodo Morshäuser werd geboren op 28 februari 1953 in Berlijn. Zie ook mijn blog van 28 februari 2007 en ook mijn blog van 28 februari 2008 en ook mijn blog van 28 februari 2009 en ook mijn blog van 28 februari 2010.
HERBST (1978)
Angelangt bei der Verteidigung der Verfassung.
Keine Metapher jetzt zum Winter der kommt!
Letzte Sonne auf betonierter Erde:
nicht zu beschreiben. Mit diesem Wahnsinn
sind wir verwandt ohne Frage.
Wald nun, und Bäume, ein Fest der Zynik.
Leises Grollen hinter den Bergen, vor der Stadt.
Funken sprühen dort, wo geschweißt wird,
mit Maske, aus Not, für kein Wunschkind mehr.
Krieg ist nur ein anderes Wort.
Und wie viele Blätter fallen erst gar nicht mehr!
Wieviel Papier an den Litfaßsäulen:
prophetische Hinweise auf die zwanziger Jahre.
Nach welchem Knochen springst du, Enkelkind,
sind sie nicht vergeben?
Wie viele alte Männer, denen ich nicht verzeih,
daß ich sie nicht verstehen soll,
Trümmerväter, Trümmermütter, endlich satt
und mitverschluckt alle Erinnerung an morgen.
Die letzten der Geschichte ziehen das Holzbein an,
stemmen sich mit Stöcken von der Weltbank hoch,
legen die Binde um den Arm.
Erzähl mir was vom Krieg!"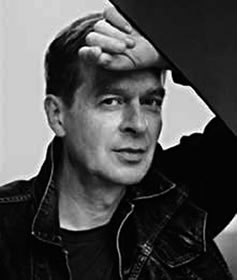 Bodo Morshäuser (Berlijn, 28 februari 1953)
De Ierse dichter John Montague werd geboren in New York op 28 februari 1929. Zie ook mijn blog van 28 februari 2007 en ook mijn blog van 28 februari 2008 en ook mijn blog van 28 februari 2009 en ook mijn blog van 28 februari 2010.
A Grafted Tongue
(Dumb,
bloodied, the severed
head now chokes to
speak another tongue -
As in
a long suppressed dream,
some stuttering garb -
led ordeal of my own)
An Irish
child weeps at school
repeating its English.
After each mistake
The master
gouges another mark
on the tally stick
hung about its neck
Like a bell
on a cow, a hobble
on a straying goat.
To slur and stumble
In shame
the altered syllables
of your own name:
to stray sadly home
And find
the turf-cured width
of your parents' hearth
growing slowly alien:
In cabin
and field, they still
speak the old tongue.
You may greet no one.
To grow
a second tongue, as
harsh a humiliation
as twice to be born.
Decades later
that child's grandchild's
speech stumbles over lost
syllables of an old order.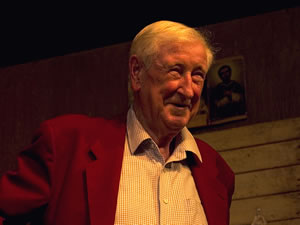 John Montague (New York, 28 februari 1929)
De Amerikaanse schrijver en historicus Dee Brown werd geboren op 28 februari 1908 in Alberta, Louisiana. Zie ook mijn blog van 28 februari 2009 en ook mijn blog van 28 februari 2010.
Uit: The Way To Bright Star
"Thinking about the circus coming to town led me to pull out this shoe box full of faded photographs that I keep in the bottom drawer of Old Man Fagerhalt's desk. I have not looked at them for a long time, maybe a year or more. I just now found my favorite, the one of Queen Elizabeth Jones, of course, and there she is—in her white riding tights, her golden hair done up halo style, her lips parted in that joyful smile that is like none I've ever seen on any other human being's face.
In the picture she is standing in front of those two damned camels. Those poor cursed evil-smelling beasts! Detest them I did, but it was they that brought me to Queen Elizabeth Jones, placing me in debt to them forever.
I would like to brood over the picture and dream again of the time and place where it was made and the life I led then. But I hear Hilda Fagerhalt out in the hardware store chattering with a customer, and I know that any minute now she will be traipsing down the hall, her slippers slapping on the hard boards, thrusting her Swedish head through the open door to remind me sharply to prepare an order for that keg of ten-penny nails I forgot about. "Remember the post office closes at six o'clock, Ben, and don't forget the horse collars for Jack Bilbrew's dray teams, either."
I call her Fagerhalt, but she's used my name, Butterfield, since Old Man Fagerhalt caught her in bed with me. And me at the time with a leg so badly shattered I knew I'd never ride in the circus again with Queen Elizabeth Jones. When Hilda crawled into my bed, she was only trying to comfort me and ease the cruel pain of mending bones. She is a great comforter, I'll allow that. But Old Man Fagerhalt saw me as the spoiler of his daughter's virtue, although she was the one who came into the bed. Maybe he just wanted to get her married and off his hands.
The desk before which I sit—this handmade oaken desk with its innumerable cubbyholes filled with useless papers and trinkets—Hilda now refers to as mine, although I will always think of it as Old Man Fagerhalt's desk even though he has long been interred in Mount Holly cemetery out on Broadway."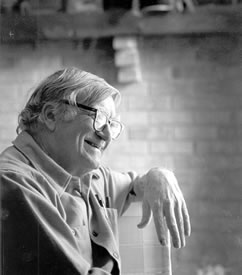 Dee Brown (28 februari 1908 – 12 december 2002)
De Amerikaanse schrijver Daniel Handler werd geboren op 28 februari 1970 in San Francisco, Californië. Zie ook mijn blog van 28 februari 2007 en ook mijn blog van 28 februari 2009 en ook mijn blog van 28 februari 2010.
Uit: Watch Your Mouth
"Because this is, you know, an opera. Fiction, like all operas: a lie, but a lie is sort of a myth, and a myth is sort of a truth. All summer long I was watching things happen with Cynthia Glass and her family that were melodramatic, heart-wrenching, and absurdly — truly — tragic. Dire consequences lurked around their house like the growl of cellos when the jealous fiance´, or the enraged father, or the Old Spirit of the Mountains descends on the lovers, flushed with horniness and the effort of singing over a fifty-piece orchestra: La Forza Dei Glasses. Le Nozze Di Incest. Cyn. They were an opera and now the lights are lowering and here we are, reader or readers. No need to stress. An opera in book form is more convenient than the real thing, because you can eat when you want and wear whatever pleases you. Nothing, maybe. Read it alone in bed, the sheets lingering on your bare belly, your hips. Read it when no one's watching. Go ahead.
I know there are some operas that start right up, but this isn't one of them. Like Beethoven, whose only opera clears its throat with not one but four possible overtures, I've written a bunch of openings, all introducing the subject matters and what surrounds them. As somebody said in a book I've since lost, all behavior exists within a social and cultural context, so I hope these overtures will not exactly influence you, but tap you on the shoulder to get you looking in the right direction. Their purpose is similar to those hyphened taxonomies you can find clinging to the back of the title page like mold on a shower curtain, infecting your naked and vulnerable skin. You know the words I mean. I know that deep down you know what I'm talking about. Those Library of Congress things:
Pittsburgh, Pennsylvania — Fiction
Our story begins in Pittsburgh, Pennsylvania, where, the guidebooks would have it, ?geography demanded a city.? As if rich river-soaked land wanted nothing better than a bunch of greyed-out buildings dumped on it. The Ohio River is born where the Allegheny and the Monongahela meet in a wet intersection of sludgy vowels.."
Daniel Handler (San Francisco, 28 februari 1970)

28-02-2011 om 19:43 geschreven door Romenu

Tags:Bodo Morshäuser, John Montague, Dee Brown, Daniel Handler, Romenu



Bart Koubaa, Berthold Auerbach, Sophie Tieck, Michel de Montaigne, Ernest Renan
De Vlaamse schrijver Bart Koubaa (pseudoniem van Bart van den Bossche) werd geboren op 28 februari 1968 in Eeklo. Zie ook mijn blog van 28 februari 2009 en ook mijn blog van 28 februari 2010.
Uit: De Belgen en hun breinen
"Mijn grootvader, geboren in Ana Paulowna, is daarvan de oorzaak. Waarschijnlijk was het door zijn toedoen dat mijn ouders een caravan in Cadzand hadden en niet in Blankenberge, dat we cassis dronken in plaats van cola en we geen mayonaise maar frietsaus op onze weliswaar Vlaamse frieten kwakten. Ik maak me sterk dat ik de frikandel speciaal in België geïntroduceerd heb; ik zie nog het gezicht van de frietkotuitbater toen ik hem beschreef wat ik precies wilde.
Mijn grootvader was er ook de oorzaak van dat tijdens legendarische voetbalwedstrijden Nederland-België mijn vader een kalmeringspil diende te slikken en dat de televisie op die avonden niet op BRT maar op Nederland 2 stond. Toch was er één dag in de week dat mijn vader altijd de Nederlandse televisie verkoos: zondagavond, VPRO. Ik ben deels opgevoed met Koot en Bie, met Van Dis in de IJsbreker, met eigenzinnige film- en documentaireavonden en tot op heden met het werk van Wim Kayzer; zijn gasten waren mijn leermeesters. Hij is er rechtstreeks de oorzaak van dat ik vandaag meewerk met wiskundigen, cognitieve neurowetenschappers en filosofen aan de neurologische lokalisatie van het geweten en het creatieve centrum. Mijn argumenten voor vanavond zijn zonder twijfel door zijn televisiewerk gekleurd. Op de trein hierheen voegde ik eraan toe dat mijn argumenten ook bepaald worden door wat mij drijft, en door de nachten sinds de geboorte van mijn zoon, vandaag precies vijf weken geleden."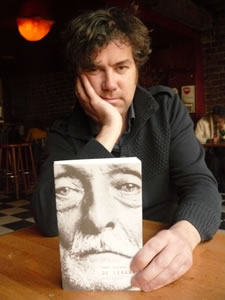 Bart Koubaa (Eeklo, 28 februari 1968)
De Duitse schrijver Berthold Auerbach (eig. Moyses Baruch) werd geboren op 28 februari 1812 in Nordstetten in het Zwarte Woud. Zie ook mijn blog van 28 februari 2009 en ook mijn blog van 28 februari 2010.
Uit: Der Lautenbacher
"Die Glocke läutete hell, ihre Töne zerflossen sanft in dem lichten Mittag; die Menschen kehrten von ihrer Arbeit heim. Die Männer gingen mit der Mütze in der Hand von den Feldern auf die Straße, die Stimme Gottes hatte sie gerufen, das harte Feldgeräthe aus der Hand zu legen, heimzukehren und sich zu stärken am Gebete und an irdischer Speise. Ein junger, schlank gewachsener Mann war die Straße von der Stadt heraufgekommen. Er war städtisch gekleidet und hatte einen braun marmorirten Ziegenhainer Stock, in den viele Namen eingeschnitten waren, in der Hand. Als er nun das Dorf so vor sich ausgebreitet sah, blieb er stehen, horchte hin nach dem Geläute und schaute umher in den Wald der blühenden Obstbäume, die das Dorf umdrängten. Er grüßte die Leute, die vom Felde herüber kamen, mit einer besondern Freundlichkeit, ja, als ob er sie kenne. Die Leute dankten herzlich und schauten sich Alle nochmals nach ihm um, sie meinten, das müsse Einer aus [106] dem Dorfe sein, der aus der Fremde heimkehre; er hatte sie ja so durchdringend angeschaut, und doch kannten sie ihn nicht.
Als die letzten Töne der Glocke verklungen waren, als Alles auf dem Felde stille, kein Mensch mehr zu sehen war und nur die Lerchen hoch in der Luft jubelten, da setzte sich der Fremdling an den Wegrain, schaute noch lange hinüber nach dem Dorfe, zog endlich eine Brieftasche heraus und oft wieder um sich blickend schrieb er hinein:
»Griechen und Römer! Wie hoch schallten eure Triumphe, wie schmetterten eure Kriegstrompeten, aber nur das Christenthum grub das Erz aus den dunkeln Schachten der Erde, ließ es hoch in den Lüften schweben und weithin seinen Klang ausgießen, zur Anbetung, zur Freude und zur Trauer. Wie herrlich mögen die Harfen und Pauken im Tempel zu Jerusalem geklungen haben; aber nicht mehr Ein Tempel steht auf der Erde, tausende hieß das Christenthum erstehen aller Orten ..."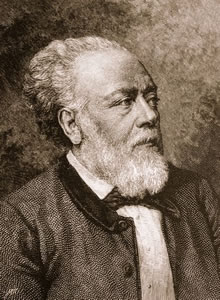 Berthold Auerbach (28 februari 1812 - 8 februari 1882)
De Duitse dichteres en schrijfster Sophie Tieck werd geboren op 28 februari 1775 in Berlijn. Zie ook mijn blog van 28 februari 2009 en ook mijn blog van 28 februari 2010.
Uit: Der Einsiedler und die Nonne
"In einer mondhellen Nacht stand Rinaldo unter dem Fenster seiner geliebten Lucinde; er hatte ein zärtliches Lied geendigt, und blickte schweigend auf zu den verschlossenen Gittern. Willst du, Grausame, sagte er endlich, denn nimmer meine Seufzer erhören? wird sich niemals dies Gitter öffnen, und du wie eine glänzende Sonne hervortreten? O richte deine Augen nach mir hin, laß mich in ihren Sternen Hoffnung lesen!
Rinaldo! rief eine ernste Stimme, und der Jüngling erschrack, er fürchtete das Geheimniß seiner Liebe verrathen.
Ein alter Mann näherte sich ihm und sagte: Dir leuchtet kein günstiger Stern der [110] Liebe, laß ab, einem Glücke nachzujagen, welches du niemals erreichen wirst.
So wird sie mich ewig verschmähen? rief Rinaldo aus.
O Thor! sagte der Alte, bedarf es nur ihrer Liebe, um dich zu beglücken?
Ach nur ihrer! seufzte der Jüngling. Laß nur sie auf mich hernieder lächeln, so will ich dreist mit des Schicksals Stürmen kämpfen.
Folge mir in meine Wohnung, sagte der Alte, und faßte Rinaldo's Hand, dort soll sich dein Schicksal deinen Augen enthüllen! Der Jüngling stand noch zweifelnd, als eine süße Stimme: Rinaldo! rief. Schnell wendete er sich um, es war Lucinde, die das Gitter ihres Fensters geöffnet hatte, und in aller Pracht der Schönheit stand, und auf den entzückten Jüngling herunter blickte.
Folge mir in meine stille Wohnung, sagte der Alte. Rinaldo ließ seine Hand fahren: O niemals rief er aus, werde ich deine arme Wohnung suchen, siehe dort öffnet sich mir der Himmel, und ich sollte mich ungläubig von ihm wenden?"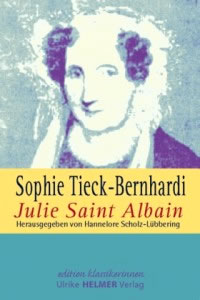 Sophie Tieck (28 februari 1775 – 1 oktober 1833)
De Franse filosoof, schrijver en politicus Michel Eyquem de Montaigne werd geboren in Bordeaux op 28 februari 1533. Zie ook mijn blog van 28 februari 2007 en ook mijn blog van 28 februari 2008 en ook mijn blog van 28 februari 2009 en ook mijn blog van 28 februari 2010.
Uit: Les essais: De l'institution des enfants
"Comme les pas que nous employons à nous promener dans une galerie, quoi qu'il y en ait trois fois autant, ne nous lassent pas comme ceux que nous mettons à quelque chemin desseigné1, aussi notre leçon, se passant comme par rencontre2, sans obligation de temps et de lieu, et se mêlant à toutes nos actions, se coulera sans se faire sentir. Les jeux mêmes et les exercices seront une bonne partie de l'étude : la course, la lutte, la musique, la danse, la chasse, le maniement des chevaux et des armes. Je veux que la bienséance extérieure, et l'entregent3, et la disposition de la personne, se façonne quant et quant4 l'âme. Ce n'est pas une âme, ce n'est pas un corps qu'on dresse : c'est un homme ; il n'en faut pas faire à deux5. Et, comme dit Platon, il ne faut pas les dresser l'un sans l'autre, mais les conduire également, comme un couple de chevaux attelés à même timon6. Et, à l'ouïr, semble-t-il pas prêter plus de temps et de sollicitude aux exercices du corps, et estimer que l'esprit s'en exerce quant et quant4, et non au rebours.
Au demeurant, cette institution se doit conduire par une sévère douceur, non comme il se fait. Au lieu de convier les enfants aux lettres, on ne leur présente, à la vérité, que horreur et cruauté. Otez-moi la violence et la force : il n'est rien à mon avis qui abâtardisse7 et étourdisse si fort une nature bien née. Si vous avez envie qu'il craigne la honte et le châtiment, ne l'y endurcissez pas."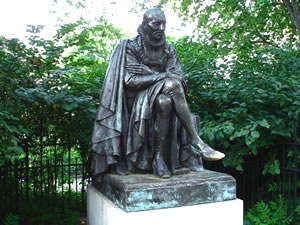 Michel de Montaigne (28 februari 1533 – 13 september 1592)
Standbeeld in Parijs
De Franse schrijver en filosoof Ernest Renan werd op 28 februari 1823 geboren in Tréguier in Bretagne uit een vissersfamilie. Zie ook mijn blog van 28 februari 2010.
Uit: Des religions de l'antiquité et de leurs derniers historiens
"La religion d'un peuple, étant l'expression la plus complète de son individualité, est, en un sens, plus instructive que son histoire. L'histoire d'un peuple, en effet, ne lui appartient pas tout entière : elle renferme une part fortuite ou fatale qui ne dépend pas de la nation, qui parfois même la contrarie dans son déploiement naturel; mais la légende religieuse est bien l'œuvre propre et exclusive du génie de chaque race. L'Inde, par exemple, ne nous a pas laissé une ligne d'histoire proprement dite : les érudits parfois le regrettent, et paieraient au poids de l'or quelque chronique, quelque série de rois; mais, en vérité, nous avons mieux que tout cela : nous avons les poèmes, la mythologie, les livres sacrés du peuple indou; nous avons son âme. Dans l'histoire, nous eussions trouvé quelques faits sèchement racontés, dont la critique eut à grand'peine réussi à saisir le vrai caractère : la fable nous donne, comme dans l'empreinte d'un sceau, l'image fidèle de la manière de sentir et de penser propre à cette nation, son portrait moral tracé par elle-même. Ce que le XVIIIe siècle regardait comme un amas de superstitions et de puérilités est ainsi devenu, aux yeux d'une philosophie de l'histoire plus complète, le centre du développement humain. Des études qui autrefois semblaient l'apanage des esprits frivoles se sont élevées au niveau des plus hautes spéculations, et un livre consacré à l'interprétation de ces fables que Bayle déclarait bonnes tout au plus pour amuser les enfans a pris place parmi les œuvres les plus sérieuses de ce siècle".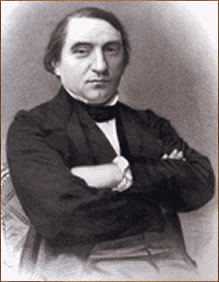 Ernest Renan (28 februari 1823 – 12 oktober 1892)

28-02-2011 om 19:06 geschreven door Romenu

Tags:Bart Koubaa, Berthold Auerbach, Sophie Tieck, Michel de Montaigne, Ernest Renan, Romenu



Martin Suter, Yórgos Seféris, Marin Sorescu, Howard Nemerov, José Vasconcelos
De Zwitserse schrijver Martin Suter werd geboren op 29 februari 1948 in Zürich. Zie ook mijn blog van 29 februari 2008 en ook mijn blog van 28 februari 2009 en ook mijn blog van 28 februari 2010.
Uit: Unter Freunden und andere Geschichten aus der Business Class (Der neue Mann )

"Das also ist Meuli, denkt Haberstich, als er Brachingers Büro betritt. Der neue Mann sitzt auf dem Besprechungs­sofa und steht jetzt auf, um ihm die Hand zu schütteln. Brachinger bleibt sitzen. Zwei leere Kaffeetassen und ein paar zerknüllte Schokopapierchen verraten, dass die beiden schon länger zusammensitzen. Aha, ich bin also nachträg­lich dazugebeten worden. Wahrscheinlich nachdem die ver­traulichen Themen besprochen waren, fährt es Haberstich durch den Kopf.
So sieht er also aus, der Mann, der ihm gefährlich werden könnte. Grösser, als er ihn sich vorgestellt hat. Und jünger. Und mit mehr Haaren. Im ersten Vergleich mit sich selbst schneidet der andere, ehrlich gesagt, etwas besser ab. Äu­sserlich. Obwohl: Auf der rechten Schulter scheinen ein paar Schuppen zu liegen. Das ist die Kehrseite von dichtem Haarwuchs - Schuppen.
Von seinem Sessel aus verfolgt Brachinger die Begrü­ssungsszene. Haberstich spürt, wie auch er vergleicht. Da­mit wird er jetzt leben müssen: Mit Meuli verglichen zu werden. Nun, ihm soll's recht sein. Er hat keine Vergleiche zu fürchten. Wenigstens keine fachlichen. Und was die äu­ssere Erscheinung angeht: So übel sieht er auch nicht aus. Er hat einfach keine Zeit für Bodyshaping und Hairstudios. Wichtig ist einfach, dass er schon bei der ersten direkten Begegnung gut abschneidet. Er muss Brachinger alerter, re­aktionsschneller, informierter und schlagfertiger vorkom­men als der Neue. Er muss von Anfang an die Diskrepanz in allen Belangen (ausser vielleicht den äusserlichen) deutlich machen."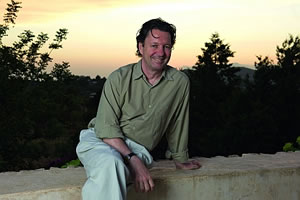 Martin Suter (Zürich 29 februari 1948)
De Griekse dichter Yórgos Seféris werd geboren in Smyrna (nu Izmir, in Turkije) op 29 februari 1900. . Zie ook mijn blog van 28 februari 2007 en ook mijn blog van 28 februari 2008 en ook mijn blog van 28 februari 2009 en ook mijn blog van 28 februari 2010.
Interval of Joy
We were happy all that morning
Ο God how happy.
First the stones the leaves and the flowers shone
and then the sun
a huge sun all thorns but so very high in the heavens.
Α Nymph was gathering our cares and hanging them on the trees
a forest of Judas trees.
Cupids and satyrs were singing and playing
and rosy limbs could be glimpsed amid black laurel
the flesh of young children.
We were happy all that morning;
the abyss was a closed well
ο n which the tender foot of a young faun stamped
do γ ο υ remember its laughter: how happy we were!
And then clouds rain and the damp earth;
you stopped laughing when you reclined in the hut,
and opened your large eyes and gazed
on the archangel wielding a fiery sword
'Ι cannot explain it, ' you said, 'Ι cannot explain it, '
Ι find people impossible to understand
however much they may play with colors
they are all black.
Vertaald door Kimon Friar
Just a little more
Just a little more
And we shall see the almond trees in blossom
The marbles shining in the sun
The sea, the curling waves.
Just a little more
Let us rise just a little higher.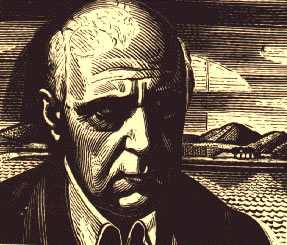 Yórgos Seféris (29 februari 1900 - 20 september 1971)
De Roemeense dichter Marin Sorescu werd geboren op 29 februari 1936 in Bulzeşti. Zie ook mijn blog van 28 februari 2009 en ook mijn blog van 28 februari 2010.
The house
Marin Sorescu
I want to build myself a house
As far away as possible
From all the things
I know.
As far away as possible from the mountains
Out of which squirrels leap in the morning
Like apostles in a clock
Naive beyond belief.
And I don't want it on the shore
Of that white tiredness
Where I could see through every window
An enamelled scale.
And I know all the tricks
Of the plain.
What else can you expect from her
If at night she frees the grass and wheat
To grow through your ribs and temples?
In any place at all
I'd get so fearfully bored
I couldn't even
Hang
On my wall
Pictures
The doorway would look too familiar
I'd be feeling I had to move on.
If only I could build myself a house
As far away as possible from
Myself.
Vertaald door Ted Hughes en Ioanna Russell-Gebbett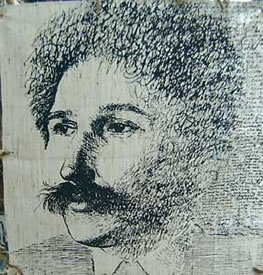 Marin Sorescu (29 februari 1936 – 8 december 1996)
De Amerikaanse dichter en literatuurdocent Howard Nemerov werd geboren op 29 februari 1920 in New York. Zie ook mijn blog van 29 februari 2008 en ook mijn blog van 28 februari 2009 en ook mijn blog van 28 februari 2010.
A Primer of the Daily Round
A peels an apple, while B kneels to God,
C telephones to D, who has a hand
On E's knee, F coughs, G turns up the sod
For H's grave, I do not understand
But J is bringing one clay pigeon down
While K brings down a nightstick on L's head,
And M takes mustard, N drives to town,
O goes to bed with P, and Q drops dead,
R lies to S, but happens to be heard
By T, who tells U not to fire V
For having to give W the word
That X is now deceiving Y with Z,
Who happens, just now to remember A
Peeling an apple somewhere far away.
Found Poem
after information received in The St. Louis Post-Dispatch, 4 v 86
The population center of the USA
Has shifted to Potosi, in Missouri.
The calculation employed by authorities
In arriving at this dislocation assumes
That the country is a geometric plane,
Perfectly flat, and that every citizen,
Including those in Alaska and Hawaii
And the District of Columbia, weighs the same;
So that, given these simple presuppositions,
The entire bulk and spread of all the people
Should theoretically balance on the point
Of a needle under Potosi in Missouri
Where no one is residing nowadays
But the watchman over an abandoned mine
Whence the company got the lead out and left.
"It gets pretty lonely here," he says, "at night."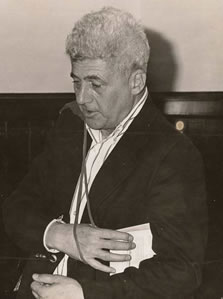 Howard Nemerov (29 februari 1920 – 5 juli 1991)
De Mexicaanse schrijver, filosoof en politicus José Vasconcelos Calderón werd geboren in Oaxaca op 28 februari 1882. Zie ook mijn blog van 28 februari 2009.
Uit: The Cosmic Race (Vertaald door J. Manuel Urrutia)
"Authoritative geologists opine that the American continent has some of the oldest parts of the world. The Andean mass is, without doubt, as old as any other in the planet. And if the land is ancient, then the traces of human life and culture go back to where calculations cannot reach. The architectural ruins of the legendary Maya, Quechua, and Toltec are proof of civilized life that precedes the oldest foundation of the Orient and Europe. As the investigations progress, the hypothesis of Atlantis is affirmed, as the craddle of a civilization that thousands of years ago flourished in the vanished continent and in part of what is now America. To think of Atlantis evoques the memory of its mysterious entecedents. The disappeared hyperboreous continent, that left few clues other than the traces of life and culture that sometimes are found under the snows of Greenland; the lemurian or black race of the South; the Atlantis civilization of the red men; next the appearance of the yellow, and at last, the civilization of the whites. This profound legendary hypothesis is a better explanation for the development of the races than the beliefs of geologists like Ameghino, who place the origin of Man in Patagonia, a land that is well known to be of recent geologic formation. On the other hand, this idea of the Ethnic Empires of prehistory is in extraordinary agreement with Wegener theory of the translation of continents."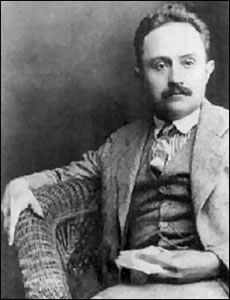 José Vasconcelos (28 februari 1882 – 30 juni 1959)

28-02-2011 om 19:06 geschreven door Romenu

Tags:Martin Suter, Yórgos Seféris, Marin Sorescu, Howard Nemerov, José Vasconcelos, Romenu



| | |
| --- | --- |
| | |



Inhoud blog


| | |
| --- | --- |
| | Bernard Malamud, Vincente Alexandre, Carl-Christian Elze, Hannelies Taschau, Theun de Vries, Hertha Kräftner, Johann Uhland, Margreet van Hoorn, Leo Stilma |
| | Erik Menkveld, Ted Kooser, James Fenton, Walter de la Mare, Richard Anders, William Temple, John Keble, Ross Franklin Lockridge Jr., Leopoldo Alas |
| | Frans Coenen, Eric Bogosian, Robert Penn Warren, George Oppen, Sue Grafton, Carl Spitteler, Anthony Trollope, Michael Schaefer, Marcus Clarke |
| | William Shakespeare, Roman Helinski, Pascal Quignard, Peter Horst Neumann, Andrey Kurkov, Halldór Laxness, Christine Busta, Adelheid Duvanel, Richard Huelsenbeck |
| | The Good Shepherd (Stanley Moss) |
| | Giorgio Fontana, Jan de Hartog, Björn Kern, Vladimir Nabokov, Chetan Bhagat, Peter Weber, Jos de Haes, Thommie Bayer, Madame de Staël |
| | Ana María Shua, Louise Glück, Robert Choquette, James Philip Bailey, Henry Fielding, Michael Schulte, Cabrera Infante, Ludwig Renn |
| | The Enkindled Spring (D. H. Lawrence) |
| | Charlotte Brontë, Patrick Rambaud, John Mortimer, Charles den Tex, Ahmed Arif, Michael Mann |
| | Peter Schneider, Meira Delmar, Alistair MacLean, Gerrit Wustmann, Népomucène Lemercier |
| | Prijs der Nederlandse Letteren voor Judith Herzberg |
| | Martinus Nijhoff, Jan Cremer, Jean Pierre Rawie, Marieke Lucas Rijneveld, Sebastian Faulks, Jozef Deleu, Steve Erickson, Arto Paasilinna, Michel Leiris |
| | Martin Michael Driessen, Marjoleine de Vos, Manuel Bandeira, n. c. kaser, Veniamin Kaverin, Louis Amédée Achard, Pierre-Jean de Béranger, Gudrun Reinboth, Werner Rohner |
| | Wam de Moor, Bas Belleman, Roos van Rijswijk, Hanane Aad, Clara Eggink, Kathy Acker, Joy Davidman, Henry Kendall, Katharina Schwanbeck |
| | Antoon Coolen, Vincent Corjanus, Nick Hornby, Ida Boy-Ed, Thornton Wilder, David Wagner, R.J. Pineiro, Helen Meier, Karen Blixen |
| | Sarah Kirsch, Thomas Olde Heuvelt, Kingsley Amis, Patricia De Martelaere, Tristan Tzara, Ewald Vanvugt, Sibylle Lewitscharoff, Jan Luyken, Anatole France |
| | Emmaüs (Felix Timmermans) |
| | Tomas Tranströmer, Daniël Samkalden, Jérôme Lambert, Patrick Bernauw, Benjamin Zephaniah, Henry James, Wilhelm Busch, Ina Boudier-Bakker |
| | Bliss Carman, Beate Morgenstern, Jeffrey Archer, Bernhard Lassahn, Erich Arendt, Pol De Mont, Staf Weyts, Hans Egon Holthusen |
| | Péter Esterházy, Alexandre Jardin, Tjitse Hofman, Landolf Scherzer, Charles Lewinsky, Roman Graf |
| | Roberto Schopflocher, Martin Kessel, Gabriele Stötzer, Helene Hübener, Gerhard Rohlfs |
| | Nachoem Wijnberg, K. Michel, Alexander Münninghoff, Michel Faber, Jean-Marie Gustave Le Clézio, Samuel Beckett, Seamus Heaney, Tim Krabbé, Eudora Welty |
| | Antje Rávic Strubel, Alan Ayckbourn, Scott Turow, Tom Clancy, Agnes Sapper, Edward de Vere, José Gautier Benítez, Alexander Ostrovski, Guillaume-Thomas Raynal |
| | Leonard Nolens, Mark Strand, Silvia Avallone, Walid Soliman, Dorothy Allison, Hubert Nyssen, Rolf Schilling, Glenway Wescott, Claude Tillier |
| | Leo Vroman, Jan van Mersbergen, Paul Theroux, Claudio Magris, Bella Akhmadulina, Stefan Heym, Richard Wagner, Marcel van Maele, Eric Knight |
| | Charles Baudelaire, Jelle Brandt Corstius, Karel Jonckheere, Joolz Denby, Albert von Schirnding, Johannes Bobrowski, Bernard-Marie Koltès, Arnold Stadler, Yaël Vinckx |
| | Thomas (Jan Willem Schulte Nordholt) |
| | Herinnering aan Gerard Reve, Hanz Mirck, Christoph Hein, Judith Koelemeijer, Nnedi Okorafor, Barbara Kingsolver |
| | John Fante, Johann Christian Günther, Glendon Swarthout, Martin Grzimek, Hégésippe Moreau, Robert Askins |
| | Den Haag (Paul Rodenko) |
| | Juliana Spahr, William Wordsworth, Özcan Akyol, Gabriela Mistral |
| | Kazim Ali, Annejet van der Zijl, John Pepper Clark, Jakob Ejersbo, Günter Herburger, Uljana Wolf, Brigitte Schwaiger, Julien Torma, Nicolas Chamfort |
| | Iulian Ciocan |
| | Hugo Claus, Martin Reints, Mieke van Zonneveld, Vítězslav Hálek, Algernon Swinburne, Bora Ćosić,, Werner J. Egli, Michael Georg Conrad, Marente de Moor |
| | Maya Angelou, Hanneke Hendrix, Marko Klomp, Marcel Vaarmeijer, E. L. James, Marguerite Duras, Robert Schindel, Michiel van Kempen, Bettina von Arnim |
| | Charles Ducal, Adriaan Jaeggi, Frederik van Eeden, Bert Bakker, Peter Huchel, Arlette Cousture, Pieter Aspe, Karel N.L. Grazell, Washington Irving |
| | Die Sonne geht im Osten auf (Christian Morgenstern) |
| | Thomas Glavinic, Jay Parini, Anneke Claus, Klaus Ender, Konrad Merz, Ed Dorn, Émile Zola |
| | György Konrád, Anne Waldman, Casanova, Hans Christian Andersen, Roberto Arlt, Edgar Hilsenrath, George Fraser |
| | Hoffmann von Fallersleben, Johann Gleim, Pierre Zaccone, Pietro della Valle, Zwier van Haren, Joanna Chmielewska, Brigitte Struzyk |
| | Preis dem Todesüberwinder! (Friedrich Klopstock) |
| | Milan Kundera, Sandro Veronesi, Nikolaj Gogol, Arnold Aletrino, Max Nord, Urs Allemann, Rolf Hochhuth, John Wilmot, Deborah Feldman |
| | Maria Polydouri, Edgar Wallace, Carl Sternheim, Edmond Rostand, Armel Guerne, Friedrich Güll, Antoine Prévost, Josep de Maistre |
| | Litanie van een wachter bij het graf (Willem Jan Otten) |
| | Stefan Hertmans, Octavio Paz, Asis Aynan, Martijn Teerlinck, Marga Minco, Enrique Vila-Matas |
| | Rob Boudestein, Kornej Tsjoekovski, Andrew Lang, Nichita Stănescu, Hartmut Lange, Marge Piercy |
| | Angela Kreuz, Judith Rossner, Andrew Marvell, John Fowles, Edward FitzGerald, Robert Brasillach, Peter Motte |
| | Golgotha (Theo Thijssen) |
| | Gerrit Komrij, Paul Verlaine, Milton Acorn, Erika Mitterer, Uwe Timm, Tom Sharpe, Gert Heidenreich, Theo Breuer, Luise Hensel |
| | Gethsemane (Jacqueline van der Waals) |


Gastenboek


Druk op onderstaande knop om een berichtje achter te laten in mijn gastenboek