E-mail mij


Druk op onderstaande knop om mij te e-mailen.


Romenu


Google


Georg Trakl

Georg Trakl werd op 3 februari 1887 in het conducteurshuis aan de Waagplatz 2 in Salzburg geboren. Zijn vader, Tobias Trakl, was een handelaar in ijzerwaren en zijn moeder, die ook psychische problemen had, was Maria Catharina Trakl, (meisjesnaam Halik). Voorts had hij nog drie broers en drie zussen. Margarethe (doorgaans Grethe genoemd) stond hem het naast, zelfs zodanig dat sommigen een incestueuze verhouding vermoeden. Zijn jeugd bracht hij door in Salzburg. Vervolgens bezocht hij van 1897 tot 1905 het humanistische gymnasium. Om toch een academische opleiding te kunnen volgen, werkte hij tot 1908 in de praktijk bij een apotheker. Sommigen vermoedden dat hij dit vooral deed om zichzelf opiaten te kunnen verschaffen. Bij het uitbreken van WO I werd Trakl als medicus naar het front in Galicië (heden ten dage in Oekraïne en Polen) gestuurd. Zijn gemoedsschommelingen leidden tot geregelde uitbraken van depressie, die verergerd werden door de afschuw die hij voelde voor de verzorging van de ernstig verwonde soldaten. De spanning en druk dreven hem ertoe een suïcidepoging te ondernemen, welke zijn kameraden nochtans verhinderden. Hij werd in een militair ziekenhuis opgenomen in Kraków, alwaar hij onder strikt toezicht geplaatst werd.Trakl verzonk daar in nog zwaardere depressies en schreef Ficker om advies. Ficker overtuigde hem ervan dat hij contact moest opnemen met Wittgenstein, die inderdaad op weg ging na Trakls bericht te hebben ontvangen. Op 4 november 1914, drie dagen voordat Wittgenstein aan zou komen, overleed hij echter aan een overdosis cocaïne


Paul Celan

Paul Celan werd onder de naam Paul Antschel op 23 november 1920 geboren in Czernowitz, toentertijd de hoofdstad van de Roemeense Boekovina, nu behorend bij de Oekraïne. Paul Celans ouders waren Duitssprekende joden die hun zoon joods opvoedden en hem naar Duitse christelijke scholen stuurden. In 1942 werden Celans ouders door de Duitse bezetter naar een werkkamp gedeporteerd en daar vermoord. Hijzelf wist aanvankelijk onder te duiken, maar moest vanaf juli 1942 in een werkkamp dwangarbeid verrichten. Celan overleefde de oorlog. Via Boekarest en Wenen vestigde Celan zich in 1948 in Parijs. Daar was hij werkzaam als dichter, vertaler en doceerde hij aan de prestigieuze Ecole Normale Supérieure. Vermoedelijk op 20 april 1970 beëindigde hij zijn leven zelf door in de Seine te springen.


Gerard Reve

Gerard Reve over: Medearbeiders "God is in de mensen, de dieren, de planten en alle dingen - in de schepping, die verlost moet worden of waaruit God verlost moet worden, door onze arbeid, aangezien wij medearbeiders van God zijn." Openbaring "Tja, waar berust elk godsbegrip op, elke vorm van religie? Op een openbaring, dat wil zeggen op een psychische ervaring van zulk een dwingende en onverbiddelijke kracht, dat de betrokkene het gevoel heeft, niet dat hij een gedachte of een visioen heeft, maar dat een gedachte gedachte of visioen hem bezit en overweldigt."


Simon Vestdijk
Simon Vestdijk (Harlingen, 17 oktober 1898 – Utrecht, 23 maart 1971) was een Nederlands romancier, dichter, essayist en vertaler. Zijn jeugd te Harlingen en Leeuwarden beschreef hij later in de Anton Wachter-cyclus. Van jongs af aan logeerde hij regelmatig bij zijn grootouders in Amsterdam, waar hij zich in 1917 aan de Universiteit van Amsterdam inschrijft als student in de medicijnen. Tijdens zijn studie die van 1917 tot 1927 duurde, leerde hij Jan Slauerhoff kennen.Tot 1932 is hij als arts in praktijken door heel Nederland werkzaam. In 1932 volgt zijn officiële schrijversdebuut met de uitgave van de bundel Verzen in De Vrije Bladen. Doorslaggevend voor Vestdijks uiteindelijke keuze voor de literatuur is zijn ontmoeting in 1932 met Eddy Du Perron en Menno ter Braak. Deze ontmoeting had tot resultaat dat hij redactielid werd van het tijdschrift Forum Kort daarop, in 1933, wordt zijn eerste novelle, De oubliette, uitgegeven. In hetzelfde jaar schrijft hij Kind tussen vier vrouwen, dat, eerst geweigerd door de uitgever, later de basis zal vormen voor de eerste drie delen van de Anton Wachter-romans. In 1951 ontvangt Vestdijk de P.C. Hooftprijs voor zijn in 1947 verschenen roman De vuuraanbidders. In 1957 wordt hij voor het eerst door het PEN-centrum voor Nederland voorgedragen voor de Nobelprijs voor de Literatuur, die hij echter nooit zal krijgen. Op 20 maart 1971 wordt hem de Prijs der Nederlandse Letteren toegekend, maar voor hij deze kan ontvangen overlijdt hij op 23 maart te Utrecht op 72-jarige leeftijd. Vestdijk was auteur van ca. 200 boeken. Vanwege deze enorme productie noemde de dichter Adriaan Roland Holst hem 'de man die sneller schrijft dan God kan lezen'. Andere belangrijke boeken van Simon Vestdijk zijn: "Kind van stad en land" (1936), "Meneer Visser's hellevaart" (1936), "Ierse nachten" (1946), "De toekomst de religie" (1947), "Pastorale 1943" (1948), "De koperen tuin" (1950), "Ivoren wachters" (1951), "Essays in duodecimo" (1952) en "Het genadeschot" (1964).


K.P. Kavafis

K.P. Kavafis werd als kind van Griekse ouders, afkomstig uit Konstantinopel, geboren in 1863 in Alexandrië (tot vandaag een Griekse enclave) waar hij ook het grootste deel van zijn leven woonde en werkte. Twee jaar na de dood van zijn vader verhuist het gezin in 1872 naar Engeland om na een verblijf van vijf jaar naar Alexandrië terug te keren. Vanwege ongeregeldheden in Egypte vlucht het gezin in 1882 naar Konstantinopel, om na drie jaar opnieuw naar Alexandrië terug te gaan. In de jaren die volgen maakt Kavafis reizen naar Parijs, Londen en in 1901 zijn eerste reis naar Griekenland, in latere jaren gevolgd door nog enkele bezoeken. Op de dag van zijn zeventigste verjaardag, in 1933 sterft Kavafis in Alexandrië. De roem kwam voor Kavafis pas na zijn dood, dus postuum. Deels is dat toe te schrijven aan zijn eigen handelswijze. Hij was uiterst terughoudend met de publicatie van zijn gedichten, liet af en toe een enkel gedicht afdrukken in een literair tijdschrift, gaf in eigen beheer enkele bundels met een stuk of twintig gedichten uit en het merendeel van zijn poëzie schonk hij op losse bladen aan zijn beste vrienden.


Thomas Mann


Thomas Mann, de jongere broer van Heinrich Mann, werd geboren op 6 juni 1875 in Lübeck. Hij was de tweede zoon van de graankoopman Thomas Johann Heinrich Mann welke later één van de senatoren van Lübreck werd. Zijn moeder Julia (geboren da Silva-Bruhns) was Duits-Braziliaans van Portugees Kreoolse afkomst. In 1894 debuteerde Thomas Mann met de novelle "Gefallen". Toen Thomas Mann met 21 jaar eindelijk volwassen was en hem dus geld van zijn vaders erfenis toestond - hij kreeg ongeveer 160 tot 180 goldmark per jaar - besloot hij dat hij genoeg had van al die scholen en instituties en werd onafhankelijk schrijver. Kenmerkend voor zijn stijl zijn de ironie, de fenomenale taalbeheersing en de minutieuze detailschildering. Manns reputatie in Duitsland was sterk wisselend. Met zijn eerste roman, Buddenbrooks (1901), had hij een enorm succes, maar door zijn sceptische houding tegenover Duitsland na de Eerste Wereldoorlog veranderde dit volledig. Stelde hij zich tot aan de jaren twintig apolitiek op (Betrachtungen eines Unpolitischen, 1918), meer en meer raakte hij bij het Politiek gebeuren betrokken. Zijn afkeer van het nationaal socialisme groeide, zijn waarschuwingen werden veelvuldiger en heftiger. In 1944 accepteerde hij het Amerikaanse staatsburgerschap. Tussen 1943 en 1947 schreef Mann Doktor Faustus (zie Faust), de roman van de 'Duitse ziel' in de gecamoufleerd geschilderde omstandigheden van de 20ste eeuw. In 1947 bezocht hij voor het eerst sinds de Oorlog Europa, twee jaar later pas Duitsland. In 1952 vertrok hij naar Zwitserland. Op 12 augustus 1955 stierf hij in Zürich. Twintig jaar na zijn dood, in aug. 1975, is zijn literaire nalatenschap geopend: dagboekaantekeningen van 15 maart 1933 tot 29 juli 1955, alsmede notities uit de jaren 1918 tot en met 1921.Belangrijke werken zijn: Der Zauberberg, Der Tod in Venedig, Dokter Faustus , Joseph und seine Brüder en Die Bekenntnisse des Hochstaplers Felix Krull.


Rainer Maria Rilke

Rilke werd op 4 december 1875 geboren in Praag. Hij had al naam gemaakt als dichter met zijn bundels Das Stundenbuch en Das Buch der Bilder, toen hij de literaire wereld versteld deed staan en wereldfaam verwierf met de publicatie van zijn twee delen Neue Gedichte in 1907 en 1908. Hij verzamelde daarin het beste werk uit een van zijn vruchtbaarste periodes, die hij grotendeels doorbracht in Parijs. Rilke was daar diep onder de indruk gekomen van Rodin, bij wie hij een tijdlang in dienst was als particulier secretaris. Rodin, zei hij later, had hem leren kijken. Dit kijken kwam neer op intense concentratie, om het mysterie te kunnen zien 'achter de schijnbare werkelijkheid'. Latere en rijpere werken als Duineser Elegien (1912-1923) en het ronduit schitterende Die Sonette an Orfeus (1924) illustreren Rilkes metafysische visie op het onzegbare, dat haar verwoording vindt in een hermetische muzikale taal. Op 29 december 1926 overlijdt Rilke in het sanatorium in Val-Mont aan de gevolgen van leukemie. Enkele dagen later wordt hij, overeenkomstig zijn wens, begraven op het kerkhof van Raron.


* * * * * * * * * * * * * * * *

| | |
| --- | --- |
| | Over literatuur, gedichten, kunst en cultuur |

25-05-2014

Egyd Gstättner, Eve Ensler, Friedrich Dieckmann, Claire Castillon, Raymond Carver, Jamaica Kincaid
De Oostenrijkse schrijver en essayist Egyd Gstättner werd geboren op 25 mei 1962 in Klagenfurt. Zie ook alle tags voor Egyd Gstättner op dit blog.
Uit: Der Haider Jörg zieht übers Gebirg
"Sehr geehrte Damen & Herren, wir unterbrechen die Sendung Ins Land einischau'n für folgende wichtige Mitteilung:
Der Landeshauptmann und Kulturreferent von Kärnten, Präsident des FC Kärnten und FC Feistritz / Rosental, Bürgermeister von Triest, Bademeister von Jesolo, Tennismeister von Tripolis, Führer der Lega Nord, Kapitän aller Traditionsverbände, Direktor von Stadttheater, Volkstheater & Burgtheater, Trainer von Sturm Graz, Rapid und Austria Wien, Generalintendant der Tabakwerke und des ORF, Herausgeber der Kronenzeitung, ÖFB-Chef, ÖSV-Chef, ÖAMTC-Chef, Caritasdirektor, Bundeskanzler der Republik Österreich sowie deren Außenminister, Innenminister, Finanzminister, Infrastrukturminister und Frauenminister, Dr. Jörg Haider, einfaches Mitglied seiner selbst, beehrt sich bekanntzugeben, dass er sämtliche politischen, sozialen, gesellschaftlichen, kulturellen, ethnischen sowie sonstige Probleme im Handumdrehen gelöst hat (Tja, man muß eben wissen, wessen Hand man umdreht!), was nun auch alle seine Kritiker, die ihn jahrelang mit persönlichen Ressentiments und blindem Haß verfolgt haben und anfangs Ämterkumulierung, Gesinnungsterror oder gar Machtrausch prophezeit haben, nun aber beschämt am Wegesrand des Heils stehen, endlich zähneknirschend zur Kenntnis nehmen werden müssen. Die gesellschaftliche Realität heute ist: Nirgendwo Proteste, nirgendwo Resolutionen, nirgendwo Demonstrationen, nirgendwo regt sich auch bloß das geringste Widerstandsnest. Die Kritiker aus der linken Schickeria sind verstummt, die ehemaligen linken Denkfabriken ausgebrannte Ruinen. Auch die vormals kranken Journalistengehirne vormals bissiger Medien sehen nun nach und nach ein, dass es nicht angeht, den Hund, der einen beißt, zu füttern."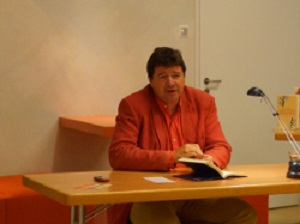 Egyd Gstättner (Klagenfurt, 25 mei 1962)
De Franse schrijfster Claire Castillon werd geboren op 25 mei 1975 in Neuilly-sur-Seine. Zie ook alle tags voor Claire Castillon op dit blog.
Uit: Luchtbellen (Vertaald door Karina van Santen en Martine Vosmaer)
"Kom maar liever bij ons. Anders wordt het veel te ingewikkeld. Kom trouwens om zeven uur. Als ik geen tijd heb om te koken, bestellen we een pizza. Maar als je kunt, of liever gezegd, als je wilt, breng dan wijn mee. Ik drink zelf niet meer. Je hebt kans dat ik vergeet een fles te kopen. Als je eenmaal een kind hebt, komen de boodschappen op de laatste plaats. Je wilt haar zo snel mogelijk ophalen als je uit kantoor komt, dat gaat voor! Hoe zal ik het zeggen... Je ruilt je hakken in voor profielzolen. Eigenlijk maak je een ontwikkeling door. Ik ben veranderd, ik draag een joggingpak om lekker op mijn knieën te kunnen rondkruipen met het ukkie.
Ik kan me niet meer opdirken zoals jij als niet-moeder, nee, ik kan niet meer de hoer uithangen! Grapje! Draag je eigenlijk nog steeds die minirok die we samen hebben gekocht? Wat vindt je vriendje ervan? Is het uit? Nu al? Je moet me alles vertellen. Hoe lang hebben we elkaar al niet gezien? Lang genoeg om twaalf keer van kerel te wisselen, zou ik denken! Ik lach me dood!
Je staat heel anders in het leven als je een kind hebt, maar toch heb je geen heimwee naar het verleden. En verleden, daar zul jij straks geen gebrek aan hebben! In ieder geval word je beter in prioriteiten stellen. Als ik zie hoe Annabelle haar armpjes naar me uitsteekt, weet ik weer wat de zin van het leven is, kom ik bij de oerwaarden. Stiptheid is trouwens mijn stokpaardje geworden. Het klinkt misschien raar, maar als je een kind hebt, ga je plannen. Alles moet op rolletjes lopen, anders wordt het een ramp. Dankzij Annabelle ben ik geprogrammeerd als een computer.
Jacques dropt haar elke ochtend op de crèche. Ik kleed haar aan, maar hij brengt haar. 's Avonds ga ik haar halen. Ik neem dus een korte lunchpauze zodat ik om kwart over vijf van kantoor weg kan. Als ik de bus van acht voor half heb, ben ik precies op tijd. Als hij voor mijn neus wegrijdt, ga ik rennen en ben ik toch nog op tijd! De crèche gaat om zes uur dicht. Dat is normaal. De leidsters hebben ook kinderen, die moeten ook naar huis. Weet je dat die arme meiden op de kinderen van anderen passen, terwijl ze hun eigen kinderen niet op de crèche waar ze werken mogen inschrijven?"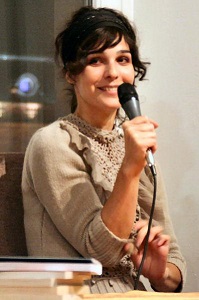 Claire Castillon (Neuilly-sur-Seine, 25 mei 1975)
De Amerikaanse schrijfster en feminste Eve Ensler werd op 25 mei 1953 in New York geboren. Zie ook alle tags voor Eve Ensler op dit blog.
Uit: Fragments of Inspiration
"It's hard explaining what I do to people. There are very few people in this world who know what Applied Theatre is and even fewer who understand what an Applied Theatre Practitioner does. Because of this, I need to figure out ways to contextualize what I do. The main question I get when I talk about my work is who else people might know who are doing work like it.
Inevitably, there are a few names that always come up. Eve Ensler is one of them. Pretty much everyone has heard about (if not seen) the Vagina Monologues and while her other works are less well-known she is more or less a household name.
My work isn't exactly like hers. I tend to work in communities with lots of people creating a piece, I love to interview, but I also do a lot of devising. I've also pushed myself to make my work look less like a series of monologues and more like a full theatrical experience.
That said, Ensler has created one of the finest examples of how theatre can impact a cause and create change in communities. The Vagina Monolgues, a simple little play, has spurred a nationally recognized movement. The V-Day Movement.
V-Day is a global movement of grassroots activists dedicated to generating broader attention and funds to stop violence against women and girls, including rape, battery, incest, female genital mutilation (FGM) and sex slavery. In 2011, over 5,800 V-Day benefit events took place produced by volunteer activists in the U.S. and around the world, educating millions of people about the reality of violence against women and girls. »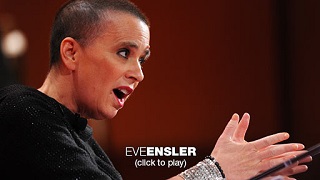 Eve Ensler (New York, 25 mei 1953)
De Duitse schrijver Friedrich Dieckmann werd geboren op 25 mei 1937 in Landsberg an der Warthe. Zie ook alle tags voor Friedrich Dieckmann op dit blog.
Uit: Das Liebesverbot und die Revolution - Über Wagner
»Lohengrin«, die Tragödie des Frageverbots, ist ein in historische Zeiten eingelassenes Märchen voller bösem und gutem, heidnischem und christlichem Zauber. Seine magische Wirrsal klärt sich sofort, wenn man es als die Traumerzählung nimmt, die es ist: der Traum eines in der Blüte der Pubertät stehenden jungen Mädchens, das im Wald »lustwandelnd« ihren Bruder verloren hat, auf den sie doch aufpassen sollte, und sich deswegen gescholten und verklagt sieht. Sie weiß nicht zu antworten; als sie aber unter der Wucht der Vorwürfe zu erliegen droht, kommt schwangezogen, in der Silberhelle weißer Magie, ein schöner Jüngling und rettet sie; er wird ihr Gemahl unter einer Bedingung: daß sie ihn niemals frage, wer er sei. Das Verbot bezieht sich offenbar auf einen Umstand, der, würde er bekannt, den Vollzugder Ehe sofort unmöglich machte; darum ist der Zwang, es zu übertreten, nämlich noch vor diesem Vollzug, unausweichlich.
Die Frage wird also gestellt, aus dem zwingenden Empfinden, daß etwas Verbotenes geschähe, wenn die Identität des Bräutigams unaufgeklärt bliebe. Die Hexe, die, zu der verbotenen Frage verführend, Einlaß bei der Braut findet, ist ersichtlich die Stimme ihres schlechten Gewissens. Prompt tritt das Angedrohte ein: der Geliebte, der dies nur sein konnte, solange er unerkannt blieb, entzieht sich, nicht ohne im Entschwinden seine Identität preiszugeben. Er tut dies scheinbar mit Worten, mit Hinweisen auf ferne Ritter und ein magisches Gefäß; er tut es in Wahrheit durch einen Gestaltentausch: Lohengrin verwandelt sich in Gottfried, den verschwundenen Bruder, zurück."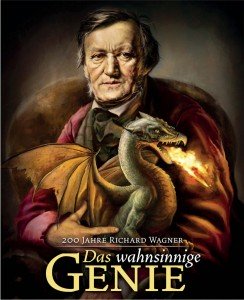 Friedrich Dieckmann (Landsberg an der Warthe, 25 mei 1937)
Cover van Der Spiegel ter gelegenheid van Wagners 200e geboortedag
De Amerikaanse dichter en schrijver Raymond Carver werd geboren op 25 mei 1938 in Port Angeles. . Zie ook alle tags voor Raymond Carver op dit blog.
This Morning
This morning was something. A little snow
lay on the ground. The sun floated in a clear
blue sky. The sea was blue, and blue-green,
as far as the eye could see.
Scarcely a ripple. Calm. I dressed and went
for a walk -- determined not to return
until I took in what Nature had to offer.
I passed close to some old, bent-over trees.
Crossed a field strewn with rocks
where snow had drifted. Kept going
until I reached the bluff.
Where I gazed at the sea, and the sky, and
the gulls wheeling over the white beach
far below. All lovely. All bathed in a pure
cold light. But, as usual, my thoughts
began to wander. I had to will
myself to see what I was seeing
and nothing else. I had to tell myself this is what
mattered, not the other. (And I did see it,
for a minute or two!) For a minute or two
it crowded out the usual musings on
what was right, and what was wrong -- duty,
tender memories, thoughts of death, how I should treat
with my former wife. All the things
I hoped would go away this morning.
The stuff I live with every day. What
I've trampled on in order to stay alive.
But for a minute or two I did forget
myself and everything else. I know I did.
For when I turned back i didn't know
where I was. Until some birds rose up
from the gnarled trees. And flew
in the direction I needed to be going.
Late Fragment
And did you get what
you wanted from this life, even so?
I did.
And what did you want?
To call myself beloved, to feel myself
beloved on the earth.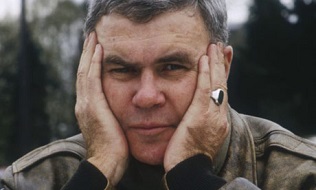 Raymond Carver (25 mei 1938 – 2 augustus 1988)
De Amerikaanse schrijfster Jamaica Kincaid (eig.Elaine Cynthia Potter Richardson) werd geboren in Saint John's, Antigua en Barbuda, op 25 mei 1949. Zie ook alle tags voor Jamaica Kincaid op dit blog.
Uit:Small Place
"You are not an ugly person all the time; you are not an ugly person ordinarily; you are not an ugly person day to day. From day to day, you are a nice person. From day to day, all the people who are supposed to love you on the whole do. From day to day, as you walk down a busy street in the large and modern and prosperous city in which you work and lie, dismayed and puzzled at how alone you can feel in this crowd, how awful it is to go unnoticed, how awful it is to go unloved, even as you are surrounded by more people than you could possibly get to know in a lifetime that lasted for millennia and then out of the corner of your eye you see someone looking at you and absolute pleasure is written all over the person's face, and then you realize that you are not as revolting a presence as you think you are. And so, ordinarily, you are a nice person, an attractive person, a person capable of drawing to yourself the affection of other people, a person at home in your own skin: a person at home in your own house, with its nice backyard, at home on your street, your church, in community activities, your job, at home with your family, your relatives, your friends - you are a whole person."
(…)
"Have you ever wondered to yourself why it is that all people like me seem to have learned from you is how to imprison and murder each other, how to govern badly, and how to take the wealth of our country and place it in Swiss bank accounts? Have you ever wondered why it is that all we seem to have learned from you is how to corrupt our societies and how to be tyrants? You will have to accept that this is mostly your fault"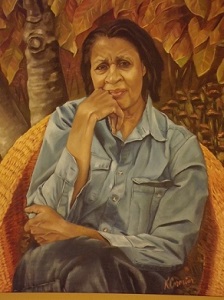 Jamaica Kincaid (Saint John's, 25 mei 1949)
Portret door Kate Cormier, 2011
Zie voor nog meer schrijvers van de 25e mei ook mijn vorige twee blogs van vandaag.
25-05-2014 om 13:10 geschreven door Romenu

Tags:Egyd Gstättner, Eve Ensler, Friedrich Dieckmann, Claire Castillon, Raymond Carver, Jamaica Kincaid, Romenu



Robert Ludlum, Theodore Roethke, Georges Bordonove, W. P. Kinsella, Max von der Grün, John Gregory Dunne
De Amerikaanse schrijver Robert Ludlum werd geboren in New York op 25 mei 1927. Zie ook alle tags voor Robert Ludlum op dit blog.
Uit: The Bourne Supremacy
"As swiftly as the order of the evening had been disrupted it was restored. With luck, through the tuxedoed manager, the explanation that an impetuous bartender had mistaken a belligerent drunk for something far more serious would be acceptable to the police.
Suddenly, all thoughts of fines and official harassment were swept away as his eyes were drawn to a clump of white fabric on the floor across the room - in front of the door to the inner offices. White cloth, pure white - the priest? ...
"Come!" ordered the manager, getting to his feet and heading for the door.
"The police!" objected the brother. "One of us should speak to them, calm them, do what we can."
"It may be that we can do nothing but give them our heads! Quickly!"
Inside the dimly lit corridor the proof was there. The slain guard lay in a river of his own blood ... He approached the body and with his handkerchief he wiped away the blood and stared at the face.
"We are dead," he whispered. "Kowloon is dead, Hong Kong dead. All is dead."
"What?"
"This man is the Vice-Premier of the People's Republic, successor to the Chairman himself."
"Here! Look!" The first-assistant brother lunged toward the body of the dead laoban. Alongside the riddled, bleeding corpse was a black bandanna. It was lying flat, the fabric with the curlicues of white discoloured by blotches of red. The brother picked it up and gasped at the writing in the circle of blood underneath: JASON BOURNE.
The manager sprang across the floor. "Great Christian Jesus!" he uttered, his whole body trembling. "He's come back. The assassin has come back to Asia! Jason Bourne! He's come back!"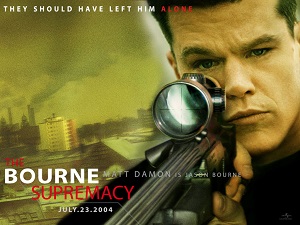 Robert Ludlum (25 mei 1927 – 12 maart 2001)
Filmaffiche met Matt Damon als Jason Bourne
De Amerikaanse dichter Theodore HuebnerRoethke werd geboren in Saginaw, Michigan op 25 mei 1908. Zie ook alle tags voor Theodore Roethke op dit blog.
The Meadow Mouse

1
In a shoe box stuffed in an old nylon stocking
Sleeps the baby mouse I found in the meadow,
Where he trembled and shook beneath a stick
Till I caught him up by the tail and brought him in,
Cradled in my hand,
A little quaker, the whole body of him trembling,
His absurd whiskers sticking out like a cartoon-mouse,
His feet like small leaves,
Little lizard-feet,
Whitish and spread wide when he tried to struggle away,
Wriggling like a minuscule puppy.

Now he's eaten his three kinds of cheese and drunk from his
bottle-cap watering-trough--
So much he just lies in one corner,
His tail curled under him, his belly big
As his head; his bat-like ears
Twitching, tilting toward the least sound.

Do I imagine he no longer trembles
When I come close to him?
He seems no longer to tremble.



2
But this morning the shoe-box house on the back porch is empty.
Where has he gone, my meadow mouse,
My thumb of a child that nuzzled in my palm? --
To run under the hawk's wing,
Under the eye of the great owl watching from the elm-tree,
To live by courtesy of the shrike, the snake, the tom-cat.

I think of the nestling fallen into the deep grass,
The turtle gasping in the dusty rubble of the highway,
The paralytic stunned in the tub, and the water rising,--
All things innocent, hapless, forsaken.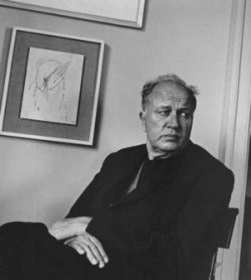 Theodore Roethke (25 mei 1908 - 1 augustus 1963)
De Franse schrijver en historicus Georges Bordonove werd geboren in Enghien-les-Bains op 25 mei 1920. Zie ook alle tags voor Georges Bordonove op dit blog.
Uit: Les Templiers. Histoire et Tragédie
« Ils vivent sans avoir rien en propre, pas même leur volonté. Vêtus simplement et couverts de poussière, ils ont le visage brûlé des ardeurs du soleil, le regard fier et sévère : à l'approche du combat, ils s'arment de foi au-dedans et de fer au-dehors ; leurs armes sont leur unique parure ; ils s'en servent avec courage dans les plus grands périls, sans craindre le nombre, ni la force des barbares : toute leur confiance est dans le Dieu des armées ; et, en combattant pour sa cause, ils cherchent une victoire certaine ou une mort sainte et honorable.
O l'heureux genre de vie, dans lequel on peut attendre la mort sans crainte, la désirer avec joie, et la recevoir avec assurance !
Saint Bernard de Clairvaux
Le soldat a la gloire, le moine le repos. Le templier abjurait l'un et l'autre. Il réunissait ce que les deux vies ont de plus dur, les périls et les abstinences. La grande affaire du Moyen-Âge fut la guerre sainte, la croisade ; l'idéal de la croisade semblait réalisé dans l'Ordre du Temple. C'était la croisade devenue fixe et permanente."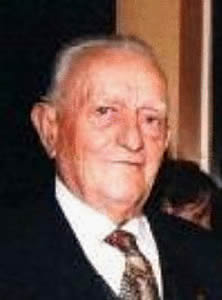 Georges Bordonove (25 mei 1920 - 16 maart 2007)
De Canadese schrijver William Patrick Kinsella werd geboren op 25 mei 1935 in Edmonton, Alberta. Zie ook alle tags voor W. P. Kinsella op dit blog.
Uit: Where it began: 'Shoeless Joe'
"he book came first. Actually, the story came first. I wrote a 20-page short story that eventually became Chapter 1 of my novel "Shoeless Joe." The story was published in an anthology, and a young editor at the publishing house Houghton Mifflin in Boston, Larry Kessenich, read not the story but a review of the anthology in Publishers Weekly. On the strength of that, he wrote to me at Desolate U. in Alberta, where I was teaching bonehead English, to suggest that if the story was part of a novel, he wanted to see it, and if it wasn't, it should be.
I wrote back to say I would need guidance, as I had published four collections of short stories but had never written a publishable novel. We worked well together, and "Shoeless Joe" was just like a baby -- it took nine months. I wrote it under the title "The Kidnapping of J.D. Salinger." Houghton Mifflin chose the title "Shoeless Joe," though they considered "Dreamfield." When finished, it was awarded the Houghton Mifflin Literary Fellowship and was published in 1982.
"Shoeless Joe" was optioned by a small independent movie company that kept it in development for two years before the option expired. Paramount Pictures then optioned it and hired Phil Alden Robinson to write the screenplay. Phil was absolutely in love with my book and kept in touch all through the adaptation -- though I had no input, nor would I have wanted any. Phil explained that there was no way to fit a 300-page novel into an hour-and-40-minute movie. He explained that marvelous characters like Eddie Scissions had to be cut, and that time had to be telescoped in many sequences."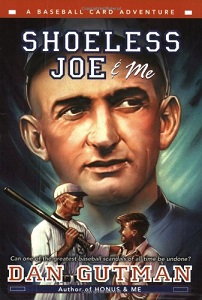 W. P. Kinsella (Edmonton, 25 mei 1935)
Cover
De Duitse schrijver Max von der Grün werd geboren op 25 mei 1926 in Bayreuth. Zie ook alle tags voor Max von der Grün op dit blog.
Uit: Späte Liebe
»Also, wie soll ich dir das erklären ... Es ist nämlich so, pass auf ... Was ich sagen wollte, ist ...«
Burger war nun in dem Maße verlegen wie vordem die Frau. Er suchte nach Worten, endlich sprudelte er los: »Das ist ganz einfach. Ich bin allein, du bist allein ­ also, damit nicht mehr jeder für sich allein ist, ziehen wir einfach zusammen. Ich meine das folgendermaßen ­ nicht so, wie du vielleicht denkst, wilde Ehe und so. Wenn schon, dann mit Unterschrift und Stempel. Verstehst du, was ich sagen will?«
Es dauerte seine Zeit, bis die Gmeiner begriff, dass das ein Heiratsantrag war. Ihre Verblüffung machte sie sprachlos. Endlich stieß sie heraus: »Wolfgang, du spinnst. Was da wohl die Leute sagen, mein Gott. Das möchte ich mal erleben, wie die sich die Mäuler zerreißen.«
»Wunderbar!«, rief Burger und klatschte sich auf die Schenkel. »Wenn du genau wissen willst, wie sich die Leute die Mäuler zerreißen, ist das erst recht ein Grund, mit Unterschrift und Stempel Nägel mit Köpfen zu machen. Denn wenn wir nicht heiraten, wirst du nie erfahren, was die Leute sagen.«
»Und mein Sohn?«, fragte die Gmeiner. »Und meine Susanne?« »Wieso? Verstehe ich nicht. Bist du denen Rechenschaft schuldig?"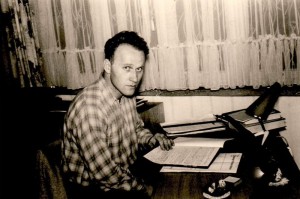 Max von der Grün (25 mei 1926 – 7 april 2005)
In de jaren 1950
De Amerikaanse schrijver en journalist John Gregory Dunne werd geboren op 25 mei 1932 in West Hartford, Connecticut. Zie ook alle tags voor John Gregory Dunne op dit blog.
Uit: Nothing Lost
"The President, who has often feuded with civil rights leaders and the Congressional Black Caucus in the past, has asked the Reverend Jesse Jackson to accompany him from Capital City to Regent in the presidential helicopter.
In a statement Bowne released to reporters, the President said, "Let the healing begin."
Dixon McCall's special rhetorical skills always seemed to begin with the construction "Let." As in, "Let us look forward, not back," "Let us walk together," "Let the sun shine through," "Let the forces of light persevere," "Let us put our differences behind us." (All from Dix: Finding the Words That Defined the McCall Presidency, from a speechwriter unhappily influenced by the "thousand points of light" template.)
The autopsy and forensic photos indicated that Parlance had been skinned alive, the meat on his upper thighs sliced with a razor, box cutter, or sharp knife and then pulled away slice by slice with a pair of pliers. The same pliers that had pulled the tongue from his mouth so that he was not able to scream. Edgar Parlance was thirty-nine, a big man, six feet tall, 180 pounds, leading the investigators from the Loomis County Sheriff's Office and the South Midland Bureau of Investigation to speculate that because of his size it must have taken two or more people to kill him. Then the autopsy report concluded that it wasn't even the skinning that finished him off. It was a hollow-point from a .38-caliber DS-II Detective Special that blew the back of his head off. One of his knees had been shattered, probably with a tire iron, and what remained of the left side of his face was crushed, apparently by the boots of his assailants. Indicating that Edgar had put up an uncommon struggle before he succumbed. And what turned out to be the most interesting fact of the crime was that his shirt had been torn open and the letter P carved into his chest with what was later identified as a thirteen-inch double-edged knife its manufacturer picturesquely called, in the gun- show catalogues, a Tennessee Toothpick. The assumption of the SMBI detectives and the Loomis County Sheriff's Department was that the P stood for Parlance, meaning that the killers, whoever they were, were probably familiar with their victim.
As it happened, the first part of the assumption was wrong."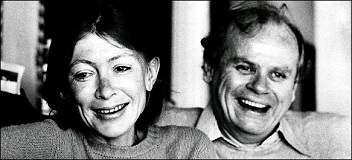 John Gregory Dunne (25 mei 1932 – 30 december 2003)
Hier met Joan Didion in 1977
Zie voor nog meer schrijvers van de 25e mei ook mijn vorige blog van vandaag.
25-05-2014 om 12:39 geschreven door Romenu

Tags:Robert Ludlum, Theodore Roethke, Georges Bordonove, W. P. Kinsella, Max von der Grün, John Gregory Dunne, Romenu



Ralph Waldo Emerson, Rosario Castellanos, Alain Grandbois, Naim Frashëri, Edward Bulwer-Lytton
De Amerikaanse dichter, schrijver, filosoof en essayist Ralph Waldo Emerson werd geboren in Boston, Massachusetts op 25 mei 1803. Zie ook alle tags voor Ralph Waldo Emerson op dit blog.
Days
Daughters of Time, the hypocritic Days,
Muffled and dumb like barefoot dervishes,
And marching single in an endless file,
Bring diadems and fagots in their hands.
To each they offer gifts after his will,
Bread, kingdom, stars, and sky that holds them all.
I, in my pleached garden, watched the pomp,
Forgot my morning wishes, hastily
Took a few herbs and apples, and the Day
Turned and departed silent. I, too late,
Under her solemn fillet saw the scorn.
Friendship
A ruddy drop of manly blood
The surging sea outweighs,
The world uncertain comes and goes;
The lover rooted stays.
I fancied he was fled,-
And, after many a year,
Glowed unexhausted kindliness,
Like daily sunrise there.
My careful heart was free again,
O friend, my bosom said,
Through thee alone the sky is arched,
Through thee the rose is red;
All things through thee take nobler form,
And look beyond the earth,
The mill-round of our fate appears
A sun-path in thy worth.
Me too thy nobleness had taught
To master my despair;
The fountains of my hidden life
Are through thy friendship fair.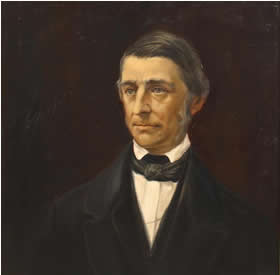 Ralph Waldo Emerson (25 mei 1803 - 27 april 1882)
Portret door Arthur Wardle, z.j.
De Mexicaanse dichteres en schrijfster Rosario Castellanos werd geboren in Mexico-stad op 25 mei 1925. Zie ook alle tags voor Rosario Castellanos op dit blog.
Meditation at the Threshold
No, the solution is not
to jump beneath a train, like Tolstoy's Anna,
nor to swallow Madame Bovar's arsenic,
nor to wait on the barren plains of Avila
for the visit of the angel with the javelin
before tying the scarf around one's head
and beginning to act.
Nor to deduce the laws of geometry by counting
the rafters of the castigation cell,
as Sor Juana did. The solution is not
to write, when visitors come
to the living room of the Austen family,
nor to shut oneself up in the attic
of some house in New England
and dream, with the Dickinson Bible
under a maidenly pillow.
There has to be some other way that isn't called Sappho,
or Messalina, or Mary of Egypt,
or Magdalene, or Clementina Isaura.
Another way to be human, and free.
Another way to be.


Vertaald door Kate Flores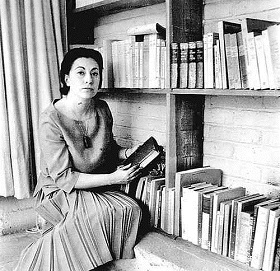 Rosario Castellanos (25 mei 1925 – 7 augustus 1974)
De Canadese dichter en schrijver Alain Grandbois werd geboren op 25 mei 1900 in Saint-Casimir, Québec. Zie ook alle tags voor Alain Grandbois op dit blog.
Avec ta robe…
Avec ta robe sur le rocher comme une aile blanche
Des gouttes au creux de ta main comme une blessure fraîche
Et toi riant la tête renversée comme un enfant seul

Avec tes pieds faibles et nus sur la dure force du rocher
Et tes bras qui t'entourent d'éclairs nonchalants
Et ton genou rond comme l'Île de mon enfance

Avec tes jeunes seins qu'un chant muet soulève pour une vaine allégresse
Et les courbes de ton corps plongeant toutes vers ton frêle secret.
Et ce pur mystère que ton sang guette pour des nuits futures

Ô toi pareille à un rêve déjà perdu
Ô toi pareille à une fiancée déjà morte
Ô toi mortel instant de l'éternel fleuve

Laisse-moi seulement fermer mes yeux
Laisse-moi seulement poser les paumes de mes mains sur mes paupières
Laisse-moi ne plus te voir

Pour ne pas voir dans l'épaisseur des ombres
Lentement s'entrouvrir et tourner
Les lourdes portes de l'oubli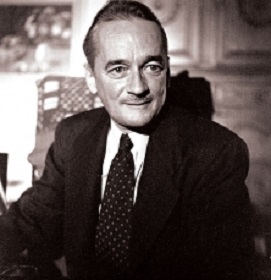 Alain Grandbois (25 mei 1900 – 18 maart 1975)
De Albanese dichter en schrijver Naim Frashëri werd geboren op 25 mei 1846 in Frashër. Zie ook alle tags voor Naim Frashëri op dit blog.
The Words of the Candle (Fragment)
Here among you have I risen,
And aflame am I now blazing,
Just a bit of light to give you,
That I change your night to daytime,
I'll combust and I will wither,
Be consumed and be extinguished,
Just to give you brightness, vision,
That you notice one another,
For you will I fade and tarnish,
Of me there will be no remnant,
I will burn, in tears lamenting,
My desire I cannot suffer.
Of the fire I am not fearful,
I will never be extinguished
If I burn of my desire,
Try to shine as best I'm able.
When you see that I have vanished,
Do not think that I have perished,
I'm alive, among the living,
In the rays of truth I'm standing,
In your souls do I take refuge,
Do not think I'm stranger to you,
Patience was bestowed upon me,
Thus I glow with steadfast courage,
Doing good is all I long for,
That you not remain in darkness.
Forward now and gather 'round me
Talk, smile, eat, drink and make merry,
Love within my soul is harboured,
Yes, for mankind am I burning,
Let me melt and let me smoulder,
To grow cold I do not wish for.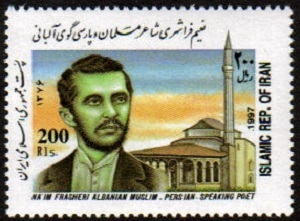 Naim Frashëri (25 mei 1846 – 20 oktober 1900)
De Britse schrijver, criticus en politicus Sir Edward Bulwer-Lytton werd geboren in Londen op 25 mei 1803. Zie ook alle tags voor Edward Bulwer-Lytton op dit blog.
Uit: The Last Days of Pompeii
'HO, Diomed, well met! Do you sup with Glaucus to-night?' said a young man of small stature, who wore his tunic in those loose and effeminate folds which proved him to be a gentleman and a coxcomb.
'Alas, no! dear Clodius; he has not invited me,' replied Diomed, a man of portly frame and of middle age. 'By Pollux, a scurvy trick! for they say his suppers are the best in Pompeii'.
'Pretty well—though there is never enough of wine for me. It is not the old Greek blood that flows in his veins, for he pretends that wine makes him dull the next morning.'
'There may be another reason for that thrift,' said Diomed, raising his brows. 'With all his conceit and extravagance he is not so rich, I fancy, as he affects to be, and perhaps loves to save his amphorae better than his wit.'
'An additional reason for supping with him while the sesterces last. Next year, Diomed, we must find another Glaucus.'
'He is fond of the dice, too, I hear.'
'He is fond of every pleasure; and while he likes the pleasure of giving suppers, we are all fond of him.'
'Ha, ha, Clodius, that is well said! Have you ever seen my wine-cellars, by-the-by?'
'I think not, my good Diomed.'
'Well, you must sup with me some evening; I have tolerable muraenae in my reservoir, and I ask Pansa the aedile to meet you.'
'O, no state with me!—Persicos odi apparatus, I am easily contented. Well, the day wanes; I am for the baths—and you...'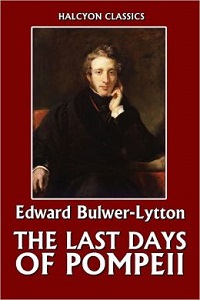 Edward Bulwer-Lytton (25 mei 1803 - 18 januari 1873)
25-05-2014 om 12:24 geschreven door Romenu

Tags:Ralph Waldo Emerson, Rosario Castellanos, Alain Grandbois, Naim Frashëri, Edward Bulwer-Lytton, Romenu



| | |
| --- | --- |
| | |



Inhoud blog


| | |
| --- | --- |
| | Zacharias II (Nicolaas Beets) |
| | Wilfred Smit, Matthijs Kleyn, Ernesto Sabato, Yves Bonnefoy, John Ciardi, Scott Oden |
| | Madelon Székely-Lulofs, Johannes van het Kruis, Kurt Kusenberg, Ambrose Bierce, Jean-Baptiste Boyer d'Argens, Josse Kok |
| | David Leavitt, Jo Govaerts, Rafik Shami, Aart van der Leeuw, Pascal Mercier, Franca Treur, Jean Anouilh, Anna Achmatova |
| | Richard Bach, Cornelia Schmerle, Wolfgang Koeppen, Urs Jaeggi, Robert C. Hunter, Hanneke van Eijken, Will Shutt |
| | Nescio, Juliën Holtrigter, Jaap Robben, Willie Verhegghe, Erich Maria Remarque, Dan Brown, Aaro Hellaakoski, Henry Rider Haggard, Xavier Grall |
| | Ed Leeflang, Thomas Blondeau, Anne Carson, Adam Zagajewski, Ian McEwan, Alon Hilu, Jean-Paul Sartre, Stanley Moss, Machado de Assis |
| | Vikram Seth, Paul Muldoon, Kurt Schwitters, Jean-Claude Izzo, Silke Andrea Schuemmer, Carel van Nievelt, Robert Rozhdestvensky, Laure Wyss, Lillian Hellman |
| | Salman Rushdie, Sybren Polet, Josef Nesvadba, Osamu Dazai, José Rizal, Friedrich Huch, Gustav Schwab, Elke Geurts, Claudia Gabler |
| | Richard Powers, Marije Langelaar, Raymond Radiguet, Geoffrey Hill, Bert Schierbeek, Aster Berkhof, Karin Fellner, Mirjam Pressler, Ivan Gontsjarov |
| | Voor vader (Hans Lodeizen) |
| | Das Senfkorn (Meister Eckhart) |
| | Peter Rosei, Kamel Daoud, Gail Jones, Ron Padgett, Ward Ruyslinck, Adriaan van der Hoop jr, Hanna Johansen, Max Dendermonde, Tom Hofland |
| | Hanna Johansen, James Weldon Johnson, Henry Lawson, Ferdinand Freiligrath, Henrik Wergeland, John Hersey, Felix Hartlaub, Ossip Schubin |
| | Birthdays (Robert W. Service) |
| | Joël Dicker, August Willemsen, Theo Thijssen, Ronelda Kamfer, Frans Roumen |
| | Maria Dermoût, Christian Bauman, Silke Scheuermann, Hugo Borst, Ramon Lopez Velarde, Roland Dorgelès, François-Xavier Garneau, Emma Cline, Hannah van Wieringen |
| | Alex Boogers, Lieve Joris, Allard Schröder, John van Ierland, Peter O. Chotjewitz, Harriet Beecher Stowe, Hermann Kant, Jerzy Kosiński, Thomas Graftdijk |
| | Fernando Pessoa, Thomas Heerma van Voss, Willem Brakman, Virginie Despentes, William Butler Yeats, Tristane Banon, Marcel Theroux, Lode Zielens, Dorothy L. Sayers |
| | Christoph Meckel, Wolfgang Herrndorf, Anne Frank, Renan Demirkan, Djuna Barnes, Sandro Penna, Johanna Spyri H. C. Artmann, Günter Nehm |
| | William Styron, Sophie van der Stap, N. P. van Wyk Louw, Renée Vivien, Jean-Pierre Chabrol, Ben Jonson, Yasunari Kawabata, Athol Fugard, Nnimmo Bassey |
| | Magdalene—The Seven Devils (Marie Howe) |
| | Louis Couperus, D. Hooijer, Jacques Perk, James Salter, Mensje van Keulen, Jan Brokken |
| | Saul Bellow, Ion Creanga, Oktay Rifat, Peter Kurzeck, Antun Mihanović, Tijl Nuyts |
| | Maarten Doorman, Paul Beatty, Xander Michiel Beute, Anton Roothaert, Mirko Bonné, Curzio Malaparte, Jian Ghomeshi, Charles Webb, Rudolf Borchardt |
| | Willy Roggeman, Jurij Brězan, José Antonio Ramos Sucre, Akaki Zereteli, John Gillespie Magee jr., Bertha von Suttner |
| | Marguerite Yourcenar, Nino Haratischwili, Lutz Seiler, Ulf Stolterfoht, Péter Gárdos, Gwen Harwood, H. J. Friedericy, Udo Kawasser, Frank Keizer |
| | Marie Howe |
| | Het leven in juni (Marjoleine de Vos) |
| | Orhan Pamuk, Monika Mann, Nikki Giovanni, Harry Crews, Louise Erdrich, Mascha Kaléko, Jan Engelman, Gwendolyn Brooks, Elizabeth Bowen |
| | Thomas Mann, Aleksandr Poesjkin, Sarah Dessen, Jean Cayrol, Pierre Corneille, Hendrik van Teylingen, V. C. Andrews, Frank Gericke |
| | Dolce far niente, Groen-grijs gebied (Jesse Laport) |
| | Federico García Lorca, Adriaan Morriën, Ken Follett, Paul Farley, Geoff Dyer |
| | Ralf Thenior, Marie Ndiaye, Erasmus Schöfer, Buddy Wakefield, Yaak Karsunke, Charles Dickinson, Dana Bönisch, Elizabeth Jolley, Apollon Maykov |
| | Het laatste avondmaal (Nicolaas Beets) |
| | Allen Ginsberg, Philippe Djian, Maarten van Buuren, Solomonica de Winter, Monika Maron, Larry McMurtry, Norbert Gstrein, Wolfgang Cordan, Gerhard Zwerenz |
| | Carlo Michelstaedter, Kathleen E. Woodiwiss, Eugène Van Oye, Pedro Mir, Detlev von Liliencron, Friederike Brun, Otto Erich Hartleben, Philippe Quinault |
| | Jim Knipfel, Marcel Reich-Ranicki, Sibylle Berg, Carol Shields, Jean Nelissen, Thomas Hardy |
| | Markies De Sade, Dorothy West, Max Aub, Karl Gjellerup, Barbara Pym |
| | Patrick Besson, John Masefield, Ferdinand Raimund, Peter de Mendelssohn, Petra Morsbach, Colleen McCullough, Macedonio Fernández, Wilfred Campbell, Vicky Francken |
| | C. Buddingh'-prijs voor Radna Fabias |
| | Love's Choice (Malcolm Guite) |
| | Mariae Heimsuchung (Rainer Maria Rilke) |
| | Walt Whitman, Frank Goosen, Gabriel Barylli, Konstantin Paustovski, Svetlana Alexievich, Ludwig Tieck, Gerd Hergen Lübben, Saint-John Perse, T. T. Cloete |
| | Summer Storm (Bliss Carman) |
| | Elizabeth Alexander, Oscar van den Boogaard, Countee Cullen, Emmanuel Hiel, Martin Jankowski, Alfred Austin, Eddy Bruma, Henri François Rikken, Jan Geerts |
| | Summer in the City, 1949 (Ernest Farrés) |
| | André Brink, Eduard Escoffet, G. K. Chesterton, Bernard Clavel, T. H. White, Hans Weigel, Alfonsina Storni, Max Brand, Joel Benton |
| | Ein Sommergedicht (Thomas Gsella) |
| | Ad Zuiderent, Leo Pleysier, Adriaan Bontebal, Guntram Vesper, Frank Schätzing, Maeve Binchy, Ian Fleming, Sjoerd Leiker, Vladislav Chodasevitsj |


Gastenboek


Druk op onderstaande knop om een berichtje achter te laten in mijn gastenboek