E-mail mij


Druk op onderstaande knop om mij te e-mailen.


Romenu


Romenu is een blog over gedichten, literatuur en kunst Maar Romenu is ook een professionele freelance vertaler
Du-Ne en Ne-Du http://www.romenu.nl.


Huur eens een (vakantie)huis in een natuurgebied, dichtbij het centrum van Nijmegen


Google


Georg Trakl

Georg Trakl werd op 3 februari 1887 in het conducteurshuis aan de Waagplatz 2 in Salzburg geboren. Zijn vader, Tobias Trakl, was een handelaar in ijzerwaren en zijn moeder, die ook psychische problemen had, was Maria Catharina Trakl, (meisjesnaam Halik). Voorts had hij nog drie broers en drie zussen. Margarethe (doorgaans Grethe genoemd) stond hem het naast, zelfs zodanig dat sommigen een incestueuze verhouding vermoeden. Zijn jeugd bracht hij door in Salzburg. Vervolgens bezocht hij van 1897 tot 1905 het humanistische gymnasium. Om toch een academische opleiding te kunnen volgen, werkte hij tot 1908 in de praktijk bij een apotheker. Sommigen vermoedden dat hij dit vooral deed om zichzelf opiaten te kunnen verschaffen. Bij het uitbreken van WO I werd Trakl als medicus naar het front in Galicië (heden ten dage in Oekraïne en Polen) gestuurd. Zijn gemoedsschommelingen leidden tot geregelde uitbraken van depressie, die verergerd werden door de afschuw die hij voelde voor de verzorging van de ernstig verwonde soldaten. De spanning en druk dreven hem ertoe een suïcidepoging te ondernemen, welke zijn kameraden nochtans verhinderden. Hij werd in een militair ziekenhuis opgenomen in Kraków, alwaar hij onder strikt toezicht geplaatst werd.Trakl verzonk daar in nog zwaardere depressies en schreef Ficker om advies. Ficker overtuigde hem ervan dat hij contact moest opnemen met Wittgenstein, die inderdaad op weg ging na Trakls bericht te hebben ontvangen. Op 4 november 1914, drie dagen voordat Wittgenstein aan zou komen, overleed hij echter aan een overdosis cocaïne


Paul Celan

Paul Celan werd onder de naam Paul Antschel op 23 november 1920 geboren in Czernowitz, toentertijd de hoofdstad van de Roemeense Boekovina, nu behorend bij de Oekraïne. Paul Celans ouders waren Duitssprekende joden die hun zoon joods opvoedden en hem naar Duitse christelijke scholen stuurden. In 1942 werden Celans ouders door de Duitse bezetter naar een werkkamp gedeporteerd en daar vermoord. Hijzelf wist aanvankelijk onder te duiken, maar moest vanaf juli 1942 in een werkkamp dwangarbeid verrichten. Celan overleefde de oorlog. Via Boekarest en Wenen vestigde Celan zich in 1948 in Parijs. Daar was hij werkzaam als dichter, vertaler en doceerde hij aan de prestigieuze Ecole Normale Supérieure. Vermoedelijk op 20 april 1970 beëindigde hij zijn leven zelf door in de Seine te springen.


Gerard Reve

Gerard Reve over: Medearbeiders "God is in de mensen, de dieren, de planten en alle dingen - in de schepping, die verlost moet worden of waaruit God verlost moet worden, door onze arbeid, aangezien wij medearbeiders van God zijn." Openbaring "Tja, waar berust elk godsbegrip op, elke vorm van religie? Op een openbaring, dat wil zeggen op een psychische ervaring van zulk een dwingende en onverbiddelijke kracht, dat de betrokkene het gevoel heeft, niet dat hij een gedachte of een visioen heeft, maar dat een gedachte gedachte of visioen hem bezit en overweldigt."


Simon Vestdijk
Simon Vestdijk (Harlingen, 17 oktober 1898 – Utrecht, 23 maart 1971) was een Nederlands romancier, dichter, essayist en vertaler. Zijn jeugd te Harlingen en Leeuwarden beschreef hij later in de Anton Wachter-cyclus. Van jongs af aan logeerde hij regelmatig bij zijn grootouders in Amsterdam, waar hij zich in 1917 aan de Universiteit van Amsterdam inschrijft als student in de medicijnen. Tijdens zijn studie die van 1917 tot 1927 duurde, leerde hij Jan Slauerhoff kennen.Tot 1932 is hij als arts in praktijken door heel Nederland werkzaam. In 1932 volgt zijn officiële schrijversdebuut met de uitgave van de bundel Verzen in De Vrije Bladen. Doorslaggevend voor Vestdijks uiteindelijke keuze voor de literatuur is zijn ontmoeting in 1932 met Eddy Du Perron en Menno ter Braak. Deze ontmoeting had tot resultaat dat hij redactielid werd van het tijdschrift Forum Kort daarop, in 1933, wordt zijn eerste novelle, De oubliette, uitgegeven. In hetzelfde jaar schrijft hij Kind tussen vier vrouwen, dat, eerst geweigerd door de uitgever, later de basis zal vormen voor de eerste drie delen van de Anton Wachter-romans. In 1951 ontvangt Vestdijk de P.C. Hooftprijs voor zijn in 1947 verschenen roman De vuuraanbidders. In 1957 wordt hij voor het eerst door het PEN-centrum voor Nederland voorgedragen voor de Nobelprijs voor de Literatuur, die hij echter nooit zal krijgen. Op 20 maart 1971 wordt hem de Prijs der Nederlandse Letteren toegekend, maar voor hij deze kan ontvangen overlijdt hij op 23 maart te Utrecht op 72-jarige leeftijd. Vestdijk was auteur van ca. 200 boeken. Vanwege deze enorme productie noemde de dichter Adriaan Roland Holst hem 'de man die sneller schrijft dan God kan lezen'. Andere belangrijke boeken van Simon Vestdijk zijn: "Kind van stad en land" (1936), "Meneer Visser's hellevaart" (1936), "Ierse nachten" (1946), "De toekomst de religie" (1947), "Pastorale 1943" (1948), "De koperen tuin" (1950), "Ivoren wachters" (1951), "Essays in duodecimo" (1952) en "Het genadeschot" (1964).


K.P. Kavafis

K.P. Kavafis werd als kind van Griekse ouders, afkomstig uit Konstantinopel, geboren in 1863 in Alexandrië (tot vandaag een Griekse enclave) waar hij ook het grootste deel van zijn leven woonde en werkte. Twee jaar na de dood van zijn vader verhuist het gezin in 1872 naar Engeland om na een verblijf van vijf jaar naar Alexandrië terug te keren. Vanwege ongeregeldheden in Egypte vlucht het gezin in 1882 naar Konstantinopel, om na drie jaar opnieuw naar Alexandrië terug te gaan. In de jaren die volgen maakt Kavafis reizen naar Parijs, Londen en in 1901 zijn eerste reis naar Griekenland, in latere jaren gevolgd door nog enkele bezoeken. Op de dag van zijn zeventigste verjaardag, in 1933 sterft Kavafis in Alexandrië. De roem kwam voor Kavafis pas na zijn dood, dus postuum. Deels is dat toe te schrijven aan zijn eigen handelswijze. Hij was uiterst terughoudend met de publicatie van zijn gedichten, liet af en toe een enkel gedicht afdrukken in een literair tijdschrift, gaf in eigen beheer enkele bundels met een stuk of twintig gedichten uit en het merendeel van zijn poëzie schonk hij op losse bladen aan zijn beste vrienden.


Thomas Mann


Thomas Mann, de jongere broer van Heinrich Mann, werd geboren op 6 juni 1875 in Lübeck. Hij was de tweede zoon van de graankoopman Thomas Johann Heinrich Mann welke later één van de senatoren van Lübreck werd. Zijn moeder Julia (geboren da Silva-Bruhns) was Duits-Braziliaans van Portugees Kreoolse afkomst. In 1894 debuteerde Thomas Mann met de novelle "Gefallen". Toen Thomas Mann met 21 jaar eindelijk volwassen was en hem dus geld van zijn vaders erfenis toestond - hij kreeg ongeveer 160 tot 180 goldmark per jaar - besloot hij dat hij genoeg had van al die scholen en instituties en werd onafhankelijk schrijver. Kenmerkend voor zijn stijl zijn de ironie, de fenomenale taalbeheersing en de minutieuze detailschildering. Manns reputatie in Duitsland was sterk wisselend. Met zijn eerste roman, Buddenbrooks (1901), had hij een enorm succes, maar door zijn sceptische houding tegenover Duitsland na de Eerste Wereldoorlog veranderde dit volledig. Stelde hij zich tot aan de jaren twintig apolitiek op (Betrachtungen eines Unpolitischen, 1918), meer en meer raakte hij bij het Politiek gebeuren betrokken. Zijn afkeer van het nationaal socialisme groeide, zijn waarschuwingen werden veelvuldiger en heftiger. In 1944 accepteerde hij het Amerikaanse staatsburgerschap. Tussen 1943 en 1947 schreef Mann Doktor Faustus (zie Faust), de roman van de 'Duitse ziel' in de gecamoufleerd geschilderde omstandigheden van de 20ste eeuw. In 1947 bezocht hij voor het eerst sinds de Oorlog Europa, twee jaar later pas Duitsland. In 1952 vertrok hij naar Zwitserland. Op 12 augustus 1955 stierf hij in Zürich. Twintig jaar na zijn dood, in aug. 1975, is zijn literaire nalatenschap geopend: dagboekaantekeningen van 15 maart 1933 tot 29 juli 1955, alsmede notities uit de jaren 1918 tot en met 1921.Belangrijke werken zijn: Der Zauberberg, Der Tod in Venedig, Dokter Faustus , Joseph und seine Brüder en Die Bekenntnisse des Hochstaplers Felix Krull.


Rainer Maria Rilke

Rilke werd op 4 december 1875 geboren in Praag. Hij had al naam gemaakt als dichter met zijn bundels Das Stundenbuch en Das Buch der Bilder, toen hij de literaire wereld versteld deed staan en wereldfaam verwierf met de publicatie van zijn twee delen Neue Gedichte in 1907 en 1908. Hij verzamelde daarin het beste werk uit een van zijn vruchtbaarste periodes, die hij grotendeels doorbracht in Parijs. Rilke was daar diep onder de indruk gekomen van Rodin, bij wie hij een tijdlang in dienst was als particulier secretaris. Rodin, zei hij later, had hem leren kijken. Dit kijken kwam neer op intense concentratie, om het mysterie te kunnen zien 'achter de schijnbare werkelijkheid'. Latere en rijpere werken als Duineser Elegien (1912-1923) en het ronduit schitterende Die Sonette an Orfeus (1924) illustreren Rilkes metafysische visie op het onzegbare, dat haar verwoording vindt in een hermetische muzikale taal. Op 29 december 1926 overlijdt Rilke in het sanatorium in Val-Mont aan de gevolgen van leukemie. Enkele dagen later wordt hij, overeenkomstig zijn wens, begraven op het kerkhof van Raron.


* * * * * * * * * * * * * * * *

| | |
| --- | --- |
| | Over literatuur, gedichten, kunst en cultuur |

06-04-2011

Jakob Ejersbo, John Pepper Clark, Günter Herburger, Uljana Wolf
De Deense schrijver en journalist Jakob Ejersbo werd geboren in Rødovre op 6 april 1968. Zie ook mijn blog van 6 april 2009.
Uit: Exile (Vertaald door Don Bartlett)
"A metre and a half above me, as I kick off from the sandy bottom with my flippers, the surface of the water is living silvery blue. I turn onto my back and see the luminous underside of the small waves through my goggles. At my approach the small fish silently flee into the coral on the sea bed. It's over. The summer holidays have come to an end. We're going to drive my elder sister Alison to Kilimanjaro Airport – she's catching the plane to England. In a few days I'll be back at boarding school; without Alison. I kick my way to the surface and suck in air. The world is noisy. I remove my goggles and blink under the water. Salt water – so that no one can see I have been crying.
I walk up the slope. Baobab Hotel is shrouded in silence – the main building with the reception area and the restaurant; bungalows scattered between the baobab trees. We don't have many guests. Alison is at home packing. She's going to live with my father's sister and study hotel management at a school in Birmingham for six months, after which she will do her practical training at a hotel. I lean against the door frame to her bedroom.
'Are you going to leave me all alone with the codgers?' I ask.
'Yes,' says Alison.
'They'll do my head in,' I say.
'I've got to learn something,' Alison says. Dad passes in the corridor. I turn my head after him.
'I haven't seen England for three years. We've lived here for twelve – I'll end up as a Tanzanian,' I say aloud. He continues on down the corridor.
'You'll get to England soon enough,' he says without looking back.
'I bloody need to go now,' I say. Dad pulls up and eyes me.
'Calm down now,' he says. 'I told you not to swear at home. You can go and visit Alison next year.'

Jakob Ejersbo (6 april 1968 - 10 juli 2008)
De Nigeriaanse dichter en schrijver John Pepper Clark werd geboren op 6 april 1935 in Kiagbodo, Nigeria. Zie ook mijn blog van 6 april 2007 en ook mijn blog van 6 april 2008 en ook mijn blog van 6 april 2009 en ook mijn blog van 6 april 2010.
Ibadan
Ibadan,
running splash of rust
and gold-flung and scattered
among seven hills like broken
china in the sun.
Olokun
I love to pass my fingers
(As tide thro' weeds of the sea
And wind the tall fern-fronds)
Thro' the strands of your hair
Dark as night that screens the naked moon:
I am jealous and passionate
Like Jehovah, God of the Jews,
And I would that you realise
No greater love had woman
From man than the one I have for you!
But what wakeful eyes of man,
Made of the mud of this earth,
Can stare at the touch of sleep
The sable vehicle of dream
Which indeed is the look of your eyes!
So drunken, like ancient walls
We crumble in heaps at your feet;
And as the good maid of the sea,
Full of rich bounties for men,
You lift us all beggars to your breast.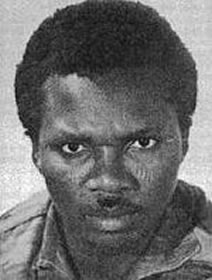 John Pepper Clark (Kiagbodo, 6 april 1935)
De Duitse schrijver en dichter Günter Herburger werd geboren op 6 april 1932 in Isny im Allgäu. Zie ook mijn blog van 6 april 2007 en ook mijn blog van 6 april 2008 en ook mijn blog van 6 april 2009 en ook mijn blog van 6 april 2010.
Uit: Emmental
"Schon im Zug nach Zürich begann Verklärung. Draußen regnete es, in den Abteilen hatte sich junges Volk breit gemacht, das Rucksäcke, Wimpel, Tennisschläger und, für welche Zwecke auch immer, kurzstielige Schaufeln bei sich hatte. Die Gesellschaft war zu Hütten und Landschulheimen über das verlängerte Wochenende unterwegs.
Sofort verliebte ich mich in ein protestantisch blondes Mädchen, dann in seine Nachbarin. Beide waren sehr groß, die Lippen dunkelrot geschminkt, die vielen Haare kunstvoll in Unordnung gebracht.
In Luzern, wo alle ausstiegen und wir vom Rapido zu einer Bummellinie wechselten, war selbst noch die Bahnhofshalle sexualisiert.
Helio Bechterew sagte, seit Stunden müsse er an Hepatitis-B denken, das Virus.
Warum?
Wegen der großartigen Frisuren.
Verstünde ich nicht.
Er sei an der Elfenbeinküste gewesen, behauptete er, die ebenfalls voller Haare sei. Er habe Gelbsucht bekommen, eine langweilige, monatelange Krankheit, gegen die nichts helfe. Schließlich habe ihm eine schwäbische Tante geraten, Schafsläuse zu essen. Und tatsächlich, es habe geholfen, täglich zwanzig, dreißig Stück in Quark oder Haferbrei. Der Tante sei es auch gelungen, Schafszüchter für die Läuse aufzutreiben, die sich Gabe und Transport allerdings teuer hätten bezahlen lassen. Die Breitband-Medizin wisse immer noch nicht, weshalb das alte Bauernmittel wirke.
Ich glaubte ihm jedes Wort, an die unbefangenen Mädchen denkend, ihre Fröhlichkeit und ihr Ungestüm, das sich, uns im Blick, in Gelächter ausgedrückt hatte.
In Trubschachen, einem düsteren Ort tief im Tal, stiegen wir aus und nahmen im Gasthaus »Bahnhof« ein Zimmer. Der Regen war heftiger und kälter geworden, ging allmählich in nassen Schnee über."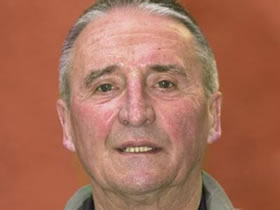 Günter Herburger (Isny im Allgäu, 6 april 1932)
De Duitse dichteres Uljana Wolf werd geboren op 6 april 1979 in Berlijn. Zie ook mijn blog van 6 april 2007 en ook mijn blog van 6 april 2008 en ook mijn blog van 6 april 2009 en ook mijn blog van 6 april 2010.

Uit: falsche freunde: Prosa-Gedichte
"dust bunnies wir wollten über kleine tiere sprechen, wollten auf die knie gehn für die kleinen tiere, jene aus staub und schlieren, in ritzen und dielen, jene, die in grauen fellen frieren, unsere tiere aus nichts. wir wollten auch ganz nah in deiner sprache und in meiner hauchen, sag mir liebes, hast du heute schon gesaugt. nein, wir wollten unsere tiere nicht erschrecken, klein wie flecken, sind das flecken, haben sie nicht puschelschwänze, lange löffel, oder lange schwänze, tuschelohren, wollten wir nicht weniger rauchen, weniger husten, weniger entweder oder sein. gestern war die zimmerecke einsam in ihrer knarzenden öde. heute ist sie hort, heute zärtlichen horden ein port, wir wollen also still sein, auf den knien lauschen: unsere kleinen tiere, wie sie ihre wollenen, mondgrauen namen tauschen. »look on my card« wir wollten über diesen satz wie eine fremde stadt uns beugen, ort erzeugen, mundraum, traum vom hören, oder sagen: hier, in diesem netz aus zungen, ist ein weg gelungen, ein versehn, verstehn. auf unseren stirnen, die sich fast berührten, klebte lingua franca, eine briefmarke. wo am i, ein spiel, auf raten, aber was wir sprachen, passte nicht: die roten linien schnalzten, rollten sich in ihre eignen namen, kamen mit dem griechen chartis, carta aus italien und karte, also mir."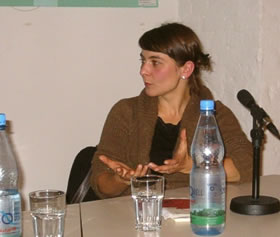 Uljana Wolf (Berlijn, 6 april 1979)
Zie voor nog meer schrijvers van de 6e april ook
mijn vorige blog van vandaag
en eveneens
mijn eerste blog van vandaag.
06-04-2011 om 19:45 geschreven door Romenu

Tags:Jakob Ejersbo, John Pepper Clark, Günter Herburger, Uljana Wolf, Romenu



Dan Andersson, Erich Mühsam, Georges Darien, Jean-Baptiste Rousseau, Alexander Herzen, Nicolas Chamfort
De Zweedse dichter en schrijver Dan Andersson werd geboren op 6 april 1888 in Skattlösberg (Dalarna). Zie ook mijn blog van 6 april 2009 en ook mijn blog van 6 april 2010.
Uit: Svarta visor (Fragment, vertaald door Klaus-Rüdiger Utschick)
Um den Bettler von Luossa saß das ganze Dorf im Ring
und am Lagerfeuer hörte seinen Sang
über Bettler, über Tippler, über manches Wunderding
und seine Sehnsucht eine ganze Mondnacht lang:

"Irgendetwas hinter Bergen, jenseits Blumen und Gesängen,
irgendetwas hinter Sternen und dem heißen Herzen mein —
hört ihr? — etwas raunt und flüstert, will mich locken und bedrängen:
'Komm zu uns, denn diese Erde kann dein Reich nicht länger sein.'

Oftmals lauschte ich ganz still dem leisen Wogenschlag am Strand,
und es rauschte still das wilde Meer im Traum,
und die Brandung warf mich sanft in jenes formenlose Land,
wo die Liebsten, die wir kannten, haben Raum.

Für ein ewig wildes Sehnen haben Mütter uns geboren,
aus den Wehen der Geburt stieg unser erster Jammerlaut,
und zu Gaukelspiel und Taumel hat die Erde uns erkoren,
als wir spielten Elch und Löwe, Bettler, Schmetterling und Gott.

Dan Andersson (6 april 1888 – 16 september 1920)
De Duitse schrijver, anarchist en activist Erich Mühsam werd geboren in Berlijn op 6 april 1878. Zie ook mijn blog van 6 april 2007 en ook mijn blog van 6 april 2008 en ook mijn blog van 6 april 2009 en ook mijn blog van 6 april 2010.
Ich möchte Gott sein ...

Ich möchte Gott sein und Gebete hören
und meine Schutz versagen können
und Menschenherzen zunichte brennen
und Seelenopfer begehren.
Und möchte Erde, Welt und All vernichten
und Trümmerhaufen über Trümmer schichten.
Dann müßte ein Neues entstehn -
und das ließ ich wieder vergehn.
Das Nichts

Ich sah durch ein hohes, goßes Loch.
Ist Nichts darin? - Doch! scholl es. - Doch!
Und ich suchte und suchte und grub nach dem Nichts. -
Da quoll aus dem Loch eine Garbe Lichts. -
Ich habe das Nichts gefunden, -
Und mir um die Stirn gewunden.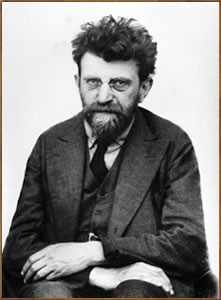 Erich Mühsam (6 april 1878 – 10 juli 1934)
De Franse, anarchistische, schrijver Georges Darien werd geboren als Georges Hippolyte Adrien op 6 april 1862 in Parijs. Zie ook mijn blog van 6 april 2009 en ook mijn blog van 6 april 2010.
Uit: La belle France
"Les pauvres croient que le travail ennoblit, libère. La noblesse d'un mineur au fond de son puit, d'un mitron dans la boulangerie, d'un terrassier dans une tranchée, les frappe d'admiration, les séduit. On leur a tant répété que l'outil est sacré qu'on a finit par les en convaincre. Le plus beau geste de l'homme est celui qui soulève un fardeau, agite un instrument, pensent-ils. "Moi, je travaille", déclarent-ils, avec une fierté douloureuse et lamentable. La qualité de bête de somme semble, à leur yeux, rapprocher de l'idéal humain. Il ne faudrait pas aller leur dire que le travail n'ennoblit pas et se libère point, que s'étiqueter travailleurs, restreint, par ce fait même, ses facultés et ses aspirations d'homme, que pour punir les voleurs et autres malfaiteurs et les forcer à rentrer en eux-mêmes, on les condamne au travail, on fait d'eux des ouvriers. Ils refuseraient de vous croire."

Georges Darien (6 april 1862 – 19 augustus 1921)
De Franse dichter en schrijver Jean-Baptiste Rousseau werd geboren op 6 april 1671 in Parijs. Zie ook mijn blog van 6 april 2007 en ook mijn blog van 6 april 2008 en ook mijn blog van 6 april 2009 en ook mijn blog van 6 april 2010.
Ode tirée du Cantique d'Ézéchias

(Fragment)
J'ai vu mes tristes journées
Décliner vers leur penchant ;
Au midi de mes années
Je touchais à mon couchant :
La Mort, déployant ses ailes,
Couvrait d'ombres éternelles
La clarté dont je jouis ;
Et, dans cette nuit funeste,
Je cherchais en vain le reste
De mes jours évanouis.

Grand Dieu, votre main réclame
Les dons que j'en ai reçus ;
Elle vient couper la trame
Des jours qu'elle m'a tissus :
Mon dernier soleil se lève
Et votre souffle m'enlève
De la terre des vivants,
Comme la feuille séchée,
Qui, de sa tige arrachée,
Devient le jouet des vents.

Comme un lion plein de rage,
Le mal a brisé mes os ;
Le tombeau m'ouvre un passage
Dans ses lugubres cachots.
Victime faible et tremblante,
A cette image sanglante
Je soupire nuit et jour ;
Et, dans ma crainte mortelle,
Je suis comme l'hirondelle
Sous les griffes du vautour.

Jean-Baptiste Rousseau (6 april 1671 – 16 maart 1741)
De Russische schrijver, filosoof en publicist Alexander Herzen werd geboren op 6 april 1812 in Moskou. Zie ook mijn blog van 6 april 2007 en ook mijn blog van 6 april 2009 en ook mijn blog van 6 april 2010.
Uit: Letter to Michelet
"22 September 1851
...
No man is bold enough or ungrateful enough to deny the importance of France in the destinies of the European world. However you must allow me a frank confession: I cannot share your view that the participation of France is the sine qua non of historical progress. Nature never stakes all her fortune on one card. Rome, the eternal city -- which had no less right to the hegemony of the world -- tottered, fell into ruins, and vanished, while pitiless humanity walked over its grave.
On the other hand, unless one regards nature as madness incarnate, it is hard to call a people that has grown and spread out for ten centuries, has obstinately preserved its nationality, formed itself into an immense empire, and intervened in history far more than it perhaps should have label an "outcast race"; a "vast deception"; and "a casual rabble, human only through its vices."
What makes such a view all the more difficult to accept is the fact that this people, even according to its enemies, is far from being in a stagnant condition. It is not a race that has attained social forms roughly corresponding to its desires and has sunk into slumber in them, like the Chinese. Still less is it a people that has outlived its prime and is wasting away in senile impotence, like the people of India. On the contrary, Russia is quite a new state. It is an unfinished structure in which everything smells of fresh plaster, in which everything is at work and being worked out, in which nothing has yet attained its object, and in which everything is changing (often for the worse, but changing nonetheless). In brief, this is the people whose fundamental principle, to quote your opinion, is communism, and whose strength lies in the redistribution of the land...."
Alexander Herzen (6 april 1812 – 21 januari 1870)
De Franse schrijver en aforist Nicolas Chamfort, pseudoniem van Sébastien Roch Nicolas, werd geboren op 6 april 1740 in Clermont - Ferrand. Zie ook mijn blog van 6 april 2007 en ook mijn blog van 6 april 2009 en ook mijn blog van 6 april 2010.
À celle qui n'est plus
Dans ce moment épouvantable,
Où des sens fatigués, des organes rompus,
La mort avec fureur déchire les tissus,
Lorsqu'en cet assaut redoutable
L'âme, par un dernier effort,
Lutte contre ses maux et dispute à la mort
Du corps qu'elle animait le débris périssable;
Dans ces moments affreux où l'homme est sans appui,
Où l'amant fuit l'amante, où l'ami fuit l'ami,
Moi seul, en frémissant, j'ai forcé mon courage
À supporter pour toi cette effrayante image.
De tes derniers combats j'ai ressenti l'horreur;
Le sanglot lamentable a passé dans mon cœur;
Tes yeux fixes, muets, où la mort était peinte,
D'un sentiment plus doux semblaient porter l'empreinte;
Ces yeux que j'avais vu par l'amour animés,
Ces yeux que j'adorais, ces yeux que j'ai fermés!


Nicolas Chamfort (6 april 1740 – 13 april 1784)
Clermont – Ferrand
06-04-2011 om 19:38 geschreven door Romenu

Tags:Dan Andersson, Erich Mühsam, Georges Darien, Jean-Baptiste Rousseau, Alexander Herzen, Nicolas Chamfort, Romenu



Brigitte Schwaiger, Julien Torma, Levon Shant, Aasmund Olavsson Vinje
De Oostenrijkse schrijfster Brigitte Schwaiger werd geboren op 6 april 1949 in Freistadt. Zie ook mijn blog van 6 april 2007 en ook mijn blog van 6 april 2009 en ook mijn blog van 6 april 2010.
Uit: Reisen mit dem Neunundvierziger
"Vielleicht noch zum Sacher und mich mit einer Gräfin verwechseln lassen, was mir einmal geschah. Es ist 1979 gewesen, als ich im Hotel Sacher etwas abzuholen hatte. Dort saß Paul Wittgenstein, der Cousin des Philosophen Ludwig Wittgenstein, im Foyer. Er trug keine Schuhe, denn die wurden gerade geputzt. Paul Wittgenstein litt an der manisch-depressiven Krankheit, womit wir beim Thema wären. Paul Wittgenstein soll seiner Familie auf die Nerven gegangen sein mit seiner Krankheit. In der Manie tut einer, was ihm gerade einfällt, und er hört nicht auf. Bis sie merken, dass er eine Manie hat, und dann zwingen sie ihn mehr oder weniger, ins Spital zu gehen. Früher hat man Zwangsjacken gegeben, Arme hineingesteckt, hinten zugebunden. Heute gibt man Medikamente. Dann tritt eine Phase der Beruhigung ein, und zur Sicherheit wird man meist auch "weggesperrt". Also, ein Beruhigungsmittel, dann ein spezielles Medikament, und die Patientin sabbert, wenn sie wieder herumgeht, es tropft ihr der Speichel von der Unterlippe, ich glaube, ich habe das schon beschrieben. Dann erfolgt eine Phase der Depression, das ist notwendig, sagt man, damit der Patient dann aus der Tiefe der Sinnlosigkeitsgefühle wieder in die Höhe kommt, aber eine Manie darf es nicht werden. Zu Hause soll er, soll sie dann brav die Medikamente nehmen. Jedem wäre die Manie lieber, nur endet sie halt so, dass einer oder eine nicht mehr Herr, Herrin seiner, ihrer Sinne ist.
Bei uns im Bezirk waren mehrere schon auf der Baumgartner Höhe. Man trifft einander in der Kaiserstraße, in der Westbahnstraße, Zieglergasse, Neubaugasse, man grüßt einander oder auch nicht: Es möchte nicht jeder, jede dadurch, dass er, sie alte Bekannte trifft, an Steinhof erinnert werden, es schauen also einige weg."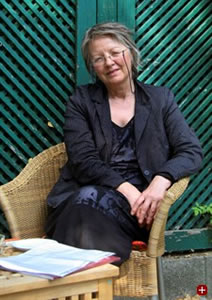 Brigitte Schwaiger (6 april 1949 – 26 juli 2010)
De Franse schrijver, dramaturg en dichter Julien Torma werd geboren in Cambrai op 6 april 1902. Zie ook mijn blog van 6 april 2009.
Uit: Euphorismes
"L'homme est un oignon, le plus noble de la nature, mais c'est un oignon pelant -comme les autres.
Une peau ? Vous ne croyez pas si bien dire.
Mais si vous l'enlevez, vous en trouvez une autre et une autre... jusqu'au vide central ( pas bien grand d'ailleurs ).
Pleurons, pleurons, Crocodiles, mes frères."

*******

"Les croyants sont bêtes parce que s'ils étaient intelligents, ils auraient déjà la bêtise de l'hypocrisie.
Il y a ceux qui ne pensent pas à croire et ceux qui découvrent qu'ils croient. Les premiers font les vrais croyants, comme les sauvages ou les sorciers. Les autres sont les jésuites ou les intellectuels, tous les cuisiniers qui accommodent les entremets de la certitude.
Ceux qui osent s'avouer ce qu' ils pensent savent très bien qu'on ne peut pas croire. S'ils s'obstinent, on assiste aux classiques tentatives désespérées ( avec manifestations frénétiques ) : le catholicisme de Péguy (...), la psychose fasciste, la < dialectique > bolchevique, et d'une façon générale, l'agitation de tous ces énergumènes qui croient faire le < bien >. La science est un opium dont on dit moins de mal, mais qui est très décevant, sauf pour les bureaucrates du cru."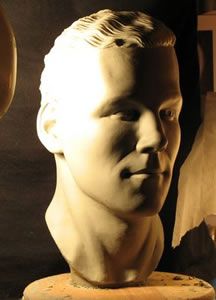 Julien Torma (6 april 1902 - 17 februari 1933)
De Armeense dichter en schrijver Levon Shant werd geboren als Levon Seghposian in Konstantinopel op 6 april 1869. Zie ook mijn blog van 6 april 2009.
Uit: The Emperor (Vertaald door Anne T. Vardanian)

"PRIEST
Is what I say untrue? You do not eat meat four days of the week. Since your wife died, three years ago, you have not known another woman. Your soul has always been humble and merciful. You have attributed your combat victories to your friends, and as a result, they all worship you.
NICEPHORUS
Indeed! And I still say that it is dark! That man's soul is shrouded in darkness. There it is! If you have come to sing my praises, you have chosen an inopportune time for that. It would be better to pray for me.
A GUARD
(Entering upstage center he announces:)
Isaac Phocas from the city of Caesarea!

NICEPHORUS
Oh, finally! Let him in. (Sending the PRIEST on his way.) Very well.
(ISAAC PHOCAS enters. He is a tall, healthy, grey-haired man, with a swarthy complexion. NICEPHORUS hurries toward him and greets him with an embrace.)
ISAAC
I hope all is well, Nicephorus. What's going on?
NICEPHORUS
You'll soon know what's happening. (Abruptly.) First, tell me, did you see my army?
ISAAC
What?

NICEPHORUS
(Proudly.) Didn't you notice that endless sea of white tents out there? Didn't you observe the brave ranks of my countless regiments, and the bright faces of my courageous troops? I ask you, did you see my army?"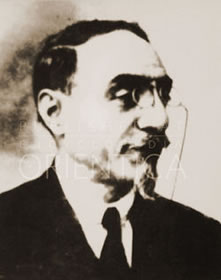 Levon Shant (6 april 1869 – 29 november 1951)

De Noorse dichter en journalist Aasmund Olavsson Vinje werd geboren op 6 april 1818 in Vinje, Telemark. Zie ook mijn blog van 6 april 2007 en ook mijn blog van 6 april 2009.
At Rondane
Now again I see mountains and valleys
As I saw them in my early youth,
And the same wind cools my fevered brow;
And the gold gleams on the snow as it was before.
It is the voice of a child that speaks to me,
And makes me thoughtful, yet still happy.
Its talk is mixed with remembrances of youth;
They flow over me so that I can hardly breathe.
Yes, life flows over me as it flowed,
When I saw the green shoots beneath the snow.
Now I dream as I always dreamed before
When I saw such mountains in the blue air.
I forget the torments of the day, as I forgot them before,
When I caught a glimpse of the evening sun.
Surely I shall find a house to shelter me,
When the sun shall light my way home for the night.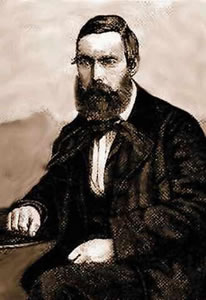 Aasmund Olavsson Vinje (6 april 1818 – 30 juli 1870)
06-04-2011 om 19:25 geschreven door Romenu

Tags:Brigitte Schwaiger, Julien Torma, Levon Shant, Aasmund Olavsson Vinje, Romenu



Kazim Ali
De Amerikaanse dichter, schrijver en essayist Kazim Ali werd geboren op 6 april 1971 in Croydon, Engeland. Hij behaalde zijn Bachelor of Arts (1993) en Master of Arts (1995) in Albany (NY) en zijn Master of Fine Arts aan de New York University in 2001. Kazim is Ali is de schrijver van twee bundels poëzie, The Far Mosque (2005) en The Fortieth Day (2008). Als vertaler publiceerde hij Water's Footfall door Sohrab Sepehri (2011). Verder schreef hij de romans Quinn's Passage (2005) en The Disappearance of Seth (2009), Bright Felon: Autobiography and Cities (2009) en Orange Alert: Essays on Poetry, Art and the Architecture of Silence (2010), en Fasting for Ramadan, 2011. Hij is assistent-professor Creative Writing aan het Oberlin College en doceert aan de University of Southern Maine. Zijn werk is in vele tijdschriften, zoals Best American Poetry 2007, American Poetry Review en de Boston Review gepubliceerd. Daarnaast is hij medeoprichter van uitgeverij Nightboat Books.
Uit: The Disappearance of Seth
"A week after the Manhattan sky revised itself and he had to abandon work on the building he was redesigning, a building that was now underneath tons of debris and ash, Saif meets Zel in a cafe near Washington Square, the air washing its hands with the thick quilt of ash, scraps of paper, dirt, a glittering net that billows.
Flesh leaking into me. A person casts themselves into the sky and dissolves. A theory Saif remembers reading about: that a person falling from a great height dies before hitting the ground: scares himself to death.
Unproveable.
Or the soul is like smoke. Likes that idea. A person casts himself into the clouds and the soul disperses. Maybe the soul is like water and once in the air, the soul can condense on any available surface, like a window, or a drinking glass.
Can rain down again into him.
The night can rain down again into him.
A night raining orange and ruin. The blue day cut with it.
He was like that: drinking the air and letting it burn his inside.
Zel doesn't think it could happen like that. "They didn't jump, Saif. I read in the paper that it was the change in air pressure due to the burning jet fuel. The windows were blown out and the people were pulled from the building into the air."
Saif thnks two things at once, grotesque and sublime: first Gibreel and Saladin, falling from Rushdie's airplane: bits of ash from the end of a cigar; and then: how strange that the sky pulled the people into itself.
Is he still human that he can think poetically about monstrosity?"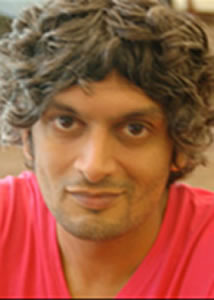 Kazim Ali (Croydon, 6 april 1971)

06-04-2011 om 00:00 geschreven door Romenu

Tags:Kazim Ali, Romenu



| | |
| --- | --- |
| | |



Inhoud blog


| | |
| --- | --- |
| | 'Unless a grain of wheat falls into the ground and dies…' (Malcolm Guite) |
| | Christa Wolf, Charlotte Roche, John Updike, Wilfred Owen, Stéphane Mallarmé, Héctor Bianciotti, Hellema, Friedrich Hebbel, Max Barry |
| | Wolfgang Bauer, Richard Condon, Walter Rheiner, Srečko Kosovel, Jean Anglade, George Plimpton, Cosmo Monkhouse, Friedrich Nicolai |
| | In Memoriam F. Starik |
| | Siegfried Lenz, Thomas Melle, Rense Sinkgraven, Hafid Aggoune, Hans Wollschläger, William Ford Gibson |
| | Patrick Hamilton, Karl Gutzkow, Urmuz, Jean Ingelow, Ebenezer Elliott, Paul Green |
| | P.C. Hooft, Bredero, Dirk von Petersdorff, Zoë Jenny, Alice Hoffman, Hooshang Golshiri, Francisco Ayala, César Vallejo, Per Leo |
| | Ben Okri, David Albahari, Louis Paul Boon, Kurt Drawert, Gerhard Seyfried, Andreas Okopenko, An Rutgers van der Loeff, Prosper van Langendonck, Paul Heyse |
| | Pam Ayres, Jochen Schimmang, Horton Foote, Volker von Törne, Olivier Delorme, Alexandru Macedonski, Albert Robida, Theodore de Banville, Wout Waanders |
| | Mahmoud Darwish, Yuri Andrukhovych, Didier Decoin, Vladimir Makanin, Yeghishe Charent, Geert van Beek, Jan H. de Groot, Kemal Tahir, Joseph Beaumont |
| | Dave Eggers, Jenny Erpenbeck, Jack Kerouac, Henrike Heiland, Naomi Shihab Nye, Carl Hiaasen, Edward Albee, De Schoolmeester, Gabriele d'Annunzio |
| | Nicodemus (Muus Jacobse) |
| | Leena Lehtolainen, Karl Krolow, Daan de Ligt, Frans Vogel, Willem Claassen, Amal Karam, Max Hermens, Eva Meijer, Helena Hoogenkamp |
| | Ernst Wichert, Douglas Adams, Torquato Tasso, Georg Maurer, Josef Martin Bauer, Maartje Smits |
| | John Rechy, Hilde Van Cauteren, Joseph von Eichendorff, Jakob Wassermann, Karel van de Woestijne, Chloé Delaume, Friedrich Schlegel |
| | Boris Vian, Manolis Anagnostakis, Peter McArthur, Samuel Ferguson, Georges Dor, Pedro Antonio de Alarcón, Otto Heinrich Kühner |
| | Koen Peeters, Peter Zantingh, Ed Hoornik, Heere Heeresma, Peter Altenberg, Vita Sackville-West, Josef Weinheber, Taras Sjevtsjenko, Umberto Saba |
| | Jeffrey Eugenides, Walter Jens, Hafid Bouazza, Cándani, A. Marja, Aslı Erdoğan, John McPhee, Mouloud Feraoun, Dominic Angeloch |
| | Bret Easton Ellis, Robert Harris, Jürgen Theobaldy, Georges Perec, Abe Kōbō, Reinhard Kaiser, Manfred Gregor, Jan Frederik Helmers, Alessandro Manzoni |
| | Patrick deWitt, Gabriel García Márquez, Jeremy Reed, Marijke Hanegraaf, Thomas Acda, Günter Kunert, Clark Accord, Elizabeth Barrett Browning, Michelangelo |
| | Pier Paolo Pasolini, Koos van Zomeren, Jurre van den Berg, Arthur van Schendel, Nelly Arcan, Jean Orizet, Leslie Marmon Silko, Frank Norris, Ennio Flaiano |
| | De tempelreiniging (Nicolaas Beets) |
| | Robert Kleindienst, Khaled Hosseini, Kristof Magnusson, Irina Ratushinskaya, Alan Sillitoe, Ryszard Kapuściński, Jean-Joseph Rabearivelo, Annette Seemann |
| | F. W. Bernstein, Giorgio Bassani, Bernardo Ashetu, Léon-Paul Fargue, Kito Lorenc, Jacques Dupin, Thomas S. Stribling |
| | Manfred Flügge, Hans Verhagen, Tjitske Jansen, James Merrill, Kola Boof, Clifton Snider, Gudrun Pausewang, Chris Kraus |
| | Josef Winkler, Heinz Knobloch, Alexandros Papadiamantis, Charles Sealsfield, William Godwin, Paul Guimard, Edmund Waller, Thomas Otway |
| | Godfried Bomans, Multatuli, Frank Albers, John Irving, Thom Wolfe, Michael Salinger, János Arany, Olivia Manning, Rinske Kegel |
| | Jan Eijkelboom, Jim Crace, Delphine de Vigan, Franz Hohler, Lytton Strachey, Robert Lowell, Myrthe van der Meer, Franzobel, Steven Barnes |
| | Peter Pessl |
| | Benedict Wells |
| | Bart Koubaa, Stephen Spender, John Montague, Josef Svatopluk Machar, Luc Dellisse, Marcel Pagnol, Bodo Morshäuser, Martin Suter, Yórgos Seféris |
| | Howard Nemerov, Daniel Handler, Dee Brown, Michel de Montaigne, Marin Sorescu, Saul Williams |
| | Cynan Jones, John Steinbeck, Ruy Belo, Lawrence Durrell, André Roy, Henry Longfellow, Elisabeth Borchers, James T. Farrell, Irwin Shaw |
| | Michel Houellebecq, Victor Hugo, Adama van Scheltema, George Barker, Ulrike Syha, Hermann Lenz, Antonin Sova, Jean Teulé, Elias Annes Borger |
| | De verheerlijking op den berg (Nicolaas Beets) |
| | Amin Maalouf, Aldo Busi, Gabriël Smit, Anthony Burgess, Robert Rius, Karl May, Lesja Oekrajinka, Karel Toman, Vittoria Colonna |
| | Franz Xaver Kroetz, Gérard Bessette, Mary Chase, Karl Wilhelm Ramler, Friedrich von Spee, Carlo Goldoni, Quirinus Kuhlmann |
| | Leon de Winter, Alain Mabanckou, George Moore, Erich Loest, Herman Maas, Luc Verbeke, Wilhelm Grimm, Friedrich Spielhagen, Jacques Presser |
| | August Derleth, Keto von Waberer, Yüksel Pazarkaya, Erich Pawlu, Irène Némirovsky, Vincent Voiture, Rosalía de Castro, Paul Alfred Kleinert, Stanisław Witkiewicz |
| | César Aira, Robert Gray, Jef Geeraerts, Bernard Cornwell, Ljoedmila Oelitskaja, Toon Kortooms, Jo Ypma, Sonya Hartnett, Maxim Februari |
| | Arnon Grunberg, Rob Schouten, Ruben van Gogh, Paul van Ostaijen, Hugo Ball, Danilo Kis, Sean O'Faolain, Ishmael Reed, Edna St. Vincent Millay |
| | J.M.A. Biesheuvelprijs voor Annelies Verbeke |
| | Herman de Coninck, Tom van Deel, Jonathan Safran Foer, Hans Andreus, David Avidan, Chuck Palahniuk, Wystan Hugh Auden, Laure Limongi, Justus van Effen |
| | P. C. Boutens, David Nolens, Ellen Gilchrist, Julia Franck, Georges Bernanos, William Carleton, Cornelis Sweerts, Johann Heinrich Voß, Pierre Boulle |
| | Michiel Stroink, Siri Hustvedt, Helen Fielding, Jaan Kross, Helene Hegemann, Björn Kuhligk, Thomas Brasch, Dmitri Lipskerov, Wolfgang Fritz |
| | De verzoeking in de woestijn (Nicolaas Beets) |
| | Nick McDonell, Robbert Welagen, Bart FM Droog, Maarten Mourik, Huub Beurskens, Gaston Burssens, Toni Morrison, Elke Erb, Charlotte Van den Broeck |
| | Níkos Kazantzákis, Jean M. Auel, Audre Lorde, Mór Jókai, Hedwig Courths-Mahler, Alexander Kielland, Wallace Stegner, Leone Battista Alberti |
| | Shahrnush Parsipur, Willem Thies, Sadegh Hedayat, Yevgeni Grishkovetz, Albert Kuyle, Jaroslav Vrchlický, Chaim Potok, Mo Yan, Frederik Hetmann |
| | Emmy Hennings, Mori Ōgai, Gustavo Bécquer, Georg Britting, Andrew Paterson, Margaret Truman, Ruth Rendell, Fjodor Sologoeb |


Gastenboek


Druk op onderstaande knop om een berichtje achter te laten in mijn gastenboek