E-mail mij


Druk op onderstaande knop om mij te e-mailen.


Romenu


Romenu is een blog over gedichten, literatuur en kunst Maar Romenu is ook een professionele freelance vertaler
Du-Ne en Ne-Du http://www.romenu.nl.


Huur eens een (vakantie)huis in een natuurgebied, dichtbij het centrum van Nijmegen


Google


Georg Trakl

Georg Trakl werd op 3 februari 1887 in het conducteurshuis aan de Waagplatz 2 in Salzburg geboren. Zijn vader, Tobias Trakl, was een handelaar in ijzerwaren en zijn moeder, die ook psychische problemen had, was Maria Catharina Trakl, (meisjesnaam Halik). Voorts had hij nog drie broers en drie zussen. Margarethe (doorgaans Grethe genoemd) stond hem het naast, zelfs zodanig dat sommigen een incestueuze verhouding vermoeden. Zijn jeugd bracht hij door in Salzburg. Vervolgens bezocht hij van 1897 tot 1905 het humanistische gymnasium. Om toch een academische opleiding te kunnen volgen, werkte hij tot 1908 in de praktijk bij een apotheker. Sommigen vermoedden dat hij dit vooral deed om zichzelf opiaten te kunnen verschaffen. Bij het uitbreken van WO I werd Trakl als medicus naar het front in Galicië (heden ten dage in Oekraďne en Polen) gestuurd. Zijn gemoedsschommelingen leidden tot geregelde uitbraken van depressie, die verergerd werden door de afschuw die hij voelde voor de verzorging van de ernstig verwonde soldaten. De spanning en druk dreven hem ertoe een suďcidepoging te ondernemen, welke zijn kameraden nochtans verhinderden. Hij werd in een militair ziekenhuis opgenomen in Kraków, alwaar hij onder strikt toezicht geplaatst werd.Trakl verzonk daar in nog zwaardere depressies en schreef Ficker om advies. Ficker overtuigde hem ervan dat hij contact moest opnemen met Wittgenstein, die inderdaad op weg ging na Trakls bericht te hebben ontvangen. Op 4 november 1914, drie dagen voordat Wittgenstein aan zou komen, overleed hij echter aan een overdosis cocaďne


Paul Celan

Paul Celan werd onder de naam Paul Antschel op 23 november 1920 geboren in Czernowitz, toentertijd de hoofdstad van de Roemeense Boekovina, nu behorend bij de Oekraďne. Paul Celans ouders waren Duitssprekende joden die hun zoon joods opvoedden en hem naar Duitse christelijke scholen stuurden. In 1942 werden Celans ouders door de Duitse bezetter naar een werkkamp gedeporteerd en daar vermoord. Hijzelf wist aanvankelijk onder te duiken, maar moest vanaf juli 1942 in een werkkamp dwangarbeid verrichten. Celan overleefde de oorlog. Via Boekarest en Wenen vestigde Celan zich in 1948 in Parijs. Daar was hij werkzaam als dichter, vertaler en doceerde hij aan de prestigieuze Ecole Normale Supérieure. Vermoedelijk op 20 april 1970 beëindigde hij zijn leven zelf door in de Seine te springen.


Gerard Reve

Gerard Reve over: Medearbeiders "God is in de mensen, de dieren, de planten en alle dingen - in de schepping, die verlost moet worden of waaruit God verlost moet worden, door onze arbeid, aangezien wij medearbeiders van God zijn." Openbaring "Tja, waar berust elk godsbegrip op, elke vorm van religie? Op een openbaring, dat wil zeggen op een psychische ervaring van zulk een dwingende en onverbiddelijke kracht, dat de betrokkene het gevoel heeft, niet dat hij een gedachte of een visioen heeft, maar dat een gedachte gedachte of visioen hem bezit en overweldigt."


Simon Vestdijk
Simon Vestdijk (Harlingen, 17 oktober 1898 – Utrecht, 23 maart 1971) was een Nederlands romancier, dichter, essayist en vertaler. Zijn jeugd te Harlingen en Leeuwarden beschreef hij later in de Anton Wachter-cyclus. Van jongs af aan logeerde hij regelmatig bij zijn grootouders in Amsterdam, waar hij zich in 1917 aan de Universiteit van Amsterdam inschrijft als student in de medicijnen. Tijdens zijn studie die van 1917 tot 1927 duurde, leerde hij Jan Slauerhoff kennen.Tot 1932 is hij als arts in praktijken door heel Nederland werkzaam. In 1932 volgt zijn officiële schrijversdebuut met de uitgave van de bundel Verzen in De Vrije Bladen. Doorslaggevend voor Vestdijks uiteindelijke keuze voor de literatuur is zijn ontmoeting in 1932 met Eddy Du Perron en Menno ter Braak. Deze ontmoeting had tot resultaat dat hij redactielid werd van het tijdschrift Forum Kort daarop, in 1933, wordt zijn eerste novelle, De oubliette, uitgegeven. In hetzelfde jaar schrijft hij Kind tussen vier vrouwen, dat, eerst geweigerd door de uitgever, later de basis zal vormen voor de eerste drie delen van de Anton Wachter-romans. In 1951 ontvangt Vestdijk de P.C. Hooftprijs voor zijn in 1947 verschenen roman De vuuraanbidders. In 1957 wordt hij voor het eerst door het PEN-centrum voor Nederland voorgedragen voor de Nobelprijs voor de Literatuur, die hij echter nooit zal krijgen. Op 20 maart 1971 wordt hem de Prijs der Nederlandse Letteren toegekend, maar voor hij deze kan ontvangen overlijdt hij op 23 maart te Utrecht op 72-jarige leeftijd. Vestdijk was auteur van ca. 200 boeken. Vanwege deze enorme productie noemde de dichter Adriaan Roland Holst hem 'de man die sneller schrijft dan God kan lezen'. Andere belangrijke boeken van Simon Vestdijk zijn: "Kind van stad en land" (1936), "Meneer Visser's hellevaart" (1936), "Ierse nachten" (1946), "De toekomst de religie" (1947), "Pastorale 1943" (1948), "De koperen tuin" (1950), "Ivoren wachters" (1951), "Essays in duodecimo" (1952) en "Het genadeschot" (1964).


K.P. Kavafis

K.P. Kavafis werd als kind van Griekse ouders, afkomstig uit Konstantinopel, geboren in 1863 in Alexandrië (tot vandaag een Griekse enclave) waar hij ook het grootste deel van zijn leven woonde en werkte. Twee jaar na de dood van zijn vader verhuist het gezin in 1872 naar Engeland om na een verblijf van vijf jaar naar Alexandrië terug te keren. Vanwege ongeregeldheden in Egypte vlucht het gezin in 1882 naar Konstantinopel, om na drie jaar opnieuw naar Alexandrië terug te gaan. In de jaren die volgen maakt Kavafis reizen naar Parijs, Londen en in 1901 zijn eerste reis naar Griekenland, in latere jaren gevolgd door nog enkele bezoeken. Op de dag van zijn zeventigste verjaardag, in 1933 sterft Kavafis in Alexandrië. De roem kwam voor Kavafis pas na zijn dood, dus postuum. Deels is dat toe te schrijven aan zijn eigen handelswijze. Hij was uiterst terughoudend met de publicatie van zijn gedichten, liet af en toe een enkel gedicht afdrukken in een literair tijdschrift, gaf in eigen beheer enkele bundels met een stuk of twintig gedichten uit en het merendeel van zijn poëzie schonk hij op losse bladen aan zijn beste vrienden.


Thomas Mann


Thomas Mann, de jongere broer van Heinrich Mann, werd geboren op 6 juni 1875 in Lübeck. Hij was de tweede zoon van de graankoopman Thomas Johann Heinrich Mann welke later één van de senatoren van Lübreck werd. Zijn moeder Julia (geboren da Silva-Bruhns) was Duits-Braziliaans van Portugees Kreoolse afkomst. In 1894 debuteerde Thomas Mann met de novelle "Gefallen". Toen Thomas Mann met 21 jaar eindelijk volwassen was en hem dus geld van zijn vaders erfenis toestond - hij kreeg ongeveer 160 tot 180 goldmark per jaar - besloot hij dat hij genoeg had van al die scholen en instituties en werd onafhankelijk schrijver. Kenmerkend voor zijn stijl zijn de ironie, de fenomenale taalbeheersing en de minutieuze detailschildering. Manns reputatie in Duitsland was sterk wisselend. Met zijn eerste roman, Buddenbrooks (1901), had hij een enorm succes, maar door zijn sceptische houding tegenover Duitsland na de Eerste Wereldoorlog veranderde dit volledig. Stelde hij zich tot aan de jaren twintig apolitiek op (Betrachtungen eines Unpolitischen, 1918), meer en meer raakte hij bij het Politiek gebeuren betrokken. Zijn afkeer van het nationaal socialisme groeide, zijn waarschuwingen werden veelvuldiger en heftiger. In 1944 accepteerde hij het Amerikaanse staatsburgerschap. Tussen 1943 en 1947 schreef Mann Doktor Faustus (zie Faust), de roman van de 'Duitse ziel' in de gecamoufleerd geschilderde omstandigheden van de 20ste eeuw. In 1947 bezocht hij voor het eerst sinds de Oorlog Europa, twee jaar later pas Duitsland. In 1952 vertrok hij naar Zwitserland. Op 12 augustus 1955 stierf hij in Zürich. Twintig jaar na zijn dood, in aug. 1975, is zijn literaire nalatenschap geopend: dagboekaantekeningen van 15 maart 1933 tot 29 juli 1955, alsmede notities uit de jaren 1918 tot en met 1921.Belangrijke werken zijn: Der Zauberberg, Der Tod in Venedig, Dokter Faustus , Joseph und seine Brüder en Die Bekenntnisse des Hochstaplers Felix Krull.


Rainer Maria Rilke

Rilke werd op 4 december 1875 geboren in Praag. Hij had al naam gemaakt als dichter met zijn bundels Das Stundenbuch en Das Buch der Bilder, toen hij de literaire wereld versteld deed staan en wereldfaam verwierf met de publicatie van zijn twee delen Neue Gedichte in 1907 en 1908. Hij verzamelde daarin het beste werk uit een van zijn vruchtbaarste periodes, die hij grotendeels doorbracht in Parijs. Rilke was daar diep onder de indruk gekomen van Rodin, bij wie hij een tijdlang in dienst was als particulier secretaris. Rodin, zei hij later, had hem leren kijken. Dit kijken kwam neer op intense concentratie, om het mysterie te kunnen zien 'achter de schijnbare werkelijkheid'. Latere en rijpere werken als Duineser Elegien (1912-1923) en het ronduit schitterende Die Sonette an Orfeus (1924) illustreren Rilkes metafysische visie op het onzegbare, dat haar verwoording vindt in een hermetische muzikale taal. Op 29 december 1926 overlijdt Rilke in het sanatorium in Val-Mont aan de gevolgen van leukemie. Enkele dagen later wordt hij, overeenkomstig zijn wens, begraven op het kerkhof van Raron.


* * * * * * * * * * * * * * * *

| | |
| --- | --- |
| | Over literatuur, gedichten, kunst en cultuur |

16-01-2016

Ester Naomi Perquin, Inger Christensen, Susan Sontag, Reinhard Jirgl, Anthony Hecht, Tino Hanekamp
De Nederlandse dichteres Ester Naomi Perquin werd geboren in Utrecht op 16 januari 1980. Zie ook alle tags voor Ester Naomi Perquin op dit blog.
Michael van W.
Wat ze ook willen, die dolle honden in mijn kop hebben altijd honger,
altijd dorst. Niet over praten. Het daglicht weet ze te verjagen,
voor even – maar zodra ik ga liggen begint het gedonder,
ze krabben me steeds uit mijn slaap, piepend om teven
of vlees, willen naar buiten gelaten.

Hoe noemt u dat? Bestaat er een woord voor de man die ik word
als ik me, buiten bereik, aan een straatkat vergrijp, kunt u
dat vatten met gekte of moord, lijnt mij dat aan? Ze luisteren niet.
Ze draaien, ze dreigen – ik ken ze bij naam, hun vlekken

en happende kaken – maar hier wil ik niet over praten, niet nu
het licht is. Niet bang zijn. Hier voel ik me veilig. Weet u
dat er een boek bestaat met dezelfde naam?

Voorop staat een man en zijn mond, zijn bek – je ziet
dat hij gromt, zijn tanden ontbloot en achter hem
de volle maan, precies zo schijnheilig.

Zoals hij, behaard als een hond – zo zou ik het doen als ik kon.
Op hem zou ik lijken. Dit dolle dat mij drijft dan
buitenkant, dit hongerige aan te wijzen.
Legale activiteiten I
Wakker maken aan het begin van de nacht
en om dromen vragen.

Als ze zeggen dat ze die nog niet hebben gehad
omdat je ze wakker maakte: een klap.

Als ze beginnen te huilen over hun haren naar beneden
aaien tot ze aan hun moeders denken. Dan zeggen
dat hun moeders niet meer zullen komen.

Als ze hun hoofden op hun armen laten rusten
heel lang zwijgen. Als ze dan in slaap zijn
wakker maken en om dromen vragen.

Als ze hun dromen vertellen luisteren en uitleggen
dat zulke dingen niet bestaan. Dan de orde
van de dag. Dan weer van begin af aan.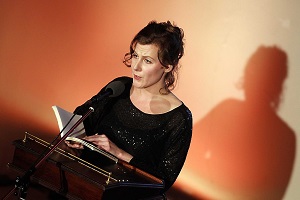 Ester Naomi Perquin (Utrecht, 16 januari 1980)
De Deense dichteres, schrijfster en essayiste Inger Christensen werd geboren op 16 januari 1935 in de stad Vejle aan de oostkust van Jutland. Zie ook alle tags voor Inger Christensen op dit blog.
Uit:Alphabet (fragment)
knell of dew and insects, and nobody in this
gossamer, nobody understands that
autumn exists, that aftertaste and afterthought
exist, only these restless lines of fantastic
ultrasounds exist and the bat's
jade-ear turned towards the ticking fog;
never was the globe's inclination so beautiful,
never were the oxygenated nights so white,

so dispassionately dissolved, softly ionised
white, and never was the limit of invisibility so nearly
touched; june, june, your jacob's ladders
exist your sleeping beasts and their dreams of sleep
exist, a flight of galactic germs between
the earth so earthy and heaven so heavenly,
the calm of the valley of tears, so calm and the tears
sunk back, sunk back in like groundwater again
underground; earth; the earth in its revolution
around the sun exists; the earth in its itinerary
through the milky way exists; the earth on its way
with its load of jasmin, and of jasper and iron,
with its curtains of iron, its portents of joy and random Judas
kisses and a virgin anger
in the streets, jesus of salt; with the jacaranda's shadow
on the waters of the river, with falcons and hunters
and january in the heart, with the well of Japoto della Quercias
Fonte Gaia in Sienna and with july
as heavy as a bomb; with tame brains,
with heart jars or heart grass or berries,
with the roots of ironwood in the exhausted earth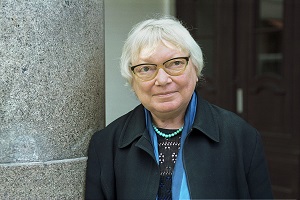 Inger Christensen (16 januari 1935 – 2 januari 2009)
De Amerikaanse schrijfster en essayiste Susan Sontag werd geboren op 16 januari 1933 in New York. Zie ook alle tags voor Susan Sontag op dit blog.
Uit: Illness as Metaphor
"When, not so many decades ago, learning that one had TB was tantamount to hearing a sentence of death -- as today, in the popular imagination, cancer equals death -- it was common to conceal the identity of their disease from tuberculars and, after they died, from their children. Even with patients informed about their disease, doctors and family were reluctant to talk freely. "Verbally I don't learn anything definite," Kafka wrote to a friend in April 1924 from the sanatorium where he died two months later, "since in discussing tuberculosis . . . everybody drops into a shy, evasive, glassy-eyed manner of speech." Conventions of concealment with cancer are even more strenuous. In France and Italy it is still the rule for doctors to communicate a cancer diagnosis to the patient's family but not to the patient; doctors consider that the truth will be intolerable to all but exceptionally mature and intelligent patients. (A leading French oncologist, has told me that fewer than a tenth of his patients 'know they have cancer.) In America -- in part because of the doctors' fear of malpractice suits -- there is now much more candor with patients, but the country's largest cancer hospital mails routine communications and bills to outpatients in envelopes that do not reveal the sender, on the assumption that the illness may be a secret from their families. Since getting cancer can be a scandal that jeopardizes one's love life, one's chance of promotion, even one's job, patients who know what they have tend to be extremely prudish, if not outright secretive, about their disease. And a federal law, the 1966 Freedom of Information Act, cites "treatment for cancer" in a clause exempting from disclosure matters whose disclosure "would be an unwarranted invasion of personal privacy." It is the only disease mentioned."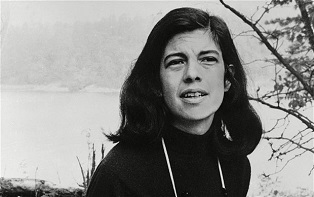 Susan Sontag (16 januari 1933 – 28 december 2004)

De Duitse schrijver Reinhard Jirgl werd op 16 januari 1953 in Oost-Berlijn geboren. Zie ook alle tags voor Reinhard Jirgl op dit blog.
Uit: Die Unvollendeten
"Die beiden Frauen Hanna & Maria hätten sogar nach München gekonnt, Man sagte ihnen, sie müBten sich nur von der Alten trennen. Denn für Alte hatte Niemand Verwendung...» Hanna lehnte entgeistert ab. so mußten sie erneut auuf Transport, wieder gepfercht in Güterwaggons tage&nächtelang: von München nach Dresden nach Leipzig – dann Magdeburg -und die Bahnhöfe und die Wartehalln voll von Menschen da mußt man über die Menschen drüber wegsteigen so voll war das da und die Luft drin stickig wie Zum schneiden Dreck-überall und Ungeziefer das kann sich Heute keiner vorstelln mir wurde speiübel hatten auch seit Achwerweißwielangerzeit nichts Richtiges mehr zu essen gehabt und waschen konnten wir uns auch Nirgendwo - ich hielts nich mehr aus dort-drin – Damals wurden die Fahrkarten noch geknipst bevor man den Bahnsteig betreten durfte aber ich hab den mit der rotn Mütze gefragt ob ich mich draulzen auf den Bahnsteig hinsetzn darf - Doch er hat gesagt Bleim sie man lieber hierdrin bei lhrer Familje Jungefrau Naja draußen warn die-Russm - Ja die-Russn & die Fraun - Und später dann im Zug alle Fenster-scheint Zerbrochn Man hatte aus den Rahmen und die Sitzbanken Feuerholz gemacht wir mußten stehen über Stunden-und-Stunden wenn man sich mal für paar Minuten aufn Boden kauern konnte riß einen schon wieder Jemand hoch oder trat mit den Füllen weil der sich auch hinsetzen wollt So ging das Stunden-über-Stunden Tageundnäichte-lang. Und plötz- lich hielt der Zug. Als war er gegen etwas gefahrn Wir alle durcheinander Gepäck stürzte auf uns runter die Leute schrieen. Was ist !los? Eben warn wir unter ner Brücke durch u 1 der soldaten die aufm Waggondach saßen denn sie waren Alle in Siegerlaune und soffen viel der war bei der Fahrt gegen die Brücke geknallt und die Brücke hatte ihn vom Wagendach runtergefegt."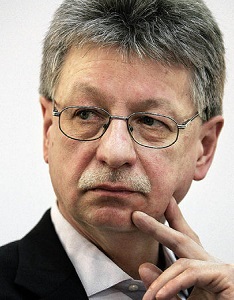 Reinhard Jirgl (Oost-Berlijn, 16 januari 1953)
De Amerikaanse dichter Anthony Hecht werd geboren op 16 januari 1923 in New York. Zie ook alle tags voor Anthony Hecht op dit blog.
Sarabande On Attaining The Age Of Seventy-Seven
The harbingers are come. See, see their mark;
White is their colour; and behold my head.
-- George Herbert
Long gone the smoke-and-pepper childhood smell
Of the smoldering immolation of the year,
Leaf-strewn in scattered grandeur where it fell,
Golden and poxed with frost, tarnished and sere.
And I myself have whitened in the weathers
Of heaped-up Januaries as they bequeath
The annual rings and wrongs that wring my withers,
Sober my thoughts, and undermine my teeth.
The dramatis personae of our lives
Dwindle and wizen; familiar boyhood shames,
The tribulations one somehow survives,
Rise smokily from propitiatory flames
Of our forgetfulness until we find
It becomes strangely easy to forgive
Even ourselves with this clouding of the mind,
This cinerous blur and smudge in which we live.
A turn, a glide, a quarter turn and bow,
The stately dance advances; these are airs
Bone-deep and numbing as I should know by now,
Diminishing the cast, like musical chairs.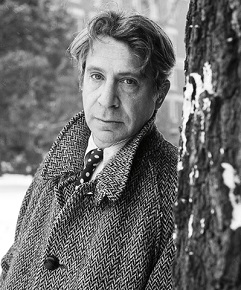 Anthony Hecht (16 januari 1923 – 20 oktober 2004)

Onafhankelijk van geboortedata:
De Duitse schrijver Tino Hanekamp werd geboren in 1979 in Wippra in Saksen-Anhalt. Zie ook alle tags voor Tino Hanekamp op dit blog.
Uit:So was von da
"Aha, na gut. Dann blicke ich also mal unverwandt auf die Sache und fasse sie scharf ins Auge: Heute ist die letzte Nacht unseres Clubs, die letzte Party, und dann ist Schluss. Geschäftsaufgabe wegen Hausabriss. Eigentlich kein Drama, man sollte ohnehin alle zwei Jahre ein neues Leben beginnen. Nur leider haben mein Partner Pablo und ich vergessen, genügend Geld zu verdienen, während wir der Welt den besten Club aller Zeiten schenkten. Unsere Außenstände belaufen sich auf etwa fünfzigtausend, die Verhältnisse sind ein wenig ungeordnet, werden aber durch zwei geteilt, macht also fünfundzwanzigtausend Euro Schulden für jeden von uns. Mehr Geld, als ich je auf einem Haufen gesehen habe. Und viel mehr, als ich jemals zurückzuzahlen in der Lage sein werde. Hinzu kommen meine Außenstände bei der Krankenkasse, dem Finanzamt, meinem Vermieter, der KFZ-Versicherung und etlichen Verwandten. Seit Monaten zieht sich die Schlinge zu. Neben dem Mülleimer stapeln sich grüne, gelbe, blaue und rote Briefe diverser Behörden. Mit dem Vollstreckungsbeamten bin ich per Du. Er heißt Jürgen Kawinsky, wohnt in Poppenbüttel, hasst seinen Job, muss aber Frau und Kinder ernähren und die Raten für das Reihenhaus abzahlen, was soll man machen. Mein Auto steht versteckt im hintersten Winkel eines halb zerfallenen Parkhauses, denn seit sechs Monaten sind die Steuern unbezahlt, die Versicherung hat gekündigt und die Zulassungsstelle den Wagen zur Fahndung ausgeschrieben."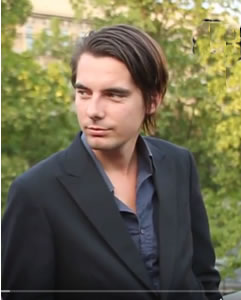 Tino Hanekamp (Wippra, 1979)
Zie voor nog meer schrijvers van de 16e januari ook mijn vorige twee blogs van vandaag.
16-01-2016 om 14:05 geschreven door Romenu

Tags:Ester Naomi Perquin, Inger Christensen, Susan Sontag, Reinhard Jirgl, Anthony Hecht, Tino Hanekamp, Romenu



Brian Castro, Uwe Grüning, José Soares, Aleksandar Tisma, Robert W. Service
De Australische schrijver en essayist Brian Castro werd geboren op 16 januari 1950 in Hongkong. Zie ook alle tags voor Brian Castro op dit blog.
Uit: After China
« But on this night, at number 1,199, the famous philosopher was stuck. No aphorism came to him. Not even a crude one on rain and earth, semen and secretion.
What was worse, he had committed 1,198 aphorisms to memory. Unable to think of the next, he was also unable to recall the others.
He tried the Reverse Flying Duck position. No go. He assumed the Two Dancing Female Phoenix Birds posture. Nothing. The Dark Cicada Cleaving to a Tree. Emptiness. The Donkeys in the Third Moon of Spring. Not a word came to him. He looked at the young woman. He hadn?t really observed his partners before. It was a revelation. She was extremely beautiful. Her pale flesh and dark eyes delighted him. He tried the Fluttering Butterflies. She smiled indifferently. It was really more of a blankness. No philosophy at all. To think that he once had to breathe in the manner of the Tao, gnash his teeth, apply pressure to secret parts to hold back from the abyss of excess. He disengaged himself. Went outside into the next room.
On his table, the future magnum opus. The introduction was already written. For the first time he experienced a fear of not being able to go on. A terrifying vision of somebody else completing his work appeared before him: a ghost-writer, a supplementer stealing the sacred kernels of his words, the hard-won visions of his longevity. Some bastard making the most of hindsight.
He took a short walk in a nearby forest.
When he returned she was still there, sleeping composedly on her silks. He tried again. The Winding Dragon. The Pawing Horse. Nothing. Not a pithy thing. The Hounds of the Ninth Day of Autumn. Disaster. Becoming quite ill and feverish, he suddenly sat up and held her face in his hands.
'Who are you?' he demanded. 'Why have you robbed me of everything I cherish?'
Her face was flushed.
She looked at him steadily and then said very softly: 'I am the book you intend to write, the intention of which is jade resplendent. But writing is not jade.'


Brian Castro (Hongkong, 16 januari 1950)
De Duitse schrijver, vertaler en politicus Uwe Grüning werd geboren op 16 januari 1942 in Pabianice bij Lodz, Polen. Zie ook alle tags voor Uwe Grüning op dit blog.
Die Arche
Als ich das Schiff betrat, blinkte
noch der Ararat über den Wassern,
und die Oliven an seiner Flanke
hatten die Friedenszweige mit Früchten behängt.
Der Regen ließ sie verfaulen.
Hoffnungsbeladen
fand ich das Schiff,
aber Liebe und Glaube
waren nicht in der Arche.
Vierzig Tage
währte die Flut.
Nun aber, wo sie
hinter den Hügeln verstummt
und die vergessenen Länder
aufsteigen erneut aus den Wassern
verschlammt, aber fruchtbar,
bringt statt des Ölzweigs
die Krähe das Lebenskraut.
So ruht
ein wenig aus, ehe ihr eßt,
tapfere Zimmerer!
Legt schon die Äxte zurecht,
legt die Waffen zu Häupten!
Ihr werdet
um dieses Bitterkraut Leben – ich weiß es –
euch töten, sobald ihr erwacht.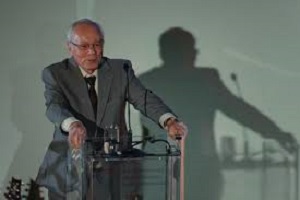 Uwe Grüning (Pabianice, 16 januari 1942)
De Braziliaanse schrijver, theaterproducent, talk show host, acteur, schilder en musicus José Soares werd geboren op 16 januari 1938 in Rio de Janeiro. Zie ook alle tags voor José Soares op dit blog.
Uit: Twelve Fingers: Biography of an Anarchist
« Fate and Ivan's monotesticular libido decree that Isabel quickly becomes pregnant. A dedicated artist, she works until the very hour of delivery. When the circus appears in Banja Luka, after a nine-month tour, the public is astonished to see that lovely young woman contorting her enormous belly in the center ring. In the final days, Ivan Korozec begins to fear that the child will be born right there, twisted and amid lions and clowns. His fears are unfounded: Dimitri is born in the wagon of a Bulgarian trapeze artist with the bearded lady as midwife. He is a perfect creature except that he has an extra index finger on each hand.
This anomaly is neither shocking nor greatly noted, for the twelve fingers are totally symmetrical. The newborn is bathed at once in the waters of the Vrbas and seven days later, over Isabel's protests, as dictated by Poluskopzi ritual, his right testicle is removed and eaten by his father. If he were an adult, the excised gonad would be swallowed by the Grand Master of the order, Boris Kafelnikov, an obscure tailor from Vladivostok. To the amazement and pride of the semicastrati who participate in the ceremony, the baby does not cry.
From early on, Dimitri, or Dimo, as his parents call him, speaks not only Serbo-Croatian, his father's language, but also Portuguese, which his mother had taught him by reading and rereading José do PatricÃ?nio's book. Isabel tells him romanticized stories of the slaves' struggle for freedom. The legendary abolitionist takes on quasi-mystic proportions in the boy's fanciful imagination. He imagines him as a warrior saint lopping off the heads of slave traders. Dimo possesses an extraordinary aptitude for languages, and in the multilingual world of the circus he quickly learns German, French, English, Italian, Russian, Albanian, and Spanish. He speaks all of these tongues without accent."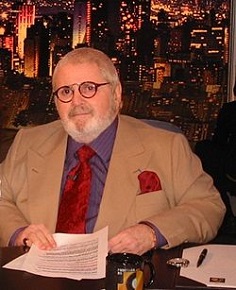 José Soares (Rio de Janeiro, 16 januari 1938)
De Servische schrijver Aleksandar Tišma werd op 16 januari 1924 geboren in Vojvodina. Zie ook alle tags voor Aleksandar Tišma op dit blog.
Uit: Schneck (Vertaald door Barbara Antkowiak)
"Bald darauf ging; er -wieder auf Reisen diesmal nach Sarajevo , und als er im Hotel den Koffer auspackte, stellte er fest, daß er die Kopfschmerztabletten nicht mitgenommen hatte. Er ärgerte sich, denn er meinte ein wenig abergläubisch , das Übel werde ihn ereilen, bevor er eine Apotheke fand. Doch es verschonte ihn auch diesmal. Daraufhin begann er sich zu beobachten: In der Frühe war sein Kopf nicht mehr dumpf wie sonst, sondern von einer ungewohnten Klarheit; tagsüber schüttelte er ihn hin und wieder in der Erwartung eines Schwindels mit nachfolgender Bewußtlosigkeit, jedoch war alles sicher und fest. Nachdem er während eines Besuchs bei Ljiljana Kalajié so mit dem Kopf geschüttelt hatte, konnte er nicht umhin, ihr zu sagen:
»Wissen Sie, was e> bei mir Neues gibt?« (Er siezte sie, obwohl sie seit zwei Jahren ein Liebespaar waren.) Und als sie fragend die Brauen hob, mit gewisser Scham, weil er sie mit einer Bagatelle belästigte: »Meine Kopfschmerzen sind weg, schon seit zwei Monaten.« Statt sich jedoch zu freuen oder gleichgültig auf diese Mitteilung zu reagieren, runzelte sie besorgt ihre dichten Brauen und sagte: »Bloß das nicht, um Gottes willen!« Im selben Moment fiel ihm ein, warum sie das sagte, und er senkte den Blick.
Er erinnerte sich nämlich daran, daß Ljiljanas verstorbener Mann nicht mehr an Kopfschmerzen gelitten hatte, nachdem bei ihm eine Nervenkrankheit aufgetaucht war,die zu seinem späteren Tod führte, und daß ihm Ljiljana einmal von dieser ungewöhnlichen Tatsache erzählt hatte.
Zu dieser Mitteilung war es überraschend und aus gegebenem Anlaß gekommen. Schneck nämlich hatte laut darüber nachgedacht, wie Krankheiten durch den menschlichen Körper wandern, vom Hals in die Nieren und in die Gelenke, worauf Ljiljana, plötzlich ernst, ergänzte: »Sie haben recht. Auch mein Mann wurde seine Kopfschmerzen fast am selben Tag los, als sich diese schreckliche Krankheit bei ihm zeigte.« Denn sie mochte die Krankheit ihres Mannes nicht beim Namen nennen; sie wich diesem Thema ebenso geflissentlich aus wie Schneck danach trachtete, es zu diskutieren."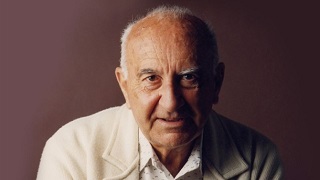 Aleksandar Tišma (16 januari 1924 – 16 februari 2003)
De Canadese dichter en schrijver Robert William Service werd geboren op 16 januari 1874 in Preston, Engeland. Zie ook alle tags voor Robert W. Service op dit blog.
A Grain Of Sand
If starry space no limit knows
And sun succeeds to sun,
There is no reason to suppose
Our earth the only one.
'Mid countless constellations cast
A million worlds may be,
With each a God to bless or blast
And steer to destiny.
Just think! A million gods or so
To guide each vital stream,
With over all to boss the show
A Deity supreme.
Such magnitudes oppress my mind;
From cosmic space it swings;
So ultimately glad to find
Relief in little things.
For look! Within my hollow hand,
While round the earth careens,
I hold a single grain of sand
And wonder what it means.
Ah! If I had the eyes to see,
And brain to understand,
I think Life's mystery might be
Solved in this grain of sand.

Playboy
I greet the challenge of the dawn
With weary, bleary eyes;
Into the sky so ashen wan
I wait the sun to rise;
Then in the morning's holy hush,
With heart of shame I hear
A robin from a lilac bush
Pipe pure and clear.
All night in dive and dicing den,
With wantons and with wine
I've squandered on wild, witless men
The fortune that was mine;
The gold my father fought to save
In folly I have spent;
And now to fill a pauper's grave
My steps are bent.
See! how the sky is amber bright!
The thrushes thrill their glee.
The dew-drops sparkle with delight,
And yonder smiles the sea.
Oh let me plunge to drown the pain
Of love and faith forgot:
Then purged I may return again,
--Or I may not.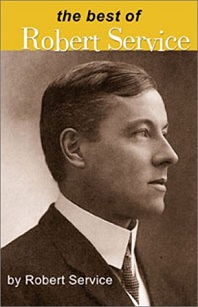 Robert W. Service (16 januari 1874 – 11 september 1958)
Cover
Zie voor nog meer schrijvers van de 16e januari ook mijn vorige blog van vandaag.
16-01-2016 om 14:04 geschreven door Romenu

Tags:Brian Castro, Uwe Grüning, José Soares, Aleksandar Tisma, Robert W. Service, Romenu



Kálmán Mikszáth, Nel Benschop, Franz Tumler, Jules Supervielle, Saint-Simon
De Hongaarse schrijver en journalist Kálmán Mikszáth werd op 16 januari 1847 in Szklabonya (tegenwoordig Slowakije) geboren. Zie ook alle tags voor Kálmán Mikszáth op dit blog.
Uit: St. Peter's Umbrella (Vertaald door B. W. Worswick)
"There was not quite enough money collected to defray the expenses, so they had to sell the goat to make up the sum; but the goose was left,though there was nothing for it to feed on, so it gradually got thinner and thinner, till it was its original size again; and instead of waddling about in the awkward, ungainly way it had done on account of its enormous size, it began to move in a more stately manner; in fact, its life had been saved by the loss of another. God in His wisdom by taking one life often saves another, for, believe me, senseless beings are entered in His book as well as sensible ones, and He takes as much care of them as of kings and princes.
The wisdom of God is great, but that of the judge of Haláp was not trifling either. He ordered that after the funeral the little girl (Veronica was her name) was to spend one day at every house in the village in turns, and was to be looked after as one of the family.
"And how long is that to last?" asked one of the villagers.
"Until I deign to give orders to the contrary," answered the judge shortly. And so things went on for ten days, until Máté Billeghi decided to take his wheat to Besztercebánya to sell, for he had heard that the
Jews down that way were not yet so sharp as in the neighborhood of Haláp. This was a good chance for the judge.
"Well," he said, "if you take your wheat there, you may as well take the child to her brother. Glogova must be somewhere that way."
"Not a bit of it," was the answer, "it is in a totally different direction."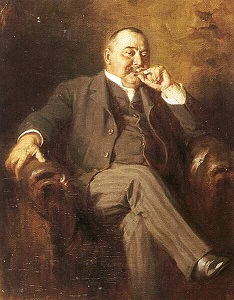 Kálmán Mikszáth (16 januari 1847 – 28 mei 1910)
Portret door Gyula Benczúr, 1910
De Nederlandse dichteres Nel Benschop werd geboren op 16 januari 1918 te Den Haag. Zie ook alle tags voor Nel Benschop op dit blog.
Treurdicht
Heer, sla Uw armen éven om mij heen
ik ben verdrietig, mateloos alleen,
want wie ik liefhad, die ging van mij heen.

Ik smeek U: wilt U naar mij luist'ren, Heer,
Ik zie geen uitweg en mijn hart doet zeer,
Want wie ik liefhad, hoort mij nu niet meer.

Zie in Uw liefde mij erbarmend aan,
Want ik heb niemand waar ik heen kan gaan
En wie ik liefhad, is hier ver vandaan

Vind ik ooit weer de rust die het geluk mij gaf?
Heer, buig U over mij en droog mijn tranen af
Want wie ik liefhad, ligt in een koud graf.

Heer, geef mij alstublieft een beetje licht,
Want donker is de nacht en loodzwaar zijn gewicht:
Haar die ik liefhad, sloot haar ogen dicht
Heer, ik wil luchten uit het hier en nu,
Want alles lijkt zo zinloos, klinkt zo cru
En wie ik liefhad, is voorgoed bij U.

-Zegt U nu: 'Zet je voeten in Mijn spoor,
Ik zal je ondersteunen, kind, vecht dóór,
Want wie je liefhad, ging je enkel vóór...'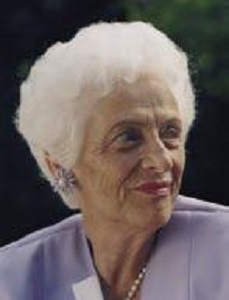 Nel Benschop (16 januari 1918 – 31 januari 2005)
De Oostenrijkse dichter en schrijver Franz Tumler werd geboren op 16 januari 1912 in Gries bij Bozen. Zie ook alle tags voor Franz Tumler op dit blog.
Uit: Der Schritt hinüber
"Dies ist die Geschichte eines Betrugs, aber die zwei Leute, die durch diesen Betrug gerettet wurden, erfuhren überhaupt nicht, dass es Betrug gewesen war, und Betrug nicht bloß an ihrem Verfolger, sondern ein höchst weitläufiger Betrug, der eine Menge Leben verschob und verschlang.
Für die zwei sah es so aus, als hätte sich die Frau einfach geopfert, ihnen zuliebe, damit sie davonlcämen. Das hing ihnen nach von dieser Geschichte, die sonst nur ein Abenteuer für sie hätte sein brauchen, halbvergessen und damit trösteten sie sich dann manchmal: vergessen vielleicht auch dort drüben, bedeckt von der Nacht, hinab in der Zeit.
Es war hoher sommer, August; staubige graue Hitze lag über dem verholzten Gras. Auf der Wiese hinter dem Bemelmanhof arbeiteten die zwei F lüchtlinge. sie gabelten das Heu auf einen Leiterwagen, dann zogen sie selber an der Deichsel und lenkten den Wagen über den abschüssigen Weg in die breite Toreinfahrt des Hofes. Von ihren schmutzigen Hemden rann schweiß in Fäden auf das dicke Tuch ihrer Uniformhose. Ihre Augen flackerten unruhig; ein Schatten war auf ihren Gesichtern, nicht einer von Außen, sie trugen ihn, als ob innen ein Licht nicht mehr aus ihnen wirkte.
An der Holzhütte unter dem Nußbaum safs die junge Frau und sah ihnen zu. Auf ihrem dünnen Kleid und auf ihrer weissen Haut wechselten sonne und farbige schleier von dem spiel des Laubs."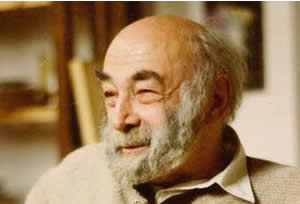 Franz Tumler (16 januari 1912 – 20 oktober 1998)
De Franstalige dichter en schrijver Jules Supervielle werd geboren op 16 januari 1884 in Montevideo, Uruguay. Zie ook alle tags voor Jules Supervielle op dit blog.
La pluie et les tyrans
Je vois tomber la pluie
Dont les flaques font luire
Notre grave planète,
La pluie qui tombe nette
Comme du temps d'Homère
Et du temps de Villon
Sur l'enfant et sa mère
Et le dos des moutons,
La pluie qui se répète
Mais ne peut attendrir
La dureté de tête
Ni le cœur des tyrans
Ni les favoriser
D'un juste étonnement,
Une petite pluie
Qui tombe sur l'Europe
Mettant tous les vivants
Dans la même enveloppe
Malgré l'infanterie
Qui charge ses fusils
Et malgré les journaux
Qui nous font des signaux,
Une petite pluie
Qui mouille les drapeaux.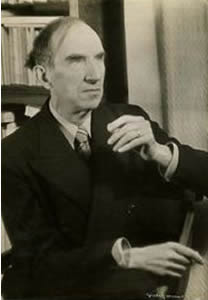 Jules Supervielle (16 januari 1884 – 17 mei 1960)
De Franse schrijver Louis de Rouvroy, hertog van Saint-Simon werd geboren op 16 januari 1675 in Versailles. Zie ook alle tags voor Saint Simon op dit blog.
Uit: Mémoires de Saint-Simon
« En 1691, j'étais en philosophie et commençais à monter à cheval à l'académie des sieurs de Mémon et Rochefort, et je commençais aussi à m'ennuyer beaucoup des maîtres et de l'étude, et à désirer fort d'entrer dans le service. Le siège de Mons, formé par le roi en personne, à la première pointe du printemps, y avait attiré presque tous les jeunes gens de mon âge pour leur première campagne; et ce qui me piquait le plus, M. le duc de Chartres y faisait la sienne. J'avais été comme élevé avec lui, plus jeune que lui de huit mois, et si l'âge permet cette expression entre jeunes gens si inégaux, l'amitié nous unissait ensemble. Je pris donc ma résolution de me tirer de l'enfance, et je supprime les ruses dont je me servis pour y réussir. Je m'adressai à ma mère; je reconnus bientôt qu'elle m'amusait. J'eus recours à mon père à qui je fis accroire que le roi, ayant fait un grand siège cette année, se reposerait la prochaine. Je trompai ma mère qui ne découvrit ce que j'avais tramé que sur le point de l'exécution, et que j'avais monté mon père à ne se laisser point entamer.
Le roi s'était roidi à n'excepter aucun de ceux qui entraient dans le service, excepté les seuls princes du sang et ses bâtards, de la nécessité de passer une année dans une de ses deux compagnies des mousquetaires, à leur choix, et de là, à apprendre plus ou moins longtemps à obéir, ou à la tête d'une compagnie de cavalerie, ou subalterne dans son régiment d'infanterie qu'il distinguait et affectionnait sur tous autres, avant de donner l'agrément d'acheter un régiment de cavalerie ou d'infanterie, suivant que chacun s'y était destiné. Mon père me mena donc à Versailles où il n'avait encore pu aller depuis son retour de Blaye, où il avait pensé mourir. Ma mère l'y était allée trouver en poste et l'avait ramené encore fort mal, en sorte qu'il avait été jusqu'alors sans avoir pu voir le roi. En lui faisant sa révérence, il me présenta pour être mousquetaire, le jour de Saint-Simon Saint-Jude, à midi et demi, comme il sortait du conseil."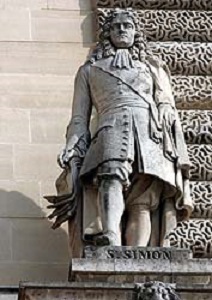 Saint-Simon (16 januari 1675- 2 maart 1755)
Standbeeeld op de cour Napoléon du Louvre, Parijs
16-01-2016 om 14:02 geschreven door Romenu

Tags:Kálmán Mikszáth, Nel Benschop, Franz Tumler, Jules Supervielle, Saint-Simon, Romenu



| | |
| --- | --- |
| | |



Inhoud blog


| | |
| --- | --- |
| | William Shakespeare, Roman Helinski, Pascal Quignard, Peter Horst Neumann, Andrey Kurkov, Halldór Laxness, Christine Busta, Adelheid Duvanel, Richard Huelsenbeck |
| | The Good Shepherd (Stanley Moss) |
| | Giorgio Fontana, Jan de Hartog, Björn Kern, Vladimir Nabokov, Chetan Bhagat, Peter Weber, Jos de Haes, Thommie Bayer, Madame de Staël |
| | Ana María Shua, Louise Glück, Robert Choquette, James Philip Bailey, Henry Fielding, Michael Schulte, Cabrera Infante, Ludwig Renn |
| | The Enkindled Spring (D. H. Lawrence) |
| | Charlotte Brontë, Patrick Rambaud, John Mortimer, Charles den Tex, Ahmed Arif, Michael Mann |
| | Peter Schneider, Meira Delmar, Alistair MacLean, Gerrit Wustmann, Népomucčne Lemercier |
| | Prijs der Nederlandse Letteren voor Judith Herzberg |
| | Martinus Nijhoff, Jan Cremer, Jean Pierre Rawie, Marieke Lucas Rijneveld, Sebastian Faulks, Jozef Deleu, Steve Erickson, Arto Paasilinna, Michel Leiris |
| | Martin Michael Driessen, Marjoleine de Vos, Manuel Bandeira, n. c. kaser, Veniamin Kaverin, Louis Amédée Achard, Pierre-Jean de Béranger, Gudrun Reinboth, Werner Rohner |
| | Wam de Moor, Bas Belleman, Roos van Rijswijk, Hanane Aad, Clara Eggink, Kathy Acker, Joy Davidman, Henry Kendall, Katharina Schwanbeck |
| | Antoon Coolen, Vincent Corjanus, Nick Hornby, Ida Boy-Ed, Thornton Wilder, David Wagner, R.J. Pineiro, Helen Meier, Karen Blixen |
| | Sarah Kirsch, Thomas Olde Heuvelt, Kingsley Amis, Patricia De Martelaere, Tristan Tzara, Ewald Vanvugt, Sibylle Lewitscharoff, Jan Luyken, Anatole France |
| | Emmaüs (Felix Timmermans) |
| | Tomas Tranströmer, Daniël Samkalden, Jérôme Lambert, Patrick Bernauw, Benjamin Zephaniah, Henry James, Wilhelm Busch, Ina Boudier-Bakker |
| | Bliss Carman, Beate Morgenstern, Jeffrey Archer, Bernhard Lassahn, Erich Arendt, Pol De Mont, Staf Weyts, Hans Egon Holthusen |
| | Péter Esterházy, Alexandre Jardin, Tjitse Hofman, Landolf Scherzer, Charles Lewinsky, Roman Graf |
| | Roberto Schopflocher, Martin Kessel, Gabriele Stötzer, Helene Hübener, Gerhard Rohlfs |
| | Nachoem Wijnberg, K. Michel, Alexander Münninghoff, Michel Faber, Jean-Marie Gustave Le Clézio, Samuel Beckett, Seamus Heaney, Tim Krabbé, Eudora Welty |
| | Antje Rávic Strubel, Alan Ayckbourn, Scott Turow, Tom Clancy, Agnes Sapper, Edward de Vere, José Gautier Benítez, Alexander Ostrovski, Guillaume-Thomas Raynal |
| | Leonard Nolens, Mark Strand, Silvia Avallone, Walid Soliman, Dorothy Allison, Hubert Nyssen, Rolf Schilling, Glenway Wescott, Claude Tillier |
| | Leo Vroman, Jan van Mersbergen, Paul Theroux, Claudio Magris, Bella Akhmadulina, Stefan Heym, Richard Wagner, Marcel van Maele, Eric Knight |
| | Charles Baudelaire, Jelle Brandt Corstius, Karel Jonckheere, Joolz Denby, Albert von Schirnding, Johannes Bobrowski, Bernard-Marie Koltčs, Arnold Stadler, Yaël Vinckx |
| | Thomas (Jan Willem Schulte Nordholt) |
| | Herinnering aan Gerard Reve, Hanz Mirck, Christoph Hein, Judith Koelemeijer, Nnedi Okorafor, Barbara Kingsolver |
| | John Fante, Johann Christian Günther, Glendon Swarthout, Martin Grzimek, Hégésippe Moreau, Robert Askins |
| | Den Haag (Paul Rodenko) |
| | Juliana Spahr, William Wordsworth, Özcan Akyol, Gabriela Mistral |
| | Kazim Ali, Annejet van der Zijl, John Pepper Clark, Jakob Ejersbo, Günter Herburger, Uljana Wolf, Brigitte Schwaiger, Julien Torma, Nicolas Chamfort |
| | Iulian Ciocan |
| | Hugo Claus, Martin Reints, Mieke van Zonneveld, Vítězslav Hálek, Algernon Swinburne, Bora Ćosić,, Werner J. Egli, Michael Georg Conrad, Marente de Moor |
| | Maya Angelou, Hanneke Hendrix, Marko Klomp, Marcel Vaarmeijer, E. L. James, Marguerite Duras, Robert Schindel, Michiel van Kempen, Bettina von Arnim |
| | Charles Ducal, Adriaan Jaeggi, Frederik van Eeden, Bert Bakker, Peter Huchel, Arlette Cousture, Pieter Aspe, Karel N.L. Grazell, Washington Irving |
| | Die Sonne geht im Osten auf (Christian Morgenstern) |
| | Thomas Glavinic, Jay Parini, Anneke Claus, Klaus Ender, Konrad Merz, Ed Dorn, Émile Zola |
| | György Konrád, Anne Waldman, Casanova, Hans Christian Andersen, Roberto Arlt, Edgar Hilsenrath, George Fraser |
| | Hoffmann von Fallersleben, Johann Gleim, Pierre Zaccone, Pietro della Valle, Zwier van Haren, Joanna Chmielewska, Brigitte Struzyk |
| | Preis dem Todesüberwinder! (Friedrich Klopstock) |
| | Milan Kundera, Sandro Veronesi, Nikolaj Gogol, Arnold Aletrino, Max Nord, Urs Allemann, Rolf Hochhuth, John Wilmot, Deborah Feldman |
| | Maria Polydouri, Edgar Wallace, Carl Sternheim, Edmond Rostand, Armel Guerne, Friedrich Güll, Antoine Prévost, Josep de Maistre |
| | Litanie van een wachter bij het graf (Willem Jan Otten) |
| | Stefan Hertmans, Octavio Paz, Asis Aynan, Martijn Teerlinck, Marga Minco, Enrique Vila-Matas |
| | Rob Boudestein, Kornej Tsjoekovski, Andrew Lang, Nichita Stănescu, Hartmut Lange, Marge Piercy |
| | Angela Kreuz, Judith Rossner, Andrew Marvell, John Fowles, Edward FitzGerald, Robert Brasillach, Peter Motte |
| | Golgotha (Theo Thijssen) |
| | Gerrit Komrij, Paul Verlaine, Milton Acorn, Erika Mitterer, Uwe Timm, Tom Sharpe, Gert Heidenreich, Theo Breuer, Luise Hensel |
| | Gethsemane (Jacqueline van der Waals) |
| | Geert van Istendael, Wim Brands, Ernst Jünger, Eric Walz, Georg Klein, Yvan Goll, R. S. Thomas, Jacques Brault, Denton Welch |
| | Walter van den Broeck, Joost de Vries, Mario Vargas Llosa, Chrétien Breukers, Steye Raviez, Nelson Algren, Marianne Frederiksson, Russell Banks, Léon-Gontran Damas |
| | Heinrich Mann, Shusaku Endo, Carolina Trujillo, Golo Mann, Patrick McCabe, Bob den Uyl, Dubravka Ugresić, Francis Ponge, Alfred de Vigny |


Gastenboek


Druk op onderstaande knop om een berichtje achter te laten in mijn gastenboek