E-mail mij


Druk op onderstaande knop om mij te e-mailen.


Romenu


Romenu is een blog over gedichten, literatuur en kunst Maar Romenu is ook een professionele freelance vertaler
Du-Ne en Ne-Du http://www.romenu.nl.


Huur eens een (vakantie)huis in een natuurgebied, dichtbij het centrum van Nijmegen


Google


Georg Trakl

Georg Trakl werd op 3 februari 1887 in het conducteurshuis aan de Waagplatz 2 in Salzburg geboren. Zijn vader, Tobias Trakl, was een handelaar in ijzerwaren en zijn moeder, die ook psychische problemen had, was Maria Catharina Trakl, (meisjesnaam Halik). Voorts had hij nog drie broers en drie zussen. Margarethe (doorgaans Grethe genoemd) stond hem het naast, zelfs zodanig dat sommigen een incestueuze verhouding vermoeden. Zijn jeugd bracht hij door in Salzburg. Vervolgens bezocht hij van 1897 tot 1905 het humanistische gymnasium. Om toch een academische opleiding te kunnen volgen, werkte hij tot 1908 in de praktijk bij een apotheker. Sommigen vermoedden dat hij dit vooral deed om zichzelf opiaten te kunnen verschaffen. Bij het uitbreken van WO I werd Trakl als medicus naar het front in Galicië (heden ten dage in Oekraïne en Polen) gestuurd. Zijn gemoedsschommelingen leidden tot geregelde uitbraken van depressie, die verergerd werden door de afschuw die hij voelde voor de verzorging van de ernstig verwonde soldaten. De spanning en druk dreven hem ertoe een suïcidepoging te ondernemen, welke zijn kameraden nochtans verhinderden. Hij werd in een militair ziekenhuis opgenomen in Kraków, alwaar hij onder strikt toezicht geplaatst werd.Trakl verzonk daar in nog zwaardere depressies en schreef Ficker om advies. Ficker overtuigde hem ervan dat hij contact moest opnemen met Wittgenstein, die inderdaad op weg ging na Trakls bericht te hebben ontvangen. Op 4 november 1914, drie dagen voordat Wittgenstein aan zou komen, overleed hij echter aan een overdosis cocaïne


Paul Celan

Paul Celan werd onder de naam Paul Antschel op 23 november 1920 geboren in Czernowitz, toentertijd de hoofdstad van de Roemeense Boekovina, nu behorend bij de Oekraïne. Paul Celans ouders waren Duitssprekende joden die hun zoon joods opvoedden en hem naar Duitse christelijke scholen stuurden. In 1942 werden Celans ouders door de Duitse bezetter naar een werkkamp gedeporteerd en daar vermoord. Hijzelf wist aanvankelijk onder te duiken, maar moest vanaf juli 1942 in een werkkamp dwangarbeid verrichten. Celan overleefde de oorlog. Via Boekarest en Wenen vestigde Celan zich in 1948 in Parijs. Daar was hij werkzaam als dichter, vertaler en doceerde hij aan de prestigieuze Ecole Normale Supérieure. Vermoedelijk op 20 april 1970 beëindigde hij zijn leven zelf door in de Seine te springen.


Gerard Reve

Gerard Reve over: Medearbeiders "God is in de mensen, de dieren, de planten en alle dingen - in de schepping, die verlost moet worden of waaruit God verlost moet worden, door onze arbeid, aangezien wij medearbeiders van God zijn." Openbaring "Tja, waar berust elk godsbegrip op, elke vorm van religie? Op een openbaring, dat wil zeggen op een psychische ervaring van zulk een dwingende en onverbiddelijke kracht, dat de betrokkene het gevoel heeft, niet dat hij een gedachte of een visioen heeft, maar dat een gedachte gedachte of visioen hem bezit en overweldigt."


Simon Vestdijk
Simon Vestdijk (Harlingen, 17 oktober 1898 – Utrecht, 23 maart 1971) was een Nederlands romancier, dichter, essayist en vertaler. Zijn jeugd te Harlingen en Leeuwarden beschreef hij later in de Anton Wachter-cyclus. Van jongs af aan logeerde hij regelmatig bij zijn grootouders in Amsterdam, waar hij zich in 1917 aan de Universiteit van Amsterdam inschrijft als student in de medicijnen. Tijdens zijn studie die van 1917 tot 1927 duurde, leerde hij Jan Slauerhoff kennen.Tot 1932 is hij als arts in praktijken door heel Nederland werkzaam. In 1932 volgt zijn officiële schrijversdebuut met de uitgave van de bundel Verzen in De Vrije Bladen. Doorslaggevend voor Vestdijks uiteindelijke keuze voor de literatuur is zijn ontmoeting in 1932 met Eddy Du Perron en Menno ter Braak. Deze ontmoeting had tot resultaat dat hij redactielid werd van het tijdschrift Forum Kort daarop, in 1933, wordt zijn eerste novelle, De oubliette, uitgegeven. In hetzelfde jaar schrijft hij Kind tussen vier vrouwen, dat, eerst geweigerd door de uitgever, later de basis zal vormen voor de eerste drie delen van de Anton Wachter-romans. In 1951 ontvangt Vestdijk de P.C. Hooftprijs voor zijn in 1947 verschenen roman De vuuraanbidders. In 1957 wordt hij voor het eerst door het PEN-centrum voor Nederland voorgedragen voor de Nobelprijs voor de Literatuur, die hij echter nooit zal krijgen. Op 20 maart 1971 wordt hem de Prijs der Nederlandse Letteren toegekend, maar voor hij deze kan ontvangen overlijdt hij op 23 maart te Utrecht op 72-jarige leeftijd. Vestdijk was auteur van ca. 200 boeken. Vanwege deze enorme productie noemde de dichter Adriaan Roland Holst hem 'de man die sneller schrijft dan God kan lezen'. Andere belangrijke boeken van Simon Vestdijk zijn: "Kind van stad en land" (1936), "Meneer Visser's hellevaart" (1936), "Ierse nachten" (1946), "De toekomst de religie" (1947), "Pastorale 1943" (1948), "De koperen tuin" (1950), "Ivoren wachters" (1951), "Essays in duodecimo" (1952) en "Het genadeschot" (1964).


K.P. Kavafis

K.P. Kavafis werd als kind van Griekse ouders, afkomstig uit Konstantinopel, geboren in 1863 in Alexandrië (tot vandaag een Griekse enclave) waar hij ook het grootste deel van zijn leven woonde en werkte. Twee jaar na de dood van zijn vader verhuist het gezin in 1872 naar Engeland om na een verblijf van vijf jaar naar Alexandrië terug te keren. Vanwege ongeregeldheden in Egypte vlucht het gezin in 1882 naar Konstantinopel, om na drie jaar opnieuw naar Alexandrië terug te gaan. In de jaren die volgen maakt Kavafis reizen naar Parijs, Londen en in 1901 zijn eerste reis naar Griekenland, in latere jaren gevolgd door nog enkele bezoeken. Op de dag van zijn zeventigste verjaardag, in 1933 sterft Kavafis in Alexandrië. De roem kwam voor Kavafis pas na zijn dood, dus postuum. Deels is dat toe te schrijven aan zijn eigen handelswijze. Hij was uiterst terughoudend met de publicatie van zijn gedichten, liet af en toe een enkel gedicht afdrukken in een literair tijdschrift, gaf in eigen beheer enkele bundels met een stuk of twintig gedichten uit en het merendeel van zijn poëzie schonk hij op losse bladen aan zijn beste vrienden.


Thomas Mann


Thomas Mann, de jongere broer van Heinrich Mann, werd geboren op 6 juni 1875 in Lübeck. Hij was de tweede zoon van de graankoopman Thomas Johann Heinrich Mann welke later één van de senatoren van Lübreck werd. Zijn moeder Julia (geboren da Silva-Bruhns) was Duits-Braziliaans van Portugees Kreoolse afkomst. In 1894 debuteerde Thomas Mann met de novelle "Gefallen". Toen Thomas Mann met 21 jaar eindelijk volwassen was en hem dus geld van zijn vaders erfenis toestond - hij kreeg ongeveer 160 tot 180 goldmark per jaar - besloot hij dat hij genoeg had van al die scholen en instituties en werd onafhankelijk schrijver. Kenmerkend voor zijn stijl zijn de ironie, de fenomenale taalbeheersing en de minutieuze detailschildering. Manns reputatie in Duitsland was sterk wisselend. Met zijn eerste roman, Buddenbrooks (1901), had hij een enorm succes, maar door zijn sceptische houding tegenover Duitsland na de Eerste Wereldoorlog veranderde dit volledig. Stelde hij zich tot aan de jaren twintig apolitiek op (Betrachtungen eines Unpolitischen, 1918), meer en meer raakte hij bij het Politiek gebeuren betrokken. Zijn afkeer van het nationaal socialisme groeide, zijn waarschuwingen werden veelvuldiger en heftiger. In 1944 accepteerde hij het Amerikaanse staatsburgerschap. Tussen 1943 en 1947 schreef Mann Doktor Faustus (zie Faust), de roman van de 'Duitse ziel' in de gecamoufleerd geschilderde omstandigheden van de 20ste eeuw. In 1947 bezocht hij voor het eerst sinds de Oorlog Europa, twee jaar later pas Duitsland. In 1952 vertrok hij naar Zwitserland. Op 12 augustus 1955 stierf hij in Zürich. Twintig jaar na zijn dood, in aug. 1975, is zijn literaire nalatenschap geopend: dagboekaantekeningen van 15 maart 1933 tot 29 juli 1955, alsmede notities uit de jaren 1918 tot en met 1921.Belangrijke werken zijn: Der Zauberberg, Der Tod in Venedig, Dokter Faustus , Joseph und seine Brüder en Die Bekenntnisse des Hochstaplers Felix Krull.


Rainer Maria Rilke

Rilke werd op 4 december 1875 geboren in Praag. Hij had al naam gemaakt als dichter met zijn bundels Das Stundenbuch en Das Buch der Bilder, toen hij de literaire wereld versteld deed staan en wereldfaam verwierf met de publicatie van zijn twee delen Neue Gedichte in 1907 en 1908. Hij verzamelde daarin het beste werk uit een van zijn vruchtbaarste periodes, die hij grotendeels doorbracht in Parijs. Rilke was daar diep onder de indruk gekomen van Rodin, bij wie hij een tijdlang in dienst was als particulier secretaris. Rodin, zei hij later, had hem leren kijken. Dit kijken kwam neer op intense concentratie, om het mysterie te kunnen zien 'achter de schijnbare werkelijkheid'. Latere en rijpere werken als Duineser Elegien (1912-1923) en het ronduit schitterende Die Sonette an Orfeus (1924) illustreren Rilkes metafysische visie op het onzegbare, dat haar verwoording vindt in een hermetische muzikale taal. Op 29 december 1926 overlijdt Rilke in het sanatorium in Val-Mont aan de gevolgen van leukemie. Enkele dagen later wordt hij, overeenkomstig zijn wens, begraven op het kerkhof van Raron.


* * * * * * * * * * * * * * * *

| | |
| --- | --- |
| | Over literatuur, gedichten, kunst en cultuur |

03-12-2016

Hendrik Conscience, Joseph Conrad, Herman Heijermans, Grace Andreacchi, Ugo Riccarelli
De Vlaamse schrijver Henri (Hendrik) Conscience werd geboren in Antwerpen op 3 december 1812. Zie ook alle tags voor Hendrik Conscience op dit blog.
Uit: De Leeuw Van Vlaanderen Of De Slag Der Gulden Sporen
"Komaan, De Chatillon," morde De St.-Pol tegen zijn broeder, "stijg op het ros van uw schildknaap en laat ons gaan, want Mijnheer De Valois is een ongelovige volksgezinde."
Intussen hadden de schildknapen hun wapens in de schede gestoken, en waren zij nu bezig met de paarden hunner meesters vooruit te brengen.
"Zijt gij klaar, Mijne heren?" vroeg De Valois. "Nu dan, spoedig voort, bid ik u; want anders komen wij de jacht te spade. Gij vazal, ga ter zijde; waarschuw ons wanneer wij moeten draaien.--Hoe ver zijn wij nog van Wijnendale?"
De jongeling nam zijn kap heuselijk van het hoofd, boog zich voor zijn redder en antwoordde: "Nog een korte mijl, mijn Heerschap."
"Bij mijn ziel!" sprak De St.-Pol. "Ik geloof dat dit een wolf in een schapenvel is."
"Dit heb ik reeds overlang gedacht," antwoordde de Kanselier Pierre Flotte, "want hij beziet ons als een wolf en luistert als een haas."
"Ha! Ha! Nu weet ik wie het is," riep De Chatillon. "Hebt gij nooit horen spreken van een wever met name Pieter Deconinck die te Brugge woont?"
"Mijne heren, gij bedriegt u voorwaar," bemerkte Raoul de Nesle, "ik heb de beruchte wever te Brugge zelf gesproken, en alhoewel hij deze in schalksheid te boven gaat, heeft hij slechts een oog en onze leidsman heeft er twee allergrootste. Ongetwijfeld bemint hij de oude Graaf van
Vlaanderen, en beschouwt onze komst als overwinnaars met een kwaad oog; dit is de zaak. Vergeeft hem de trouw die hij zijn ongelukkige Vorst bewaart."
"Het is lang genoeg hierover gesproken, Mijne heren," viel De Chatillon in.
"Laat ons van voorwerp veranderen. Ter goeder ure! Weet gij wat onze genadige Koning Philippe met dit land van Vlaanderen doen zal? Want op mijn woord, indien onze Vorst zijn schatkisten zo dicht hield als De Valois zijn mond gesloten houdt, zou het arm leven aan het Hof zijn."
"Dit zegt gij wel," antwoordde Pierre Flotte, "maar hij zwijgt niet met iedereen. Vertraagt de gang uwer paarden een weinig, Mijne heren, en ik zal u dingen zeggen die gij niet weet."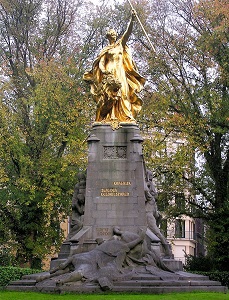 Hendrik Conscience (3 december 1812 – 10 september 1883)
Het Groeningemonument in Kortrijk, opgericht naar aanleiding van de 600ste verjaardag van de Guldensporenslag in 1902.
De Brits-Poolse schrijver Joseph Conrad werd geboren op 3 december 1857 in Berdichev, Rusland in een gezin met Poolse ouders. Zie ook alle tags voor Joseph Conrad op dit blog.
Uit: Victory
"There is, as every schoolboy knows in this scientific age, a very close chemical relation between coal and diamonds. It is the reason, I believe, why some people allude to coal as "black diamonds." Both these commodities represent wealth; but coal is a much less portable form of property. There is, from that point of view, a deplorable lack of concentration in coal. Now, if a coal-mine could be put into one's waistcoat pocket—but it can't! At the same time, there is a fascination in coal, the supreme commodity of the age in which we are camped like bewildered travellers in a garish, unrestful hotel. And I suppose those two considerations, the practical and the mystical, prevented Heyst—Axel Heyst—from going away.
The Tropical Belt Coal Company went into liquidation. The world of finance is a mysterious world in which, incredible as the fact may appear, evaporation precedes liquidation. First the capital evaporates, and then the company goes into liquidation. These are very unnatural physics, but they account for the persistent inertia of Heyst, at which we "out there" used to laugh among ourselves—but not inimically. An inert body can do no harm to any one, provokes no hostility, is scarcely worth derision. It may, indeed, be in the way sometimes; but this could not be said of Axel Heyst. He was out of everybody's way, as if he were perched on the highest peak of the Himalayas, and in a sense as conspicuous. Every one in that part of the world knew of him, dwelling on his little island. An island is but the top of a mountain. Axel Heyst, perched on it immovably, was surrounded, instead of the imponderable stormy and transparent ocean of air merging into infinity, by a tepid, shallow sea; a passionless offshoot of the great waters which embrace the continents of this globe. His most frequent visitors were shadows, the shadows of clouds, relieving the monotony of the inanimate, brooding sunshine of the tropics."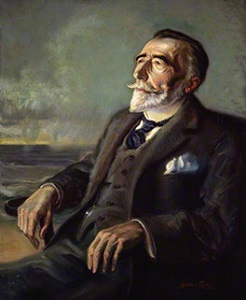 Joseph Conrad (3 december 1857 – 3 augustus 1924)
Portret door Walter Tittle, 1923-1924
De Nederlandse schrijver Herman Heijermans werd geboren op 3 december 1864 in Rotterdam. Zie ook alle tags voor Herman Heijermans op dit blog.
Uit: Glück auf!
"Eerste bedrijf.
(Een behaaglijk-gemeubileerd privé-kantoor van twee-plans-diepte. Dadelijk tegen den achterwand, tusschen de twee vensters, een dubbel bureau-ministre. De zonneluiken staan buitenwaarts, naar de zijde eener omrasterde plaats geopend. Bij de overzij-schutting is wat verdord bestoven klimop en 'n gedeelte van 'n spoorwaggon zichtbaar. Rechts in den achterwand eene deur. Om hierdoor binnen te komen, moet men de twee vensters voorbij en vervolgens een gang door, die ook toegang tot kantoorlokalen geeft. Eerste plan links een gloeiende vulkachel met gebogen pijp. Tweede plan dito nog een deur, waarnaast een kleerenstandaard, geheel met jassen en hooge hoeden behangen. Langs de twee plannen rechts een met groen kleed en papieren beleide tafel. Lederen fauteuils daarom heen. Aan de wanden tabellen, spoorkaarten, enz. Ochtend. De ramen weelderigen in aanplassend licht).

Eerste tooneel.
Baumgarten senior, 1ste Mijnbestuurder, 2de Mijnbestuurder, 1ste Aandeelhouder, 2de Aandeelhouder, Wied, later Kantoorklerk.
Baumgarten
(staande aan het hoofd van de tafel, een redevoering besluitend).
En daarmee heb ik gezegd, daarmee ben ik aan het slot van mijn beschouwingen, en stel ik nog eens voor tot dadelijke stemming over te gaan!
(Zit neer).
1ste Aandeelhouder.
Jawel! Bravo!
(Klapt met geestdrift in de handen).
Bravo! Bravo! Volkomen mee eens!
2de Aandeelhouder.
Mijnheer de voorzitter, met uw permissie...
Baumgarten.
Nee waarde heer, nee allervoortreffelijkste kerel, we onderwerpen ons per se niet, we doen nog niet de concessie van letterlijk 'n speldeknop!
1ste Mijnbestuurder.
Onder geen omstandigheden!
2de Aandeelhouder
(aarzelend).
Ja, ja, maarè, maarè... Is dat nou wel in 't belang - in 't positieve belang van den - van den kleinen aandeelhouder? Toen ik aan de beurs - en ik ben geen uitzondering..."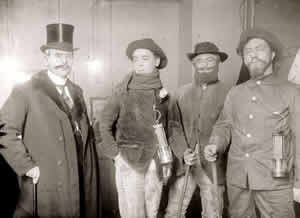 Herman Heijermans (3 december 1864 – 22 november 1924)
De acteurs van de Nederlandsche Tooneelvereeniging in "Glück auf", Amsterdam 1912
De Amerikaanse dichteres en schrijfster Grace Andreacchi werd geboren op 3 december 1954 in New York. Zie ook alle tags voor Grace Andreacchi op dit blog.
Uit: Mary's Tale
"He told me not to be afraid, but I wasn't. I'd been expecting him for a long time, ever since that day they took me to the temple when I was very small and showed me to the High Priest. He put his hand on my head, I remember trying to look up at him through the weight of his woollen sleeve that was brushing my face – he said, 'A true daughter of Israel!' and blessed me. My mother and my father were not like those of other children, for they were old. One day my mother took me to the Golden Gate. 'This is where is happened,' she said. 'An angel promised us a child, and that child is you.' Ever since then I'd been expecting that angel to turn up some day. And then he did.
'Fear not!' he said. But the Lord is the strength of my life, of whom should I be afraid? He came softly into the room, so softly that at first I did not even notice him. I was reading my book, and thinking very hard about a particular story in it, the story of the prophet Daniel, who was able to read the writing on the King's wall. And then I noticed a beam of light that fell across the floor, stopping just at my feet. I looked up, and he was there. What is an angel like, you ask? Like a man, and yet not like a man. Smaller, at least this angel was small, about my own size if not perhaps a bit smaller – another reason I was not afraid of him. He got down on one knee, a bit awkwardly I thought, and his wings folded neatly into his back, like those of a large dove. The wings were much prettier than a dove's wings, though, for they had many little eyes in them, eyes of all different colours, that winked and blinked and shone. The light seemed to come from the angel's head, and was soft, like moonlight.
He called me by name and said I was full of grace. This troubled me at first, I did not think he could mean me. How am I full of grace, I wondered? My mother, she is full of grace, her hands make bread and flowers. I am not yet like her, and fear I may never be. When I make the bread or tend the garden I often go wandering in my thoughts with the kings and prophets, and so the bread sometimes burns in the oven."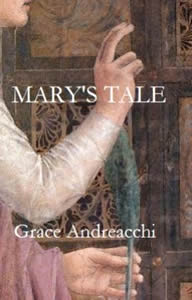 Grace Andreacchi (New York, 3 december 1954)
Cover
De Italiaanse schrijver Ugo Riccarelli werd geboren op 3 december 1954 in Turijn. Zie ook alle tags voor Ugo Riccarelli op dit blog en ook mijn blog van 3 december 2010..
Uit: Der vollkommene Schmerz (Vertaald door Karin Krieger)
"Daher faßte er sich am Nachmittag eines ungewöhnlich milden Sonntags im Februar, kaum daß die Witwe mit dem Geschirrspülen fertig war, ein Herz und wagte einen Schritt nach vorn. Er hatte sich den ganzen Vormittag mit der Frage herumgeschlagen, was er wohl sagen könnte – zunächst eine kleine Einleitung, um seine Kühnheit zu rechtfertigen und das Gespräch in Gang zu bringen, als Vorwort sozusagen, und dann die Bitte um einen gemeinsamen Spaziergang, nur so, um sich im Gespräch Gesellschaft zu leisten, nicht ohne der Frau den Fluchtweg einer sehr wahrscheinlichen Ablehnung offenzuhalten. Er hätte natürlich Verständnis für ihre Stellung als Witwe, dafür, daß es ungebührlich sein könnte, sich zusammen mit ihm zu zeigen – und so weiter. Er hatte all diese Gedanken mehrfach hin und her gewälzt und glaubte sich nun für einen Versuch gerüstet. Es war das erstemal, daß er einer erwachsenen Frau in einer so heiklen Situation gegenüberstand. Die Liebe, die er in seinem Landstrich kennengelernt hatte, bestand aus flüchtigen Blicken und raschen, den Vätern oder Ehemännern geraubten Gesten, die schnell vollzogen waren. In weniger als einem Atemzug. Hier ging es darum, mit offenen Karten zu spielen und keinesfalls beleidigend zu sein. Eine gestandene Frau, verwitwet und allein. Den Kopf mit solcherlei Überlegungen vollgestopft, steuerte der Maestro auf die Witwe Bartoli zu, die sich mit ihrer Stickarbeit an die offene Küchentür gesetzt hatte, durch die man den Himmel und die Ebene sah. Mit einem Herzen, das ihm bis zum Hals schlug, während seine Hände die Krempe seines Hutes mißhandelten, baute er sich vor der Frau, vor dem Himmel und vor der Ebene auf und versuchte, ein Wort zu sagen und all seinen Mut gegen diese Mauer aus Schönheit zu stemmen, die sie und die Landschaft vor ihm errichteten."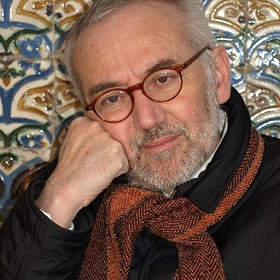 Ugo Riccarelli (Turijn, 3 december 1954)
Zie voor nog meer schrijvers van de 3e september ook mijn vorige blog van vandaag.
03-12-2016 om 11:34 geschreven door Romenu

Tags:Hendrik Conscience, Joseph Conrad, Herman Heijermans, Grace Andreacchi, Ugo Riccarelli, Romenu



France Preseren, F. Sionil José, Franz Josef Degenhardt, Jules Claretie, Ludvig Holberg
De Sloveense dichter en schrijver France Prešeren werd geboren op 3 december 1800 in Vrba. Zie ook alle tags voor France Prešeren op dit blog en ook mijn blog van 3 december 2010.
A Wreath of Sonnets (3/14)
Since from my heart's deep roots have sprung these lays,
A heart not to be silenced any more;
Now I am like to Tasso who of yore
Would sing his Leonora's fame and praise.
He could not plead his love whose tortouous maze
Bemused his years of youth, and fiercely tore
His life beyond all hope; and yet he bore
The burden he revealed in secret phrase.
My passion is aflame, although I find
Your glance gives me no hope when you are near;
Lest I offend, my lips are sealed by fear.
My poor heart's fate, so bitter and unkind,
My secret burden - all this they make dear,
These tear-stained flowers of a poet's mind.
A Wreath of Sonnets (4/14)
These tear-stained flowers of a poet's mind,
Culled from my bosom, lay it wholly bare;
My heart's a garden: Love is sowing there
Sad elegies each with my longing signed.
You are their sun whose radiance, purblind,
I seek in vain at home and everywhere,
In theatre, on promenade and square,
Midst revels where the chains of dancers wind.
How often through the town with watchful eyes
I wander, praying for a fate more kind,
Yet catch no glimpse of that elusive prize.
I shed my tears to loneliness confined:
Hence all these songs which from my love arise;
They come from where no man can sunshine find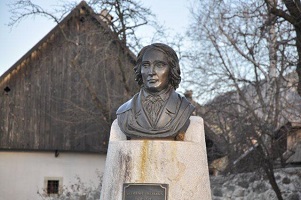 France Prešeren (3 december 1800 – 8 februari 1849)
Borstbeeld bij zijn huis in Vrba.
De Filipijnse schrijver F. Sionil José werd geboren op 3 december 1924 in Rosales, Pangasinan. Zie ook alle tags voor F. Sionil José op dit blog en ook mijn blog van 3 december 2010.
Uit: Tong
"Conrado Lopez fell deeply in love for the first time when he was thirty. It was one of those beautiful things destined to bleakness and from the very beginning, he had an inkling that this was how it would be. And all because Alice Tan was Chinese.
When he first saw her, it seemed as if she had blossomed straight out of a Chinese art book; she had a complexion as clear as it was fair. When he got to know her better, he used to trace the blue veins in her arms, the blood vessels in her cheeks. Her nose was perfect, and her Chinese eyes had a brightness that could dispel the gloom which came over him. Long afterwards, when he remembered her eyes, how she looks, how she smiled, an intense feeling akin to physical pain would lance him.
Alice Tan's parents used to run a small grocery store in Ongpin; both came from Fookien and Alice could trace her family back to Amoy. Conrado Lopez did not know his lineage beyond his great grandfather and not interested in the Chinese traditional kinship system. But he got so interested afterwards, he started to delve into his own background. He lived with his spinster sister, Remedios, in a small house in Makati, a sidestreet parallel to Rizal Avanue in Santa Cruz. He had inherited the house with its pocket-size yard from his parents. The lower floor which had its own entrance was rented out to a lawyer who was adept at fixing things at City Hall. He and his sister lived in the second floor which had two bedrooms, a living-dining room and a toilet and kitchen with antique fixtures. His sister looked after the house, his clothes and his general well being. Conrado had finished accounting at one of the Azcarraga universities and would have accounted to something more than being an accountant in Makati and his older sister whom he supported. It was because of such a responsibility that he had never really been serious with any girl.
He was unprepared for Alice Tan; in fact, in the beginning, he was not sure at all about his feelings for her. It started in March when brownouts were frequent so that when the lights went out that early evening, he thought it was another brownout. But he noticed that the lights in the other house were on so he immediately concluded there must be something wrong with the fuse so he threw the main switch off and change it. But he had hardly thrown the switch on when the line on the ceiling started sputtering. Then a loud report and darkness."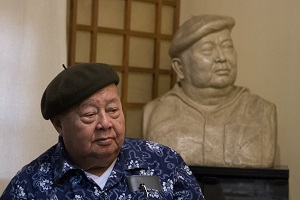 F. Sionil José (Rosales, 3 december 1924)
De Duitse dichter, folkzanger en jurist Franz Josef Degenhardt werd geboren op 3 december 1931 in Schwelm. Zie ook alle tags voor Franz Josef Degenhardt op dit blog en ook mijn blog van 3 december 2010.
Nocturn
Und wenn in den tausendwabigen Türmen,
den Reihenhauskolonien und Blocks
die müdetrainierten Dauerlaufhelden
in schnarchenen Zügen vom Lebensglück träumen,
und wenn

in den arkadischen Villengefilden,
bewacht von elektronischen Spinnen,
zu den Schäferspielen der Gymnasiasten
die Death-Metal-Band Orkanstürme losläßt,
und wenn

in den Sammellagern der Außenbezirke
die Flüchtlinge in das Dunkel horchen
um weiterzufliehen, weil lauter und lauter
der Sieg versprochen, Heil angedroht wird,
und wenn

die Crash-Kids vom Bahnhof längst bei ihren Lovern
im seidenen Kissen Kopfschüsse probieren,
die Autostrich-Huren am Fischmarkt bekiffte,
betrunkene Freier und Freifraun verarzten,
und wenn

im Mondlicht zwischen den Bankkathedralen
auf dem Disneyland-Pflaster der Fußgängerzone,
das silbern - wie naß von Roßpisse - schimmert,
das letzte Discopaar noch einen Tanz tanzt,
dann

werden auf dem Platz hinterm Stadion, wo
die abgewrackten Container lagern,
die Litaneien der Nocturn gebetet,
der, der sich der neue Wacholderpapst nennt,
betet vor.

Gepriesen werden
die klirrenden Flammen und dröhnenden Schwaden,
das brandige Trommeln und rauchende Knistern,
die Engel in jener Stadt der Teufel,
die Teufel in jener Stadt der Engel,
wie die

mit Baseball-Schlägern und Fahrrad-Ketten
und Morgensternen und Molotow-Cocktails
Vitrinen zertrümmern, Autos zerdeppern,
durch splitterndes Glas in die Kauftempel stürmen,
wie sie

Hosen zerfetzen und Stiefel zerreissen,
in Nerzmäntel Delikatessen schmieren,
mit Big-Macs klütern, Perlen schmeissen,
mit Brautkleidern und Krokodilleder-Taschen
behängt,

und Schlüpfern auf Köpfen und Hartgummi-Schwänzen
auf Nasen gestülpt, alte Tänze tanzen,
den Todeswalzer vergangener Tage,
den Lebens-Blues der kommenden Nächte,
oh yeah

Domine exaudi nos,
Domine exaudi nos,
Domine exaudi nos,
Domine audi nos.

So respondieren die Lagergenossen
und auch paar Piraten und City-Marder
und auch paar Standard-Boys and -Girls,
die wissen wollen, was sonst uns noch blüht,
o yeah.

Zuweilen kommen auch paar noch von früher,
die Unbelehrbaren, die immer noch träumen,
mit Spott und Trauer und Wermut-Tränen,
dem Morgenrot überm Hafen entgegen,
o yeah.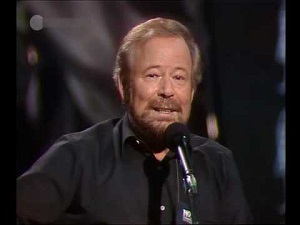 Franz Josef Degenhardt (3 december 1931 – 14 november 2011)
De Franse schrijver, criticus, theaterdirecteur en journalist Jules Claretie werd geboren op 3 december 1840 in Limoges. Zie ook alle tags voor Jules Claretie op dit blog en ook mijn blog van 3 december 2010.
Uit: Jean Mornas
"Il avait été attiré dans ce quartier de Montmartre par la curiosité banale de la fête populaire, l'appétit de ces macabres gaietés foraines qui semblaient à son pessimisme plus ironiques encore et plus irritantes que les kermesses mondaines dont il lisait les descriptions dans les journaux. Il éprouvait, ce Jean Mornas, une sorte de volupté douloureuse à heurter sa détresse de fils de bourgeois avide et pauvre aux rires niais des pitres de baraques, aux tapages des tirs en plein-vent, aux musiques criardes des chevaux de bois qui tournaient, tournaient, tournaient comme des vols d'illusions mortes ou des rondes de feuilles tombées, roulées par les vents d'automne. La déchirante mélancolie des orgues pénétrait en lui avec l'acuité d'une plainte humaine. Et il était demeuré là, dans le coudoiement brutal de cette foule, jusqu'au moment où, peu à peu, le boulevard extérieur s'était vidé, les baraques s'éteignant, lentement, une à une, et le sommeil et l'ombre tombant lourdement sur ces théâtres de saltimbanques, ces étalages de marchands ambulants dont les devantures se fermaient comme des paupières fatiguées. Il ne restait plus, çà et là, ouvertes encore, que de vagues boutiques où de maigres rôdeurs, imberbes et jeunes, jouaient des pièces blanches à des gageures étranges, avec les yeux luisants et les contractions de lèvres de brelandiers mondains risquant une fortune à une table de baccarat. Après les avoir longtemps regardés, trouvant tout simple, lui l'ambitieux de vingt-huit ans, qu'on tentât et même au besoin qu'on violât la fortune, Jean Mornas songea à regagner sa chambre triste dans un petit hôtel du quartier Latin, et lentement quitta la file des baraques presque éteintes, où, ça et là, apparaissaient seulement des lumières assoupies par la toile verte des tentes, cette toile aux longs plis de tentures funèbres qui clapotait au vent d'hiver. »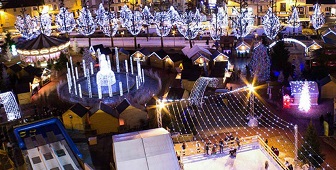 Jules Claretie (3 december 1840 – 23 december 1913)
Kerstmarkt in Limoges
De Noorse schrijver Ludvig Holberg werd geboren in Bergen op 3 december 1684. Zie ook alle tags voor Ludvig Holberg op dit blog en ook mijn blog van 3 december 2010.
Uit: Jeppe of the Hill(Vertaald door Oscar James Campbell, jr.)
"JEPPE. Now the sow's going in to eat her breakfast, while I, poor devil, must walk four leagues without bite or sup. Could any man have such a damnable wife as I have? I honestly think she's own cousin to Lucifer. Folks in the village say that Jeppe drinks, but they don't say why Jeppe drinks: I didn't get as many blows in all the ten years I was in the militia as I get in one day from my malicious wife. She beats me, the bailiff drives me to work as if I were an animal, and the deacon makes a cuckold of me. Haven't I good reason to drink? Don't I have to use the means nature gives us to drive away our troubles? If I were a dolt, I shouldn't take it to heart so, and I shouldn't drink so much, either; but it's a well-known fact that I am an intelligent man; so I feel such things more than others would, and that's why I have to drink. My neighbor Moens Christoffersen often says to me, speaking as my good friend, "May the devil gnaw your fat belly, Jeppe! You must hit back, if you want your old woman to behave." But I can't do anything to protect myself, for three reasons: in the the first place, because I haven't any courage; in the second, because of that damned Master Eric hanging behind the bed, which my back can't think of without blubbering; and thirdly, because I am, if I do say it who shouldn't, a meek soul and a good Christian, who never tries to revenge himself, even on the deacon who puts one horn on me after another. I put my mite in the plate for him on the three holy-days, although he hasn't the decency to give me so much as one mug of ale all the year round. Nothing ever wounded me more deeply than the cutting speech he made me last year: I was telling how once a savage bull, that had never been afraid of any man, took fright at the sight of me; and he answered, "Don't you see how that happened, Jeppe? The bull saw that you had bigger horns than he, so he didn't think it prudent to lock horns with his superior." I call you to witness, good people, if such words would not pierce an honorable man to the marrow of his bones. Still, I am so gentle that I have never even wished my wife dead. On the contrary, when she lay sick of a jaundice last year, I hoped she might live; for as hell is already full of bad women, Lucifer might send her back again, and then she'd be worse than ever. But if the deacon should die, I should be glad, for my own sake and for others' as well, for he does me nothing but evil and is no use to the parish. He's an ignorant devil, for he can't sing a note, much less mould a decent wax candle. Oh, but his predecessor, Christoffer, was a different sort of fellow. He had such a voice in his time that he sang down twelve deacons in the Credo. Once I started to quarrel openly with the deacon, when Nille herself heard him call me a cuckold. I said, "May the devil be your cuckold, deacon!"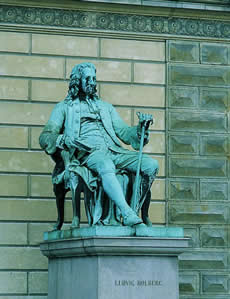 Ludvig Holberg (3 december 1684 - 27 januari 1754)
Standbeeld in Kopenhagen
03-12-2016 om 11:33 geschreven door Romenu

Tags:France Preseren, F. Sionil José, Franz Josef Degenhardt, Jules Claretie, Ludvig Holberg



| | |
| --- | --- |
| | |



Inhoud blog


| | |
| --- | --- |
| | Dolce far niente, Willen van Toorn, Charles Bukowski, Reiner Kunze, Moritz Rinke, Ferenc Juhász, Justus van Maurik |
| | Dolce far niente, Nescio, Guillaume van der Graft, Mary Jo Salter, Leonie Ossowski, Daan Zonderland, Jan Campert |
| | Kees Fens, Wolf Wondratschek, Danielle Steel, Erwin Strittmatter, Sir Walter Scott, Thusnelda Kühl |
| | Adriaan Roland Holst, antoine de kom, Atte Jongstra, Amélie Nothomb, Nikolaus Lenau, Tom Perrotta |
| | Justus van Maurik, Thomas Mann, Hans-Ulrich Treichel, Stefano Benni, Marcellus Emants, Naoki Higashida |
| | Remco Campert, Hugh MacDiarmid, Ernst Stadler, Yoshikawa Eiji, Fernando Arrabal, Andre Dubus |
| | Kees van Kooten, Alfred Döblin, Moses Isegawa, Mark Doty, Jerzy Pilch, Elvis Peeters, Michail Zostsjenko, Piet Bakker, René Crevel |
| | Luuk Gruwez, Philip Larkin, Gerrit Kouwenaar, Henk Romijn Meijer, Linn Ullmann, P. L. Travers, Pierre Klossowski, Daniel Keyes, Leonid Andreyev |
| | Jostein Gaarder, Klaus Ebner, Birgit Vanderbeke, Gernot Wolfram, Hieronymus van Alphen, André Demedts, Sara Teasdale, Donald Davidson, Lotte Lentes |
| | John Birmingham, Cees Buddingh', Diana Ozon, Vladimir Sorokin, Michael Roes, Joachim Ringelnatz, Garrison Keillor, Dieter Schlesak, Othon III de Grandson |
| | Dolce far niente, Jason O. Gilbert, Alfred Tennyson |
| | Dolce far niente,Tom Lanoye, Cees van der Pluijm, Pier Paolo Pasolini, Martin Piekar |
| | Hendrik Marsman, Rutger Kopland, Rudi van Dantzig, Percy Bysshe Shelley, Liao Yiwu, Pierre Jarawan |
| | Jan Campert, Rupert Brooke, Radek Knapp, P. D. James, Marica Bodrozic, Mirko Wenig |
| | Jussi Adler-Olsen, James Baldwin, Isabel Allende, Kristine Bilkau, Philippe Soupault, Ernest Dowson, Zoltán Egressy, Caleb Carr, Félix Leclerc |
| | Gerrit Krol, Frans Pointl, Mehis Heinsaar, Ko Un, Edward van de Vendel, Jim Carroll, Juan Filloy, Anne Hébert, Herman Melville |
| | Cees Nooteboom, Wouter Godijn, Grand Corps Malade, Joanne Rowling, Alain Nadaud, Daniel Bielenstein, Hans-Eckardt Wenzel, Ahmed Zitouni, Munshi Premchand |
| | Frans Budé, Patrick Modiano, Maja Lunde, Emily Brontë, Cherie Priest, Pauline van der Lans |
| | Harry Mulisch, Chang-Rae Lee, Thomas Rosenlöcher, Guillermo Martínez, Marja Brouwers, Wolfgang Bittner |
| | Stanley Kunitz, Sten Nadolny, Eyvind Johnson, August Stramm, Walter van den Berg |
| | Remco Campert, Malcolm Lowry, Herman Stevens, Gerard Manley Hopkins, Stephan Sanders, Angélica Gorodischer, Shahyar Ghanbari, John Ashbery, Drew Karpyshyn |
| | Michael Longley, Marijke Höweler, Theodore Dreiser, Hilde Domin, Julien Gracq, Hilaire Belloc, Vladimir Korolenko, Eimear McBride, Graeme C. Simsion |
| | Arthur Japin, Gregoire Delacourt, Anne Provoost, Yves Petry, Aldous Huxley, Nicholas Evans, Chairil Anwar, George Bernard Shaw, Hanya Yanagihara |
| | Lieke Marsman, Sytze van der Zee, Elias Canetti, Max Dauthendey, Jovica Tasevski – Eternijan, Annette Pehnt, Ottokar Kernstock, Albert Knapp, Louise Boege |
| | Robert Graves, Johan Andreas der Mouw, Banana Yoshimoto, Rosemarie Schuder, Katia Mann, Junichirō Tanizaki, Frank Wedekind, Alexandre Dumas père, Betje Wolff |
| | Wilfried de Jong, Mohsin Hamid, Lauren Groff, Frans Erens, Kai Meyer, Thea Dorn, Irina Liebmann |
| | Lisa Alther, Hubert Selby jr., Raymond Chandler, Matthias Spiegel, Tim Reus |
| | Arno Geiger, Susan Hinton, Manu Joseph, Stephen Vincent Benét, Tom Robbins |
| | Maria Janitschek, Oskar Maria Graf, Emma Lazarus, Per Hojholt, Jakob Lorber |
| | Frouke Arns, Ernest Hemingway, Belcampo, Boris Dittrich , Hans Fallada, David Boerljoek |
| | Hans Lodeizen, Henk Hofland, Arie Storm, Uwe Johnson, Simin Behbahāni, Francesco Petrarca, Maurice Gilliams, Erik Axel Karlfeldt, Cormac McCarthy |
| | Otto Julius Bierbaum, Anna Enquist, Gottfried Keller, Lucas Malan, Miltos Sachtouris, Jean-Pierre Faye |
| | Simon Vinkenoog, Steffen Popp, Per Petterson, Elizabeth Gilbert, Alicia Steimberg, Jevgeni Jevtoesjenko, Aad Nuis, William M. Thackeray, Nathalie Sarraute |
| | Martin R. Dean, Rainer Kirsch, Eelke de Jong, Alie Smeding, Paul Lomami Tshibamba, James Purdy, Roger Garaudy, Clara Viebig, Lilian Loke |
| | In Memoriam Anne Golon |
| | Reinaldo Arenas, Georges Rodenbach, Tony Kushner, Anita Brookner, Jörg Fauser |
| | Dag Solstad, Bernard Dimey, Andrea Wolfmayr, Pierre Benoit, Franz Nabl |
| | Ann De Craemer, Jean Christophe Grangé, Driss Chraïbi, Iris Murdoch, Richard Russo, Jacques Rivière, Rira Abbasi |
| | Robert Wohlleben, Heinrich Peuckmann, Walter Benjamin, Clive Cussler, Jacques Derrida, Hammond Innes, Kunikida Doppo |
| | Irving Stone, Volker Kaminski, Natalia Ginzburg, Jacques de Lacretelle, Gavrila Derzjavin, Béatrix Beck, Arthur Laurents, Owen Wister, Willard Motley |
| | Boris Pasternak, Wole Soyinka, Isaak Babel |
| | Hugo von Hofmannsthal, Kees 't Hart, Carla Bogaards, Elias Khoury, Stefan George |
| | Nikolaus Lenau, Jhumpa Lahir, Jane Gardam |
| | E.B. White |
| | Ann De Craemer |
| | Marcel Proust, Erik Jan Harmens, Alice Munro, J.C. Noordstar, Hermann Burger, Salvador Espriu, Gerhard L. Durlacher, Jürgen Becker, Nicolás Guillén |
| | Gerard Walschap, Hans Arnfrid Astel, June Jordan, John Heath-Stubbs, Ann Radcliffe, Mervyn Peake, Jan Neruda, Peter Märthesheimer |
| | Jean Cassou, Johanna Schopenhauer, Johann Götz, Alexis Piron, Matthew Lewis, Barbara Cartland, Robert Gratzer |
| | Thijs Zonneveld, Micha Hamel, Maria van Daalen, Peter Orlovsky, Walter Hasenclever |
| | Richard Aldington, Jean Ray, Jean de La Fontaine, Julius Mosen, Eva Roman, Hanns Johst |


Gastenboek


Druk op onderstaande knop om een berichtje achter te laten in mijn gastenboek