De Duits-Israëlische dichter en schrijver Jehuda Amichai werd op 3 mei 1924 geboren in Würzburg. Zie ook mijn blog van 3 mei 2007 en ook mijn blog van 3 mei 2008 en ook mijn blog van 3 mei 2009 en ook mijn blog van 3 mei 2010.
A Jewish Cemetery In Germany
On a little hill amid fertile fields lies a small cemetery,
a Jewish cemetery behind a rusty gate, hidden by shrubs,
abandoned and forgotten. Neither the sound of prayer
nor the voice of lamentation is heard there
for the dead praise not the Lord.
Only the voices of our children ring out, seeking graves
and cheering
each time they find one--like mushrooms in the forest, like
wild strawberries.
Here's another grave! There's the name of my mother's
mothers, and a name from the last century. And here's a name,
and there! And as I was about to brush the moss from the name--
Look! an open hand engraved on the tombstone, the grave
of a kohen,
his fingers splayed in a spasm of holiness and blessing,
and here's a grave concealed by a thicket of berries
that has to be brushed aside like a shock of hair
from the face of a beautiful beloved woman.

Vertaald door Chana Bloch en Chana Kronfeld
Het eeuwige mysterie
Het eeuwige mysterie van roeiriemen
die naar achteren slaan, en de boot vaart naar voren,
zo slaan onze handelingen en woorden naar het verleden,
zodat het lichaam, met de mens erin, vooruit beweegt.
Ik zat een keer bij de kapper, in een stoel, vlak aan de straat
en ik zag in de grote spiegel mensen op me af komen,
en opeens waren ze er niet meer, opgeslokt door de leegte
naast de grote spiegel.
En het eeuwige mysterie van zonsondergang in zee:
zelfs een natuurkundige, die beter weet, zegt:
kijk, de zon gaat onder in de zee, rood en prachtig.
Of het mysterie van woorden als,
'Ik zou je vader wel kunnen zijn', of
'Wat was ik aan het doen, vandaag een jaar geleden?'
en andere dergelijke woorden.
Vertaald door Tamir Herzberg
DIR
Wie ein Säugling, der sich mit Essen beschmiert,
will ich mich beschmieren mit den Problemen der Welt.
Mein ganzes Gesicht, meine Augenbrauen,
mein Hemd, meine Hosen, das Tischtuch.
Das Kleid meiner Geliebten. Meine Mutter.
Die Berge. Die Himmel. Die Leute.
Die Füße der Engel.
Vertaald door Lydia en Paulus Böhmer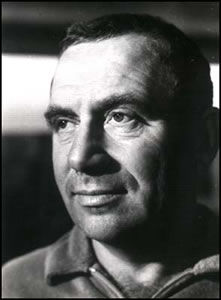 Jehuda Amichai (3 mei 1924 – 22 september 2000)
De Nederlandse dichter Erik Lindner werd geboren op 3 mei 1968 in Den Haag. Zie ook mijn blog van 3 mei 2010.
Ik, omdat jij
Als er geen weg is zullen we gaan.
Verschuif iets. Zo, ja. Pas op, anders vallen we.
Ruik het hout, de verse lengtes. Elk uitzicht
een toekomstig blauw, van vlaktes laag of hoog.
Wie niet meegeeft beschadigt zich. Vlucht. Angst
is statisch, onverplaatsbaar. We manoeuvreren.
Toch. Altijd, maar langzaam, onzichtbaar haast.
Duwen. Een wolkig gebergte onder een maan.
Verder niets te zien of te horen. Schurk ertegen.
Een voorwerp laat zich enkel gelijkmatig verplaatsen.
Strand. Korrels, eindeloos stukgeslagen steentjes.
Onmogelijk te zeggen waar we zijn. De zee is
enkel de zee. Schuim over land. Zet het neer,
laat het tussen ons in. Er is geen terug of heen.
Alles is onbepaald. Blijf erbij. Concentreer je.
We zijn hier op een bepaalde manier gekomen.
Camoufleer die. We kunnen niets vernietigen.
Hoor je me nog? We lijken net elkaars schaduw.
Dezelfde bewegingen. We volgen, leiden niet.
Stilstand oogt immer dreigend, ontoelaatbaar.
De golfslag is harder hier, althans zo lijkt het.
We willen telkens wegspringen voor het voorbij.
Als er geen weg is kunnen we gaan.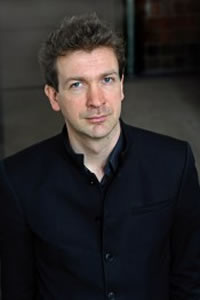 Erik Lindner (Den Haag, 3 mei 1968)




De Belgische dichter en schrijver Johan de Boose werd geboren in Gent op 3 mei 1962. Zie en ook mijn blog van 3 mei 2010.
Niemand hoort het graag: dat dit als sterven is
Maar in de vorm van een geboorte.

Je verlaat het ene weefsel voor een ander,
Een engte voor een ruimte, warmte voor pijn.
Je verlaat het, gaat alleen, je gaan is als zingen,

Er is geen ander heenkomen dan het gaan,
Geen andere vorm van zingen
dan zwijgen.

De vrijheid van zwijgen:
Ouden, boeken, doden.
Wie spreekt, voegt weinig toe.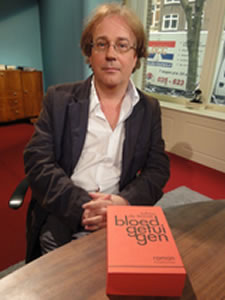 Johan de Boose (Gent, 3 mei 1962)
De Britse schrijver en komiek Ben Elton werd geboren in Londen op 3 mei 1959. Zie ook mijn blog van 3 mei 2009 en ook mijn blog van 3 mei 2010.
Uit: Blind Faith
'Go, go! Run, Trafford!' Barbieheart said with exaggerated cheeriness. 'It's a brand new day, praise the Love.'
Trafford left his apartment and began to descend the many litter-strewn, rat-infested staircases to the street below. The lift worked but Trafford never used it. He claimed he liked to walk down for the exercise but really it was so that he could enjoy a few brief moments away from communitainment screens. He could never admit that, of course: it would look dangerously weird. After all, what was not to like about a news and entertainment video on the wall of a boring lift?
Out on the pavement Trafford headed for the tube station, picking his way carefully through the cellophane, the filthy pink ribbons, the rotting blooms, the little photographs, the scribbled-on scraps of paper and the gilt-edged cards:
Gathered unto the Lord.
One more star in the zodiac.
A new heartbeat in Heaven.
He knew better than to tread on a single kiss-laden message or wilted flower; he had seen men beaten senseless for less. They missed nothing, those keening women who gathered on the pavements in the heat of the morning to mourn their dead and broadcast to the street the age-old songs of grief.
I will always love you.
The heart must go on.
One foot wrong, one petal defiled, and that weeping, hugging huddle would without doubt consider themselves to have been shown disrespect. And disrespect was something for which, even in their grief, these women were constantly vigilant. Even a suspicion of disrespect would turn public sorrow instantly to public rage. The fuse was short, the tinder dry, it took almost nothing to summon forth the mob from the surrounding apartment buildings and spark an orgy of People's Justice which the police would regret but not condemn."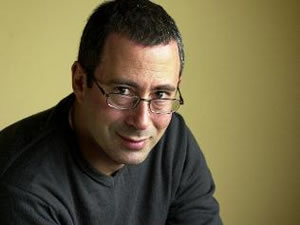 Ben Elton (Londen, 3 mei 1959)



Zie voor nog meer schrijvers van de 3e mei ook
mijn vorige blog van vandaag
en eveneens
mijn eerste blog van vandaag
.
03-05-2011 om 19:04 geschreven door Romenu

Tags:Jehuda Amichai, Eril Lindner, Ben Elton, Johan de Boose, Romenu