E-mail mij


Druk op onderstaande knop om mij te e-mailen.


Romenu


Romenu is een blog over gedichten, literatuur en kunst Maar Romenu is ook een professionele freelance vertaler
Du-Ne en Ne-Du http://www.romenu.nl.


Huur eens een (vakantie)huis in een natuurgebied, dichtbij het centrum van Nijmegen


Google


Georg Trakl

Georg Trakl werd op 3 februari 1887 in het conducteurshuis aan de Waagplatz 2 in Salzburg geboren. Zijn vader, Tobias Trakl, was een handelaar in ijzerwaren en zijn moeder, die ook psychische problemen had, was Maria Catharina Trakl, (meisjesnaam Halik). Voorts had hij nog drie broers en drie zussen. Margarethe (doorgaans Grethe genoemd) stond hem het naast, zelfs zodanig dat sommigen een incestueuze verhouding vermoeden. Zijn jeugd bracht hij door in Salzburg. Vervolgens bezocht hij van 1897 tot 1905 het humanistische gymnasium. Om toch een academische opleiding te kunnen volgen, werkte hij tot 1908 in de praktijk bij een apotheker. Sommigen vermoedden dat hij dit vooral deed om zichzelf opiaten te kunnen verschaffen. Bij het uitbreken van WO I werd Trakl als medicus naar het front in Galicië (heden ten dage in Oekraïne en Polen) gestuurd. Zijn gemoedsschommelingen leidden tot geregelde uitbraken van depressie, die verergerd werden door de afschuw die hij voelde voor de verzorging van de ernstig verwonde soldaten. De spanning en druk dreven hem ertoe een suïcidepoging te ondernemen, welke zijn kameraden nochtans verhinderden. Hij werd in een militair ziekenhuis opgenomen in Kraków, alwaar hij onder strikt toezicht geplaatst werd.Trakl verzonk daar in nog zwaardere depressies en schreef Ficker om advies. Ficker overtuigde hem ervan dat hij contact moest opnemen met Wittgenstein, die inderdaad op weg ging na Trakls bericht te hebben ontvangen. Op 4 november 1914, drie dagen voordat Wittgenstein aan zou komen, overleed hij echter aan een overdosis cocaïne


Paul Celan

Paul Celan werd onder de naam Paul Antschel op 23 november 1920 geboren in Czernowitz, toentertijd de hoofdstad van de Roemeense Boekovina, nu behorend bij de Oekraïne. Paul Celans ouders waren Duitssprekende joden die hun zoon joods opvoedden en hem naar Duitse christelijke scholen stuurden. In 1942 werden Celans ouders door de Duitse bezetter naar een werkkamp gedeporteerd en daar vermoord. Hijzelf wist aanvankelijk onder te duiken, maar moest vanaf juli 1942 in een werkkamp dwangarbeid verrichten. Celan overleefde de oorlog. Via Boekarest en Wenen vestigde Celan zich in 1948 in Parijs. Daar was hij werkzaam als dichter, vertaler en doceerde hij aan de prestigieuze Ecole Normale Supérieure. Vermoedelijk op 20 april 1970 beëindigde hij zijn leven zelf door in de Seine te springen.


Gerard Reve

Gerard Reve over: Medearbeiders "God is in de mensen, de dieren, de planten en alle dingen - in de schepping, die verlost moet worden of waaruit God verlost moet worden, door onze arbeid, aangezien wij medearbeiders van God zijn." Openbaring "Tja, waar berust elk godsbegrip op, elke vorm van religie? Op een openbaring, dat wil zeggen op een psychische ervaring van zulk een dwingende en onverbiddelijke kracht, dat de betrokkene het gevoel heeft, niet dat hij een gedachte of een visioen heeft, maar dat een gedachte gedachte of visioen hem bezit en overweldigt."


Simon Vestdijk
Simon Vestdijk (Harlingen, 17 oktober 1898 – Utrecht, 23 maart 1971) was een Nederlands romancier, dichter, essayist en vertaler. Zijn jeugd te Harlingen en Leeuwarden beschreef hij later in de Anton Wachter-cyclus. Van jongs af aan logeerde hij regelmatig bij zijn grootouders in Amsterdam, waar hij zich in 1917 aan de Universiteit van Amsterdam inschrijft als student in de medicijnen. Tijdens zijn studie die van 1917 tot 1927 duurde, leerde hij Jan Slauerhoff kennen.Tot 1932 is hij als arts in praktijken door heel Nederland werkzaam. In 1932 volgt zijn officiële schrijversdebuut met de uitgave van de bundel Verzen in De Vrije Bladen. Doorslaggevend voor Vestdijks uiteindelijke keuze voor de literatuur is zijn ontmoeting in 1932 met Eddy Du Perron en Menno ter Braak. Deze ontmoeting had tot resultaat dat hij redactielid werd van het tijdschrift Forum Kort daarop, in 1933, wordt zijn eerste novelle, De oubliette, uitgegeven. In hetzelfde jaar schrijft hij Kind tussen vier vrouwen, dat, eerst geweigerd door de uitgever, later de basis zal vormen voor de eerste drie delen van de Anton Wachter-romans. In 1951 ontvangt Vestdijk de P.C. Hooftprijs voor zijn in 1947 verschenen roman De vuuraanbidders. In 1957 wordt hij voor het eerst door het PEN-centrum voor Nederland voorgedragen voor de Nobelprijs voor de Literatuur, die hij echter nooit zal krijgen. Op 20 maart 1971 wordt hem de Prijs der Nederlandse Letteren toegekend, maar voor hij deze kan ontvangen overlijdt hij op 23 maart te Utrecht op 72-jarige leeftijd. Vestdijk was auteur van ca. 200 boeken. Vanwege deze enorme productie noemde de dichter Adriaan Roland Holst hem 'de man die sneller schrijft dan God kan lezen'. Andere belangrijke boeken van Simon Vestdijk zijn: "Kind van stad en land" (1936), "Meneer Visser's hellevaart" (1936), "Ierse nachten" (1946), "De toekomst de religie" (1947), "Pastorale 1943" (1948), "De koperen tuin" (1950), "Ivoren wachters" (1951), "Essays in duodecimo" (1952) en "Het genadeschot" (1964).


K.P. Kavafis

K.P. Kavafis werd als kind van Griekse ouders, afkomstig uit Konstantinopel, geboren in 1863 in Alexandrië (tot vandaag een Griekse enclave) waar hij ook het grootste deel van zijn leven woonde en werkte. Twee jaar na de dood van zijn vader verhuist het gezin in 1872 naar Engeland om na een verblijf van vijf jaar naar Alexandrië terug te keren. Vanwege ongeregeldheden in Egypte vlucht het gezin in 1882 naar Konstantinopel, om na drie jaar opnieuw naar Alexandrië terug te gaan. In de jaren die volgen maakt Kavafis reizen naar Parijs, Londen en in 1901 zijn eerste reis naar Griekenland, in latere jaren gevolgd door nog enkele bezoeken. Op de dag van zijn zeventigste verjaardag, in 1933 sterft Kavafis in Alexandrië. De roem kwam voor Kavafis pas na zijn dood, dus postuum. Deels is dat toe te schrijven aan zijn eigen handelswijze. Hij was uiterst terughoudend met de publicatie van zijn gedichten, liet af en toe een enkel gedicht afdrukken in een literair tijdschrift, gaf in eigen beheer enkele bundels met een stuk of twintig gedichten uit en het merendeel van zijn poëzie schonk hij op losse bladen aan zijn beste vrienden.


Thomas Mann


Thomas Mann, de jongere broer van Heinrich Mann, werd geboren op 6 juni 1875 in Lübeck. Hij was de tweede zoon van de graankoopman Thomas Johann Heinrich Mann welke later één van de senatoren van Lübreck werd. Zijn moeder Julia (geboren da Silva-Bruhns) was Duits-Braziliaans van Portugees Kreoolse afkomst. In 1894 debuteerde Thomas Mann met de novelle "Gefallen". Toen Thomas Mann met 21 jaar eindelijk volwassen was en hem dus geld van zijn vaders erfenis toestond - hij kreeg ongeveer 160 tot 180 goldmark per jaar - besloot hij dat hij genoeg had van al die scholen en instituties en werd onafhankelijk schrijver. Kenmerkend voor zijn stijl zijn de ironie, de fenomenale taalbeheersing en de minutieuze detailschildering. Manns reputatie in Duitsland was sterk wisselend. Met zijn eerste roman, Buddenbrooks (1901), had hij een enorm succes, maar door zijn sceptische houding tegenover Duitsland na de Eerste Wereldoorlog veranderde dit volledig. Stelde hij zich tot aan de jaren twintig apolitiek op (Betrachtungen eines Unpolitischen, 1918), meer en meer raakte hij bij het Politiek gebeuren betrokken. Zijn afkeer van het nationaal socialisme groeide, zijn waarschuwingen werden veelvuldiger en heftiger. In 1944 accepteerde hij het Amerikaanse staatsburgerschap. Tussen 1943 en 1947 schreef Mann Doktor Faustus (zie Faust), de roman van de 'Duitse ziel' in de gecamoufleerd geschilderde omstandigheden van de 20ste eeuw. In 1947 bezocht hij voor het eerst sinds de Oorlog Europa, twee jaar later pas Duitsland. In 1952 vertrok hij naar Zwitserland. Op 12 augustus 1955 stierf hij in Zürich. Twintig jaar na zijn dood, in aug. 1975, is zijn literaire nalatenschap geopend: dagboekaantekeningen van 15 maart 1933 tot 29 juli 1955, alsmede notities uit de jaren 1918 tot en met 1921.Belangrijke werken zijn: Der Zauberberg, Der Tod in Venedig, Dokter Faustus , Joseph und seine Brüder en Die Bekenntnisse des Hochstaplers Felix Krull.


Rainer Maria Rilke

Rilke werd op 4 december 1875 geboren in Praag. Hij had al naam gemaakt als dichter met zijn bundels Das Stundenbuch en Das Buch der Bilder, toen hij de literaire wereld versteld deed staan en wereldfaam verwierf met de publicatie van zijn twee delen Neue Gedichte in 1907 en 1908. Hij verzamelde daarin het beste werk uit een van zijn vruchtbaarste periodes, die hij grotendeels doorbracht in Parijs. Rilke was daar diep onder de indruk gekomen van Rodin, bij wie hij een tijdlang in dienst was als particulier secretaris. Rodin, zei hij later, had hem leren kijken. Dit kijken kwam neer op intense concentratie, om het mysterie te kunnen zien 'achter de schijnbare werkelijkheid'. Latere en rijpere werken als Duineser Elegien (1912-1923) en het ronduit schitterende Die Sonette an Orfeus (1924) illustreren Rilkes metafysische visie op het onzegbare, dat haar verwoording vindt in een hermetische muzikale taal. Op 29 december 1926 overlijdt Rilke in het sanatorium in Val-Mont aan de gevolgen van leukemie. Enkele dagen later wordt hij, overeenkomstig zijn wens, begraven op het kerkhof van Raron.


* * * * * * * * * * * * * * * *

| | |
| --- | --- |
| | Over literatuur, gedichten, kunst en cultuur |

27-02-2016

John Steinbeck, Lawrence Durrell, André Roy, Henry Longfellow, Elisabeth Borchers, James T. Farrell
De Amerikaanse schrijver John Steinbeck werd geboren in Salinas, Californië, op 27 februari 1902. Zie ook alle tags voor John Steinbeck op dit blog.
Uit: Cannery Row
"On the black earth on which the ice plants bloomed, hundreds of black stink bugs crawled. And many of them stuck their tails up in the air. "Look at all them stink bugs," Hazel remarked, grateful to the bugs for being there.
"They're interesting," said Doc.
"Well, what they got their asses up in the air for?"
Doc rolled up his wool socks and put them in the rubber boots and from his pocket he brought out dry socks and a pair of thin moccasins. "I don't know why," he said. "I looked them up recently--they're very common animals and one of the commonest things they do is put their tails up in the air. And in all the books there isn't one mention of the fact that they put their tails up in the air or why."
Hazel turned one of the stink bugs over with the toe of his wet tennis shoe and the shining black beetle strove madly with floundering legs to get upright again. "Well, why do you think they do it?"
"I think they're praying," said Doc.
"What!" Hazel was shocked.
"The remarkable thing," said Doc, "isn't that they put their tails up in the air--the really incredibly remarkable thing is that we find it remarkable. We can only use ourselves as yardsticks. If we did something as inexplicable and strange we'd probably be praying--so maybe they're praying."
"Let's get the hell out of here," said Hazel."
(…)
"Hazel used his trick. "They got no starfish there?"
"They got no ocean there" said Doc.
"Oh!" said Hazel and he cast frantically about for a peg to hang a new question on. He hated to have a conversation die out like this. He wasn't quick enough. While he was looking for a question Doc asked one. Hazel hated that, it meant casting about in his mind for an answer and casting about in Hazel's mind was like wandering alone in a deserted museum. Hazel's mind was choked with uncataloged exhibits. ..."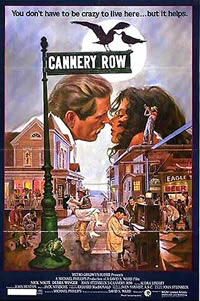 John Steinbeck (27 februari 1902 - 20 december 1968)
Affiche voor de film "Cannary Row" uit 1982
De Britse dichter en schrijver Lawrence George Durrell werd geboren op 27 februari 1912 in Jalandhar in India. Zie ook alle tags voor Lawrence Durrell op dit blog.
Lesbos
The Pleiades are sinking calm as paint,
The earth's huge camber follows out,
Turning in sleep, the oceanic curve.
Defined in concave like a human eye
Or a cheek pressed warm on the dark's cheek,
Like dancers to a music they deserve.
This balcony, a moon-anointed shelf
Above a silent garden holds my bed.
I slept. But the dispiriting autumn moon,
In her slow expurgation of the sky
Needs company: is brooding on the dead,
And so am I now, so am I.
On First Looking Into Loeb's Horace
Here, where your clear hand marked up
'The hated cypress' I added 'Because it grew
On tombs, revealing his fear of autumn and the urns',
Depicting a solitary at an upper window
Revising metaphors for the winter sea: 'O
Dark head of storm-tossed curls'; or silently
Watching the North Star which like a fever burns
Away the envy and neglect of the common,
Shining on this terrace, lifting up in recreation
The sad heart of Horace who must have seen it only
As a metaphor for the self and its perfection_
A burning heart quite constant in its station.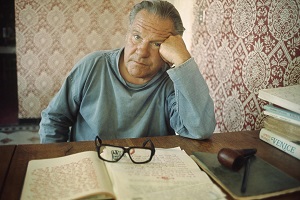 Lawrence Durrell (27 februari 1912 – 7 november 1990)


De Canadese dichter, schrijver en essayist André Roy werd geboren op 27 februari 1944 in Montréal. Zie ook alle tags van André Roy op dit blog.
Filmaction
Filmaction :
la révélation des états du corps;
cinémâme :
l'apparition des vampires dans les ruines.
Le vent est affamé,
le ciel se renverse,
le feu nous mange.
Filme ceci, filme ce que nous sommes :
nos secrets en tant que détails de l'univers,
la grande inconnue qu'est le sexe-toujours,
le poème-partout.
Les lois pratiques de la lumière
Les lois pratiques de la lumière :
la transparence, la surimpression.
Ton regard est celui du dernier homme visible sur terre.
Ce que nous deviendrons mettra fin à l'histoire,
à la pure fiction du temps.
Herbes hautes, eaux vives, extérieurs palpables.
Les lois de la respiration du cœur.
Grande nudité de celui qui parle
en bougeant changeant crachant.
L'œil toujours très rond,
c'est une illusion, un cinématographe,
une machine pour jouir de toi.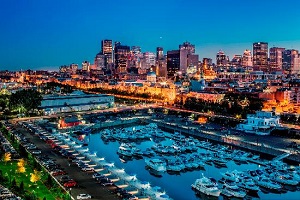 André Roy (Montréal, 27 februari 1944)
Montréal, skyline
De Amerikaanse dichter Henry Wadsworth Longfellow werd geboren in Portland, Maine, op 27 februari 1807. Zie ook alle tags voor Henry Longfellow op dit blog.
Autumn
Thou comest, Autumn, heralded by the rain,
With banners, by great gales incessant fanned,
Brighter than brightest silks of Samarcand,
And stately oxen harnessed to thy wain!
Thou standest, like imperial Charlemagne,
Upon thy bridge of gold; thy royal hand
Outstretched with benedictions o'er the land,
Blessing the farms through all thy vast domain!
Thy shield is the red harvest moon, suspended
So long beneath the heaven's o'er-hanging eaves;
Thy steps are by the farmer's prayers attended;
Like flames upon an altar shine the sheaves;
And, following thee, in thy ovation splendid,
Thine almoner, the wind, scatters the golden leaves!

The Angler's Song
From the river's plashy bank,
Where the sedge grows green and rank,
And the twisted woodbine springs,
Upward speeds the morning lark
To its silver cloud -- and hark!
On his way the woodman sings.
On the dim and misty lakes
Gloriously the morning breaks,
And the eagle's on his cloud:--
Whilst the wind, with sighing, wooes
To its arms the chaste cold ooze,
And the rustling reeds pipe loud.
Where the embracing ivy holds
Close the hoar elm in its folds,
In the meadow's fenny land,
And the winding river sweeps
Through its shallows and still deeps,--
Silent with my rod I stand.
But when sultry suns are high
Underneath the oak I lie
As it shades the water's edge,
And I mark my line, away
In the wheeling eddy, play,
Tangling with the river sedge.
When the eye of evening looks
On green woods and winding brooks,
And the wind sighs o'er the lea,--
Woods and streams,-- I leave you then,
While the shadow in the glen
Lengthens by the greenwood tree.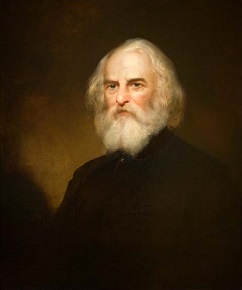 Henry Longfellow (27 februari 1807 - 24 maart 1882)
Portret door Thomas Buchanan Read, 1859
De Duitse schrijfster en dichteres Elisabeth Borchers werd geboren in Homberg op 27 februari 1926. . Zie ook alle tags voor Elisabeth Borchers op dit blog.
Januar
Es kommt eine Zeit
da werden die Könige unruhig
und sie fragen ihre Diener
Wohin sollen wir gehen
Die Diener sehen sich an
und fragen
Wohin
Da stehen die Könige auf
und gehen
Es kommt eine Zeit
da werden die Sterne unruhig
und fragen
Wer ist der schönste unter uns
Und die Sterne sehen sich an
und fragen
Welcher mag es sein
Die Könige aber sagen
Ich heisse Balthasar
Ich heisse Melchior
Ich heisse Kaspar
Und Kaspar ruft
Da fliegt ein Stern
mit langem goldenem Haar
Februar
Es kommt eine Zeit
da sagt die Krähe
Ich mache jetzt eine lange Reise
Sie setzt sich auf eine Eisscholle
und treibt den Fluss hinunter
Die Welt ist weiß
vor lauter Schnee
nur ich bin schwarz

Krah-krah sagt die Krähe
das heißt
Schwarz-schwarz
Im Sommer möchte ich weiß sein
schneeweiß
Im Sommer möchte ich
eine Möwe sein
die ihre weißen Federn
über blaue Meere trägt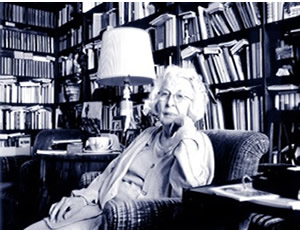 Elisabeth Borchers (27 februari 1926 – 25 september 2013)
De Amerikaanse schrijver James Thomas Farrell werd geboren op 27 februari 1904 in Chicago. Zie ook alle tags voor James T. Farrell op dit blog.
Uit: Young Lonigan
"They didn't have 'em as crazy as Vinc in Studs' class; but there was TB McCarthy, who was always getting his ears beat off, and being made to kneel up in front of the room, or to go in Sister Bernadette's room and sit with all the girls and let them laugh at him. And there was Reardon with horses' hoofs for feet. One day in geography in the fifth grade, Cyrilla called on Reardon and asked him what the British Isles consisted of. Reardon didn't know so Studs whispered to him to say iron, and Reardon said iron. Sister Cyrilla thought it was so funny she .marked him right for the day's lesson. And St. Patrick's meant Weary Reilley, and Studs hated Weary. He didn't know whether or not he could lick Weary, and Weary was one tough customer, and the guys had been waiting for Studs and Weary to scrap ever since Weary had come to St. Patrick's in the third grade. Studs was a little leery about mixing it with Reilley... no, he wasn't... it was just... well, there was no use starting fights unless you had to... and he'd never backed out of a scrap with Weary Reilley or any other guy. And that time he had pasted Weary in the mush with an icy snowball, well, he hadn't backed out of a fight when Weary started getting sore. He had just not meant to hit Weary with it, and in saying so he had only told the truth.
St. Patrick's meant a lot of things. St. Patrick's meant…..Lucy.
Lucy Scanlan would stand on the same stage with him in a few hours, and. she would receive her diploma. She would wear a white dress, just like his sister Frances, and Weary's sister Fran, and she would receive her diploma. Everybody said that Fran Lonigan and Fran Reilley were the two prettiest girls in the class ell, if you asked him, the prettiest girl in the class was black-bobbed-haired Lucy.
He got soft, and felt like he was all mud and mush inside; held his hand over his heart, and told himself:
My Lucy!
He flicked some ashes in the sink, and said to himself: Lucy, I love you!"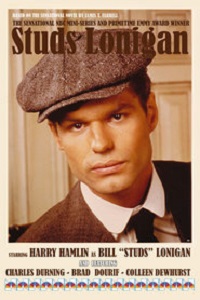 James T. Farrell (27 februari 1904 – 22 augustus 1979)
Cover DVD van de mini-serie Studs Loniganuit 1979
Zie voor nog meer schrijvers van de 27e februari ook mijn vorige blog van vandaag.
27-02-2016 om 13:39 geschreven door Romenu

Tags:John Steinbeck, Lawrence Durrell, André Roy, Henry Longfellow, Elisabeth Borchers, James T. Farrell, Romenu



Irwin Shaw, Vera Friedlander, N. Scott Momaday, Peter De Vries, Johannes Meinhold, Albert Kuyle, Traugott Vogel
De Amerikaanse schrijver Irwin Shaw werd geboren op 27 februari 1913 als Irwin Gilbert Shamforoff in New York. Zie alle tags voor Irwin Shaw op dit blog.
Uit: The Young Lions
"When I went into the Army, I made up my mind that I was putting myself at the Army's disposal. I believe in the war. That doesn't mean I believe in the Army. I don't believe in any army. You don't expect justice out of an army, if you're a sensible, grown-up human being, you only expect victory. And if it comes to that, our Army is probably the most just one that ever existed. . . . I expected the Army to be corrupt, inefficient, cruel, wasteful, and it turned out to be all those things, just like all armies, only much less so than I thought before I got into it. It is much less corrupt, for example, than the German Army. Good for us. The victory we win will not be as good as it might be, if it were a different kind of army, but it will be the best kind of victory we can expect in this day and age, and I'm thankful for it."
(…)
"This time it is not a simple, understandable war, within the same culture. This time it is an assault of the animal world upon the house of the human being. I don't know what you saw in Africa and Italy, but I know what I saw in Russia and Poland. We made a cemetery a thousand miles long and a thousand miles wide. Men, women, children, Poles, Russians, Jews, it made no difference. It could not be compared to any human action. It could be compared to a weasel in a henhouse. It was as though we felt that if we left anything alive in the East, it would one day bear witness against us and condemn us. And, now, we have made the final mistake. We are losing the war."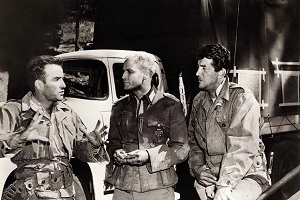 Irwin Shaw (27 februari 1913 – 16 mei 1984)
Scene uit de gelijknamige film uit 1958 met Montgomery Clift, Marlon Brando en Dean Martin
De Duitse schrijfster Vera Friedlander (eig. Veronika Schmidt) werd geboren op 27 februari 1928 in Woltersdorf. Zie ook alle tags voor Vera friedländer op dit blog.
Uit: Ich bin Vergangenheit und Gegenwart
"Die guten Tage, von denen es auch in jenen Jahren reichlich gab, wurden überschattet von der Sorge um meine von Deportation bedrohte Mutter und um meinen Vater, der ins Lager kam, weil er sich nicht von seiner jüdischen Frau scheiden ließ. Und gegen Ende dieser Zeit musste ich Zwangsarbeit unter SS-Aufsicht im Reparaturbetrieb von Salamander leisten. Diese erste Phase meines Lebens schloss mit dem Ende der Verfolgung und des Krieges. Die zweite Phase begann nach einem kurzen Übergang mit der Aufnahme in die Vorstudienanstalt und den bald folgenden Studien und Forschungen. Am ersten Tag in der Vorstudienanstalt begegnete ich dem Mann, mit dem ich die zweite, die wichtigste Lebensetappe durchschritt. Es waren gute Jahre mit einem Mann, auf den ich bauen konnte, mit Kindern, die zu tüchtigen Menschen heranwuchsen, und mit Arbeit in einem für mich idealen Beruf. Mein Mann starb 1986. Damit setzte die letzte Phase ein. Ich musste lernen, allein zu leben und nicht einsam zu werden. In dieser Zeit brach die Gesellschaft zusammen, die ich mitzugestalten versucht hatte, die sich aber weit von meinen Vorstellungen einer gerechten Gesellschaft entfernt hatte. Und so ist die dritte Phase, meine Jetzt-Zeit, vom konkurrenzlosen Kapitalismus bestimmt und ich habe versucht, meinen Platz darin zu finden, ohne meine Ideale zu verleugnen. Von allen Phasen meines Lebens berichte ich etwas, von der Bitternis mehr als von der Süße, obwohl sie sich im Gleichgewicht hielten. Jedoch das Bitterkraut macht mir mehr zu schaffen als der Honig. Das Glück habe ich angenommen wie ein wunderbares Geschenk, es war kein Problem damit verbunden. Aber mit Leid, Ärgernissen und Missachtung bin ich nie fertig geworden und darum neige ich dazu, vor allem davon zu erzählen."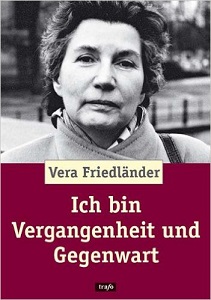 Vera Friedlander (Woltersdorf, 27 februari 1928)
Cover
De Amerikaanse (native, Kiowa) schrijver N(avarre) Scott Momaday werd geboren op 27 februari 1934 in Lawton, Oklahoma. Zie ook alle tags voor N. Scott Momaday op dit blog.
The Delight Song Of Tsoai-Talee
I am a feather on the bright sky
I am the blue horse that runs in the plain
I am the fish that rolls, shining, in the water
I am the shadow that follows a child
I am the evening light, the lustre of meadows
I am an eagle playing with the wind
I am a cluster of bright beads
I am the farthest star
I am the cold of the dawn
I am the roaring of the rain
I am the glitter on the crust of the snow
I am the long track of the moon in a lake
I am a flame of four colors
I am a deer standing away in the dusk
I am a field of sumac and pomme blanche
I am an angle of geese in the winter sky
I am the hunger of a young wolf
I am the whole dream of these things
You see, I am alive, I am alive
I stand in good relation to the Gods
I stand in good relation to the earth
I stand in good relation to everything that is beautiful...
You see, I am alive, I am alive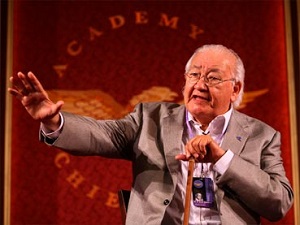 N. Scott Momaday (Lawton, 27 februari 1934)
De Amerikaanse schrijver Peter de Vries werd geboren op 27 februari 1910 in Chicago als zoon van Nederlandse immigranten. Zie ook alle tags voor Peter de Vries op dit blog.
Uit: The Blood of the Lamb
"We live this life by a kind of conspiracy of grace: the common assumption, or pretense, that human existence is 'good' or 'matters' or has 'meaning,' a glaze of charm or humor by which we conceal from one another and perhaps even ourselves the suspicion that it does not, and our conviction in times of trouble that it is overpriced - something to be endured rather than enjoyed."
(…)
"I believe that man must learn to live without those consolations called religious, which is own intelligence must by now have told him belong to the childhood of the race. Philosophy can really give us nothing permanent to believe either; it is too rich in answers, each canceling out the rest. The quest for Meaning is foredoomed. Human life 'means' nothing. But this is not to say that it is not worth living. What does a Debussy Arabesque 'mean,' or a rainbow or a rose? A man delights in all of these, knowing himself to be no more--a wisp of music and a haze of dreams dissolving against the sun. Man has only his own two feet to stand on, his own human trinity to see him through: Reason, Courage, and Grace. And the first plus the second equals the third."
(…)
"The superficial and the slipshod have ready answers, but those looking this complex life straight in the eye acquire a wealth of perception so composed of delicately balanced contradictions that they dread, or resent, the call to couch any part of it in a bland generalization."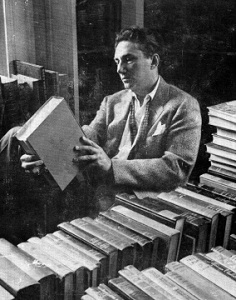 Peter De Vries (27 februari 1910 – 28 september 1993)
De Duitse schrijver Johannes Wilhelm Meinhold werd geboren op 27 februari 1797 in Netzelkow op Usedom. Zie ook alle tags voor Wilhelm Meinhold op dit blog.
Uit: Die Bernsteinhexe
"Der greise, halbblinde Pastor hätte es für alte Kirchenrechnungen gehalten, die doch nicht mehr zu gebrauchen seien. (Und in der Tat kommen im Original einige Rechnungen vor, die wohl beim ersten Anblick zu diesem Irrtum verleiten konnten, und außerdem ist die Handschrift schwer zu lesen und an einigen Stellen vergilbt und verrottet.)
Kaum zu Hause angekommen, machte ich mich über meinen Fund her, und nachdem ich mit vieler Mühe mich ein- und durchgelesen, regten mich die darin mitgeteilten Sachen mächtig an.
Ich fühlte bald das Bedürfnis, mich über die Art und Weise dieser Hexenprozesse, über das Verfahren, ja über die ganze Periode, in welche diese Erscheinungen fallen, näher aufzuklären. Doch je mehr dieser bewunderungswürdigen Geschichten ich las, je mehr wurde ich verwirrt, und weder der triviale Bekker (»Die bezauberte Welt«) noch der vorsichtigere Horst (»Zauberbibliothek«) und andere Werke der Art, zu welchen ich gegriffen hatte, konnten meine Verwirrung heben, sondern dienten nur dazu, sie zu vermehren.
Es geht nicht bloß ein so tiefer dämonischer Zug durch die meisten dieser Schaudergeschichten, daß den aufmerksamen Leser Grausen und Entsetzen anwandelt, sondern die ewigen und unveränderlichen Gesetze der menschlichen Empfindungs- und Handlungsweise werden auch oft auf eine so gewaltsame Weise unterbrochen, daß der Verstand im eigentlichen Sinne des Wortes stillesteht; wie denn zum Beispiel in einem der Originalprozesse, die ein juristischer Freund in unserer Provinz aufgestöbert, sich die Relation findet, daß eine Mutter, nachdem sie bereits die Folter überstanden, das heilige Abendmahl genossen und im Begriff ist, den Scheiterhaufen zu besteigen, so sehr alles mütterliche Gefühl beiseite setzt, daß sie ihre einzige, zärtlich geliebte Tochter, ein Mädchen von fünfzehn Jahren, gegen welche niemand einen Verdacht hegt, sich in ihrem Gewissen gedrungen fühlt gleichfalls als Hexe anzuklagen, um, wie sie sagt, ihre arme Seele zu retten."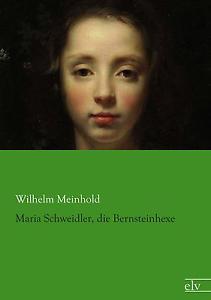 Wilhelm Meinhold (27 februari 1797 – 30 november 1851)
Cover



De Zwitserse schrijver Traugott Vogel werd op 27 februari 1894 als zoon van een groentehandelaar in Zürich geboren. Zie ook alle tags voor Traugott Vogel op dit blog.
Uit: Sehultheater und dialogische Erziehung
(Vortrag, gehalten im Rahmen der Pädagogischen Woche, Juli 1939)
"Fürchten Sie nicht, ich hätte die Absicht, alle, ehrwiirdige Standbilder der Pädagogik zu stürzen. Wir sind keine eifernden Kevolutioniire der Schulstuhe' wir erdreistcn uns nicht einmal" Sie zu verführen, guten alten Wein in neue Schläuche umzugiessen; nein' wir wollen Ihnen kein neues Fach, geschweige eine neue « Schule» aufsßhwatzen; was wir behutsam versuchen' ist dies : wir möchten Sie überrcdcn' mit uns eine Unterlassungssünde unseres und des vorgegangenen Gesehlechtes gutzumachen. Diese kleine Sünde besteht darin, dass man den Spieltrieh des Kindes, wenn nicht eben unterdrückt so doch missvcrstanden und vernachlässigt hat oder im besten Falle nur beschränkt gelten und sich auslehen liess. Man hat eben Spielen gleichgesetzt mit Spielcrei: man hat Kinder auf allen und mit allen möglichen Geräten sich tummeln lassen: mit Ceigcn und Flöten, mit Stab und Ball' mit Leim und Lehm - nur zum Spiel auf dem einen, dem vornehmsten lnstrument hat man die heranwachsenden Geschlechter nie angewiesen: zum Spiel mit sich selbst, auf sich selbst, im überlegen spielenden Umgang mit der eigenen, werdenan Person und Persönlichkeit und der seiner Kameraden."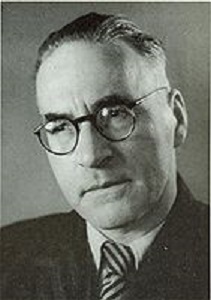 Traugott Vogel (27 februari 1894 – 31 januari 1975)
27-02-2016 om 13:39 geschreven door Romenu

Tags:Irwin Shaw, Vera Friedlander, N. Scott Momaday, Peter De Vries, Johannes Meinhold, Albert Kuyle, Traugott Vogel, Romenu



Cynan Jones
De Welshe schrijver Cynan Jones werd geboren op 27 februari 1975 in de buurt van Aberystwyth, Wales. Jones publiceerde zijn eerste roman "The Long Dry" in 2006. Tussen 2011 en 2014 publiceerde hij nog drie romans: "Everything I Found on the Beach"(2011), "Bird, Blood, Snow"(2012), en "The Dig". In 2016 volgde nog "Cove".Zijn werk is vertaald in diverse talen en zijn korte verhalen zijn verschenen in een aantal bloemlezingen en publicaties, zoals Granta en New Welsh Review. "The Long Dry" werd bekroond met een 2007 Betty Trask Award. "The Dig", zijn meest recente roman, won in 2014 de Jerwood Fiction Uncovered Prize en de 2015 Wales Book of the Year Fiction Prize. Die roman stond ook op de longlist voor de 2014 Kirkus Prize in de VS. In 2014, Jones haalde de krantenkoppen voor het ontbreken van interpunctie in het grootste deel van de toespraak in zijn roman The Dig (en een paar andere korte verhalen). Het spreken en de ideeën van zijn personages werd gemarkeerd door middel van aanhalingstekens totdat John Freeman, redacteur bij het tijdschrift Granta, de aanhalingstekens verwijderde om een grotere directheid te bereiken. De auteur was het met hem eens over het effect van deze onconventionele werkwijze en schreef de rest van het boek op deze manier, met uitzondering van een gesprek tussen de hoofdpersoon en zijn moeder. In die passage gebruikte Jones de traditionele aanhalingstekens "to create a sense of a more conventional, staid dialogue."
Uit: The Dig
"The black lamb looked tired and beaten under the lamp.
It had not put on weight and he could make out the fingers of its ribs with the bloated milk-full stomach behind them. It was folded in the bottom of the box, but not with the folded comfortable way of a sleeping cat, more with the weak compliance of something sick beyond will.
Daniel picked up the small black lamb. His father would have simply dashed its head on the barn floor. He was not a hard man, but a pragmatist; but that kind of will wasn't in Daniel. Despite the lamp the lamb felt cold, as if it could generate no heat of its own, and it was too light for itself and hung limply. It was as if he'd picked a jumper from the floor. It had a completely will-less passivity.
I don't expect this of you, he said. I just want you to understand it. Sometimes you have to choose between a quick misery or a slow misery. He heard his father talking, saw him take the useless lamb from the box. You have to understand it as an option. There was a movement and the lamb hung dead from his father's hand, a thin spittle of blood reaming from its mouth.
He heard the voice again. Heard his father, that there were the two miseries, and somewhere in him a vicious voice told him that his wife had no fear now of the worse, drawn-out misery that might have come. Hers had been the quick misery, the head dashed against the barn floor. He thought of his father stricken, becalmed by the stroke. He ignored the vicious little voice, as if it was something overheard he had no wish to know.
He rubbed the lamb, trying to bring some warmth into its muscles, the wrinkles of the loose skin riding under his hand like rolls of sock. There was the superstition that every flock should have a black lamb to sacrifice should the Devil come and it was to Daniel like the lamb was a victim of this.
He felt the lamb's heartbeat under his hands. It was faint. A bare registry.
You need to live, he thought.
He picked up the lamb and carried it into the house.
He put it down in the porch and took off his boots and then went in and found a box and came back for the lamb."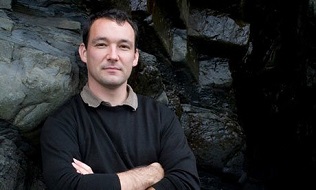 Cynan Jones (Aberystwyth 27 februari 1975)
27-02-2016 om 00:00 geschreven door Romenu

Tags:Cynan Jones, Romenu



| | |
| --- | --- |
| | |



Inhoud blog


| | |
| --- | --- |
| | Dolce far niente, Hans Andreus, Ulrich Woelk, Marc Degens, Luciano de Crescenzo, Alain Robbe-Grillet, Idea Vilariño |
| | Dolce far niente, Simon Vestdijk, Ted Hughes, V. S. Naipaul, Nis-Momme Stockmann, Jonathan Franzen, Jan Emmens |
| | Dolce far niente, Willen van Toorn, Charles Bukowski, Reiner Kunze, Moritz Rinke, Ferenc Juhász, Justus van Maurik |
| | Dolce far niente, Nescio, Guillaume van der Graft, Mary Jo Salter, Leonie Ossowski, Daan Zonderland, Jan Campert |
| | Kees Fens, Wolf Wondratschek, Danielle Steel, Erwin Strittmatter, Sir Walter Scott, Thusnelda Kühl |
| | Adriaan Roland Holst, antoine de kom, Atte Jongstra, Amélie Nothomb, Nikolaus Lenau, Tom Perrotta |
| | Justus van Maurik, Thomas Mann, Hans-Ulrich Treichel, Stefano Benni, Marcellus Emants, Naoki Higashida |
| | Remco Campert, Hugh MacDiarmid, Ernst Stadler, Yoshikawa Eiji, Fernando Arrabal, Andre Dubus |
| | Kees van Kooten, Alfred Döblin, Moses Isegawa, Mark Doty, Jerzy Pilch, Elvis Peeters, Michail Zostsjenko, Piet Bakker, René Crevel |
| | Luuk Gruwez, Philip Larkin, Gerrit Kouwenaar, Henk Romijn Meijer, Linn Ullmann, P. L. Travers, Pierre Klossowski, Daniel Keyes, Leonid Andreyev |
| | Jostein Gaarder, Klaus Ebner, Birgit Vanderbeke, Gernot Wolfram, Hieronymus van Alphen, André Demedts, Sara Teasdale, Donald Davidson, Lotte Lentes |
| | John Birmingham, Cees Buddingh', Diana Ozon, Vladimir Sorokin, Michael Roes, Joachim Ringelnatz, Garrison Keillor, Dieter Schlesak, Othon III de Grandson |
| | Dolce far niente, Jason O. Gilbert, Alfred Tennyson |
| | Dolce far niente,Tom Lanoye, Cees van der Pluijm, Pier Paolo Pasolini, Martin Piekar |
| | Hendrik Marsman, Rutger Kopland, Rudi van Dantzig, Percy Bysshe Shelley, Liao Yiwu, Pierre Jarawan |
| | Jan Campert, Rupert Brooke, Radek Knapp, P. D. James, Marica Bodrozic, Mirko Wenig |
| | Jussi Adler-Olsen, James Baldwin, Isabel Allende, Kristine Bilkau, Philippe Soupault, Ernest Dowson, Zoltán Egressy, Caleb Carr, Félix Leclerc |
| | Gerrit Krol, Frans Pointl, Mehis Heinsaar, Ko Un, Edward van de Vendel, Jim Carroll, Juan Filloy, Anne Hébert, Herman Melville |
| | Cees Nooteboom, Wouter Godijn, Grand Corps Malade, Joanne Rowling, Alain Nadaud, Daniel Bielenstein, Hans-Eckardt Wenzel, Ahmed Zitouni, Munshi Premchand |
| | Frans Budé, Patrick Modiano, Maja Lunde, Emily Brontë, Cherie Priest, Pauline van der Lans |
| | Harry Mulisch, Chang-Rae Lee, Thomas Rosenlöcher, Guillermo Martínez, Marja Brouwers, Wolfgang Bittner |
| | Stanley Kunitz, Sten Nadolny, Eyvind Johnson, August Stramm, Walter van den Berg |
| | Remco Campert, Malcolm Lowry, Herman Stevens, Gerard Manley Hopkins, Stephan Sanders, Angélica Gorodischer, Shahyar Ghanbari, John Ashbery, Drew Karpyshyn |
| | Michael Longley, Marijke Höweler, Theodore Dreiser, Hilde Domin, Julien Gracq, Hilaire Belloc, Vladimir Korolenko, Eimear McBride, Graeme C. Simsion |
| | Arthur Japin, Gregoire Delacourt, Anne Provoost, Yves Petry, Aldous Huxley, Nicholas Evans, Chairil Anwar, George Bernard Shaw, Hanya Yanagihara |
| | Lieke Marsman, Sytze van der Zee, Elias Canetti, Max Dauthendey, Jovica Tasevski – Eternijan, Annette Pehnt, Ottokar Kernstock, Albert Knapp, Louise Boege |
| | Robert Graves, Johan Andreas der Mouw, Banana Yoshimoto, Rosemarie Schuder, Katia Mann, Junichirō Tanizaki, Frank Wedekind, Alexandre Dumas père, Betje Wolff |
| | Wilfried de Jong, Mohsin Hamid, Lauren Groff, Frans Erens, Kai Meyer, Thea Dorn, Irina Liebmann |
| | Lisa Alther, Hubert Selby jr., Raymond Chandler, Matthias Spiegel, Tim Reus |
| | Arno Geiger, Susan Hinton, Manu Joseph, Stephen Vincent Benét, Tom Robbins |
| | Maria Janitschek, Oskar Maria Graf, Emma Lazarus, Per Hojholt, Jakob Lorber |
| | Frouke Arns, Ernest Hemingway, Belcampo, Boris Dittrich , Hans Fallada, David Boerljoek |
| | Hans Lodeizen, Henk Hofland, Arie Storm, Uwe Johnson, Simin Behbahāni, Francesco Petrarca, Maurice Gilliams, Erik Axel Karlfeldt, Cormac McCarthy |
| | Otto Julius Bierbaum, Anna Enquist, Gottfried Keller, Lucas Malan, Miltos Sachtouris, Jean-Pierre Faye |
| | Simon Vinkenoog, Steffen Popp, Per Petterson, Elizabeth Gilbert, Alicia Steimberg, Jevgeni Jevtoesjenko, Aad Nuis, William M. Thackeray, Nathalie Sarraute |
| | Martin R. Dean, Rainer Kirsch, Eelke de Jong, Alie Smeding, Paul Lomami Tshibamba, James Purdy, Roger Garaudy, Clara Viebig, Lilian Loke |
| | In Memoriam Anne Golon |
| | Reinaldo Arenas, Georges Rodenbach, Tony Kushner, Anita Brookner, Jörg Fauser |
| | Dag Solstad, Bernard Dimey, Andrea Wolfmayr, Pierre Benoit, Franz Nabl |
| | Ann De Craemer, Jean Christophe Grangé, Driss Chraïbi, Iris Murdoch, Richard Russo, Jacques Rivière, Rira Abbasi |
| | Robert Wohlleben, Heinrich Peuckmann, Walter Benjamin, Clive Cussler, Jacques Derrida, Hammond Innes, Kunikida Doppo |
| | Irving Stone, Volker Kaminski, Natalia Ginzburg, Jacques de Lacretelle, Gavrila Derzjavin, Béatrix Beck, Arthur Laurents, Owen Wister, Willard Motley |
| | Boris Pasternak, Wole Soyinka, Isaak Babel |
| | Hugo von Hofmannsthal, Kees 't Hart, Carla Bogaards, Elias Khoury, Stefan George |
| | Nikolaus Lenau, Jhumpa Lahir, Jane Gardam |
| | E.B. White |
| | Ann De Craemer |
| | Marcel Proust, Erik Jan Harmens, Alice Munro, J.C. Noordstar, Hermann Burger, Salvador Espriu, Gerhard L. Durlacher, Jürgen Becker, Nicolás Guillén |
| | Gerard Walschap, Hans Arnfrid Astel, June Jordan, John Heath-Stubbs, Ann Radcliffe, Mervyn Peake, Jan Neruda, Peter Märthesheimer |
| | Jean Cassou, Johanna Schopenhauer, Johann Götz, Alexis Piron, Matthew Lewis, Barbara Cartland, Robert Gratzer |


Gastenboek


Druk op onderstaande knop om een berichtje achter te laten in mijn gastenboek