E-mail mij


Druk op onderstaande knop om mij te e-mailen.


Romenu


Google


Georg Trakl

Georg Trakl werd op 3 februari 1887 in het conducteurshuis aan de Waagplatz 2 in Salzburg geboren. Zijn vader, Tobias Trakl, was een handelaar in ijzerwaren en zijn moeder, die ook psychische problemen had, was Maria Catharina Trakl, (meisjesnaam Halik). Voorts had hij nog drie broers en drie zussen. Margarethe (doorgaans Grethe genoemd) stond hem het naast, zelfs zodanig dat sommigen een incestueuze verhouding vermoeden. Zijn jeugd bracht hij door in Salzburg. Vervolgens bezocht hij van 1897 tot 1905 het humanistische gymnasium. Om toch een academische opleiding te kunnen volgen, werkte hij tot 1908 in de praktijk bij een apotheker. Sommigen vermoedden dat hij dit vooral deed om zichzelf opiaten te kunnen verschaffen. Bij het uitbreken van WO I werd Trakl als medicus naar het front in Galicië (heden ten dage in Oekraïne en Polen) gestuurd. Zijn gemoedsschommelingen leidden tot geregelde uitbraken van depressie, die verergerd werden door de afschuw die hij voelde voor de verzorging van de ernstig verwonde soldaten. De spanning en druk dreven hem ertoe een suïcidepoging te ondernemen, welke zijn kameraden nochtans verhinderden. Hij werd in een militair ziekenhuis opgenomen in Kraków, alwaar hij onder strikt toezicht geplaatst werd.Trakl verzonk daar in nog zwaardere depressies en schreef Ficker om advies. Ficker overtuigde hem ervan dat hij contact moest opnemen met Wittgenstein, die inderdaad op weg ging na Trakls bericht te hebben ontvangen. Op 4 november 1914, drie dagen voordat Wittgenstein aan zou komen, overleed hij echter aan een overdosis cocaïne


Paul Celan

Paul Celan werd onder de naam Paul Antschel op 23 november 1920 geboren in Czernowitz, toentertijd de hoofdstad van de Roemeense Boekovina, nu behorend bij de Oekraïne. Paul Celans ouders waren Duitssprekende joden die hun zoon joods opvoedden en hem naar Duitse christelijke scholen stuurden. In 1942 werden Celans ouders door de Duitse bezetter naar een werkkamp gedeporteerd en daar vermoord. Hijzelf wist aanvankelijk onder te duiken, maar moest vanaf juli 1942 in een werkkamp dwangarbeid verrichten. Celan overleefde de oorlog. Via Boekarest en Wenen vestigde Celan zich in 1948 in Parijs. Daar was hij werkzaam als dichter, vertaler en doceerde hij aan de prestigieuze Ecole Normale Supérieure. Vermoedelijk op 20 april 1970 beëindigde hij zijn leven zelf door in de Seine te springen.


Gerard Reve

Gerard Reve over: Medearbeiders "God is in de mensen, de dieren, de planten en alle dingen - in de schepping, die verlost moet worden of waaruit God verlost moet worden, door onze arbeid, aangezien wij medearbeiders van God zijn." Openbaring "Tja, waar berust elk godsbegrip op, elke vorm van religie? Op een openbaring, dat wil zeggen op een psychische ervaring van zulk een dwingende en onverbiddelijke kracht, dat de betrokkene het gevoel heeft, niet dat hij een gedachte of een visioen heeft, maar dat een gedachte gedachte of visioen hem bezit en overweldigt."


Simon Vestdijk
Simon Vestdijk (Harlingen, 17 oktober 1898 – Utrecht, 23 maart 1971) was een Nederlands romancier, dichter, essayist en vertaler. Zijn jeugd te Harlingen en Leeuwarden beschreef hij later in de Anton Wachter-cyclus. Van jongs af aan logeerde hij regelmatig bij zijn grootouders in Amsterdam, waar hij zich in 1917 aan de Universiteit van Amsterdam inschrijft als student in de medicijnen. Tijdens zijn studie die van 1917 tot 1927 duurde, leerde hij Jan Slauerhoff kennen.Tot 1932 is hij als arts in praktijken door heel Nederland werkzaam. In 1932 volgt zijn officiële schrijversdebuut met de uitgave van de bundel Verzen in De Vrije Bladen. Doorslaggevend voor Vestdijks uiteindelijke keuze voor de literatuur is zijn ontmoeting in 1932 met Eddy Du Perron en Menno ter Braak. Deze ontmoeting had tot resultaat dat hij redactielid werd van het tijdschrift Forum Kort daarop, in 1933, wordt zijn eerste novelle, De oubliette, uitgegeven. In hetzelfde jaar schrijft hij Kind tussen vier vrouwen, dat, eerst geweigerd door de uitgever, later de basis zal vormen voor de eerste drie delen van de Anton Wachter-romans. In 1951 ontvangt Vestdijk de P.C. Hooftprijs voor zijn in 1947 verschenen roman De vuuraanbidders. In 1957 wordt hij voor het eerst door het PEN-centrum voor Nederland voorgedragen voor de Nobelprijs voor de Literatuur, die hij echter nooit zal krijgen. Op 20 maart 1971 wordt hem de Prijs der Nederlandse Letteren toegekend, maar voor hij deze kan ontvangen overlijdt hij op 23 maart te Utrecht op 72-jarige leeftijd. Vestdijk was auteur van ca. 200 boeken. Vanwege deze enorme productie noemde de dichter Adriaan Roland Holst hem 'de man die sneller schrijft dan God kan lezen'. Andere belangrijke boeken van Simon Vestdijk zijn: "Kind van stad en land" (1936), "Meneer Visser's hellevaart" (1936), "Ierse nachten" (1946), "De toekomst de religie" (1947), "Pastorale 1943" (1948), "De koperen tuin" (1950), "Ivoren wachters" (1951), "Essays in duodecimo" (1952) en "Het genadeschot" (1964).


K.P. Kavafis

K.P. Kavafis werd als kind van Griekse ouders, afkomstig uit Konstantinopel, geboren in 1863 in Alexandrië (tot vandaag een Griekse enclave) waar hij ook het grootste deel van zijn leven woonde en werkte. Twee jaar na de dood van zijn vader verhuist het gezin in 1872 naar Engeland om na een verblijf van vijf jaar naar Alexandrië terug te keren. Vanwege ongeregeldheden in Egypte vlucht het gezin in 1882 naar Konstantinopel, om na drie jaar opnieuw naar Alexandrië terug te gaan. In de jaren die volgen maakt Kavafis reizen naar Parijs, Londen en in 1901 zijn eerste reis naar Griekenland, in latere jaren gevolgd door nog enkele bezoeken. Op de dag van zijn zeventigste verjaardag, in 1933 sterft Kavafis in Alexandrië. De roem kwam voor Kavafis pas na zijn dood, dus postuum. Deels is dat toe te schrijven aan zijn eigen handelswijze. Hij was uiterst terughoudend met de publicatie van zijn gedichten, liet af en toe een enkel gedicht afdrukken in een literair tijdschrift, gaf in eigen beheer enkele bundels met een stuk of twintig gedichten uit en het merendeel van zijn poëzie schonk hij op losse bladen aan zijn beste vrienden.


Thomas Mann


Thomas Mann, de jongere broer van Heinrich Mann, werd geboren op 6 juni 1875 in Lübeck. Hij was de tweede zoon van de graankoopman Thomas Johann Heinrich Mann welke later één van de senatoren van Lübreck werd. Zijn moeder Julia (geboren da Silva-Bruhns) was Duits-Braziliaans van Portugees Kreoolse afkomst. In 1894 debuteerde Thomas Mann met de novelle "Gefallen". Toen Thomas Mann met 21 jaar eindelijk volwassen was en hem dus geld van zijn vaders erfenis toestond - hij kreeg ongeveer 160 tot 180 goldmark per jaar - besloot hij dat hij genoeg had van al die scholen en instituties en werd onafhankelijk schrijver. Kenmerkend voor zijn stijl zijn de ironie, de fenomenale taalbeheersing en de minutieuze detailschildering. Manns reputatie in Duitsland was sterk wisselend. Met zijn eerste roman, Buddenbrooks (1901), had hij een enorm succes, maar door zijn sceptische houding tegenover Duitsland na de Eerste Wereldoorlog veranderde dit volledig. Stelde hij zich tot aan de jaren twintig apolitiek op (Betrachtungen eines Unpolitischen, 1918), meer en meer raakte hij bij het Politiek gebeuren betrokken. Zijn afkeer van het nationaal socialisme groeide, zijn waarschuwingen werden veelvuldiger en heftiger. In 1944 accepteerde hij het Amerikaanse staatsburgerschap. Tussen 1943 en 1947 schreef Mann Doktor Faustus (zie Faust), de roman van de 'Duitse ziel' in de gecamoufleerd geschilderde omstandigheden van de 20ste eeuw. In 1947 bezocht hij voor het eerst sinds de Oorlog Europa, twee jaar later pas Duitsland. In 1952 vertrok hij naar Zwitserland. Op 12 augustus 1955 stierf hij in Zürich. Twintig jaar na zijn dood, in aug. 1975, is zijn literaire nalatenschap geopend: dagboekaantekeningen van 15 maart 1933 tot 29 juli 1955, alsmede notities uit de jaren 1918 tot en met 1921.Belangrijke werken zijn: Der Zauberberg, Der Tod in Venedig, Dokter Faustus , Joseph und seine Brüder en Die Bekenntnisse des Hochstaplers Felix Krull.


Rainer Maria Rilke

Rilke werd op 4 december 1875 geboren in Praag. Hij had al naam gemaakt als dichter met zijn bundels Das Stundenbuch en Das Buch der Bilder, toen hij de literaire wereld versteld deed staan en wereldfaam verwierf met de publicatie van zijn twee delen Neue Gedichte in 1907 en 1908. Hij verzamelde daarin het beste werk uit een van zijn vruchtbaarste periodes, die hij grotendeels doorbracht in Parijs. Rilke was daar diep onder de indruk gekomen van Rodin, bij wie hij een tijdlang in dienst was als particulier secretaris. Rodin, zei hij later, had hem leren kijken. Dit kijken kwam neer op intense concentratie, om het mysterie te kunnen zien 'achter de schijnbare werkelijkheid'. Latere en rijpere werken als Duineser Elegien (1912-1923) en het ronduit schitterende Die Sonette an Orfeus (1924) illustreren Rilkes metafysische visie op het onzegbare, dat haar verwoording vindt in een hermetische muzikale taal. Op 29 december 1926 overlijdt Rilke in het sanatorium in Val-Mont aan de gevolgen van leukemie. Enkele dagen later wordt hij, overeenkomstig zijn wens, begraven op het kerkhof van Raron.


* * * * * * * * * * * * * * * *

| | |
| --- | --- |
| | Over literatuur, gedichten, kunst en cultuur |

01-03-2015

Jan Eijkelboom, Franzobel, Jim Crace, Franz Hohler, Lytton Strachey
De Nederlandse dichter, vertaler en journalist Jan Eijkelboom werd op 1 maart 1926 in Ridderkerk geboren. Zie ook alle tags voor Jan Eijkelboom op dit blog.
Tuin Dordrechts museum
Als ik gestorven ben
zal in de tuin van dit museum
boven het warrig bladerengedruis
een merel net zo helder zingen
op net zo'n late voorjaarsdag
En ik, ik zal er niet meer zijn
om door dit zingen te vergeten
dat ik moet sterven mettertijd.
Maar aan de andre kant zal ik
– je weet maar nooit –
veel langer leven dan die vogel
En als ik dan toch onder de zoden lig
dan zal mijn zoon nog eens
een merel net zo horen klinken
op net zo'n late voorjaarsdag.
En hij zal weten wie ik was
en ach, een vogel weet van niets.
Maar aan de andre kant alweer:
als merels aan hun vaders konden denken
wellicht dat ze dan krasten als een raaf.
Een schilder
Op dijkjes langs de balkegaten
stonden wij stil te schetsen in de kou,
en dan maar over kunst en toekomst praten
als jij in elk geval een schilder wezen zou.
Ik wist nou nooit eens wat ik worden wou
en kon mezelf soms om die vaagheid haten.
Maar onder mijn bewondering voor jou
school toch dédain voor missers en hiaten

bij iemand die te weinig boeken las.
Jij slikte dankbaar, of het manna was,
al wat ik je vertelde over morgen
en over wat er vroeger is geweest.
Je schildert nu decors in Avereest,
in godsdienstwaan gekerkerd, of geborgen.
Moeilijk moment
Net als hij op 't café-toilet
in de verschoten spiegel kijkt
barst er een bloedrivier
zijn oogbal binnen.
Ook wordt het ademen beperkt:
de refusal is nog aan 't werk.

Toch weet hij in zijn ademnood
dat het maar even duurt,
dan kan het weer beginnen,
de zachte levensdood.

De stortbak heet Silentium.
Grijs bovenlicht zakt om hem heen.
Een vrede buiten kijf
vult hem, die net niet stierf,
van top tot teen.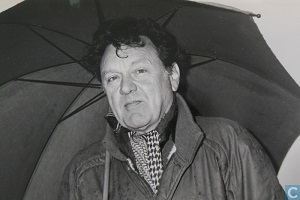 Jan Eijkelboom (1 maart 1926 – 28 februari 2008)
De Oostenrijkse schrijver, dichter en schilder Franzobel werd geboren op 1 maart 1967 in Vöcklabruck. Zie ook alle tags voor Franznbel op dit blog
Uit:Liebesgeschichte
"1. Die sechste Stunde
Weil er beim Aufsperren einer Tür immer fürchtete, jemand könnte ihn beobachten, sich auf ihn stürzen, ihn überwältigen, blickte er sich hastig um, doch da war nichts, nur die dunkelblaue Nacht hing wie eine atmende, quallige Masse über den schlafenden Häusern und Autos. Auch wenn alles still war, beeilte er sich, den Haustorschlüssel ins Schloss zu stecken, zu drehen. Es klemmte. Verdammt! Er presste. Fluchte. Jetzt gelang es.
Alexander, ein graziler junger Mann von vierunddreißig Jahren, blutarm, nervös, hohlwangig mit zartgliedrigen Händen und einer mäßig vorstehenden, leicht aufwärtsgebogenen Nase im teigigen Gesicht, Alexander, der stets um Stil bemüht war, bedacht darauf, dass man sah, wer er war, einer, der die Welt aus ihren Angeln hob. Alexander keuchte. Wie ein anschlagender Jagdhund hing er in der straffen Leine seiner Atemröhre, keuchte heftig, fiel gegen die zugefallene Tür, griff sich an die Brust und hustete, als hätte er einen Hundertmeterlauf absolviert. Dabei war er nur von der Ecke hergelaufen, wo er den Taxifahrer hatte halten lassen.
Er strich die Falten aus dem Regenmantel, bückte sich, um seine Schuhbänder zu binden, und hastete durch das Treppenhaus, zog sich am Geländer hoch, vorbei an Fußabstreifern und ausgetragenen Zeitungen, hinweg über Specksteine, Tröpfchen von der inkontinenten Dackeldame Max, zog sich empor durch das Gründerzeittreppenhaus, vorbei an einem kleinen abgenagten Knochen mit blutigem Gelenk, vorbei an abgeschlagenen Wänden, von denen Putz rieselte, um endlich vor der ihm wohlbekannten Tür zu stehen.
Alexander keuchte, griff sich ans Herz, versuchte es zu kontrollieren, atmete langsam aus und ein, blickte aus dem Treppenhausfenster, sah den roten Streifen der ausbrechenden Sonne, die die quallige Nacht bald verscheucht haben würde, blieb an den Blumenkästen hängen, wunderte sich, wie sich seine Frau für dieses Grünzeug interessieren konnte, wo er nicht einmal die Namen dieser Gewächse behielt, alle Thujen nannte. Sie aber sagte, Pflanzen sind wie Tiere, die immer schlafen. Seit sieben Jahren waren sie verheiratet. Was wussten sie voneinander?"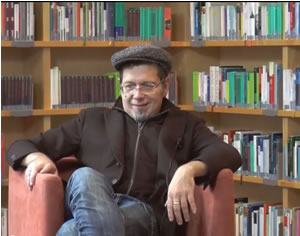 Franzobel (Vöcklabruck, 1 maart 1967)
De Engelse schrijver Jim Crace werd geboren op 1 maart 1946 in St. Albans, Hertfordshire. Zie ook alle tags voor Jim Crace op dit blog.
Uit:Quarantine
"Musa was paying a heavy price, his uncles said, for sleeping on his back without a cloth across his face. An idiotic way to die. A devil had slipped into his open mouth at night and built a fire beneath the rafters of his ribs. Devils were like anybody else; they had to find what warmth they could or perish in the desert cold. Now Musa had provided lodging for the devil's fever. He wouldn't last more than a day or two -- if he did, then it would be a miracle. And not a welcome one.
It was Miri's duty to Musa, everybody said, to let the caravan go on through Jericho towards the markets of the north without her. It couldn't travel with fever in its cargo. It couldn't wait while Musa died. Nor could it spare the forty days of mourning which would follow. That would be madness. Musa himself wouldn't expect such waste. He had been a merchant too, and would agree, if only he were conscious, God forbid, that business should not wait for funerals. Or pregnancies. Fortunes would be lost if merchants could not hurry on. Besides, the camels wouldn't last. They needed grazing and watering, and there was no standing water in this wilderness and hardly any hope of rain. No, it was a crippling sadness for them too, make no mistake, the uncles said, but Miri had to stay behind, continue with her singing till the end, and bury Musa on her own.
She'd have to put up stones to mark her husband's passing and tend his grave until the caravan returned for her. She would be safe and comfortable if she took care. There was sufficient water in skins for a week or so, and then she could locate a cistern of some kind; there were also figs and olives and some grain, some salted meat and other food, plus the tent, the family possessions, small amounts of different wools, a knife, some perfume and a little gold. She'd have company as well. They'd leave six goats for her, plus a halting donkey which was too slow and useless for the caravan. Two donkeys then. Both lame, she said, nodding at her husband."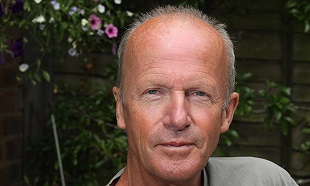 Jim Crace (St. Albans, 1 maart 1946)
De Zwitserse dichter, schrijver, cabaretier en liedjesmaker Franz Hohler werd geboren op 1 maart 1943 in Biel. Zie ook alle tags voor Franz Hohler op dit blog.
Nachtrag zu den Starenbäumen
Was die zwei
dienstags gefällten
Scheinzypressen betrifft
im Zentrum Örlikons
ihr kennt sie vielleicht
die Bäume
auf welchen sich jeweils
die Stare zum Abflug versammeln
so kann ich euch
nach Gesprächen mit allen Beteiligten
sagen:
Niemand kann etwas dafür
alle handelten nur
im Auftrag
oder weil es nicht anders ging
und es war auf jeden Fall
die vernünftigste Lösung.
Ich werd es
im Herbst
den Staren erklären.
Die Selbstgerechten
Und als der Irak
Kuweit überfiel –
habt ihr da auch demonstriert?
So fragen uns die
die selber nie demonstrieren
und falten die Hände
über den Bäuchen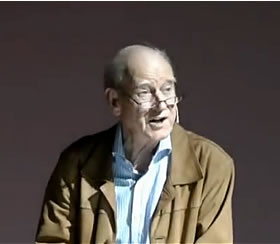 Franz Hohler (Biel, 1 maart 1943)
De Britse schrijver Giles Lytton Strachey werd geboren op 1 maart 1880 in Londen. Zie ook alle tags voor Lytton Strachey op dit blog.
Uit: The Letters of Lytton Strachey
"To Leonard Woolf
"Blackgang Chine Hotel Ventnor I of W [Easter 1902, c. March 30]
Dear Leon
It is no longer cold - we are sitting out in the sun on a quasi-lawn overlooking a blue-grey sea. (We = Ainsworth and I.) He is reading Anna Karenine in French; I have Montaigne, Swinburne, Webster and Hamlet on the table in front of me, and have just found your letter indoors. Don't be any more depressed. God's on his thorn - the snail's in his heaven ...
For the soul that is wisdom and freedom, the spirit of England redeemed from her past, Speaks life through the lips of the master and lord of her children, the first and the last. Thought, touched by his hand, and redeemed by his breath, sees, hears, and accepts from above The limitless lightnings of vision and passion, the measureless music of love!
We take immense walks most days - which is rather pleasant. Two others called Sanger and Robin Mayor have been with us - but have now gone. We laugh a good deal. I nearly quarrelled with Ainsworth t'other night but not quite. I don't like the personification of irrelevance - but that's all. The 'scholarship question' perhaps is hardly that. But when you see the GREAT LETTER you'll understand altogether.
I never heard of anything quite so mad as your and the Goth's proceedings. Dear, dear! Did he see his buds? In Suffolk, I mean. Mania! Mania!
I have not finished Pere Goriot and so I shall not yet say what I think about it. Maxim Gorki sounds death indeed. Yes, the great absurdity of most writers is that they will write about [illegible, perhaps Greek characters] and fools - or mere fantastic cranks. Down with them! Shakespeare's chief point, I think, is that he deals so much with geniuses. Meanwhile I have three Maupassant stories that I long to write - only for the most private of all circulation, of course. Can't write any more poetry, can you? If one only had indefinite empty years -! [...]
your G.L.S."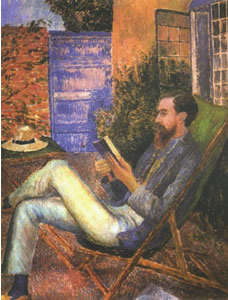 Lytton Strachey (1 maart 1880 – 21 januari 1932)
Lytton Strachey Reading in the Garden at Tidmarsh door Dora Carrington, ca. 1918
Zie voor nog meer schrijvers van de 1e maart ook mijn vorige twee blogs van vandaag.
01-03-2015 om 16:21 geschreven door Romenu

Tags:Jan Eijkelboom, Franzobel, Jim Crace, Franz Hohler, Lytton Strachey, Romenu



Robert Lowell, Jacques Chessex, Ryūnosuke Akutagawa, Sabina Lorenz, Richard Wilbur, Ralph Ellison
De Amerikaanse dichter Robert Traill Spence Lowell werd geboren op 1 maart 1917 in Boston. Zie ook alle tags voor Robert Lowell op dit blog.
Homecoming
What was is ... since 1930;
the boys in my old gang
are senior partners. They start up
bald like baby birds
to embrace retirement.

At the altar of surrender,
I met you
in the hour of credulity.
How your misfortune came out clearly
to us at twenty.

At the gingerbread casino,
how innocent the nights we made it
on our Vesuvio martinis
with no vermouth but vodka
to sweeten the dry gin--

the lash across my face
that night we adored . . .
soon every night and all,
when your sweet, amorous
repetition changed.
"To Speak of Woe That Is in Marriage"
"The hot night makes us keep our bedroom windows open.
Our magnolia blossoms.Life begins to happen.
My hopped up husband drops his home disputes,
and hits the streets to cruise for prostitutes,
free-lancing out along the razor's edge.
This screwball might kill his wife, then take the pledge.
Oh the monotonous meanness of his lust. . .
It's the injustice . . . he is so unjust--
whiskey-blind, swaggering home at five.
My only thought is how to keep alive.
What makes him tick?Each night now I tie
ten dollars and his car key to my thigh. . . .
Gored by the climacteric of his want,
he stalls above me like an elephant."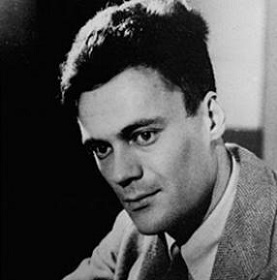 Robert Lowell (1 maart 1917 - 12 September 1977)
De Franstalige, Zwitserse schrijver Jacques Chessex werd geboren op 1 maart 1934 in Payerne. Zie ook alle tags voor Jacques Chessex op dit blog.
Uit: Pardon mère
« Longtemps j'ai eu le temps. C'était quand ma mère vivait. J'étais désagréable avec elle, ingrat, méchant, je me disais : j'aime ma mère. Elle le sait ou elle finira bien par le savoir. J'ai le temps.(…) En attendant, le temps passait. Je rencontrais ma mère, je la blessais parce que tout en elle me blessait. Son esprit était droit, sa pensée juste, son élégance de bon goût, sa taille bien prise, son regard d'un bleu un peu gris était pur et me voyait. Et moi je n'étais pas digne de ce regard. » Un fils parle de sa mère, née à Vallorbe en 1910, morte le jeudi 15 février 2001, il regrette les méchantes pensées, l'indifférence, le temps de l'enfance évanouie trop vite. Sa mère, « le contraire de la vanité et du tapage », lectrice de la Fontaine au regard clair, et lui l'écrivain, l'excessif, le mauvais fils tapageur. Mais quand ce fils indigne s'appelle Jacques Chessex, alors c'est une relation forte, ambiguë, charnelle à la fois qui se noue avec sa mère. Tombeau et Résurrection, « fontaine de regret », violence et douceur, évocation pudique mais sans voile, ce livre autobiographique est l'un des plus beaux, des plus émouvants, de l'auteur. « Mère tu m'habites. Où es-tu dans ta mort ce matin ? »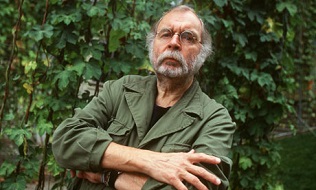 Jacques Chessex (1 maart 1934 – 9 oktober 2009)
De Japanse dichter en schrijver Ryūnosuke Akutagawa werd geboren op 1 maart 1892 in Tokio. . Zie ook alle tags voor Ryūnosuke Akutagawa op dit blog.
Uit: In a Grove (Vertaald door Takashi Kojima)
"The man that I arrested? He is a notorious brigand called Tajomaru. When Iarrested him, he had fallen off his horse. He was groaning on the bridge atAwataguchi. The time? It was in the early hours of last night. For the record,I might say that the other day I tried to arrest him, but unfortunately heescaped. He was wearing a dark blue silk kimono and a large plain sword.And, as you see, he got a bow and arrows somewhere. You say that this bowand these arrows look like the ones owned by the dead man? Then Tajomarumust be the murderer. The bow wound with leather strips, the black lacquered quiver, the seventeen arrows with hawk feathers—these were allin his possession I believe. Yes, Sir, the horse is, as you say, a sorrel with afine mane. A little beyond the stone bridge I found the horse grazing by theroadside, with his long rein dangling. Surely there is some providence in hishaving been thrown by the horse.Of all the robbers prowling around Kyoto, this Tajomaru has given the mostgrief to the women in town. Last autumn a wife who came to the mountainback of the Pindora of the Toribe Temple, presumably to pay a visit, wasmurdered, along with a girl. It has been suspected that it was his doing. If this criminal murdered the man, you cannot tell what he may have done withthe man's wife. May it please your honor to look into this problem as well."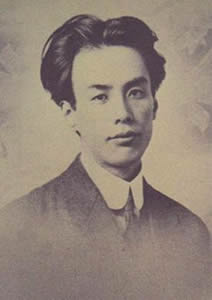 Ryūnosuke Akutagawa (1 maart 1892 – 24 juli 1927)
De Duitse schrijfster en dichteres Sabina Lorenz werd geboren op 1 maart 1967 in München. Zie ook alle tags voor Sabine Lorenz op dit blog,
Ensō auf einem Balkon
Im Morgengrauen sind die Straßen still zu Schemen gefaltet.

Wild verzweigte Narben in diesem Teil der Stadt, der Mittlere
Ring: hinauswuchernde Schnittkanten (man könnte auch sagen

herein-), als wär das die richtige Form, uns zu häuten.
In diesem Moment schweben Netze aus Zufällen. Pinselhaare,

zusammengeführt zu einem kalligraphischen Schwung.
Wie der Ruderflug eines Vogels mit der Möglichkeit,

ein Irrgast zu sein auf seinem Zug. Hier das Gepäck,
übersetzt ins Gestern: es ist immer zu schwer oder zu leicht.

Unten streiten sich die Taxifahrer. Eilen Schichtarbeiter
von der Arbeit, in die Arbeit, allseits wie jetzt

nur ein leichter Schlaf, der vergessen lässt, dass man schläft.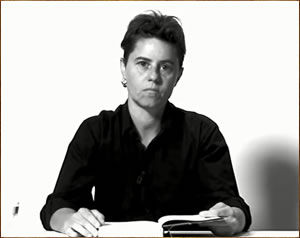 Sabina Lorenz (München, 1 maart 1967)
De Amerikaanse dichter Richard Wilbur werd geboren op 1 maart 1921 in New York. Zie ook alle tags voor Richard Wilbur op dit blog.
A Plain Song for Comadre

Though the unseen may vanish, though insight fails
And doubter and downcast saint
Join in the same complaint,
What holy things were ever frightened off
By a fly's buzz, or itches, or a cough?
Harder than nails

They are, more warmly constant than the sun,
At whose continual sign
The dimly prompted vine
Upbraids itself to a green excellence.
What evening, when the slow and forced expense
Of sweat is done,

Does not the dark come flooding the straight furrow
Or filling the well-made bowl?
What night will not the whole
Sky with its clear studs and steady spheres
Turn on a sound chimney? It is seventeen years
Come tomorrow

That Bruna Sandoval has kept the church
Of San Ysidro,** sweeping
And scrubbing the aisles, keeping
The candlesticks and the plaster faces bright,
And seen no visions but the thing done right
From the clay porch

To the white altar. For love and in all weathers
This is what she has done.
Sometimes the early sun
Shines as she flings the scrubwater out, with a crash
Of grimy rainbows, and the stained suds flash
Like angel-feathers.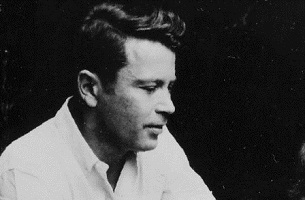 Richard Wilbur (New York, 1 maart 1921)
De Afro-Amerikaanse schrijver Ralph (Waldo) Ellison werd geboren in Oklahoma City op 1 maart 1913. Zie ook alle tags voor Ralph Ellison op dit blog.
Uit: Invisible Man
"He paused, removing the tissue paper and revealing a gleaming calfskin brief case.
". . . in the form of this first-class article from Shad Whitmore's shop."
"Boy," he said, addressing me, "take this prize and keep it well. Consider it a badge of office. Prize it. Keep developing as you are and some day it will be filled with important papers that will help shape the destiny of your people."
I was so moved that I could hardly express my thanks. A rope of bloody saliva forming a shape like an undiscovered continent drooled upon the leather and I wiped it quickly away. I felt an importance that I had never dreamed.
"Open it and see what's inside," I was told.
My fingers a-tremble, I complied, smelling the fresh leather and finding an official-looking document inside. It was a scholarship to the state college for Negroes. My eyes filled with tears and I ran awkwardly off the floor.
I was overjoyed; I did not even mind when I discovered that the gold pieces I had scrambled for were brass pocket tokens advertising a certain make of automobile.
When I reached home everyone was excited. Next day the neighbors came to congratulate me. I even felt safe from grandfather, whose deathbed curse usually spoiled my triumphs. I stood beneath his photograph with my brief case in hand and smiled triumphantly into his stolid black peasant's face. It was a face that fascinated me. The eyes seemed to follow everywhere I went.
That night I dreamed I was at a circus with him and that he refused to laugh at the clowns no matter what they did. Then later he told me to open my brief case and read what was inside and I did, finding an official envelope stamped with the state seal; and inside the envelope I found another and another, endlessly, and I thought I would fall of weariness. "Them's years," he said. "Now open that one." And I did and in it I found an engraved document containing a short message in letters of gold. "Read it," my grandfather said. "Out loud."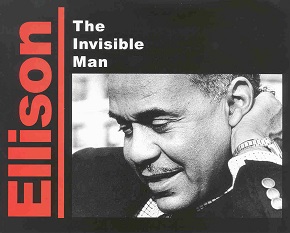 Ralph Ellison (1 maart 1913 – 16 april 1994)
Cover
Zie voor nog meer schrijvers van de 1e maart ook mijn vorige blog van vandaag.
01-03-2015 om 16:09 geschreven door Romenu

Tags:Robert Lowell, Jacques Chessex, Ryū,nosuke Akutagawa, Sabina Lorenz, Richard Wilbur, Ralph Ellison, Romenu



Jean-Edern Hallier, Marcel Cabon, William Dean Howells, Steven Barnes, Mercedes de Acosta
De Franse schrijver Jean-Edern Hallier werd geboren op 1 maart 1936 in Saint-Germain-en-Laye. Zie ook alle tags voor Jean-Edern Hallier op dit blog.
Uit: Bréviaire pour une jeunesse déracinée
« Aujourd'hui, en mon train endiablé, quand je me retourne, je vois d'autres enfants qui me poursuivent, et se rapprochent. L'un me ressemble singulièrement, avec ses yeux verts, sa mèche noire. Il me fait plus peur que les autres, avec son air de farouche détermination. Lui, est sans pitié. A sa moue dédaigneuse, à son regard perdu et fixe de voyant, je reconnais qui je fus – et qui je redeviens, quand je m'évade de la société des hommes pour travailler à l'un de mes livres. O solitudes enchantées ! Ma force d'oubli se déverse souvent en un havre de grâce, un vert paradis où le temps se gonfle, reprenant sa capillarité perdue, sa subjectivité, et ce rêve habité de réel. Elle est partie. Quoi ? L'Eternité. La voici retrouvée. »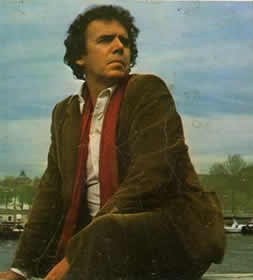 Jean-Edern Hallier (1 maart 1936 – 12 januari 1997)
De Mauritiaanse dichter, schrijver en journalist Marcel Cabon werd geboren op 29 februari 1912 in Curepipe. Zie ook alle tags voor Marcel Cabon op dit blog.
Uit: Namasté
« Toujours il avait aimé à apprendre.Ce qu'il y a sous le ciel et ce qu'il y a dans les livres.Ce que les gens ont à dire.
A Bras d'Eau, l'huile était aux trois quarts consumée dans la lampe qu'il lisait encore.
-Viens dormir,lui disait sa mère.
Mais Ram n'entendait pas ou faisait la sourde oreille.Dormir quand il était en plein ciel,avec les dieux et les déesses?Dormir quand sur le champ de Dharma, le saint champ de Kuru, les hommes de Dhristarâshtra et les fils de Pându s'assemblaient, brûlants de combattre?
La crainte venait à la pauvrette qu'il ne tombât malade, que son sang ne tarît, comme l'huile dans la lampe.
A la classe du maraz, il était le premier arrivé.Et cette classe-lâ se faisait après le repas du soir, alors que les étoiles cheminaient déjà.
Homme, Ram se souvenait encore, - et ses yeux riaient à ce souvenir - de ce livre que vantait le maître (on y parlait des frasques d'Hanoumane), et qui se vendait à Flacq, chez le bijoutier.
Il avait douze ans,alors.Pas plus haut que ça.Pourtant, sou après sou, il avait acquis un petit pécule.Et un matin, il s'était mis en route, au chant du coq.
-Où vas-tu, Ram?
-Je reviens tout de suite.
Il s'en allait pour la moitié de la journée.
Qu'il était heureux! Et que la lune descendante était belle! Que l'odeur de la terre était pénétrante!Jamais encore la nuit qui s'achève ne lui semblerait aussi belle. »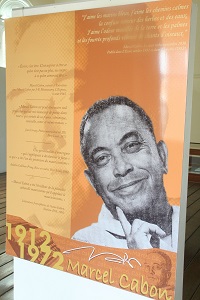 Marcel Cabon (29 februari 1912 – 31 januari 1972)

De Amerikaanse dichter, schrijver en criticus William Dean Howells werd geboren op 1 maart 1837 in Martinsville, Ohio. Zie ook alle tags voor William Dean Howells op dit blog.
Vision
Within a poor man's squalid home I stood:
The one bare chamber, where his work-worn wife
Above the stove and wash-tub passed her life,
Next the sty where they slept with all their brood.
But I saw not that sunless, breathless lair,
The chamber's sagging roof and reeking floor;
The smeared walls, broken sash, and battered door;
The foulness and forlornness everywhere.
I saw a great house with the portals wide
Upon a banquet room, and, from without,
The guests descending in a brilliant line
By the stair's statued niches, and beside
The loveliest of the gemmed and silken rout
The poor man's landlord leading down to dine.
Tomorrow
Old fraud, I know you in that gay disguise,
That air of hope, that promise of surprise:
Beneath your bravery, as you come this way,
I see the sordid presence of Today;
And I shall see there, before you are gone,
All the dull Yesterdays that I have known.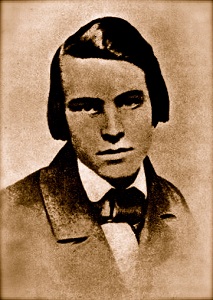 William Dean Howells (1 maart 1837 – 11 mei 1920)
Op 18-jarige leeftijd
De Amerikaanse schrijver Steven Barnes werd geboren op 1 maart 1952 in Los Angeles. Zie ook alle tags voor Steven Barnes op dit blog.
Uit: Shadow Valley
"Whatever the truth might be, a second disaster soon struck. From the south came the Mk*tk, brutal men who killed many and even stole three of the sacred dream dancers. The bloody war had almost undone the Ibandi.If Hot Tree's daughter had not brought her here to Water boma, Tree did not know what might have become of her.
Much had changed since then. Sky Woman, the girl who had earned her name by climbing Great Sky, had fled north with half the tribe, accompanied by her lover, Frog Hopping, who had climbed Great Sky with her in search of wisdom. Some said he was a mighty hunter, but Tree had never been impressed by Frog. Both his elder brothers, greater providers by far, had died on the great mountain, but their widows, Ember and Flamingo, had traveled north with Frog.
Hot Tree inhaled deeply. The afternoon air reeked of burnt grass. She stood just outside the boma's bamboo gate at the edge of the wide blackened zone singed every moon to deny hiding space to leopards. Beyond that dark space, grass grew knee- high, and beyond that the plain was broken by round and flat- topped trees and dusky scrub ranging out to a thinly ridged northern horizon. The air smelled of dust and burnt thornbush.
Her old eyes could just barely distinguish a hyena's brownish- gray pelt, lurking a spear's throw from the edge of the blackened zone.
Another four or five spear casts distant loped three giraffes, two adults and one calf half the height of its parents. Even as she watched, they dissolved into the shimmering air, much like the cloud creatures the strange boy Frog had so often babbled of."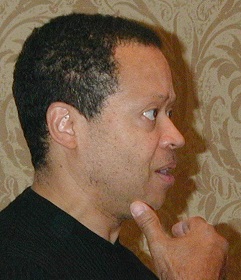 Steven Barnes (Los Angeles, 1 maart 1952)
De Spaans-Amerikaanse schrijfster en dichteres Mercedes de Acosta werd geboren op 1 maart 1893 in New York. Zie ook alle tags voor Mercedes de Acosta op dit blog.
Uit: Here Lies the Heart
"Imoved near Bhagavan, sitting at his feet and facing him. Guy was right. Not long after this Bhagavan opened his eyes. He moved his head and looked directly down at me, his eyes looking into mine. It would be impossible to describe this moment and I am not going to attempt it. I can only say that at this second I felt my inner being raised to a new level-as if, suddenly, my state of consciousness was lifted to a much higher degree. Perhaps in this split second I was no longer my human self but the Self. Then Bhagavan smiled at me. It seemed to me that I had never before known what a smile was. I said, "I have come a long way to see you."
There was silence. I had stupidly brought a piece of paper on which I had written a number of questions I wanted to ask him. I fumbled for it in my pocket, but the questions were already answered by merely being in his presence. There was no need for questions or answers. Nevertheless, my dull intellect expressed one.
"Tell me, whom shall I follow-what shall I follow? I have been trying to find this out for years by seeking in religions, in philosophies, in teachings." Again there was silence. After a few minutes, which seemed to me a long time, he spoke."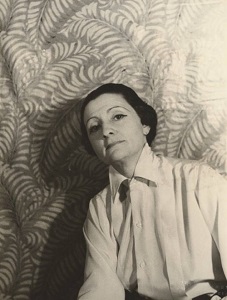 Mercedes de Acosta (1 maart 1893 – 9 mei 1968)
01-03-2015 om 16:09 geschreven door Romenu

Tags:Jean-Edern Hallier, Marcel Cabon, William Dean Howells, Steven Barnes, Mercedes de Acosta, Romenu



Myrthe van der Meer
De Nederlandse schrijfster Myrthe van der Meer (pseudoniem) werd geboren op 1 maart 1983 in Den Bosch. Zij werkte als redacteur bij een grote uitgeverij, tot ze een burn-out kreeg en zwaar depressief vijf maanden op de paaz belandde, de psychiatrische afdeling van een ziekenhuis. Over deze ervaring schreef ze haar debuut "PAAZ". Het boek werd meer dan 50.000 keer verkocht en het werd genomineerd voor de Dioraphte Jongerenliteratuur Prijs. Myrthe won de Psyche Mediaprijs en de Viva400-Award. In 2013 verscheen haar tweede boek, de roman "Kalf". In 2015 volgde het vervolg op "PAAZ", de roman "UP".
Uit: PAAZ
"Over drie uur begint de vakantie.
Ik leun achterover in mijn bureaustoel en draai weer in het rond. Onder me kruipt het verkeer zich een infarct rond de kantoorflat. Ik zet me nog een keer af en de kamer, mijn collega en de ramen zwiepen weer voorbij. Over drie uur ben ik vier weken vrij. Vier weken helemaal niets.
'Is het feest soms al begonnen, Emma?' zegt Simon als hij de kamer binnenloopt.
'Yep,' zeg ik lachend. 'Wat moet je? Kan ik iets doen?'
'Jij mocht toch niets meer doen?' vraagt hij met een frons.
Ik kijk snel naar Felix die tegenover me volledig in beslag genomen wordt door het telefoontje van een auteur die ervan overtuigd is dat zijn boekomslag in precies de verkeerde tint azuurblauw is gedrukt.
Met een opgeluchte grijns wijs ik naar mijn bureau. Naast de stapel afgewezen manuscripten en de calculaties voor de herdrukken liggen de teksten en omslagen voor de nieuwe catalogus, voor me ligt de lijst met boeken die ik net heb aangekocht. in productie zijn of waar de afdeling promotie mee bezig is, en onder op het toetsenbord kleeft de traditionele post-it met mijn inloggegevens en wachtwoord.
Ik steek mijn armen in de lucht, draai nog een keer rond en kijk hem triomfantelijk aan.
'Oké,' verzucht hij. 'Wil je de vormgever van de herdruk dan vragen of hij de maten van het omslag nog eens controleert? Volgens de drukker klopt er namelijk niets van en het moet echt aan zijn computer liggen of anders...'Ik krijg het gevoel dat ik langzaam gewurgd word.
'Geen probleem,' zeg ik en ik trek het printje uit zijn handen voor hij zich kan bedenken. 'Ik gooi het mailtje er meteen uit. Anders nog iets?'
'Dat jij als ik hier straks langskom ook echt weg bent,' bromt hij goedmoedig. 'En dat je nog even naar me zwaait voor je vertrekt.'
Ik steek mijn hand op.
'Straks pas, tuttebel.'
Als Felix de hoorn op de haak legt, kijkt hij me argwanend aan".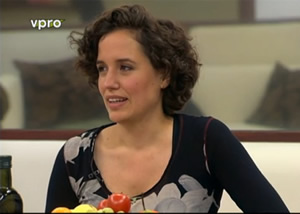 Myrthe van der Meer (Den Bosch, 1 maart 1983)


01-03-2015 om 00:00 geschreven door Romenu

Tags:Myrthe van der Meer, Romenu



| | |
| --- | --- |
| | |



Inhoud blog


| | |
| --- | --- |
| | Ed Leeflang, Thomas Blondeau, Anne Carson, Adam Zagajewski, Ian McEwan, Alon Hilu, Jean-Paul Sartre, Stanley Moss, Machado de Assis |
| | Vikram Seth, Paul Muldoon, Kurt Schwitters, Jean-Claude Izzo, Silke Andrea Schuemmer, Carel van Nievelt, Robert Rozhdestvensky, Laure Wyss, Lillian Hellman |
| | Salman Rushdie, Sybren Polet, Josef Nesvadba, Osamu Dazai, José Rizal, Friedrich Huch, Gustav Schwab, Elke Geurts, Claudia Gabler |
| | Richard Powers, Marije Langelaar, Raymond Radiguet, Geoffrey Hill, Bert Schierbeek, Aster Berkhof, Karin Fellner, Mirjam Pressler, Ivan Gontsjarov |
| | Voor vader (Hans Lodeizen) |
| | Das Senfkorn (Meister Eckhart) |
| | Peter Rosei, Kamel Daoud, Gail Jones, Ron Padgett, Ward Ruyslinck, Adriaan van der Hoop jr, Hanna Johansen, Max Dendermonde, Tom Hofland |
| | Hanna Johansen, James Weldon Johnson, Henry Lawson, Ferdinand Freiligrath, Henrik Wergeland, John Hersey, Felix Hartlaub, Ossip Schubin |
| | Birthdays (Robert W. Service) |
| | Joël Dicker, August Willemsen, Theo Thijssen, Ronelda Kamfer, Frans Roumen |
| | Maria Dermoût, Christian Bauman, Silke Scheuermann, Hugo Borst, Ramon Lopez Velarde, Roland Dorgelès, François-Xavier Garneau, Emma Cline, Hannah van Wieringen |
| | Alex Boogers, Lieve Joris, Allard Schröder, John van Ierland, Peter O. Chotjewitz, Harriet Beecher Stowe, Hermann Kant, Jerzy Kosiński, Thomas Graftdijk |
| | Fernando Pessoa, Thomas Heerma van Voss, Willem Brakman, Virginie Despentes, William Butler Yeats, Tristane Banon, Marcel Theroux, Lode Zielens, Dorothy L. Sayers |
| | Christoph Meckel, Wolfgang Herrndorf, Anne Frank, Renan Demirkan, Djuna Barnes, Sandro Penna, Johanna Spyri H. C. Artmann, Günter Nehm |
| | William Styron, Sophie van der Stap, N. P. van Wyk Louw, Renée Vivien, Jean-Pierre Chabrol, Ben Jonson, Yasunari Kawabata, Athol Fugard, Nnimmo Bassey |
| | Magdalene—The Seven Devils (Marie Howe) |
| | Louis Couperus, D. Hooijer, Jacques Perk, James Salter, Mensje van Keulen, Jan Brokken |
| | Saul Bellow, Ion Creanga, Oktay Rifat, Peter Kurzeck, Antun Mihanović, Tijl Nuyts |
| | Maarten Doorman, Paul Beatty, Xander Michiel Beute, Anton Roothaert, Mirko Bonné, Curzio Malaparte, Jian Ghomeshi, Charles Webb, Rudolf Borchardt |
| | Willy Roggeman, Jurij Brězan, José Antonio Ramos Sucre, Akaki Zereteli, John Gillespie Magee jr., Bertha von Suttner |
| | Marguerite Yourcenar, Nino Haratischwili, Lutz Seiler, Ulf Stolterfoht, Péter Gárdos, Gwen Harwood, H. J. Friedericy, Udo Kawasser, Frank Keizer |
| | Marie Howe |
| | Het leven in juni (Marjoleine de Vos) |
| | Orhan Pamuk, Monika Mann, Nikki Giovanni, Harry Crews, Louise Erdrich, Mascha Kaléko, Jan Engelman, Gwendolyn Brooks, Elizabeth Bowen |
| | Thomas Mann, Aleksandr Poesjkin, Sarah Dessen, Jean Cayrol, Pierre Corneille, Hendrik van Teylingen, V. C. Andrews, Frank Gericke |
| | Dolce far niente, Groen-grijs gebied (Jesse Laport) |
| | Federico García Lorca, Adriaan Morriën, Ken Follett, Paul Farley, Geoff Dyer |
| | Ralf Thenior, Marie Ndiaye, Erasmus Schöfer, Buddy Wakefield, Yaak Karsunke, Charles Dickinson, Dana Bönisch, Elizabeth Jolley, Apollon Maykov |
| | Het laatste avondmaal (Nicolaas Beets) |
| | Allen Ginsberg, Philippe Djian, Maarten van Buuren, Solomonica de Winter, Monika Maron, Larry McMurtry, Norbert Gstrein, Wolfgang Cordan, Gerhard Zwerenz |
| | Carlo Michelstaedter, Kathleen E. Woodiwiss, Eugène Van Oye, Pedro Mir, Detlev von Liliencron, Friederike Brun, Otto Erich Hartleben, Philippe Quinault |
| | Jim Knipfel, Marcel Reich-Ranicki, Sibylle Berg, Carol Shields, Jean Nelissen, Thomas Hardy |
| | Markies De Sade, Dorothy West, Max Aub, Karl Gjellerup, Barbara Pym |
| | Patrick Besson, John Masefield, Ferdinand Raimund, Peter de Mendelssohn, Petra Morsbach, Colleen McCullough, Macedonio Fernández, Wilfred Campbell, Vicky Francken |
| | C. Buddingh'-prijs voor Radna Fabias |
| | Love's Choice (Malcolm Guite) |
| | Mariae Heimsuchung (Rainer Maria Rilke) |
| | Walt Whitman, Frank Goosen, Gabriel Barylli, Konstantin Paustovski, Svetlana Alexievich, Ludwig Tieck, Gerd Hergen Lübben, Saint-John Perse, T. T. Cloete |
| | Summer Storm (Bliss Carman) |
| | Elizabeth Alexander, Oscar van den Boogaard, Countee Cullen, Emmanuel Hiel, Martin Jankowski, Alfred Austin, Eddy Bruma, Henri François Rikken, Jan Geerts |
| | Summer in the City, 1949 (Ernest Farrés) |
| | André Brink, Eduard Escoffet, G. K. Chesterton, Bernard Clavel, T. H. White, Hans Weigel, Alfonsina Storni, Max Brand, Joel Benton |
| | Ein Sommergedicht (Thomas Gsella) |
| | Ad Zuiderent, Leo Pleysier, Adriaan Bontebal, Guntram Vesper, Frank Schätzing, Maeve Binchy, Ian Fleming, Sjoerd Leiker, Vladislav Chodasevitsj |
| | Dolores Dorantes |
| | St. Matthew (D. H. Lawrence) |
| | Niels 't Hooft, Jan Blokker, Linda Pastan, Louis-Ferdinand Céline, Georges Eekhoud, Said, John Cheever, John Barth |
| | Max Brod, Kaur Kender, Adriaan Venema, Arnold Bennett, Richard Schaukal, Ferdynand Ossendowski, M. A. von Thümmel, Herman Wouk, Dashiell Hammett |
| | Alan Hollinghurst, Radwa Ashour, Hugo Raes, Vítězslav Nezval, Ivan O. Godfroid, Maxwell Bodenheim, Isabella Nadolny, Edmond De Goncourt |
| | Egyd Gstättner, Madeleine Thien, Claire Castillon, Friedrich Dieckmann, Eve Ensler, Raymond Carver, Jamaica Kincaid, Robert Ludlum, Theodore Roethke |


Gastenboek


Druk op onderstaande knop om een berichtje achter te laten in mijn gastenboek