E-mail mij


Druk op onderstaande knop om mij te e-mailen.


Romenu


Google


Georg Trakl

Georg Trakl werd op 3 februari 1887 in het conducteurshuis aan de Waagplatz 2 in Salzburg geboren. Zijn vader, Tobias Trakl, was een handelaar in ijzerwaren en zijn moeder, die ook psychische problemen had, was Maria Catharina Trakl, (meisjesnaam Halik). Voorts had hij nog drie broers en drie zussen. Margarethe (doorgaans Grethe genoemd) stond hem het naast, zelfs zodanig dat sommigen een incestueuze verhouding vermoeden. Zijn jeugd bracht hij door in Salzburg. Vervolgens bezocht hij van 1897 tot 1905 het humanistische gymnasium. Om toch een academische opleiding te kunnen volgen, werkte hij tot 1908 in de praktijk bij een apotheker. Sommigen vermoedden dat hij dit vooral deed om zichzelf opiaten te kunnen verschaffen. Bij het uitbreken van WO I werd Trakl als medicus naar het front in Galicië (heden ten dage in Oekraïne en Polen) gestuurd. Zijn gemoedsschommelingen leidden tot geregelde uitbraken van depressie, die verergerd werden door de afschuw die hij voelde voor de verzorging van de ernstig verwonde soldaten. De spanning en druk dreven hem ertoe een suïcidepoging te ondernemen, welke zijn kameraden nochtans verhinderden. Hij werd in een militair ziekenhuis opgenomen in Kraków, alwaar hij onder strikt toezicht geplaatst werd.Trakl verzonk daar in nog zwaardere depressies en schreef Ficker om advies. Ficker overtuigde hem ervan dat hij contact moest opnemen met Wittgenstein, die inderdaad op weg ging na Trakls bericht te hebben ontvangen. Op 4 november 1914, drie dagen voordat Wittgenstein aan zou komen, overleed hij echter aan een overdosis cocaïne


Paul Celan

Paul Celan werd onder de naam Paul Antschel op 23 november 1920 geboren in Czernowitz, toentertijd de hoofdstad van de Roemeense Boekovina, nu behorend bij de Oekraïne. Paul Celans ouders waren Duitssprekende joden die hun zoon joods opvoedden en hem naar Duitse christelijke scholen stuurden. In 1942 werden Celans ouders door de Duitse bezetter naar een werkkamp gedeporteerd en daar vermoord. Hijzelf wist aanvankelijk onder te duiken, maar moest vanaf juli 1942 in een werkkamp dwangarbeid verrichten. Celan overleefde de oorlog. Via Boekarest en Wenen vestigde Celan zich in 1948 in Parijs. Daar was hij werkzaam als dichter, vertaler en doceerde hij aan de prestigieuze Ecole Normale Supérieure. Vermoedelijk op 20 april 1970 beëindigde hij zijn leven zelf door in de Seine te springen.


Gerard Reve

Gerard Reve over: Medearbeiders "God is in de mensen, de dieren, de planten en alle dingen - in de schepping, die verlost moet worden of waaruit God verlost moet worden, door onze arbeid, aangezien wij medearbeiders van God zijn." Openbaring "Tja, waar berust elk godsbegrip op, elke vorm van religie? Op een openbaring, dat wil zeggen op een psychische ervaring van zulk een dwingende en onverbiddelijke kracht, dat de betrokkene het gevoel heeft, niet dat hij een gedachte of een visioen heeft, maar dat een gedachte gedachte of visioen hem bezit en overweldigt."


Simon Vestdijk
Simon Vestdijk (Harlingen, 17 oktober 1898 – Utrecht, 23 maart 1971) was een Nederlands romancier, dichter, essayist en vertaler. Zijn jeugd te Harlingen en Leeuwarden beschreef hij later in de Anton Wachter-cyclus. Van jongs af aan logeerde hij regelmatig bij zijn grootouders in Amsterdam, waar hij zich in 1917 aan de Universiteit van Amsterdam inschrijft als student in de medicijnen. Tijdens zijn studie die van 1917 tot 1927 duurde, leerde hij Jan Slauerhoff kennen.Tot 1932 is hij als arts in praktijken door heel Nederland werkzaam. In 1932 volgt zijn officiële schrijversdebuut met de uitgave van de bundel Verzen in De Vrije Bladen. Doorslaggevend voor Vestdijks uiteindelijke keuze voor de literatuur is zijn ontmoeting in 1932 met Eddy Du Perron en Menno ter Braak. Deze ontmoeting had tot resultaat dat hij redactielid werd van het tijdschrift Forum Kort daarop, in 1933, wordt zijn eerste novelle, De oubliette, uitgegeven. In hetzelfde jaar schrijft hij Kind tussen vier vrouwen, dat, eerst geweigerd door de uitgever, later de basis zal vormen voor de eerste drie delen van de Anton Wachter-romans. In 1951 ontvangt Vestdijk de P.C. Hooftprijs voor zijn in 1947 verschenen roman De vuuraanbidders. In 1957 wordt hij voor het eerst door het PEN-centrum voor Nederland voorgedragen voor de Nobelprijs voor de Literatuur, die hij echter nooit zal krijgen. Op 20 maart 1971 wordt hem de Prijs der Nederlandse Letteren toegekend, maar voor hij deze kan ontvangen overlijdt hij op 23 maart te Utrecht op 72-jarige leeftijd. Vestdijk was auteur van ca. 200 boeken. Vanwege deze enorme productie noemde de dichter Adriaan Roland Holst hem 'de man die sneller schrijft dan God kan lezen'. Andere belangrijke boeken van Simon Vestdijk zijn: "Kind van stad en land" (1936), "Meneer Visser's hellevaart" (1936), "Ierse nachten" (1946), "De toekomst de religie" (1947), "Pastorale 1943" (1948), "De koperen tuin" (1950), "Ivoren wachters" (1951), "Essays in duodecimo" (1952) en "Het genadeschot" (1964).


K.P. Kavafis

K.P. Kavafis werd als kind van Griekse ouders, afkomstig uit Konstantinopel, geboren in 1863 in Alexandrië (tot vandaag een Griekse enclave) waar hij ook het grootste deel van zijn leven woonde en werkte. Twee jaar na de dood van zijn vader verhuist het gezin in 1872 naar Engeland om na een verblijf van vijf jaar naar Alexandrië terug te keren. Vanwege ongeregeldheden in Egypte vlucht het gezin in 1882 naar Konstantinopel, om na drie jaar opnieuw naar Alexandrië terug te gaan. In de jaren die volgen maakt Kavafis reizen naar Parijs, Londen en in 1901 zijn eerste reis naar Griekenland, in latere jaren gevolgd door nog enkele bezoeken. Op de dag van zijn zeventigste verjaardag, in 1933 sterft Kavafis in Alexandrië. De roem kwam voor Kavafis pas na zijn dood, dus postuum. Deels is dat toe te schrijven aan zijn eigen handelswijze. Hij was uiterst terughoudend met de publicatie van zijn gedichten, liet af en toe een enkel gedicht afdrukken in een literair tijdschrift, gaf in eigen beheer enkele bundels met een stuk of twintig gedichten uit en het merendeel van zijn poëzie schonk hij op losse bladen aan zijn beste vrienden.


Thomas Mann


Thomas Mann, de jongere broer van Heinrich Mann, werd geboren op 6 juni 1875 in Lübeck. Hij was de tweede zoon van de graankoopman Thomas Johann Heinrich Mann welke later één van de senatoren van Lübreck werd. Zijn moeder Julia (geboren da Silva-Bruhns) was Duits-Braziliaans van Portugees Kreoolse afkomst. In 1894 debuteerde Thomas Mann met de novelle "Gefallen". Toen Thomas Mann met 21 jaar eindelijk volwassen was en hem dus geld van zijn vaders erfenis toestond - hij kreeg ongeveer 160 tot 180 goldmark per jaar - besloot hij dat hij genoeg had van al die scholen en instituties en werd onafhankelijk schrijver. Kenmerkend voor zijn stijl zijn de ironie, de fenomenale taalbeheersing en de minutieuze detailschildering. Manns reputatie in Duitsland was sterk wisselend. Met zijn eerste roman, Buddenbrooks (1901), had hij een enorm succes, maar door zijn sceptische houding tegenover Duitsland na de Eerste Wereldoorlog veranderde dit volledig. Stelde hij zich tot aan de jaren twintig apolitiek op (Betrachtungen eines Unpolitischen, 1918), meer en meer raakte hij bij het Politiek gebeuren betrokken. Zijn afkeer van het nationaal socialisme groeide, zijn waarschuwingen werden veelvuldiger en heftiger. In 1944 accepteerde hij het Amerikaanse staatsburgerschap. Tussen 1943 en 1947 schreef Mann Doktor Faustus (zie Faust), de roman van de 'Duitse ziel' in de gecamoufleerd geschilderde omstandigheden van de 20ste eeuw. In 1947 bezocht hij voor het eerst sinds de Oorlog Europa, twee jaar later pas Duitsland. In 1952 vertrok hij naar Zwitserland. Op 12 augustus 1955 stierf hij in Zürich. Twintig jaar na zijn dood, in aug. 1975, is zijn literaire nalatenschap geopend: dagboekaantekeningen van 15 maart 1933 tot 29 juli 1955, alsmede notities uit de jaren 1918 tot en met 1921.Belangrijke werken zijn: Der Zauberberg, Der Tod in Venedig, Dokter Faustus , Joseph und seine Brüder en Die Bekenntnisse des Hochstaplers Felix Krull.


Rainer Maria Rilke

Rilke werd op 4 december 1875 geboren in Praag. Hij had al naam gemaakt als dichter met zijn bundels Das Stundenbuch en Das Buch der Bilder, toen hij de literaire wereld versteld deed staan en wereldfaam verwierf met de publicatie van zijn twee delen Neue Gedichte in 1907 en 1908. Hij verzamelde daarin het beste werk uit een van zijn vruchtbaarste periodes, die hij grotendeels doorbracht in Parijs. Rilke was daar diep onder de indruk gekomen van Rodin, bij wie hij een tijdlang in dienst was als particulier secretaris. Rodin, zei hij later, had hem leren kijken. Dit kijken kwam neer op intense concentratie, om het mysterie te kunnen zien 'achter de schijnbare werkelijkheid'. Latere en rijpere werken als Duineser Elegien (1912-1923) en het ronduit schitterende Die Sonette an Orfeus (1924) illustreren Rilkes metafysische visie op het onzegbare, dat haar verwoording vindt in een hermetische muzikale taal. Op 29 december 1926 overlijdt Rilke in het sanatorium in Val-Mont aan de gevolgen van leukemie. Enkele dagen later wordt hij, overeenkomstig zijn wens, begraven op het kerkhof van Raron.


* * * * * * * * * * * * * * * *

| | |
| --- | --- |
| | Over literatuur, gedichten, kunst en cultuur |

25-05-2015

Am heiligen Pfingstfest (Sigmund von Birken)
Prettige Pinksterdagen!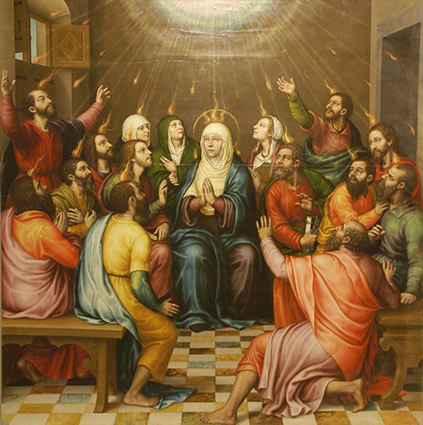 Pinksteren door Nicolás Borrás (1530–1610)
Am heiligen Pfingstfest
Gottes Odem und Verwandter,
Gott von Gotte, Geister-Geist,
Der du, Jesu Abgesandter,
Himmel-ab auf Erd gereist!
Sey willkommen! Trost der Herzen,
Liecht der Seelen, bäster Gast,
Sinnen-Sonne, Freuden-Glast
In den trüben Trübsal-Schmerzen,
Geber aller guten Gab!
Willkomm kommest du herab.
Jesus und sein Vater sollen
Neben dir mir willkomm seyn,
Weil sie (ach der Ehre!) wollen
Beyde bey mir ziehen ein.
Du solst ihnen Wohnung machen,
Drüm sie senden dich voran.
Thu dann du, was ich nicht kan:
Schmück mein Herz mit edlen Sachen,
Daß diß Haus mög schön und rein
Solcher Gäste würdig seyn.
Glaub muß ihnen gehn entgegen,
Demut muß aufwarten hier
Und die Lieb der Gäste pflegen:
Diese Gaben bring mit dir
Und was sonst mir ist vonnöten.
Ach der hohen Gnaden-Sach,
Daß will unter diesem Dach
Gott, der Herren Herr, eintreten.
Ja er kehret nicht nur ein,
Ich soll seine Wohnung seyn.
Grosse Herren bringen Gaben.
Was wird mangeln mir forthin,
Wann ich Gott zum Gast werd haben
Und wann sein Palast ich bin?
Weiche, Welt! weich, Höll und Sünde!
Fleisches-Lüste, weicht von mir,
Daß der Geist des Himmels hier
Nicht, was ihm zuwider, finde.
Nun so komm zu mir, mein Hort,
Bis ich zu dir komme dort.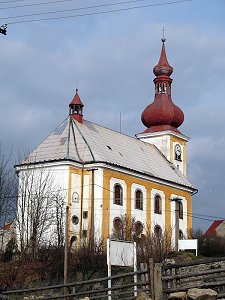 Sigmund von Birken (25 april 1626 – 21 juni 1681)
Wildstein, parochiekerk St. Johannis. Sigmund von Birken werd geboren in Wildstein
Zie voor de schrijvers van de 25e mei ook mijn drie vorige blogs van vandaag.
25-05-2015 om 17:26 geschreven door Romenu

Tags:Pinksteren, Sigmund von Birken, Romenu



Egyd Gstättner, Eve Ensler, Friedrich Dieckmann, Claire Castillon, Raymond Carver, Jamaica Kincaid
De Oostenrijkse schrijver en essayist Egyd Gstättner werd geboren op 25 mei 1962 in Klagenfurt. Zie ook alle tags voor Egyd Gstättner op dit blog.
Uit: Absturz aus dem Himmel
"Ein einziges Wahllokal habe aber unvorhergesehen noch offen und könne bis auf Weiteres auch nicht geschlossen werden, ein Unikum in der Geschichte der Republik, vielleicht das Ende dieser und der Anfang einer anderen Republik oder überhaupt einer anderen Herrschaftsform. Das waren noch Zeiten, als man Republiken für unvergänglich und Atlanten für mehr oder weniger endgültig hielt. In Wirklichkeit ist mein Mittelschulatlas heute ein Märchenbuch, in Wirklichkeit purzeln Republiken immer über Lächerlichkeiten und werden von winzigen Details zu Fall gebracht.
Ein falsches Händeschütteln, und der Minister stürzt ein, und der einstürzende Minister reißt den Bundeskanzler mit sich, der Bundeskanzler reißt den Bundespräsidenten mit sich, der Bundespräsident reißt die Republik mit sich fort, und schon ist die Welt verändert und der Atlas antiquarisch. Sofort wird eine Konferenzschaltung vom Fernsehzentrum ins Landesstudio und ins Wahllokal gelegt und der unentschlossene Wähler durch die Trennwand hindurch interviewt. Zur Frage des Zeithorizonts wolle und könne er sich noch nicht äußern, sagt er, er sei sich als Einsiebenkommafünfmillionstelsouverän der ihm übertragenen Verantwortung, die vergleichsweise tonnenschwer auf seinen Schultern laste, voll bewusst, sagt er."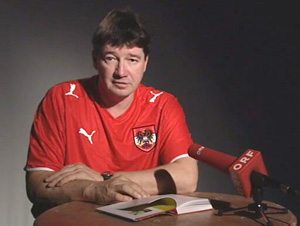 Egyd Gstättner (Klagenfurt, 25 mei 1962)
De Franse schrijfster Claire Castillon werd geboren op 25 mei 1975 in Neuilly-sur-Seine. Zie ook alle tags voor Claire Castillon op dit blog.
Uit: Eux
"Je suis enceinte, j'entends des voix. Au début, je suspectais mes dents. L'amalgame en métal de ma numéro 27 servait d'antenne relais. Dès que je buvais, les sons, les codes, tout transitait par moi. Et l'eau sur ma molaire créait le point de contact. Donc l'armée, la police, l'aviation, les voisins échangeaient dans ma bouche. Je ne me suis pas laissé faire. Je ne voulais plus transmettre. Émettre, à la limite, mais pas n'importe quoi. J'ai commandé un brouilleur de fréquences. Un petit appareil noir doté de trois antennes est arrivé de Chine. Je l'ai posé près de ma bouche, antennes contre ma joue. Il devait stopper les ondes. Il n'a pas marché. Les voix ont redoublé. Je me suis exaspérée. J'ai été fatiguée. J'ai mis la Chine en cause. Je m'acharne quelquefois. Depuis, j'ai compris. J'ai suspecté ailleurs et là, j'ai eu raison.
(…)
C'est elle qui veut me tenir, me garder, me posséder. Moi, je sais qui je veux dire. La famille. Mais prononcer le mot est déjà me salir. La généalogie, la grande feuille de papier, l'arbre entier dessiné, avec les noms des gens, pendus aux branches du sang. Ils me parlent d'en haut. Ils sont héréditaires. Alors je les entends, puisque je suis descendante et que j'attends un enfant."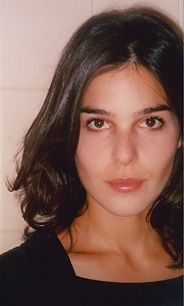 Claire Castillon (Neuilly-sur-Seine, 25 mei 1975)
De Amerikaanse schrijfster en feminste Eve Ensler werd op 25 mei 1953 in New York geboren. Zie ook alle tags voor Eve Ensler op dit blog.
Uit: Insecure at Last
"In this book, I have gone back to chart the events that have personally and politically led me to ask these questions. I grew up in a middle-class family and neighborhood in the United States. I had plenty of food, clothes. I had my teeth straightened. I took ballet classes. We went on vacations. I had a good education.
This security did not come for free. It was my father's money and he created reality. From early on, my emotional and psychological well-being were sacrificed for this economic security. My father was a raging alcoholic. His anger permeated and infected my world. His fists, his hand, his belts, marked my young body and my being. I was always ready to be hit or yelled at or erased. I was told over and over how lucky I was to have a nice house, to live in a good neighborhood. So early on, I came to equate my economic security with violence.
I never dreamed of growing up and getting married, having children. Never. It simply didn't occur to me. There were many reasons. One, I was born in the early fifties and my consciousness was shaped in the sixties. I was a hippie. I gravitated toward drugs, free love, non-monogamy, communes, and anything that had to do with escaping the nuclear family. That nuclear unit was just that for me: nuclear—an atom bomb that annihilated my self, my worth, my confidence, and my identity. My father's rage, his power, his opinion, his money, his moods, controlled and determined all of us, including my mother. Our house, our family, was his empire. I was his subject. Or his tortured prisoner."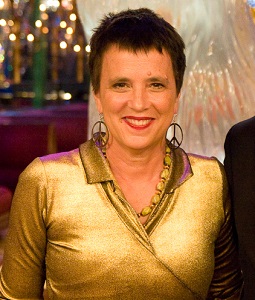 Eve Ensler (New York, 25 mei 1953)
De Duitse schrijver Friedrich Dieckmann werd geboren op 25 mei 1937 in Landsberg an der Warthe. Zie ook alle tags voor Friedrich Dieckmann op dit blog.
Uit: Das Liebesverbot und die Revolution - Über Wagner
"Dieser, der zum Schwan wurde, der mythisch bezeichnenden, sexuell prägnanten Zeusgestalt, ist Lohengrins wahre Identität. Elsa, die Schwester, hat sich, den Bruder in die Gestalt des erlösungsmächtigen Fremden verwandelnd, über das Inzestverbot hinwegphantasiert, im Untergrund ihres Traumbewußtseins aber blieb das Verbotene ihres Tuns in Kraft; sie muß, was ihr in des Wortes sinnfälligster Bedeutung schwant, fragen, damit die Vereinigung nicht vollzogen werde. So entschwindet Lohengrin, von der Taube, dem Anti-Schwan, über das Wasser gezogen; die Transformation des erotisch versperrten Bruders in die scheinbar erreichbare Phantasiegestalt ist zusammengebrochen. Das Tabu war stärker als der Versuch seiner Umgehung, die bange, aber unvermeidliche Frage hat die Verzauberung durchbrochen. Lohengrin entschwindet, »mit gesenktem Haupte traurig auf seinen Schild gelehnt«, Gottfried tritt an seine Stelle; die Enttäuschung über die Wiederherstellung der erfindungsreich umgangenen Taburealität wirft die Liebende zu Boden. Im Traum erlebt sie das Ende des Traums als ihr eigenes Ende."
Nicht ht erst in »Lohengrin« wird das Frageverbot der Liebenden zum Angelpunkt der dramatischen Fabel. Schon in den »Feen«geschieht das, dem Werk des Neunzehnjährigen, der im Dezember 1832 aus Prag,wo er eine Menge erlebt hat,nach Leipzig, in den Schoß der vaterlosen Familie, zurückkehrt und bei der verehrten, bewunderten, geliebten Hauptgestalt des häuslichen Kreises tiefe Mißbilligung mit einem von der Reise mitgebrachten Operntext erregt. Diese Zentralsonne ist nicht die Mutter, Johanna Geyer, die 1821 auch ihren zweiten Mann, den Stiefvater der großen Familie, verloren hat, sondern die älteste der fünfSchwestern,Rosalie,eine erfolgreiche Schauspielerin, die nach Engagements in Dresden und Prag seit 1829 dem neugegründeten Leipziger Hoftheater angehört und im gleichen Jahr als Gretchen in Goethes »Faust« Furore macht; sie ist die Ernährerin der Familie."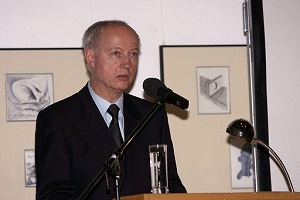 Friedrich Dieckmann (Landsberg an der Warthe, 25 mei 1937)

De Amerikaanse dichter en schrijver Raymond Carver werd geboren op 25 mei 1938 in Port Angeles. Zie ook alle tags voor Raymond Carver op dit blog.
Uit: Beginners
"What about that old couple?" I said after a minute. "The last we heard they were just getting out of intensive care."
"Older but wiser," Terri said.
Herb stared at her.
"Herb, don't give me that kind of look," Terri said. "Go on with your story. I was only kidding. Then what happened? We all want to know."
"Terri, sometimes," Herb said.
"Please, Herb," she said. "Honey, don't always be so serious. Please go on with the story. I was joking, for God's sake. Can't you take a joke?"
"This is nothing to joke about," Herb said. He held his glass and gazed steadily at her.
"What happened then, Herb?" Laura said. "We really want to know."
Herb fixed his eyes on Laura. Then he broke off and grinned. "Laura, if I didn't have Terri and love her so much, and Nick wasn't my friend, I'd fall in love with you. I'd carry you off."
"Herb, you s---," Terri said. "Tell your story. If I weren't in love with you, I damn sure well wouldn't be here in the first place, you can bet on it. Honey, what do you say? Finish your story. Then we'll go to The Library. Okay?"
"Okay," Herb said. "Where was I? Where am I? That's a better question. Maybe I should ask that." He waited a minute, and then began to talk.
"When they were finally out of the woods we were able to move them out of intensive care, after we could see they were going to make it. I dropped in to see each of them every day, sometimes twice a day if I was up doing other calls anyway."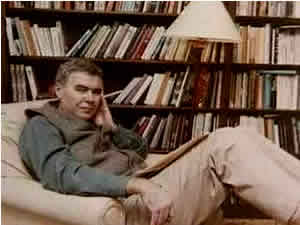 Raymond Carver (25 mei 1938 – 2 augustus 1988)
De Amerikaanse schrijfster Jamaica Kincaid (eig.Elaine Cynthia Potter Richardson) werd geboren in Saint John's, Antigua en Barbuda, op 25 mei 1949. Zie ook alle tags voor Jamaica Kincaid op dit blog.
Uit: Annie John
"But sometimes they would show up standing under a tree just as you were passing by. Then they might follow you home, and even though they might not be able to come into your house, they might wait for you and follow you wherever you went; in that case, they would never give up until you joined them. My mother knew of many people who had died in such a way. My mother knew of many people who had died, including her own brother.
After I found out about the cemetery, I would stand in my yard and wait for a funeral to come. Some days, there were no funerals. "No one died," I would say to my mother. Some days, just as I was about to give up and go inside, I would see the small specks appear. "What made them so late?" I would ask my mother. Probably someone couldn't bear to see the coffin lid put in place, and so as a favor the undertaker might let things go on too long, she said. The undertaker! On our way into town, we would pass the undertaker's workshop. Outside, a little sign read "Straffee & Sons, Undertakers & Cabinetmakers." I could always tell we were approaching this place, because of the smell of pitch pine and varnish in the air.
Later, we moved back to our house in town, and I no longer had a view of the cemetery. Still no one I knew had died. One day, a girl smaller than I, a girl whose mother was a friend of my mother's, died in my mother's arms. I did not know this girl at all, though I may have got a glimpse of her once or twice as I passed her and her mother coming out of our yard, and I tried to remember everything I had heard about her. Her name was Nalda; she had red hair; she was very bony; she did not like to eat any food. In fact, she liked to eat mud, and her mother always had to keep a strict eye on her to prevent her from doing that."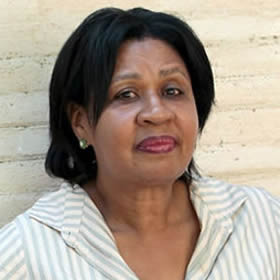 Jamaica Kincaid (Saint John's, 25 mei 1949)
Portret door Kate Cormier, 2011
Zie voor nog meer schrijvers van de 25e mei ook mijn vorige twee blogs van vandaag.
25-05-2015 om 17:07 geschreven door Romenu

Tags:Egyd Gstättner, Eve Ensler, Friedrich Dieckmann, Claire Castillon, Raymond Carver, Jamaica Kincaid, Romenu



Robert Ludlum, Theodore Roethke, Georges Bordonove, W. P. Kinsella, Max von der Grün, John Gregory Dunne
De Amerikaanse schrijver Robert Ludlum werd geboren in New York op 25 mei 1927. Zie ook alle tags voor Robert Ludlum op dit blog.
Uit: The Bourne Sanction
"A rare compliment from you, Jason."
"Are my compliments so rare?"
"Like Martin, you're a master at keeping secrets," she said. "But I have doubts about how healthy that is."
"I'm sure it's not healthy at all," Bourne said. "But it's the life we chose."
"Speaking of which." She sat down on a chair opposite him. "I came early for our dinner date to talk to you about a work situation, but now, seeing how content you are here, I don't know whether to continue."
Bourne recalled the first time he had seen her, a slim, shapely figure in the mist, dark hair swirling about her face. She was standing at the parapet in the Cloisters, overlooking the Hudson River. The two of them had come there to say good-bye to their mutual friend Martin Lindros, whom Bourne had valiantly tried to save, only to fail.
Today Moira was dressed in a wool suit, a silk blouse open at the throat. Her face was strong, with a prominent nose, deep brown eyes wide apart, intelligent, curved slightly at their outer corners. Her hair fell to her shoulders in luxuriant waves. There was an uncommon serenity about her, a woman who knew what she was about, who wouldn't be intimidated or bullied by anyone, woman or man."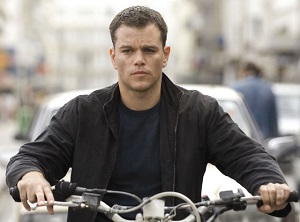 Robert Ludlum (25 mei 1927 – 12 maart 2001)
Matt Damon als Jason Bourne
De Amerikaanse dichter Theodore Huebner Roethke werd geboren in Saginaw, Michigan op 25 mei 1908. Zie ook alle tags voor Theodore Roethke op dit blog.
Dolor
I have known the inexorable sadness of pencils,
Neat in their boxes, dolor of pad and paper weight,
All the misery of manilla folders and mucilage,
Desolation in immaculate public places,
Lonely reception room, lavatory, switchboard,
The unalterable pathos of basin and pitcher,
Ritual of multigraph, paper-clip, comma,
Endless duplicaton of lives and objects.
And I have seen dust from the walls of institutions,
Finer than flour, alive, more dangerous than silica,
Sift, almost invisible, through long afternoons of tedium,
Dropping a fine film on nails and delicate eyebrows,
Glazing the pale hair, the duplicate grey standard faces.

I Knew A Woman
I knew a woman, lovely in her bones,
When small birds sighed, she would sigh back at them;
Ah, when she moved, she moved more ways than one:
The shapes a bright container can contain!
Of her choice virtues only gods should speak,
Or English poets who grew up on Greek
(I'd have them sing in a chorus, cheek to cheek).
How well her wishes went! She stroked my chin,
She taught me Turn, and Counter-turn, and Stand;
She taught me Touch, that undulant white skin;
I nibbled meekly from her proferred hand;
She was the sickle; I, poor I, the rake,
Coming behind her for her pretty sake
(But what prodigious mowing we did make).
Love likes a gander, and adores a goose:
Her full lips pursed, the errant notes to sieze;
She played it quick, she played it light and loose;
My eyes, they dazzled at her flowing knees;
Her several parts could keep a pure repose,
Or one hip quiver with a mobile nose
(She moved in circles, and those circles moved).
Let seed be grass, and grass turn into hay:
I'm martyr to a motion not my own;
What's freedom for? To know eternity.
I swear she cast a shadow white as stone.
But who would count eternity in days?
These old bones live to learn her wanton ways:
(I measure time by how a body sways).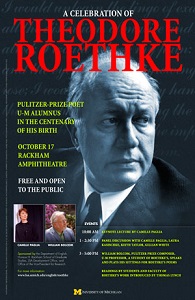 Poster
De Franse schrijver en historicus Georges Bordonove werd geboren in Enghien-les-Bains op 25 mei 1920. Zie ook alle tags voor Georges Bordonove op dit blog.
Uit:Le bûcher
"Ce soir, une force irrémissible me pousse à coucher sur papier ces choses d'autrefois.
Et c'est à vous que je pense, messire Gaucelin, à vous qui dormez, besogne faite, dans les sables de Mansourah. Vous étiez plus que mon protecteur, car, parmi les écueils de l'existence, vous saviez piloter mon âme vers le sûr asile.
Aussi, de la demeure céleste où vous êtes parvenu à grand arroi de peines, je vous requiers et prie humblement de ne me pas abandonner.
Du doigt tremblant d'un vieux soldat je trace ces lignes, en cette tour de l'Ouest de la Commanderie de la motte Saint-Sulpice que vous connaissez si bien.
Ma chambre fut la votre, comme la table, le fauteuil, le coffre où je range mon haubert et mes vêtements de paix, furent les vôtres.
Votre Commanderie se dresse toujours, massive et noire, au milieu des terres brunes et des prés verts... »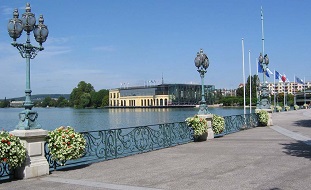 Georges Bordonove (25 mei 1920 - 16 maart 2007)
Enghien-les-Bains
De Canadese schrijver William Patrick Kinsella werd geboren op 25 mei 1935 in Edmonton, Alberta. Zie ook alle tags voor W. P. Kinsella op dit blog.
Uit: Bill's Back (Interview over "Butterfly Winter" in The Winnipeg Review, 2011)
"As we are finding more and more with sports figures concussion can be really debilitating. I did virtually nothing for five years after the accident. In fact I told my agents (book and movie) to consider me retired. Then I started reworking some things I'd started years earlier, Butterfly Winter, which I began way back in the 80s, a third book to the Box Socials Trilogy, The Grand Reunion for Anyone Who Ever Attended Fark Schoolhouse in Seven Towns County Alberta, and something I just finished that was also started in the 70s or 80s, Russian Dolls, which consists of one long story with 25+ small stories inside it.
I tried a new viewpoint when rewriting Butterfly Winter, the interview with the Wizard. The Gringo Journalist of the novel is essentially me, a rather inept interviewer, who likes to report overheard conversations. I was once hired by a Japanese magazine to interview Hideo Nomo the superstar pitcher. They flew me to Los Angeles to meet Nomo. I am a Sumo fan, so the only question I could think to ask him was did he like Sumo? If the answer was No, then there would be a terribly long silence. While I was in the air, Nomo changed agents and cancelled all his appointments, much to my relief."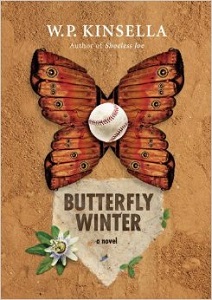 W. P. Kinsella (Edmonton, 25 mei 1935)
Cover
De Amerikaanse schrijver en journalist John Gregory Dunne werd geboren op 25 mei 1932 in West Hartford, Connecticut. Zie ook alle tags voor John Gregory Dunne op dit blog.
Uit: Nothing Lost
"I wonder how long the story would have played had it not been a slow news period. It was a nonelection fall, the economy was stumbling along as it had throughout the McCall administration, the rising indicators balancing out the falling, Wall Street was bullish one week, bearish the next, the war clouds of August were blown away by the Berne proposals of September. No scandals had captured the public imagination (a House counsel in a men's room, an undersecretary's wife with her minister-sorry stuff), Halloween loomed, Thanksgiving, that most tedious and unnecessary of national holidays, threatened, promising only Christmas, and with it the obligation to think about, and pretend we believe in, the concept of family and giving, the holly and the ivy. The murder of Edgar Parlance was unspeakably barbaric, but blacks have been strung up, roasted, crucified, mutilated, castrated, and decapitated as a form of public entertainment throughout our history. What is a Tennessee Toothpick, after all, but a lethal artifact of the entertainment culture? Dead, Edgar Parlance had a legitimacy that he never had alive. Dead, he had become an icon. Because dead, people did not have to associate with him. He was a victim, a convenient symbol of man's inhumanity to man, the kind of black man white people can most easily grasp unto themselves. To prove to themselves that the aberrant behavior of the lowest of their kind against the racially less fortunate will not be tolerated. Like limpets, sentiment and innocence attach themselves to a victim. «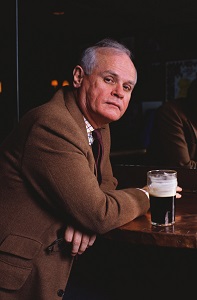 John Gregory Dunne (25 mei 1932 – 30 december 2003)
De Duitse schrijver Max von der Grün werd geboren op 25 mei 1926 in Bayreuth. Zie ook alle tags voor Max von der Grün op dit blog.
Uit: Vorstadtkrokodile
»Du traust dich ja doch nicht! Du Angsthase!«, rief Olaf, ihr Anführer. Und die Krokodiler riefen im Chor: »Traust dich nicht! Traust dich nicht!«
Nur Maria, Olafs Schwester, dreizehn Jahre und damit ein Jahr jünger als ihr Bruder, hatte nicht mitgeschrien, sie hatte so viel Angst um Hannes, dass sie wegsah. Die neun Krokodiler standen in einem Halbkreis am Ende der Leiter, die senkrecht zehn Meter hoch zum Dach führte, und sahen gespannt zu, wie Hannes, den sie Milchstraße nannten, weil er so viele Sommersprossen im Gesicht hatte, langsam die Sprossen hochkletterte, um seine Mutprobe abzulegen. Die war Bedingung für die Aufnahme in die Krokodilbande.
Hannes hatte Angst, das konnte man ihm ansehen, er war zudem nicht schwindelfrei, aber er wollte es den größeren Jungen beweisen, dass er als Zehnjähriger so viel Mut besaß wie sie, die alle schon diese Mutprobe abgelegt hatten.
Hannes hing ängstlich an der verrosteten Feuerleiter und wagte nicht nach unten zu sehen.
»Komm runter, du schaffst es ja doch nicht, du Schlappschwanz!«, rief Olaf wieder und die anderen Jungen lachten.
Hannes tastete sich langsam und vorsichtig die wackelige Feuerleiter zum Dach hoch. Je höher er kletterte, destmehr schwankte die Leiter, denn ihre Verankerung war an mehreren Stellen aus der Wand gerissen. Einige Sprossen waren so verrostet, dass Gefahr bestand durchzubrechen, wenn sie belastet wurden. Hannes wagte nicht nach unten zu sehen, er sah nur nach oben, wo er sein Ziel vor Augen hatte."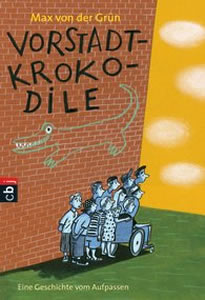 Max von der Grün (25 mei 1926 – 7 april 2005)
Cover
Zie voor nog meer schrijvers van de 25e mei ook mijn vorige blog van vandaag.
25-05-2015 om 17:06 geschreven door Romenu

Tags:Robert Ludlum, Theodore Roethke, Georges Bordonove, W. P. Kinsella, Max von der Grün, John Gregory Dunne, Romenu



Ralph Waldo Emerson, Rosario Castellanos, Alain Grandbois, Naim Frashëri, Edward Bulwer-Lytton
De Amerikaanse dichter, schrijver, filosoof en essayist Ralph Waldo Emerson werd geboren in Boston, Massachusetts op 25 mei 1803. Zie ook alle tags voor Ralph Waldo Emerson op dit blog.
Fate
Deep in the man sits fast his fate
To mould his fortunes, mean or great:
Unknown to Cromwell as to me
Was Cromwell's measure or degree;
Unknown to him as to his horse,
If he than his groom be better or worse.
He works, plots, fights, in rude affairs,
With squires, lords, kings, his craft compares,
Till late he learned, through doubt and fear,
Broad England harbored not his peer:
Obeying time, the last to own
The Genius from its cloudy throne.
For the prevision is allied
Unto the thing so signified;
Or say, the foresight that awaits
Is the same Genius that creates.
The Bell
I love thy music, mellow bell,
I love thine iron chime,
To life or death, to heaven or hell,
Which calls the sons of Time.
Thy voice upon the deep
The home-bound sea-boy hails,
It charms his cares to sleep,
It cheers him as he sails.
To house of God and heavenly joys
Thy summons called our sires,
And good men thought thy sacred voice
Disarmed the thunder's fires.
And soon thy music, sad death-bell,
Shall lift its notes once more,
And mix my requiem with the wind
That sweeps my native shore.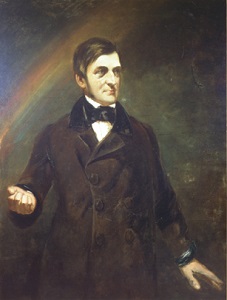 Ralph Waldo Emerson (25 mei 1803 - 27 april 1882)
Portret door David Scott, 1848
De Mexicaanse dichteres en schrijfster Rosario Castellanos werd geboren in Mexico-stad op 25 mei 1925. Zie ook alle tags voor Rosario Castellanos op dit blog.
Daily Round of a Spinster
To be solitary is shameful. All day long
a terrible blush burnishes her cheek
(while the other is in eclipse).
She busies herself in a labor of ashes,
at tasks worthless and fruitless;
and when her relatives gather
around the fire, telling stories,
the howl is heard
of a woman wailing on a-boundless plain
where every boulder, every scorched tree stump,
every twisted bough is a judge
or a witness without mercy.
At night the spinster
stretches herself out on her bed of agony.
An anguished sweat breaks out to dampen the sheets
and the void is peopled
with made-up dialogues and men.
And the spinster waits, waits, waits.
And she cannot be born in her child, in her womb,
nor can she die
in-her far-off, unexplored body,
a planet the astronomer can calculate,
existent though unseen.
Peering into a dark mirror the spinster
— extinguished star — paints on her lips
with a lipstick the blood she does not have.
And smiles at a dawn without anyone at all.


Vertaald door Kate Flores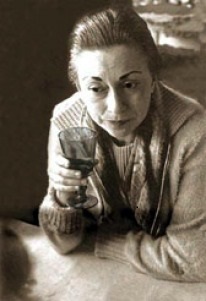 Rosario Castellanos (25 mei 1925 – 7 augustus 1974)
De Canadese dichter en schrijver Alain Grandbois werd geboren op 25 mei 1900 in Saint-Casimir, Québec. Zie ook alle tags voor Alain Grandbois op dit blog.
POÈME

Son pas trop lent
Sur le tendre cristal
D'une mer belle
Comme un silence de fée
Ces battements d'ailes D'oiseaux perdus
Ô regards révolus
Ô premiers rendez-vous
Le doux métal
De son aisselle
Je tue son souffle
Je tue son cœur
L'accès m'est interdit
Des fontaines jaillissantes
Mes bras sur son corps repliés
Ne sont plus que des feuillages morts
Suis-je devenu ce tigre vieilli
Qui étouffe sa proie
Mais ne la mort pas
Jusqu'à la fin du sang
Les portes des cathédrales
Très hautes très ogivales
Glissent le long du songe
À la hauteur de l'aube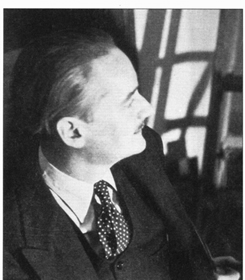 Alain Grandbois (25 mei 1900 – 18 maart 1975)
De Albanese dichter en schrijver Naim Frashëri werd geboren op 25 mei 1846 in Frashër. Zie ook alle tags voor Naim Frashëri op dit blog.
The Words of the Candle (Fragment)
Let my wretched corpse be consumed
For our true God the Almighty,
May my lungs scorch, charred to ashes,
For mankind I'll melt and vanish,
With me all man's joys I'll carry,
Bear them to the Lord Almighty.
Humanity is what I long for,
Goodness, gentleness and wisdom,
If you'll with me be companions?
If you'll love me as I love you,
If you all love one another,
Work not for the Prince of Darkness.
Venture towards me, fleeting heart, do
Come, approach this fire a little!
Though the flame may singe your wings, it's
Sure to sanctify your spirit.
With the torch that here consumes me
I the eyes of men have opened,
Been of them a true companion.
I do know them, they do know me,
I've observed them all in passing,
Mothers, kith and kin, and fathers,
All of them are my concern still,
All who lived here on this planet,
Even now I see them 'mongst you,
For I recognize their spirits.
I, like you, have changed, transfigured,
Changed and altered my companions,
Many times have I turned into
Earth and wind and fire and water.
I'm a spark come from the heavens,
From the sun I'm glowing embers,
Through the skies I fly, a-soaring,
And live deep within the ocean,
Often in the soil I sleep or
Take my rest in fruits and honey,
I'm a suckling lamb or kid goat,
Flower, grass or leaves a-sprouting,
So much do I have to tell you,
Yet I fear my speech will fail me.
What's the point to put to paper
Words this flickering tongue's inspired?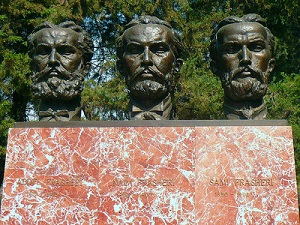 Naim Frashëri (25 mei 1846 – 20 oktober 1900)
Monument voor de gebroeders Frashër in Prishtina, Kosova. Abdyl Frashëri (l), Sami Frashëri (c), Naim Frashëri (r).
De Britse schrijver, criticus en politicus Sir Edward Bulwer-Lytton werd geboren in Londen op 25 mei 1803. Zie ook alle tags voor Edward Bulwer-Lytton op dit blog.
Uit: The Last Days of Pompeii
"To the questor--business of state--afterward to the temple of Isis, Vale!"
"An ostentatious, bustling, ill-bred fellow," muttered Clodius to himself, as he sauntered slowly away. "He thinks with his feasts and his wine-cellars to make us forget that he is the son of a freedman:--and so we will, when we do him the honor of winning his money; these rich plebians are a harvest for us spendthrift nobles."
Thus soliloquizing, Clodius arrived in the Via Domitiana, which was crowded with passengers and chariots, and exhibited all that gay and animated exuberance of life and motion which we find at this day in the streets of Naples.
The bells of the cars as they rapidly glided by each other, jingled merrily on the ear, and Clodius with smiles and nods claimed familiar acquaintance with whatever equipage was most elegant or fantastic: in fact, no idler was better known in Pompeii.
"What, Clodius! and how have you slept on your good fortune?" cried, in a pleasant and musical voice, a young man, in a chariot of the most fastidious and graceful fashion. Upon its surface of bronze were elaborately wrought, in the still exquisite workmanship of Greece, reliefs of the Olympian games; the two horses that drew the car were of the rarest breed of Parthia; their slender limbs seemed to disdain the ground and court the air, and yet at the slightest touch of the charioteer, who stood behind the young owner of the equipage, they paused motionless as if suddenly transformed into stone--lifeless, but life-like, as one of the breathing wonders of Praxiteles.`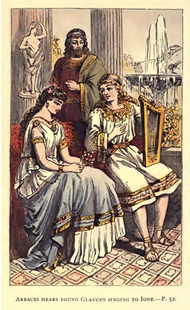 Edward Bulwer-Lytton (25 mei 1803 - 18 januari 1873)
Illustratie uit The Last Days of Pompeii
25-05-2015 om 17:05 geschreven door Romenu

Tags:Ralph Waldo Emerson, Rosario Castellanos, Alain Grandbois, Naim Frashëri, Edward Bulwer-Lytton, Romenu



| | |
| --- | --- |
| | |



Inhoud blog


| | |
| --- | --- |
| | Zacharias II (Nicolaas Beets) |
| | Wilfred Smit, Matthijs Kleyn, Ernesto Sabato, Yves Bonnefoy, John Ciardi, Scott Oden |
| | Madelon Székely-Lulofs, Johannes van het Kruis, Kurt Kusenberg, Ambrose Bierce, Jean-Baptiste Boyer d'Argens, Josse Kok |
| | David Leavitt, Jo Govaerts, Rafik Shami, Aart van der Leeuw, Pascal Mercier, Franca Treur, Jean Anouilh, Anna Achmatova |
| | Richard Bach, Cornelia Schmerle, Wolfgang Koeppen, Urs Jaeggi, Robert C. Hunter, Hanneke van Eijken, Will Shutt |
| | Nescio, Juliën Holtrigter, Jaap Robben, Willie Verhegghe, Erich Maria Remarque, Dan Brown, Aaro Hellaakoski, Henry Rider Haggard, Xavier Grall |
| | Ed Leeflang, Thomas Blondeau, Anne Carson, Adam Zagajewski, Ian McEwan, Alon Hilu, Jean-Paul Sartre, Stanley Moss, Machado de Assis |
| | Vikram Seth, Paul Muldoon, Kurt Schwitters, Jean-Claude Izzo, Silke Andrea Schuemmer, Carel van Nievelt, Robert Rozhdestvensky, Laure Wyss, Lillian Hellman |
| | Salman Rushdie, Sybren Polet, Josef Nesvadba, Osamu Dazai, José Rizal, Friedrich Huch, Gustav Schwab, Elke Geurts, Claudia Gabler |
| | Richard Powers, Marije Langelaar, Raymond Radiguet, Geoffrey Hill, Bert Schierbeek, Aster Berkhof, Karin Fellner, Mirjam Pressler, Ivan Gontsjarov |
| | Voor vader (Hans Lodeizen) |
| | Das Senfkorn (Meister Eckhart) |
| | Peter Rosei, Kamel Daoud, Gail Jones, Ron Padgett, Ward Ruyslinck, Adriaan van der Hoop jr, Hanna Johansen, Max Dendermonde, Tom Hofland |
| | Hanna Johansen, James Weldon Johnson, Henry Lawson, Ferdinand Freiligrath, Henrik Wergeland, John Hersey, Felix Hartlaub, Ossip Schubin |
| | Birthdays (Robert W. Service) |
| | Joël Dicker, August Willemsen, Theo Thijssen, Ronelda Kamfer, Frans Roumen |
| | Maria Dermoût, Christian Bauman, Silke Scheuermann, Hugo Borst, Ramon Lopez Velarde, Roland Dorgelès, François-Xavier Garneau, Emma Cline, Hannah van Wieringen |
| | Alex Boogers, Lieve Joris, Allard Schröder, John van Ierland, Peter O. Chotjewitz, Harriet Beecher Stowe, Hermann Kant, Jerzy Kosiński, Thomas Graftdijk |
| | Fernando Pessoa, Thomas Heerma van Voss, Willem Brakman, Virginie Despentes, William Butler Yeats, Tristane Banon, Marcel Theroux, Lode Zielens, Dorothy L. Sayers |
| | Christoph Meckel, Wolfgang Herrndorf, Anne Frank, Renan Demirkan, Djuna Barnes, Sandro Penna, Johanna Spyri H. C. Artmann, Günter Nehm |
| | William Styron, Sophie van der Stap, N. P. van Wyk Louw, Renée Vivien, Jean-Pierre Chabrol, Ben Jonson, Yasunari Kawabata, Athol Fugard, Nnimmo Bassey |
| | Magdalene—The Seven Devils (Marie Howe) |
| | Louis Couperus, D. Hooijer, Jacques Perk, James Salter, Mensje van Keulen, Jan Brokken |
| | Saul Bellow, Ion Creanga, Oktay Rifat, Peter Kurzeck, Antun Mihanović, Tijl Nuyts |
| | Maarten Doorman, Paul Beatty, Xander Michiel Beute, Anton Roothaert, Mirko Bonné, Curzio Malaparte, Jian Ghomeshi, Charles Webb, Rudolf Borchardt |
| | Willy Roggeman, Jurij Brězan, José Antonio Ramos Sucre, Akaki Zereteli, John Gillespie Magee jr., Bertha von Suttner |
| | Marguerite Yourcenar, Nino Haratischwili, Lutz Seiler, Ulf Stolterfoht, Péter Gárdos, Gwen Harwood, H. J. Friedericy, Udo Kawasser, Frank Keizer |
| | Marie Howe |
| | Het leven in juni (Marjoleine de Vos) |
| | Orhan Pamuk, Monika Mann, Nikki Giovanni, Harry Crews, Louise Erdrich, Mascha Kaléko, Jan Engelman, Gwendolyn Brooks, Elizabeth Bowen |
| | Thomas Mann, Aleksandr Poesjkin, Sarah Dessen, Jean Cayrol, Pierre Corneille, Hendrik van Teylingen, V. C. Andrews, Frank Gericke |
| | Dolce far niente, Groen-grijs gebied (Jesse Laport) |
| | Federico García Lorca, Adriaan Morriën, Ken Follett, Paul Farley, Geoff Dyer |
| | Ralf Thenior, Marie Ndiaye, Erasmus Schöfer, Buddy Wakefield, Yaak Karsunke, Charles Dickinson, Dana Bönisch, Elizabeth Jolley, Apollon Maykov |
| | Het laatste avondmaal (Nicolaas Beets) |
| | Allen Ginsberg, Philippe Djian, Maarten van Buuren, Solomonica de Winter, Monika Maron, Larry McMurtry, Norbert Gstrein, Wolfgang Cordan, Gerhard Zwerenz |
| | Carlo Michelstaedter, Kathleen E. Woodiwiss, Eugène Van Oye, Pedro Mir, Detlev von Liliencron, Friederike Brun, Otto Erich Hartleben, Philippe Quinault |
| | Jim Knipfel, Marcel Reich-Ranicki, Sibylle Berg, Carol Shields, Jean Nelissen, Thomas Hardy |
| | Markies De Sade, Dorothy West, Max Aub, Karl Gjellerup, Barbara Pym |
| | Patrick Besson, John Masefield, Ferdinand Raimund, Peter de Mendelssohn, Petra Morsbach, Colleen McCullough, Macedonio Fernández, Wilfred Campbell, Vicky Francken |
| | C. Buddingh'-prijs voor Radna Fabias |
| | Love's Choice (Malcolm Guite) |
| | Mariae Heimsuchung (Rainer Maria Rilke) |
| | Walt Whitman, Frank Goosen, Gabriel Barylli, Konstantin Paustovski, Svetlana Alexievich, Ludwig Tieck, Gerd Hergen Lübben, Saint-John Perse, T. T. Cloete |
| | Summer Storm (Bliss Carman) |
| | Elizabeth Alexander, Oscar van den Boogaard, Countee Cullen, Emmanuel Hiel, Martin Jankowski, Alfred Austin, Eddy Bruma, Henri François Rikken, Jan Geerts |
| | Summer in the City, 1949 (Ernest Farrés) |
| | André Brink, Eduard Escoffet, G. K. Chesterton, Bernard Clavel, T. H. White, Hans Weigel, Alfonsina Storni, Max Brand, Joel Benton |
| | Ein Sommergedicht (Thomas Gsella) |
| | Ad Zuiderent, Leo Pleysier, Adriaan Bontebal, Guntram Vesper, Frank Schätzing, Maeve Binchy, Ian Fleming, Sjoerd Leiker, Vladislav Chodasevitsj |


Gastenboek


Druk op onderstaande knop om een berichtje achter te laten in mijn gastenboek