De Engelse dichter Dylan Thomas werd geboren op 27 oktober 1914 in Swansea in Wales. Zie ook mijn blog van 27 oktober 2010 en eveneens alle tags voor Dylan Thomas op dit blog.
A Grief Ago
A grief ago,
She who was who I hold, the fats and the flower,
Or, water-lammed, from the scythe-sided thorn,
Hell wind and sea,
A stem cementing, wrestled up the tower,
Rose maid and male,
Or, master venus, through the paddler's bowl
Sailed up the sun;

Who is my grief,
A chrysalis unwrinkling on the iron,
Wrenched by my fingerman, the leaden bud
Shot through the leaf,
Was who was folded on the rod the aaron
Road east to plague,
The horn and ball of water on the frog
Housed in the side.

And she who lies,
Like exodus a chapter from the garden,
Brand of the lily's anger on her ring,
Tugged through the days
Her ropes of heritage, the wars of pardon,
On field and sand
The twelve triangles of the cherub wind
Engraving going.

Who then is she,
She holding me? The people's sea drives on her,
Drives out the father from the caesared camp;
The dens of shape
Shape all her whelps with the long voice of water,
That she I have,
The country-handed grave boxed into love,
Rise before dark.

The night is near,
A nitric shape that leaps her, time and acid;
I tell her this: before the suncock cast
Her bone to fire,
Let her inhale her dead, through seed and solid
Draw in their seas,
So cross her hand with their grave gipsy eyes,
And close her fist.
Grief Thief Of Time
Grief thief of time crawls off,
The moon-drawn grave, with the seafaring years,
The knave of pain steals off
The sea-halved faith that blew time to his knees,
The old forget the cries,
Lean time on tide and times the wind stood rough,
Call back the castaways
Riding the sea light on a sunken path,
The old forget the grief,
Hack of the cough, the hanging albatross,
Cast back the bone of youth
And salt-eyed stumble bedward where she lies
Who tossed the high tide in a time of stories
And timelessly lies loving with the thief.

Now Jack my fathers let the time-faced crook,
Death flashing from his sleeve,
With swag of bubbles in a seedy sack
Sneak down the stallion grave,
Bull's-eye the outlaw through a eunuch crack
And free the twin-boxed grief,
No silver whistles chase him down the weeks'
Dayed peaks to day to death,
These stolen bubbles have the bites of snakes
And the undead eye-teeth,
No third eye probe into a rainbow's sex
That bridged the human halves,
All shall remain and on the graveward gulf
Shape with my fathers' thieves.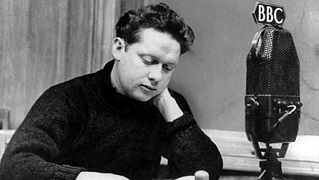 Dylan Thomas (27 oktober 1914 – 9 november 1953)
De Amerikaanse dichteres en schrijfster Sylvia Plath werd geboren op 27 oktober 1932 in Jamaica Plain, een buitenwijk van Boston. Zie ook mijn blog van 27 oktober 2010 en eveneens alle tags voor Sylvia Plath op dit blog.
Pheasant
You said you would kill it this morning.
Do not kill it. It startles me still,
The jut of that odd, dark head, pacing

Through the uncut grass on the elm's hill.
It is something to own a pheasant,
Or just to be visited at all.

I am not mystical: it isn't
As if I thought it had a spirit.
It is simply in its element.

That gives it a kingliness, a right.
The print of its big foot last winter,
The trail-track, on the snow in our court

The wonder of it, in that pallor,
Through crosshatch of sparrow and starling.
Is it its rareness, then? It is rare.

But a dozen would be worth having,
A hundred, on that hill-green and red,
Crossing and recrossing: a fine thing!

It is such a good shape, so vivid.
It's a little cornucopia.
It unclaps, brown as a leaf, and loud,

Settles in the elm, and is easy.
It was sunning in the narcissi.
I trespass stupidly. Let be, let be.
Death & Co.
Two, of course there are two.
It seems perfectly natural now——
The one who never looks up, whose eyes are lidded
And balled¸ like Blake's.
Who exhibits

The birthmarks that are his trademark——
The scald scar of water,
The nude
Verdigris of the condor.
I am red meat. His beak

Claps sidewise: I am not his yet.
He tells me how badly I photograph.
He tells me how sweet
The babies look in their hospital
Icebox, a simple

Frill at the neck
Then the flutings of their Ionian
Death-gowns.
Then two little feet.
He does not smile or smoke.

The other does that
His hair long and plausive
Bastard
Masturbating a glitter
He wants to be loved.

I do not stir.
The frost makes a flower,
The dew makes a star,
The dead bell,
The dead bell.

Somebody's done for.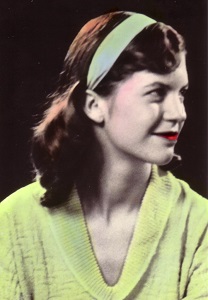 Sylvia Plath (27 oktober 1932 – 11 februari 1963)





De Belgische dichter en schrijver Albrecht Rodenbach werd geboren te Roeselare op 27 oktober 1856. Zie ook mijn blog van 27 oktober 2010 en eveneens alle tags voor Albrecht Rodenbach op dit blog.
De laatste storm
Buldrend speelt de zee met 't oude vaartuig.
Kalm, manhaftig kampt de grijze zeeman
met den storm. Maar splijtend te allen kante
vreeslijk kraken de oude brooze wanden.
Bleek en bevend staart alom de manschap
naar het krakend wantwerk en den zeeman.
"Sloepen af en vrouwen eerst!" gebiedt hij.
Wiegend wagglen sloepen in den storrem,
angstig ijlt de manschap in de sloepen.
Eenzaam staat op 't vaartuig de oude zeeman.
"Vol!" zucht hij, "vaartwel, matrozen, redt u."
Door den storm verdwijnen zijne sloepen.
Buldrend speelt de zee met 't splijtend vaartuig.
Kalm, manhaftig bidt de grijze zeeman
de armen rond een mast. Zoo lange reisden
schip en zeeman samen door de stormen;
grijs is 't hoofd geworden van den zeeman,
krakend en versleten 't machtig vaartuig...
O de wind, de zee, de laatste storrem!
Schuimend, bruischend, stijgen wilde baren
onder zijne voeten. Krakend, berstend,
in de diepe kolken draait het vaartuig...
Samen duiklen schip en man verzwolgen.
Machtig stormt de zeewe grootsch en eenzaam.
Het land van Utopeia

In het land van Utopeia
groent en blauwt ene eeuwige mei,
glanst ene eeuwige lentezonne,
zingt eene eeuwige vogelenrei,
blinken marmeren sloten tussen
myrtenwoud en waterkant,
en het is een zalig land
't land van Utopeia.

In het land van Utopeia
draagt elk herder vurige min
tot het puur etherisch wezen
ener vorstelijke engelin,
wier getrouwe wederminne
zedens tart en edelstand,
en het is een zalig land
't land van Utopeia.

Och het land van Utopeia!
Hoe gewillig het lief ook zij,
trilt haar luchtige volmaaktheid
des verliefde greep voorbij;
edoch hoe platonisch ook, hoe
feller zijne liefde brandt,
en het is een zalig land
't land van Utopeia.
Albrecht Rodenbach (27 oktober 1856 – 23 juni 1880)
Standbeeld in Roeselaere
De Engelse dichter en vertaler Jamie McKendrick werd op 27 oktober 1955 in Liverpool geboren. Zie ook alle tags voor Jamie McKendrick op dit blog.
Black Gold

Here are the Carthaginian figs—Ciano
grinned as he handed Mussolini
some specimen chunk of shiny
copper ore from the Lezhë mine
in conquered Albania.

And here are the figs of Mesopotamia—
Vice President Cheney
traces on the map the red-marked pipeline
from the fields of Rumaila and Kirkuk
to the Turkish port of Ceyhan.


Under the Volcano

Between the Devil's Viaduct and the deep blue sea,
any darkened patch or nook will do,
they gather for the rites of youth
- a soluble nectar that arrives
from nowhere, like a boat in the port.

Incendi dolosi. A bronze light worries
the night sky where the hiliside
consumes itself. Those
wanting compensation tie
a burning brand to a trapped bird's foot

so where the bird alights in terror
flames spread. No one's
the wiser as when the camorra
firebomb a discotheque or bar.
You sense the sulphur under the earth's crust.

The cortège follows the boy
they found in the Park of Springtime,
his forearm dandling a syringe.
Between the viaduct and the seafront
you crush the brittle flowers underfoot.

Jamie McKendrick (Liverpool, 27 oktober 1955)
Zie voor nog meer schrijvers van de 27e oktober ook mijn vorige blog van vandaag.

27-10-2013 om 00:00 geschreven door Romenu

Tags:Dylan Thomas, Sylvia Plath, Albrecht Rodenbach, Jamie McKendrick, Romenu