E-mail mij


Druk op onderstaande knop om mij te e-mailen.


Romenu


Romenu is een blog over gedichten, literatuur en kunst Maar Romenu is ook een professionele freelance vertaler
Du-Ne en Ne-Du http://www.romenu.nl.


Huur eens een (vakantie)huis in een natuurgebied, dichtbij het centrum van Nijmegen


Google


Georg Trakl

Georg Trakl werd op 3 februari 1887 in het conducteurshuis aan de Waagplatz 2 in Salzburg geboren. Zijn vader, Tobias Trakl, was een handelaar in ijzerwaren en zijn moeder, die ook psychische problemen had, was Maria Catharina Trakl, (meisjesnaam Halik). Voorts had hij nog drie broers en drie zussen. Margarethe (doorgaans Grethe genoemd) stond hem het naast, zelfs zodanig dat sommigen een incestueuze verhouding vermoeden. Zijn jeugd bracht hij door in Salzburg. Vervolgens bezocht hij van 1897 tot 1905 het humanistische gymnasium. Om toch een academische opleiding te kunnen volgen, werkte hij tot 1908 in de praktijk bij een apotheker. Sommigen vermoedden dat hij dit vooral deed om zichzelf opiaten te kunnen verschaffen. Bij het uitbreken van WO I werd Trakl als medicus naar het front in Galicië (heden ten dage in Oekraïne en Polen) gestuurd. Zijn gemoedsschommelingen leidden tot geregelde uitbraken van depressie, die verergerd werden door de afschuw die hij voelde voor de verzorging van de ernstig verwonde soldaten. De spanning en druk dreven hem ertoe een suïcidepoging te ondernemen, welke zijn kameraden nochtans verhinderden. Hij werd in een militair ziekenhuis opgenomen in Kraków, alwaar hij onder strikt toezicht geplaatst werd.Trakl verzonk daar in nog zwaardere depressies en schreef Ficker om advies. Ficker overtuigde hem ervan dat hij contact moest opnemen met Wittgenstein, die inderdaad op weg ging na Trakls bericht te hebben ontvangen. Op 4 november 1914, drie dagen voordat Wittgenstein aan zou komen, overleed hij echter aan een overdosis cocaïne


Paul Celan

Paul Celan werd onder de naam Paul Antschel op 23 november 1920 geboren in Czernowitz, toentertijd de hoofdstad van de Roemeense Boekovina, nu behorend bij de Oekraïne. Paul Celans ouders waren Duitssprekende joden die hun zoon joods opvoedden en hem naar Duitse christelijke scholen stuurden. In 1942 werden Celans ouders door de Duitse bezetter naar een werkkamp gedeporteerd en daar vermoord. Hijzelf wist aanvankelijk onder te duiken, maar moest vanaf juli 1942 in een werkkamp dwangarbeid verrichten. Celan overleefde de oorlog. Via Boekarest en Wenen vestigde Celan zich in 1948 in Parijs. Daar was hij werkzaam als dichter, vertaler en doceerde hij aan de prestigieuze Ecole Normale Supérieure. Vermoedelijk op 20 april 1970 beëindigde hij zijn leven zelf door in de Seine te springen.


Gerard Reve

Gerard Reve over: Medearbeiders "God is in de mensen, de dieren, de planten en alle dingen - in de schepping, die verlost moet worden of waaruit God verlost moet worden, door onze arbeid, aangezien wij medearbeiders van God zijn." Openbaring "Tja, waar berust elk godsbegrip op, elke vorm van religie? Op een openbaring, dat wil zeggen op een psychische ervaring van zulk een dwingende en onverbiddelijke kracht, dat de betrokkene het gevoel heeft, niet dat hij een gedachte of een visioen heeft, maar dat een gedachte gedachte of visioen hem bezit en overweldigt."


Simon Vestdijk
Simon Vestdijk (Harlingen, 17 oktober 1898 – Utrecht, 23 maart 1971) was een Nederlands romancier, dichter, essayist en vertaler. Zijn jeugd te Harlingen en Leeuwarden beschreef hij later in de Anton Wachter-cyclus. Van jongs af aan logeerde hij regelmatig bij zijn grootouders in Amsterdam, waar hij zich in 1917 aan de Universiteit van Amsterdam inschrijft als student in de medicijnen. Tijdens zijn studie die van 1917 tot 1927 duurde, leerde hij Jan Slauerhoff kennen.Tot 1932 is hij als arts in praktijken door heel Nederland werkzaam. In 1932 volgt zijn officiële schrijversdebuut met de uitgave van de bundel Verzen in De Vrije Bladen. Doorslaggevend voor Vestdijks uiteindelijke keuze voor de literatuur is zijn ontmoeting in 1932 met Eddy Du Perron en Menno ter Braak. Deze ontmoeting had tot resultaat dat hij redactielid werd van het tijdschrift Forum Kort daarop, in 1933, wordt zijn eerste novelle, De oubliette, uitgegeven. In hetzelfde jaar schrijft hij Kind tussen vier vrouwen, dat, eerst geweigerd door de uitgever, later de basis zal vormen voor de eerste drie delen van de Anton Wachter-romans. In 1951 ontvangt Vestdijk de P.C. Hooftprijs voor zijn in 1947 verschenen roman De vuuraanbidders. In 1957 wordt hij voor het eerst door het PEN-centrum voor Nederland voorgedragen voor de Nobelprijs voor de Literatuur, die hij echter nooit zal krijgen. Op 20 maart 1971 wordt hem de Prijs der Nederlandse Letteren toegekend, maar voor hij deze kan ontvangen overlijdt hij op 23 maart te Utrecht op 72-jarige leeftijd. Vestdijk was auteur van ca. 200 boeken. Vanwege deze enorme productie noemde de dichter Adriaan Roland Holst hem 'de man die sneller schrijft dan God kan lezen'. Andere belangrijke boeken van Simon Vestdijk zijn: "Kind van stad en land" (1936), "Meneer Visser's hellevaart" (1936), "Ierse nachten" (1946), "De toekomst de religie" (1947), "Pastorale 1943" (1948), "De koperen tuin" (1950), "Ivoren wachters" (1951), "Essays in duodecimo" (1952) en "Het genadeschot" (1964).


K.P. Kavafis

K.P. Kavafis werd als kind van Griekse ouders, afkomstig uit Konstantinopel, geboren in 1863 in Alexandrië (tot vandaag een Griekse enclave) waar hij ook het grootste deel van zijn leven woonde en werkte. Twee jaar na de dood van zijn vader verhuist het gezin in 1872 naar Engeland om na een verblijf van vijf jaar naar Alexandrië terug te keren. Vanwege ongeregeldheden in Egypte vlucht het gezin in 1882 naar Konstantinopel, om na drie jaar opnieuw naar Alexandrië terug te gaan. In de jaren die volgen maakt Kavafis reizen naar Parijs, Londen en in 1901 zijn eerste reis naar Griekenland, in latere jaren gevolgd door nog enkele bezoeken. Op de dag van zijn zeventigste verjaardag, in 1933 sterft Kavafis in Alexandrië. De roem kwam voor Kavafis pas na zijn dood, dus postuum. Deels is dat toe te schrijven aan zijn eigen handelswijze. Hij was uiterst terughoudend met de publicatie van zijn gedichten, liet af en toe een enkel gedicht afdrukken in een literair tijdschrift, gaf in eigen beheer enkele bundels met een stuk of twintig gedichten uit en het merendeel van zijn poëzie schonk hij op losse bladen aan zijn beste vrienden.


Thomas Mann


Thomas Mann, de jongere broer van Heinrich Mann, werd geboren op 6 juni 1875 in Lübeck. Hij was de tweede zoon van de graankoopman Thomas Johann Heinrich Mann welke later één van de senatoren van Lübreck werd. Zijn moeder Julia (geboren da Silva-Bruhns) was Duits-Braziliaans van Portugees Kreoolse afkomst. In 1894 debuteerde Thomas Mann met de novelle "Gefallen". Toen Thomas Mann met 21 jaar eindelijk volwassen was en hem dus geld van zijn vaders erfenis toestond - hij kreeg ongeveer 160 tot 180 goldmark per jaar - besloot hij dat hij genoeg had van al die scholen en instituties en werd onafhankelijk schrijver. Kenmerkend voor zijn stijl zijn de ironie, de fenomenale taalbeheersing en de minutieuze detailschildering. Manns reputatie in Duitsland was sterk wisselend. Met zijn eerste roman, Buddenbrooks (1901), had hij een enorm succes, maar door zijn sceptische houding tegenover Duitsland na de Eerste Wereldoorlog veranderde dit volledig. Stelde hij zich tot aan de jaren twintig apolitiek op (Betrachtungen eines Unpolitischen, 1918), meer en meer raakte hij bij het Politiek gebeuren betrokken. Zijn afkeer van het nationaal socialisme groeide, zijn waarschuwingen werden veelvuldiger en heftiger. In 1944 accepteerde hij het Amerikaanse staatsburgerschap. Tussen 1943 en 1947 schreef Mann Doktor Faustus (zie Faust), de roman van de 'Duitse ziel' in de gecamoufleerd geschilderde omstandigheden van de 20ste eeuw. In 1947 bezocht hij voor het eerst sinds de Oorlog Europa, twee jaar later pas Duitsland. In 1952 vertrok hij naar Zwitserland. Op 12 augustus 1955 stierf hij in Zürich. Twintig jaar na zijn dood, in aug. 1975, is zijn literaire nalatenschap geopend: dagboekaantekeningen van 15 maart 1933 tot 29 juli 1955, alsmede notities uit de jaren 1918 tot en met 1921.Belangrijke werken zijn: Der Zauberberg, Der Tod in Venedig, Dokter Faustus , Joseph und seine Brüder en Die Bekenntnisse des Hochstaplers Felix Krull.


Rainer Maria Rilke

Rilke werd op 4 december 1875 geboren in Praag. Hij had al naam gemaakt als dichter met zijn bundels Das Stundenbuch en Das Buch der Bilder, toen hij de literaire wereld versteld deed staan en wereldfaam verwierf met de publicatie van zijn twee delen Neue Gedichte in 1907 en 1908. Hij verzamelde daarin het beste werk uit een van zijn vruchtbaarste periodes, die hij grotendeels doorbracht in Parijs. Rilke was daar diep onder de indruk gekomen van Rodin, bij wie hij een tijdlang in dienst was als particulier secretaris. Rodin, zei hij later, had hem leren kijken. Dit kijken kwam neer op intense concentratie, om het mysterie te kunnen zien 'achter de schijnbare werkelijkheid'. Latere en rijpere werken als Duineser Elegien (1912-1923) en het ronduit schitterende Die Sonette an Orfeus (1924) illustreren Rilkes metafysische visie op het onzegbare, dat haar verwoording vindt in een hermetische muzikale taal. Op 29 december 1926 overlijdt Rilke in het sanatorium in Val-Mont aan de gevolgen van leukemie. Enkele dagen later wordt hij, overeenkomstig zijn wens, begraven op het kerkhof van Raron.


* * * * * * * * * * * * * * * *

| | |
| --- | --- |
| | Over literatuur, gedichten, kunst en cultuur |

31-10-2015

A Rhyme for Halloween (Maurice Kilwein Guevara)
Bij Halloween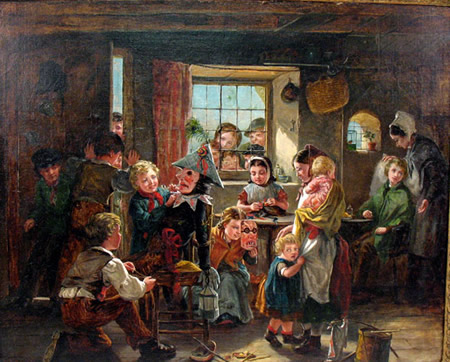 Halloween door Emma Brownlow, 1860
A Rhyme for Halloween
Tonight I light the candles of my eyes in the lee
And swing down this branch full of red leaves.
Yellow moon, skull and spine of the hare,
Arrow me to town on the neck of the air.
I hear the undertaker make love in the heather;
The candy maker, poor fellow, is under the weather.
Skunk, moose, raccoon, they go to the doors in threes
With a torch in their hands or pleas: "O, please . . ."
Baruch Spinoza and the butcher are drunk:
One is the tail and one is the trunk
Of a beast who dances in circles for beer
And doesn't think twice to learn how to steer.
Our clock is blind, our clock is dumb.
Its hands are broken, its fingers numb.
No time for the martyr of our fair town
Who wasn't a witch because she could drown.
Now the dogs of the cemetery are starting to bark
At the vision of her, bobbing up through the dark.
When she opens her mouth to gasp for air,
A moth flies out and lands in her hair.
The apples are thumping, winter is coming.
The lips of the pumpkin soon will be humming.
By the caw of the crow on the first of the year,
Something will die, something appear.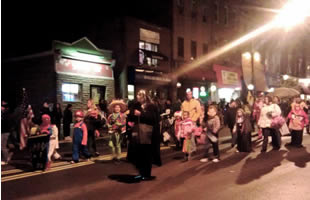 Maurice Kilwein Guevara (Belencito, 5 november 1961)
The Bloomfield Halloween parade in Pittsburgh, 2012
De Amerikaanse dichter, schrijver en hoogleraar Maurice Kilwein Guevara werd geboren op 5 november 1961 in Belencito, Colombia, en groeide op in de buurt van Pittsburgh, Pennsylvania. Zie ook alle tags voor Maurice Kilwein Guevara op dit blog.
Zie voor de schrijvers van de 31e oktober ook mijn vorige twee blogs van vandaag.
31-10-2015 om 13:24 geschreven door Romenu

Tags:Halloween, Maurice Kilwein Guevara, Romenu



Joseph Boyden, Bruce Bawer, John Keats, Carlos Drummond de Andrade
De Canadese schrijver Joseph Boyden werd geboren op 31 oktober 1966 in Willowdale, Ontario. Zie ook mijn blog van 31 oktober 2010 en eveneens alle tags voor Joseph Boyden op dit blog.
Uit: Through Black Spruce
"I hit hard ice this time, and it knocked the little breath left out of me. My jeans and jacket were already frozen worse than a straitjacket, and the shivers came so bad my teeth felt like they were about to shatter. I knew my Zippo was in my coat pocket but probably wet to uselessness. Push bad thoughts away. One thing at a time. First things first. I crawled quick as I could, trying to stand and walk, and I frankensteined my way to the trees and began snapping dry twigs from a dead spruce.
After I made a pile, I reached into my chest pocket, breaking the ice from the material that felt hard as iron now. My fingers had lost all feel. I reached for my cigarettes, struggled to pull one from my pack, and clinked open the lighter. I'd decided that if the lighter worked, I'd enjoy a cigarette as I started a fire. It the lighter didn't work, I'd freeze to death and searchers would find me with an unlit smoke in my mouth, looking cool as the Marlboro Man. On the fifteenth thumb roll I got the lighter going. I was saved for the first time. I reached for my flask in my ass pocket and struggled to open it. Within five minutes I had a fire going. Within fifteen I'd siphoned fuel from my tank and had one of the greatest fires of my life burning, so hot I had to stand away from it, slowly rotating my body like a sausage.
The darkness of a James Bay night in January is something you two girls know well. Annie, you're old enough to remember your grandfather. Suzanne, I don't know. I hope so.Your moshum, he liked nothing more than taking you girls out, bundled up like mummies, to look at the stars and especially the northern lights that flickered over the bay. He'd tell you two that they danced just for you, showed you how to rub your fists together to make them burn brighter. Do you remember?
My first crash ended good. My old friend Chief Joe flew out to me the next morning. found me by the smoky fire I'd kept burning all night. We got my plane unstuck and had a couple of good drinks and he gave me a spare pair of boots. Then Joe went to find those trappers and I got my gas lines unfrozen and flew home to Helen.
Joe quit flying soon after that. He was ready for something else. Me, I kept going. I had no other choice. A wife who wanted children, the idea of a family to feed coming to us like a good sunrise on the horizon. I made my choices. I was young still, young enough to believe you can put out your gill net and pull in options like fish.
The snow's deep here, nieces. I'm tired, but I have to keep walking. I'm so tired, but I've got to get up or I'll freeze to death. Talking to you, it keeps me warm."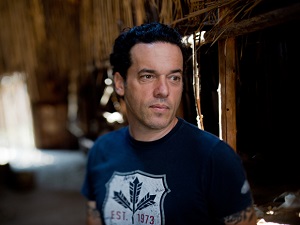 Joseph Boyden (Willowdale, 31 oktober 1966)
De Amerikaanse dichter, schrijver en literatuurcriticus Bruce Bawer werd geboren op 31 oktober 1956 in New York. Zie ook mijn blog van 31 oktober 2010 en eveneens alle tags voor Bruce Bawer op dit blog.
Uit: While Europe Slept
"Then came 9/11. Most Americans were quick to understand that they were at war and recognized the need for a firm response (though there was, and continues to be, much disagreement as to whether the response decided upon was the right one). Yet while most Western European countries participated in the invasion of Afghanistan and several helped topple Saddam, America's forceful approach alienated opinion makers across the continent and opened up a philosophical gulf that sometimes seemed as wide as the Atlantic itself. Why was there such a striking difference in perspectives between the two halves of the democratic West? One reason was that the Western European establishment--the political, media, and academic elite that articulates what we think of as "European opinion"--tended to regard all international disputes as susceptible to peaceful resolution. It was therefore ill equipped to respond usefully to sustained violence by a fierce, uncompromising adversary. Another reason was Western Europe's large immigrant communities, many of them led by fundamentalist Muslims who looked forward to the establishment in Europe of a caliphate governed according to sharia law--the law of the Koran--and who viewed Islamist terrorists as allies in a global jihad, or holy war, dedicated to that goal. A fear of inflaming minorities who took their lead from such extremists was one more reason to tread gently. Few European politicians had challenged this passivity. The Dutchman Pim Fortuyn had done so, and been murdered for it. Not even the March 2004 bombings in Madrid--"Europe's 9/11"--had fully awakened Europe's sleeping elite. True, not all European Muslims shared the terrorists' goals and loyalties. Many, one gathered, were grateful to be living in democracies. Yet even they seemed hamstrung by the belief that loyalty to the umma (the worldwide Islamic community) overrode any civic obligations to their kaffir (infidel) neighbors. Hence most European Muslims responded passively to van Gogh's murder. Few spoke up against the extremists in their midst. The pressure--from without and within--to stick by their own was, it appeared, simply too overwhelming. And the potential price for betrayal was an end not unlike that dealt out to Theo van Gogh. "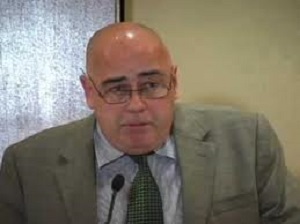 Bruce Bawer (New York, 31 oktober 1956)

De Engelse dichter John Keats werd geboren op 31 oktober 1795 in Finsbury Pavement in Londen. Zie ook mijn blog van 31 oktober 2010 en eveneens alle tags voor John Keats op dit blog.
When I Have Fears
When I have fears that I may cease to be
Before my pen has glean'd my teeming brain,
Before high-piled books, in charactery,
Hold like rich garners the full ripen'd grain;
When I behold, upon the night's starr'd face,
Huge cloudy symbols of a high romance,
And think that I may never live to trace
Their shadows, with the magic hand of chance;
And when I feel, fair creature of an hour,
That I shall never look upon thee more,
Never have relish in the faery power
Of unreflecting love;--then on the shore
Of the wide world I stand alone, and think
Till love and fame to nothingness do sink.

Sonnet V. To A Friend Who Sent Me Some Roses
As late I rambled in the happy fields,
What time the skylark shakes the tremulous dew
From his lush clover covert;—when anew
Adventurous knights take up their dinted shields;
I saw the sweetest flower wild nature yields,
A fresh-blown musk-rose; 'twas the first that threw
Its sweets upon the summer: graceful it grew
As is the wand that Queen Titania wields.
And, as I feasted on its fragrancy,
I thought the garden-rose it far excelled;
But when, O Wells! thy roses came to me,
My sense with their deliciousness was spelled:
Soft voices had they, that with tender plea
Whispered of peace, and truth, and friendliness unquelled.
To A Cat
Cat! who has pass'd thy grand climacteric,
How many mice and rats hast in thy days
Destroy'd? How many tit-bits stolen? Gaze
With those bright languid segments green, and prick
Those velvet ears - but prythee do not stick
Thy latent talons in me - and tell me all thy frays,
Of fish and mice, and rats and tender chick;
Nay, look not down, nor lick thy dainty wrists, -
For all the wheezy asthma - and for all
Thy tail's tip is nick'd off - and though the fists
Of many a maid have given thee many a maul,
Still is thy fur as when the lists
In youth thou enter'dst on glass-bottled wall.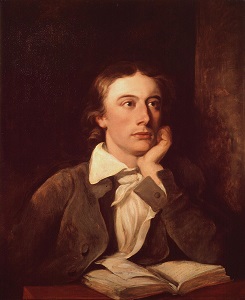 John Keats (31 oktober 1795 – 23 februari 1821)
Portrety door William Hilton, vóór 1839
De Braziliaanse dichter Carlos Drummond de Andrade werd geboren op 31 oktober 1902 in Itabira, een klein dorpje in de staat Minas Gerais. Zie ook alle tags voorCarlos Drummond de Andrade op dit blog en ook mijn blog van 31 oktober 2010
Souvenir Of The Ancient World
Clara strolled in the garden with the children.
The sky was green over the grass,
the water was golden under the bridges,
other elements were blue and rose and orange,
a policeman smiled, bicycles passed,
a girl stepped onto the lawn to catch a bird,
the whole world--Germany, China--
all was quiet around Clara.
The children looked at the sky: it was not forbidden.
Mouth, nose, eyes were open. There was no danger.
What Clara feared were the flu, the heat, the insects.
Clara feared missing the eleven o'clock trolley:
She waited for letters slow to arrive,
She couldn't always wear a new dress. But she strolled in the garden,
in the morning!
They had gardens, they had mornings in those days!

Boy Crying In The Night
In the warm, humid night, noiseless and dead, a boy cries.
His crying behind the wall, the light behind the window
are lost in the shadow of muffled footsteps, of tired voices.
Yet the sound of medicine poured into a spoon can be heard.
A boy cries in the night, behind the wall, across the street,
far away a boy cries, in another city,
in another world, perhaps.
And I see the hand that lifts the spoon while the other holds the head,
and I see the slick thread run down the boy's chin,
and slip into the street, only a thread, and slip through the city.
And nobody else in the world exists but that boy crying.

Quadrilha (Square Dance)
João loved Teresa who loved Raimundo
who loved Maria who loved Joaquim
who loved Lili
who loved nobody.
João left to the United States,
Teresa to a convent,
Raimundo died in a crash,
Maria became an old maid,
Joaquim killed himself and Lili married J. Fernandes Pinto
who hadn't been in the story.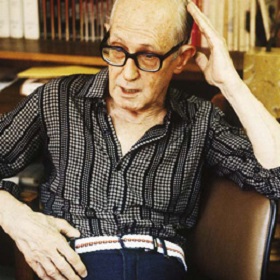 Carlos Drummond de Andrade (31 oktober 1902 – 17 augustus 1987)
Zie voor nog meer schrijvers van de 31e oktober ook mijn vorige blog van vandaag.
31-10-2015 om 13:22 geschreven door Romenu

Tags:Joseph Boyden, Bruce Bawer, John Keats, Carlos Drummond de Andrade, Romenu



Jean Améry, Nick Stone, Irina Denezhkina, Ernst Augustin
De Oostenrijkse schrijver Jean Améry werd geboren op 31 oktober 1912 in Wenen. Zie ook mijn blog van 31 oktober 2010 en eveneens alle tags voor Jean Améry op dit blog.
Uit: Die Schiffbrüchigen
"Vollends verflogen war nun der Dämmer des Morgens, fordernd und hart war der Tag heraufgebrochen. Eugen hatte seinen Mantel genommen und das Fenster geöffnet. Nun also galt es fortzugehen, das Wehen des Aprilwindes, der durch das offne Fenster brach, die halbdunkle Stube reinigen zu lassen von Nacht und Traum und dem Duft von Agathe. An der Zeit war es nun, Überschriften der Morgenblätter zu ertragen, die tagblassen Mädchen, die Beamten – und Zughunde vor Fleischerwagen. Schwer ächzte draußen das Haustor. Eugen stand auf der Straße.
Die kommenden Stunden niederzuringen, war außerordentlich schwierig. Um diese Zeit saß Agathe gebückt vor einer grünbeschirmten Lampe und übertrug Zahlen aus vielen färbigen Zetteln in ein unmäßig großes Buch. Und unweit von dort, an einem niedrigen Pulte sitzend, schrieb Heinrich Hessl ebenfalls an Zahlen. So verschiedener Art die Zahlen auch waren, in deren engen Kreisen Agathe, die Geliebte, und Heinrich Hessl, der Freund, lebten, hielt sie doch der schmale Gurt irgend eines Gemeinsamen zusammen. Denn: wirklich waren die Geschäftsfälle gewesen, die Agathes Feder zu selbständigen geistigen Dingen machte, und wirklich waren die Kriege, Belagerungen und Stadteinnahmen gewesen, deren Jahrzahlen Heinrich Hessl kalt und entseelend in seine blauen Kolleghefte schrieb. Ein Mensch hatte von Agathes Firma am 16. Jänner fünf Fässer Wein gekauft und sie entsprechend bezahlt. Ein kleiner Mensch vielleicht, mit rundlich wintergerötetem Antlitz und blinkenden, dicken, ungefaßten Brillen. Unmenschlich aber und kalt, jedoch klar und bestimmt stand in Agathes Buch: Jänner 16., M. Korn & Sohn, 5 Faß Burgunder A.
Und auch aus Heinrich Hessls Zahlen stieg kein Geruch von Lagerküchen, oder Stampfen von Pferdehufen. Und dennoch waren Agathe, die Geliebte, und Heinrich Hessl, der Freund, noch hineinverwoben in ein Allgemeines, das man Sinn oder Leben oder Gesellschaft nennen mag, waren umstützt und gehalten von einer äußeren Gestalt der Dinge. Sorgsam geführt waren sie vom vorbestimmten Lauf ihrer Stunden, der hinführen mochte, wohin er wollte: in irgend einen Traum oder eine ferne Landschaft, der aber da sein mußte, den sie mitliefen, hungrig und voller Angst, ihn zu verlieren."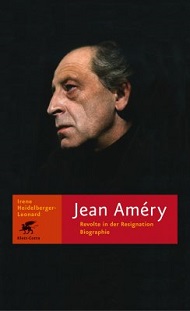 Jean Améry (31 oktober 1912– 17 oktober 1978)
Cover
De Engelse schrijver Nick Stone werd geboren op 31 oktober 1966 in Cambridge. Zie ook mijn blog van 31 oktober 2009 en ook mijn blog van 31 oktober 2010 en eveneens alle tags voor Nick Stone op dit blog.
Uit: The Unarmed Robbery
"But...aren't you forgetting the money?"
I turned back and looked at her as if she'd grown a third eyeball. "How'm I suppose to take the money with an empty gun?"
"Aww c'mon, weren't you ever a kid? Didn't you ever pretend? I can simply pretend I never saw the empty chambers."
My face turned skeptical. "Why would you do that?"
"Well I can plainly see I'm moving a little too fast for you, so I'll demonstrate." She opened the register drawer and started filling my cloth bag with tens and twenties. "Now what are you suppose to say?"
"I, uhh... thank you?"
"No, you silly fucker! Damn dude, do I gotta do everything for you? You're suppose to tell me to grab the cash under the drawer too!" She lifted the plastic money tray, removed eight fifties and dropped them into the bag. She then removed five one-hundred-dollar bills from under the tray, and proceeded to stuff them in her socks. "And here's my cut."
"But...what about the cameras?" I asked, pointing to one right above her head.
"Oh...yeah, about the cameras. They're fake. $9.95 at Radio Shack. The owner's tight with money." She smiled. "I'm sure that'll change after tonight."
She handed me my big bag of unearned cash and offered her hand. "Name's Melissa."
I shook her hand. "And I'm Ni...not gonna tell you! Nice try."
"Good, you're learning! Well, I'd love to shoot the breeze with you all night, but I should probably call the cops now. Oh, hey! Gimmie your opinion on this first." She dropped to her knees, covered her face with her hands and began crying. "He was a relentless madman, officer! He kept waving the gun in my face and talked about killing my whole family! How could you guys let such a psycho walk the streets?!" She stood up. "How was that? Think they'll buy it?"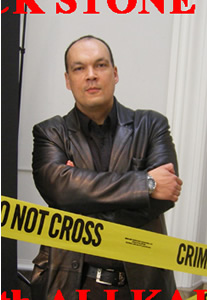 Nick Stone (Cambridge, 31 oktober 1966)
De Russische schrijfster Irina Denezhkina werd geboren op 31 oktober 1981 in Yekaterinburg. Zie ook alle tags voor Irina Denezhkina op dit blog en ook mijn blog van 31 oktober 2009 en ook mijn blog van 31 oktober 2010
Uit: Give Me: Songs for Lovers
"Hi!" he said in a low voice.
Aha ... His ears stick out from under his cap, a sharp face, mischievous eyes, brazen. Beautiful hands, the hands are something else. I like the hands.
"Right then, comrades," I said, squeezing my way between the little guy and the rapper. The beautiful hands instantly barred my way.
"Where do you live?"
"Zhenya Egorova Street."
The rapper opened his eyes wide and laughed. But he kept on standing there like a traffic barrier, with his arms spread wide.
"That's fucking far away, Nigger," the little kid announced gleefully.
"Give me your number," the rapper said to me, not listening to him.
I shrugged again and rattled off my number. The quicker you tell them, the quicker they lay off you. Nigger wrote the number on his hand and gave me back my pen.
"Denya lives there; he'll see her home," Nigger answered the kid confidently, maintaining the siege.
Half an hour later my ears were popping on the metro, and sitting there beside me staring into empty space was Denya, the one whose head Vova had put a hole in. The scar was clearly visible - stitched up and daubed with bright green ointment. Denya was like Ryan Gosling in The Believer. The same shaved head, eyes bunched together, straight nose, beaky lips. But on the whole not too bad, pretty tasty. At least he didn't come on to me. My nerves were already stretched worrying about my bare legs and skintight T-shirt. You can never tell."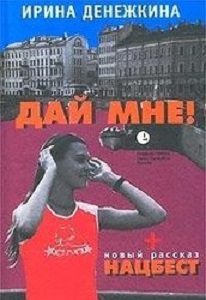 Irina Denezhkina (Yekaterinburg, 31 oktober 1981)
Cover
De Duitse schrijver Ernst Augustin werd geboren op 31 oktober 1927 in Hirschberg. Zie ook alle tags voor Ernst Augustin op dit blog en ook mijn blog van 31 oktober 2009 en ook mijn blog van 31 oktober 2010.
Uit: Die Schule der Nackten
"Das war am Montag. Am Dienstag war ich mit meinen chaldäisch-aramäischen Studien beschäftigt. Ein warmer, sogar heißer Dienstag war es, mit einem nahezu wolkenlosen Himmel, trotzdem hatte ich mich in meine Bibliothek im ersten Stock eingeschlossen, deren Fenster noch dazu nach Norden hinausgehen. Es war kühl hier drinnen, die lange Reihe der goldgepreßten Lederrücken, die ich mir zugelegt hatte – sechsundzwanzig Bände Pflugk-Hartung! – spiegelte das Licht der großen, grünen Sommerkugel wider. Ich gebe zu, es war wegen der Lederrücken, daß ich sie mir geleistet hatte, es hätte auch die gekürzte Ausgabe sein können, oder die broschierte, aber ich leistete mir die sechsundzwanzigbändige. Vielleicht heute nicht mehr. Dazu den Wieland-Kroll, der steht in Weinrot und Moosgrün auf der anderen Seite, achtzehnbändig. Meine Studien haben mich über Jahre systematisch in die Denkungsart vorderasiatischer Kulturen sowie überhaupt frühgeschichtlicher Menschheitsperioden eingeführt. Ich erheische, mit einigem Realitätsbezug, wie ein Hethiter aus der Zeit Darius des Ersten denken zu können – und, wenn es darauf ankäme, zu handeln. Beachtliches Echo erzeugte meine 98 im "History-Sheffield" erschienene Abhandlung über Tempelprostitution im alten Ninife (genauer gesagt im "neuen" Ninife), in der ich die Stellung der Frau spezifiziere, welche von Staats wegen ausnahmslos – verheiratet oder nicht verheiratet – ein Jahr lang in den Lustparks der Tempelbezirke ihren Dienst zu verrichten hatte. Das zog einiges Echo nach sich. Ich meine, es war die Veröffentlichung, bekannt war es natürlich. So wie ich auch auf zwei meiner Arbeiten über den Tantrakult an der indischen Ostküste (wedische Zeit) verweisen kann. Ebenfalls im Rahmen meiner frühhistorischen Studien.
An diesem Tag schrieb ich anderthalb durchschnittlich gute Seiten eines Skripts "Die Kinder Sems", an dem ich seit vier Jahren arbeite und nachweise, daß das Hebräische, Aramäische und Arabische gemeinsamen Ursprungs im semitischen Sprachraum sind – beziehe mich auf die Genesis (Kap. 10), wo die Stammväter dieser Völkerschaften als Kinder des Sem, Sohn des Noah bezeichnet wurden. Alttestamentarisch. Vergleichbar mit dem sumerischen "Elam" – – aber ich möchte hier nicht zu weit gehen, kam auch nicht mehr weit an diesem sehr schönen Morgen. Zwei Seiten weit. Bis zwölf Uhr.
Dann ging ich ins Jakobi-Bad."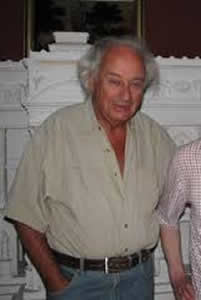 Ernst Augustin (Hirschberg, 31 oktober 1927)
31-10-2015 om 13:20 geschreven door Romenu

Tags:Jean Améry, Nick Stone, Irina Denezhkina, Ernst Augustin, Romenu



| | |
| --- | --- |
| | |



Inhoud blog


| | |
| --- | --- |
| | William Shakespeare, Roman Helinski, Pascal Quignard, Peter Horst Neumann, Andrey Kurkov, Halldór Laxness, Christine Busta, Adelheid Duvanel, Richard Huelsenbeck |
| | The Good Shepherd (Stanley Moss) |
| | Giorgio Fontana, Jan de Hartog, Björn Kern, Vladimir Nabokov, Chetan Bhagat, Peter Weber, Jos de Haes, Thommie Bayer, Madame de Staël |
| | Ana María Shua, Louise Glück, Robert Choquette, James Philip Bailey, Henry Fielding, Michael Schulte, Cabrera Infante, Ludwig Renn |
| | The Enkindled Spring (D. H. Lawrence) |
| | Charlotte Brontë, Patrick Rambaud, John Mortimer, Charles den Tex, Ahmed Arif, Michael Mann |
| | Peter Schneider, Meira Delmar, Alistair MacLean, Gerrit Wustmann, Népomucène Lemercier |
| | Prijs der Nederlandse Letteren voor Judith Herzberg |
| | Martinus Nijhoff, Jan Cremer, Jean Pierre Rawie, Marieke Lucas Rijneveld, Sebastian Faulks, Jozef Deleu, Steve Erickson, Arto Paasilinna, Michel Leiris |
| | Martin Michael Driessen, Marjoleine de Vos, Manuel Bandeira, n. c. kaser, Veniamin Kaverin, Louis Amédée Achard, Pierre-Jean de Béranger, Gudrun Reinboth, Werner Rohner |
| | Wam de Moor, Bas Belleman, Roos van Rijswijk, Hanane Aad, Clara Eggink, Kathy Acker, Joy Davidman, Henry Kendall, Katharina Schwanbeck |
| | Antoon Coolen, Vincent Corjanus, Nick Hornby, Ida Boy-Ed, Thornton Wilder, David Wagner, R.J. Pineiro, Helen Meier, Karen Blixen |
| | Sarah Kirsch, Thomas Olde Heuvelt, Kingsley Amis, Patricia De Martelaere, Tristan Tzara, Ewald Vanvugt, Sibylle Lewitscharoff, Jan Luyken, Anatole France |
| | Emmaüs (Felix Timmermans) |
| | Tomas Tranströmer, Daniël Samkalden, Jérôme Lambert, Patrick Bernauw, Benjamin Zephaniah, Henry James, Wilhelm Busch, Ina Boudier-Bakker |
| | Bliss Carman, Beate Morgenstern, Jeffrey Archer, Bernhard Lassahn, Erich Arendt, Pol De Mont, Staf Weyts, Hans Egon Holthusen |
| | Péter Esterházy, Alexandre Jardin, Tjitse Hofman, Landolf Scherzer, Charles Lewinsky, Roman Graf |
| | Roberto Schopflocher, Martin Kessel, Gabriele Stötzer, Helene Hübener, Gerhard Rohlfs |
| | Nachoem Wijnberg, K. Michel, Alexander Münninghoff, Michel Faber, Jean-Marie Gustave Le Clézio, Samuel Beckett, Seamus Heaney, Tim Krabbé, Eudora Welty |
| | Antje Rávic Strubel, Alan Ayckbourn, Scott Turow, Tom Clancy, Agnes Sapper, Edward de Vere, José Gautier Benítez, Alexander Ostrovski, Guillaume-Thomas Raynal |
| | Leonard Nolens, Mark Strand, Silvia Avallone, Walid Soliman, Dorothy Allison, Hubert Nyssen, Rolf Schilling, Glenway Wescott, Claude Tillier |
| | Leo Vroman, Jan van Mersbergen, Paul Theroux, Claudio Magris, Bella Akhmadulina, Stefan Heym, Richard Wagner, Marcel van Maele, Eric Knight |
| | Charles Baudelaire, Jelle Brandt Corstius, Karel Jonckheere, Joolz Denby, Albert von Schirnding, Johannes Bobrowski, Bernard-Marie Koltès, Arnold Stadler, Yaël Vinckx |
| | Thomas (Jan Willem Schulte Nordholt) |
| | Herinnering aan Gerard Reve, Hanz Mirck, Christoph Hein, Judith Koelemeijer, Nnedi Okorafor, Barbara Kingsolver |
| | John Fante, Johann Christian Günther, Glendon Swarthout, Martin Grzimek, Hégésippe Moreau, Robert Askins |
| | Den Haag (Paul Rodenko) |
| | Juliana Spahr, William Wordsworth, Özcan Akyol, Gabriela Mistral |
| | Kazim Ali, Annejet van der Zijl, John Pepper Clark, Jakob Ejersbo, Günter Herburger, Uljana Wolf, Brigitte Schwaiger, Julien Torma, Nicolas Chamfort |
| | Iulian Ciocan |
| | Hugo Claus, Martin Reints, Mieke van Zonneveld, Vítězslav Hálek, Algernon Swinburne, Bora Ćosić,, Werner J. Egli, Michael Georg Conrad, Marente de Moor |
| | Maya Angelou, Hanneke Hendrix, Marko Klomp, Marcel Vaarmeijer, E. L. James, Marguerite Duras, Robert Schindel, Michiel van Kempen, Bettina von Arnim |
| | Charles Ducal, Adriaan Jaeggi, Frederik van Eeden, Bert Bakker, Peter Huchel, Arlette Cousture, Pieter Aspe, Karel N.L. Grazell, Washington Irving |
| | Die Sonne geht im Osten auf (Christian Morgenstern) |
| | Thomas Glavinic, Jay Parini, Anneke Claus, Klaus Ender, Konrad Merz, Ed Dorn, Émile Zola |
| | György Konrád, Anne Waldman, Casanova, Hans Christian Andersen, Roberto Arlt, Edgar Hilsenrath, George Fraser |
| | Hoffmann von Fallersleben, Johann Gleim, Pierre Zaccone, Pietro della Valle, Zwier van Haren, Joanna Chmielewska, Brigitte Struzyk |
| | Preis dem Todesüberwinder! (Friedrich Klopstock) |
| | Milan Kundera, Sandro Veronesi, Nikolaj Gogol, Arnold Aletrino, Max Nord, Urs Allemann, Rolf Hochhuth, John Wilmot, Deborah Feldman |
| | Maria Polydouri, Edgar Wallace, Carl Sternheim, Edmond Rostand, Armel Guerne, Friedrich Güll, Antoine Prévost, Josep de Maistre |
| | Litanie van een wachter bij het graf (Willem Jan Otten) |
| | Stefan Hertmans, Octavio Paz, Asis Aynan, Martijn Teerlinck, Marga Minco, Enrique Vila-Matas |
| | Rob Boudestein, Kornej Tsjoekovski, Andrew Lang, Nichita Stănescu, Hartmut Lange, Marge Piercy |
| | Angela Kreuz, Judith Rossner, Andrew Marvell, John Fowles, Edward FitzGerald, Robert Brasillach, Peter Motte |
| | Golgotha (Theo Thijssen) |
| | Gerrit Komrij, Paul Verlaine, Milton Acorn, Erika Mitterer, Uwe Timm, Tom Sharpe, Gert Heidenreich, Theo Breuer, Luise Hensel |
| | Gethsemane (Jacqueline van der Waals) |
| | Geert van Istendael, Wim Brands, Ernst Jünger, Eric Walz, Georg Klein, Yvan Goll, R. S. Thomas, Jacques Brault, Denton Welch |
| | Walter van den Broeck, Joost de Vries, Mario Vargas Llosa, Chrétien Breukers, Steye Raviez, Nelson Algren, Marianne Frederiksson, Russell Banks, Léon-Gontran Damas |
| | Heinrich Mann, Shusaku Endo, Carolina Trujillo, Golo Mann, Patrick McCabe, Bob den Uyl, Dubravka Ugresić, Francis Ponge, Alfred de Vigny |


Gastenboek


Druk op onderstaande knop om een berichtje achter te laten in mijn gastenboek