E-mail mij


Druk op onderstaande knop om mij te e-mailen.


Romenu


Romenu is een blog over gedichten, literatuur en kunst Maar Romenu is ook een professionele freelance vertaler
Du-Ne en Ne-Du http://www.romenu.nl.


Huur eens een (vakantie)huis in een natuurgebied, dichtbij het centrum van Nijmegen


Google


Georg Trakl

Georg Trakl werd op 3 februari 1887 in het conducteurshuis aan de Waagplatz 2 in Salzburg geboren. Zijn vader, Tobias Trakl, was een handelaar in ijzerwaren en zijn moeder, die ook psychische problemen had, was Maria Catharina Trakl, (meisjesnaam Halik). Voorts had hij nog drie broers en drie zussen. Margarethe (doorgaans Grethe genoemd) stond hem het naast, zelfs zodanig dat sommigen een incestueuze verhouding vermoeden. Zijn jeugd bracht hij door in Salzburg. Vervolgens bezocht hij van 1897 tot 1905 het humanistische gymnasium. Om toch een academische opleiding te kunnen volgen, werkte hij tot 1908 in de praktijk bij een apotheker. Sommigen vermoedden dat hij dit vooral deed om zichzelf opiaten te kunnen verschaffen. Bij het uitbreken van WO I werd Trakl als medicus naar het front in Galicië (heden ten dage in Oekraïne en Polen) gestuurd. Zijn gemoedsschommelingen leidden tot geregelde uitbraken van depressie, die verergerd werden door de afschuw die hij voelde voor de verzorging van de ernstig verwonde soldaten. De spanning en druk dreven hem ertoe een suïcidepoging te ondernemen, welke zijn kameraden nochtans verhinderden. Hij werd in een militair ziekenhuis opgenomen in Kraków, alwaar hij onder strikt toezicht geplaatst werd.Trakl verzonk daar in nog zwaardere depressies en schreef Ficker om advies. Ficker overtuigde hem ervan dat hij contact moest opnemen met Wittgenstein, die inderdaad op weg ging na Trakls bericht te hebben ontvangen. Op 4 november 1914, drie dagen voordat Wittgenstein aan zou komen, overleed hij echter aan een overdosis cocaïne


Paul Celan

Paul Celan werd onder de naam Paul Antschel op 23 november 1920 geboren in Czernowitz, toentertijd de hoofdstad van de Roemeense Boekovina, nu behorend bij de Oekraïne. Paul Celans ouders waren Duitssprekende joden die hun zoon joods opvoedden en hem naar Duitse christelijke scholen stuurden. In 1942 werden Celans ouders door de Duitse bezetter naar een werkkamp gedeporteerd en daar vermoord. Hijzelf wist aanvankelijk onder te duiken, maar moest vanaf juli 1942 in een werkkamp dwangarbeid verrichten. Celan overleefde de oorlog. Via Boekarest en Wenen vestigde Celan zich in 1948 in Parijs. Daar was hij werkzaam als dichter, vertaler en doceerde hij aan de prestigieuze Ecole Normale Supérieure. Vermoedelijk op 20 april 1970 beëindigde hij zijn leven zelf door in de Seine te springen.


Gerard Reve

Gerard Reve over: Medearbeiders "God is in de mensen, de dieren, de planten en alle dingen - in de schepping, die verlost moet worden of waaruit God verlost moet worden, door onze arbeid, aangezien wij medearbeiders van God zijn." Openbaring "Tja, waar berust elk godsbegrip op, elke vorm van religie? Op een openbaring, dat wil zeggen op een psychische ervaring van zulk een dwingende en onverbiddelijke kracht, dat de betrokkene het gevoel heeft, niet dat hij een gedachte of een visioen heeft, maar dat een gedachte gedachte of visioen hem bezit en overweldigt."


Simon Vestdijk
Simon Vestdijk (Harlingen, 17 oktober 1898 – Utrecht, 23 maart 1971) was een Nederlands romancier, dichter, essayist en vertaler. Zijn jeugd te Harlingen en Leeuwarden beschreef hij later in de Anton Wachter-cyclus. Van jongs af aan logeerde hij regelmatig bij zijn grootouders in Amsterdam, waar hij zich in 1917 aan de Universiteit van Amsterdam inschrijft als student in de medicijnen. Tijdens zijn studie die van 1917 tot 1927 duurde, leerde hij Jan Slauerhoff kennen.Tot 1932 is hij als arts in praktijken door heel Nederland werkzaam. In 1932 volgt zijn officiële schrijversdebuut met de uitgave van de bundel Verzen in De Vrije Bladen. Doorslaggevend voor Vestdijks uiteindelijke keuze voor de literatuur is zijn ontmoeting in 1932 met Eddy Du Perron en Menno ter Braak. Deze ontmoeting had tot resultaat dat hij redactielid werd van het tijdschrift Forum Kort daarop, in 1933, wordt zijn eerste novelle, De oubliette, uitgegeven. In hetzelfde jaar schrijft hij Kind tussen vier vrouwen, dat, eerst geweigerd door de uitgever, later de basis zal vormen voor de eerste drie delen van de Anton Wachter-romans. In 1951 ontvangt Vestdijk de P.C. Hooftprijs voor zijn in 1947 verschenen roman De vuuraanbidders. In 1957 wordt hij voor het eerst door het PEN-centrum voor Nederland voorgedragen voor de Nobelprijs voor de Literatuur, die hij echter nooit zal krijgen. Op 20 maart 1971 wordt hem de Prijs der Nederlandse Letteren toegekend, maar voor hij deze kan ontvangen overlijdt hij op 23 maart te Utrecht op 72-jarige leeftijd. Vestdijk was auteur van ca. 200 boeken. Vanwege deze enorme productie noemde de dichter Adriaan Roland Holst hem 'de man die sneller schrijft dan God kan lezen'. Andere belangrijke boeken van Simon Vestdijk zijn: "Kind van stad en land" (1936), "Meneer Visser's hellevaart" (1936), "Ierse nachten" (1946), "De toekomst de religie" (1947), "Pastorale 1943" (1948), "De koperen tuin" (1950), "Ivoren wachters" (1951), "Essays in duodecimo" (1952) en "Het genadeschot" (1964).


K.P. Kavafis

K.P. Kavafis werd als kind van Griekse ouders, afkomstig uit Konstantinopel, geboren in 1863 in Alexandrië (tot vandaag een Griekse enclave) waar hij ook het grootste deel van zijn leven woonde en werkte. Twee jaar na de dood van zijn vader verhuist het gezin in 1872 naar Engeland om na een verblijf van vijf jaar naar Alexandrië terug te keren. Vanwege ongeregeldheden in Egypte vlucht het gezin in 1882 naar Konstantinopel, om na drie jaar opnieuw naar Alexandrië terug te gaan. In de jaren die volgen maakt Kavafis reizen naar Parijs, Londen en in 1901 zijn eerste reis naar Griekenland, in latere jaren gevolgd door nog enkele bezoeken. Op de dag van zijn zeventigste verjaardag, in 1933 sterft Kavafis in Alexandrië. De roem kwam voor Kavafis pas na zijn dood, dus postuum. Deels is dat toe te schrijven aan zijn eigen handelswijze. Hij was uiterst terughoudend met de publicatie van zijn gedichten, liet af en toe een enkel gedicht afdrukken in een literair tijdschrift, gaf in eigen beheer enkele bundels met een stuk of twintig gedichten uit en het merendeel van zijn poëzie schonk hij op losse bladen aan zijn beste vrienden.


Thomas Mann


Thomas Mann, de jongere broer van Heinrich Mann, werd geboren op 6 juni 1875 in Lübeck. Hij was de tweede zoon van de graankoopman Thomas Johann Heinrich Mann welke later één van de senatoren van Lübreck werd. Zijn moeder Julia (geboren da Silva-Bruhns) was Duits-Braziliaans van Portugees Kreoolse afkomst. In 1894 debuteerde Thomas Mann met de novelle "Gefallen". Toen Thomas Mann met 21 jaar eindelijk volwassen was en hem dus geld van zijn vaders erfenis toestond - hij kreeg ongeveer 160 tot 180 goldmark per jaar - besloot hij dat hij genoeg had van al die scholen en instituties en werd onafhankelijk schrijver. Kenmerkend voor zijn stijl zijn de ironie, de fenomenale taalbeheersing en de minutieuze detailschildering. Manns reputatie in Duitsland was sterk wisselend. Met zijn eerste roman, Buddenbrooks (1901), had hij een enorm succes, maar door zijn sceptische houding tegenover Duitsland na de Eerste Wereldoorlog veranderde dit volledig. Stelde hij zich tot aan de jaren twintig apolitiek op (Betrachtungen eines Unpolitischen, 1918), meer en meer raakte hij bij het Politiek gebeuren betrokken. Zijn afkeer van het nationaal socialisme groeide, zijn waarschuwingen werden veelvuldiger en heftiger. In 1944 accepteerde hij het Amerikaanse staatsburgerschap. Tussen 1943 en 1947 schreef Mann Doktor Faustus (zie Faust), de roman van de 'Duitse ziel' in de gecamoufleerd geschilderde omstandigheden van de 20ste eeuw. In 1947 bezocht hij voor het eerst sinds de Oorlog Europa, twee jaar later pas Duitsland. In 1952 vertrok hij naar Zwitserland. Op 12 augustus 1955 stierf hij in Zürich. Twintig jaar na zijn dood, in aug. 1975, is zijn literaire nalatenschap geopend: dagboekaantekeningen van 15 maart 1933 tot 29 juli 1955, alsmede notities uit de jaren 1918 tot en met 1921.Belangrijke werken zijn: Der Zauberberg, Der Tod in Venedig, Dokter Faustus , Joseph und seine Brüder en Die Bekenntnisse des Hochstaplers Felix Krull.


Rainer Maria Rilke

Rilke werd op 4 december 1875 geboren in Praag. Hij had al naam gemaakt als dichter met zijn bundels Das Stundenbuch en Das Buch der Bilder, toen hij de literaire wereld versteld deed staan en wereldfaam verwierf met de publicatie van zijn twee delen Neue Gedichte in 1907 en 1908. Hij verzamelde daarin het beste werk uit een van zijn vruchtbaarste periodes, die hij grotendeels doorbracht in Parijs. Rilke was daar diep onder de indruk gekomen van Rodin, bij wie hij een tijdlang in dienst was als particulier secretaris. Rodin, zei hij later, had hem leren kijken. Dit kijken kwam neer op intense concentratie, om het mysterie te kunnen zien 'achter de schijnbare werkelijkheid'. Latere en rijpere werken als Duineser Elegien (1912-1923) en het ronduit schitterende Die Sonette an Orfeus (1924) illustreren Rilkes metafysische visie op het onzegbare, dat haar verwoording vindt in een hermetische muzikale taal. Op 29 december 1926 overlijdt Rilke in het sanatorium in Val-Mont aan de gevolgen van leukemie. Enkele dagen later wordt hij, overeenkomstig zijn wens, begraven op het kerkhof van Raron.


* * * * * * * * * * * * * * * *

| | |
| --- | --- |
| | Over literatuur, gedichten, kunst en cultuur |

17-12-2010

Ronald Giphart, Yvonne Keuls, Jón Kalman Stefánsson, Frank Martinus Arion, Hans Henny Jahnn
De Nederlandse schrijver Ronald Giphart werd geboren op 17 december 1965 in Dordrecht. Zie ook mijn blog van 17 december 2006 en ook mijn blog van 17 december 2007 en ook mijn blog van 17 december 2008 en ook mijn blog van 17 december 2009.
Uit: Phileine zegt sorry
"Dan gebeurt er wat ik in mijn vreselijkste fantasieën niet had kunnen bedenken: Max' lul wordt schoksgewijs hard en nog harder, zijn drie zwellichamen vullen zich met bloed. Ik bedoel: Max krijgt een erectie on stage. Ja, een method actor is ook maar een mens. Ik geloof dat ik niet goed wordt. Dit is zo'n moment dat ik op mijn beurt het liefst mijn .501 zou willen trekken om ze allemaal dood te schieten. Is dit nou nodig, mijn jongen, is nou werkelijk nodig?
Daar staat ferme Max. Driehonderdtwintig toeschouwers en ik kijken naar een stijve pik, de stijve pik van mijn vriend. En naar Joanne, die er met haar handen een potje aan staat te hannesen. Wat gaat er langs me heen?
Max tongzoent Joanne, en Joanne houdt de lul van mijn vriend vast. Het is duidelijk te zien dat ze er geniepige rukjes aan geeft, Honderden kleinzielige pathetische gedachten schieten in snel tempo door mijn hoofd: kun je een erectie acteren? Hebben ze deze scènes gerepeteerd? Hebben ze deze scènes gekostumeerd gerepeteerd? Waarom heeft Max mij niet van tevoren verteld van deze act? Wat zou Jules ervan denken? En die verdomde buitenaardse medemens? Wat is het Chinese spreekwoord voor deze handeling? Welk cijfer wil CLASS 199six eigenlijk voor deze voorstelling krijgen? Wat hopen ze überhaupt te bereiken, behalve hun vrienden en familieleden van zich te vervreemden? Hun motivatie, wat is in godsnaam hun motivatie? Om ons heen staan tientallen mensen op. Ook mamma Ruth kan het niet langer aanzien en begint zich woest grommend naar de uitgang te wringen. Een andere mevrouw roept: 'Disgusting! You're out of your minds!'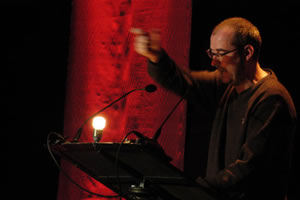 Ronald Giphart (Dordrecht, 17 december 1965)
De Nederlandse schrijfster Yvonne Keuls werd geboren op 17 december 1931 in Batavia, toen nog een onderdeel van Nederlands-Indië. Zie ook mijn blog van 17 december 2006 en ook mijn blog van 17 december 2007 en ook mijn blog van 17 december 2008 en ook mijn blog van 17 december 2009.
Uit: Mevrouw mijn moeder
"Ik wilde haar wat afleiden, een beetje uit de mopperput trekken. Misschien, als ze even in een rolstoel wilde zitten, kon ik haar het huis laten zien. Wilde ze dat? Nee. Dat hadden haar zonen al gedaan. En er was niets te zien in dit huis. Misschien wilde ze even naar buiten, want het was zulk mooi weer. Als ze even uit het raam wilde kijken, dan kon ze de andere patiënten in het zonnetje zien zitten. Nee. Want ze was geen patiënt en hield niet van zonnetje zitten. Misschien konden we even beneden een kopje koffie gaan drinken samen. Nee. Want dat deden die verpleegsters al de hele dag. Die dronken maar koffie met elkaar. Als je ze nodig had, waren ze altijd aan het koffiedrinken. Misschien wilde ze dan...
Nee.
Nee.
Nee.
Ze begon zachtjes te huilen."
(…)
"'Heeft u geërfd deze winkel, meneer?' vroeg mijn moeder aan de trotse winkelbaas die hoogstpersoonlijk nog maar eens een glaasje jus d'orange serveerde. 'Nee, nee, nee, mevrouw,' zei de man glimlachend. 'Meestal is zo'n winkel toch van vader op zoon?' dramde mijn moeder door. 'Ja, en dan gaat de vader dood en dan krijgt de zoon,' legde Toetie vriendelijk uit. 'Is bij u niet zo, meneer?' 'Nee, nee, nee,' zei hij. Kom, ze moesten nou maar eens over de brug komen.(...) 'Vertelt u het eens, wat zoekt u, dames?' 'Nou,' zei mijn moeder, 'ik wil graag zien die schoen met zes tenen van uw advertentie en Toetie hier, mijn schoonzuster – Toetie begon heftig te knikken – zij wil ook zien, en mijn andere schoonzuster ook. Mijn moeder boog zich nog even voor de zekerheid naar Mekkie en zei tegen haar: 'Dat is toch zo, ja, Mek, jij wil toch ook zien?' 'Ja, maar niet alleen zien,' zei Mekkie, 'passen wil ik.' 'Zij wil passen,' herhaalde mijn moeder, 'en wij ook, wij willen allemaal passen. Maat 37 heb ik en zij hebben allebei maat 40. 'Masa, hoe kan dat nou? 37 Jij?' vroeg Mekkie verbaasd aan mijn moeder. 'Als ik 40 heb, dan heb jij toch ook 40?' 'Ja, en ik heb helemaal geen 40,' zei Toetie, 'ik heb 38.'"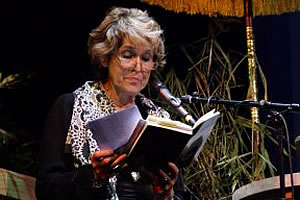 Yvonne Keuls (Batavia, 17 december 1931)
De IJslandse schrijver Jón Kalman Stefánsson werd geboren in Reykjavík op 17 december 1963. Zie ook mijn blog van 17 december 2008 en ook mijn blog van 17 december 2009.
Uit: Das Knistern in den Sternen (Vertaald door Karl-Ludwig Wetzig)
"Die Einsamkeit weckt ihn.
Nicht wie ein schwerer Schlag, sondern wie ein leises Ziehen, das im Moment des Aufwachens zu einem Schmerz anwächst. Viele Tage sind vergangen, seit er an ihrer Seite eingeschlafen ist, müde, erschöpft, glücklich, in der schönsten Nacht des Lebens. Am Morgen danach war sie verschwunden. Nicht nur aus seinem Leben, sondern ebenso aus der Stadt. Sie ist davongefahren und hat die Laternenpfähle stehen lassen.
Ist davongefahren und hat sämtliche Vorfahrtsschilder zurückgelassen, die Häuser in der Weststadt, alle Bürgersteige; sie ist weggefahren, und vergeblich preisen die Kinos ihre Filme in Cinemascope an, denn sie ist weg, auf und davon. Weg von der Hringbraut, weg von Skaftahlíð, dem ganzen Skaftahlíð-Hügel, besonders aber weg von einer Kellerwohnung, wo er in tiefer Trauer liegt. Davongelaufen nach Westen in die Fjorde, wohin genau, soll er nicht in Erfahrung bringen, die in Skaftahlíð dürfen ihren Aufenthaltsort nicht preisgeben. Ihre Abwesenheit macht jeden Sack Zement doppelt schwer. Er geht noch einmal zu ihrem Haus, um sich zu erkundigen, trifft aber nur den Dichter, der gerade dabei ist, zu packen.
"Nichts zu tun hier, die Frau in Norwegen, weiß auch nicht, was ich eigentlich hier gesucht habe. Das Mädchen? Nein, keine Ahnung. Verschwunden, sagst du. Ja, mir brauchst du nichts zu erzählen, ich weiß, wie das ist. Mit den Gedichten geht es einem genauso. Sobald man glaubt, sie aus der Tiefe hervorgeholt zu haben und sie mit Händen greifen zu können, verschwinden sie, lösen sich auf und lassen einen allein zurück. Ich beneide dich um deine Arbeit, junger Mann, der Zement lässt den Sand nicht im Stich, und gemeinsam verbinden sie sich zu Beton; bald erhebt sich ein Haus. Du hast es gut."
Blödsinn, er hat es überhaupt nicht gut, der Junge aus dem Osten, und er hat nicht das geringste Interesse an den Schwierigkeiten des Dichters mit seinen Worten; er ist nichts weiter als ein Maurerlehrling, und jeder Tag ein neuer Foltermeister. Ihr Geruch ist aus dem Bettlaken verflogen, die Milch versauert im Kühlschrank, die Zementsäcke werden immer schwerer, bald wird die Erdkruste unter ihm einbrechen."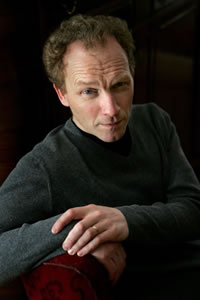 Jón Kalman Stefánsson (Reykjavík, 17 december 1963)
De Antilliaanse dichter en schrijver Frank Martinus Arion werd geboren op 17 december 1936 op Curaçao. Zie ook mijn blog van 17 december 2006 en ook mijn blog van 17 december 2008 en ook mijn blog van 17 december 2009.
Uit: Dubbelspel
"Men herinnere zich dat Maria, de moeder van Christus (tropenmensen, oudtestamentische of 'primitieve', arme mensen, schijnen paradoxaal genoeg allemaal een overeenkomstig geloof te hebben waar al het andere aan ondergeschikt is, en dat is gastvrijheid) in paniek was toen de drank opraakte bij een feest van een kennis van haar en niet eens een feest bij haarzelf thuis, om zich de paniek van Nora in te denken. Nora had bovendien geen zoon die wonderdoener van beroep was. (Haar zoon was op dit moment althans nog niet zo ver.)
Ze had zelf de mannen naar de tafel uitgenodigd voor een borrel, en nu zou ze ineens moeten zeggen, dat de rum opraakte?! Ze dacht aan het barrestaurant op de kruising van de Tulaweg met de Carpataweg waar Chamon Nicolas die middag enkele ronden domino had gespeeld vóór hij bij Boeboe Fiel kwam. Naast dat barrestaurant was ook een winkeltje van een Portugees, dat een fruitwinkeltje heette en dat 's zondags en om zes uur gesloten hoorde te zijn maar waar men van alles krijgen kon, op alle dagen van de week en op elk uur van de dag; van chocoladerepen tot gymschoenen, tegen alle wetten van het eiland in.
'Ga,' zei ze tegen Ostrik, die naast haar met het afdrogen van de borrelglazen stond te helpen, 'naar de grote slaapkamer. Onder het beeld van het Heilige Hart van Jezus daar, in de holte onder dat beeld, vind je vijftien gulden. Néém dat en koop bij de Portugees een fles rum van een gallon.'
Ze sprak in zijn oor; snel en fluisterend, omdat de mannen die voor haar op hun borrel stonden te wachten, met dit alles niets te maken hadden. Maar Ostrik was zo verrast door het feit dat de vijftien gulden er was, dat hij zijn moeder met open mond bleef aankijken en zich niet bewoog.
'Ga!' zei ze, harder en gebiedender. Ze kon nu nog nauwelijks één ronde gaan.
'Rum?' fluisterde hij terug. 'Rum?' Want dat was zijn tweede verbazing, dat zij met dat belangrijke geld rum wilde kopen."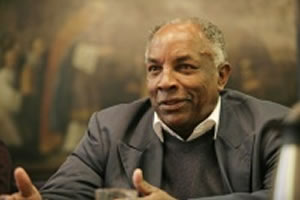 Frank Martinus Arion (Curaçao, 17 december 1936)
De Duitse schrijver Hans Henny Jahnn werd geboren op 17 december 1894 in Hamburg. Zie ook mijn blog van 17 december 2006 en ook mijn blog van 17 december 2008 en ook mijn blog van 17 december 2009.
Uit: Tagebuch 1915: Der Kampf- Wie Deutschland aufblühte, Handel trieb - und dazu den Krieg

Es gibt einen Gott, der schuf die Erde und den Himmel in seiner Pracht, der ließ durch die Sonne gold-bunte Farben entstehen, die sich über sein Werk ausbreiten; erschuf Blumen und Bäume in ihrer Kraft und Tiere schuf er und Menschen, herrlich an ihren Leibern und einfach und adlig in ihrer Seele.
Es gibt einen Teufel, der hat mit seinen Krallen in der Erde gewühlt und hat Gold und Eisen daraus gegraben. Er hat das Gold in die Hand genommen und den Menschen gezeigt und gelogen hat er ihnen, dass es ein wunderbares Metall sei, dem eine seltene Zauberkraft innewohnt. - Und die Menschen glaubten ihm und fielen ihm in die Hände. - Und er, der Satan verstreute das Gold unter sie und lachte unbändiglich, denn er sah, wie die Menschen aufeinander stürzten und sich stritten und sich schlugen. Sie vergaßen das Land, das Korn und Früchte trug, sie wollten das Metall das ihnen so blinkend schien - mit den sehnigen Fäusten schlugen sie aufeinander ein; sie entheiligten die Kraft ihres Leibes - und der Satan lachte. Sie mussten hungern und dursten um des Goldes willen, ihre Seele musste verdorren. Das war die Zauberkraft, der sie nachjagten, und sie fühlten nicht, dass sie irregeleitet. - Nur manchmal stand jemand auf. Dann war der Teufel gar böse und befahl dem Tod, er möchte ein Meuchelmörder sein; dann starb ein Mensch, verhöhnt, verlacht mit gerader, adliger Seele; aber seine Augen waren ausgeweint über die Not, die über die Menschen kam und über ihre Unvernunft.
Aber es war dem Teufel nicht genug mit einer Tat, er schmiedete aus dem Eisen Schwerter und gab sie den Menschen. Die sahen die blanke Waffe, und schlugen einander damit, rissen die Leiber sich auf, die Gott geschaffen, töteten einander, und nannten die grausigen Taten heilig, weil es um Gold ging. Mehr Mühe brauchte sich Satan nicht zu geben, denn das Gemeinste, Roheste war geheiligt worden. Von Altären und geweihten Orten verkündete man die Heiligkeit des Mordes. - Gott war abgesetzt, ein König ward ausgerufen, ein Vertreter des geheiligten Mordens um Gold.-"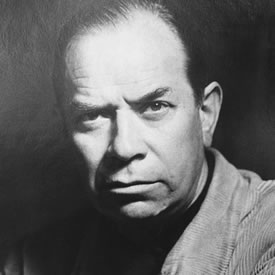 Hans Henny Jahnn (17 december 1894 – 29 november 1959)




Zie voor nog meer schrijvers van de 17e december ook
mijn vorige blog van vandaag
en eveneens
mijn eerste blog van vandaag.
17-12-2010 om 19:35 geschreven door Romenu

Tags:Ronald Giphart, Yvonne Keuls, Jón Kalman Stefánsson, Frank Martinus Arion, Hans Henny Jahnn, Romenu



Ford Madox Ford, Jules de Goncourt, Penelope Fitzgerald, Alphonse Boudard, Érico Veríssimo
De Engelse dichter, schrijver en publicist Ford Madox Ford werd geboren op 17 december 1873 in Merton, Surrey. Zie ook mijn blog van 17 december 2006 en ook mijn blog van 17 december 2008 en ook mijn blog van 17 december 2009.
Uit: The Good Soldier
"Captain Ashburnham also had a heart. But, whereas a yearly month or so at Nauheim tuned him up to exactly the right pitch for the rest of the twelvemonth, the two months or so were only just enough to keep poor Florence alive from year to year. The reason for his heart was, approximately, polo, or too much hard sportsmanship in his youth. The reason for poor Florence's broken years was a storm at sea upon our first crossing to Europe, and the immediate reasons for our imprisonment in that continent were doctor's orders. They said that even the short Channel crossing might well kill the poor thing.
When we all first met, Captain Ashburnham, home on sick leave from an India to which he was never to return, was thirty-three; Mrs Ashburnham Leonora --was thirty-one. I was thirty-six and poor Florence thirty. Thus today Florence would have been thirty-nine and Captain Ashburnham forty-two; whereas I am forty-five and Leonora forty. You will perceive, therefore, that our friendship has been a young-middle-aged affair, since we were all of us of quite quiet dispositions, the Ashburnhams being more particularly what in England it is the custom to call "quite good people".
They were descended, as you will probably expect, from the Ashburnham who accompanied Charles I to the scaffold, and, as you must also expect with this class of English people, you would never have noticed it. Mrs Ashburnham was a Powys; Florence was a Hurlbird of Stamford, Connecticut, where, as you know, they are more old-fashioned than even the inhabitants of Cranford, England, could have been. I myself am a Dowell of Philadelphia, Pa., where, it is historically true, there are more old English families than you would find in any six English counties taken together. I carry about with me, indeed--as if it were the only thing that invisibly anchored me to any spot upon the globe--the title
deeds of my farm, which once covered several blocks between Chestnut and Walnut Streets."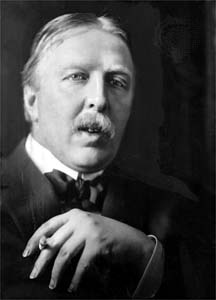 Ford Madox Ford (17 december 1873 - 26 juni 1939)
De Franse schrijver Jules de Goncourt werd geboren op 17 december 1830 in Parijs. Zie ook mijn blog van 17 december 2006 en ook mijn blog van 17 december 2008 en ook mijn blog van 17 december 2009.
Uit: Germinie Lacerteux (Door Jules en Edouard de Goncourt)
« La fosse commune, ce jour-là, c'était cela. Ce terrain, ces croix, ce prêtre disaient : - Ici dort la Mort du peuple et le Néant du pauvre.
O Paris ! tu es le cœur du monde, tu es la grande ville humaine, la grande ville charitable et fraternelle ! Tu as des douceurs d'esprit, de vieilles miséricordes de mœurs, des spectacles qui font l'aumône ! Le pauvre est ton citoyen comme le riche. Tes églises parlent de Jésus-Christ ; tes lois parlent d'égalité ; tes journaux parlent de progrès ; tous tes gouvernements parlent de peuple ; et voilà où tu jettes ceux qui ont sué leur vie à travailler pour toi, à te donner ton bien-être, tes plaisirs, tes splendeurs, ceux qui ont fait ton animation, ton bruit, ceux qui ont mis la chaîne de leurs existences dans ta durée de capitale, ceux qui ont été la foule de tes rues et le peuple de ta grandeur ! Chacun de tes cimetières a un pareil coin honteux, caché entre un bout de mur, où tu te dépêches de les enfouir, et où tu leur jettes la terre à pelletées si avares que l'on voit passer les pieds de leurs bières ! On dirait que ta charité s'arrête à leur dernier soupir, que ton seul gratis est le lit où l'on souffre, et que, passé l'hôpital, toi si énorme et si superbe, tu n'as plus de place pour ces gens-là ! Tu les entasses, tu les presses, tu les mêles dans la mort, comme il y a cent ans, sous les draps de tes Hôtels-Dieu, tu les mêlais dans l'agonie ! Encore hier, n'avais-tu pas seulement ce prêtre en faction pour jeter un peu d'eau bénite banale à tout venant : pas la moindre prière ! Cette décence même manquait : Dieu ne se dérangeait pas ! Mais ce que ce prêtre bénit, c'est toujours la même chose : un trou où le sapin se cogne, où les morts ne sont pas chez eux ! Le corruption y est commune ; personne n'a la sienne, chacun a celle de tous : c'est la promiscuité du ver ! Dans le sol dévorant, un Montfaucon se hâte pour les Catacombes…"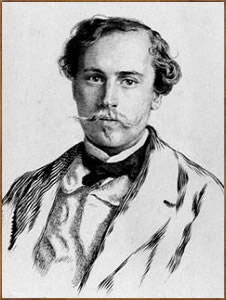 Jules de Goncourt (17 december 1830 - 20 juni 1870)
De Engelse dichteres, schrijfster en essayiste Penelope Fitzgerald werd geboren op 17 december 1916 in Lincoln. Zie ook mijn blog van 17 december 2008 en ook mijn blog van 17 december 2009.
Uit: The Means of Escape
"St. george's church, Hobart, stands high above Battery Point and the harbor. Inside, it looks strange and must always have done so, although (at the time I'm speaking of) it didn't have the blue-, pink- and yellow-patterned stained glass that you see there now. That was ordered from a German firm in 1875. But St. George's has always had the sarcophagus-shaped windows, which the architect had thought Egyptian and therefore appropriate (St. George is said to have been an Egyptian saint). They give you the curious impression, as you cross the threshold, of entering a tomb.
In 1852, before the organ was installed, the church used to face east, and music was provided by a seraphine. The seraphine was built, and indeed invented, by a Mr. Ellard, formerly of Dublin, now a resident of Hobart. He intended it to suggest the angelic choir, although the singing voices at his disposal — the surveyor general, the naval chaplain, the harbormaster and their staffs — were for the most part male. Who was able to play the seraphine? Only, at first, Mr. Ellard's daughter, Mrs. Logan, who seems to have got L20 a year for doing so, the same fee as the clerk and the sexton. When Mrs. Logan began to feel the task was too much for her — the seraphine needs continuous pumping — she instructed Alice Godley, the rector's daughter.
Hobart stands "south of no north," between snowy Mount Wellington and the River Derwent, running down over steps and promontories to the harbor's bitterly cold water. You get all the winds that blow. The next stop to the south is the limit of the Antarctic drift ice. When Alice went up to practice the hymns she had to unlock the outer storm door, made of Huon pine, and the inner door, also a storm door, and drag them shut again."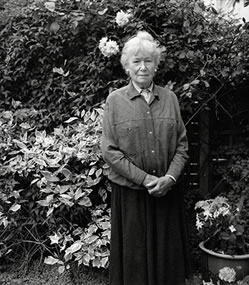 Penelope Fitzgerald (17 december 1916 - 28 april 2000)
De Franse schrijver Alphonse Boudard werd geboren op 17 december 1925 in Parijs. Zie ook mijn blog van 17 december 2008 en ook mijn blog van 17 december 2009.
Uit: L'Hôpital
«… les pavés ronds, les arcades, je traverse la cour, j'entre à l'hosto. C'est l'été et c'est Bicêtre. Ils partent les autres au bronzage sur les rives d'Azur. Qu'ils se tirent tous, grand bien leur fasse… mémères, lardons, pin-up… Nationale 7… Saint-Trop les miches ! Tellement je suis pompé, crouni, qu'ils peuvent se gaver tous les soleils, ça ne me démange pas la jalousie. J'ai la tête lourde, les cannes tristes et encore ce goût fade de sang dans le fond de la gorge. Je me pointe tout sage aux admissions, bien docile, bien réfléchi. J'ai ma valoche carton bouilli, ma brosse à dents, mon nécessaire, juste ce qu'il me faut. La canicule, le ciel d'ardoise, l'étouffement que c'est !… chez Géo, l'usine en bas vers la Bascule, les effluves qui montent à vous dégoûter de la saucisse pour le restant de vos repas. Je retire mes pompes. La préposée, la dame en blanc, toujours l'exige. Trop souvent qu'elle en a vus, depuis vingt piges et des poussières qu'elle officie à l'Assistance, de ces messieurs bien sous tous rapports – le col à becter de la tarte, les manchettes à boutons dorés – et cependant les panards cradingues puants. Elle se défie des apparences, elle connaît la vie, les êtres, les plaies profondes, le cœur humain. […]»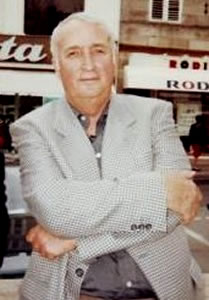 Alphonse Boudard (17 december 1925 – 14 januari 2000)

De Braziliaanse schrijver Érico Veríssimo werd geboren op 17 december 1905 in Rio Grande do Sul. Zie ook mijn blog van 17 december 2008.
Uit: Mexico (Vertaald door Linton Barrett)
"The legendary Rio Grande, that part of it where we crossed and at that season of the year, was no more than a slender thread of water running melancholy along its bed of burnished copper.
"The dry season," the ticket-collector, a short man with a sharp Aztec profile, explains laconically.
Our train--two cars with extremely few passengers--was being hauled by an elderly locomotive, slow and wheezy.
"You see," I murmured to my companion, "nobody in his right mind makes this trip by train."
"The crazy ones go by air," she smiled. "So far I have no reason for complaining."
The examination of passports was rapid. The American inspector was blond, lean and jovial. The Mexican, fat, hairy and taciturn. We had no trouble with Customs: at sight of my laissez-passer with
the seal of the Organization of American States they desisted from inspecting our bags. We slowly entered the territory of Mexico.
Under the light that falls from a faded sky, a metallic tone, this part of Juárez next to the railway station reminds us of a city of the Brazilian Northeast, with its low houses, some painted yellow, blue
or pink, the sandy ground and the dry air of a glittering transparency. Barefoot Indian men and women, standing in the streets, raise their enigmatic, earth-coloured faces toward the train. They are stumpy, ugly, dirty and sorry-looking. I see men dressed in a fetal position, their straw hats tilted over their eyes, just as in the most conventional pictures that claim to represent Mexico. Boys in blue jeans of visibly Texan influence are playing baseball in a field. The towers of an old church loom above a clump of trees, sharp against the May horizon. I am gradually being invaded by that sensation which, in certain places we visit for the first time or in certain situations, leads us to think: "I've been here before. This has already happened to me."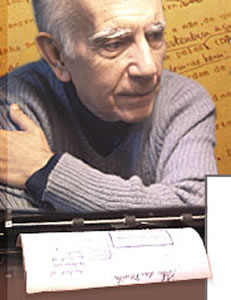 Érico Veríssimo (17 december 1905 – 28 november 1975)

17-12-2010 om 19:26 geschreven door Romenu

Tags:Ford Madox Ford, Jules de Goncourt, Penelope Fitzgerald, Alphonse Boudard, Érico Veríssimo, Romenu



Albert Drach, John Kennedy Toole, John Whittier, Thomas Haliburton, Władysław Broniewski
De Oostenrijkse schrijver Albert Drach werd op 17 december 1902 in Mödling geboren. Zie ook mijn blog van 17 december 2008.
Uit: Das große Protokoll gegen Zwetschkenbaum
"In dem sehr zweifelhaften Schatten eines sogenannten Zwetschkenbaumes saß ein Mann, der hieß auch Zwetschkenbaum, aber er war es nicht. Diese Familienbezeichnung gibt nämlich allerdings einen guten Namen für die damit gemeinte Pflanze mit verholztem Stengel oder Stamm ab.
Denn sie ist gebräuchlich für alle Gewächse solcher Art, welche hinwiederum nützlich und beliebt sind. Dagegen hält man erwähnten Namen für schlecht, wenn er einen Menschen betrifft, und der Verruf, in dem er steht, hat seine Begründung nicht etwa darin, daß einmal ein großer philosophischer Dichter behauptet hat, vieles im Menschen sei noch Pflanze und Gespenst; sondern vielmehr ist man zu einer absprechenden Ansicht deshalb gelangt, weil die Benennung besagten Vegetationsteiles auch noch häufig von einer Spezies Kreatur (Gattung Lebewesen) für sich in Anspruch genommen wird, die man gemeinhin Juden nennt. Und so ist es auch kein Zufall, daß es einmal einen Juden namens Zwetschkenbaum gab, von dem hier die Rede ist.
Dafür, daß er an einem eingangs bezogenen Tage unter einer Pflanze gelegen sei (habe), deren Namen einer seiner Stammesvorgänger sich angeeignet hat, gibt Genannter die folgende Begründung an. Er heiße Schmul Leib Zwetschkenbaum, sei gebürtig in Brody (Ostgalizien), wo sich auch seine Eltern befunden hätten, zu der Zeit nämlich, als dieselben noch am Leben gewesen wären. Sie seien nach Hinterlassung von sieben Kindern arm gestorben. Vorher hätten sie mit allem möglichen gehandelt, angeblich ohne bleibenden Nutzen. Von den sieben Kindern seien zwei in Amerika, und zwar einer in einer Wäscherei, der andere in einer Färberei tätig gewesen. Diese hätten früher ab und zu Geld für die Familie geschickt, seit Ausbruch des Weltkriegs aber nichts mehr."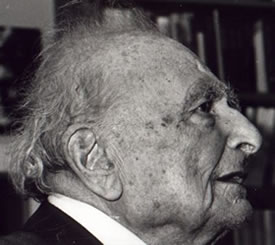 Albert Drach (17 december 1902 – 27 maart 1995)
De Amerikaanse schrijver John Kennedy Toole werd geboren op 17 december 1937 in New Orleans. Zie ook mijn blog van 17 december 2008.
Uit: A Confederacy of Dunces
"Ignatius lumbered over to the picket fence, abandoning the hopeless cause espoused by the wagon, and viewed the oil paintings and pastels and watercolors strung there. Although the style of each varied in crudity, the subjects of the paintings were relatively similar: camellias floating in bowls of water, azaleas tortured into ambitious flower arrangements, magnolias that looked like white windmills. Ignatius scrutinized the offerings furiously for a while all by himself, for the ladies had stepped back from the fence and had formed what looked like a protective little grouping. The wagon, too, stood forlorn on the flagstones, several feet from the newest member of the art guild.
"Oh, my God!" Ignatius bellowed after he had promenaded up and down along the fence. "How dare you present such abortions to the public."
"Please move along, sir," a bold lady said.
"Magnolias don't look like that," Ignatius said, thrusting his cutlass at the offending pastel magnolia. "You ladies need a course in botany. And perhaps geometry, too."
"You don't have to look at our work," an offended voice said from the group, the voice of the lady who had drawn the magnolia in question.
"Yes, I do!" Ignatius screamed. "You ladies need a critic with some taste and decency. Good heavens! Which one of you did this camellia? Speak up. The water in this bowl looks like motor oil."
"Let us alone," a shrill voice said.
"You women had better stop giving teas and brunches and settle down to the business of learning how to draw," Ignatius thundered. "First, you must learn how to handle a brush. I would suggest that you all get together and paint someone's house for a start."
"Go away."
"Had you 'artists' had a part in the decoration of the Sistine Chapel, it would have ended up looking like a particularly vulgar train terminal," Ignatius snorted.
"We don't intend to be insulted by a coarse vendor," a spokeswoman for the band of large hats said haughtily.
"I see!" Ignatius screamed. "So it is you people who slander the reputation of the hot dog vendor."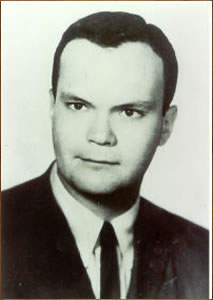 John Kennedy Toole (17 december 1937 – 26 maart 1969)
De Amerikaanse dichter en hervormer John Greenleaf Whittier werd geboren in Haverhill, Massachusetts op 17 december 1807. Zie ook mijn blog van 17 december 2008.
A Christmas Carmen
I.
Sound over all waters, reach out from all lands,
The chorus of voices, the clasping of hands;
Sing hymns that were sung by the stars of the morn,
Sing songs of the angels when Jesus was born!
With glad jubilations
Bring hope to the nations!
The dark night is ending and dawn has begun:
Rise, hope of the ages, arise like the sun,
All speech flow to music, all hearts beat as one!
II.
Sing the bridal of nations! with chorals of love
Sing out the war-vulture and sing in the dove,
Till the hearts of the peoples keep time in accord,
And the voice of the world is the voice of the Lord!
Clasp hands of the nations
In strong gratulations:
The dark night is ending and dawn has begun;
Rise, hope of the ages, arise like the sun,
All speech flow to music, all hearts beat as one!
III.
Blow, bugles of battle, the marches of peace;
East, west, north, and south let the long quarrel cease
Sing the song of great joy that the angels began,
Sing of glory to God and of good-will to man!
Hark! joining in chorus
The heavens bend o'er us!
The dark night is ending and dawn has begun;
Rise, hope of the ages, arise like the sun,
All speech flow to music, all hearts beat as one!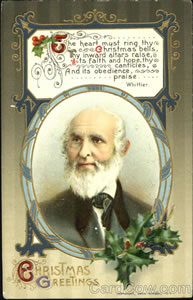 John Greenleaf Whittier (17 december 1807 – 7 september 1892)
Whittier op een kerstkaart
De Canadese schrijver Thomas Chandler Haliburton werd geboren op 17 december 1796 in Windsor, Nova Scotia. Zie ook mijn blog van 17 december 2008.
Uit: The Clockmaker or, The Sayings and Doings of Samuel Slick, of Slickville
"The Preacher that Wandered from His Text
I guess, said the Clockmaker, we know more of Nova Scotia than the Blue Noses themselves do. The Yankees see further ahead than most folks; they can een a most see round t'other side of a thing; indeed some on them have hurt their eyes by it, and sometimes I think that's the reason such a sight of them wear spectacles. The first I ever heerd tell of Cumberland was from Mr. Everett of Congress;
he know'd as much about it as if he had lived here all his days, and may be a little grain more. He is a splendid man that--we class him No. 1, letter A. One night I chanced to go into General Peep's tavern at Boston, and who should I see there but the great Mr. Everett, a studying over a map of the Province of Nova-Scotia. Why it aint possible! said I--if that aint Professor Everett, as I am alive! why how do you do, Professor? Pretty well, I give you thanks, said he; how be you? but I aint no longer Professor; I gin that up, and also the trade of Preaching, and took to politics. You don't say so, said I; why what on airth is the cause o' that? Why, says he, look here, Mr. Slick. What IS the use of reading the Proverbs of Solomon to our free and enlightened citizens, that are every mite and mortal as wise as he was? That are man undertook to say there was nothing new under the sun. I guess he'd think he spoke a little too fast, if he was to see our steam boats, rail-roads, and India rubber shoes--three inventions worth more nor all he knew put in a heap together. Well, I don't know, said I, but somehow or another, I guess you'd have found preaching the best speculation in the long run; them are Unitarians pay better than Uncle Sam (we call, said the Clockmaker, the American public Uncle Sam, as you call the British John Bull.)"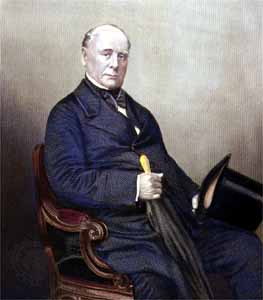 Thomas Haliburton (17 december 1796 – 27 augustus 1865)
De Poolse dichter en militair Władysław Broniewski werd geboren op 17 december 1897 in Plock. Zie ook mijn blog van 17 december 2008.
Bodies
Bodies of children
From crematories
Will fly
High above history
Bodies of boys,
Bodies of girls
In crowns of thorns
Will flock together.
Bodies of men
From field-graveyards
Will march to conquer,
Will be free.
Le premier papillon
Le premier papillon s'envola dans le pré,
lança vers le soleil un bonjour bien joyeux,
dans un nuage blanc s'égara un moment,
battit de l'aile frêle et descendit, prudent;
batifola un peu, insouciant et léger,
de tous ces va-et-vient se sentit fatigué,
s'assit sur une fleur, lui dit : que tu sens bon!
Tel fut le premier jour du premier papillon.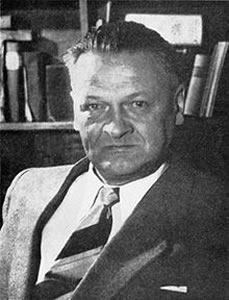 Władysław Broniewski (17 december 1897 – 10 februari 1962)
17-12-2010 om 19:21 geschreven door Romenu

Tags:Albert Drach, John Kennedy Toole, John Whittier, Thomas Haliburton, Wł,adysł,aw Broniewski, Romenu



| | |
| --- | --- |
| | |



Inhoud blog


| | |
| --- | --- |
| | Billy Collins, Eveline Hasler, Érik Orsenna, Léon Deubel, Karel Poláček, Arnold Sauwen, Wolfgang Bächler, Albrecht Goes, Gabrielle Roy |
| | In Memoriam Colin Dexter |
| | Willem de Mérode, Pim te Bokkel, Kees van Beijnum, Jean Paul, Hamid Skif, Hubert Fichte, Peter Hacks, Michel Bartosik, Youssef Rzouga |
| | David Malouf, Friedrich Hölderlin, Katharina Hartwell, Ralph Giordano, Ricus van de Coevering, Jens Petersen, Benoît Duteurtre, Gerard Malanga, Henrik Johan Ibsen |
| | Mano Bouzamour, Hans Mayer, Philip Roth, Kirsten Boie, Lynne Sharon Schwartz, Lina Kostenko, Petar Preradović |
| | William Allingham, Ion Barbu, Rosalie Loveling, Tobias Smollett, Irving Wallace, Peter Abrahams |
| | Am dritten Sonntage in der Fasten (Annette von Droste-Hülshoff) |
| | Christa Wolf, Charlotte Roche, John Updike, Wilfred Owen, Stéphane Mallarmé |
| | Héctor Bianciotti, Hellema, Friedrich Hebbel, Max Barry, Wolfgang Bauer, Richard Condon |
| | Walter Rheiner, Srečko Kosovel, Jean Anglade, George Plimpton, Cosmo Monkhouse, Friedrich Nicolai |
| | Siegfried Lenz, Thomas Melle, Hans Wollschläger, Rense Sinkgraven, Hafid Aggoune, William Gibson, Patrick Hamilton, Karl Gutzkow, Jean Ingelow |
| | In memoriam Torgny Lindgren |
| | Frühlingsglaube (Johann Ludwig Uhland) |
| | Ben Okri, David Albahari, Louis Paul Boon, Kurt Drawert, Gerhard Seyfried, Andreas Okopenko, An Rutgers van der Loeff, Prosper van Langendonck, Paul Heyse |
| | Pam Ayres, Jochen Schimmang, Volker von Törne, Horton Foote, Olivier Delorme, Alexandru Macedonski, Albert Robida, Theodore de Banville, Wout Waanders |
| | Mahmoud Darwish, Yuri Andrukhovych, Didier Decoin, Yeghishe Charents, Vladimir Makanin, Oskar Loerke, W.O. Mitchell, Hugh Walpole, Inge Müller |
| | Jenny Erpenbeck, Dave Eggers, Jack Kerouac, Naomi Shihab Nye, Carl Hiaasen, Edward Albee, De Schoolmeester, Benedict Wells |
| | Kathrin Schmidt, Henrike Heiland, M. A. Numminen, Gabriele d'Annunzio, Irving Layton, Helga Goetze, Françoise d'Eaubonne, Antony Deschamps, Sergej Michalkov |
| | Leena Lehtolainen, Karl Krolow, Daan de Ligt, Frans Vogel, Willem Claassen, Amal Karam |
| | Ernst Wichert, Douglas Adams, Torquato Tasso, Georg Maurer, Josef Martin Bauer |
| | John Rechy, Joseph von Eichendorff, Hilde Van Cauteren, Jakob Wassermann, Karel van de Woestijne, Chloé Delaume, Friedrich Schlegel, Boris Vian, Manolis Anagnostakis |
| | Peter Altenberg, Ed Hoornik, Peter Zantingh, Heere Heeresma, Vita Sackville-West, Josef Weinheber, Taras Sjevtsjenko, Umberto Saba, Agnes Miegel |
| | Jeffrey Eugenides, Walter Jens, Hafid Bouazza, A. Marja, Aslı Erdoğan, John McPhee, Mouloud Feraoun, Mechtilde Lichnowsky, Dominic Angeloch |
| | Bret Easton Ellis, Robert Harris, Jürgen Theobaldy, Georges Perec, Abe Kōbō, Reinhard Kaiser, Manfred Gregor, Jan Frederik Helmers, Alessandro Manzoni |
| | Patrick deWitt, Gabriel García Márquez, Jeremy Reed, Marijke Hanegraaf, Thomas Acda, Günter Kunert, Clark Accord, Elizabeth Barrett Browning, Michelangelo |
| | Pier Paolo Pasolini, Arthur van Schendel, Koos van Zomeren, Jurre van den Berg, Nelly Arcan, Danny King, Jean Orizet |
| | Leslie Marmon Silko, Frank Norris, Fritz Usinger, Friedrich Schnack, Ennio Flaiano, Moritz Carrière, Karl August Timotheus Kahlert |
| | Kristof Magnusson, Khaled Hosseini, Robert Kleindienst, Irina Ratushinskaya, Alan Sillitoe |
| | Ryszard Kapuściński, Jean-Joseph Rabearivelo, Annette Seemann, F. W. Bernstein, Giorgio Bassani |
| | Bernardo Ashetu, Léon-Paul Fargue, Kito Lorenc, Jacques Dupin, Thomas S. Stribling |
| | Manfred Flügge, Hans Verhagen, Tjitske Jansen, James Merrill, Kola Boof, Clifton Snider, Gudrun Pausewang, Josef Winkler, Chris Kraus |
| | Godfried Bomans, Multatuli, Frank Albers, John Irving, Thom Wolfe, Michael Salinger, János Arany, Olivia Manning, Rinske Kegel |
| | Ash Wednesday (T. S. Eliot) |
| | Jan Eijkelboom, Jim Crace, Delphine de Vigan, Franz Hohler, Lytton Strachey, Robert Lowell, Myrthe van der Meer, Franzobel, Steven Barnes |
| | Chanson pour mourir d'amour au temps de carnaval (Louis Aragon) |
| | Stephen Spender, Bart Koubaa, Luc Dellisse, John Montague, Marcel Pagnol, Bodo Morshäuser, Martin Suter, Yórgos Seféris, Howard Nemerov |
| | Josef Svatopluk Machar |
| | Carnival Evening (Linda Pastan) |
| | Cynan Jones, John Steinbeck, Lawrence Durrell, André Roy, Henry Longfellow, Elisabeth Borchers, James T. Farrell, Irwin Shaw |
| | Fastnacht (Achim von Arnim) |
| | Michel Houellebecq, Victor Hugo, Adama van Scheltema, George Barker, Hermann Lenz, Antonin Sova, Jean Teulé |
| | Ulrike Syha, Elias Annes Borger, Vercors, Pierre Mac Orlan, Janus Djurhuus, Johann Lauremberg, August Thieme |
| | Amin Maalouf, Aldo Busi, Gabriël Smit, Anthony Burgess, Robert Rius, Karl May, Lesja Oekrajinka, Vittoria Colonna |
| | Franz Xaver Kroetz, Gérard Bessette, Mary Chase, Karl Wilhelm Ramler, Friedrich von Spee, Carlo Goldoni, Quirinus Kuhlmann |
| | Leon de Winter, Alain Mabanckou, George Moore, Erich Loest, Herman Maas, Luc Verbeke, Wilhelm Grimm, Friedrich Spielhagen, Jacques Presser |
| | César Aira, Ljoedmila Oelitskaja, Robert Gray, Jef Geeraerts, Bernard Cornwell, Toon Kortooms, Erich Kästner, Sonya Hartnett, Maxim Februari |
| | Jo Ypma |
| | Arnon Grunberg, Rob Schouten, Ruben van Gogh, Paul van Ostaijen, Hugo Ball, Danilo Kis, Sean O'Faolain, Ishmael Reed, Edna St. Vincent Millay |
| | Herman de Coninck, Tom van Deel, Jonathan Safran Foer, Hans Andreus, Chuck Palahniuk, Wystan Hugh Auden, Laure Limongi, Aleksej Kroetsjonych, Justus van Effen |
| | P. C. Boutens, David Nolens, Ellen Gilchrist, Julia Franck, Georges Bernanos, William Carleton, Cornelis Sweerts, Johann Heinrich Voß |


Gastenboek


Druk op onderstaande knop om een berichtje achter te laten in mijn gastenboek