E-mail mij


Druk op onderstaande knop om mij te e-mailen.


Romenu


Romenu is een blog over gedichten, literatuur en kunst Maar Romenu is ook een professionele freelance vertaler
Du-Ne en Ne-Du http://www.romenu.nl.


Huur eens een (vakantie)huis in een natuurgebied, dichtbij het centrum van Nijmegen


Google


Georg Trakl

Georg Trakl werd op 3 februari 1887 in het conducteurshuis aan de Waagplatz 2 in Salzburg geboren. Zijn vader, Tobias Trakl, was een handelaar in ijzerwaren en zijn moeder, die ook psychische problemen had, was Maria Catharina Trakl, (meisjesnaam Halik). Voorts had hij nog drie broers en drie zussen. Margarethe (doorgaans Grethe genoemd) stond hem het naast, zelfs zodanig dat sommigen een incestueuze verhouding vermoeden. Zijn jeugd bracht hij door in Salzburg. Vervolgens bezocht hij van 1897 tot 1905 het humanistische gymnasium. Om toch een academische opleiding te kunnen volgen, werkte hij tot 1908 in de praktijk bij een apotheker. Sommigen vermoedden dat hij dit vooral deed om zichzelf opiaten te kunnen verschaffen. Bij het uitbreken van WO I werd Trakl als medicus naar het front in Galicië (heden ten dage in Oekraïne en Polen) gestuurd. Zijn gemoedsschommelingen leidden tot geregelde uitbraken van depressie, die verergerd werden door de afschuw die hij voelde voor de verzorging van de ernstig verwonde soldaten. De spanning en druk dreven hem ertoe een suïcidepoging te ondernemen, welke zijn kameraden nochtans verhinderden. Hij werd in een militair ziekenhuis opgenomen in Kraków, alwaar hij onder strikt toezicht geplaatst werd.Trakl verzonk daar in nog zwaardere depressies en schreef Ficker om advies. Ficker overtuigde hem ervan dat hij contact moest opnemen met Wittgenstein, die inderdaad op weg ging na Trakls bericht te hebben ontvangen. Op 4 november 1914, drie dagen voordat Wittgenstein aan zou komen, overleed hij echter aan een overdosis cocaïne


Paul Celan

Paul Celan werd onder de naam Paul Antschel op 23 november 1920 geboren in Czernowitz, toentertijd de hoofdstad van de Roemeense Boekovina, nu behorend bij de Oekraïne. Paul Celans ouders waren Duitssprekende joden die hun zoon joods opvoedden en hem naar Duitse christelijke scholen stuurden. In 1942 werden Celans ouders door de Duitse bezetter naar een werkkamp gedeporteerd en daar vermoord. Hijzelf wist aanvankelijk onder te duiken, maar moest vanaf juli 1942 in een werkkamp dwangarbeid verrichten. Celan overleefde de oorlog. Via Boekarest en Wenen vestigde Celan zich in 1948 in Parijs. Daar was hij werkzaam als dichter, vertaler en doceerde hij aan de prestigieuze Ecole Normale Supérieure. Vermoedelijk op 20 april 1970 beëindigde hij zijn leven zelf door in de Seine te springen.


Gerard Reve

Gerard Reve over: Medearbeiders "God is in de mensen, de dieren, de planten en alle dingen - in de schepping, die verlost moet worden of waaruit God verlost moet worden, door onze arbeid, aangezien wij medearbeiders van God zijn." Openbaring "Tja, waar berust elk godsbegrip op, elke vorm van religie? Op een openbaring, dat wil zeggen op een psychische ervaring van zulk een dwingende en onverbiddelijke kracht, dat de betrokkene het gevoel heeft, niet dat hij een gedachte of een visioen heeft, maar dat een gedachte gedachte of visioen hem bezit en overweldigt."


Simon Vestdijk
Simon Vestdijk (Harlingen, 17 oktober 1898 – Utrecht, 23 maart 1971) was een Nederlands romancier, dichter, essayist en vertaler. Zijn jeugd te Harlingen en Leeuwarden beschreef hij later in de Anton Wachter-cyclus. Van jongs af aan logeerde hij regelmatig bij zijn grootouders in Amsterdam, waar hij zich in 1917 aan de Universiteit van Amsterdam inschrijft als student in de medicijnen. Tijdens zijn studie die van 1917 tot 1927 duurde, leerde hij Jan Slauerhoff kennen.Tot 1932 is hij als arts in praktijken door heel Nederland werkzaam. In 1932 volgt zijn officiële schrijversdebuut met de uitgave van de bundel Verzen in De Vrije Bladen. Doorslaggevend voor Vestdijks uiteindelijke keuze voor de literatuur is zijn ontmoeting in 1932 met Eddy Du Perron en Menno ter Braak. Deze ontmoeting had tot resultaat dat hij redactielid werd van het tijdschrift Forum Kort daarop, in 1933, wordt zijn eerste novelle, De oubliette, uitgegeven. In hetzelfde jaar schrijft hij Kind tussen vier vrouwen, dat, eerst geweigerd door de uitgever, later de basis zal vormen voor de eerste drie delen van de Anton Wachter-romans. In 1951 ontvangt Vestdijk de P.C. Hooftprijs voor zijn in 1947 verschenen roman De vuuraanbidders. In 1957 wordt hij voor het eerst door het PEN-centrum voor Nederland voorgedragen voor de Nobelprijs voor de Literatuur, die hij echter nooit zal krijgen. Op 20 maart 1971 wordt hem de Prijs der Nederlandse Letteren toegekend, maar voor hij deze kan ontvangen overlijdt hij op 23 maart te Utrecht op 72-jarige leeftijd. Vestdijk was auteur van ca. 200 boeken. Vanwege deze enorme productie noemde de dichter Adriaan Roland Holst hem 'de man die sneller schrijft dan God kan lezen'. Andere belangrijke boeken van Simon Vestdijk zijn: "Kind van stad en land" (1936), "Meneer Visser's hellevaart" (1936), "Ierse nachten" (1946), "De toekomst de religie" (1947), "Pastorale 1943" (1948), "De koperen tuin" (1950), "Ivoren wachters" (1951), "Essays in duodecimo" (1952) en "Het genadeschot" (1964).


K.P. Kavafis

K.P. Kavafis werd als kind van Griekse ouders, afkomstig uit Konstantinopel, geboren in 1863 in Alexandrië (tot vandaag een Griekse enclave) waar hij ook het grootste deel van zijn leven woonde en werkte. Twee jaar na de dood van zijn vader verhuist het gezin in 1872 naar Engeland om na een verblijf van vijf jaar naar Alexandrië terug te keren. Vanwege ongeregeldheden in Egypte vlucht het gezin in 1882 naar Konstantinopel, om na drie jaar opnieuw naar Alexandrië terug te gaan. In de jaren die volgen maakt Kavafis reizen naar Parijs, Londen en in 1901 zijn eerste reis naar Griekenland, in latere jaren gevolgd door nog enkele bezoeken. Op de dag van zijn zeventigste verjaardag, in 1933 sterft Kavafis in Alexandrië. De roem kwam voor Kavafis pas na zijn dood, dus postuum. Deels is dat toe te schrijven aan zijn eigen handelswijze. Hij was uiterst terughoudend met de publicatie van zijn gedichten, liet af en toe een enkel gedicht afdrukken in een literair tijdschrift, gaf in eigen beheer enkele bundels met een stuk of twintig gedichten uit en het merendeel van zijn poëzie schonk hij op losse bladen aan zijn beste vrienden.


Thomas Mann


Thomas Mann, de jongere broer van Heinrich Mann, werd geboren op 6 juni 1875 in Lübeck. Hij was de tweede zoon van de graankoopman Thomas Johann Heinrich Mann welke later één van de senatoren van Lübreck werd. Zijn moeder Julia (geboren da Silva-Bruhns) was Duits-Braziliaans van Portugees Kreoolse afkomst. In 1894 debuteerde Thomas Mann met de novelle "Gefallen". Toen Thomas Mann met 21 jaar eindelijk volwassen was en hem dus geld van zijn vaders erfenis toestond - hij kreeg ongeveer 160 tot 180 goldmark per jaar - besloot hij dat hij genoeg had van al die scholen en instituties en werd onafhankelijk schrijver. Kenmerkend voor zijn stijl zijn de ironie, de fenomenale taalbeheersing en de minutieuze detailschildering. Manns reputatie in Duitsland was sterk wisselend. Met zijn eerste roman, Buddenbrooks (1901), had hij een enorm succes, maar door zijn sceptische houding tegenover Duitsland na de Eerste Wereldoorlog veranderde dit volledig. Stelde hij zich tot aan de jaren twintig apolitiek op (Betrachtungen eines Unpolitischen, 1918), meer en meer raakte hij bij het Politiek gebeuren betrokken. Zijn afkeer van het nationaal socialisme groeide, zijn waarschuwingen werden veelvuldiger en heftiger. In 1944 accepteerde hij het Amerikaanse staatsburgerschap. Tussen 1943 en 1947 schreef Mann Doktor Faustus (zie Faust), de roman van de 'Duitse ziel' in de gecamoufleerd geschilderde omstandigheden van de 20ste eeuw. In 1947 bezocht hij voor het eerst sinds de Oorlog Europa, twee jaar later pas Duitsland. In 1952 vertrok hij naar Zwitserland. Op 12 augustus 1955 stierf hij in Zürich. Twintig jaar na zijn dood, in aug. 1975, is zijn literaire nalatenschap geopend: dagboekaantekeningen van 15 maart 1933 tot 29 juli 1955, alsmede notities uit de jaren 1918 tot en met 1921.Belangrijke werken zijn: Der Zauberberg, Der Tod in Venedig, Dokter Faustus , Joseph und seine Brüder en Die Bekenntnisse des Hochstaplers Felix Krull.


Rainer Maria Rilke

Rilke werd op 4 december 1875 geboren in Praag. Hij had al naam gemaakt als dichter met zijn bundels Das Stundenbuch en Das Buch der Bilder, toen hij de literaire wereld versteld deed staan en wereldfaam verwierf met de publicatie van zijn twee delen Neue Gedichte in 1907 en 1908. Hij verzamelde daarin het beste werk uit een van zijn vruchtbaarste periodes, die hij grotendeels doorbracht in Parijs. Rilke was daar diep onder de indruk gekomen van Rodin, bij wie hij een tijdlang in dienst was als particulier secretaris. Rodin, zei hij later, had hem leren kijken. Dit kijken kwam neer op intense concentratie, om het mysterie te kunnen zien 'achter de schijnbare werkelijkheid'. Latere en rijpere werken als Duineser Elegien (1912-1923) en het ronduit schitterende Die Sonette an Orfeus (1924) illustreren Rilkes metafysische visie op het onzegbare, dat haar verwoording vindt in een hermetische muzikale taal. Op 29 december 1926 overlijdt Rilke in het sanatorium in Val-Mont aan de gevolgen van leukemie. Enkele dagen later wordt hij, overeenkomstig zijn wens, begraven op het kerkhof van Raron.


* * * * * * * * * * * * * * * *

| | |
| --- | --- |
| | Over literatuur, gedichten, kunst en cultuur |

19-02-2013

Björn Kuhligk, Amy Tan, Dmitri Lipskerov, Thomas Brasch
De Duitse dichter en schrijver Björn Kuhligk werd geboren op 19 februari 1975 in Berlijn. Zie ook alle tags voor Björn Kuhligk op dit blog.


Während des Freitagsgebetes
(für Katja Krauß)

WÄHREND DES FREITAGSGEBETES
die kopftuchgebückten Frauen
auf den Feldern, von den Minaretten
fallen die Worte wie Ringe um die Häuser, abends
stellen sich Sprenger an, die zerfallenen
Gewächshäuser, eine Ansammlung
Zelte, vor denen zwei Kinder am Feuer
bei Nacht der Swimmingpool, pauschal-beleuchtet
bis ins Hellblau, das Anschlagen der Zikaden
in den Dörfern stehen Häuser leer, auf den Dächern
rostende Wassertonnen, LADIES
AND GENTLEMEN: MR. GERMANY, dann
der Clubtanz, Hände hoch und rechts und links
und Beine breit, IHR NAME AUF EINEM REISKORN
die Sonne seilt sich, das kennt man hier, wie jeden Abend
hinter den Bergen ab, SIE WERDEN ES NICHT VERGESSEN
die Fotoserie, in der ein Pärchen am Meer
und freundlich auf das Wasser blickt
über den nackten Oberkörpern am Morgen
drei Kampfjets Richtung Osten
dann der Clubtanz, Hände hoch und rechts
und links, irgendjemand macht das Foto



Horizontbetrachter


Hier ist ein Wald
da sind die Bäume
darin sind die Ringe
darin schläft die Angst


du schlägst zu mit der Axt
und trinkst den Harzstein mit


und das Lieblingstier
das ist der Affe im Zoo
den kannst du besuchen
und er dich nicht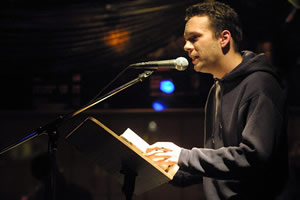 Björn Kuhligk (Berlijn, 19 februari 1975)





De Amerikaanse schrijfster

Amy Tan

werd geboren in Oakland, Ohio, op 19 februari 1952.

Zie ook

alle tags voor

Amy Tan op dit blog.

Uit: The Hundred Secret Senses

"My sister Kwan believes she has yin eyes. She sees those who have died and now dwell in the World of Yin, ghosts who leave the mists just to visit her kitchen on Balboa Street in San Francisco.
"Libby-ah," she'll say to me. "Guess who I see yesterday, you guess." And I don't have to guess that she's talking about someone dead.
Actually, Kwan is my half sister, but I'm not supposed to mention that publicly. That would be an insult, as if she deserved only fifty percent of the love from our family. But just to set the genetic record straight, Kwan and I share a father, only that. She was born in China. My brothers, Kevin and Tommy, and I were born in San Francisco after my father, Jack Yee, immigrated here and married our mother, Louise Kenfield.
Mom calls herself "American mixed grill, a bit of everything white, fatty, and fried." She was born in Moscow, Idaho, where she was a champion baton twirler and once won a county fair prize for growing a deformed potato that had the profile of Jimmy Durante. She told me she dreamed she'd one day grow up to be different -- thin, exotic, and noble like Luise Rainer, who won an Oscar playing O-lan in The Good Earth. When Mom moved to San Francisco and became a Kelly girl instead, she did the next-best thing. She married our father. Mom thinks that her marrying out of the Anglo race makes her a liberal. "When Jack and I met," she still tells people, "there were laws against mixed marriages. We broke the law for love." She neglects to mention that those laws didn't apply in California."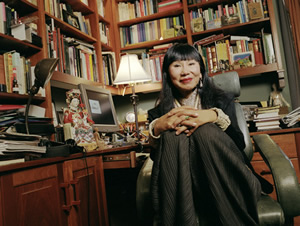 Amy Tan (Oakland, 19 februari 1952)
De Russische schrijver Dmitri Lipskerov werd geboren op 19 februari 1964 in Moskou. Zie ook alle tags voor Dmitri Lipskerov op dit blog.
Uit: The Last Sleep of Reason (Vertaald door Dmitri Priven)
"My legs glow in the dark!"
"Send him away to the psychiatric ward!"
"I'm ready for discharge!" Volodya instantly came to his senses…
Later that day he was discharged and his sick leave was over.
Anna Karlovna brought her husband home in a taxi and nursed him like a baby, heedless of her husband's malicious taunts about her barren German belly and Nazi relatives.
That night Volodya's legs got frozen over like a river in winter, and he was already grateful to his wife for bandaging his sore thighs with angora wool. A forgiving woman, she was stroking her husband's hair till the morning; he was crying bitterly, bidding farewell to his hopes for international recognition and generalship. Of all his fantasies only one remained: that Zubov would give him some of his pumpkin seeds, but then only if Major Pogosian commanded so.
The following morning Anna Karlovna found her husband's legs absolutely recovered, at least exactly the same as they were before the relapse - just slightly swollen at thighs. Tenderly she rubbed grandma's live cell ointment into them and helped her husband into the boots.
The police department welcomed Sinichkin back with mixed feelings. Major Pogosian patted him on the shoulder, but then lifted up his hands with typical Armenian sadness and talked at length that fame can spoil you and it is all good that the record did not happen."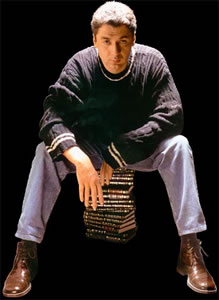 Dmitri Lipskerov (Moskou, 19 februari 1964)
De Duitse dichter en schrijver Thomas Brasch werd geboren in Westow,Yorkshire (Engeland) op 19 februari 1945. Zie ook alle tags voor Thomas Brasch op dit blog.
Schlaflied für K.
Nacht oder Tag oder jetzt
Will ich bei dir liegen
Vom schlimmsten Frieden gehetzt
Zwischen zwei Kriegen
Ich oder wir oder du
Denken ohne Gedanken
Schließ deine Augen zu
Siehst du die Städte schwanken
In den Traum oder Tod oder Schlaf
Komm in den Steingarten
wo ich dich nie traf
will ich jetzt auf dich warten
WENN ICH DICH BEGEHRE GEGEN JEDE VERNUNFT
wenn ich in dir suche meine Unterkunft
wenn ich das Sehnen und die Sucht benenn mit deinem Namen
und denke, es war gestern, als wir zu uns kamen
wenn ich inmeiner Liebe ganz verfangen bin
und alle meine Wünsche wandern zu dir hin
was kann denn daran unvernünftig sein,
wenn wir nicht uns, nur der Vernunft jetzt sagen:
Bleib allein.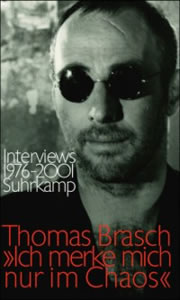 Thomas Brasch (19 februari 1945 – 3 november 2001)
Zie voor nog meer schrijvers van de 19e februari ook mijn blog van 19 februari 2011 deel 2 en eveneens deel 3.

19-02-2013 om 19:48 geschreven door Romenu

Tags:Björn Kuhligk, Amy Tan, Dmitri Lipskerov, Thomas Brasch, Romenu



Siri Hustvedt, Helen Fielding, Jaan Kross, Herbert Rosendorfer
De Amerikaanse schrijfster en essayiste Siri Hustvedt werd geboren op 19 februari 1955 in Northfield, Minnesota. Zie ook alle tags voor Siri Hustvedt op dit blog.
Uit: Living, Thinking, Looking
"DESIRE APPEARS AS A FEELING, a flicker or a bomb in the body, but it's always a hunger for something, and it always propels us somewhere else, toward the thing that is missing. Even when this motion takes place on the inner terrain of fantasy, it has a quickening effect on the daydreamer. The object of desire—whether it's a good meal, a beautiful dress or car, another person, or something abstract, such as fame, learning, or happiness—exists outside of us and at a distance. Whatever it is, we don't have it now. Although they often overlap, desires and needs are semantically distinct. I need to eat, but I may not have much desire for what is placed in front of me. While a need is urgent for bodily comfort or even survival, a desire exists at another level of experience. It may be sensible or irrational, healthy or dangerous, fleeting or obsessive, weak or strong, but it isn't essential to life and limb. The difference between need and desire may be behind the fact that I've never heard anyone talk of a rat's "desire"—instincts, drives, behaviors, yes, but never desires. The word seems to imply an imaginative subject, someone who thinks and speaks. In Webster's, the second definition for the noun desire is: "an expressed wish, a request." One could argue about whether animals have "desires." They certainly have preferences. Dogs bark to signal they wish to go outside, ravenously consume one food but leave another untouched, and make it known that the vet's door is anathema. Monkeys express their wishes in forms sophisticated enough to rival those of their cousins, the Homo sapiens. Nevertheless, human desire is shaped and articulated in symbolic terms not available to animals.
When my sister Asti was three years old, her heart's desire, repeatedly expressed, was a Mickey Mouse telephone, a Christmas wish that sent my parents on a multi-city search for a toy that had sold out everywhere."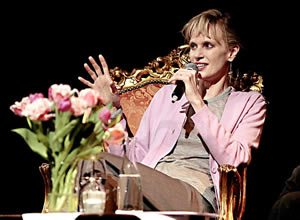 Siri Hustvedt (Northfield, 19 februari 1955)
De Engelse schrijfster Helen Fielding werd geboren in Morley, Yorkshire op 19 februari 1958. Zie ook alle tags voor Helen Fielding op dit blog.
Uit: Bridget Jones's Diary
"Sorry. I got lost."
"Lost? Durr! What are we going to do with you? Come on in!"
She led me through the frosted-glass doors into the lounge, shouting, "She got lost, everyone!"
"Bridget! Happy New Year!" said Geoffrey Alconbury, clad in a yellow diamond-patterned sweater. He did a jokey Bob Hope step then gave me the sort of hug which Boots would send straight to the police station.
"Hahumph," he said, going red in the face and pulling his trousers up by the waistband. "Which junction did you come off at?"
"Junction nineteen, but there was a diversion ..."
"Junction nineteen! Una, she came off at Junction nineteen! You've added an hour to your journey before you even started. Come on, let's get you a drink. How's your love life, anyway?"
Oh God. Why can't married people understand that this is no longer a polite question to ask? We wouldn't rush up to them and roar, "How's your marriage going? Still having sex?" Everyone knows that dating in your thirties is not the happy-go-lucky free-for-all it was when you were twenty-two and that the honest answer is more likely to be, "Actually, last night my married lover appeared wearing suspenders and a darling little Angora crop-top, told me he was gay/a sex addict/a narcotic addict/a commitment phobic and beat me up with a dildo," than, "Super, thanks."
Not being a natural liar, I ended up mumbling shamefacedly to Geoffrey, "Fine," at which point he boomed, "So you still haven't got a feller!"
"Bridget! What are we going to do with you!" said Una. "You career girls! I don't know! Can't put it off forever, you know. Tick-tock-tick-tock."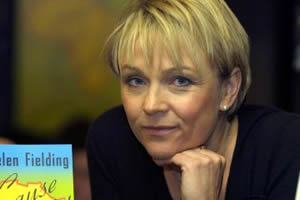 Helen Fielding (Morley, 19 februari 1958)
De Estlandse schrijver Jaan Kross werd geboren op 19 februari 1920 in Tallin. Zie ook alle tags voor Jaan Kross op dit blog.
Uit: Uncle (Vertaald door Eric Dickens)
"Why should the most valuable items be packed in the first place? To save them from air raids? All well and good. But not only for that reason. To also send them out of Estonia at the first opportunity! And why the hell should they have any interest in that? To rescue them from the impending battles in Tartu. Fine. But encouraging their theft?! No! The order the librarians had received was a monolithic order from a monolithic robot. Like the majority of orders at the time. Any attempt to sabotage it could in itself prove deadly. But a deadliness which may, in fact have spurred on rather than scared off. Lord knows. The order came from Berlin to Tallinn and Tallinn to Tartu like a vehicle speeding along on caterpillar tracks. Armoured, targeted and utterly merciless. Like most orders at that time. Resistance to the order shot up like so much grass (weeds, they would have said in the other camp). Victorious grass. Whose existence always presented the risk of a thickening of the blood, but which thrives and grow rank over everything. The result: the contents, numbers and addresses of the crates became all of a jumble.
Where what ended up, whether in Germany, Tallinn, Haapsalu or in the manor houses of the Province of Tartumaa, no one there ever found out for sure. Even now, in August '45, no one had a complete overview. But one thing was clear: some of the crates, about two or three lorry loads, had ended up at Mardimäe Manor in the cellars of the present schoolhouse. And now that the order had been given to return evacuated books to Tartu, these too had to be returned. Lorries drove out, to that end, from locations in Tartu, including the University, to seven or eight places that week. So the chain split off in seven or eight different directions. It was therefore pretty unlikely that anything had been left to chance."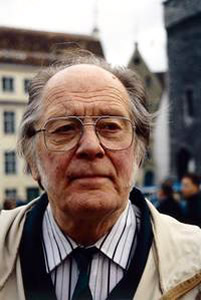 Jaan Kross (19 februari 1920 – 27 december 2007)

De Duitse schrijver Herbert Rosendorfer werd op 19 februari 1934 in Gries geboren. Zie ook alle tags voor Herbert Rosendorfer op dit blog.
Uit: Deutsche Geschichte. Ein Versuch (Das Jahrhundert des Prinzen Eugen)
"Nach dem Ende des Dreißigjährigen Krieges war in Deutschland, und nicht nur in Deutschland,
nichts mehr so, wie es vorher gewesen war.
Die katholische Seite hatte den Krieg verloren, die protestantische Seite ihn nicht gewonnen. Das Deutsche Reich gab es noch, stark angeschlagen und verwundet, vor allem wirtschaftlich geschwächt. Der einzige Vorteil aus dem Frieden von Münster und Osnabrück für das Reich war, daß in gewisser Weise der verbleibende Rest, geographisch und institutionell gesehen, festgeschrieben und umrissen war. Die Regeln der Diplomatie, die in den folgenden Jahrhunderten das Scharnier aller Politik zumindest in Friedenszeiten bilden sollten, beruhten auf den mühsamen Errungenschaften des Westfälischen Friedensinstruments. Daß die Reichsgewalt, die Macht des Kaisers, in rasantem Sinken
begriffen war, konnte davon allerdings nicht aufgehalten werden. Vermutlich bewirkte nur das immer
zu beobachtende politische Beharrungsvermögen, daß das Reich die Katastrophe von 1618/48 um eineinhalb Jahrhunderte überdauerte.
Die kleinen oder sogar winzigen Territorialherrschaften wurstelten recht und schlecht vor sich hin. Sie waren, sofern nicht Reichsstädte oder geistliche Fürstentümer, Aufsplitterungen von ehemals größeren Gebieten."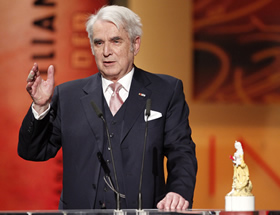 Herbert Rosendorfer (Gries, 19 februari 1934)
Zie voor nog meer schrijvers van de 19e februari ook mijn vorige blog van vandaag

19-02-2013 om 19:30 geschreven door Romenu

Tags:Siri Hustvedt, Helen Fielding, Jaan Kross, Herbert Rosendorfer, Romenu



Helene Hegemann
De Duitse schrijfster, regisseuse en actrice Helene Hegemann werd geboren in Freiburg im Breisgau op 19 februari 1992. Hegemann groeide bij haar gescheiden moeder in Bochum op, die echter overleed toen Helene veertien jaar oud was. Daarop trok ze bij haar vader in, regisseur Carl Hegemann in Berlijn. Hegemanns theaterstuk Ariel 15 ging in december 2007 in het Ballhaus Ost in première en werd in 2008 door de Deutschlandradio tot luisterspel bewerkt. Het draaiboek voor de film Torpedo, dat ze reeds als veertienjarige geschreven had, werd in 2008 met ondersteuning van de Kulturstiftung des Bundes verfilmd en leverde haar in 2008 de Max Ophüls-prijs op. Als actrice trad Hegemann op in de film Deutschland 09, in de bijdrage Die Unvollendete van Nicolette Krebitz. In 2010 bereikte Helene Hegemann nationale bekendheid met haar roman "Axolotl Roadkill", verschenen bij de Ullstein Verlag. Begin februari 2010 merkte een blogger op dat de roman sterke gelijkenissen met het boek Strobo van de blogger Airen uit 2009 vertoonde, evenwel zonder dat de roman enige bronvermelding bezat. Hegemann gaf toe dat ze tekstpassages uit dit werk gekopieerd had en Airen niet gecontacteerd. Hegemann verklaarde dat deze vorm van sampling een corollarium van de hedendaagse mediacultuur is, waarin de herkomst van materiaal onduidelijk wordt. Dit ontlokte een verregaand debat in de media omtrent intertekstualiteit en het auteursrecht. Uitgeverij Ullstein voegde in de tweede editie van het werk verschillende bronnen toe, die in de vierde nog gedetailleerd werden uitgebreid. Zo bevat Axolotl Roadkill onder andere fragmenten van Kathy Acker, David Foster Wallace, Rainald Goetz en Valérie Valère. Het Thalia Theater uit Hamburg heeft in 2010 een theaterversie op de planken gebracht en beklemtoonde dat de keuze voor Axolotl Roadkill alreeds vóór de plagiaataffaire gemaakt was.
Uit: Axolotl Roadkill
"Wenn ich lüge, dann neurotisch und zwanghaft. Meine Lügen ergeben sich aus einer Abhängigkeit von metaphysischen Begebenheiten. Wenn Annika lügt, sollen ihre Lügen dem Wohl der Belogenen dienen oder der Harmonie der Gruppe oder zumindest ihrer Leistungsmotivation. Davon ist sie fest überzeugt.
Lars: "Ja, das tut mir jetzt natürlich auch total leid dass wir euch stören hier, aber das ist echt scheiße ohne Playstation an so einem Scheißtag."
Mifti (wirft mit einer lässigen Geste die Haare zurück): "Kein Ding, Lars! Ich bin aber auch nicht durchgekommen durch dieses Spiel da, ich weiß nicht, zuerst habe ich dann sechshundert Zombies pro Minute abgeballert, aber das Schlimme war dann später, dass da irgendwann dieses Seeungeheuer kam mit dem Ding im Rücken, und ich habe das mit dem Anker nicht getroffen."
Lars: "Das ist kein Anker, sondern eine Harpune!"
Mifti: "Ich glaube, das ist ein Anker, weil der Typ ja spontan war und gerade keine Harpune zur Hand hatte auf dem Ruderboot und dann diesen Anker in die zu Flossen umgestalteten Vorderextremitäten des großen Fisches rammen sollte, aber das hab ich dann halt nicht hingekriegt."
Lars: "Wahrscheinlich, weil man da am Anfang den Hund befreien musste aus dieser Bärenfalle und du das nicht gemacht hast. Mir ist der Hund bei der Geschichte mit dem großen Raubfisch später zu Hilfe gekommen, weil ich ihn da im ersten Level gerettet habe."
Mifti: "Dieser Scheißhund? Scheiße!"
Lars: "Ja, scheiße."
Mifti: "Wie scheiße. Was für eine Scheiße das ist, oder? Dass man da mit gedrückter B-Taste Menschen abknallt, und sich im Endeffekt alles nur noch um einen weißen Bernhardiner-Grönlandhund-Mischling dreht."
Annika: "Was führt ihr hier gerade für einen außerirdischen Dialog, Kinder?"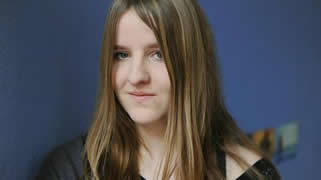 Helene Hegemann (Freiburg im Breisgau, 19 februari 1992)
19-02-2013 om 00:00 geschreven door Romenu

Tags:Helene Hegemann, Romenu



| | |
| --- | --- |
| | |



Inhoud blog


| | |
| --- | --- |
| | Bernard Malamud, Vincente Alexandre, Carl-Christian Elze, Hannelies Taschau, Theun de Vries, Hertha Kräftner, Johann Uhland |
| | Erik Menkveld, Ted Kooser, James Fenton, Walter de la Mare, Richard Anders, William Temple, John Keble |
| | Frans Coenen, Eric Bogosian, Robert Penn Warren, George Oppen, Carl Spitteler, Anthony Trollope, Michael Schaefer |
| | Thomas (Nel Benschop) |
| | William Shakespeare, Pascal Quignard, Peter Horst Neumann, Andrey Kurkov, Halldór Laxness, Christine Busta, Adelheid Duvanel |
| | Maurice Druon, Egon Hostovský, Richard Huelsenbeck, Marion Titze, Friedrich von Hagedorn, Max Bolliger, J. P. Donleavy |
| | Giorgio Fontana, Jan de Hartog, Björn Kern, Vladimir Nabokov, Chetan Bhagat, Peter Weber, Jos de Haes, Thommie Bayer, Madame de Staël |
| | Ana María Shua, Louise Glück, Robert Choquette, James Philip Bailey, Henry Fielding, Michael Schulte, Cabrera Infante, Ludwig Renn |
| | Charlotte Brontë, Patrick Rambaud, John Mortimer, Charles den Tex, Michael Mann, Peter Schneider, Meira Delmar, Alistair MacLean, Gerrit Wustmann |
| | Martinus Nijhoff, Jan Cremer, Jean Pierre Rawie, Sebastian Faulks, Jozef Deleu, Steve Erickson, Arto Paasilinna, Michel Leiris |
| | Martin Michael Driessen, Marjoleine de Vos, Manuel Bandeira, n. c. kaser, Veniamin Kaverin, Louis Amédée Achard, Pierre-Jean de Béranger, Gudrun Reinboth, Werner Rohner |
| | Wam de Moor, Bas Belleman, Roos van Rijswijk, Clara Eggink, Kathy Acker, Joy Davidman, Richard Harding Davis, Henry Kendall, Katharina Schwanbeck |
| | Pasen (Gabriël Smit) |
| | Antoon Coolen, Ida Boy-Ed, Nick Hornby, Vincent Corjanus, Thornton Wilder, Karen Blixen, David Wagner, R.J. Pineiro |
| | Anton Wildgans, Rolf Schneider, Cynthia Ozick, Helen Meier, Rolf Kalmuczak, Karl Henckell, Henry Vaughan, John Ford |
| | Osterwind (Hilde Domin) |
| | Sarah Kirsch, Thomas Olde Heuvelt, Kingsley Amis, Patricia De Martelaere, Tristan Tzara, Ewald Vanvugt, Sibylle Lewitscharoff |
| | Jan Luyken, Rolf-Dieter Brinkmann, Anatole France, Eberhard Panitz, Spike Milligan, John Millington Synge, Konstantin Vaginov |
| | Stille Zaterdag (Nel Benschop) |
| | Tomas Tranströmer, Daniël Samkalden, Jérôme Lambert, Patrick Bernauw, Benjamin Zephaniah, Henry James, Wilhelm Busch, Ina Boudier-Bakker |
| | Bliss Carman, Beate Morgenstern, Jeffrey Archer, Bernhard Lassahn, Erich Arendt, Pol De Mont, Staf Weyts, Hans Egon Holthusen |
| | Karfreitag (Peter Hille) |
| | Tjitse Hofman, Alexandre Jardin, Roman Graf, Péter Esterházy, Landolf Scherzer, Charles Lewinsky, Helene Hübener, Roberto Schopflocher, Gerhard Rohlfs |
| | Gethsemane und Golgatha (Friedrich Nietzsche) |
| | Nachoem Wijnberg, K. Michel, Alexander Münninghoff, Michel Faber, Jean-Marie Gustave Le Clézio, Samuel Beckett, Seamus Heaney, Tim Krabbé, Eudora Welty |
| | Antje Rávic Strubel, Alan Ayckbourn, Scott Turow, Tom Clancy, Agnes Sapper |
| | Leonard Nolens, Glenway Wescott, Mark Strand, Silvia Avallone, Walid Soliman, Dorothy Allison, Hubert Nyssen, Barbara Köhler, Rolf Schilling |
| | Leo Vroman, Jan van Mersbergen, Paul Theroux, Claudio Magris, Bella Akhmadulina, Stefan Heym, Richard Wagner, Marcel van Maele, Eric Knight |
| | Palmsonntag (Stefan Zweig) |
| | Charles Baudelaire, Jelle Brandt Corstius, Karel Jonckheere, Joolz Denby, Albert von Schirnding, Johannes Bobrowski |
| | Bernard-Marie Koltès, Arnold Stadler, Julius Hart, Lev Kopelev, Carl Amery, Leonard Wibberley |
| | Herinnering aan Gerard Reve, Hanz Mirck, Christoph Hein, Judith Koelemeijer, Nnedi Okorafor, Barbara Kingsolver |
| | John Fante, Johann Christian Günther, Glendon Swarthout, Martin Grzimek, Hégésippe Moreau |
| | Juliana Spahr, William Wordsworth, Özcan Akyol, Gabriela Mistral, Henk Fedder, Donald Barthelme, Jens Peter Jacobsen, Hervé Bazin, Johannes Mario Simmel |
| | Kazim Ali, Annejet van der Zijl, John Pepper Clark, Jakob Ejersbo, Günter Herburger, Uljana Wolf, Brigitte Schwaiger, Julien Torma, Nicolas Chamfort |
| | Hugo Claus, Martin Reints, Vítězslav Hálek, Algernon Swinburne, Bora Ćosić, Werner J. Egli, Mieke van Zonneveld, Michael Georg Conrad, Marente de Moor |
| | Maya Angelou, Hanneke Hendrix, E. L. James, Marko Klomp, Marguerite Duras, Robert Schindel, Michiel van Kempen, Bettina von Arnim, Edith Södergran |
| | Charles Ducal, Adriaan Jaeggi, Frederik van Eeden, Bert Bakker, Peter Huchel, Arlette Cousture, Pieter Aspe, Karel N.L. Grazell, Johanna Walser |
| | Thomas Glavinic, Jay Parini, Ed Dorn, Émile Zola, György Konrád, Anneke Claus, Anne Waldman |
| | Casanova, Hans Christian Andersen, Roberto Arlt, Edgar Hilsenrath, George Fraser, H. von Fallersleben |
| | Johann Gleim, Pierre Zaccone, Pietro della Valle, Zwier van Haren, Joanna Chmielewska, Brigitte Struzyk |
| | Milan Kundera, Sandro Veronesi, Nikolaj Gogol, Arnold Aletrino, Max Nord, Urs Allemann, Rolf Hochhuth, John Wilmot, Deborah Feldman |
| | Maria Polydouri, Edgar Wallace, Carl Sternheim, Edmond Rostand, Armel Guerne, Friedrich Güll, Antoine Prévost, Josep de Maistre |
| | In Memoriam Jevgeni Jevtoesjenko |
| | Stefan Hertmans, Octavio Paz, Asis Aynan, Martijn Teerlinck, Marga Minco, Enrique Vila-Matas, Rob Boudestein, Kornej Tsjoekovski, Andrew Lang |
| | Gerrit Komrij, Paul Verlaine, Milton Acorn, Milton Acorn, Erika Mitterer, Uwe Timm, Tom Sharpe, Gert Heidenreich, Theo Breuer, Luise Hensel |
| | Geert van Istendael, Wim Brands, Eric Walz, Georg Klein, Ernst Jünger, Yvan Goll, R. S. Thomas, Jacques Brault, Denton Welch |
| | Walter van den Broeck, Joost de Vries, Mario Vargas Llosa, Chrétien Breukers, Nelson Algren, Marianne Frederiksson, Russell Banks, Léon-Gontran Damas, Éric-Emmanuel Schmitt |
| | Heinrich Mann, Shusaku Endo, Golo Mann, Carolina Trujillo, Patrick McCabe, Bob den Uyl, Dubravka Ugresić, Francis Ponge, Marie Under |
| | Tennessee Williams, Gregory Corso, Hwang Sun-won, Martin McDonagh, Robert Frost, Patrick Süskind |


Gastenboek


Druk op onderstaande knop om een berichtje achter te laten in mijn gastenboek