De Zwitserse dichter en schrijver Alfred Huggenberger werd geboren op 26 december 1867 in Bewangen nabij Bertschikon. Zie ook mijn blog van 26 december 2009 en ook mijn blog van 26 december 2010.
Abendgold
Spät, wenn die Sonne säumend
Die Wölklein rötet hold,
Dann steh' ich gerne träumend
Und schau' ins Abendgold.
Die Stunden, die verflossen,
Durchleb' ich noch einmal;
Von diesem Glanz umgossen
Erblassen Schmerz und Qual.
Und wenn der süsse Schimmer
Dann weicht der Dämm'rung mild,
Trag' ich im Herzen immer
Vom Tag das letzte Bild.
So mag das Leben bringen
Viel, was wir nicht begehrt,
Beim seligen Verklingen
Zeigt alles sich verklärt.
Idyll
Es dampft eine Wiese am Waldesrand,
Da kann man träumen allerhand.
Der Wetzstein surrt, die Sense singt,
Gedämpft von fern ein Jauchzer klingt.
Versteckt im Walde schläft die Nacht,
Die Wipfel glühn in Morgenpracht.
Das Märchen lehnt am Stamm in Ruh'
Und blickt erstaunt dem Mähder zu.
Der mäht durchs reife Gras sich Bahn
Und geht und fängt von vorne an.
Und plötzlich zwingt des Morgens Lust
Ihm einen Jauchzer aus der Brust.
Das Echo gibt den Schall zurück,
Und hoch im Blauen schwebt das Glück.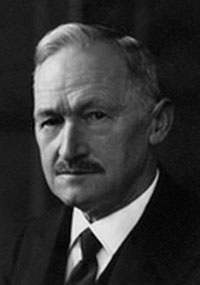 Alfred Huggenberger (26 december 1867 – 14 februari 1960)

De Franse schrijver René Bazin werd geboren op 26 december 1853 in Angers. Zie ook mijn blog van 26 december 2009 en ook mijn blog van 26 december 2010.
Uit: Les Noëllet
"Comme ils sont tristes, ces soirs d'octobre ! Il y a dans l'air une moiteur qui fait mourir les choses. Les feuilles tombent, comme lasses de vivre, sans le moindre vent qui les chasse. Des troupes d'oiseaux reviennent au nid. Et, par le chemin qui monte, un chemin creux de la Vendée angevine, que les orages nettoient et qu'émondent les chèvres, un jeune gars rentre à la ferme, à cheval sur la Huasse.
Elle n'est plus belle, la Huasse, avec ses poils blancs ébouriffés, son ventre énorme pelé par l'attelage, sa crinière en éventail, qui lui donnent l'air d'un chat-huant. Elle va son pas résigné de serviteur usé à la peine, traînant sur les cailloux les traits pendants de son collier, tandis que, par devant, son poulain gambade, comme un petit chevreuil blond et fou. Son cavalier ne la presse pas. Ils sont, elle et lui, presque du même âge. Depuis quinze ans qu'il est venu monde, elle l'a si souvent porté sur son dos, de cette même allure maternelle que rien n'étonne! Maintenant, c'est sa compagne de labour. Toute la journée, ils ont hersé ensemble dans les terres basses. La chaleur était grande, les mottes étaient dures. Tous deux sont las. Il la laisse donc aller, la bonne bête, aussi doucement qu'elle veut, les yeux mi-clos, et lui, tranquille, dépassant la haie de toute sa tête baignée de lumière, il regarde cette campagne superbe dont il est l'enfant."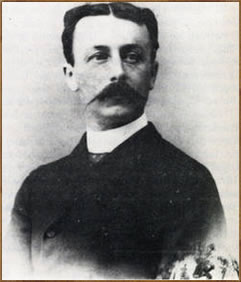 René Bazin (26 december 1853 – 19 juli 1932)

De Franse schrijver en filosoof Julien Benda werd geboren op 26 december 1867 in Parijs. Zie ook mijn blog van 26 december 2006 en ook mijn blog van 26 december 2008 en ook mijn blog van 26 december 2009.
Uit: The Treason of the Intellectuals (Vertaald door Richard Aldington)
"As regards the nation, think of Italy; as regards class, think of Russia; and you will see the hitherto known point of perfection attained by the spirit of hatred against what is "different" among a group of men, consciously realist and at last liberated from all non-practical morality. And my predictions are not rendered less probable by the fact that these two nations are hailed as models throughout the world by those who desire either the grandeur of their nation or the triumph of their class.
These dark predictions do not seem to me to need as much modification as some people think, on account of certain actions resolutely directed against war, such as the setting up of a supernational institution and the agreements recently made by the rival nations. Imposed upon the nations by their Ministers rather than desired by them, dictated solely by interest (the fear of war and its ravages) and not at all by a change in public morality, these new institutions may perhaps be opposed to war but leave intact the spirit of war, and nothing leads us to suppose that a nation which only respects a contract for practical reasons, will not break it as soon as breaking it appears more profitable. Peace, if it ever exists, will not be based on the fear of war but on the love of peace. It will not be the abstaining from an act, but the coming of a state of mind. In this sense the most insignificant writer can serve peace where the most powerful tribunals can do nothing. And moreover these tribunals leave untouched the economic war between the nations and the class wars."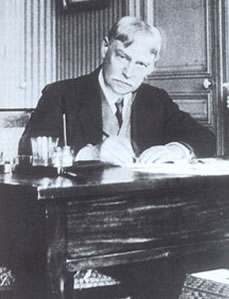 Julien Benda (26 december 1867 – 7 juni 1956)
De Franse schrijver, polemist en journalist Jean Galtier-Boissière werd geboren op 26 december 1891 in Parijs. Zie ook mijn blog van 26 december 2009 en ook mijn blog van 26 december 2010.
Uit: Mémoires d'un Parisien (Nos amours de jeunesse)
"Mon ami Jean-Loup était un «direct», suivant l'expression d'Arletty: superbe gaillard au torse en parfait trapèze, excessivement velu, et prodigieusement monté, ce qui ne gâte rien. Sa cour auprès des belles consistait essentiellement à leur présenter en toute simplicité ses considérables attributs. De même que son père, suivant la légende, Jean-Loup jouissait d'une virilité exceptionnelle. C'est lui qui énumérait de la sorte ses performances d'une nuit:
- Oh! rien de sensationnel; quinze coups: deux doublés, deux petits brelans, un royal (quatre de suite) et un isolé.
Prouvant sa flamme à l'élue d'un soir de dix à quinze fois de suite, cet amant innombrable ne pouvait conserver aucune maîtresse, car chacune de ses conquêtes entrait à l'hôpital ou en clinique le lendemain même de la prestigieuse séance inaugurale.
Dans ma Bonne Vie, la petite ahurie qui disait «J'connais pas l'homme» était une conquête de Jean-Loup, lequel déclarait: «Je ne vais tout de même pas rentrer chez moi la bitte sous le bras.»
Mon ami Gabriel, lui, appartenait au genre baratineur. Il avait de la verve et du feu. Éloquent, persuasif, pressant, il répétait sans cesse à l'élue: «Je suis l'Amant ! Je suis l'AMANT !» et il arrivait souvent à convaincre sa partenaire qu'il convenait de ne pas laisser passer une telle occasion."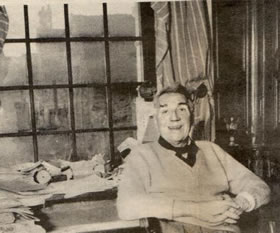 Jean Galtier-Boissière (26 december 1891 – 22 januari 1966)
De Engelse dichter en geleerde Thomas Gray werd geboren op 26 december 1716 in Londen. Zie ook mijn blog van 26 december 2006 en ook mijn blog van 26 december 2008 en ook mijn blog van 26 december 2009.
Ode on the death of a favorite cat
Twas on a lofty vase's side,
Where China's gayest art had dyed
The azure flowers that blow;
Demurest of the tabby kind,
The pensive Selima, reclined,
Gazed on the lake below.
Her conscious tail her joy declared;
The fair round face, the snowy beard,
The velvet of her paws,
Her coat, that with the tortoise vies,
Her ears of jet, and emerald eyes,
She saw; and purred applause.
Still had she gazed; but 'midst the tide
Two angel forms were seen to glide,
The genii of the stream:
Their scaly armor's Tyrian hue
Through richest purple to the view
Betrayed a golden gleam.
The hapless nymph with wonder saw:
A whisker first and then a claw,
With many an ardent wish,
She stretched in vain to reach the prize.
What female heart can gold despise?
What cat's averse to fish?
Presumptuous maid! with looks intent
Again she stretched, again she bent,
Nor knew the gulf between.
(Malignant Fate sat by and smiled)
The slippery verge her feet beguiled,
She tumbled headlong in.
Eight times emerging from the flood
She mewed to every watery god,
Some speedy aid to send.
No dolphin came, no Nereid stirred;
Nor cruel Tom, nor Susan heard;
A favorite has no friend!
From hence, ye beauties, undeceived,
Know, one false step is ne'er retrieved,
And be with caution bold.
Not all that tempts your wandering eyes
And heedless hearts, is lawful prize;
Nor all that glisters, gold.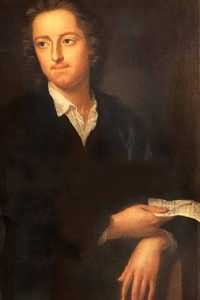 Thomas Gray (26 december 1716 – 30 juli 1771)

26-12-2011 om 17:21 geschreven door Romenu

Tags:Alfred Huggenberger, René Bazin, Julien Benda, Jean Galtier-Boissière,Thomas Gray, Romenu