E-mail mij


Druk op onderstaande knop om mij te e-mailen.


Romenu


Romenu is een blog over gedichten, literatuur en kunst Maar Romenu is ook een professionele freelance vertaler
Du-Ne en Ne-Du http://www.romenu.nl.


Huur eens een (vakantie)huis in een natuurgebied, dichtbij het centrum van Nijmegen


Google


Georg Trakl

Georg Trakl werd op 3 februari 1887 in het conducteurshuis aan de Waagplatz 2 in Salzburg geboren. Zijn vader, Tobias Trakl, was een handelaar in ijzerwaren en zijn moeder, die ook psychische problemen had, was Maria Catharina Trakl, (meisjesnaam Halik). Voorts had hij nog drie broers en drie zussen. Margarethe (doorgaans Grethe genoemd) stond hem het naast, zelfs zodanig dat sommigen een incestueuze verhouding vermoeden. Zijn jeugd bracht hij door in Salzburg. Vervolgens bezocht hij van 1897 tot 1905 het humanistische gymnasium. Om toch een academische opleiding te kunnen volgen, werkte hij tot 1908 in de praktijk bij een apotheker. Sommigen vermoedden dat hij dit vooral deed om zichzelf opiaten te kunnen verschaffen. Bij het uitbreken van WO I werd Trakl als medicus naar het front in Galicië (heden ten dage in Oekraïne en Polen) gestuurd. Zijn gemoedsschommelingen leidden tot geregelde uitbraken van depressie, die verergerd werden door de afschuw die hij voelde voor de verzorging van de ernstig verwonde soldaten. De spanning en druk dreven hem ertoe een suïcidepoging te ondernemen, welke zijn kameraden nochtans verhinderden. Hij werd in een militair ziekenhuis opgenomen in Kraków, alwaar hij onder strikt toezicht geplaatst werd.Trakl verzonk daar in nog zwaardere depressies en schreef Ficker om advies. Ficker overtuigde hem ervan dat hij contact moest opnemen met Wittgenstein, die inderdaad op weg ging na Trakls bericht te hebben ontvangen. Op 4 november 1914, drie dagen voordat Wittgenstein aan zou komen, overleed hij echter aan een overdosis cocaïne


Paul Celan

Paul Celan werd onder de naam Paul Antschel op 23 november 1920 geboren in Czernowitz, toentertijd de hoofdstad van de Roemeense Boekovina, nu behorend bij de Oekraïne. Paul Celans ouders waren Duitssprekende joden die hun zoon joods opvoedden en hem naar Duitse christelijke scholen stuurden. In 1942 werden Celans ouders door de Duitse bezetter naar een werkkamp gedeporteerd en daar vermoord. Hijzelf wist aanvankelijk onder te duiken, maar moest vanaf juli 1942 in een werkkamp dwangarbeid verrichten. Celan overleefde de oorlog. Via Boekarest en Wenen vestigde Celan zich in 1948 in Parijs. Daar was hij werkzaam als dichter, vertaler en doceerde hij aan de prestigieuze Ecole Normale Supérieure. Vermoedelijk op 20 april 1970 beëindigde hij zijn leven zelf door in de Seine te springen.


Gerard Reve

Gerard Reve over: Medearbeiders "God is in de mensen, de dieren, de planten en alle dingen - in de schepping, die verlost moet worden of waaruit God verlost moet worden, door onze arbeid, aangezien wij medearbeiders van God zijn." Openbaring "Tja, waar berust elk godsbegrip op, elke vorm van religie? Op een openbaring, dat wil zeggen op een psychische ervaring van zulk een dwingende en onverbiddelijke kracht, dat de betrokkene het gevoel heeft, niet dat hij een gedachte of een visioen heeft, maar dat een gedachte gedachte of visioen hem bezit en overweldigt."


Simon Vestdijk
Simon Vestdijk (Harlingen, 17 oktober 1898 – Utrecht, 23 maart 1971) was een Nederlands romancier, dichter, essayist en vertaler. Zijn jeugd te Harlingen en Leeuwarden beschreef hij later in de Anton Wachter-cyclus. Van jongs af aan logeerde hij regelmatig bij zijn grootouders in Amsterdam, waar hij zich in 1917 aan de Universiteit van Amsterdam inschrijft als student in de medicijnen. Tijdens zijn studie die van 1917 tot 1927 duurde, leerde hij Jan Slauerhoff kennen.Tot 1932 is hij als arts in praktijken door heel Nederland werkzaam. In 1932 volgt zijn officiële schrijversdebuut met de uitgave van de bundel Verzen in De Vrije Bladen. Doorslaggevend voor Vestdijks uiteindelijke keuze voor de literatuur is zijn ontmoeting in 1932 met Eddy Du Perron en Menno ter Braak. Deze ontmoeting had tot resultaat dat hij redactielid werd van het tijdschrift Forum Kort daarop, in 1933, wordt zijn eerste novelle, De oubliette, uitgegeven. In hetzelfde jaar schrijft hij Kind tussen vier vrouwen, dat, eerst geweigerd door de uitgever, later de basis zal vormen voor de eerste drie delen van de Anton Wachter-romans. In 1951 ontvangt Vestdijk de P.C. Hooftprijs voor zijn in 1947 verschenen roman De vuuraanbidders. In 1957 wordt hij voor het eerst door het PEN-centrum voor Nederland voorgedragen voor de Nobelprijs voor de Literatuur, die hij echter nooit zal krijgen. Op 20 maart 1971 wordt hem de Prijs der Nederlandse Letteren toegekend, maar voor hij deze kan ontvangen overlijdt hij op 23 maart te Utrecht op 72-jarige leeftijd. Vestdijk was auteur van ca. 200 boeken. Vanwege deze enorme productie noemde de dichter Adriaan Roland Holst hem 'de man die sneller schrijft dan God kan lezen'. Andere belangrijke boeken van Simon Vestdijk zijn: "Kind van stad en land" (1936), "Meneer Visser's hellevaart" (1936), "Ierse nachten" (1946), "De toekomst de religie" (1947), "Pastorale 1943" (1948), "De koperen tuin" (1950), "Ivoren wachters" (1951), "Essays in duodecimo" (1952) en "Het genadeschot" (1964).


K.P. Kavafis

K.P. Kavafis werd als kind van Griekse ouders, afkomstig uit Konstantinopel, geboren in 1863 in Alexandrië (tot vandaag een Griekse enclave) waar hij ook het grootste deel van zijn leven woonde en werkte. Twee jaar na de dood van zijn vader verhuist het gezin in 1872 naar Engeland om na een verblijf van vijf jaar naar Alexandrië terug te keren. Vanwege ongeregeldheden in Egypte vlucht het gezin in 1882 naar Konstantinopel, om na drie jaar opnieuw naar Alexandrië terug te gaan. In de jaren die volgen maakt Kavafis reizen naar Parijs, Londen en in 1901 zijn eerste reis naar Griekenland, in latere jaren gevolgd door nog enkele bezoeken. Op de dag van zijn zeventigste verjaardag, in 1933 sterft Kavafis in Alexandrië. De roem kwam voor Kavafis pas na zijn dood, dus postuum. Deels is dat toe te schrijven aan zijn eigen handelswijze. Hij was uiterst terughoudend met de publicatie van zijn gedichten, liet af en toe een enkel gedicht afdrukken in een literair tijdschrift, gaf in eigen beheer enkele bundels met een stuk of twintig gedichten uit en het merendeel van zijn poëzie schonk hij op losse bladen aan zijn beste vrienden.


Thomas Mann


Thomas Mann, de jongere broer van Heinrich Mann, werd geboren op 6 juni 1875 in Lübeck. Hij was de tweede zoon van de graankoopman Thomas Johann Heinrich Mann welke later één van de senatoren van Lübreck werd. Zijn moeder Julia (geboren da Silva-Bruhns) was Duits-Braziliaans van Portugees Kreoolse afkomst. In 1894 debuteerde Thomas Mann met de novelle "Gefallen". Toen Thomas Mann met 21 jaar eindelijk volwassen was en hem dus geld van zijn vaders erfenis toestond - hij kreeg ongeveer 160 tot 180 goldmark per jaar - besloot hij dat hij genoeg had van al die scholen en instituties en werd onafhankelijk schrijver. Kenmerkend voor zijn stijl zijn de ironie, de fenomenale taalbeheersing en de minutieuze detailschildering. Manns reputatie in Duitsland was sterk wisselend. Met zijn eerste roman, Buddenbrooks (1901), had hij een enorm succes, maar door zijn sceptische houding tegenover Duitsland na de Eerste Wereldoorlog veranderde dit volledig. Stelde hij zich tot aan de jaren twintig apolitiek op (Betrachtungen eines Unpolitischen, 1918), meer en meer raakte hij bij het Politiek gebeuren betrokken. Zijn afkeer van het nationaal socialisme groeide, zijn waarschuwingen werden veelvuldiger en heftiger. In 1944 accepteerde hij het Amerikaanse staatsburgerschap. Tussen 1943 en 1947 schreef Mann Doktor Faustus (zie Faust), de roman van de 'Duitse ziel' in de gecamoufleerd geschilderde omstandigheden van de 20ste eeuw. In 1947 bezocht hij voor het eerst sinds de Oorlog Europa, twee jaar later pas Duitsland. In 1952 vertrok hij naar Zwitserland. Op 12 augustus 1955 stierf hij in Zürich. Twintig jaar na zijn dood, in aug. 1975, is zijn literaire nalatenschap geopend: dagboekaantekeningen van 15 maart 1933 tot 29 juli 1955, alsmede notities uit de jaren 1918 tot en met 1921.Belangrijke werken zijn: Der Zauberberg, Der Tod in Venedig, Dokter Faustus , Joseph und seine Brüder en Die Bekenntnisse des Hochstaplers Felix Krull.


Rainer Maria Rilke

Rilke werd op 4 december 1875 geboren in Praag. Hij had al naam gemaakt als dichter met zijn bundels Das Stundenbuch en Das Buch der Bilder, toen hij de literaire wereld versteld deed staan en wereldfaam verwierf met de publicatie van zijn twee delen Neue Gedichte in 1907 en 1908. Hij verzamelde daarin het beste werk uit een van zijn vruchtbaarste periodes, die hij grotendeels doorbracht in Parijs. Rilke was daar diep onder de indruk gekomen van Rodin, bij wie hij een tijdlang in dienst was als particulier secretaris. Rodin, zei hij later, had hem leren kijken. Dit kijken kwam neer op intense concentratie, om het mysterie te kunnen zien 'achter de schijnbare werkelijkheid'. Latere en rijpere werken als Duineser Elegien (1912-1923) en het ronduit schitterende Die Sonette an Orfeus (1924) illustreren Rilkes metafysische visie op het onzegbare, dat haar verwoording vindt in een hermetische muzikale taal. Op 29 december 1926 overlijdt Rilke in het sanatorium in Val-Mont aan de gevolgen van leukemie. Enkele dagen later wordt hij, overeenkomstig zijn wens, begraven op het kerkhof van Raron.


* * * * * * * * * * * * * * * *

| | |
| --- | --- |
| | Over literatuur, gedichten, kunst en cultuur |

28-05-2011

Leo Pleysier, Frank Schätzing, Maeve Binchy, K. Satchidanandan, Thomas Moore
De Belgische schrijver Leo Pleysier werd geboren in Rijkevorsel op 28 mei 1945. Zie ook mijn blog van 28 mei 2007 en ook mijn blog van 28 mei 2008 en ook mijn blog van 28 mei 2009 en ook mijn blog van 28 mei 2010
Uit: Dieperik
"En terwijl hij zit te smullen, strooit hij er geregeld nog een paar lepels witte suiker over uit. (Bruine suiker is voor op mijn boterham met plattekaas. Of anders voor op een bord koude rijstebrij, vaders lievelingsdessert.)
'Er zit al suiker in hoor!'
'Wat?'
'Dat er al suiker in zit!'
En dus nog een lepel witte suiker. En nog een.
En nog een.
(…)
Razend kwaad en helemaal over zijn toeren was nonkel Wies. En dat bleef hij toen nog geruime tijd ja. Al stak hij me op het einde, en anders dan gewoonlijk, bij het afdrogen en terug aankleden een handje toe.
'Gaat het?'
Ik knikte en snikte van ja. Waarop hij met zijn eigen zakdoek mijn tranen bette en mijn neus en mond nog eens afdroogde."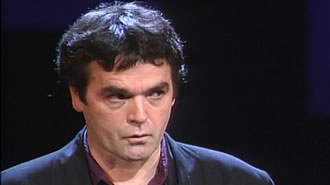 Leo Pleysier (Rijkevorsel, 28 mei 1945)
De Duitse schrijver Frank Schätzing werd geboren in Keulen op 28 mei 1957. Zie ook mijn blog van 28 mei 2007 en ook mijn blog van 28 mei 2008 en ook mijn blog van 28 mei 2009 en ook mijn blog van 28 mei 2010
Uit: Der Schwarm
"Für die Menschen in Stavanger gab es nicht die geringste Überlebenschance. Wer versuchte, vor der Wasserwand davonzulaufen, die plötzlich in den Himmel ragte, rannte vergeblich. Die überwiegende Anzahl der Opfer wurde erschlagen. Das Wasser war wie Beton. Man spürte nichts. Kaum anders erging es denen, die wie durch ein Wunder den Aufprall überlebten, um dann gegen Häuser geschmettert oder zwischen Trümmerteilen zermalmt zu werden. Paradoxerweise ertrank so gut wie niemand, sah man von jenen ab, die in den zulaufenden Kellern gefangen waren. Selbst dort wurden die meisten schon durch die Wucht der hereinströmenden Wassermassen getötet oder erstickten im zusätzlich eindringenden Schlamm. Wer schließlich ertrank, starb einen schrecklichen, aber wenigstens schnellen Tod. Kaum einer von ihnen registrierte. Was mit ihm geschah. Von jeder Sauerstoffzufuhr abgeschnitten, trieben die Körper der Eingeschlossenen im lichtlosen, wenige Grad kalten Wasser. Das Herz begann unregelmäßig zu schlagen, transportierte weniger Blut und kam schließlich zum Stillstand, während sich der Metabolismus extrem verlangsamte. Dadurch lebte das Gehirn noch eine Weile weiter. Erst zehn bis zwanzig Minuten später erlosch die letzte elektrische Aktivität, und der endgültige Tod trat ein.
Nach weiteren zwei Minuten hatte die Gischt die Vororte Stavangers erreicht. Je großräumiger sie sich verteilte, desto flacher wurde die brodelnde Flut. Immer noch nahm ihre Geschwindigkeit ab. Das Wasser tobte und spritzte durch die Straßen, und wer hineingeriet, war hoffnungslos verloren, aber dafür hielten die meisten Häuser dem Drück fürs Erste stand. Wer sich deswegen in Sicherheit wähnte, freute sich dennoch zu früh. Denn der Tsunami verbreitet seinen Schrecken nicht nur bei der Ankunft. Fast noch schlimmer war es, wenn er ging."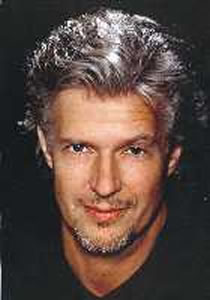 Frank Schätzing (Keulen, 28 mei 1957)

De Ierse schrijfster en columniste Maeve Binchy werd geboren op 28 mei 1940 in Dalkey. Zie ook mijn blog van 28 mei 2007 en ook mijn blog van 28 mei 2008 en ook mijn blog van 28 mei 2009 en ook mijn blog van 28 mei 2010

Uit: Heart and Soul
"Mountainview, despite its pleasant name, was one of the tough areas of Dublin. Some of the big estates were home to drug dealers and it wasn't a place to walk alone at night. The school had its ups and downs, but it was lucky enough to have a headmaster, Tony O'Brien, who could deal with toughness head-on.Some of the older teachers found the change difficult. Things used to be different. The place had been shabby but they'd had respect. The children came from homes where money was short, but they were all keen to make something of themselves. Today they only cared about money, and if someone's big brother was driving a smart car and wearing an expensive leather jacket, it was hard to get interested in having a job in a bank or an office where you might never make enough to have your own house or car and a leather jacket was just a dream. No wonder so many of them joined gangs. And as for respect?Aidan Dunne told his wife, Nora, all about it.Big fellows would push past you in the corridor and sort of nudge the books out of your hand. Then they would laugh and say that sir must be losing his grip. Aidan remembered when they would rush to pick up the books. Not now. Now they called him Baldy, or asked him if he remembered the First World War.It was the same with the women teachers. If they weren't married, some of the really rough fellows would ask them were they frigid or lesbian. If they were married, they would ask them how many times a night did they do it."And what do you say?" Nora wondered."I try to ignore them. I tell myself that they're only insecure kids like always—it's just they have a different way of expressing it. Still, it doesn't make the day's work any easier.""And how do the women cope?""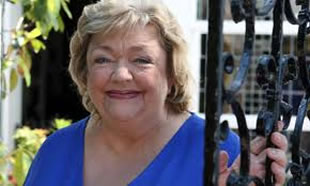 Maeve Binchy (Dalkey, 28 mei 1940)
De Indiaase dichter, vertaler en literatuurwetenschapper K. Satchidanandan werd geboren op 28 mei 1946 in centraal Kerala. Zie ook mijn blog van 28 mei 2009 en ook mijn blog van 28 mei 2010
Who said?
Who said
that waiting is a
railway station in North Malabar?
That a dawn in uniform
will arrive there in a coffin?
Who said
that memory is a fragrant window
opening on ripe cornfields?
That our bodies grow cold
as light grows dim there?
Who said
that trees have ceased to follow
wind's language?
That we must conceal
from lilies and rabbits
the news of the death of love?
Who said
that now noons will be
heavy like a drunkard's head?
That evenings will have sick hearts
like a lover's whispered songs?
Who said that we are running barefoot
over red hot iron
with a fistful of childhood rain?
That we will, at the end,
hand over our keys
to the same rain?
Who said that men once dead grow younger
and then they enter another Time?
That all the birds that vanished
at sunrise will return
when the world ends?
Who said
that we would understand everything
with no one saying anything,
but will still not share
anything with anyone?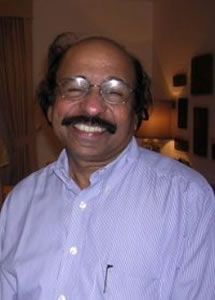 K. Satchidanandan (Kerala, 28 mei 1946)
De Ierse dichter en songwriter Thomas Moore werd geboren op 28 mei 1779 in Dublin. Zie ook mijn blog van 28 mei 2010 en eveneens alle tags voor Thomas Moore op dit blog.
The Minstrel Boy
The Minstrel-Boy to the war is gone,
In the ranks of death you'll find him;
His father's sword he has girded on,
And his wild harp slung behind him.
"Land of song!" said the warrior-bard,
"Though all the world betrays thee,
One sword, at least, thy rights shall guard,
One faithful harp shall praise thee!"
The Minstrel fell! -- but the foeman's chain
Could not bring his proud soul under;
The harp he loved ne'er spoke again,
For he tore its chords asunder;
And said, "No chains shall sully thee,
Thou soul of love and bravery!
Thy songs were made for the pure and free,
They shall never sound in slavery."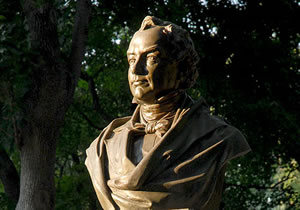 Thomas Moore (28 mei 1779 – 25 februari 1852)
Borstbeeld in Central Park, New York



Zie voor nog meer schrijvers van de 28e mei ook
mijn vorige blog van vandaag
en eveneens
mijn eerste blog van vandaag.
28-05-2011 om 19:00 geschreven door Romenu

Tags:Leo Pleysier, Frank Schätzing, Maeve Binchy, K. Satchidanandan, Thomas Moore, Romenu



Ian Fleming, Walker Percy, Patrick White, Sjoerd Leiker, Fritz Hochwälder
De Britse schrijver Ian Fleming werd geboren op 28 mei 1908 in Londen. Zie ook mijn blog van 28 mei 2007 en ook mijn blog van 28 mei 2009 en ook mijn blog van 28 mei 2010
Uit: Diamonds Are Forever
"With its two fighting claws held forward like a wrestler's arms the big pandinus scorpion emerged with a dry rustle from the finger-sized hole under the rock.
There was a small patch of hard, flat earth outside the hole and the scorpion stood in the centre of this on the tips of its four pairs of legs, its nerves and muscles braced for a quick retreat and its senses questing for the minute vibrations which would decide its next move.
The moonlight, glittering down through the great thorn bush, threw sapphire highlights off the hard, black polish of the six-inch body and glinted palely on the moist white sting which protruded from the last segment of the tail, now curved over parallel with the scorpion's flat back. Slowly the sting slid home into its sheath and the nerves in the poison sac at its base relaxed. The scorpion had decided. Greed had won over fear.
Twelve inches away, at the bottom of a sharp slope of sand, the small beetle was concerned only with trudging on towards better pastures than he had found under the thorn bush, and the swift rush of the scorpion down the slope gave him no time to open his wings. The beetle's legs waved in protest as the sharp claw snapped round his body, and then the sting lanced into him from over the scorpion's head and immediately he was dead.
After it had killed the beetle the scorpion stood motionless for nearly five minutes. During this time it identified the nature of its prey and again tested the ground and the air for hostile vibrations. Reassured, its fighting claw withdrew from the half-severed beetle and its two small feeding pincers reached out and into the beetle's flesh. Then for an hour, and with extreme fastidiousness, the scorpion ate its victim."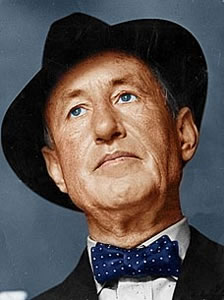 Ian Fleming (28 mei 1908 – 12 augustus 1964)
De Amerikaanse schrijver Walker Percy werd geboren op 28 mei 1916 in Birmingham, Alabama. Zie ook mijn blog van 28 mei 2009 en ook mijn blog van 28 mei 2010
Uit: The Moviegoer
"My aunt is convinced I have a ``flair for research.'' This is not true. If I had a flair for research, I would be doing research. Actually, I'm not very smart. My grades were average. My mother and my aunt think I am smart because I am quiet and absent-minded-- and because my father and grandfather were smart. They think I was meant to do research because I am not fit to do anything else-- I am a genius whom ordinary professions can't satisfy. I tried research one summer. I got interested in the role of the acid-base balance in the formation of renal calculi; really, it's quite and intersting problem. I had a hunch you might get pigs to form oxalate stones by manipulating the pH of the blood, and maybe even dissolve them. A friend of mine, a boy from Pittsburg named Harry Stern, and I read up the literature and presented the problem to [Dr.] Minor. He was enthusiastic, gave us everything we wanted and turned us loose for the summer. But then a peculiar thing happened. I became extraordinarily affected by the summer afternoons in the laboratory. The August sunlight came streaming across the room. The old building ticked and creaked in the heat. Outside we could hear the cries of summer students playing touch football. In the course of an afternoon the yellow sunlight moved across old group pictures of the biology faculty. I became bewitched by the presence of the building; for minutes at a stretch I sat on the floor and watched motes rise and fall in the sunlight. I called Harry's attention to the presence but he shrugged and went on with his work. He was absolutely unaffected by the singularities of time and place. His abode was anywhere. It was all the same to him whether he catheterized a pig at four o'clock in the afternoon in New Orleans or at midnight in Transylvania."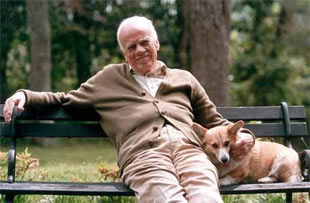 Walker Percy (28 mei 1916 – 10 mei 1990)
De Australische schrijver Patrick White werd geboren in Londen op 28 mei 1912. Zie ook mijn blog van 28 mei 2009 en ook mijn blog van 28 mei 2010
Uit: The Aunt's Story
"….You will be leaving soon, Theodora. I wonder if you have thought about the future,' Miss Spofforth asked.
Theodora had gone into Miss Spofforth's dark room, the Study it was called, to take the book for which Miss Spofforth had sent. She had not bargained for this. Now she was caught in the wide spaces between the bookcase and the fire, becalmed in her own silence and uncertainty. Fire fell from the logs into the winter afternoon, but did not warm. A cold laurel pressed against the window out of the winter wind.
'Have you thought how you can live most profitably?' Miss Spofforth asked.
And the dark square of her face struggled to open. She very much wanted to communicate.
'No,' said Theodora. 'I shall go home, for the present. I shall live - well, as I have always lived.'
Because living was something that happened in spite of yourself. She did not really believe, as apparently Miss Spofforth did, that you could turn living to profit.
'There is a great deal that happens,' she said.
'I am sure,' Miss Spofforth agreed.
She watched Theodora's hands move as if they were about to reach out and touch something.
'And provided one is happy, it does not matter where,' Miss Spofforth said.
Miss Spofforth had made her own happiness, solid and unmoved as mahogany, and Miss Spofforth was unpleased. She listened to the rooms of the house around her, which was her solidly founded, profitable happiness, but the rooms did not communicate. And outside, the leaf of the cold laurel was stroking space. But this is ridiculous, Miss Spofforth said.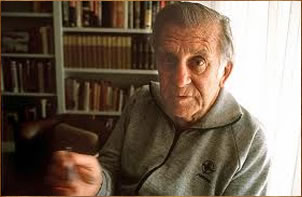 Patrick White (28 mei 1912 - 30 september 1990)
De Nederlandse schrijver en dichter Sjoerd Leiker werd geboren in Drachten op 28 mei 1914. Zie ook mijn blog van 28 mei 2009 en ook mijn blog van 28 mei 2010
Uit: Piet Calis. De vrienden van weleer. Schrijvers en tijdschriften tussen 1945 en 1948
"In mei 1944 kwam Koos Schuur op uitnodiging van Sjoerd Leiker, die hem dus al uit het Groningse kende, bij hem op bezoek. Leiker vertelde hem bij die gelegenheid over De Bezige Bij en probeerde hem over te halen een bundel verzen af te staan aan de uitgeverij.
Op 24 mei berichtte Leiker hierover aan Geert Lubberhuizen: 'Van Koos Schuur kreeg ik een toezegging van copie voor De Bezige Bij. Ik heb Zondag, na je bezoek, meteen geschreven naar zijn ouders in Veendam. Hij was vanmorgen al hier. Helaas had hij een aantal tijdverzen, "de zeven vloeken" [,] juist verkocht. Die komen eerstdaags uit in een oplage van 110 ex. - Hij had echter nog meer werk klaar en zou daaruit een bundel samenstellen voor jou. Over een of twee weken zou hij die aan mij toesturen.'
Leiker schreef verder: 'Ik heb hem niet ingewijd in "het bezige plan" - alleen maar gezegd, dat "de bezige bij" na den oorlog zal blijven bestaan.'
Anderhalve maand later - de invasie had intussen plaatsgevonden en de tijd leek te dringen - hadden de plannen voor Voorpost al een meer concrete vorm aangenomen: er was zelfs iets als een soort redactievergadering gehouden.
Op 12 juli nodigde Sjoerd Leiker - onder zijn illegale naam Menno van Haarsma - Charles van Blommestein uit voor een bijeenkomst die enkele weken later bij hem thuis aan de Rijnstraat gehouden zou worden: '29 Juli a.s. spreekt bij ons Koos Schuur over "Het dichterschap en over zijn eigen werk". Ik heb zelf erg veel verwachting van deze inleiding, omdat Koos Schuur na den oorlog zeer waarschijnlijk één van de belangrijkste jongeren zal blijken te zijn en omdat ik met Schuur, Elburg, Ferd. Langen, Evenhuis, Visser, Van Wagenvoorde enz. tot dezelfde constellatie behoor. Ik zou het dan ook erg op prijs stellen als jij deze bijeenkomst kunt bijwonen. - Geert zal je wel het een en ander hebben verteld van het tijdschrift. De eerste redactievergadering is m.i. zeer verhelderend geweest. Als ik me niet vergis krijgen we na den oorlog een groep activisten (Jacobijnen), 2 een groep, die vooroorlogsche tradities zal voortzetten en 3 een groep jongeren (bovengenoemd). Aangaande de laatste durf ik nog geen voorspellingen te wagen. Wat hun vormgevoel betreft zijn enkelen van hen min of meer neo-classisisten."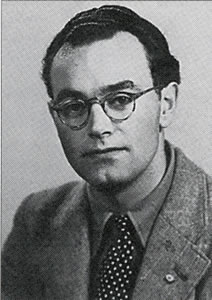 Sjoerd Leiker (28 mei 1914 - 15 december 1988)
De Oostenrijkse schrijver Fritz Hochwälder werd geboren op 28 mei 1911 in Wenen. Zie ook mijn blog van 28 mei 2009 en ook mijn blog van 28 mei 2010
Uit: Der verschwundene Mond (Bespreking van Dramatisch Werk, deel 4 door Lutz Hagestedt)
"Im Anfang war das Ereignis, und so holt Gustave noch in der ersten Szene des ersten Aktes den Mond vom Himmel und verkauft ihn für eine Million. Die schöne Blanche hat ihn verführt und ihm das schnelle Glück versprochen. Aber der Clochard hat nicht bedacht, daß es ohne Mond keine Dichtung mehr geben kann und ohne Dichtung keine Liebe und kein Leben. Als er Blanche nach der Tat wiedersieht, hat sie sich in eine warzenübersäte Hure verwandelt - ein entsetzlicher Anblick, wie von Félicien Rops gemalt. Gustave setzt nun alles daran, den Mond zurückzukaufen, doch nur das Blumenmädchen könnte ihn noch retten. Sie verkörpert das stille, einfache Glück, unerreichbar für Gustave, solange er Geld in den Händen hält. Am Ende sinkt der Clochard tot auf einer Parkbank nieder, und am Himmel steht – als sei er nie fortgewesen – groß und silbern der Mond.
Es ist auffallend, daß Gustaves freie Rede immer wieder von Gedichten unterbrochen wird, die Jakob Haringer geschrieben hat. Aber Gustav zitiert Haringer nicht, er ist Haringer, die Gedichte spiegeln seine eigenen Bewußtseinsvorgänge wider. Monologisch offenbart er sein Seelenleben, er spricht wie für sich, doch der Rezipient, das Publikum im Theater, müßte schon an der poetischen Intensität seiner Rede erkennen daß der tragische Held sich hier selber charakterisiert. Indes kann erst die Realisierung de Stücks auf der Bühne zeigen, ob der Wechsel von freier und gebundener Rede, ob das Gedicht als Mittel der Figuren-Charakterisierung nicht störend wirkt."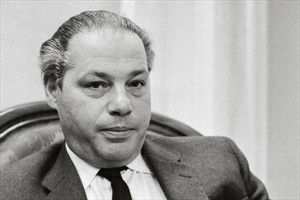 Fritz Hochwälder (28 mei 1911 – 20 oktober 1986)

28-05-2011 om 18:53 geschreven door Romenu

Tags:Ian Fleming, Walker Percy, Patrick White, Sjoerd Leiker, Fritz Hochwälder



Henri-Pierre Roché, Maximilian Voloshin, Xin Qiji, J. D. Wyss, Maria Müller-Gögler, B. S. Ingemann, C. H. von Ayrenhoff
De Franse schrijver, journalist en verzamelaar Henri-Pierre Roché werd op 28 mei 1879 geboren te Parijs. Zie ook mijn blog van 28 mei 2009 en ook mijn blog van 28 mei 2010
Uit: Victor
"Patricia - Cette chambre m'amuse. Ça manque de sièges ici. Foutons-nous sur votre lit comme divan, c'est-à-dire vous dedans et moi dessus. C'est sans danger puisque nous l'aimons tous les deux. Et parlons de lui.
Elle sauta sur son lit. Ils s'installèrent comme elle avait dit, à distance.
Pierre - Aimez-vous Victor ?
Patricia - Oui.
Pierre - D'amitié ou d'amour ?
Patricia - Des deux. D'amour surtout.
Pierre - D'amour chaste ?
Patricia - Hélas ! Moi d'amour en plein et sans espoir. Je ne sais quel nom donner à ça. Tout le monde l'aime. Il est à tous et à personne. Il a raison sans doute. J'ai tort de le vouloir pour moi. Mais je ne veux que lui. Victor pourrait choisir parmi des héritières. Pas question. Pourrait avoir un gros contrat pour ses tableaux. Pas question. Il les donne presque tous à ses amis. Il donne aussi des leçons de français, fameuses et drôles, à deux dollars l'heure. Il s'amuse tout le temps. Son sourire est aimable, mais c'est un dictateur. il fait que ce qu'il veut, au moment où il veut. Où qu'il arrive, il devient le centre, il est le chef. il a une fantaisie à jet continu. Il a sûrement des aventures, avec des femmes faites, pas avec des jeunes filles. Il est discret, on ne sait rien."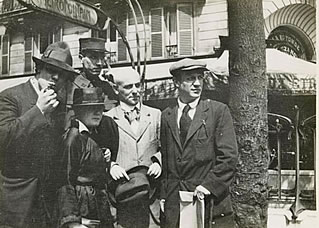 Henri-Pierre Roché (28 mei 1879 – 9 april 1959)
Manuel Ortiz de Zarate, Henri-Pierre Roché [in uniform], Marie Vassilieff, Max Jacob and Picasso, Blvd. Montparnasse, Parijs, 12 Aug. 1916 - door Jean Cocteau
De Russische dichter, schrijver en schilder Maximilian Voloshin werd geboren op 28 mei 1877 in Kiev. Zie ook mijn blog van 28 mei 2009 en ook mijn blog van 28 mei 2010
Wormwood
My bonfire on the shore was burning down.
I heard the rustling sound of streaming glass.
The acrid soul of wistful wormwood wound
Through languid darkness, swayed, and flowed past.
The granite crags resemble fractured wings.
The weight of hills bends down a spinal cord.
The no-man's land is stiff and suffering.
The mouth of Earth has been denied the word!
A child of the inquisitive dark nights,
I am your eyes, wide-open to invite
The gaze of ancient stars, those lonesome lights
Whose prying rays reach out into the night.
I am your mouth of stone, your voiceless lyre!
By silence fettered, I have grown as mute
As extinct suns. I am the frozen fire
Of words. I am the sightless, wingless you.
O captive mother! How at night I bend
To feel your bosom - only you can see
The bitter smoke, the wormwood's bitter scent,
The bitterness of waves - will stay in me.
Vertaald door Constantine Rusanov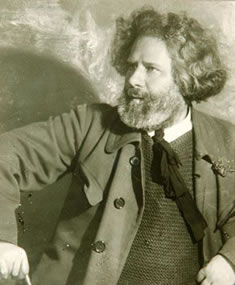 Maximilian Voloshin (28 mei 1877 – 11 augustus 1932)
De Chinese dichter Xin Qiji werd geboren op 28 mei 1140 in Jinan, in de provicie Shandong. Zie ook mijn blog van 28 mei 2009 en ook mijn blog van 28 mei 2010
Precious hairpin
Precious hairpin, broken, halved
At the Peach-Leaf Ferry where
We parted; darkening mist and willow shround the place.
I dread to climb the tower-top stair;
Nine days out of ten wind raves, rain torrents race:
It breaks my heart to see the scarlet petals scatter one by one.
All this with nobody to care
Above it - who is there
Will bid the oriole's singing cease?
From mirrored flowers that frame my face
I pluck the petals, try to foretell your return,
Counting and re-counting them a thousand ways.
By silken curtains dimly lit
Words born of dreams fight in my throat for release.
It was he, the Spring, who brought on me this agony of grief;
Who knows where Spring now strays?
He did not guess he should have gone
Taking my grief in his embrace.
Vertaald door A. Ayling en D. Mackintosh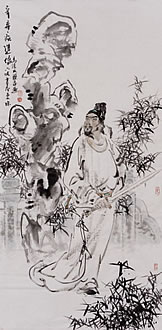 Xin Qiji (28 mei 1140 – 1207)
De Zwitserse schrijver Johann David Wyss werd geboren op 28 mei 1743 in Bern. Zie ook mijn blog van 28 mei 2009 en ook mijn blog van 28 mei 2010
Uit: The Swiss Family Robinson
"These few words had an immediate effect on the spirits of my children, who at once regarded our problematical chance of escaping as a happy certainty, and began to enjoy the relief from the violent pitching and rolling of the vessel.
My wife, however, perceived my distress and anxiety in spite of my forced composure, and I made her comprehend our real situation, greatly fearing the effect of the intelligence on her nerves. Not for a moment did her courage and trust in Providence forsake her, and on seeing this my fortitude revived.
"We must find some food, and take a good supper," said she, "it will never do to grow faint by fasting too long. We shall require our utmost strength tomorrow."
Night drew on apace, the storm was as fierce as ever, and at intervals we were startled by crashes announcing further damage to our unfortunate ship.
"God will help us soon now, won't He, father?" said my youngest child.
"You silly little thing," said Fritz, my eldest son, sharply, "don't you know that we must not settle what God is to do for us? We must have patience and wait His time."
"Very well said, had it been said kindly, Fritz, my boy. You too often speak harshly to your brothers, although you may not mean to do so."
A good meal being now ready, my youngsters ate heartily, and retiring to rest were speedily fast asleep. Fritz, who was of an age to be aware of the real danger we were in, kept watch with us. After a long silence, "Father," said he, "don't you think we might contrive swimming belts for mother and the boys? With those we might all escape to land, for you and I can swim."
"Your idea is so good," answered I, "that I shall arrange something at once, in case of an accident during the night."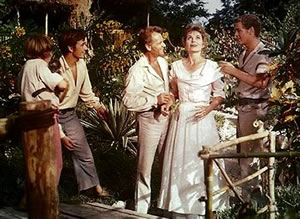 Johann David Wyss (28 mei 1743 – 11 januari 1818)
Scene uit de film uit 1960 met o.a. John Mills en Dorothy McGuire
Zie voor onderstaande schrijvers ook mijn blog van 28 mei 2010
De Duitse dichteres en schrijfster Maria Müller-Gögler werd geboren op 28 mei 1900 in Leutkirch im Allgäu. Zie ook mijn blog van 28 mei 2009.
De Deense dichter en schrijver Bernhard Severin Ingemann werd geboren op 28 mei 1789 in Thorkildstrup op het eiland Falster. Zie ook mijn blog van 28 mei 2009.
De Oostenrijkse schrijver Cornelius Hermann von Ayrenhoff werd geboren op 28 mei 1733 in Wenen. Zie ook mijn blog van 28 mei 2009.
28-05-2011 om 18:48 geschreven door Romenu

Tags:Henri-Pierre Roché, Maximilian Voloshin, Xin Qiji, J. D. Wyss, Maria Müller-Gögler, B. S. Ingemann, C. H. von Ayrenhoff, Romenu



Adriaan Bontebal
De Nederlandse dichter en schrijver Adriaan Bontebal werd als Aad van Rijn op 28 mei 1952 in Leidschendam geboren. Bontebal debuteerde officieel in 1988 met de verhalenbundel "Een goot met uitzicht". Daarvoor had hij al "De vuilnisman komt in elke straat. Gedichten van de waanzin" (1983), "Vijf voor vierentachtig. Verhalen" (1984), "Alleen in bad, gedichten" (1984) en "Hannah : een tragisch gedicht in een bedrijf of vijf" (1986) uitgebracht. Na zijn debuut volgden de prozawerken "De ark" (1990) en "Charmante jongen, sportief tiep" (1995), de dichtbundel "Overleven met het oorsmeer in de ketting" (1996), het prozawerk "Katten vlooien" (2005) en "Adrenaline" (2010). Gedichten van Adriaan Bontebal zijn te vinden in Komrij's "Nederlandse poëzie van de 19de t/m de 21ste eeuw in 2000 en enige gedichten" en in "25 Jaar Nederlandstalige poëzie 1980-2005 in 666 en een stuk of wat gedichten".
Uit: De Ark
'Het is Oosters toneel uit de tweede helft van de derde eeuw voor Christus, Indiaas, Pakistaans of Mongools, daar wil ik van af zijn. Gek hè? De culturele belangstelling van mensen gaat in golven, net als de economie. We beleven nu voor het eerst sinds Herman Hesse, Sidharta weet je wel, weer een opleving in de belangstelling voor alles dat ten oosten van de Bosporus komt.
Ik moet, terwijl ik de monoloog uitspreek, de Dans van de Zes Sluiers uitvoeren. Met de laatste zin moet de laatste sluier vallen.'
'Het is toch de Dans van de Zéven sluiers?'
'Oorspronkelijk wel. Maar dit is een ideetje van onze regisseur, een oude geile bok. Het is een variant voor vrouwen die niet zo zwaar geschapen zijn.'
'Neem me niet kwalijk,' flapte ik eruit. 'Jij hebt niets te klagen, dacht ik zo. Jij hebt voldoende vlees onder de tepel om topveertig-zangeres te zijn.'
'Hè hè. Dit is juist de grap. Die ene sluier minder maakt het volgens hem in de uitvoering van een vrouw met een figuur als ik een stuk sexy-er. De regisseur komt daar op klaar.'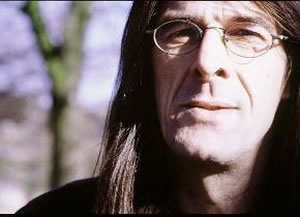 Adriaan Bontebal (Leidschendam, 28 mei 1952)
28-05-2011 om 00:00 geschreven door Romenu

Tags:Adriaan Bontebal, Romenu



| | |
| --- | --- |
| | |



Inhoud blog


| | |
| --- | --- |
| | Cri Stellweg, Jonathan Ames, Yōko Tawada, Gary Whitehead, Mitch Cullin, Roger Martin du Gard, Madison Cawein, Nils-Aslak Valkeapää, Federica de Cesco |
| | Billy Collins, Theo Kars, Eveline Hasler, Érik Orsenna, Arnold Sauwen, Wolfgang Bächler, Ilse Kleberger, Léon Deubel, Karel Poláček |
| | Willem de Mérode, Pim te Bokkel, Kees van Beijnum, Hamid Skif, Jean Paul |
| | Hubert Fichte, Peter Hacks, Michel Bartosik, Youssef Rzouga, Günter Vallaster, Siegfried Kapper |
| | David Malouf, Katharina Hartwell, Ricus van de Coevering, Roman Libbertz, Jens Petersen, Benoît Duteurtre, Friedrich Hölderlin, Ralph Giordano, Henrik Johan Ibsen |
| | Mano Bouzamour, Hans Mayer, Philip Roth, Noud Bles, Lynne Sharon Schwartz, Lina Kostenko, Kirsten Boie, William Allingham, Ion Barbu |
| | 'Unless a grain of wheat falls into the ground and dies…' (Malcolm Guite) |
| | Christa Wolf, Charlotte Roche, John Updike, Wilfred Owen, Stéphane Mallarmé, Héctor Bianciotti, Hellema, Friedrich Hebbel, Max Barry |
| | Wolfgang Bauer, Richard Condon, Walter Rheiner, Srečko Kosovel, Jean Anglade, George Plimpton, Cosmo Monkhouse, Friedrich Nicolai |
| | In Memoriam F. Starik |
| | Siegfried Lenz, Thomas Melle, Rense Sinkgraven, Hafid Aggoune, Hans Wollschläger, William Ford Gibson |
| | Patrick Hamilton, Karl Gutzkow, Urmuz, Jean Ingelow, Ebenezer Elliott, Paul Green |
| | Ida Gerhardt Poëzieprijs 2018 voor Menno Wigman |
| | P.C. Hooft, Bredero, Dirk von Petersdorff, Zoë Jenny, Alice Hoffman, Hooshang Golshiri, Francisco Ayala, César Vallejo, Per Leo |
| | Ben Okri, David Albahari, Louis Paul Boon, Kurt Drawert, Gerhard Seyfried, Andreas Okopenko, An Rutgers van der Loeff, Prosper van Langendonck, Paul Heyse |
| | Pam Ayres, Jochen Schimmang, Horton Foote, Volker von Törne, Olivier Delorme, Alexandru Macedonski, Albert Robida, Theodore de Banville, Wout Waanders |
| | Mahmoud Darwish, Yuri Andrukhovych, Didier Decoin, Vladimir Makanin, Yeghishe Charent, Geert van Beek, Jan H. de Groot, Kemal Tahir, Joseph Beaumont |
| | Dave Eggers, Jenny Erpenbeck, Jack Kerouac, Henrike Heiland, Naomi Shihab Nye, Carl Hiaasen, Edward Albee, De Schoolmeester, Gabriele d'Annunzio |
| | Nicodemus (Muus Jacobse) |
| | Leena Lehtolainen, Karl Krolow, Daan de Ligt, Frans Vogel, Willem Claassen, Amal Karam, Max Hermens, Eva Meijer, Helena Hoogenkamp |
| | Ernst Wichert, Douglas Adams, Torquato Tasso, Georg Maurer, Josef Martin Bauer, Maartje Smits |
| | John Rechy, Hilde Van Cauteren, Joseph von Eichendorff, Jakob Wassermann, Karel van de Woestijne, Chloé Delaume, Friedrich Schlegel |
| | Boris Vian, Manolis Anagnostakis, Peter McArthur, Samuel Ferguson, Georges Dor, Pedro Antonio de Alarcón, Otto Heinrich Kühner |
| | Koen Peeters, Peter Zantingh, Ed Hoornik, Heere Heeresma, Peter Altenberg, Vita Sackville-West, Josef Weinheber, Taras Sjevtsjenko, Umberto Saba |
| | Ariane Sommer |
| | Jeffrey Eugenides, Walter Jens, Hafid Bouazza, Cándani, A. Marja, Aslı Erdoğan, John McPhee, Mouloud Feraoun, Dominic Angeloch |
| | Bret Easton Ellis, Robert Harris, Jürgen Theobaldy, Georges Perec, Abe Kōbō, Reinhard Kaiser, Manfred Gregor, Jan Frederik Helmers, Alessandro Manzoni |
| | Patrick deWitt, Gabriel García Márquez, Jeremy Reed, Marijke Hanegraaf, Thomas Acda, Günter Kunert, Clark Accord, Elizabeth Barrett Browning, Michelangelo |
| | Pier Paolo Pasolini, Koos van Zomeren, Jurre van den Berg, Arthur van Schendel, Nelly Arcan, Jean Orizet, Leslie Marmon Silko, Frank Norris, Ennio Flaiano |
| | De tempelreiniging (Nicolaas Beets) |
| | Robert Kleindienst, Khaled Hosseini, Kristof Magnusson, Irina Ratushinskaya, Alan Sillitoe, Ryszard Kapuściński, Jean-Joseph Rabearivelo, Annette Seemann |
| | F. W. Bernstein, Giorgio Bassani, Bernardo Ashetu, Léon-Paul Fargue, Kito Lorenc, Jacques Dupin, Thomas S. Stribling |
| | Manfred Flügge, Hans Verhagen, Tjitske Jansen, James Merrill, Kola Boof, Clifton Snider, Gudrun Pausewang, Chris Kraus |
| | Josef Winkler, Heinz Knobloch, Alexandros Papadiamantis, Charles Sealsfield, William Godwin, Paul Guimard, Edmund Waller, Thomas Otway |
| | Godfried Bomans, Multatuli, Frank Albers, John Irving, Thom Wolfe, Michael Salinger, János Arany, Olivia Manning, Rinske Kegel |
| | Jan Eijkelboom, Jim Crace, Delphine de Vigan, Franz Hohler, Lytton Strachey, Robert Lowell, Myrthe van der Meer, Franzobel, Steven Barnes |
| | Peter Pessl |
| | Benedict Wells |
| | Bart Koubaa, Stephen Spender, John Montague, Josef Svatopluk Machar, Luc Dellisse, Marcel Pagnol, Bodo Morshäuser, Martin Suter, Yórgos Seféris |
| | Howard Nemerov, Daniel Handler, Dee Brown, Michel de Montaigne, Marin Sorescu, Saul Williams |
| | Cynan Jones, John Steinbeck, Ruy Belo, Lawrence Durrell, André Roy, Henry Longfellow, Elisabeth Borchers, James T. Farrell, Irwin Shaw |
| | Michel Houellebecq, Victor Hugo, Adama van Scheltema, George Barker, Ulrike Syha, Hermann Lenz, Antonin Sova, Jean Teulé, Elias Annes Borger |
| | De verheerlijking op den berg (Nicolaas Beets) |
| | Amin Maalouf, Aldo Busi, Gabriël Smit, Anthony Burgess, Robert Rius, Karl May, Lesja Oekrajinka, Karel Toman, Vittoria Colonna |
| | Franz Xaver Kroetz, Gérard Bessette, Mary Chase, Karl Wilhelm Ramler, Friedrich von Spee, Carlo Goldoni, Quirinus Kuhlmann |
| | Leon de Winter, Alain Mabanckou, George Moore, Erich Loest, Herman Maas, Luc Verbeke, Wilhelm Grimm, Friedrich Spielhagen, Jacques Presser |
| | August Derleth, Keto von Waberer, Yüksel Pazarkaya, Erich Pawlu, Irène Némirovsky, Vincent Voiture, Rosalía de Castro, Paul Alfred Kleinert, Stanisław Witkiewicz |
| | César Aira, Robert Gray, Jef Geeraerts, Bernard Cornwell, Ljoedmila Oelitskaja, Toon Kortooms, Jo Ypma, Sonya Hartnett, Maxim Februari |
| | Arnon Grunberg, Rob Schouten, Ruben van Gogh, Paul van Ostaijen, Hugo Ball, Danilo Kis, Sean O'Faolain, Ishmael Reed, Edna St. Vincent Millay |
| | J.M.A. Biesheuvelprijs voor Annelies Verbeke |


Gastenboek


Druk op onderstaande knop om een berichtje achter te laten in mijn gastenboek